If you're looking to create your own impressive home theater, there's nothing quite like a digital projector. With the lights dimmed and the popcorn out, the incredible screen sizes possible with a projector are unlike anything else available in the home.
The question is, what kind of projector should I buy? Right now, 1080p is the sweet spot. They're capable of producing razor sharp images at a price that won't break the bank. Almost all of our consumable media is produced in 1080p, so your projector will perform well for many years to come.
Unfortunately, not all projectors are created equally. There are dozens of questionable pico projectors that might advertise 1080p, but actually produce standard definition images. Then you've got the models that are designed to be used in a completely dark room, rendering them useless with even a small amount of ambient light. Fortunately, we've poured over the current options and found the three best 1080p projectors on the market. Read on to find out which one might be right for your home theater.
Optoma HD27 1080p 3D DLP Projector
Anyone who's shopped for projectors before is familiar with Optoma. They're one of the largest manufacturers on the market, catering to both home and business clients. People buy Optoma projectors when they want quality and reliability. Their entire lineup is well thought out, and doesn't cut any corners. This particular model is geared for business clients; with a few key features, they just can't live without.

First Look
The Optoma HD27 is a very unassuming looking projector. It comes in a plain, white case without any visual creativity. If you're looking for something simple that will blend into a room, then you'll be pleased with the look. It's designed for large screen applications, with a screen size ranging from 71 inches to 107 inches. However, it does require a longer throw distance, starting at 8 feet and going up to 12 feet. This makes it better suited for larger rooms – something that won't be a problem for business clients.
Image Quality
With a 3200 ANSI lumen light output, this projector will give you a clear, defined image even in moderate lighting. One of the most striking features about it is the 25,000:1 contrast ratio. This means that there's a large difference between the darkest blacks and the lightest whites. If you're going to be showing text or diagrams with your projector, you'll surely appreciate this feature. Images will be sharp and clearly defined, with minimal blurring.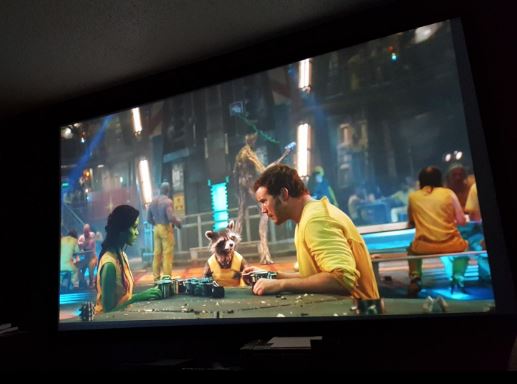 The color is bright and vibrant, but highly accurate. It uses the REC.709 colorspace, making it analytical and clean. Any type of technical use, whether you're editing photos or simply trying to view things in a manner that is true to the original, you'll be happy with this projector.
Often, you won't be able to set up your projector dead-center to your screen. The built-in keystone correction is very helpful in this case. You'll be able to adjust the image so it shows up completely straight, with no distortion.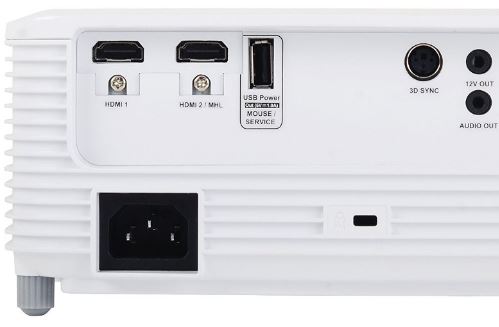 Connectivity
Any business projector needs to have a variety of inputs that allow it to connect to any source you have available. Fortunately, almost every device on the market has HDMI outputs. The HD27 has two HDMI inputs, both of which support the 1.4a standard, giving you 3D sync ability. It's also MHL compliant, allowing you to use Chromecast compatible applications on your laptop or smartphone. The only thing that's missing, video wise, is a DVI input. If this is something you need, you'll be able to pick up an inexpensive adapter, as DVI is fully compatible with HDMI.
Features
There are a few great features added by Optoma that business users will find helpful. Most importantly they've included a 12V trigger which is handy for permanent installations. The last thing you want to have to do is try to power on the projector when it's mounted up high on a roof, so the 12V trigger allows you to operate it remotely. You can configure it to turn on only when your computer is on, or when your electric projector screen is rolled down.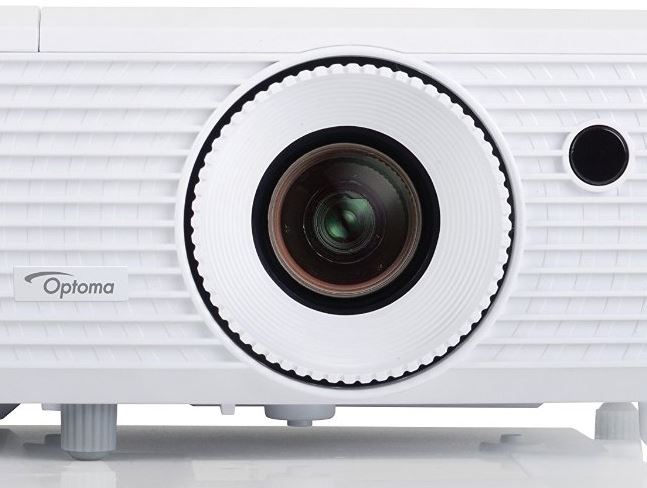 If you're taking advantage of the 3D output, the VESA sync port is useful. Occasionally, projectors can add a tiny bit of lag that affects 3D performance. With VESA sync, this lag is compensated for ensuring that you get excellent 3D performance.
Value
The HD27 isn't the cheapest projector on the market, but you certainly get a lot for your money. The lamp is rated at 8000 hours of life, while most are closer to 5000 hours. The projector is also covered under a 1 year limited warranty, ensuring you're protected if anything goes wrong with the unit. Optoma also understands that you might not understand all technical aspects of setting up a projector. They offer you 60 days of full-service tech support, so you can simply contact their call center if you require any help. With all these great features, you're certainly getting a great deal.
Optoma HD142X 1080p 3D DLP Home Theater Projector
We've already established Optoma as one of the primary projector manufacturers on the market, but this model is geared more for home theater use than for the other model.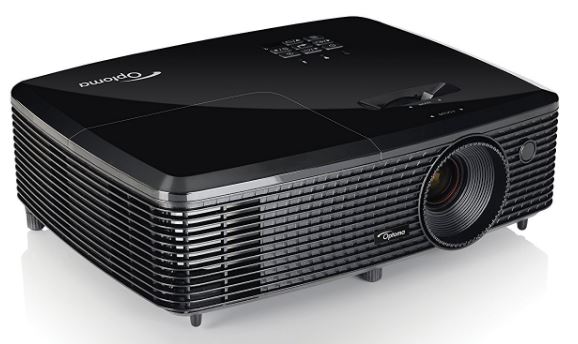 First Look
The Optoma HD142X certainly has a much more appealing look than many projectors on the market. The entire case is a sleek black, with a vented grill that shows you it means business. You've got a full set of keystone correction controls directly on the top, giving you access to all the features you want. Additionally, it's capable of a much wider screen size, starting as low as 66 inches and going up to 107 inches. No matter how big your room is, you'll be able to make this projector work for you.
Image Quality
If you're enjoying movies, you'll love the Optoma HD142X. Colors are vibrant, rich, and almost seem to pop right out of the screen. Of course, if you actually do want the image to pop out of the screen, then you'll love the 3D compatibility. It can be used with active 3D glasses to create a cinematic experience unlike any other.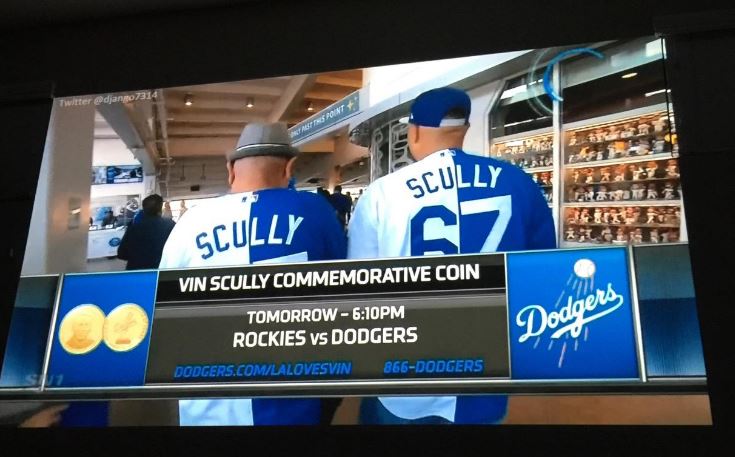 If you've been looking at TVs lately, you probably know that HDR is the latest fad. While there aren't many HDR projectors on the market, this one does have an expanded RGB colorspace. This means that you'll get more vibrant colors than with any competing model, putting the HD142X in a class of its own.
Connectivity
The HD142X has a pretty standard set of connectivity options, but it's exactly what you need in a home theater projector. You've got two HDMI 1.4a ports, providing you with connectivity to your Blu-Ray player, video game console, computer, or any other digital media output. MHL compatibility means you can use any Ruko, Chromecast, or other streaming stick you like to get access to streaming movies, television, internet, and social media.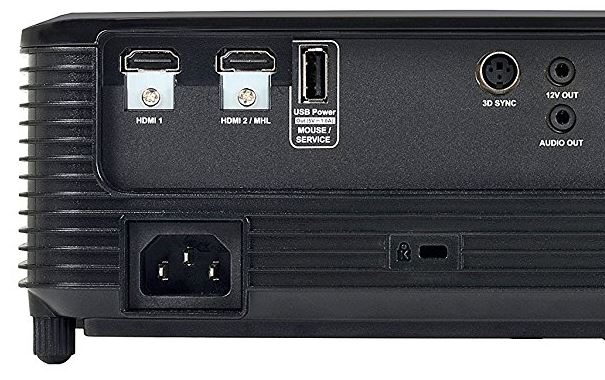 Chances are, you're not going to want to use the questionable speaker build into the projector. For the perfect home theater experience, you're going to want to hook up to a high-end home theater system. If you don't have HDMI pass through, it's got you covered. It's equipped with an audio line out, so you can connect any audio device you like.
Features
One of the best features of this projector is the USB media input. You can connect your USB storage device and play movies, music, and your family photos directly onto the big screen. Like the other Optoma model, you've got a 12V control that will allow you to turn it on and off automatically with your display.

Value
As far as home theater projectors go, this one gives you excellent bang for your buck. You've got a 1 year warranty on hardware, and 60 days on the bulb. Although it's not the cheapest on the market, you're only paying a fraction of what you would for the 4K models.
ViewSonic PJD7828HDL 1080p 3D DLP DarkChip3 Home Theater Projector
When it comes to value, the first brand that comes to mind is ViewSonic. They've put out a ton of decent projectors at an affordable price. If you pick right, you can save yourself hundreds of dollars.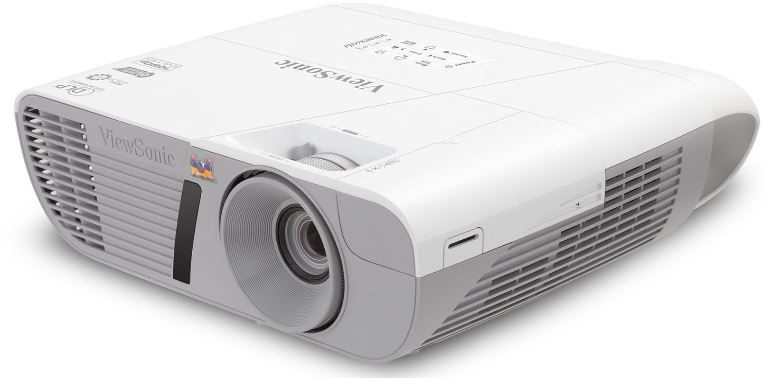 First Look
The ViewSonic PJD7828HDL is sleek, stylish, and an incredible deal. It's easy to mount, and comes with a handy remote control. Despite being the cheapest, it's certainly one of the best-looking projectors we've seen. The design is very safe; it's not something that will be going out of style anytime soon. The dual tone white and gray case will stand out a little, but certainly won't be an eyesore in your home theater room.
Image Quality
At 3200 lumens, it's one of the brighter projectors we've looked at. If you just dim the lights or leave a lamp on, you'll still get the same great picture quality you've wanted. One of the biggest factors in projector brightness is distance. The farther you are from the screen, the dimmer the image becomes. This ViewSonic projector has the shortest throw on the list. Combined with up to 1.3X optical zoom, you'll get a brighter picture than any other projector on the market.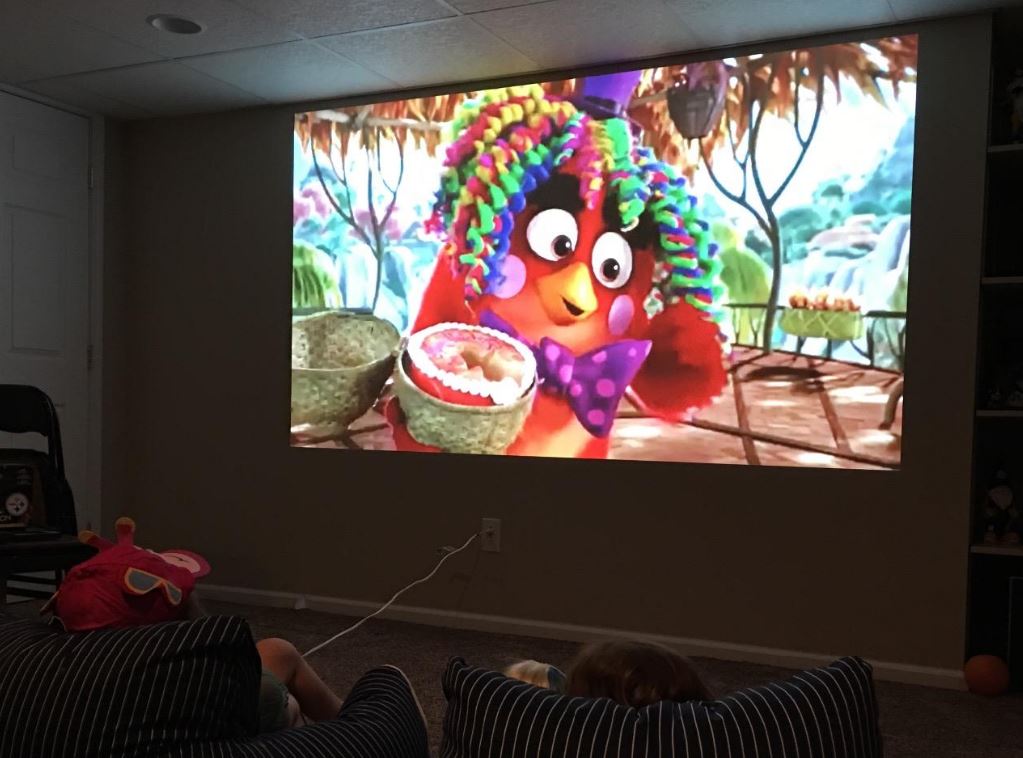 The Xdark chip offers an image comparable to what you'd get with dynamic contrast. During dark scenes, the light is dimmed a bit. During bright ones, the light is increased. This gives your movies a much more cinematic feel, adding to the dramatic effect of the large screen.
Beyond those two features, the ViewSonic PJD7828HDL gives you everything you'd expect. Crystal clear 1080p resolution, bright colors, and an impressive visual presentation that you can't help but enjoy.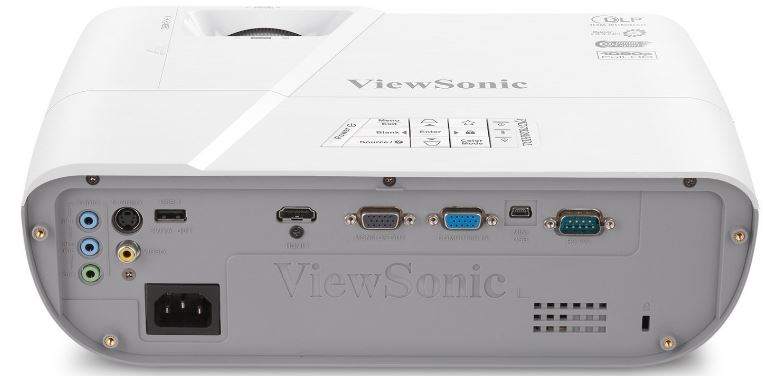 Connectivity
You can connect to this projector through the wireless MHL technology, or through standard HDMI inputs. You've got two of them, and they're easy to change between with the handy remote. The connections are pretty basic, but you'll find that there are more than enough for most home theater uses.
Features
One feature that we're certainly impressed with is the cable management hood. If you're mounting this unit on the roof, you don't want a bunch of unsightly cables dangling everywhere, making a mess of your home theater room. With this projector, they're easy to tuck nicely behind the hood to keep them out of view.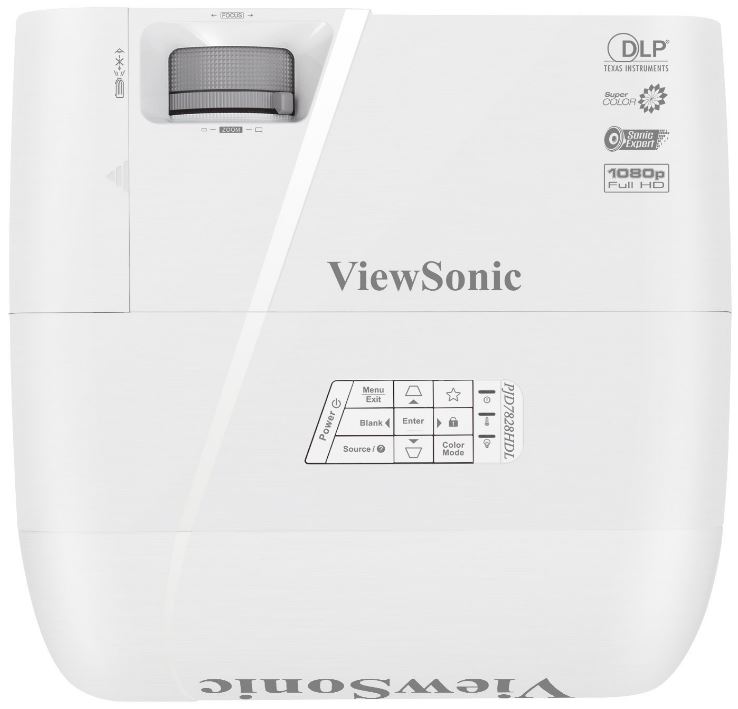 Value
If you're looking to save money, you won't find a better deal than the ViewSonic PJD7828HDL. It's a perfectly fine projector, that offers impressive image quality for a rock bottom price. You don't get a lot of extras. But as far as we're concerned, a couple hundred extra dollars in our pocket is enough of an extra for us.
Which 1080p Projector is Right for Me?
Still can't make up your mind? Fortunately, the choice between these three projectors is easy. They can be broken into three different categories.
If you're looking for a projector that is suitable for both home theater and business use, look no further than the Optoma HD27. It's easy to use, reliable, and has excellent performance even in high light. The main feature you'll appreciate is the color accuracy. Whether you're showing diagrams, images, or technical videos, your image quality will be true to life.
If your projector is going to be used exclusively for home theater use, pick up the Optoma HD142X. It's got a sleeker design, and vibrant colors designed to give you the best movie experience possible.
Of course, not everyone has a large budget. Just because you're pinching pennies, doesn't mean that you can't have an excellent home theater experience. The ViewSonic PJD7828HDL offers you impressive image quality at a small fraction of the price.
Didn't see anything that stuck out? If you're looking for the best of the best, you might want to take a look at the incredible Epson Home Cinema 5040Ube 4k Projector!