A smartwatch is an amazing device that allows you to stay updated without having to always look at your smartphone. They're in the same style as a wrist watch, however they are computerized to provide you with all of the essential daily statistics that your smartphone can perform. What's amazing about this kind of technology is that you can play games and perform everyday tasks just as you would on your regular computer or portable device, but you have control from your wrist.
If you have a smartphone you're probably asking yourself why you would need a smartwatch, and what would one cost you if you did. The main reason why individuals are jumping on the smart watch bandwagon is the convenience factor.
Having all of that information right there on your wrist, without having to dig out your smart phone is the biggest selling factor when looking into owning one. People are constantly on the go and want their information as fast as possible and within seconds. That is simply the world that we live in today – that's the truth of the matter. There are several different kinds of smart watches currently available on the market today, and we're going to research and review a few of those in-depth to make it easier for you to decide on which one is the best choice.
LG Electronics G Watch
LG Electronics has always been an innovator in the field of mobile electronics and this is no exception. The LG Electronics G Watch is one of the highly rated smart watches available for the year 2015. If you're looking to make your life easier and are a fan of your android phone, this is an excellent choice for you.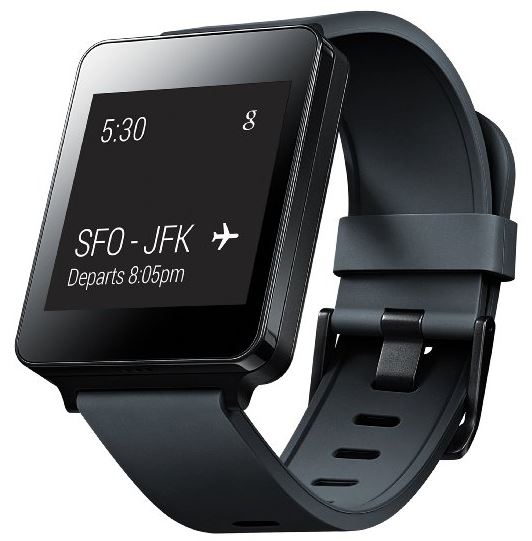 The LG Electronics G Watch is compatible with Android 4.3 or higher and provides you with the essential information you're looking for in a matter of seconds. It gives you the keen capability to ask questions via voice and get answers almost immediately. For your convenience, LG decided to make it water and dust resistant which definitely comes in handy for those who adventure outdoors a lot. Its Bluetooth technology lets you sync with your Android device straight to your smart watch, so you can receive the fastest information available via touch screen.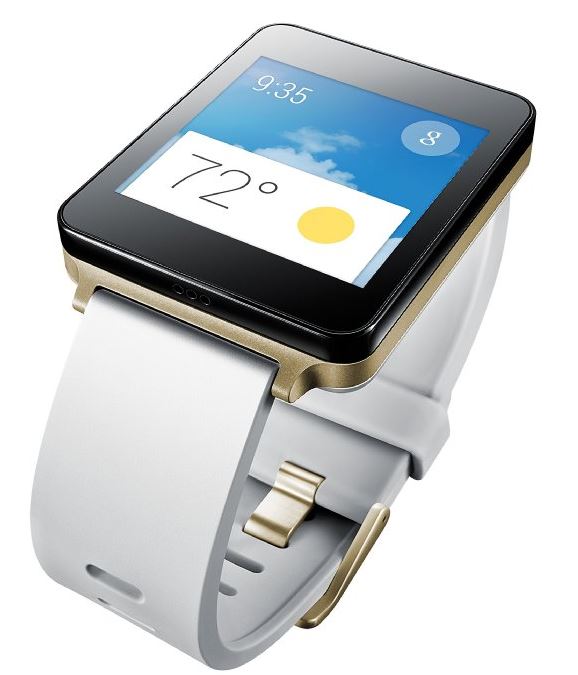 Another plus to the G Watch is that it comes included with interchangeable straps with several different choices of colors. Your G Watch never sleeps so you can always get your updates immediately without ever having to touch your watch or smartphone. The LG Electronics G Watch retails anywhere between $120 and 145, which we think is a reasonable price, given what it can offer. This is a highly consumer rated smart watch and is fully recommended to those who want to boost their efficiency with a latest piece of technology.
Motorola Moto 360 – Black Leather Smart Watch
The Motorola Moto 360 is a great option for those smart watch wearers who want to stay fashionable while also staying up-to-date on current events. It stays true to form to the classic wrist watch and allows you to have your information available right when you need it. It's made of durable stainless steel and provides you with flight, weather, and traffic alerts to keep you on track every single day.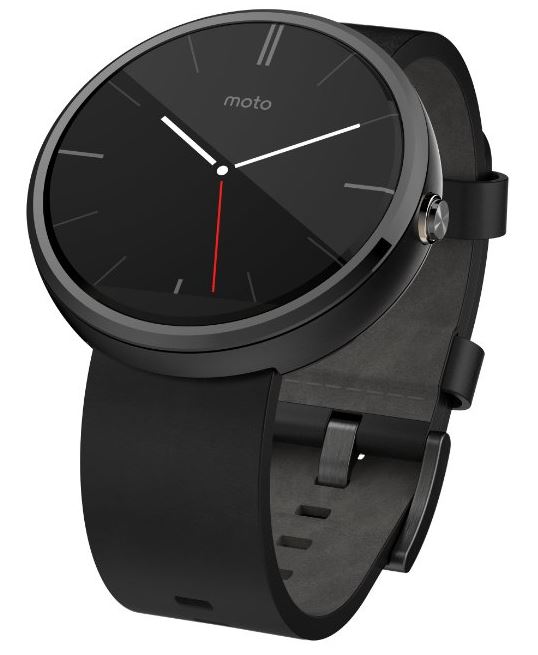 If your hands are full, the Motorola Moto 360 allows you to use voice control to complete tasks that you're unable to do with your hands full. You can send texts, add a reminder, or perform a Google search all with your voice. You can also ask for directions whenever you're lost.
What makes this a unique watch is the Moto Body which is said to promote a healthier lifestyle. It records your activities, heart rate, calories burned, and even gives you on the spot coaching to keep you motivated and as active as possible. So not only do you have information available at your fingertips, but you could also say that have your health at your fingertips as well.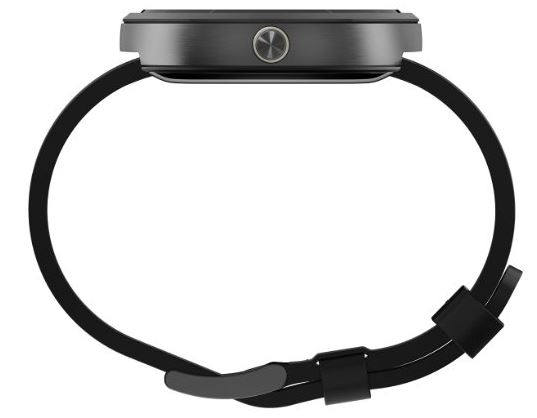 The Motorola Moto 360 works with your Android phone and will sync with any Android phone with an operating system of Android 4.3 or higher. It comes with a wireless charging dock as well as a wall charger and a quick start guide for fast and easy access. Your Moto 360 smart watch will stay charged all day with no plugs or wires. Simply plug in your smart watch at night and it will be ready for you the next day.
The Motorola Moto 360 Smart Watch retails around $250 and comes in many different styles and band choices. This is a great choice for the on-the-go individual who still wants to remain in style while staying informed at all times.
Otium Gear Bluetooth Smart Watch
The Otium Gear Bluetooth Smart Watch is another great option for those who want to be fashionable while also having information right within their fingertips. This smart watch has 3.0 Bluetooth capability and is fully compatible with the 4.2.2 Android Operation System.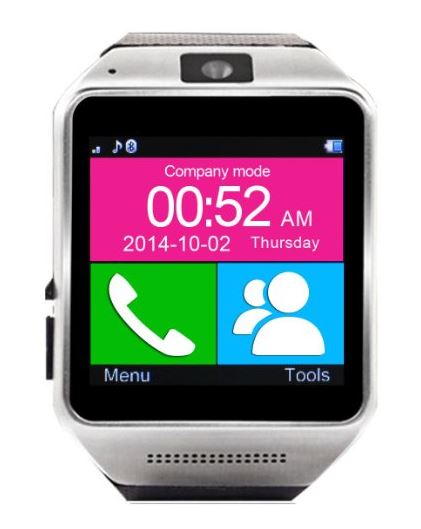 You have the ability to view email, caller ID, calendar, and your applications all via your wrist. One of the best things about the Otium Gear Smart Watch is that it's also compatible with iPhone and Bluetooth devices. Additionally, it has an integrated pedometer so you can stay in shape and keep track of how much you've walked in any given time span.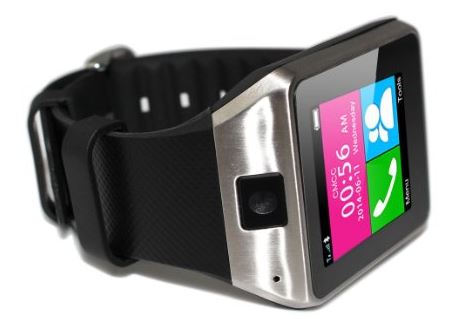 What most love about it is that it's built in a very high quality manner, and priced incredibly well. The Otium Gear Bluetooth Smart Watch retails for around $85 and is a great choice for those individuals who are looking for a smart watch, but are not looking to spend a lot of money. With the low price and multitude of advanced features, it's no wonder why more and more are deciding to select it.
Final Thoughts
Most people find it extremely convenient to have a high quality, state of the art smartwatch. For those who find that they're always on the go and don't want to dig through their pockets and purses for their smartphones, the smartwatch is a keen piece of technology to invest in. Even if you have a small budget, there are still some high quality options that don't necessarily break the bank.