If you're a fan of those Russian driving videos on YouTube, you've got one handy piece of technology to thank – the dash cam. They use the same bits and pieces we have in our smartphones, but they're not used to snap selfies or take videos of your pets. Despite what YouTube would have you believe, dash cams actually serve a very important purpose.
Over the course of a year, you spend many hours behind the wheel. At some point, an accident is bound to occur. You might not be involved, but video documentation is virtually priceless. It can make or break your insurance claim, so the cost of an inexpensive dash cam seems like nothing in comparison.
Like any electronic device, not all dash cams are alike. Today, we'll be looking at the three best ones on the market for 2017. We'll help you understand how they perform, and help you pick the one that best suits your needs.
KDLINKS X1
From PVRs to video transmission devices, KDLINKS has made it clear that moving images are their specialty. Dash cams have to be designed to store a lot of high quality video on a space restricted storage device, so their expertise in compression piqued our curiosity. If this dash cam was as good as we thought it would be, it's be the perfect choice for those who want to set it and forget it.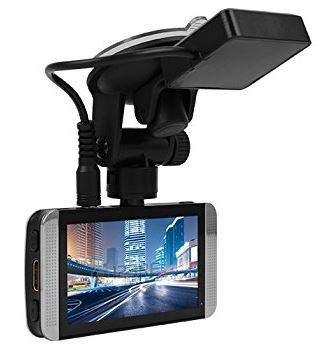 Design
Looking a bit like a frankstein combination of phone and camera, the KDLINKS X1 perfectly embodies the technologies that inspired the industry. It's impressively thin, only about 15% thicker than your typical smartphone. But on the face, you'll notice a very impressive looking lens. Positioned off to the side of the camera, this silver-tipped cylinder is tipped with one premium looking piece of glass. The ribbed end almost looks like something you'd need to manually focus, but luckily, it's entirely automatic. The metal construction of the top doesn't really add a whole lot to durability, but it does plenty for the look. We'd almost place the forward-facing end ahead of some consumer grade cameras in terms of looks, making this a purchase you can be proud of.
The same metal design is also present on the back, with two silver bands capping off either end of the large screen LCD display. Although they are just simple additions to the standard black plastic design of most consumer electronics, these metal elements really put this dash cam a step ahead of the competition.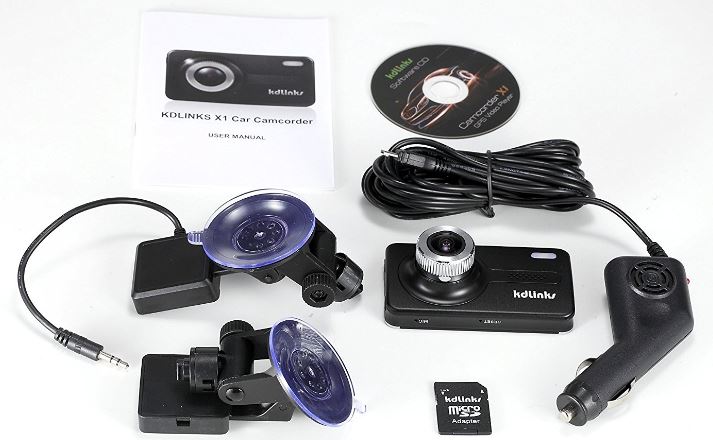 Video Quality
Since dash cams are fully automated, you're not going to be spending any time framing your shot. If you do need to review the video, it will always be after the fact. For this reason, the level of detail is more important than ever. KDLINKS doesn't skimp in this department at all. The high-end image sensor is capable of shooting 1080p video at 30 frames per second. On paper, this might not seem all that impressive. But it's important to note that this is the true sensor resolution. Many cameras are created to save video in 1080p, but they're not actually recorded at that resolution. Upscaling does very little to improve true image quality, so the fact that this dash cam isn't misrepresenting its performance is significant.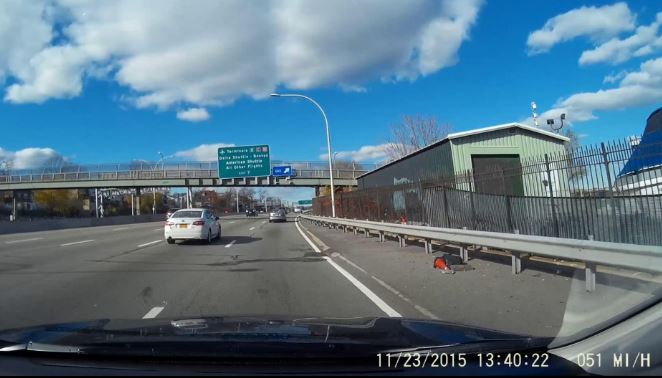 When reviewing our own video, we found the quality to be well above standard. Images were sharp and clear, allowing us to make up many details in the video that weren't visible in other cameras we've tested.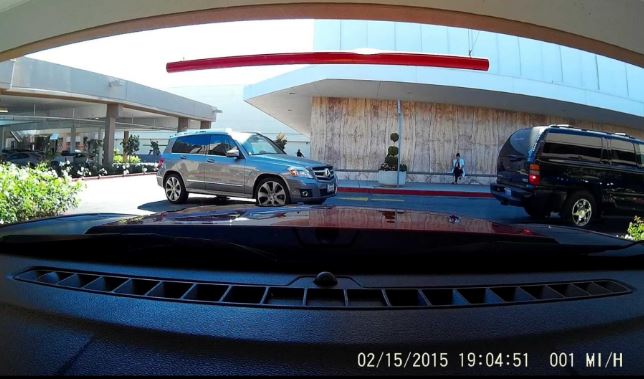 The two main reason the video looks so good is the high-quality lens, and the H.264 compression. H.264 has very little distortion and loss, so you're not wasting the powerful image sensors output. The lens is perhaps the most underappreciated part of a dash cam. Just ask any photographer, it's the lenses that can make or break your shot. Some dash cams are using cheaply made plastic lenses, but this one has a six-piece glass lens that really is photographic quality. This is one of those cameras that you've got to see for yourself. We can assure you, once you do you won't be disappointed.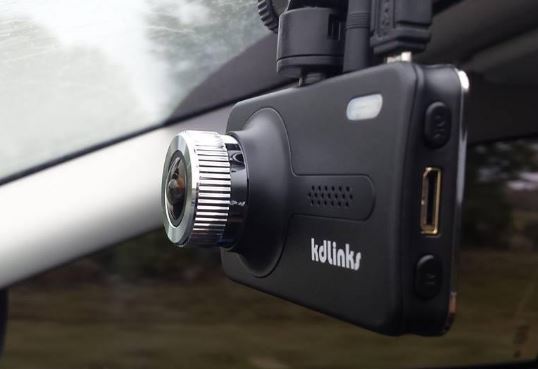 Mounting
It doesn't matter how good your video is if half of your recording is just the dash of your car. To really make use of your dash cam, you need to see what's going on outside the vehicle. For this reason, how the camera is mounted to your vehicle is extremely important. With a very large suction cup mount, you can place this dash cam exactly where you want it. Our recommendation is to pace it up on top of your window, behind the rear-view mirror. This is somewhere where it won't obstruct your field of view, but can still capture all of the action. With a 165-degree field of view, the camera mount is perfectly coupled with the lens.
One of our concerns with the suction cup was durability. Going in, we wanted to make sure that it's not something that's going to fall. Not only would this be a hazard, but it could damage your brand-new camera. Fortunately, all of our concerns were put to rest. The dash cam was secure on our dash, and we're confident that even a little off-road adventure wouldn't be able to knock this camera down from its place.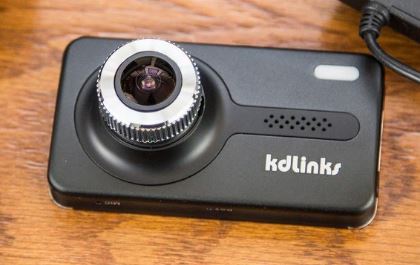 Features
This isn't just a simple source of video documentation, it's an all-in-one data collection tool. It's got a built-in precision GPS module that is capable of pinpointing your location to within a range of 20 meters. This is extremely handy when reviewing, as you can use the included software to access video from certain positions on your trip. This can be done from your computer, or directly through the touchscreen interface. Want to know if that last turn off was the one you were watching for? With a few taps of the screen, you can find out.
Falcon Zero Touch Pro
With a name like Falcon Zero, you'd think that this manufacturer would be making battleships or aircrafts. Luckily for you, they've put their skills to good use building high quality dash cameras. This model might be a little pricier than some, but it's wide range of features and excellent build quality more than make up for it.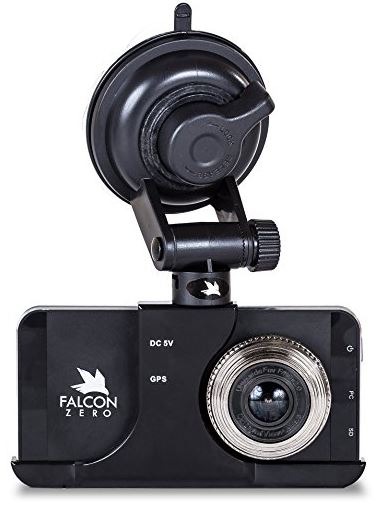 Design
The Falcon Zero Touch Pro is something that you will be proud to hang in your window. It's got a dual glass plates on both the front and the back, a slight throwback to the iPhone 4. But unlike the iPhones bare face, the Falcon has decorated the front of it's camera with a retro-looking lens that reminds us of the fold-down brownie cameras of yesteryear. The edges of the camera are made from a durable metal, but anodized black. Running around the sides of it are shiny silver bands that draw attention to it, making it stand out.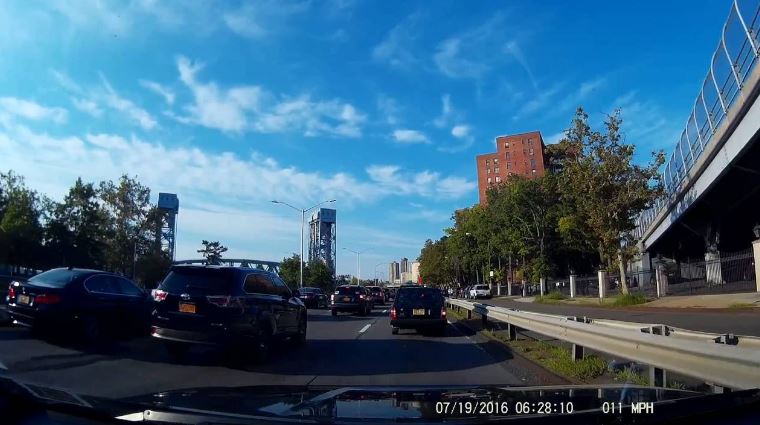 Video Quality
Without a doubt, this is the best video quality we've seen from a dash cam. It's not just the sharpness or the detail that make it sound out, but the video processors incredible ability to get the lighting just right. Most of the time, we're used to seeing an image that is slightly blown out or under exposed. Even when the camera experiences quick transitions from dark to light, it adjusts the exposure with lightening quick speed. The perfect example of this is going through a tunnel. Even checking the video frame by frame, we didn't lose more than a split second of time before the image was corrected.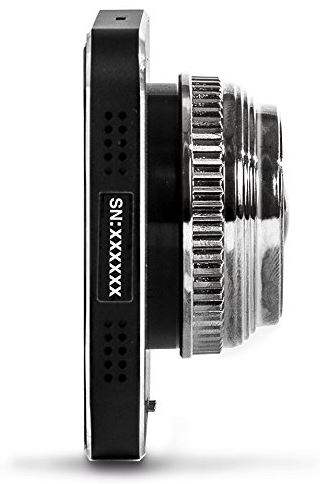 Mounting
This dashcam also uses a suction cup mount, but with an added tensioner. The knob you see on the front lets you change the amount of pressure that's being put on the spring, in turn changing how much the cup pulls on the window. This is great for vehicles because they don't all have the same windscreen shape. Older, larger vehicles such as trucks and vans tend to have reasonably flat windows. These vehicles will require less pressure to stay put. Rounder windows require a little more. This gives you the flexibility to mount the camera where you want, without risking durability.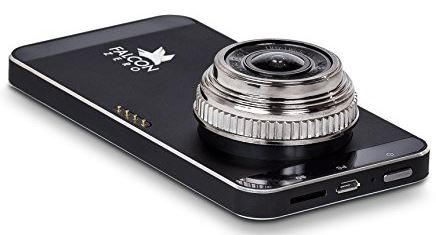 Features
Own two cars? This dash cam includes two base stations, so it's quick and easy to swap the camera from one car to the other. If you aren't going to be using the cars at the same time, this effectively cuts your purchase price in half.
It's also got a larger 4" touchscreen that you can use to review your videos, and the interface is a breeze. The addition of GPS data is the simplest way to navigate through your recordings, something we haven't come across in older generations.
Garmin Dash Cam 35
Garmin makes plenty of accessories for both your phone and your computer. With our vehicles including an increasing level of high tech gadgets, it makes sense that they'd expand into the dash cam industry. But what we didn't expect was for them to take the same technology you'd normally only find in a $50,000 vehicle and include it in an affordable dash cam.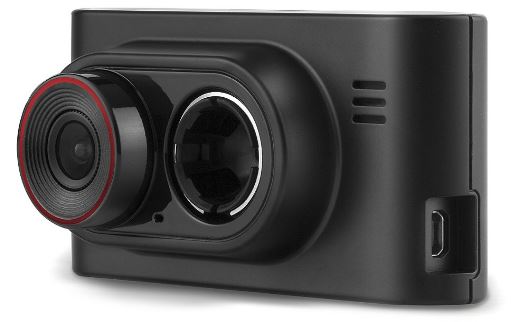 Design
This dash cam doesn't have any particularly striking visual design features. It's a black, rounded device with two open ports on the front, and a light red ring around the camera lens. You'll soon find out that the real power of this camera isn't what it looks like, but what it can do.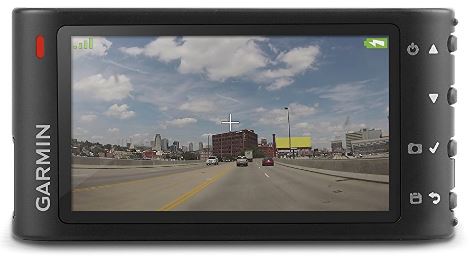 Video Quality
The higher quality the footage, the larger the file. It's hard to find a dash cam that can record 24/7 without cutting the image quality. Garmin found the perfect solution. It doesn't record video. Instead, it internally analyzes each frame in order to identify incidents. It buffers the last few minutes of driving, so you'll always have it on hand.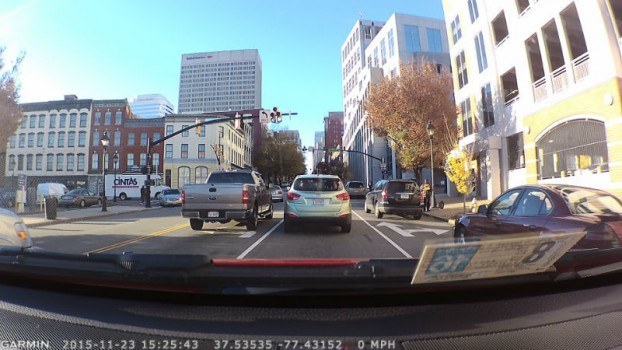 If an incident occurs involving your vehicle, the camera will automatically detect it and save ultra-high quality video right to the internal storage. You'll notice that the video is brighter, smoother, and more detailed than you're used to seeing from other dash cams. Of course, you can still review this material directly from the camera, but you'll really want to watch it on a high quality computer monitor or television to get an appreciation for how clear the video is.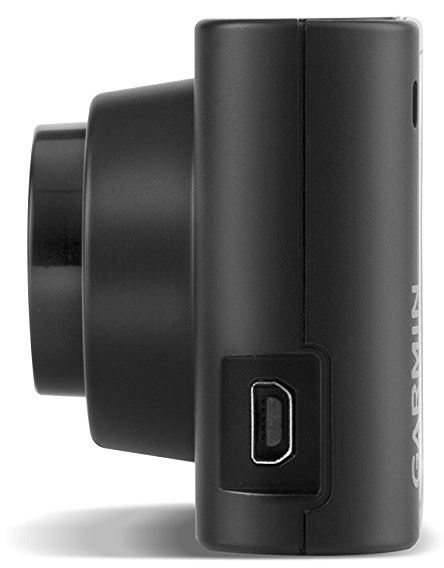 Features
The best feature of this dash cam is the G sensor. While driving, you're exposed to some unavoidable forces. Using accelerometers, this camera keeps track of all of the forces. If they ever pass a certain threshold, it knows that an incident occurred. This doesn't necessarily have to be an accident. Sometimes it's just you slamming on the brakes, or hitting a few bumps on the road. When it comes to safety, it's better safe than sorry.
These G sensors are also useful thanks to Garmin's "driver awareness warnings". They'll let you know if a car up ahead suddenly stops, or if somebody flies into the frame unexpectedly. It can also keep you informed of upcoming speed cameras or red lights, making it an all-in-one safety device.
Which Dash Cam is Right for Me?
Given the choice, we'd pick the Garmin Dash Cam 35 as our number one recommendation. Not because it's the best dash cam, there are some models that beat it in a few departments. It's because it's so much more than just a dash cam. This unit is more of an all in one safety device, with both safety warnings and automatic video saving.
For some, modern cars already have this feature. If that's the case, the question to ask yourself is how good do you want the quality to be? The KDLINKS X1 has the best night vision, and takes razor sharp videos that are perfect for use in high traffic or busy areas. But if you really want the best of the best, you can't do better than the Falcon Zero Touch Pro. This dash cam fixes the biggest issue we face with modern cameras, and is able to keep your images properly exposed in almost any environment.