If you spend a lot of time at your desk, you know first-hand that an office job can take a toll on both your mind and your body. Whether you work in a medical clinic or financial institution, any office job requires long hours in uncomfortable positions. As a result, many people experience posture related back and neck problems. At the root of this problem is the quality of an individual's office chair. Without a good office chair, you risk not only daily discomfort, but the possibility of facing permanent damage to your back and/or neck. It's no surprise to those that work in an office how important a high-quality office chair is. The difficulty can be knowing which one will work best for you.  
An ideal office chair is one that will not just keep you comfortable all day, but for years at a time. Given the extensive negative impact a poor office chair can have on your overall health, the importance of owning the right one is difficult to understate. Office chairs are not like a pair of shoes; you can't try it out for a minute or two and know for sure if it fits. This can make the very important task of finding the correct chair a difficult one. Thankfully we've compiled some research of the best ergonomic office chairs so you don't have to. These chairs all have their own different advantages, but each one is guaranteed to improve the longevity of your back and neck health.
Herman Miller Classic Aeron Task Chair
The Herman Miller Classic Aeron Task Chair was designed for people who love to customize. Not only does this chair come with tons of great features, but it is also top notch in comfort level. If your lumbar sweet-spot changes throughout the day or you typically struggle to find a chair that perfectly fits you, then this chair is the answer to your problems.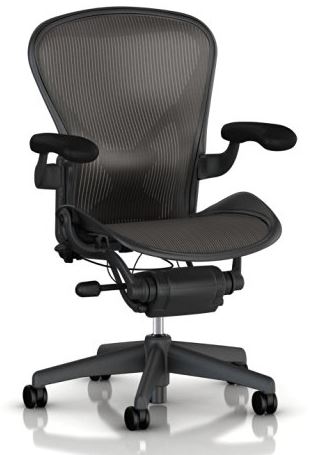 Comfort
This office chair is packed with features that allow you to customize the way the chair supports different areas of your back. One of the most important support systems a chair can offer is lumbar support. Your lumbar is the naturally curved lower part of your back, and it is responsible for many back problems when not supported properly.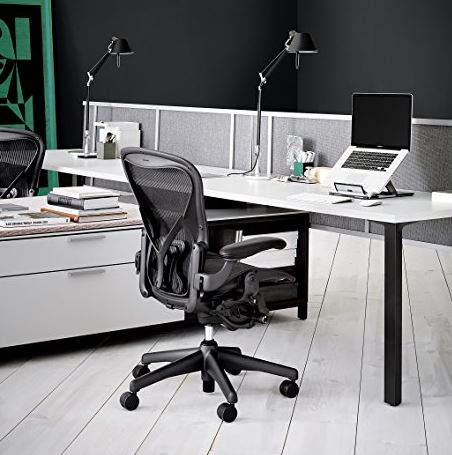 The Herman Miller Classic Aeron Task Chair allows you adjust the built in lumbar support vertically over a 4.5″ range, and can be flipped over so either the thicker or thinner side is against your back, depending on how much support you want. It also has a tilt limiter that allows you adjust the amount of effort required to comfortably recline. The seat angle can also be adjusted from neutral to engaged. Additionally, it's made with lightweight materials that make it breathable and extremely comfortable. Even the padded arms are adjustable, making it one of the most customizable chairs on the market.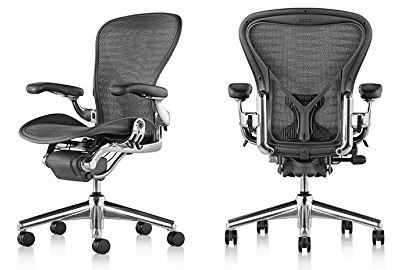 Durability
If your office chair is poorly made, it doesn't really matter how comfortable it is. At one point or another, certain mechanisms will fail or the cushions will wear out and it won't be as functional as it once was. The Herman Miller Classic Aeron Task chair will not let you down in this regard. From top to bottom, it is made with quality materials that will stand the test of time. The high tech mesh fabric is not only light and breathable, but also very durable. It can easily withstand daily wear and tear that other fabrics can't.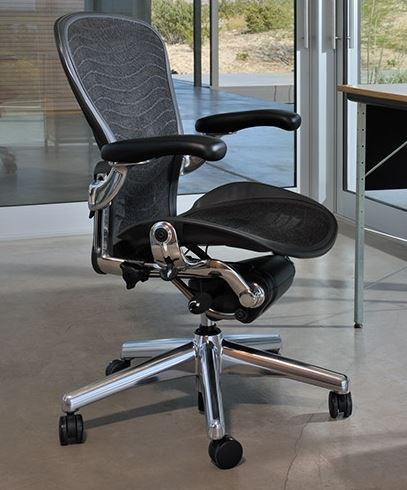 The 2.5″ carpet casters are also very durable, which is important if you want your chair to maintain its ability to roll smoothly. The casters are made from a durable black nylon that is designed for most office carpets of low to medium pile. All these materials result in a chair that will last for the long run.
GM Seating Ergolux
For some people, comfort and durability aren't the only things to look for in an office chair. Some people also want luxury and a high level of class to be reflected in their chair. If you are someone who values aesthetics as much as comfort in a piece of furniture, then the GM Seating Ergolux could be the perfect chair for you.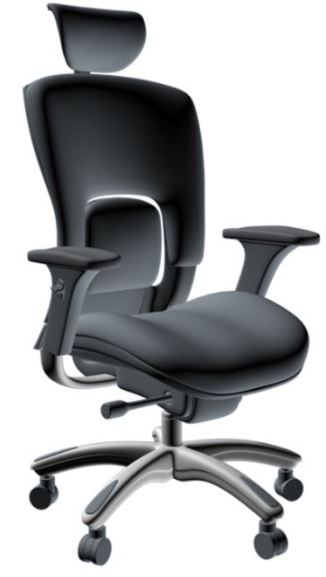 Comfort
Some chairs might look great, with a leather exterior and fancy little features, but offer very little in terms of comfort. It's important to watch out for chairs that are all frills and no substance. On the other end of the spectrum, the GM Seating Ergolux is as comfortable as it is classy. This chair perfectly combines class, professionalism and comfort. It's thickly padded from the arm rests to the seat cushion, so every moment spent sitting is a comfortable one.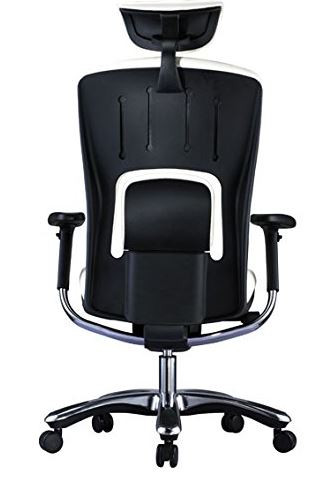 It also boasts a number of features that allow you to adjust parts of the chair based on your needs. The backrest is height adjustable so people of any size can use the chair. The armrests are height, angle and forward/backward adjustable so you can optimize your arm position for typing, sorting paperwork, or simply sitting and talking. The seat is also slide adjustable, and you can adjust the tilt tension to your own leaning strength.
Unlike many chairs, the GM Seating Ergolux also comes with an adjustable headrest. This is a great feature for anyone who has a history of neck soreness as a result of their office chair. With the padded cushions and so many adjustments, this is a chair that will be comfortable every moment.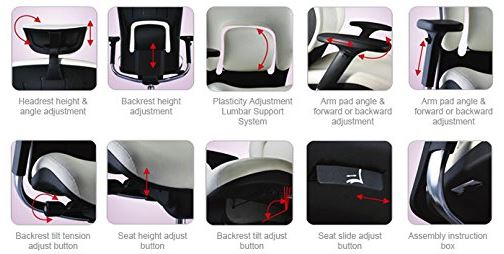 Durability
The GM Seating Ergolux is a very high quality chair, starting with the materials. It's made from genuine leather which, aside from being comfortable and professional looking, is a top-quality material that withstand daily wear and tear better than almost any other fabric. If you want your chair to look as professional as you, you don't want a fabric that will wear out in certain places over time. The GM Seating Ergolux is a well-crafted, high quality that you can be proud of.
Steelcase Leap Chair
For those who understand the value of having eco-friendly products in as many aspects of life as possible, the Steelcase Leap Chair will do you proud. Made with up to 30% recycled materials and being 98% recyclable itself, this chair was designed with the health of both you can our planet in mind. It also comes in a wide range of different colors, so you can have a bit of your personality reflected in your chair. This chair is a great option for any office worker. It's no surprise Leap chair is Steelcase's number one selling chair.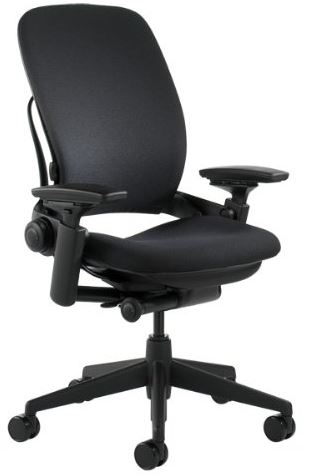 Comfort
Steelcase understands the value of a comfortable, functional chair. The Steelcase Leap Chair is built to give you the highest level of comfort possible while also feeling good about the product you own. One of the best features of this chair is what Steelcase calls their Live Back Technology. The Live Back Technology does more than just support certain portions of your back.
The back of the chair actually mimics the natural movements of your spine. This is an exceptional feature for a few reasons. One reason is that it gives you the most natural support, so that your chair has no uncomfortable pressure points that could lead to further back problems. The other reason is simply one of comfort. Try it, and you'll find that the Live Back technology makes the Leap one of the most comfortable chairs you've ever sat in.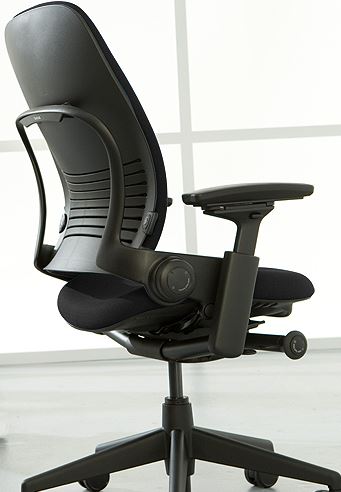 The Leap is also adjustable in a number of places for further optimization of your natural sitting position. The armrest are adjustable in such a way that allows you to find the most natural sitting position possible. They telescope in and out as well as forward and back, and up and down. Plus, no matter what your shape or size, it can comfortably perform all of its functions with up to 300 pounds of weight. The seat is also adjustable so that you can extend or reduce it in order to minimize pressure on the legs behind the knees. This makes it highly accommodating for people of many different heights. With so much technology and so many features, sit in this chair and the last thing you want to do is get out.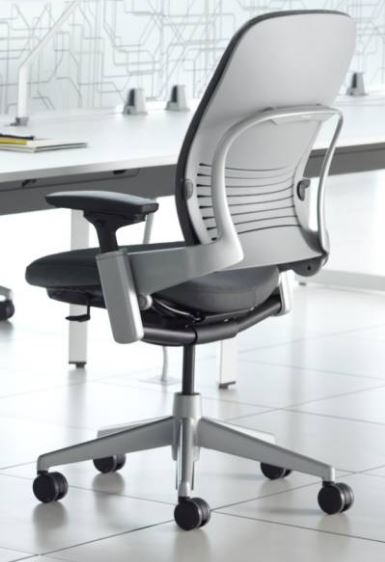 Durability
With a chair this comfortable, there's no doubt you want it to last for as long as you could possibly need it. The best office chairs are the ones that you don't have to replace, and that starts with high quality materials. If you think the recycled materials suggest poor quality, then you are in for a pleasant surprise. Not only are these materials beneficial to the health of our planet, but they are also very high quality, durable materials that will outlast most other chairs on the market. There's nothing worse than finding the perfect chair comfort-wise, only to have it fall apart after a short period of time. Besides being the epitome of comfort, the Leap is designed to last for the long run.
Which Ergonomic Office Chair is Right for Me?
Whether you're a CEO with an eye for style, or an average worker who simply values the health of their back and neck and seeks daily comfort on the job, there is a chair out there for you. If you're tired of trying to narrow down what kind of chair you need, we've got some recommendations for you. Picking one isn't always an easy decision, but we think these core features will help you choose.
Who would like the Herman Miller Classic Aeron Task Chair?
Since it is so customizable, the Herman Miller Classic Aeron Task Chair is the perfect chair for anyone who finds it difficult to stay comfortable in one chair or position for long periods of time. If you've been struggling with finding a chair that curves and supports your back in exactly the right places, you are certain to find success here. It suits individuals of a wide range of heights and weights, and with everything down to the arm cushions being adjustable, it's one of the most individually-tailored chairs you can find. So if you value comfort and support but need a chair that can keep up with your changing needs throughout the day, it's likely the ideal choice.
Who would like the GM Seating Ergolux?
The GM Seating Ergolux is the perfect chair for the working professional, or anyone who values premium looking office furniture. It is a chair that looks as good as it feels. It is also ideal for people who specifically suffer from neck soreness because of the adjustable headrest. This chair strikes the perfect balance between professionalism and comfort, so you can improve your overall back and neck health and look good while doing it.
Who would like the Steelcase Leap Chair?
Anyone who values eco-friendly products will love this. The Steelcase Leap Chair supports not only your health but the health of the planet as well. It's also an exceptional chair by every other measure. If you want a chair that promotes the most natural sitting position, there's no chair better than this. It's optimized for both your daily and long-term comfort. Steelcase understands that the trick to avoiding back problems is long term posture support, and this idea is reflected in every aspect.
Looking to improve your ergonomics even further? At minimum, you should consider an ergonomic keyboard. An ergonomic keyboard will prevent you from developing carpal tunnel, and relieve unnecessary tension. If you spent more time with a mouse than with a keyboard, there are some unique ergonomic mice that are much more comfortable to hold. Just like high end audio equipment or fine wine, ergonomic products are the kind of thing that, once you've used them for the first time, you won't know how you ever lived without them.