When it comes to storing your data, only two things matter. Speed, and size. We want something that responds instantly to your requests. Anything slower is a waste of your time. We want to be able to take all of our files with us, and have them on hand no matter where we are.
Cloud technology has become popular due to its unique concept. Having direct access to any file we could ever need is a great idea, but in practice it doesn't always work that way. Bandwidth limitations and data caps mean that cloud technology isn't the best in every scenario.
When it comes to physically carrying your files around with us, there are a number of options to choose from. Flash drives are inexpensive, and reasonably fast. External hard drives have huge amounts of storage space, and can be used with virtually any machine on the market.
There is no doubt that, as consumers, we have a lot of options. When it comes to internal storage, it's commonly accepted that solid state drives are the best balance between size and performance. With the latest batch of external solid state drives, portable storage has never been easier. We'll be taking a look at the three best external solid state hard drives on the market. First, we'll explore the differences between them. Then, we'll help you find the one that's right for you.
Samsung T3 Portable SSD
Where solid state drives are concerned, Samsung is a heavy hitter. Thanks to the success of their Android phones, Samsung has put a lot of research and development into their flash storage technology. No matter which style of drive you're looking for, Samsung has consistently proven themselves to be a market leader. Their latest portable SSD is available in 1 TB, 2 TB, 250 GB, or 500 GB sizes, giving you a lot of choice and putting these drives in direct competition with full size drives.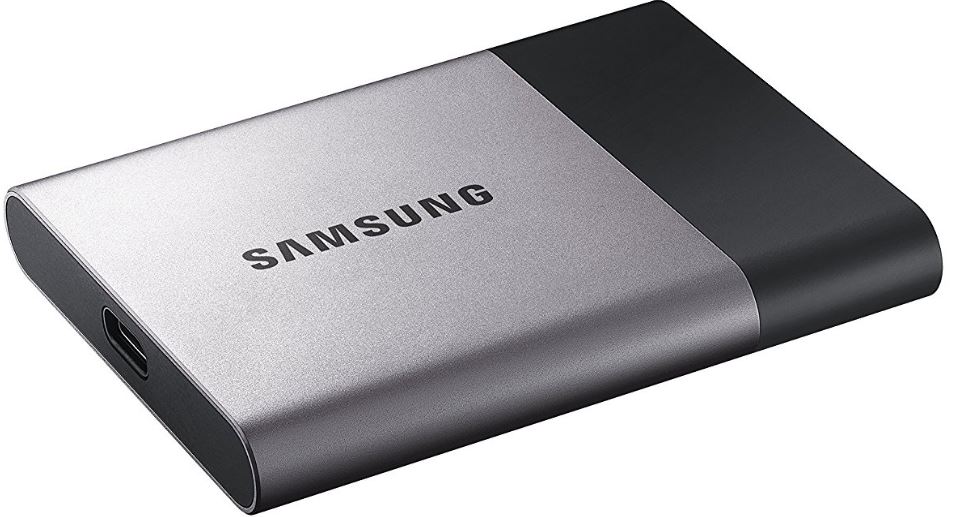 Design
Although nearly identical to the previous generation in design, there are a few small changes with the new Samsung T3 Portable SSD. For starters, the enclosure is a little larger. But it's only noticeable if you held them side by side. Measuring an easily pocket-able 2.9" by 2.3" by 0.4," you could slip this SSD into the coin pocket of your jeans. Another change is the type of material the enclosure is made from. While the lower housing remains encased in plastic, the upper portion is protected with an aluminum case. It's incredibly sleek looking, and the added weight gives it a very premium, durable feel. Although you'll want to make an effort to keep track of it (it's much easier to lose a tiny little drive like this!) you'll never find yourself frustrated when trying to lug it around like you would with a full-size drive.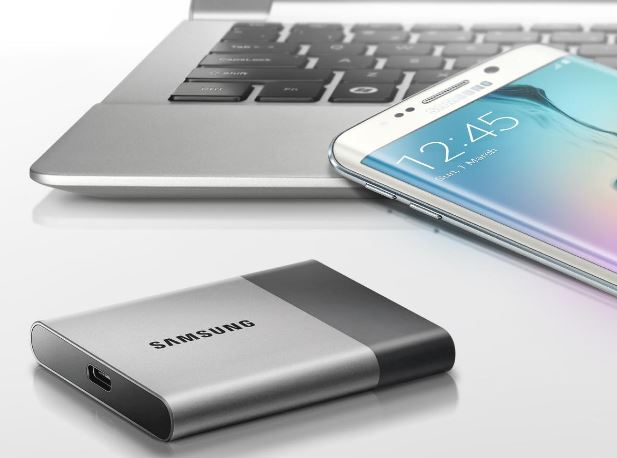 Storage Technology
This tiny SSD is using Samsung's unique technology they call V-NAND. V-NAND is a type of 3D memory chip. Most manufacturers lay data out along a flat grid, and occasionally stack multiple memory address on top of each other, sharing a common bus. V-NAND has several key benefits over standard MLC memory. You can think of it a bit like a bunch of tall buildings in a city.
To get data from the upper level memory slots, just like the upper levels of each building, you'll have to enter on the street, take the elevator, then return to the street. This can introduce lag when you're consistently trying to access multiple files from different buildings. V-NAND is a bit like building walkways between each building. Because there are multiple busses that can access each memory chip, the drive will always be able to find the most efficient way possible to access your data.
The SSD uses the same controller as the last generation, dubbed MGX. Although the memory chips have been improved in performance, this tried and true controller has more than adequate to support the additional bandwidth.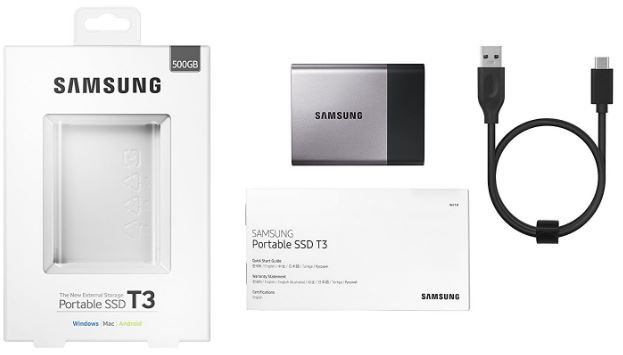 Performance
If you're comparing this to older models, you might be impressed to find that a USB 3.1 Gen 2 slot, also known as USB-C, is used. It's worth noting that this chance was done primarily for convenience sake, and doesn't offer a noticeable performance increase. While you do have a larger number of cable available, the slot is still restricted to the 450Mbps standard used in the most recent generation.
How is the performance in the real world? Using our test computer, we tried a number of file transfers to see how close the performance was to the rated standard. The drive performed best during data reads, with speeds averaging 437 Mbps. Write speeds were, as expected, a little slower. But still surprisingly good considering the size. We were able to write files at 242 Mbps, just a little slower than Samsung's full-size drive.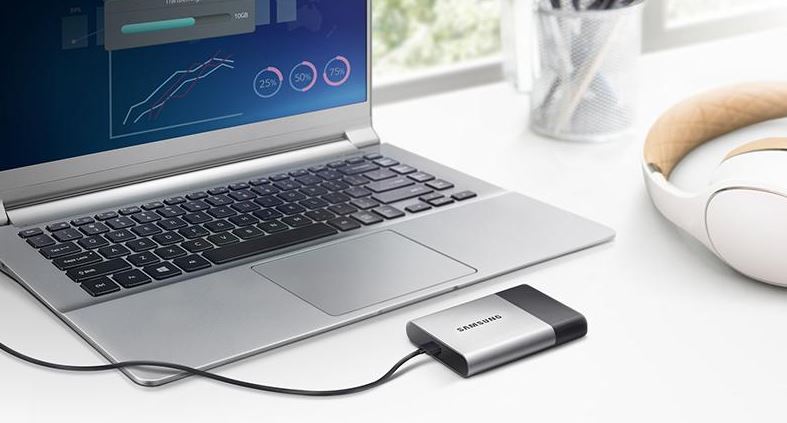 Features
One of the most unique features of the T3 portable SSD is the fact that it works with modern smartphones. If you have a smartphone like the Pixel that utilizes USB-C, you can plug directly into the drive with any standard cable. If you have a micro-USB port, you'll need to purchase an adapter. There is no special software required, allowing it to work straight out of the box. If you have an older smartphone that doesn't support external storage, Samsung does offer a backwards compatibility package called "Samsung Portable SSD," available in the app store.
SanDisk Extreme 900
If you've used a flash drive in the past, you've likely come across one of Sandisk's products before. They're known for their reliable, yet affordable solutions. These portable SSDs are a little larger than some, but offer the same performance levels that can be obtained with high-grade internal drives. Available in capacities of 480 GB, 960 GB, and 1.92 TB, these drives are ideal for consumers who need large amounts of storage on hand at all times.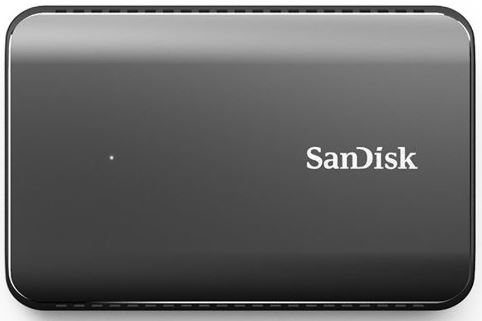 Design
While the SanDisk Extreme 900 may not be one of the most compact designs on the market, we quickly learned that the added bulk was for a good cause. The top and bottom faces of the drive are coated with a polished aluminum material, but the core of the drive is enclosed in rubber. This isn't anything like your standard rubber phone case. It's much harder and more durable than that, and is designed to operate as a shock absorber. This is the kind of drive that can be carted around as needed, without any concern over damaging it.
SanDisk is really pushing the limits of what this technology can do, and that means that these chips will generate a fair amount of heat. To address this problem, the chips are bonded to the metal case. This allows it to act as a heat sync, extending the useful life of this drive many times over, while helping to improve performance.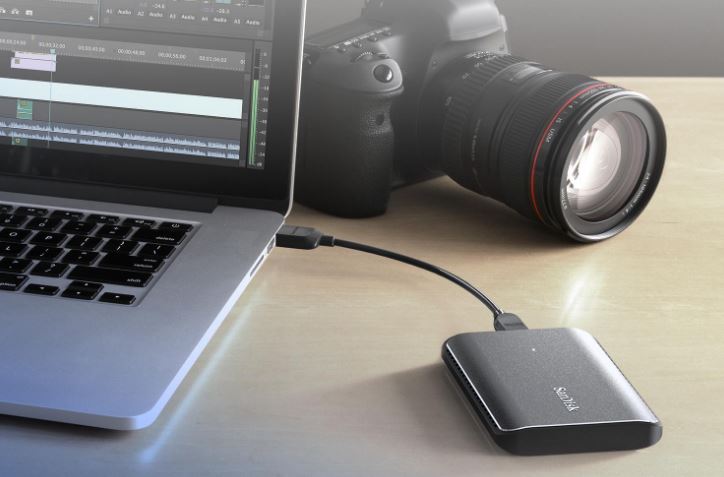 Storage Technology
On paper, this drive doesn't look all that impressive. It uses standard three-level MLC flash storage connected to a 6Gbps SATA controller. Despite using older (and more affordable) technology, SanDisk found a creative way to boost the performance to keep this drive-in line with other high end models. What they've done is included a RAID controller in place and double the SSDs. For example, if you were to purchase a 480GB SSD, there will actually be two SSDs inside. They both hold the same amount of information, which is read back at the same time. This doubles the throughput of these drives, drastically improving performance.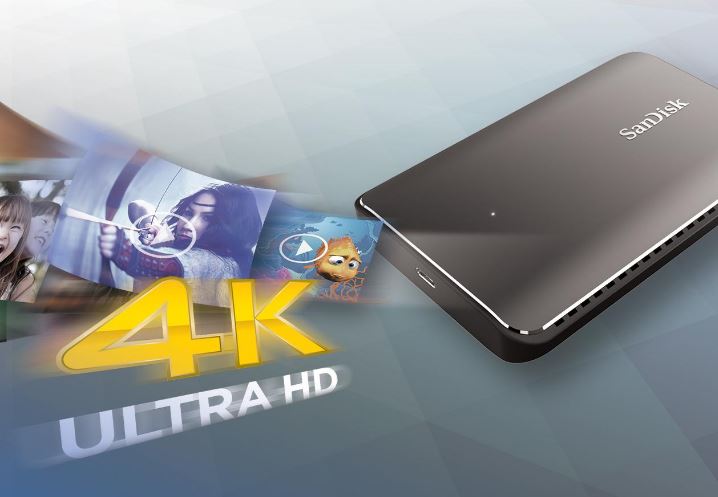 Performance
The performance of this drive absolutely blew us away. With write speeds of 565 Mbps and read speeds of 796 Mbps, this drive is nothing to scoff at. It performs best with sequential data, implying that the drive is better for large, consistent file transfers. Performance did suffer a bit when reading data randomly. For an external drive, this is perfect, since you won't be using it as a boot drive.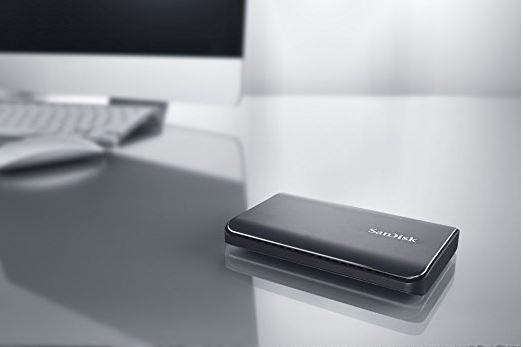 Features
Although this drive uses a USB-C connector, SanDisk includes all of the adapters you might need. Type C to A, as well as a Type C to SuperSpeed 3.1 adapter is included. But if you're lucky enough to have a USB-C port on your computer, you can just use the standard pass-through cable.
PNY Elite
For many consumers, drive technology is passing a threshold. While it's great to see drives approaching a gigabit in performance, this isn't absolutely necessary for many users. PNY is the budget king in external storage, and this drive manages to produce above average performance for a rock bottom price.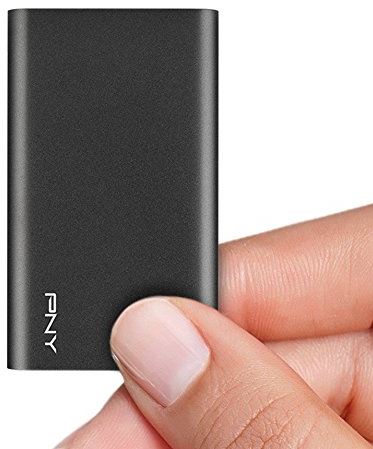 Design
The black plastic case and rounded edges are very similar in design to Samsung's portable SSD, although the PNY Elite is much more lightweight. The rounded edges make it comfortable to hold in your hand, as well as slip into or out of your pocket. Despite its lightweight build, this drive is still surprisingly durable, making it ideal for portable use.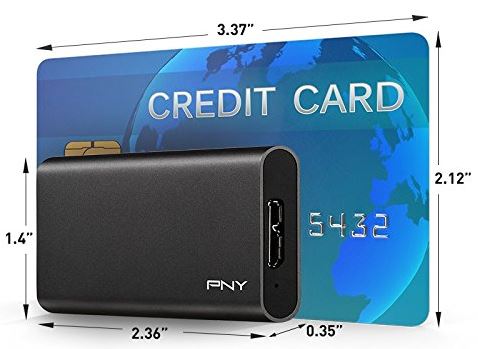 Storage Technology
For the last few years, MLC NAND has been dominating the SSD market. This particular drive uses tried-and-true memory chips and controller configuration. This means extreme reliability, and very low levels of heat. Even when transferring large amount of data, the case doesn't get too warm to the touch. Additionally, you won't encounter any potential glitches or malfunctions with software that isn't up to date with the latest standards.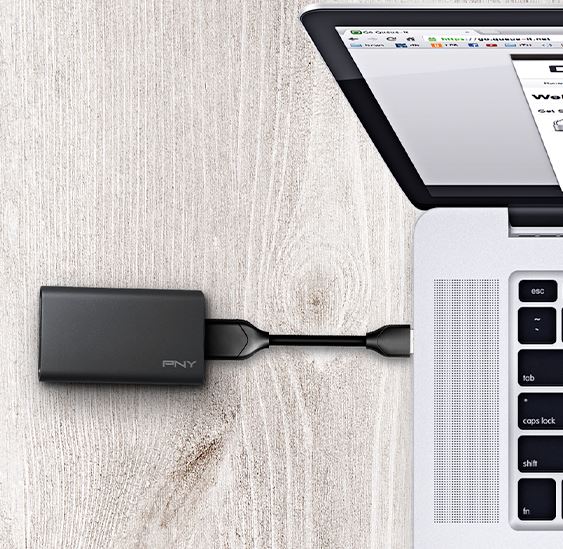 Performance
With read speeds of 154 Mbps and write speeds of 134 Mbps, this drive might not seem like anything to write home about. That being said, we noticed that the real-world performance was still quite manageable. Copying an entire movie? It's completed in a few seconds. Performing a full system backup takes about 7 minutes. Opening documents and photos happens almost instantly. It's easy to get caught up in the numbers, but this drive is suitable for almost all day to day use.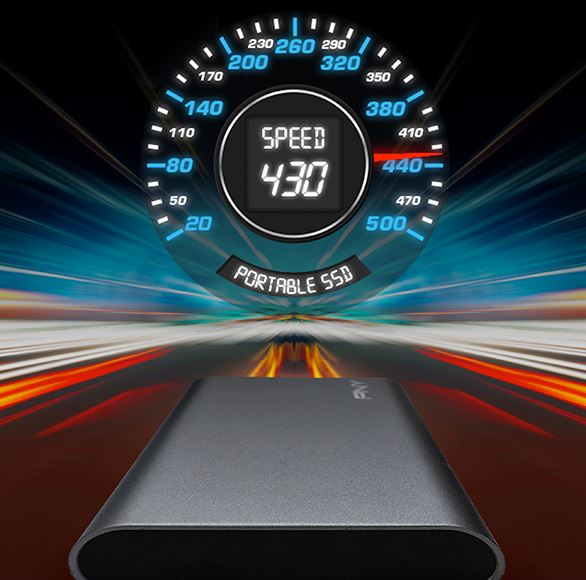 Features
Using a standard Micro-USB to USB-A connector means that this drive is compatible with all of the cables you have laying around, and doesn't require any fancy adapters or software. The controller has excellent software support, so encryption and backup schemes usually work straight out of the box. It's available in 240 GB and 480 GB sizes, so any moderate data user should find this drive sufficient for their needs.
Which External Solid State Hard Drive is Right for Me?
The first thing you'll have to establish is how you intend to use the drive, and how much storage space you need. If you're just backing up movies, any one of these drives would work great. But if you're trying to run programs and games directly off the drive, some models may be completely unusable.
If you're looking for something with moderate storage space for backing up your files, the PNY Elite should suit your needs. Available in both 240GB and 480GB, there is more than enough storage space available for casual users. Performance is reasonable, but the rock bottom price makes it a great value.
If you want to use an external drive as you boot drive, or operate on large files directly from it, the SanDisk Extreme 900 is a great choice. With it's dual SSD system, this drive offers some of the best performance on the market.
If you want a good balance between the two, look no further than Samsung. The Samsung T3 Portable SSD offers performance fast enough to boot directly from, and a variety of sizing options suitable for almost any need.
Regardless of which drive you choose, one thing is clear to us. Portable solid state drives have come along way, and are the clear winner in the myriad of choices you have for portable storage.