Gaming mouse pads seem like something makers of PC accessories made up, but once you're deep into the world of gaming, you'll understand why a gaming mouse pad is a must-have for every PC setup. Each of these modern gaming mouse pads incorporate technologies that create gamer-friendly features, such as tracking capabilities, textured surfaces, water resistance, and a whole lot more. Below are three gaming-grade models we love and recommend to every beginner gamer who's looking for a pro-gaming mouse pad:
ENHANCE GX-MP2 XL Extended Gaming Mouse Pad
Providing a 31.5 x 13.75 inch surface, the ENHANCE GX-MP2 XL Extended Gaming Mouse Pad by Accessory Power is a top rated favorite that's over-sized to accompany both your keyboard and mouse. Built with one of the smoothest and nicest fabric surfaces, both slow and fast movements are easily achieved with perfect accuracy.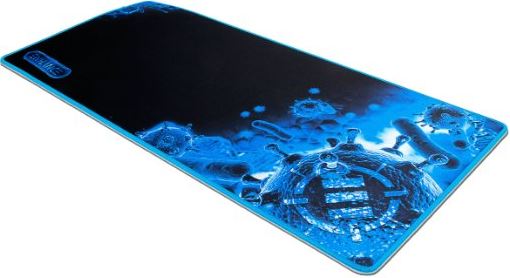 Features:
Surfaces – Right out of the packaging, you'll notice how smooth and silky the top surface feels. It provides for minimal friction and excels well with both wired and wireless laser mice. The back side is a super-sticky rubber material that provides plenty of grip for your table or desk surface. It assures that there won't ever be any slipping or movement of the mat.
Anti-Fray Stitching – Around the edge of the mat, you'll notice a thick band of sewn threads that keep the edges from fraying. It adds a new level of durability to it that has been proven to hold up well over time and with regular use.
Inexpensive – Priced at $20, the ENHANCE GX-MP2 is priced right as an affordable option for most people's budgets. Plus, it's available in two different color schemes – blue or red – so you can select whichever style suits your setup best.
For All Games – There's no one specific game that it works better or worse with. It's designed to work equally well with all kinds of games from first person shooters to multiplayer strategy games.
Impressive Warranty – Backed by an outstanding 3 year (36 month) warranty period, you can rest assured knowing that it's going to hold up well over time without any flaws. It's quite apparent that Accessory Power is a company that stands proudly behind their products. They're always easy to reach and get a hold of if need be.
Overall, we're really big fans of the ENHANCE GX-MP2 XL Extended Gaming Mouse Pad. It's a wonderful choice for those who crave an over-sized mouse mat that's specifically designed to excel with gaming. With a huge surface that's fast and precise, a wonderful three year warranty period, and a low price tag, we can strongly say it's one of our favorites for 2016.
Razer Vespula Dual-Sided Gaming Mouse Mat
The Razer Vespula Dual-Sided Gaming Mouse Mat is another great choice that's built with a wrist rest and two state-of-the-art tracking surfaces. This enables you to choose how your mouse performs based on the type of game and according to your specific playing style.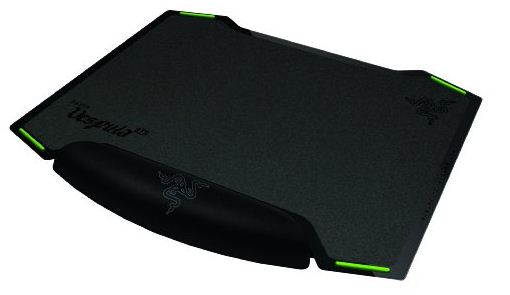 Features:
Dual-sided feature: This mouse mat is manufactured with a non-slip, abrasion-resistant, anti-reflective hard coat. Each side of this mouse pad has different designs to provide a surface for specific game performance requirement, or personal gaming style.
Speed: The speed mat is designed with a flat and smooth surface. This side is ideal for high-sensitivity gamers, since the surface lets users glide the mouse with ease. It is ideal for first-person shooting games and other types of games that require users to hit targets more efficiently.
Control: The control mat is ideal for low-sensitivity gamers that require very precise movements with their games. With this type of rough surface, the resistance given to your mouse allows users to exert more force, which in turn, results to very precise movements.
Dual Sides: The dual sided function is made available thanks to enhanced tracking surfaces tried and tested by hundreds of professional gamers to pass tournament standards.
Razer Synapse enabled: Razer's Synapse software is compatible with this mouse mat, which means you can calibrate it to your mouse hassle-free. It boasts of the Surface Calibration that ensures your mouse identifies specific surface via sensors, maximizing the benefits of its dual-sided mat.
Super soft wrist rest: The Razer Vespula Dual-Sided Gaming Mouse Mat not only provides excellent performance to games, but also offers maximum comfort. Its wrist rest is made of gel-filled material, letting you play longer without straining your arm and protects wrist from gaming fatigue.
You can buy the Razer Vespula Dual-Sided Gaming Mouse Mat through Amazon, the best place to purchase all of your PC needs.
SteelSeries 4HD Professional Gaming Mouse Pad
The SteelSeries 4HD Professional Gaming Mouse Pad is another gamer-favorite, particularly for its performance and design. It's built with several high end features that will have you wishing you owned it earlier.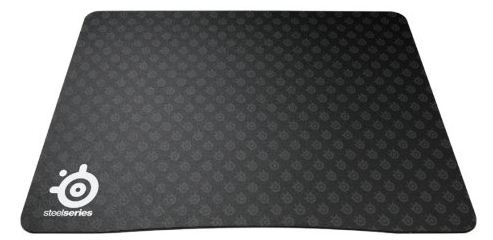 Features:
Tracking-capable textured surface: The SteelSeries 4HD's super-fine textured surface was manufactured with thousands of light-reflecting points that enable superb tracking capabilities. With advanced tracking, gamers are able to use their mouse for high-velocity or minimal moves, depending on different needs.
Tested with advanced mouse: When testing for the 4HD's precision, stability and accuracy, scientists used a unique Xai Laser and Kinzu Optical mouse through hours of research and development.
Smart design: The SteelSeries 4HD Professional Gaming Mouse Pad is made of a hard plastic composition engineered for precise gaming movements. At the back of the mouse pad is a rubber layer that provides a steady grip on your desk, preventing slips or a wobbly mouse movement.
Water proof: Comprised of thousands of compressed fibers that make it water-proof and stain-resistant.
You can buy the SteelSeries 4HD Professional Gaming Mouse Pad for just under $20. It comes with a cleaning cloth to keep it in tip-top condition for years of continuous use.
SteelSeries QcK Gaming Mouse Pad
SteelSeries is a well trusted brand that has several gaming mouse pads available that are all designed specifically for professional gamers. Another one from SteelSeries is the QcK Gaming Mouse Pad that's overall quite impressive.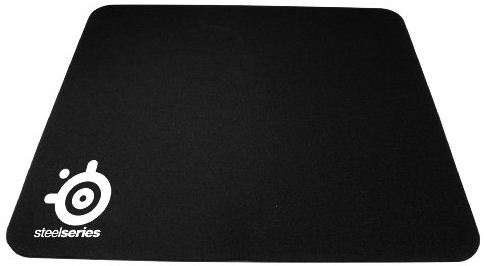 Features:
Fully customizable: The SteelSeries QcK Gaming Mouse Pad provides gamers with flexibility that they can choose what size or how thick the mouse pad they prefer.
User-friendly design: Regardless of size or thickness, the QcK mouse pad is made with a rubber, non-slip base that keeps your pad from moving when in use, and provides extra comfort for your hand-wrist movements. It also has a cloth surface that lets mouse glide with ease.
Tracking-capable surface: SteelSeries' trademark surface is also incorporated into the QcK series, which means gamers can be able to move their mice either with low or high-velocity movements.
Award-winning: The QcK Gaming Mouse Pad is a favorite of gamers who compete and win tournaments. SteelSeries even claims that this model has won more competitions than any other mouse pad of its kind on the planet.
The SteelSeries QcK Gaming Mouse Pad is both water and stain resistant. It's been tested vigorously by both scientists and professional gamers to arrive at a functional, stable, and performance-packed mouse pad fit for home use or tournament level. What's impressive is that award-winning gaming teams like Evil Geniuses, Fanatic, and SK Gaming have all participated in the development of these mouse pads.
If you're interested in the SteelSeries QcK Gaming Mouse Pad, it's affordable at just $10, with a cleaning cloth included.
Which Gaming Mouse Pad Should You Choose?
We initially recommend the Razer Vespula Dual-Sided Gaming Mouse Mat for advanced gamers who are mastering a specific game that require very precise movements, and swift change in gears. This type of mouse pad doesn't provide customization like the SteelSeries QcK, but it does offer impressive performance and impeccable design fit for use even during long periods.
The Razer Vespula may be the most expensive in the bunch, but its dual-sided function is enough to convince you that this model can do wonders for your gaming experience.
The SteelSeries mouse pads are ideal for beginner gamers, or those who switch from one game to the next. These gaming mouse pads provide the comfort needed for long-term use, and offer game-level textures that promote speed, accuracy and resistance for wide applications. What we like most about these mouse pads is that they are tested with SteelSeries mice and other technology, so if you're only setting up your first rig, any of the several SteelSeries mouse pads available is more than enough for your first mouse pad.
However, don't forget to take the ENHANCE GX-MP2 XL Extended Gaming Mouse Pad into special consideration. It provides a massive 31.5 x 13.75 inch surface with ultra smooth, low-friction material that's backed by an excellent three year warranty period.
All of the options we've presented are fantastic, it'll be up to you to decide on which specific one will be best for your situation