The receivers we have today are nothing like the ones our parents grew up with. Just think of the name. "Receiver" was used to describe a device that received radio signals and sent them to an amplifier. In the 70's, this technology evolved to eventually combine the amplifier and the receiver. Today, receivers are the focal point of our home theater. They take both audio and video from all of our sources, and connect them to our speakers.
There are still some stereo receivers, but most are surround sound. With today's technology, the best surround sound is 7.2 channels of audio. This is seven separate speakers and two subwoofers. Whether you own the speakers now, or you're looking to upgrade in the future, it's important to buy a receiver that can handle everything you can throw at it.
Today, we'll be looking at the three best receivers on the market that support network connectivity. This allows you to connect your smartphones or music cast compatible devices. If you haven't been on the market for a while, you'll be amazed at what these audio devices are capable of. It can be confusing to understand just what they are capable of just by looking at the spec sheet, so we'll walk you through the features and help you decide which one is right for you.
Yamaha RX-V681 7.2-Channel MusicCast AV Receiver
When you're looking for premium grade audio equipment, Yamaha is one of the most respected brands in the industry. They make everything from studio grade speakers to instruments, making it clear that they know the music business. You do pay a bit of a premium for their products, but they hold their value better than almost any brand in the industry.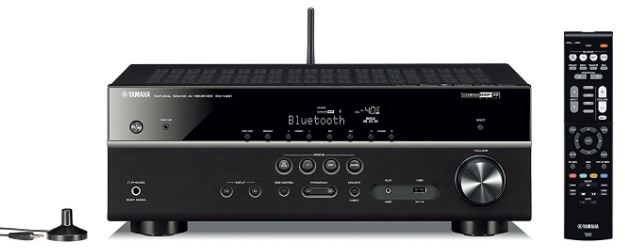 Compatibility
What devices can you connect to the Yamaha RX-V681? A better question to ask would be "what can't you connect?" They have ports for almost every input you can possibly think of. Even Phono is included. This is significant because playing back the output from a record player requires a special circuit, as record audio isn't broadcast on a flat curve. Special circuitry is needed to get a clean playback, so the fact that it's included is a strong indicator of how much time and care Yamaha took to design the system.

Even if you're not playing vinyl records, Yamaha has included connectivity on the opposite end of the spectrum. You can connect any Dolby Atmos or DTS:X source including Blu-Ray, Windows PCs, and Mac OS computers.
This receiver includes its own ARM based processor, and connect to many music streaming services directly. It's compatible with Pandora, Spotify, Rhapsody, SiriusXM, and Vtuner. Just to be clear, you don't need a phone at all to use these services. They work straight out of the box.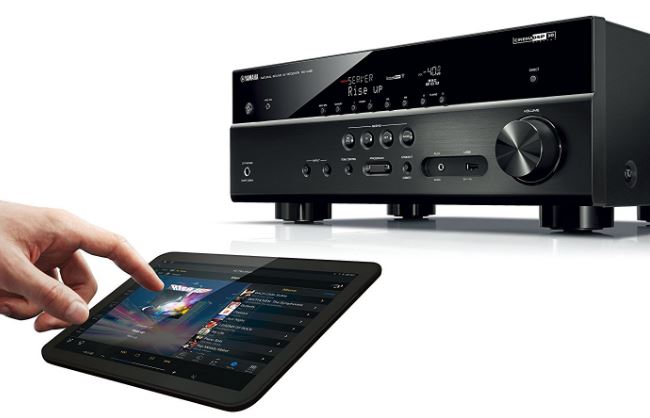 Sound Quality
Since you're streaming digital audio directly to the receiver, it's taking on the responsibility of performing as a digital audio converter. This is significant as converting sound to an analog signal is often one of the greatest sources of loss. Fortunately, Yamaha is a popular manufacturer of standalone DACs, and the same technology is used in this receiver to support very high quality transcoding.
If you've got speakers that can handle the output of this amplifier, you'll appreciate the impressive sound quality it cranks out. With 160 watts per channel into 6 ohms or 95 watts per channel into 8 ohms, it's capable of packing quite a punch. In our tests, we found that the amplifier produced clean, well pronounced sound that exceeded our expectations. The most notable element we found was the incredible imaging. Your ears are incredibly accurate at determining the location of sound based on where it comes from. Because this receiver is so accurate, you almost forget that the music is coming from speakers. If you close your eyes, it almost feels as if you can see the musicians in front of you. You need high quality speakers to really appreciate this, but if you don't own a set Yamaha makes a pair that is perfectly suited for the receiver.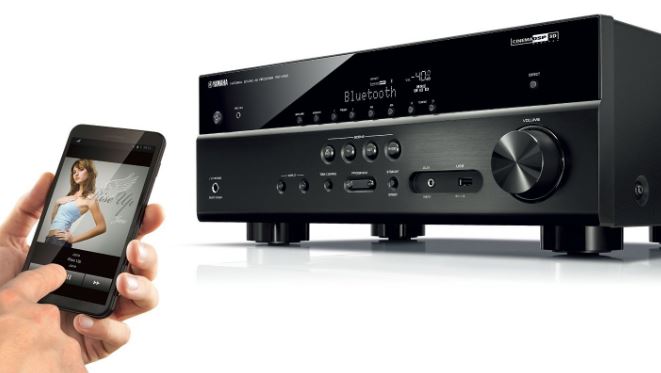 Video Quality
Receivers aren't just about audio anymore, they now control all of the digital and analog sources for your audio. Most receivers are simple pass-through devices. They take the signal from one place, and send it to another. This Yamaha receiver is much smarter than that. It supports advanced filtering that can actually make your video look better. If you have a 4K TV, or are thinking of upgrading in the future, you'll be happy to know that this receiver supports 4K upscaling.
It also supports advanced video filtering, giving your video a little extra oomph. There are several settings to choose from. Alternately, if you've got HDR content, you can enjoy this high-quality video in all its glory on a compatible television.
Denon AVR-S720W 7.2 Channel 4K AV Reciever
Back in the 70's, Japanese manufacturers ruled the audio marketplace. Denon was first brought to America as expensive imports. Today, they're still manufactured to the same high quality standards, but they're much easier to experience domestically. Denon products are popular for having a certain key sound. It's just a little warm, but incredibly pure. If you're looking to hear what makes Denon so popular, this is a great place to start.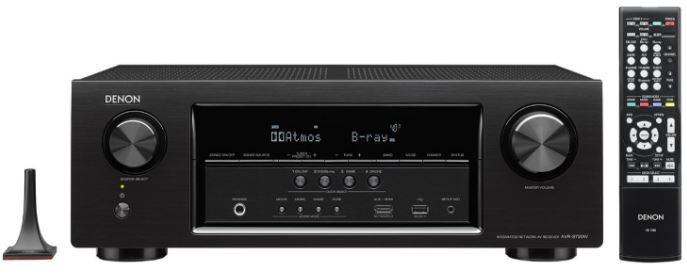 Compatibility
If you're looking to stream wireless audio from within your household, no receiver on the market is as compatible with Denon. The AVR-S720W is 100% compatible with every version of Bluetooth from 1.0 all the way up to the latest version with extended data rate and lossless audio broadcast. You can also stream over Wi-Fi, allowing you to hear audio produced by virtually any device on your network. For some, there is no sense in paying a premium for a device that can connect directly to Spotify when you already have a phone in your pocket that can do the same.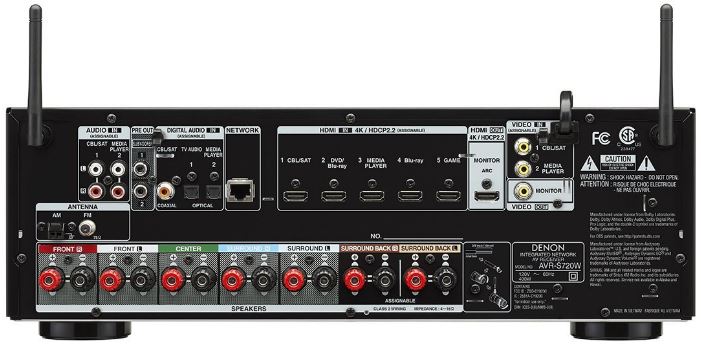 Fortunately, this receiver is priced in line with models that don't have smart functionality, and it still supports streaming from many online services. You can access Spotify, Pandora, and Sirius XM. Alternately, you can use a PC as a middle man and transmit your data over Spotify Connect, DLNA, (the protocol used by the ChromeCast) DSD, FLAC, ALAC, and AIFF direct resolution streaming.
Sound Quality
You know that any amplifier that supports FLAC is going to be high quality, but this Denon receiver still left us surprised. The sound was crystal clear, with just enough emphasis on the bass and midrange to produce a warm, easy to listen to sound. Don't get us wrong, this isn't a studio receiver for mixing your master tapes. This is a receiver for the audio connoisseur who wants a colored sound that has character. Once you get familiar with it, you'll understand why so many crave the Denon sound.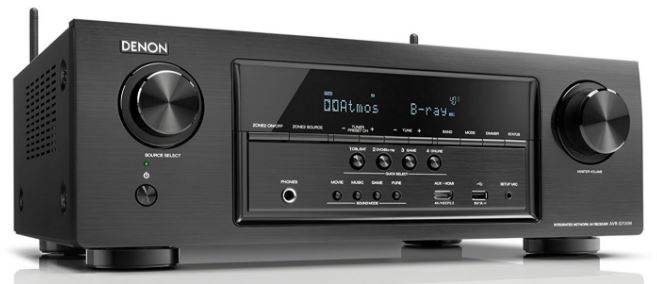 Video Quality
When it comes to video, Denon takes an entirely different approach. Video is delivered on a pass-throuhg basis. There is absolutely no changes made, which means absolutely no loss. Today, studios spend a great deal of time making sure that their video looks a certain way, so having a receiver that leaves this signal untouched may be an asset for some.
Onkyo TX-NR545 7.2 Channel Network A/V Receiver
Although they're a lesser known brand, Onkyo is a Chinese company that has been making waves in the audio marketplace. They generally use the same high quality components as premium manufacturers, and produce something that is sold for a fraction of the price. Generally, we'd be skeptical of a receiver that promises so much and costs so little. But with Onkyo's excellent track record, we're excited to see what they have to offer.
Compatibility
Onkyo has simplified the audio streaming portion of the TX-NR545 to save you money. You've got three options for playback. The most commonly used will be Bluetooth. It supports the latest standards including lossless audio playback, but is still fully backwards compatible with older formats. If you're looking for a little more range than Bluetooth offers, you can use Airplay over Wi-Fi to stream music from Pandora, Spotify, or other compatible services. If that's not enough for you, you can stream files directly over your local network. It supports almost every audio format under the sun, including MP3, WMA, FLAC, WAV, OGG, AAC, and much more.

Sound Quality
Onkyo uses several discreet amplifiers to give each channel a serious punch. It's capable of 115 watts per channel with an impressive 0.9% harmonic distortion, making this one of the cleanest sounding amplifiers we've had the pleasure of listening too. Most home speakers are running at 8 ohms instead of the 6 ohms it's rated for, so you'll typically see a maximum output of 65 watts per channel. The important thing to remember about power ratings is that they are logarithmic. This means that it takes 10x the power to double the volume. 10 watts is twice as loud as 1 watt, and 100 watts is twice as loud as 10 watts. With this in mind, the jump from 115 to 65 watts isn't actually that large. It does, however, meant that this amp is best suited for bookshelf speakers rather than large floor standing models.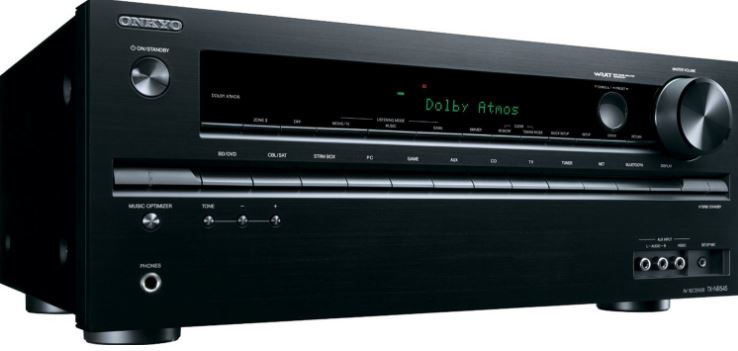 Video Quality
Just like the Denon receiver, this model goes for pass-through video to keep your signal pure. In this price range, most of the receivers you'll find are actually older models, not quite designed for modern technology. You'll be happy to know that this one is completely up to date, suitable for use with the latest HDCP and 4K video. Even if you don't have an Ultra HD display, we highly recommend purchasing a compatible receiver now. Onkyo hardware typically lasts for 5 to 10 years, if not more, so you'll want to get the most advanced one you can afford.
Which 7.2 Channel Network AV Receiver is Right for Me?
If you're having a hard time deciding, it really boils down to price. Obviously, the more you spend the better it will sound. If you've got top tier speakers and you don't want them to go to waste, the Yamaha RX-V681BL will deliver everything you expect and more.
But for most users, we find that the Denon AVR-S720W is the best bang for your buck. The audio isn't perfect, but unless you've spent significant money or bought a set of speakers that were designed for use with the Yamaha, you probably won't even be able to detect a difference.
If you're on a budget, the Onkyo TX-NR545 provides almost the same level of quality as the other models, but at a significantly reduced price point. It's ideally suited for bookshelf speakers, but anything that is rated at or below 65 Watts per channel will run fabulously with this impressively affordable receiver.