A lot of equipment goes into optimizing the experience for serious PC gamers. However, one of the most important yet underrated pieces of equipment any gamer needs is a high-quality gaming chair. When you're spending hours at a time trying to complete an important mission, the last thing you want is your own body getting in the way of your success. In a way, the correct chair is your secret weapon. It might just give you that extra edge you need to push through and ultimately see victory.
A poor-quality chair can have many detrimental side effects, many of which have to do with your health. If you don't have a good quality chair, long term use can result in bad posture or worse. Back problems and neck problems can develop that not only impact your overall health, but also impact your gaming skills. A good gaming chair is not your average office chair. Not only does it need to provide the support and comfort you need, but it also needs to be organized and functional to keep up with your gaming prowess. The correct chairs are often overlooked as an important component of a gamer, so it can be difficult to know exactly what you're looking for. That's why we've taken the hard work upon ourselves and narrowed down the three best PC gaming chairs on the market for 2017.
DXRacer Formula Series (Newedge Edition)
The DXRacer Formula Series (Newedge Edition) is well-known among eSports players and fans, and has established itself as an exceptional gaming chair that can keep up with the professionals. Every detail down to the materials is used to optimize comfort, long term back support, and durability. This is a chair that has everything to offer a gamer in need, and then some.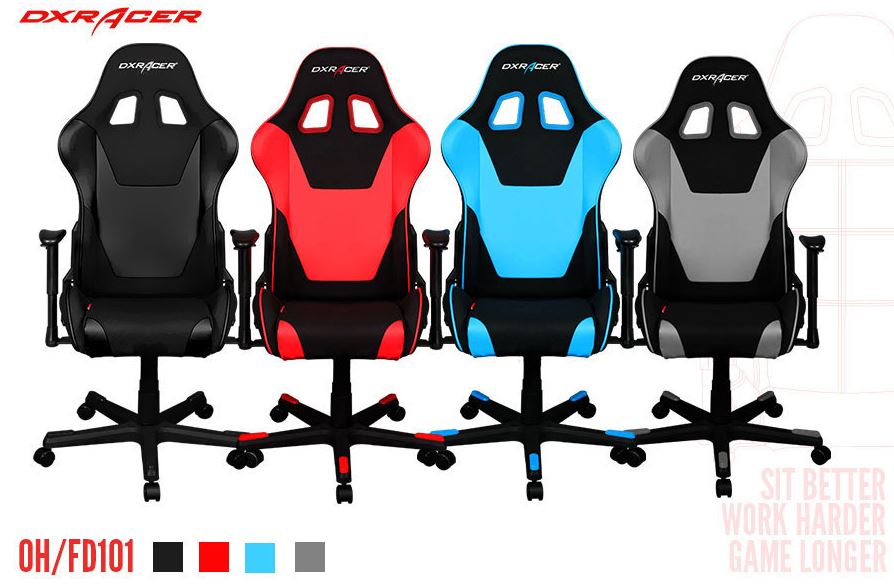 Comfort
Even with all the bells and whistles, a good PC gaming chair is useless if it's not comfortable. Comfort should be the deciding factor in any purchase, so you can be sure our selection of the best chairs is a comfortable one. The Newedge DXRacer Formula Series chair looks intense from the outside, but is as comfortable as a cloud when you sit on it. That's because Newedge added tons of components to optimize comfort for long term users.
It's ideal for users that stand up to 5'9" and weigh up to 200 lbs, and built with an ergonomic design that reflects efficiency and comfort. The backrest is extra to provide as much support as possible to the upper back and neck. It's also adjustable so you can set it up in the position that best suits you. Additionally, it boasts a conventional tilt mechanism that gives you better range of motion when leaning backward.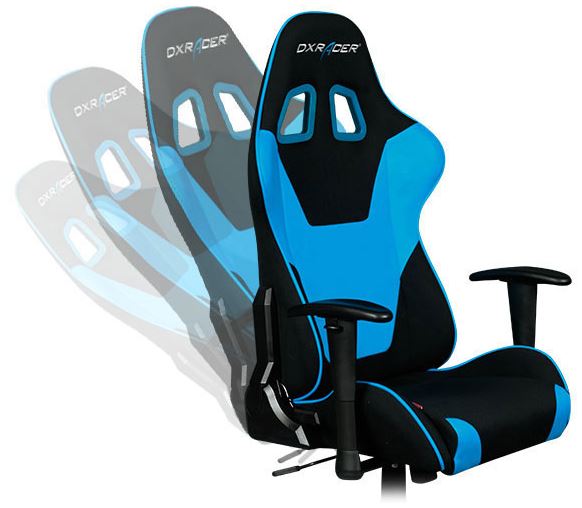 DXRacer knows chair comfort isn't all about your back, so they added special soft armrests that can adjust to protect your hands and wrists. Since your hands and wrists play a huge a role in your gaming performance, this is definitely a great feature. The chair also has footrests, which are an excellent addition that many others lack. It even comes with a headrest cushion and lumbar pillow so your back is supported from your waist to your head. The cushions are a high density cold cure foam that keeps you cool and comfortable no matter how long your game lasts. While it has the look and feel of a race car seat, it's one of the most comfortable options you'll find.
Durability
Serious gamers need a chair that's as durable as they are. When you're spending extensive hours at a time propped up at your desk, the last thing you want is for the chair to start falling apart. A quality choice is one that will keep up with your gaming marathons end to end. The DXRacer Formula Series is built for that purpose. It's made from patented race car seat mesh material that is extremely breathable and super strong.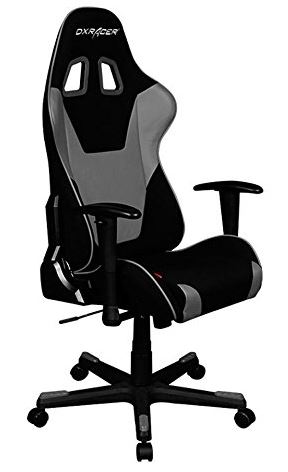 A breathable material can withstand longer hours without wearing out, and the durable mesh can take on day to day wear and tear. It's also built with PU leather on the most vulnerable, high traffic areas of the chair for even more durability. It has a nylon base with footrests that won't crack or dent. Additionally, the wheels have 2" casters to give them greater longevity on any surface.
Steelcase Gesture Chair
The Steelcase Gesture Chair bring advanced posture technology to the game with their 3D LiveBack Technology and extensive posture studies that have led to revelations about how we interact with our technology. This chair supports your posture with a more natural approach that results in long term comfort that you can't get from any other one.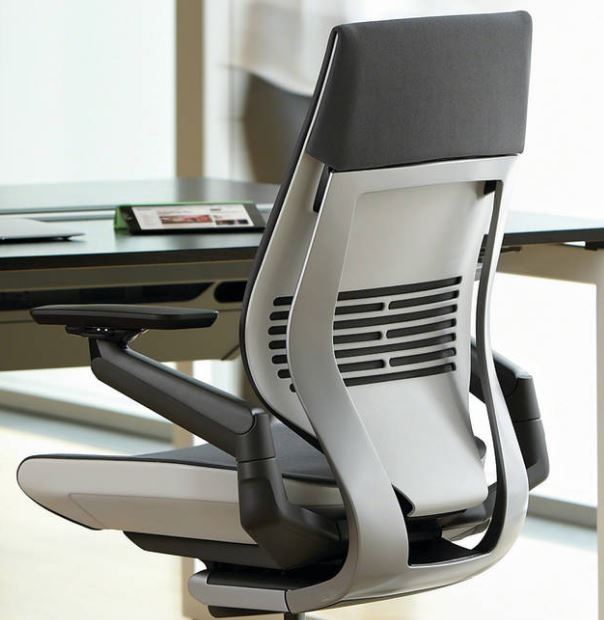 Comfort
The Steelcase Gesture can offer a level of comfort to users that no other chair can. It's unique in that it's specifically designed to support the human body's interactions with today's many technologies. Steelcase recognized how varied our postures have become based on what kind of technology we are using, from phones to tablets to PCs. It uses 3D LiveBack technology that mimics the way our spines naturally move, and automatically adjusts to the contours of our backs as we move around in the chair.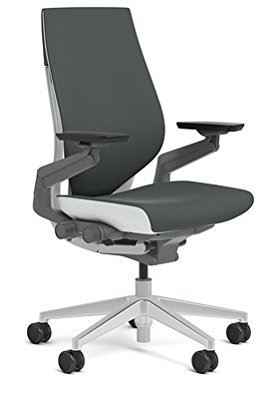 The armrests are placed further back than a typical design, in order to accommodate a range of other postures that most chairs miss. Based on a global posture study, it's designed from top to bottom to perfectly interface with our many different postures as we interact with our various technologies. So whether you game exclusively on a PC, or switch to other devices for occasional use, the Gesture Chair will always be the perfect fit.
Durability
You can be assured that a chair of this quality is built to last. One of the inherently durable aspects about it is that it's so tailored to your every move that the interactions between you and the chair are never tense or cause pressure. That automatically means it naturally faces less wear and tear, and therefore its longevity is increased.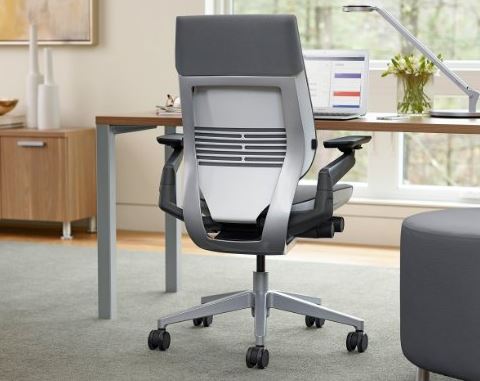 The Steelcase Gesture is also made with a durable fabric that is both breathable and strong. As you move about in the chair for extended periods of time, the fabric won't wear down as easily as some others, leaving you with a chair in good condition for longer. It's a highly ergonomic choice that moves and lasts with you.
Vertagear Racing Series S-Line SL2000
The Vertagear Racing Series S-Line SL2000 demands to be taken seriously. This chair is no slouch when it comes to build quality. Built with top quality materials and made for gamers who go hard on a regular basis and need a chair to match their intensity, Vertagear has answered with the toughest option on the market.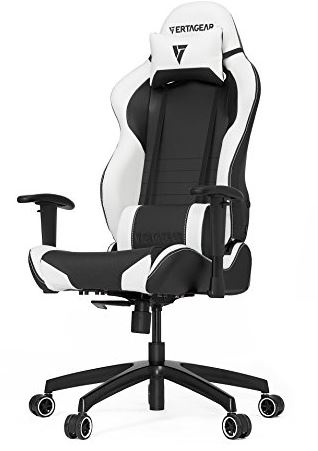 Comfort
You can tell just by looking at it that the Vertagear Racing Series is the epitome of comfort. From its thick padding to its poofy lumbar support pillow, this is the kind of chair you just want to sit in all day. The ultra-high backrest is designed to offer support to your whole back, including your neck, shoulder, and lumbar area. Its ergonomic design and wide range of adjustability allows users to perfectly suit the chair to their specific needs. As a result, you get long term use without giving in to discomfort.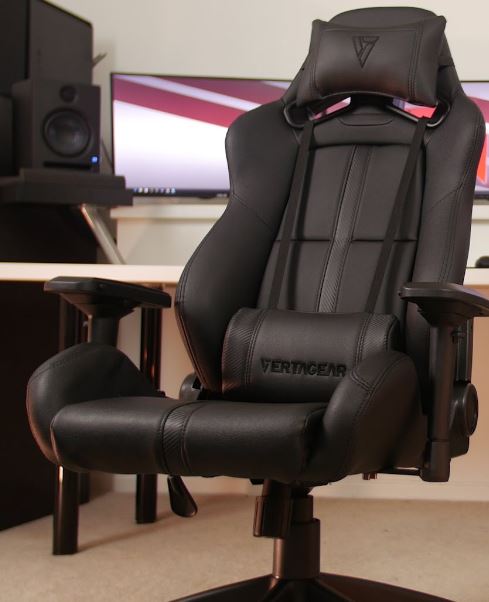 No matter what gaming position you play in, the chair is able to adjust to your movements and offer the support and comfort you need to game for extended session without wearing out. The seat can be moved up or down so you can perfectly match it to the height of your desktop and optimize your reflex and game control. With all these features, it's not only comfortable, but also can give you an advantage over your opponents that might just lead to victory.
Durability
If there's one thing Vertagear was serious about when they designed this chair, it was durability. It's unlikely you'll find any other chair as strong and durably built as it. The reinforced 5-star base is made from heavy duty alloy material that gives it a super-solid structure and unmatched stability. The slide-in installation process makes the chair extremely easy to set up single-handedly, without any sacrifices in the way of strength and build quality.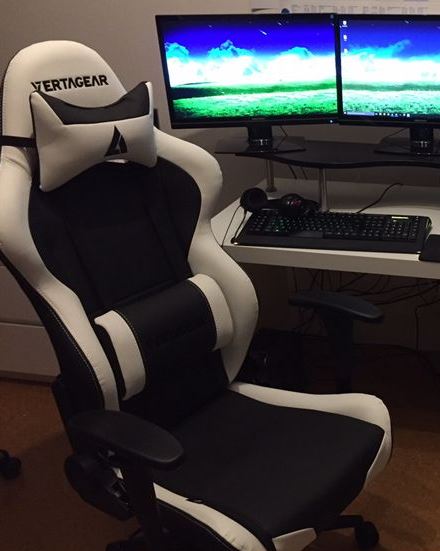 The exterior is made from high quality PVC leather that not only looks great, but is some of the most durable material you can find. This chair is built to withstand more than just your daily wear and tear. It's an chair that works as hard as you do, and can keep up with any gaming marathon of any intensity level. The casters are custom designed by Penta RS1 and coated with PU, allowing it to glide smoothly on any surface.
This is a gaming chair that's designed to withstand whatever you can throw at it. From the wheels to the headrest, the Vertagear Racing Series S-Line SL2000 will likely outlast most any other chair on the market.
Which Gaming Chair Should I Own?
Often times, a gamer's real secret weapon is his gaming chair – comfort goes a very long way! If you're relying on your body to help hold you through hours of intense gaming stints, there's no doubt that a comfortable, high quality chair will be a core part of the ticket to your success. Which one is right for you? Depending on your needs, each chair has its own set of benefits and drawbacks.
Who Should Own the DXRacer Formula Series?
The DXRacer Formula Series is especially popular among eSports players, since its race car inspired design brings you that much closer to your games. It's ideal for serious gamers who need a chair that won't let them down and can provide exceptional comfort without any issues. DXRacer has made a name for themselves, and are now used by popular eSport teams like compLexity, Dignitas, and Fnatic. They are even represented at events like UMG and WCG. If you're an eSports player or a fan, we highly recommend it.
Who Should Own the Steelcase Gesture Chair?
While the Steelcase Gesture Chair could easily be enjoyed by almost any user, it's particularly ideal for the multi-functional gamer. If you find yourself switching back and forth between devices, there's truly not chair out there that will better suit your needs. That being said, even full time PC gamers will surely enjoy the many benefits of the Steelcase Gesture.
Who Should Own the Vertagear Racing Series S-Line SL2000?
For serious gamers who have no patience for a chair that requires maintenance or replacing, there's no other option than the Vertagear Racing Series S-Line SL2000. Every component of this chair is made from the highest quality materials that make it the strongest, most durable option on our list. If you spend long hours gaming and rely on your equipment to help you last through extensive sessions, there's no question that you'll find a lot to love with this option.