Although Pico Projectors are the latest fad in video technology, projection is actually the oldest tech on the market. The very first video projectors were designed to do the exact opposite of what the first video cameras did. Film would be passed over a lens at high speeds, using a combination of bright lights and advanced lenses to recreate the tiny images on the big screen. The disadvantage to old film technology is that the material used – silver nitrate – was so flammable that movie theaters commonly burned down.
With that in mind, it's clear that projectors have come a long way. Almost all modern projectors use digital technology, even in the theater. This involves a small, transparent LCD display with advanced LED light illuminating it. After passing through advanced lenses, similar to the ones used in the past, these tiny little devices are capable of producing screens larger than almost any television on the market.
As we work to make our technology increasingly compact, projectors have received the same treatment. These appropriately dubbed "pico" projectors are capable of producing larger than life images in a package that is no more than few cubic inches. Let's take a look at the best pico projectors on the market. We'll help you understand the differences between them, and pick the model that best suits your needs.
RIF6 Cube Mobile Projector
Having gained both attention and funding through its launch on Kickstarter, the RIF6 Cube Mobile Projector is one of the most popular pico projectors on the market. Designed to be as simple to use as possible, this is a great place to start for anyone looking to pick up a solid pico projector at a fair price.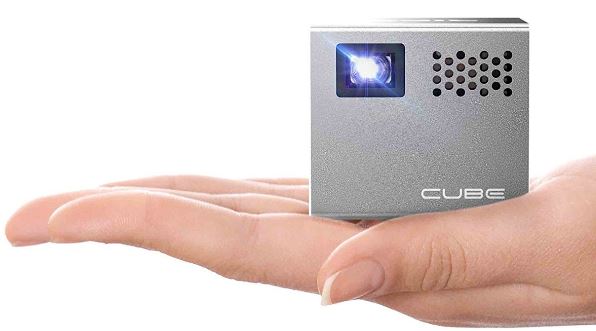 Design
Staying true to its name, the RIF6 Cube Mobile Projector is almost a perfect 2 x 2 x 2 inch cube. It's incredibly lightweight, weighing in at a meager five ounces. Although the side panels are plastic, the three other sides of the projector are wrapped with a stylish brushed aluminum that is just as tough as it is attractive. Although the advanced lens is round in nature, it's encased in a tiny square cutout that keeps the design looking consistent throughout the unit. In an industry that is currently in a race to see who can make the lowest priced product, it's nice to see a company that is still focused on designing something that looks as good as it performs.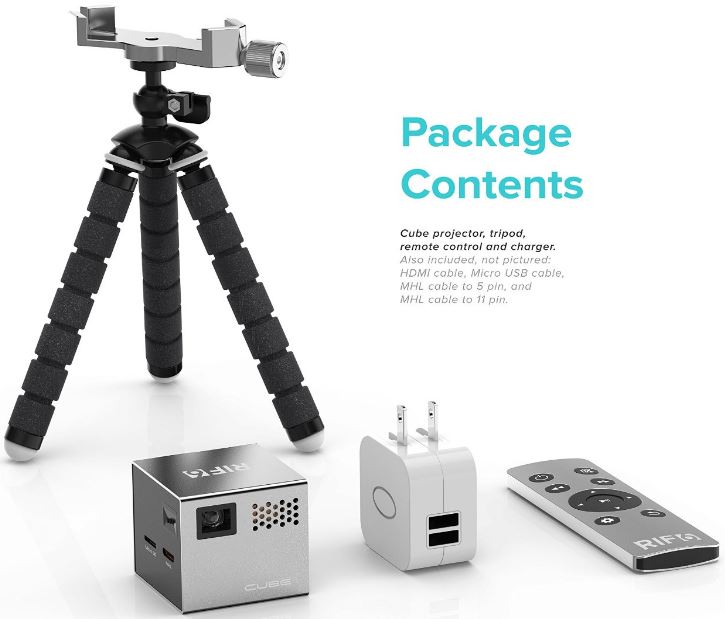 Connectivity
You'll notice that there is one port on the right side of the cube, and two on the left. The right side is used primarily for charging, which takes place through its Micro-USB port. The nice thing about this standard is that it's fully compatible with your typical phone charger, and can even be run from a USB port. But on the right is where all the magic happens. You've got two options for playing back video. You can load files onto a Micro-SD card, or connect using a tiny HDMI / MHL port.
HDMI works exactly like you'd expect, although you need to use the included adapter to connect to it's uncommon micro-HDMI port. But there is a little more than meets the eye, as it's fully compatible with MHL. MHL is a technology used by most Android and iOS phones and tablets that lets the projector mirror exactly what's on your screen. This means that you can fire up Netflix or any other video source on your mobile, and have the exact same video mirrored on the big screen. There is no fiddling with settings, or dragging windows to another display. It's one of those modern technologies that just works, and we're happy to see it on board.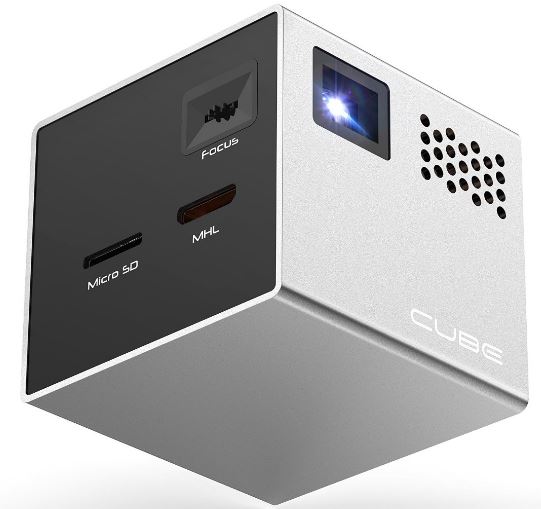 Video Quality
There are a couple ways that we can measure video quality. Obviously, brightness is a factor. But image size and resolution are equally important. Unfortunately, all of these qualities are in conflict with each other. The total light output from any projector is divided equally across the entire display area. The larger the screen, the dimmer the display is. Additionally, high resolution displays require larger projectors to keep the image clean. With all this in mind, we think that the Cube found a pretty good balance between all of these options.
The projector has a native resolution of 854×480. In essence, this is what's known as "EDTV." It's much sharper and more detailed than standard definition, but not quite at the level of high definition. The important thing is the aspect ratio, which is the same as your typical widescreen monitor. For reference purposes, the image looks a little sharper than a DVD movie. It's got a 1.99:1 throw ratio, so each inch of distance you have between the projector and the screen provides two inches of display area. Putting it a foot away from the screen results in an image about the size of your typical computer monitor (24") which we found to be the sweet spot. With 500 lumens of brightness, this projector is ideally watched on an average sized display. It works best in the darkness, so as long as you shut the lights off you'll be ok. If it's very dark out, you can push the screen size up to 40," but this is about the limit in our eyes.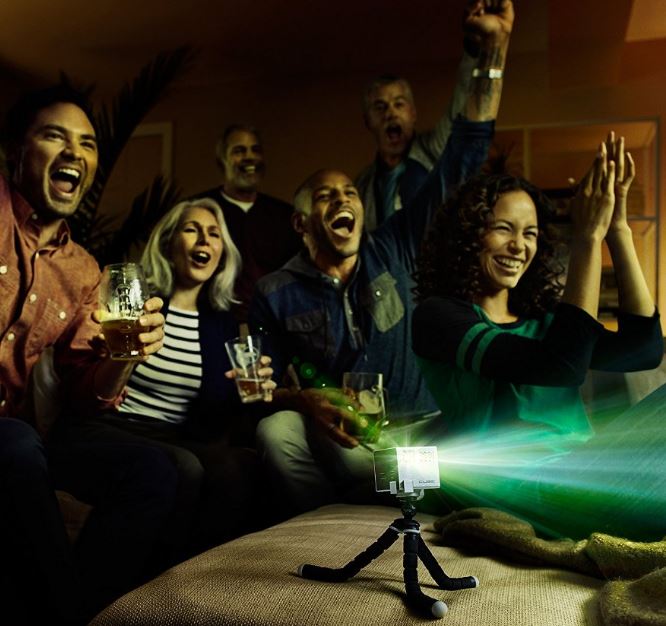 Usability
In our opinion, this projector is best suited for a small group in a dark environment. It's very compact and easy to use, making it our first choice for anyone who's out camping. The rechargeable internal battery helps with this a lot, providing you with up to 2 hours of view time in between recharges.
Asus S1
If you've been keeping an eye on the computer marketplace, you know that Asus is best known for producing high quality gaming PCs that don't break the bank. Their S1 projector is in direct competition with most mid-level pico projectors, but there are a couple nice features that might make it worth your while.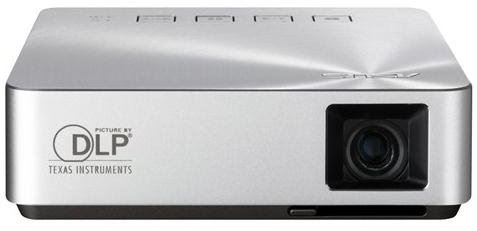 Design
While the Asus S1 isn't the smallest pico projector on the market, it's still incredibly compact. The photos can be a little deceiving. Since it's designed using the same form factor as your typical projector, it appears to be almost the same size as your typical projector. But you open the box, you'll be impressed with how compact it is. It weighs an impressive 0.75 pounds, making it easy to tuck wherever you like.
As for the actual visual appearance of the projector, you can certainly tell that it's a modern device. The aluminum case is engraved with a circular pattern, making it extremely sharp and premium looking. The face is taken up mostly by the DLP logo and the squared lens port, and the sides are graced with an attractive fading vent look that Asus is known for. But looks aren't all this projector has to offer, as it's the powerful internal components that make for a great video experience.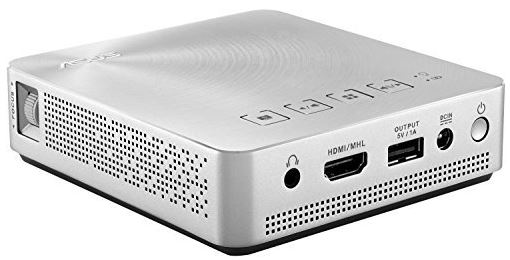 Connectivity
Like most modern pico projectors, the Asus S1 uses a combination HDMI and MHL port that allows you to connect virtually any video source on the market. The difference is that this model uses a standard port, so you won't have to fumble around with any adapters. It also has a 3.5mm stereo out port, so you can connect headphones or external speakers. The USB port actually serves two functions. You can use it to charge the projector, or you can tap into its powerful 6000 mAh battery pack to charge your phones or other mobile devices.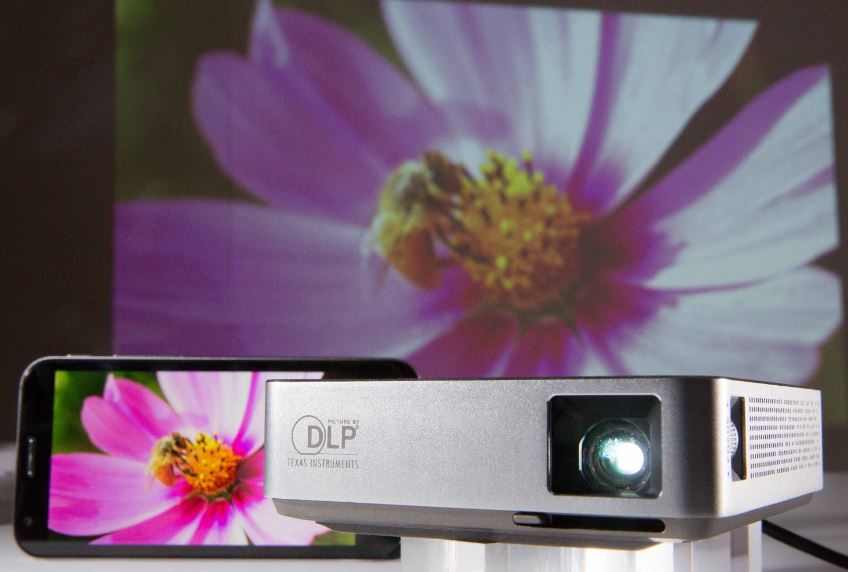 Video Quality
One of the stand out features for this projector is the 200 lumen LED bulb. This is over 4 times brighter than some of the projectors on the market, making it suitable for larger screens. Technically, it can produce clear images up to 100 inches in total darkness. But there is one catch. It still uses the same 854×480 EDTV resolution as other pico projectors. In our eyes, this isn't enough detail for massive screens. The biggest advantage of the extra brightness is its ability to be used in standard lighting conditions. As long as it's reasonably dark, any screen size up to 40" will look great.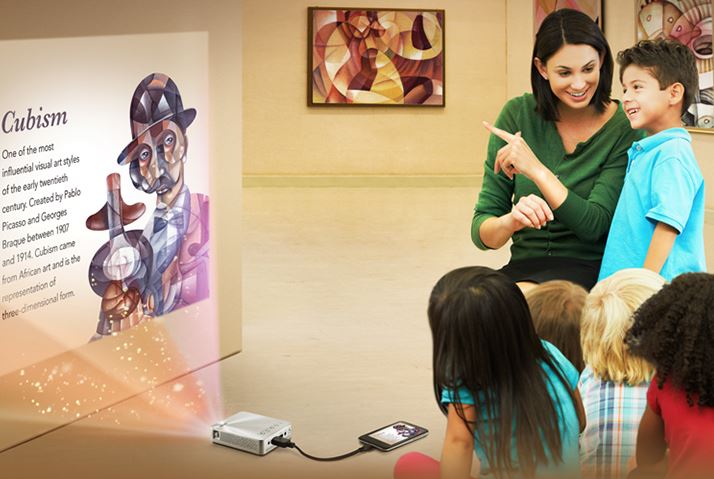 Usability
With up to three hours of built in battery life, this is a projector that will get you through any movie you want to watch. Planning to binge watch an entire season of your favorite show? Fortunately, this projector can be charged and playback video at the same time, making it perfect for long sessions.
iCodis G1
Looking to get as small as possible? iCodis might not be the most well-known brand on the market, but their pico projector is the best of the best in some categories, and our list wouldn't be complete without it.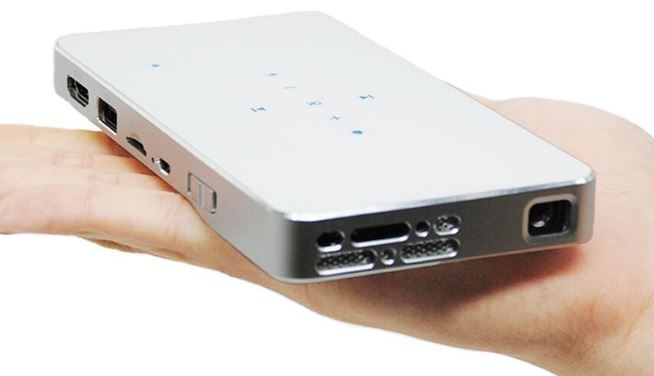 Design
It's clear that the designers took many pages out of Apple's book when creating the iCodis G1 Pico Projector. It looks very much like Apples iPhone 4. While the phone might be a little outdated, the G1 is clearly a modern piece of technology. Its slim, candy bar shape manages to pack a plethora of ports and features into an aluminum rapped, glass topped device that is just as stylish as it is functional.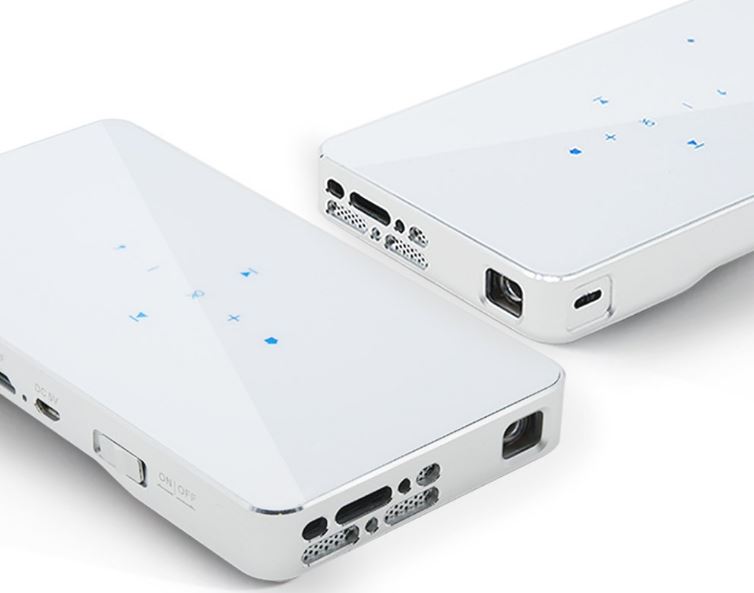 Connectivity
Although it supports the typical HDMI / MHL featured in most projectors, there is more than meets the eye with the G1. It's completely compatible with most wireless streaming technologies including miracast, airplay, Wi-FI direct and more. These are the same standards used in products like the ChromeCast, making it easy to get your video live on the big screen. If that isn't enough for you, you can still playback files off of the MicroSD card, or load them off an external drive from USB.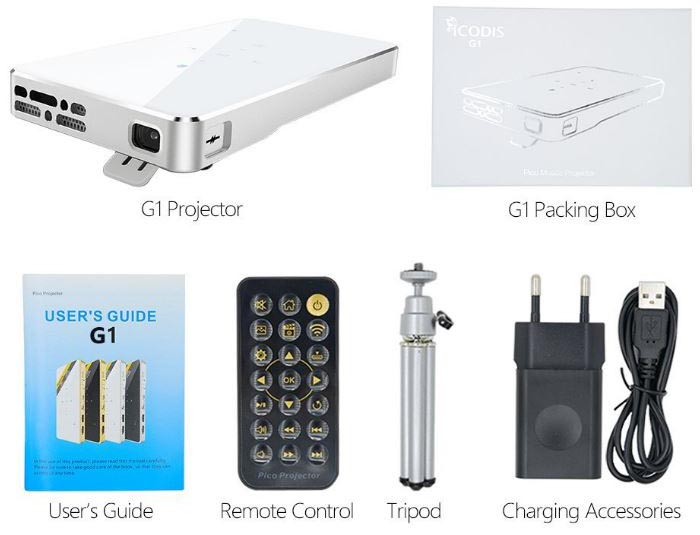 Video Quality
Due to its small size, this projector is capable of producing 100 ANSI lumens. This isn't the brightest on our list, but not the least either. As long as you are able to make an effort to dim the room, you'll be able to enjoy screen sizes up to 40" at the standard EDTV resolution.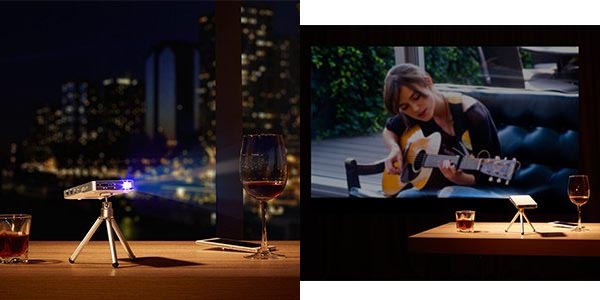 Usability
This is a projector that you can easily slip into your pocket without a second thought. It's got a battery life of about 110 minutes, which is more than enough to get through a standard movie or a few episodes of your favorite show. If this isn't enough for you, you'll want to make sure that you are streaming from either a wireless device or SD card, since you'll need the USB port to charge it.
iCodis CB300W
While many projectors attempt to create a balance between all competing specifications, it's clear that iCodis likes to be either on one side of the spectrum, or the other. We've already looked at the most portable pico projector on the market, but now we'll be taking a look at the brightest.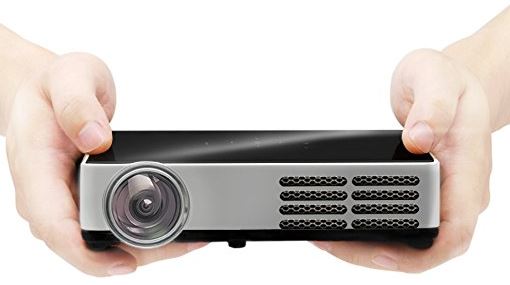 Design
It's clear that iCodis wanted to draw some contrast between their G1 projector and the CB300W, although there are some similarities between the two. Both have the executive grade aluminum band around the outside, and both are encased with shiny plastic. But the CB300W has a much darker, contrasting look about it. The lens on this model is much larger, which is both stylish and important – a simple lens just couldn't handle everything this projector has to offer.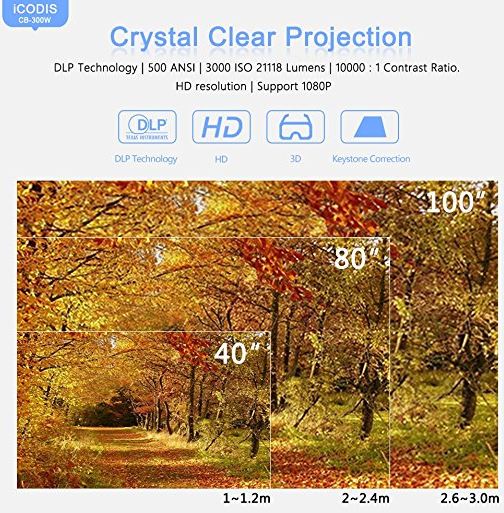 Connectivity
This is, by far, the most connected pico projector on the market. Of course, it supports both HDMI and MHL. You can also use any standard digital adapters such as DVI or Displayport, although they are not included. Chances are, you won't ever have to use a wired connection as direct streaming through Miracast, Airplay, Netflix, YouTube, and other built-in apps make it easy to get your content where you want, when you want.
Video Quality
If video quality is your main concern, this is the pico projector you want to get. It has a native resolution of 720p, making it the only one on our list that is truly and HD projector. It also features a 3000 lumen LED bulb, making it the brightest. Although you do need to keep the room a little dim, it doesn't have to be totally dark to enjoy images on a screen up to 100" in size. For us, around 50 to 60" is the sweet spot. Visually, this projector can easily replace your television in a pinch.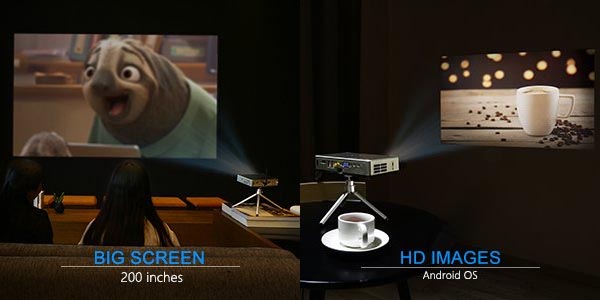 Usability
Although this projector doesn't include a battery, it does perform the best of the bunch. Getting it up and connected to your portable devices is easy, making setup simple anywhere you have access to power and a phone.
Which Pico Projector is Right for Me?
Trying to make sense of all the specifications? At the end of the day, all that's really important is how you're going to use the projector.
If you're looking for a projector that's going to be used indoors, in a good theater environment, your best option is likely the iCodis CB-300W. This projector has the best image quality of the bunch, provided that you're willing to sacrifice a little image quality.
Alternately, perhaps portability is the most important thing to you. In this case, the iCodis G1 is the easiest to pocket of the bunch, and the RIF6 Cube is physically the smallest. Both have built in batteries, and can be used virtually anywhere you want to go.
Want to find a good balance between all three? The Asus S1 seems to be the most well-rounded of the three. It's got great picture quality, is reasonably portable, and has solid battery life and connectivity options. For most users, you might want to start here. If you find that the projector is lacking in any way, you can move in the direction of one of the others we've recommended. Overall, you've got several solid offerings to choose from.