A rangefinder helps people determine how much distance is between them and the target. Some devices use trigonometry to measure distance while others use an ultrasonic ranging module, radar distance measurement, or laser rangefinder technology. There are several applications for a high quality rangefinder, such as surveying, for figuring out the right focus for photography, for accurate weapon aiming, for golf, in virtual reality, and in the forestry industry.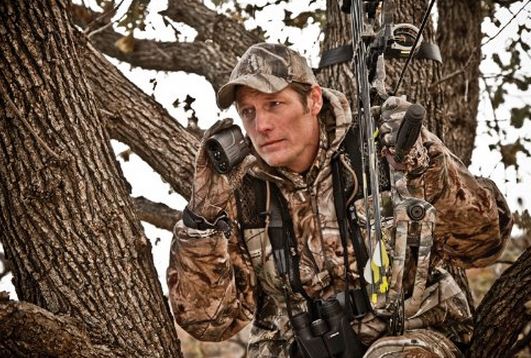 The most common uses for a rangefinder include the following:
Forestry: Those in this industry can use this device to survey the area. They use rangefinders with anti-leaf filters for this purpose.
Virtual Reality: The use of rangefinders in virtual reality goes back to the 1990s. They are used to locate objects and detect operator movements.
Ballistics: Law enforcement or military snipers often use rangefinders to get the perfect shot by finding the distance between them and their intended target. They generally use rangefinders that do not use laser technology because the target can often times see the laser.
Golf: Those who enjoy golf can use a laser rangefinder to gauge wind and slope, and to determine the yardage of their shot. This is helpful for amateur golfers who are learning how to measure their shots, but it's banned in the world of professional golf due to making measuring yardage very easy.
When choosing a rangefinder, people have to first determine how they are going to use it since different types are used for different forms of measurement. For example, a laser rangefinder is ideal for golf, but it will not be ideal or safe for use as a ballistics tool.
Simmons 801600 Volt 600 Laser Rangefinder
The Simmons 801600 Volt 600 Laser Rangefinder is primarily meant for golf or hunting because it's a laser rangefinder. It's more basic than similar models and works best for checking hazards while hinting or getting the distance between the golfer and their target on the green.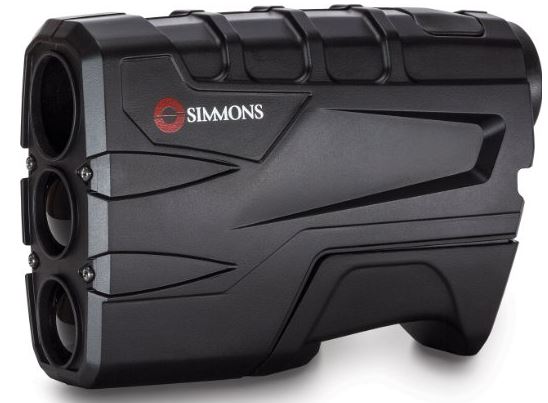 The top features of this rangefinder include:
4x magnification offers a clear view.
Vertical design, compact and efficient.
The optical magnification is 4x.
LCD display screen that allows users to get a precise distance measurement at distances ranging from 10 to 600 yards.
The optics are very clear and bright.
It has a 4x range magnification.
Ensures an accuracy of plus or minus one yard.
Has a 10 to 600 yard capacity.
The Simmons LRF 600 comes included with a carrying case, but not the batteries. You'll have to purchase a 9-volt battery separately and then install it yourself, easily. It weighs in at about 9.8 ounces, making it easy to carry around in the woods or on the green. Additionally, the housing is weather resistant, even in rain and snow so you won't have to worry about it holding up to the elements.
This rangefinder is easy to use and is much more inexpensive than similar models. It operates on a point-and-shoot style, allowing users to quickly measure range without issue. While the accuracy is strong, some report that the accuracy starts to fade when measuring distances farther than 300 yards. The 4x magnification is solid, but similar models offer a 5x magnification for a better view.
Nikon 8397 ACULON Laser Rangefinder
The Nikon Aculon Rangefinder is a highly compact and lightweight rangefinder that's easy to carry around in all environments and conditions. It weighs about 4.4 ounces and fits into just about any pocket because of its small size. It operates with a single button and can provide measurements for a variety of targets, including those that are partially obscured.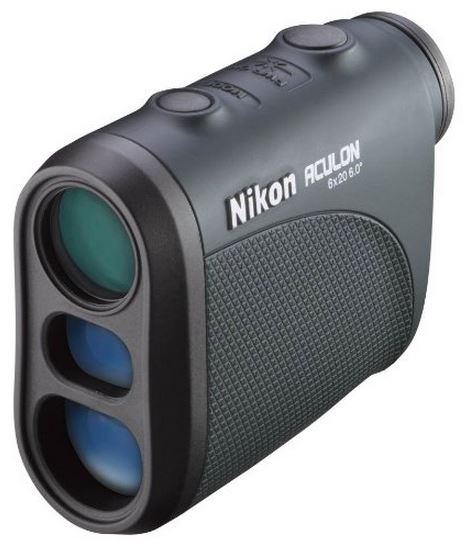 Other important features include:
Has a measurement range of about 500 to 500 yards.
The images that is provides are clear and bright due to its multi-layer coating and high-quality 6x monocular.
For up to 20 seconds, it can provide a continuous or a single measurement.
To save on the battery, it will shut off automatically after eight seconds of non-use.
Equipped with a diopter adjustment function.
Can tolerate a wide range of temperatures ranging from negative 10 degree Celsius to 50 degrees Celsius.
Has a one meter or one yard distance measurement display.
Ergonomic design for easy handling.
The Nikon 8397 ACULON Laser Rangefinder has an exit pupil of 3.3 millimeters, eye relief of 16.7 millimeters, and an actual field of view of six degrees. It ensures accurate ranging with its target-ranging technology, and is completely shock proof so it can withstand some abuse without issue.
Users can wear glasses and still get a clear field of vision due to the long eye relief. It operates on a Lithium battery, but this is not included, so those who purchase this device have to buy the battery separately.
Wildgame Innovations Halo XRT Laser Rangefinder
The Wildgame Innovations Halo XRT Laser Rangefinder provides 6x magnification and up to 500 yards to the reflective target. Users can constantly detect range with the scan mode feature. It ensures that the detected range is highly accurate with its preciseness being plus or minus one yard. This device uses a long lasting CR2 Lithium battery and is fully waterproof for those who find themselves in the rugged outdoors.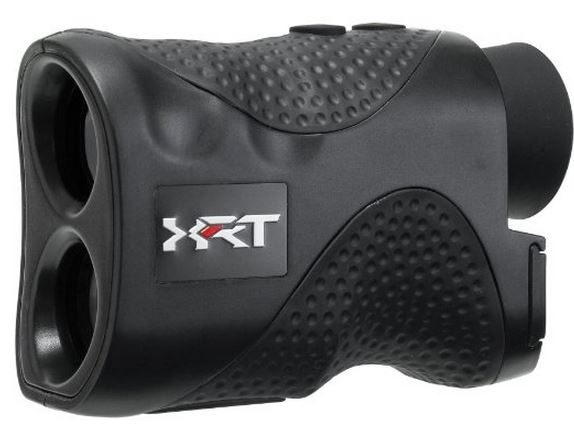 Comes with the following components for easy portability, setup and use:
Carrying case.
Lens cloth for safe cleaning.
Lanyard so that users can carry it around their neck.
Guide to setup and use the device.
The Halo XRT 6×24 Rangefinder weighs about eight ounces, making it lightweight and ultra-portable. It also has a 24 millimeter objective diameter and an LCD display screen for simple viewing. The maximum angular field of view is 7 to offer a wide view of your target, without any miscalculations. Halo offers a one-year limited warranty so if the basics of the rangefinder stop working properly, you can get it fixed and save on the cost of purchasing a completely new rangefinder.
The Halo XRT 6×24 is a solid rangefinder that allows for basic measurements. It operates easily and doesn't require much of a learning curve, it's straightforward and simple to use. Overall, a great rangefinder at an exceptional price point.