If you're looking to take your home theater to the next level, there is no better way to do so than with a short throw projector. Projectors are popular for a reason. They occupy very little space, but are capable of producing an image that is much larger than any LCD television you can buy.
Unfortunately, not everyone can use a projector. In order to create a large image, they generally need to be placed far away from the screen. The closer they are, the smaller your image. If you're working in a cramped space, some people have no choice but to stick to their trusty old flat screen.
Like most high-tech products, manufacturers are improving their product line every year. The latest generation of short throw projectors are designed specifically for people who've struggled with the issue we outlined above. Even in modest size rooms, a short throw projector can give you a larger than life image.
Unfortunately, choosing the right one isn't the easiest process. There are a lot of considerations to keep in mind. To help make the decision easier, we've compiled a list of the three best short throw projectors on the market. We'll help you understand the differences between them, and find the model that can help you turn your TV room into a home theater.
LG PF1000U
LG, a company whose name stands for the cheerful term "Life's Good", has been in the projector industry for many years. They're known for producing reliable, no-frills products that put performance ahead of gimmicks. They're certainly not the only company that sells affordable versions of popular products, but they're definitely the most successful. What is that? LG puts a ton of work into research. They know exactly what consumers are looking for, and sell products that do exactly that.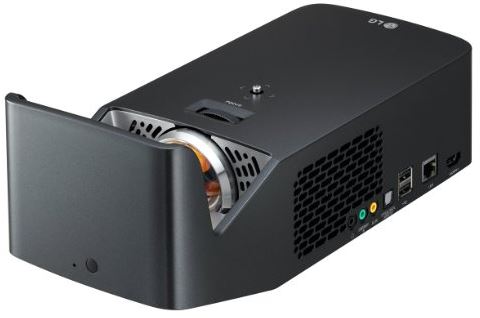 Design
The biggest challenge in creating short throw projectors is optics. All of the lenses need to fit inside the projector, and you need to have a huge difference between the size of the first lens and the last one if you want to really enlarge an image. While most manufacturers focus their energy on making the first lenses smaller, LG took a different approach with the PF1000U. They've taken the final lens, removed it from the inside of the projector, and mounted it at the back. The end result is something that looks different than anything you've seen before.
Basically, this projector works in reverse. You point it away from your screen, and the massive mirror on the back takes care of the final step in the enlargement process. Since the internals are covered from every side, LG kept the external design to a minimum. It's coated with a sleek matte black finish that feels smooth to the touch, and removed almost all controls from the system. All you'll have is a four way digital navigation button, and your inputs on the side. Since most people will be mounting these projectors out of reach, this design in smart. The focus is pulled away from the projector, and given to the screen – where it should be.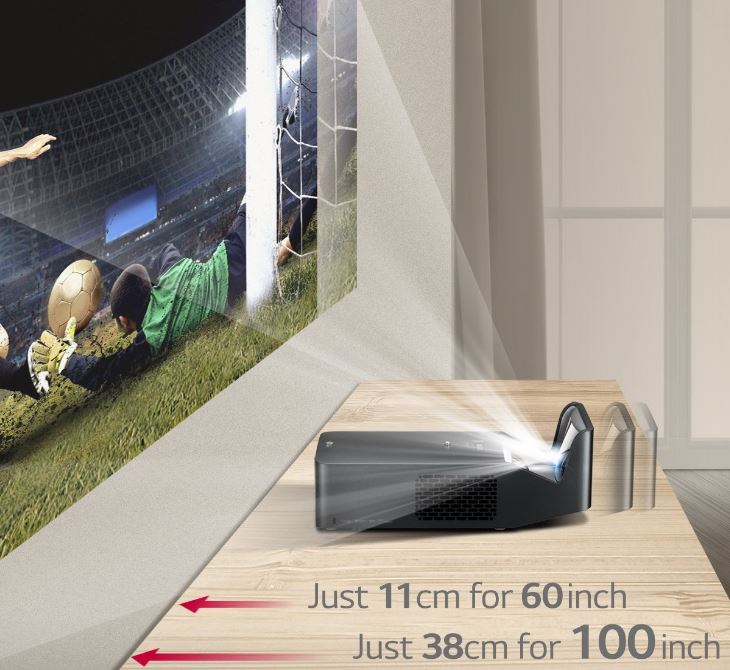 Projection Size & Distance
If you're looking for a larger than life screen, you've found it. Most televisions are sold up to about 60", but this projector can create a 100" screen with ease. But what's surprising about it is the distance needed to create such an image. At only 15" away from your screen, you'll realize the maximum potential image size. If you roof mount it, you'll be placing it almost directly in front of your screen. But if this is something you'll be taking with you wherever you go, you can simply place at the front of the room with all of your other media devices, and save yourself from having to drag cables across the floor.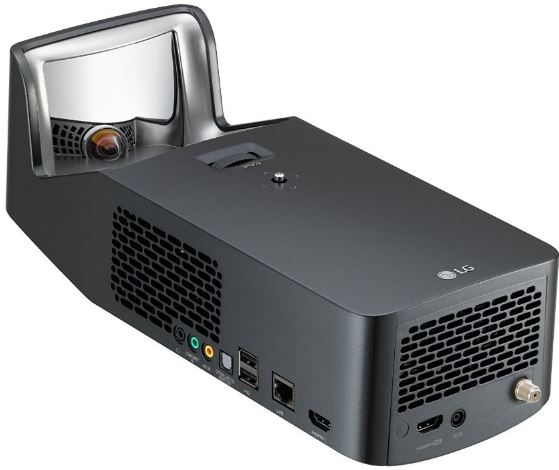 Image Quality
The PF1000U is capable of producing a crystal clear 1080p image with a shopping 150,000:1 contrast ratio. This refers to the difference between the darkest blacks and the brightest whites. 150,000:1 is incredible for a projector. For many years, they suffered from washed out images. But this one has an LED bulb that allows it to illuminate some parts of the image more brightly than others. The end result is an image that looks similar to a plasma TV. Vibrant colors, razor sharp edges, and smooth gradients make for a truly cinematic experience.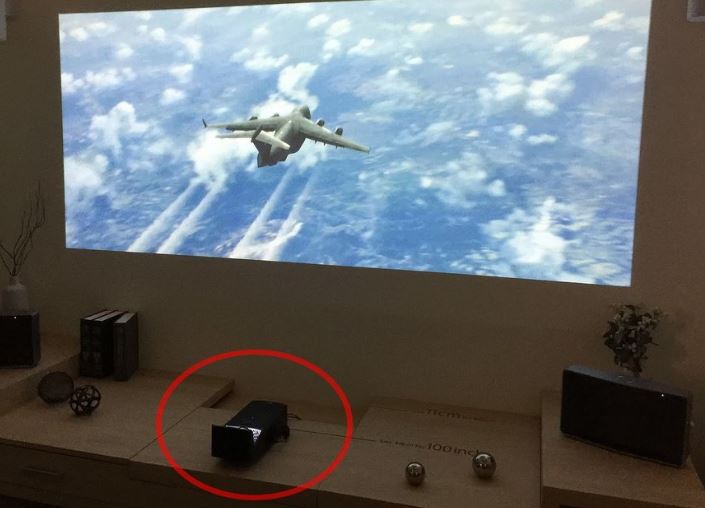 Another nice thing about the LED lamps is their long life. This particular model is rated for 30,000 hours of use. If you were to use the projector for 8 hours per day, every single day, you'd get over 10 years of use before it dies. We think it's pretty safe to say that you'll never have to replace the expensive bulb even once during the time you own it.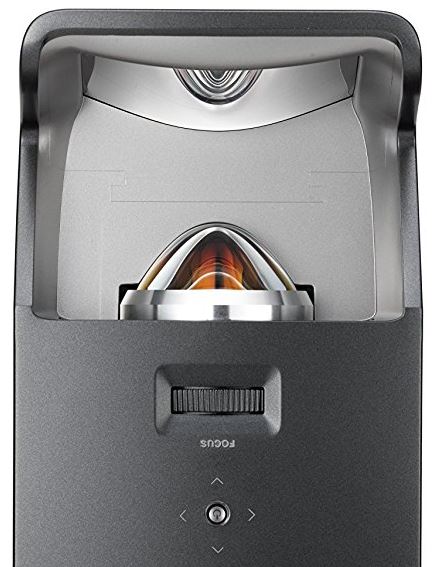 Connectivity
As is to be expected in this day and age, your projector can connect to any HDMI device you already own. But what sets it apart is its wireless features. The projector works like a smart TV. You connect it to your home network, and use the built-in applications to access Netflix, YouTube, and a plethora of other online services. It also supports cast, so you can stream media from any of the devices you have laying around your home.
But the media isn't the only thing that's wireless. It supports Bluetooth audio, allowing you to connect it to as many sets of Bluetooth headphones as you like. Or, you can use a Bluetooth equipped 5.1 surround sound receiver to enjoy your movies on a proper audio system.
Optoma GT1080
Optoma is a company that focuses their development exclusively on the projector industry. Their products are used in schools, corporations, and of course home theaters. This particular model strays a bit from their standard design and includes some features that are specific for home theater users, although there is still some value for those who want to give presentations to a large audience.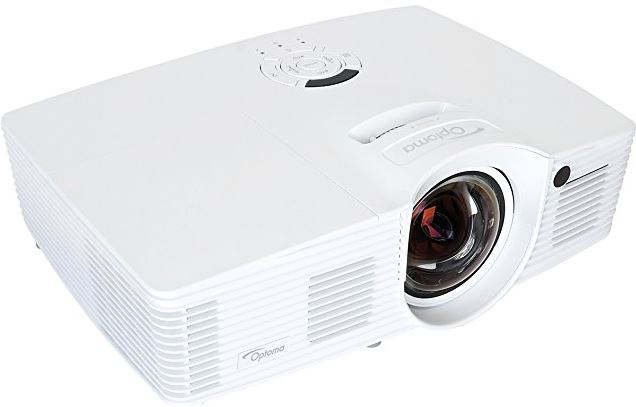 Design
The Optoma GT1080 is a little more reserved in the looks department, but the massive fisheye lens on the front certainly commands a bit of intention. Looking a bit like HAL9000, you can tell from the first glance that this isn't your ordinary projector.
Fortunately, the rest of the projector is laid out exactly like you'd expect. You've got several input ports on the left, and a power outlet. The top gives you a few buttons that let you control the on screen menu, but all of these commands can be done from the remote if you prefer. The only thing you'll need to manually do is adjust the focus ring at the front. Fortunately, it's large size means that this is a precise and simple task, and only takes a few moments.

Projection Size & Distance
The GT1080 is a bit like a combination between a short throw and a long throw projector. It's designed for people who want the largest screen possible, without compromise. You're able to create an image up to 166 inches, provided you can place the camera six feet away from the screen. Typically, you'd need three times the distance to create an image that big. The lowest size it can produce is a 111 inch screen, which requires only four feet of space.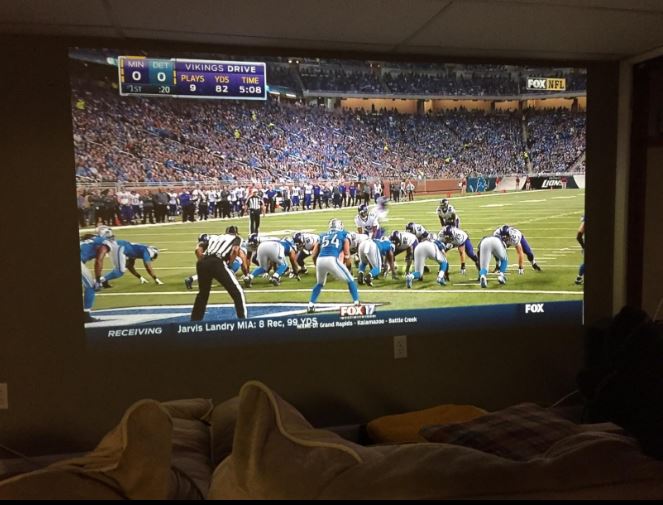 Image Quality
This projector uses a standard bulb, which has a few advantages. The main one is brightness. At 2800 ANSI lumens, you don't have to be in complete darkness to enjoy a nice looking video. You can leave a few accent lamps on, or even use it during the day without the windows drawn. As long as there isn't direct sunlight covering the screen, your image will look great.
It produces a 1080p image that was surprisingly vibrant for a projector. For this, we can thank the latest generation 25,000:1 contrast ratio. This is more contrast than your typical bulb projector can produce, and we'd equate the image quality with that of most TVs.
Connectivity
To get the best image possible, you'll want to wire this projector into your source. Most people will be using HDMI. The projector has two HDMI ports, making it easy to switch between sources in a permanent installation. A nice added benefit is the MHL port. This looks a lot like a typical USB port, but it's designed to connect to your tablet or smartphone. This allows you to share the image on your screen with a large audience. Whether you're sharing your family photos or watching Netflix, MHL is the easiest way to take your content with you.
ViewSonic PJD7828HDL
Over the years, ViewSonic's brand has become synonymous with value. Their products aren't always on the cutting edge, but they provide customers with the cheapest way to get a high quality image without having to sacrifice build quality or reliability.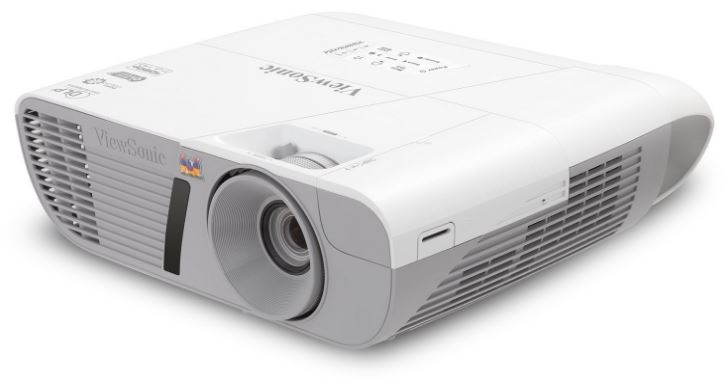 Design
Viewsonic kept it simple with their design, but there are a few nice design elements that help the PJD7828HDL stand out. The two-tone plastic case keeps the appearance sleek, while allowing it to blend into your home décor. If you're the type of person who loses the remote often, you'll be pleased to know that the entire controls scheme has been duplicated on the top of the projector.
But our favorite feature was actually found on the back. There are a lot of different connectors, and making this projector the center of your home theater system could result in a huge mess of cables. But ViewSonic created a rounded enclosure that you can use to keep your cables organized. As far as any mess is concerned, you won't have to think twice about it.

Projection Size & Distance
ViewSonic doesn't actually provide the maximum display size for their projectors, but that's because they are very flexible. It's got optical zoom built right in. Instead of trying to find the perfect place to set down the projector, you can put it wherever is easiest and use the controls to adjust the image size. Based on the brightness, the ideal screen size sits between 80" and 120." To achieve this, you can place the projector as close as 4.2 feet from the screen.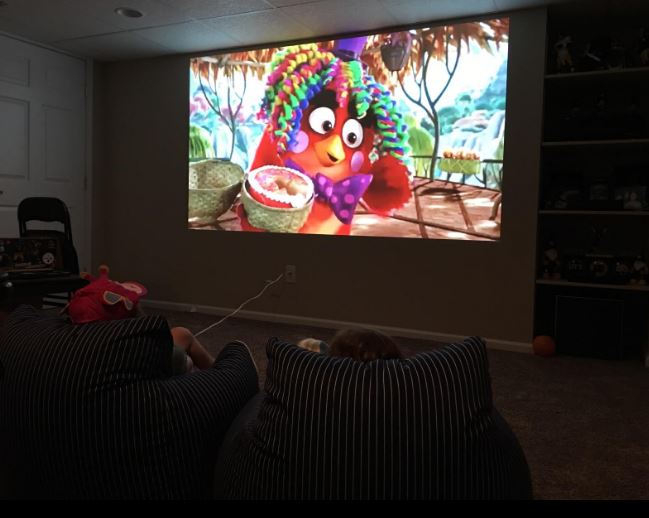 Image Quality
At 3200 ANSI lumens, this projector is actually the brightest on our list. The benefit of this is that you can even use the projector in a fully lit room. There is, however, a small reduction in vibrancy of your images. That being said, the ability to use your projector whenever you see fit will be a huge advantage to some. And with a full HD resolution, you're not giving up any sharpness or detail.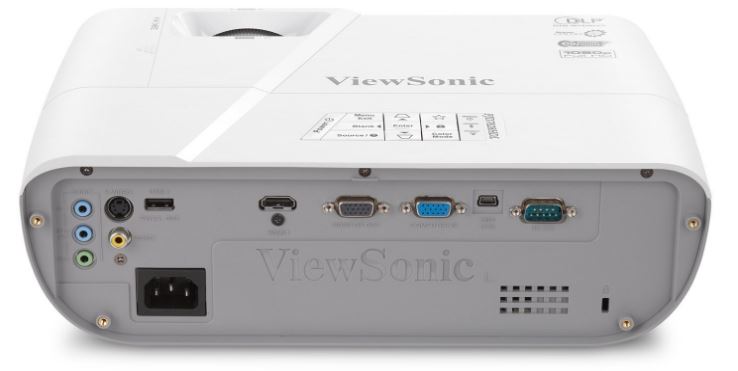 Connectivity
This projector connects to virtually any source you might have laying around. For old VCRs, DVD players, or game consoles, the S-Video and composite inputs will come in handy. For your computers, VGA is available. But for most users, you'll be happy to know that HDMI and MHL are both included.
Which Short Throw Projector is Right for Me?
The question you need to ask yourself is "How will I use this projector?"
If you're looking for the ultimate cinematic experience and you can control the lighting, LG's PF1000U is an excellent choice. This projector uses cutting edge technology, and produces an image that will leave you breathless. It's not the only projector that can do these things, but most will cost you several times the price. With its built-in operating system, this truly is an all-in-one home theater system.
If you're looking for a projector that can create the largest screen possible, the Optoma GT1080 is the model for you. At 166," you'll be hard pressed to find any projector that can produce such a large image without having access to a concert-hall sized room.
If you're looking for value and flexibility, ViewSonic's PJD7828HDL would be a great choice. Not only is it the most affordable projector on our list, but it's the only one that's bright enough to be used in full daylight.
Not really what you're looking for? Take a look at our reviews of the best portable (pico) projectors. Additionally, we've reviewed several other of the best 1080p projectors currently available.