If you've got a carpet in your home, there is a pretty good chance that you've got a vacuum. Carpets have an unparalleled ability to collect dust and dirt, and if they aren't kept clean then your house will quickly start to look like a pigsty. Most of us spend quite a bit of time vacuuming every day. When you've got a list of chores the size of your arm, you can't help but catch yourself thinking: "wouldn't it be nice if I had someone else do this for me?"
Maybe it's not a "someone" that you need, but a "something." Smart Vacuum cleaners are automated tools that help you keep your floors and carpets spic and span, requiring very little effort on your part. But can a robotic vacuum really do just as good a job as you could do? In this guide, we'll be testing out the three best Smart Vacuum Cleaners on the market. We'll show you what they can do, and help you decide if this is a good upgrade for your home.
Proscenic SUZUKA
Although Proscenic might not be one of the most well known brands on the market, their affordable SUZUKA smart vacuum is making a splash. Designed in a similar fashion to the popular Roomba, the Suzuka adds a ton of great functionality to an already useful platform.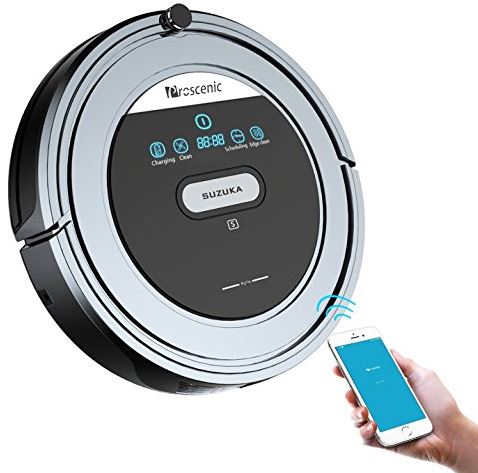 Design
The Proscenic SUZUKA is certainly a stylish looking vacuum. It's shaped like a large disk, featuring controls on the top with the cleaning hardware buried beneath. Although most of the controls are performed from your cellphone, there are several indicator lights located on the top of the vacuum. There is a power indicator on top, with a timer below it that tells you exactly how long the vacuum has been cleaning for. The other lights give you an indication of what type of task the vacuum is performing. It could be doing a regularly scheduled clean, or it could be fulfilling a request. Thanks to these helpful LED indicators, you'll never wonder to yourself "what is that thing doing?" while it zips by your toes.
Visually, the Suzuka certainly looks modern. It's got a stylish mirror-finish enclosure close in color to carbon steel, and a large circular handle that allows you to lift it with ease. It's basic shape might be similar to a Roomba, but it's obvious that this model is much more modern.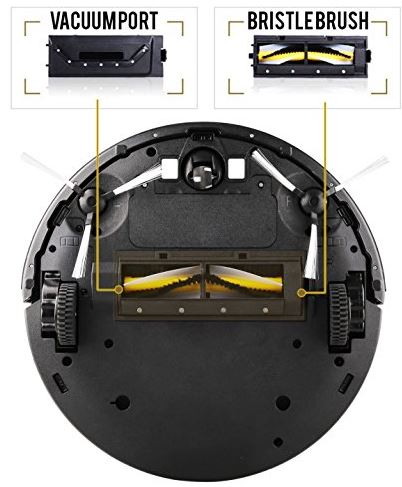 Cleaning Performance
The Suzuka has a high performance motor that performs as a significant upgrade to previous models. It's designed to clean short carpet as well as hard flooring, and can transition easily between the two. Because different types of floors require different cleaning styles, the Suzuka comes with both a high speed vacuum port as well as a motorized brush. It will automatically swap between the two, depending on what type of floor is detected.
The motor can pick up dust, hair, and allergens very effectively. These contaminants are removed through the HEPA filter, which is independently verified to remove enough debris from your environment that it's suitable for those of you who have pets, or who suffer from allergies.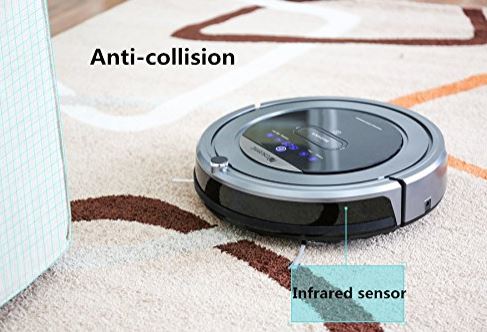 Navigation
One of the biggest upgrades from early robotic vacuums is the navigation system. Early models didn't have much intelligence. When they ran into an obstacle, they'd simply change direction. The end result was a floor that was never quite clean, and a vacuum that took quite a long time to get the job done.
The motor in the Suzuka is much more powerful than a Roomba, and it does not need to make multiple passes to clean a surface. For this reason, it uses an intelligent mapping system that allows it to pick the most efficient path to clean a room. Proscenic calls this the iPNAS (Intelligent Programmed Cleaning System Automatic Navigation.) It relies on a high precision infrared sensor to determine where obstacles are, and find the best way around them.
The Suzuka can automatically adjust itself to work over a grade up to 15 degrees, and can move from carpet to floor with ease. It has an anti-drop sensor that prevent it from driving over ledges, and the entire thing is automated. You can rest assured that this vacuum won't get stuck, and you won't have to give it any input to do so.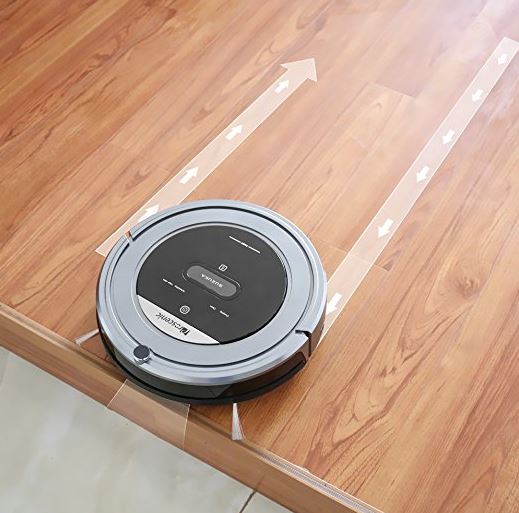 Smart Functionality
The Proscenic app works on both Apple and Android phones, and allows you to control the vacuum remotely from the palm of your hand. You can automatically tell it to spot clean a specific space, or enter in a schedule for it to perform it's cleaning duties.
The first time we tried it out, we found that the app felt fairly limited. However, we soon realized that this wasn't due to lack of features, but moreso just to make the app simple to use. All of the advanced functions are done automatically. It will return to its dock when it needs to change the batteries, or when you need to empty it. It uses a camera to scan the floor it's cleaning, so it knows when a dirt area need another pass, or when it's safe to move on.
If you like to have more control, you can use the app as a remote to drive the vacuum manually. But in our tests, it did a fantastic job of cleaning on its own, so very little intervention is required.
Neato Botvac D3
Neato Robotics is a company that has been on the market for a while, but their latest robotic vacuums have really made a splash. With an ultra-high end filtering system and advanced navigation, the Botvac is considered the Cadillac of smart vacuums. The D3 is one of the more affordable models, but we found that it provides the functionality that most consumers need.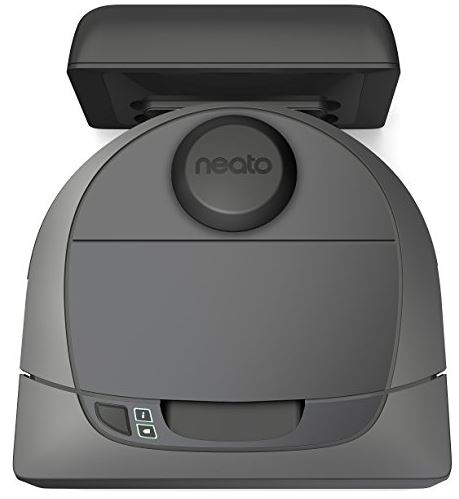 Design
Visually, the Neato Botvac D3 looks a little more like you'd expect a vacuum to look. It's definitely larger than competing models, and looks like a vacuum head with the handle removed. There is a small LCD display on the front, and a couple of buttons with LED lights behind them. These lights tell you when the vacuum is in operation, and give you a quick way to shut it off if it's in your way.
Other than those two elements, there isn't really too much going on with the Botvac. It's got a simple matte black color scheme, and a few decorative lines placed around it. But Neato Robotics wasn't really showboating when they build this vacuum. It's simple, compact, and can fit under most furniture, and we can't ask for much more in this department.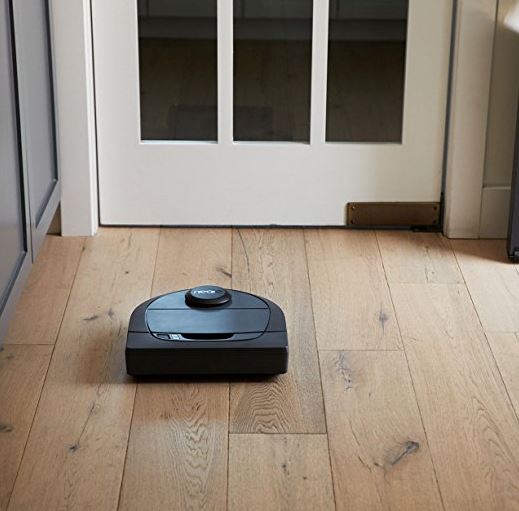 Cleaning Performance
This vacuum has the same methodical cleaning method as it's older brother, although it does run a little slower. Instead of making multiple passes over an area, it simply slows down while cleaning dirty spots and speeds up over cleaner areas. You'll notice that if there is pet hair on the ground, or something ground into your carpet, it will seem to sit in place for a few seconds. Once the debris is picked up, it moves onto the next area.
The main cleaning area under the vacuum is D-shaped, which allows it to tackle dirt from many angles. It also has separate corner cleaner inlets in each corner, so it's size isn't going to prevent it from getting into those tight spaces.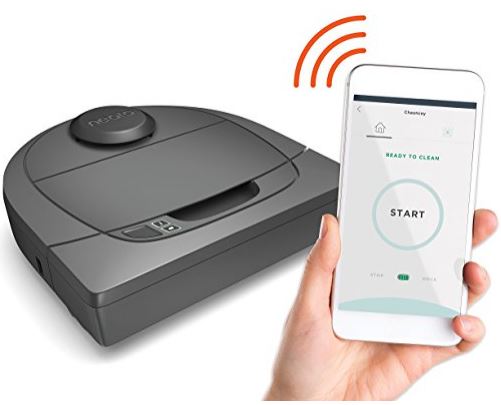 Navigation
One of the main selling points of the Botvac is it's advanced navigation system. It uses built-in lasers and infrared sensors to map out your room, and digitally maps out which areas have been cleaned. It uses a visual sensor on the bottom of the vacuum to determine if an area is clean or not, and won't move on to the next area until everything is spic and span.
If you'd like to keep the vacuum out of a certain area, you can always pick up a roll of inexpensive **** Magnetic Boundary Tape. **** This tape tells the vacuum not to cross, so you can control what areas it's allowed into.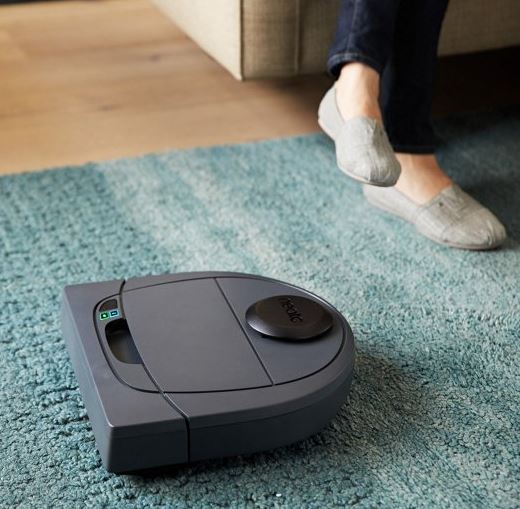 Smart Functionality
The app is very simplistic in design, offering only two different features. You can set the cleaning schedule, add one-time cleaning days, or request an on-demand clean. Personally, we're a fan of this system. The vacuum is still very advanced, but you simply say when you want your home cleaned. Everything else is handled internally.
Samsung POWERbot R9040
Samsung is perhaps one of the most well-known brands in electronics. From their powerful media centers to their popular cellphones, there is a pretty good chance that you already own a Samsung product. Their POWERbot vacuum is one of the best smart models available, making it an excellent choice for a smart home.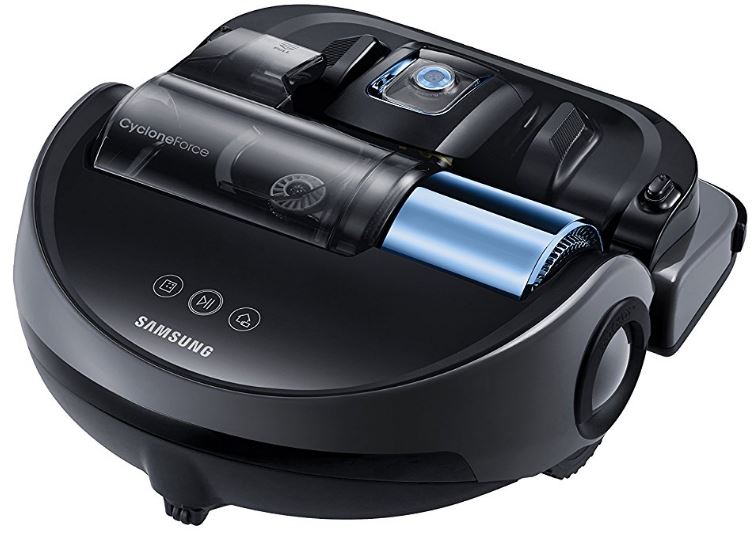 Design
The Samsung POWERbot R9040 definitely sets itself apart from all the other smart vacuums on the market. It's circular face and cylindrical top make it look more like a robot from Star Wars rather than a vacuum, but there is good reason for this design. Samsung wanted to think outside of the box, and build the best vacuum they could. This look is still fairly simple and sleek, but it's not designed for visual appeal. It's done out of necessity, in order to fit all the components, you won't find in other models.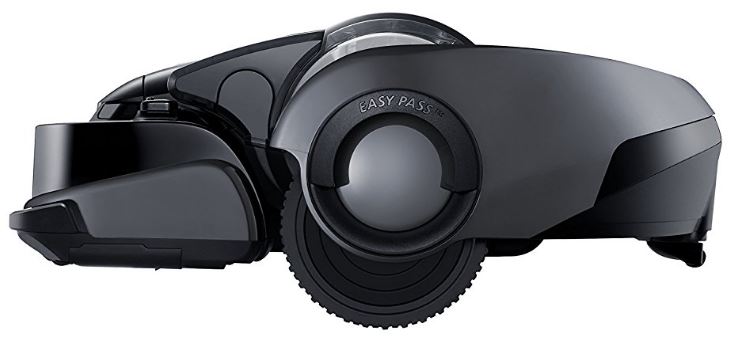 Cleaning Performance
This vacuum has an incredibly powerful motor which sucks the air through the large canister on top. The internal air paths force the air to move like a cyclone, allowing it to deposit all the debris it picks up in the filter.
This same type of suction pump is used in high end vacuums, and this is one of the first times it's been found in such a compact model. This system is ideal for anyone with thick, or very dirty carpets, as the performance is much higher than competing models.
Another major improvement is the wheels. They are much larger, allowing this vacuum to navigate across thick, lush carpet. These wheels also help make the transition from floor to carpet more effectively, making this a better choice for homes with varied terrain.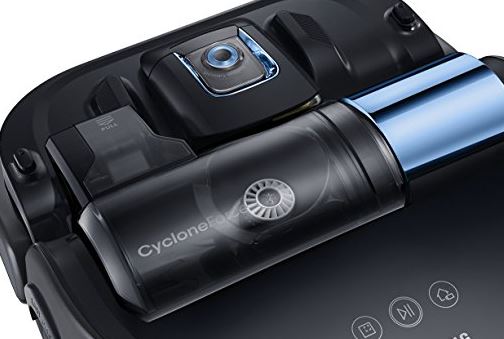 Navigation
At its heart, the navigation system in Samsung's vacuum is very similar in design to the other models. But there are a few key differences. Instead of just a simple infrared sensor, there is a full HD video camera that uses motion detection to better identify obstacles and map a room.
The software does a great job of identifying cleaning paths, and it learns over time. If it runs into an obstacle that it didn't map around properly, the vacuum will remember it and adjust the route for next time. Every time it cleans your house, you'll find that it gets a little faster.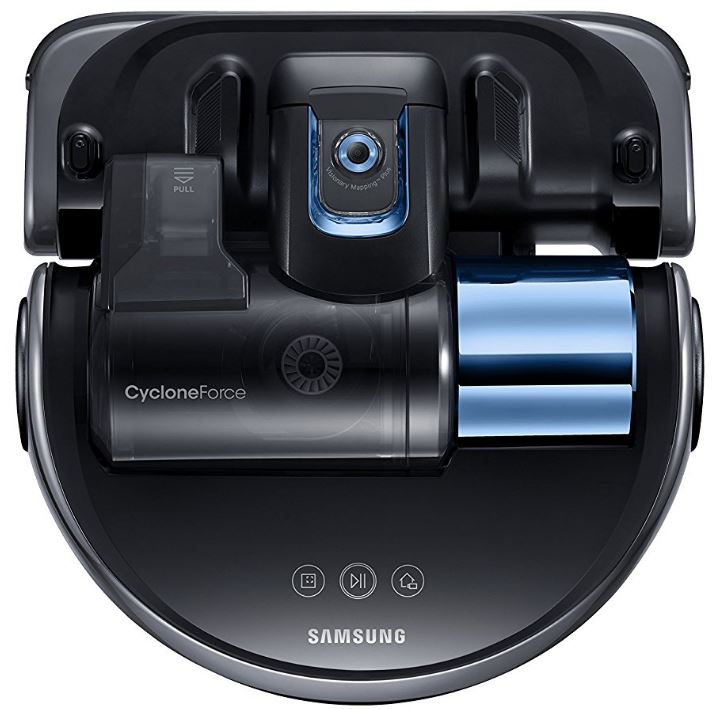 Smart Functionality
Samsung is a major player in the smart home marketplace. This allowed them to go well beyond the basic functionality provided by smart vacuums. Yes, they do have an app that lets you schedule and manually control the POWERbot from the palm of your hand. But it also connects to your WiFi network and can integrate with Amazon Alexa. This allows you to use simple voice commands to start getting your floors clean, making it one of the most futuristic feeling robot vacuums we've used.
Which WiFi Smart Vacuum is Right for Me?
Although robotic vacuums have been out for a while, the Smart models are still pretty new on the marketplace. This means that there is quite a bit of variation between them, so it's important to choose carefully depending on what you expect from the vacuum, and what kinds of floors you have.
Our first choice would be the Samsung POWERbot WiFi Robot Vacuum. Not only does it have the most powerful motor, but it also has larger wheels that better enable it to handle thicker carpets. It syncs up with Amazon Alexa, so the POWERbot becomes a part of your existing smart home, rather than another separate appliance.
If you suffer from allergies, the Proscenic Suzuka is a great choice. It has built in HEPA filters, which offer the most efficient way to remove irritants from the air. This is also one of the smallest smart vacuums on the market, so it can easily get under beds, chairs, and other furniture that is often neglected. These small spots are important when you're suffering from allergies, so getting complete coverage will make a huge difference.
If you're on a budget, the Neato Botvac D3 is a fantastic choice. Although the company offers many different high end options, we found that the features you get for the money are unmatched.