In today's digital age of computers and mobile devices, printers have become as important as ever. There's always a need to print documents, reports, and photos for office, school, home, and personal needs; and not having a printer can be very limiting.
With the emergence of all-in-one printers, users have found a reliable device for their printing needs. This type of printer is multi-functional; aside from printing, it also comes with scan, copy, and fax features. Yes, that's the reason why it's called an all-in-one printer in the first place.
If it's the first time you've heard of such printers, you probably think it's cool. It's cool, alright, but this type of printer is actually functional and versatile too. Because of all its built-in features, you won't need to buy a lot of devices and equipment. The whole concept literally saves time and money, not to mention space!
This buying guide lists the top 3 all-in-one printers for 2015-2016, and discusses their features, specifications and advantages to help you make a more informed decision.
Canon PIXMA MX922 All in One Printer
The Canon PIXMA MX922 comes with a scanner, copier, and fax. You can therefore use it for a lot of other purposes, aside from printing. It is capable of wireless connectivity too. It is compatible with AirPrint, so you can use your iPhone, iPad, and iPod Touch with it without having to download any special driver.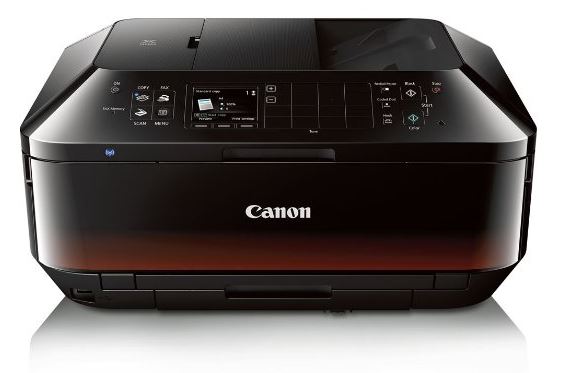 This is a colored printer, so you can use the Canon PIXMA MX922 for printing vibrant colorful photos and images too. It also has a capacity of 35 sheets in its auto feeder, so you won't have to manually feed 1 page at a time when using it, and it's suitable for printing multiple, continuous pages without a fuss.
Equipped with an auto duplex printing functionality, you can print on both sides of a paper without having to turn it manually. It also has a 250-sheet capacity cassette to hold plain paper while printing. It's enough to print a lot of documents without having to worry about running out of paper while in the process of printing.
The Canon PIXMA MX922 has 5 individual ink cartridges to produce 9,600 x 2400 maximum color dpi4. And if one ink tank runs out of ink, you don't need to replace all the ink cartridges. Just replace the ink with the empty tank and you can start printing again.
The Canon PIXMA MX922 is also compatible with Google Cloud Print. As long as your documents and files are saved in Google Cloud, you can use the device for printing. This printer is really fast too. In fact, it can print a 4 x 6 inch photo (without a border) in as fast as 21 seconds.
You will find it easy to operate as the Canon PIXMA MX922 All in One Printer comes with a 3.0-inch LCD display. This lets you select and adjust settings on the device conveniently. You can even edit images through the display.
Epson Expression Home XP-420
The Epson Expression Home XP-420 is a wireless inkjet printer plus ink bundle package. So aside from the printer itself, the Epson Expression Home XP-420 also comes with 2 ink cartridges. You can use this printer by connecting it to your desktop computer or laptop. It also works wirelessly with smartphones and tablets. However, you will need to download printing apps to make this feature work.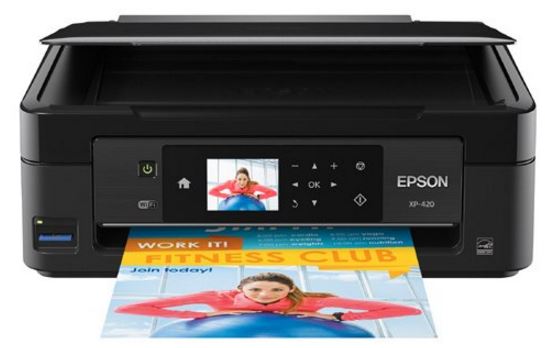 This all in one printer is really a space saving device. Aside from being multi functional, it is also compact. You can position this on your office table and it won't occupy a lot of space.
The Epson Expression Home XP-420 comes with a 2.5-inch LCD display that's easy to read and operate. Its touch panel allows you to input settings and adjustments as your printing needs require.
It also comes with convenient ink cartridges in individual colors. If one color runs out, you simply need to replace that particular cartridge. So don't throw out or replace the other color cartridges as these can still be used.
The 2 ink cartridges that are included in the package are Epson color multi pack ink cartridge and Epson black ink cartridge. The entire Epson Expression Home XP-420 package is generally priced very well.
HP OfficeJet Pro 8610 Wireless All-in-One Color Inkjet Printer
The HP OfficeJet Pro 8610 Wireless All-in-One Color Inkjet Printer operates on wireless technology. You can therefore use it with your laptop, tablet, and smartphone.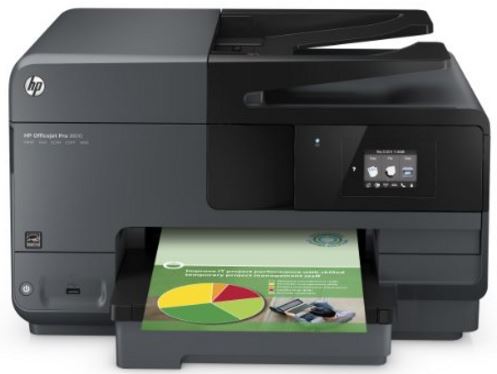 Aside from its printer functionality, the HP Photosmart 7520 All in One Printer also comes with a copier. This feature allows you to copy documents and images and even adjust their sizes. You can reduce the size of printed documents up to 25% its original size and you can enlarge documents up to 400%. The HP 8610 also comes with a scanner that you can adjust to obtain resolutions of up to 2,400 dpi to get the best reproduction.
Since it also comes with a fax functionality, you won't have to buy a fax machine for your home office or work station. It's an all-in-one printer; and it serves for a lot of purposes. That's why you can also save on space when you get this model of printer as you won't have to buy other types of machines.
As for the speed, The HP OfficeJet Pro 8610 is considered to be a fast model of printer. Its ISO speed can reach up to 14 ppm when using black ink and 10 ppm when using colored ink. Its connectivity is simple too, as it runs on 1 USB 2.0 port. When using wireless connection, it is compatible with WiFi 802.11 b/g/n.
The HP 8610 all in one printer also allows for duplex printing; so you can easily print on both sides of a paper without turning the paper yourself. The machine does this for you, so you can get a lot of work done while printing documents.
Equipped with a card slot, you can also use SD cards when printing documents and photos. Just save your files on SD memory cards and you can print these on the HP printer. This model also carries an auto document feeder; you can therefore scan and copy pages without having to manually feed the pages. You can get the HP OfficeJet Pro 8610 Wireless All-in-One Color Inkjet Printer for $100.