Since our computers are now running more intensive and larger programs, it likely means that the essential hardware components will be generating a greater amount of heat than ever. This can lead to slower speed for applications and ultimately could also cause irreversible damage to internal hardware. That being said – if you're a gamer, then proper cooling is a must. Water cooling is far superior than radiant or heat sink methods that rely on noisy and cumbersome fans.
PC gaming has changed a lot over the last decade, and to match the current top leading games, our computers have to excel in both graphics and speed. If your computer doesn't get the correct cooling, you could potentially damage your computer or it will run much slower than normal. Water cooling is safe to use and one of the best, most reliable methods to cool your PC. Why not play your favorite PC video game without worrying that your computer is too hot? Not only can you get your game on, but you can play for hours without having to worry about overheating.
Of course there are the generic fans that come with the CPU and case, so it can offer some cooling. However that may not be enough to keep it cool if you're constantly using your computer to it's full advantage. If that sounds like you, it's a smart decision to start looking into water cooling. Below we've outlined a few impressive options if you're interested in going this direction.
XSPC RayStorm 750 AX360 Water Cooling Kit
Introducing the SPC RayStorm 750 AX360 Water Cooling Kit, one of the best currently available – it was created specifically for those who want effective cooling, but don't want the steep price tag that may go with it. It has two D5 Vario pumps and a high performance new AX360 radiator that works incredibly well to thoroughly dissipate heat without a fuss.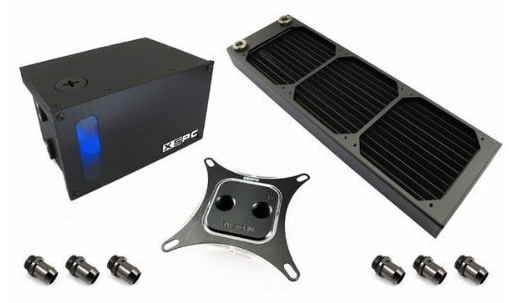 The RayStorm Copper Block comes to you in an award winning design with the acetal top of the block has been replaced with a CNC machined copper top. The mounting plate has been created from top of the line aluminum that should hold up in durability for several years to come. XSPC also added a chromed inlay on the aluminum bracket from an added touch.
The AX360 is a new premium high rated radiator offered by XSPC. The AX360 series has combined high grade performance premium made brass-copper radiator core, along with a compact and glimmering finished aluminum enclosure. The screw fittings and holes are perfectly cut by CNC, which gives no mistakes with misaligned screw holes and gives 3 mm of screw thread. The metallic alloy (aluminum) shell also makes it quite easy to mount fans against it, due to the flat surface. This also eliminates air gaps that need extra gaskets.
Two D5 pumps not only provide extreme performance, but give you unrivaled reliability. You also get the safety of two pumps, so in the unlikely event of a pump failure your system will keep on running. Together the pumps are so powerful they can pump to a height of 7.7 meters (that's about the height of the average house), but if you're worried about noise the pumps have a variable speed dial on the back.
These top end components come together in a kit with high quality compression fittings, 7/16″ tubing, fans, back plates, and a host of other accessories.
We're confident it's the best water cooling kit on the market today. Water cooling has proven to be the best way to cool your PC while playing video games, and it seems that the XSPC RayStorm 750 AX360 Water Cooling Kit is an excellent way to get started.
Reviews so far have rated it very high – easy installation even for those who are technically challenged; and it works well under overclocking on factory settings. Cooling for any high performance gaming computer or computer is needed, so this price is well worth it.
Cooler Master Seidon 120XL
The closed loop design of the Cooler Master Seidon 120XL will require no maintenance for many years (hassle free so you can play game and worry about it later). Its ultra fine micro channel water block makes for a larger contact surface between the cold plate and coolant. The durable yet powerful water pump enables heat to dissipate effectively through a stable water circulation, and its 38mm thick radiator is designed for handling high wattage overclocked CPU's. It's often seen as the 'ultimate cooling master' that helps your computer stay cool while you run your favorite PC games and software applications.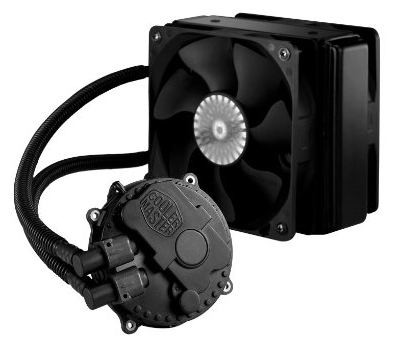 The double 120mm PWM fan provides a wide RPM range to fine tune and balance fan noise and performance, and, with its FEP tubing advantage, there is almost no moisture absorption, a high thermal stability and a high pressure tolerance which serves to enhance product life and durability.
Ultra fine micro channels also allows for twice the micro channel surface area transfers of maximum heat between plate and coolant. Add to this the Double Ceramic Bearing, which has many advantages such as higher speeds and acceleration capability, increased stiffness and lower friction, resulting in a durable and long life pump. Overall, we believe the Cooler Master Seidon 120XL is well worth the price and a considerably smart investment for any PC enthusiast or professional.
Cooler Master Seidon 120M All in One Liquid Cooler
The Cooler Master Seidon 120M All in One Liquid Cooler ships with factory filled coolant which is sealed and pressure tested so that it requires zero maintenance for years to come. It's a compact and durable, all in one water block which is secured by 12 stainless steel bolts.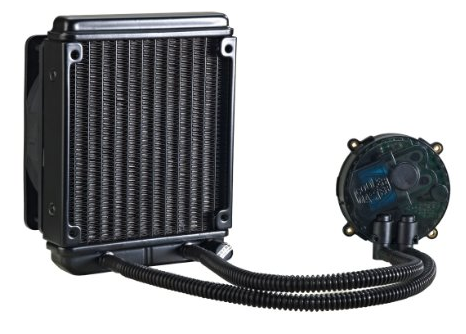 The Waterblock is machined out of a single copper block for the best possible heat transfer. It's 100% accurate machined Micro Channels Increase the surface contact so it can cool it more efficiently.
A small 120mm Metal alloy (aluminum) radiator fits inside every case, external or internal. The fin design is perfect for minimum air restriction. This reduces the fan speed and noise that could annoy anyone. Also, the 120mm PWM fan has a wide RPM range for easy and hassle free tuning. Along with perfect balancing fan noise and performance that would win any gamer or pc fan over. Additionally, there is a blue LED indicator which lights up when the system is in operation. The Cooler Master Seidon is compatible with every current Intel and AMD processors.
Final Thoughts
Although water cooling is a bit more pricey than your standard cooling system, the reliability and performance make it well worth the investment. If you're looking for a simple CPU water cooler, select either of the Cooler Master models we reviewed. If you're looking to overhaul your complete cooling system, we highly recommend looking into the SPC RayStorm 750 AX360 Water Cooling Kit as it's perfect for those who are serious about water cooled PCs.