Bluetooth technology – this is what allows the TRITTON Swarm Wireless Mobile Headset to detect audio content from a device without the need for messy cables. For the smart, trendy, and mobile individuals of this world, being wireless is an absolute must.
What's special about the TRITTON Swarm Wireless Mobile Headset? From first glance, you'll notice that it has a high tech design that looks downright appealing. By taking a closer look, you'll also notice that it's packed with essential high-end features that set it apart from your typical wireless mobile headset. Recently, we had the opportunity to try it out for ourselves – needless to say, we're actually really impressed with it.
Note: At no extra cost to you, we may earn a commission for purchases using our links. Learn more.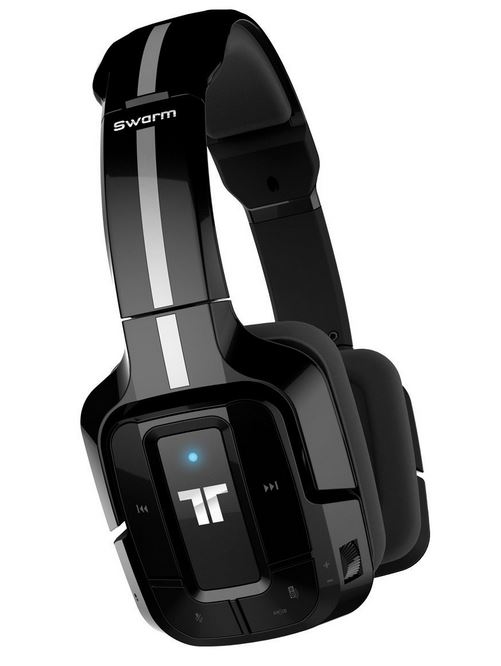 The TRITTON Swarm Wireless Mobile Headset Does Many Things…
First, it's a Bluetooth headphone that plays music at high-levels of clarity with surround-sound system that brings the best sound to any audio content while you're on the go. Some may say that it's like a full audio entertainment system in a small package that's perfect for portable use.
Second, it serves as an extension to a person's mobile device such as their phone or tablet. By pairing the TRITTON Swarm with a hand-held gadget, it can make and receive calls, answer text messages and other tasks. All these can be done without having to take out your mobile device. This is because it has buttons on the ear cups that lets you perform several audio-related tasks. It also has the capability to activate voice search on your connected mobile device so that it always stays safe and hidden in your pocket or bag. Additionally, a built-in mic enables hands-free commands as well.
Third, the TRITTON Swarm provides a surround sound ambiance without going to the cinema. It has the AM3D system that turns on with one click of a button that readily amplifies the auditory experience. The sound extends around the head and doesn't just stay in the ears – giving a 360-degree scope.
Fourth, the command buttons are conveniently located and readily accessible on the ear cups. This is strategic and smart as it lets you adjust settings and perform tasks with just a few gentle clicks within an arm's reach. There's no need to struggle finding the controls or reaching for a part of a cable to get this done. It's convenient, fast, and makes life easy.
Fifth, it allows 2 devices to pair at the same time. This is a good feature when you ges a text message in the middle of a game and you need or want to take it. The headset will automatically pause the game so that the person can attend to the text message without interrupting it. Once he's done, the game will resume on its own. Of course, this totally depends on the game you're playing, but truthfully, most games are able to pause. It's a great feature that promotes multi-tasking and supports a hectic schedule.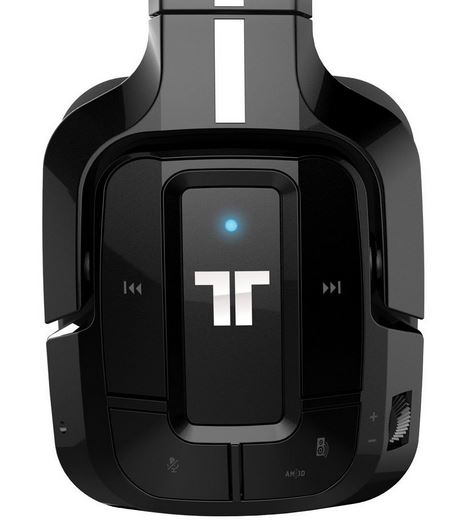 Sixth, traveling is easy with the Swarm Mobile Headset. It folds flat which reduces the size and bulk before inserting it into its handy pouch. It has a built in rechargeable battery that lasts up to 40 hours on standby, and reloads energy using the Bluetooth signal for wireless recharging. This outdoes even the longest-lasting mobile device and works great for frequent travelers who often find their portable electronics completely dead after continued use.
Seventh, staying put is also a good thing with this TRITTON headset. When watching a movie or playing a game at home, it can hook to a USB cable that allows console gaming and TV watching with ease. This is a great feature for times when you don't want to create noise moving around during late nights or early mornings.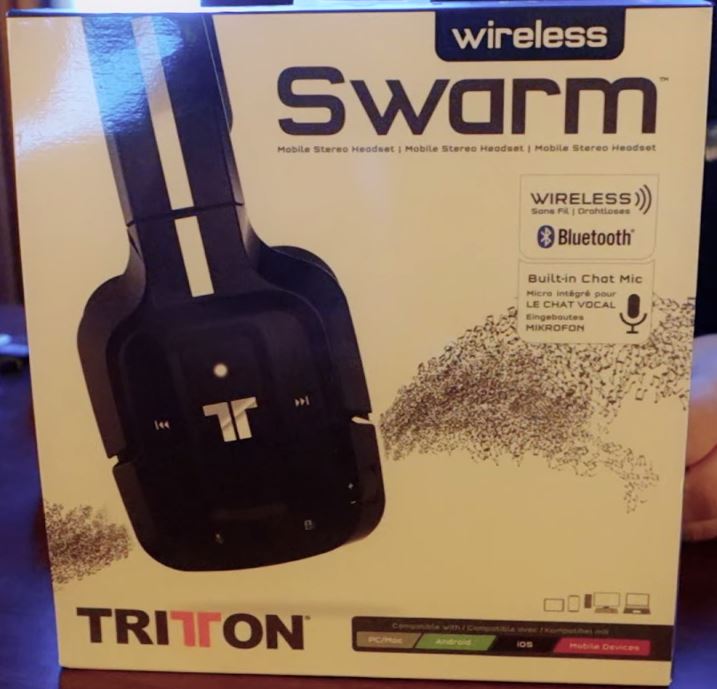 Eighth, gaming becomes even better. It has an advanced sound system that exposes even the smallest sounds that enemies make in a game. With this, the gamer can potentially detect incoming enemies even from a distance and gain the winning edge needed to earn victory.
An important thing to note about the TRITTON Swarm is that it has a fashion-forward design that fits the modern individual. Many may say that the smooth metallic exterior sends a message that the person wearing it has a good sense of style. Any one of the 4 colors goes well with any outfit because of its discreet yet stylish design.

What's Lacking?
The TRITTON or Madcatz websites don't say if the TRITTON Swarm Wireless Mobile Headset is shock or water-resistant. Gamers and music lovers often wear their headphones for long hours which could cause sweat. Additionally, we feel that abrupt movements from gaming may also need a shockproof feature to stay functioning while in the game. Although we haven't heard any complaints, these are two areas that we could see improvement in.
Product Specifications
The TRITTON Swarm Wireless Mobile Headset works with the following devices:
Mac OS X 10.8 and above.
iOs 7 and above.
Windows 7 to 8.1 and Vista.
Smart devices.
Android 3.0 and above.
M.O.J.O. Micro-Console.
Package Inclusions
Each unit comes with a soft pouch, 3.5mm Audio Cable, 3.5mm PC Adapter Cable, a Micro USB Charge Cable, and a Quick Start Guide.

Final Recommendation
The TRITTON Swarm Wireless Mobile Headset is a fantastic choice for those who want to pair both functionality with practicality. It provides many functions that let a person perform many tasks in one sitting. The cost of getting this cool gadget simply doesn't compare to the many roles it plays. The multi-tasking performance costs more when bought from other brands, this is the chance you may have been waiting for to invest in a headset that's not only effective, but incredibly well thought out.
People may even wonder how TRITTON is making a profit from it since the high technology it utilizes usually costs a whole lot when one thinks about it. Overall, we think that it's truly an awesome find that people from various age brackets could all appreciate. It has the potential to become a future bestseller.
Please consider sharing:
Note: At no extra cost to you, we may earn a commission for purchases using our links. Learn more.