Earbuds that work great for another person aren't necessarily going to work well for you. Someone who wants their earbuds strictly for jogging will want different features than someone who wants earbuds for calling. Ending up with the right pair means paying for the features that matter the most to you, and skipping past the features you couldn't care less about.
Quite recently, Anbes added to their already lengthy line of wireless earbuds with a new member to the series. But How do the Anbes 359 compare to the D42? Again, picking between these two in a meaningful way really depends on understanding the significances of small differences, and how those differences impact the sort of expectations you have from your earbuds.
Anbes 359 Wireless Earbuds
A good place to start is with the Anbes 359 Wireless Earbuds, which are basically are a combination of several modernized earbud technologies. That includes things like Bluetooth 5 and decent noise cancellation technologies, all shoved into one relatively compact and stylish frame.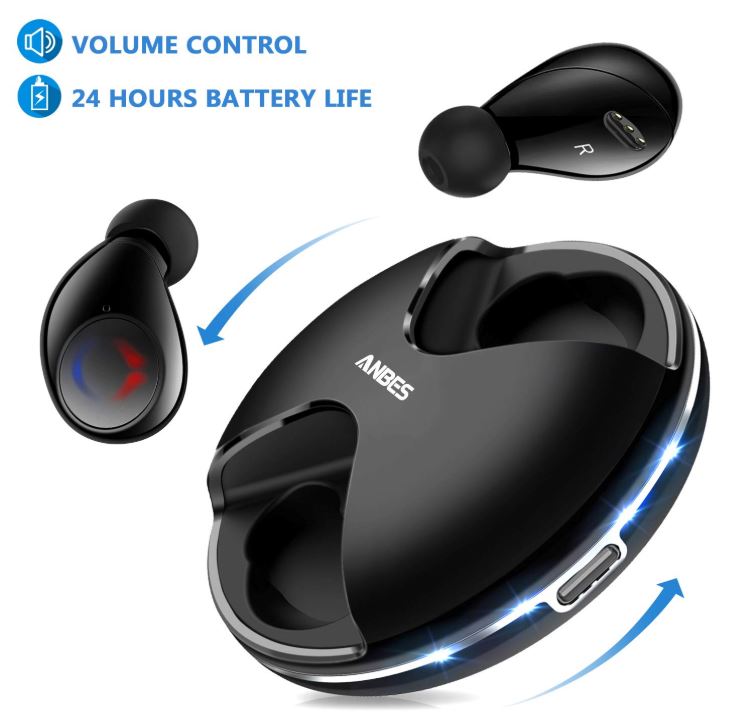 Perhaps the most distinguishing physical characteristic of the 359 Wireless Earbuds is the distinctive shape of their case. The case uses a flattened circular design that roughly resembles a flying saucer. Along with a silver metallic highlight that runs along the edges of the device, and four LEDs on the front side, these headphones have a pretty cool style that borders on being sci-fi inspired.
Additionally, the earbuds themselves have a rather unique shape, they come pretty close to resembling a teardrop. At least, until you've attached the silicone ear tips to the end. And the outside of each earbud has a large flat shape which is used as a touch control interface. You need to learn a couple of tapping patterns in order to be able to properly use the Anbes 359 Wireless Earbuds, but you can get the hang of using those tap patterns pretty rapidly. One tap to raise or lower volume, two taps to skip between tracks, and so forth.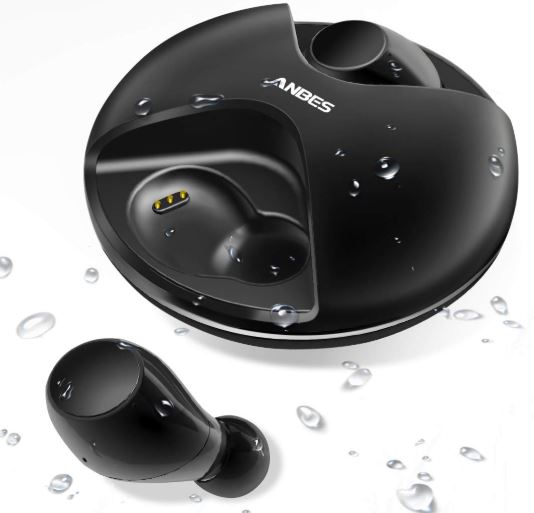 As mentioned earlier, the case hosts a total of four LEDs on its front side. When all four are fully lit, that indicates you have anywhere between 75% and 100% power available to you. Each light that goes out indicates 25% less power, until no lights mean the battery is entirely done. That's not much granularity, unfortunately. It can be difficult to get more than a rough estimate when you're relying on these sort of indicators. Magnifying the issue, the Anbes 359 Earbuds don't support battery indicators through iOS or Android displays, either.
Microphone Quality
One trait shared in common with the Anbes 359 and many other headphones in this series is that their microphone is just a little bit underwhelming. It's not that the microphone is bad, it's just that there's really nothing special about it. Physically speaking, they've went with a fairly basic omnidirectional mic. Exactly what you typically see from earbuds like this.
The mic is pretty good at capturing voices, even when the microphone is positioned back in your ear instead of up in-front of your face. But these headphones don't deliver any extra technologies to make their mic performance any better than a standard Bluetooth mic. That includes no extra noise cancellation features.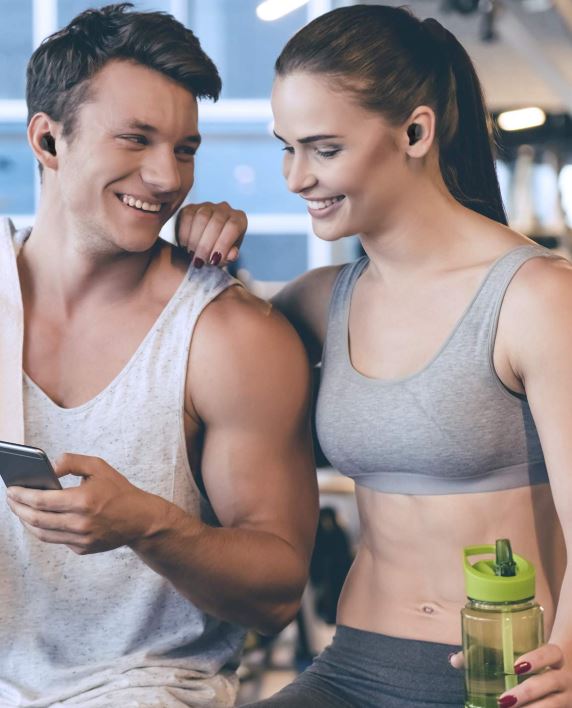 Wireless Connectivity & Comfort
The Anbes 359 are made with support for Bluetooth 5, which enables each earbud to remain synced together pretty reliably. It also allows the buds to automatically sync together anytime you remove them from the case. At least, after you've undergone an initial setup period. You get an effective transmission distance of about 33ft between the earbuds and whatever device you've decided to connect with.
Audio Quality
The Anbes 359 aren't technically athletic earbuds, but they definitely sound like a pair of athletic earbuds. They were clearly tuned to help make upbeat and energetic music sound more engaging. With warmth in the bass section and an airy treble range.
However, these earbuds don't have the usual emphasis on vocal tones that you typically find from similar earbuds. This could partially be due to the fact they're not focused on calling features, but it also makes the Anbes 359 a little less aimed at listening to podcasts or books on tape — and instead focused on enjoying high-energy music.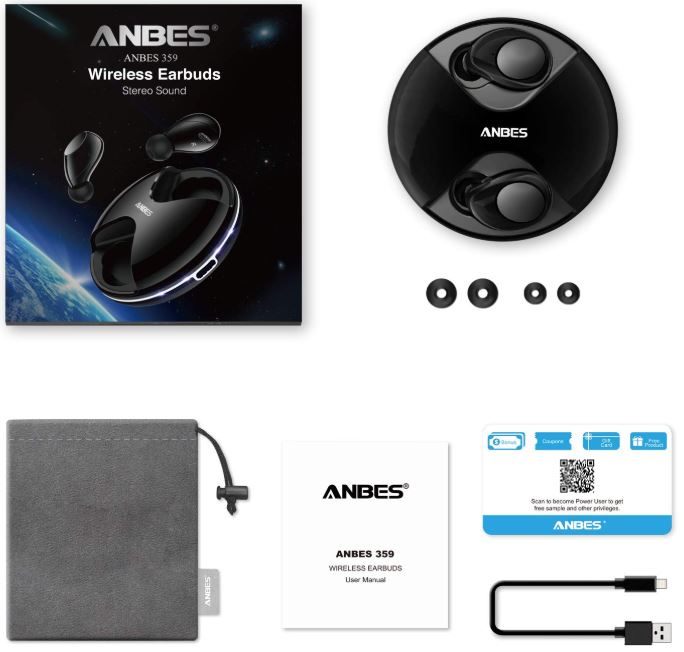 Battery Lifespan
How much playtime can you get from the Anbes 359 earbuds? Well, it depends. For starters, the batteries inside each earbud are reasonably strong at 50mAh, making them capable of delivering about 4 hours of playtime from a complete charge. That's about average when compared to similar earbuds. Though if you raise the volume way up, you'll find it's actually a bit closer to 3 hours of total playtime.
Of course, after you consider the charging case, things look much better. Inside the charging case, you'll find the battery is a reasonably large 600mAh. And that's roughly 20% larger than the sort of batteries you'll often find in these types of cases. Along with some fully charged earbuds, you're supposed to be able to get around 24 hours of playtime. Not bad at all.
Other Considerations
In addition to the charging case, the Anbes 359 include two sets of ear-tips in two sizes. It includes a micro USB charging cable, and a small carrying pouch with a drawstring. And ANBES provides a one-year warranty with their 359 series Bluetooth Earbuds.
Anbes D42 Wireless Earbuds
In many different ways, the Anbes D42 Wireless Earbuds are stunningly similar to the Anbes 359. You might think of the D42 as the more professional looking little cousin of the 359. The neat sci-fi aesthetic has bene replaced with a design that looks more mainstream. But the earbuds themselves are ultimately deigned in a very similar way, and with a very similar set of overarching features.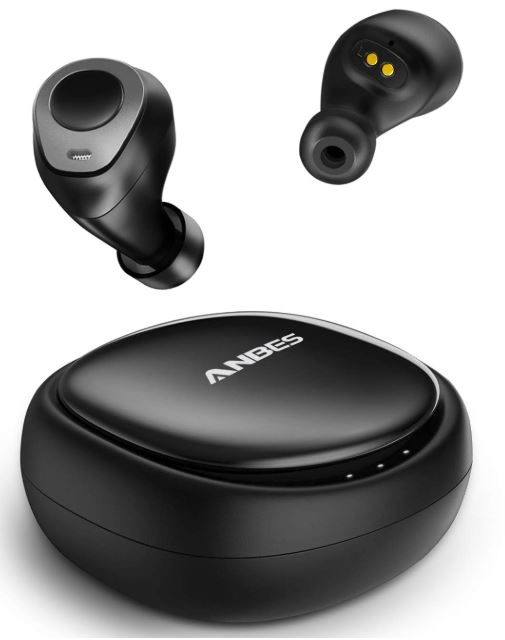 From a totally superficial perspective, the Anbes D42 have a very run of the mill charging case. Similar to the 359, both cases are circular in nature, but the D42 looks a bit more like a traditional case. It flips open from the top, revealing the two earbuds inside. There are only three LED indicators instead of four, and they're partially hidden underneath the lid when the case is sealed away. That makes this case a little bit better for people who are disturbed by LEDs when trying to sleep. Because for whatever reason, the LEDs on the Anbes earbuds often tend to be a tad bright.
Similar to a number of different earbuds, the D42 are built with an IPX5 waterproof certification. That's not one of the strongest waterproofing certifications out there, but it is enough to ensure you don't have to worry about sweat or rain interfering with the buds. You're also protected from dust, sand, and so forth.
And similar to many earbuds of this style, you'll find the D42 uses the same touch interface as the Anbes 359. The control patterns are also identical, so after you've mastered using one pair of Anbes headphones, you can move to using another pretty seamlessly.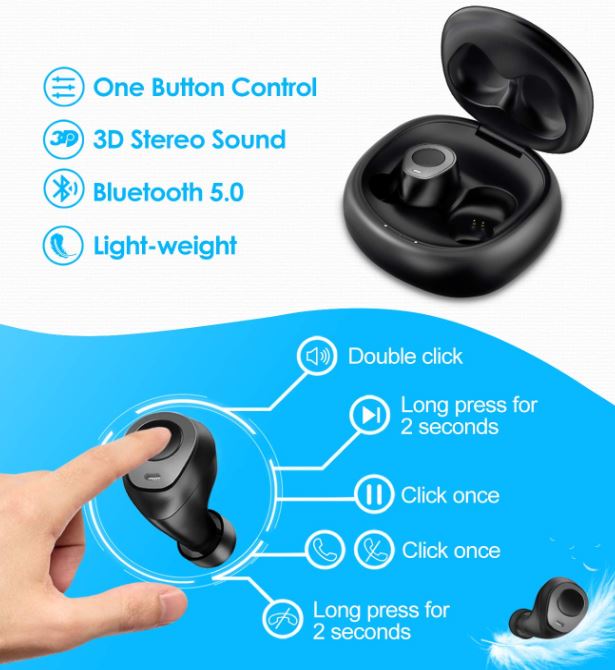 Audio Quality
But how do the D42 actually sound? Interestingly, the D42 has followed the 359 towards pursing an athletic soundscape. Though it makes a bit more sense in this case because these are more athletically oriented earbuds, which is especially transparent when you start to consider their waterproof design.
In any case, the D42 actually have surprisingly deep and hard-hitting bass. Much of this is the result of equalization-based software settings, not the result of the hardware itself. However, they still sound quite similar when it comes to playing upbeat music. They share essentially the same essential soundscape as the 359. Compared to the Anbes 359, you'll find more of an emphasis on vocal tones, making these headphones somewhat more appropriate for people who are focused on listening to podcasts or books on tape.
Wireless Connectivity & Comfort
Similar to the Anbes 359, the D42 are built around Bluetooth 5. That helps ensure a relatively strong connection when you're listening to music connected from a smartphones or similar source. The maximum connection distances stretch out to around 33ft, which is about average for earbuds of this type.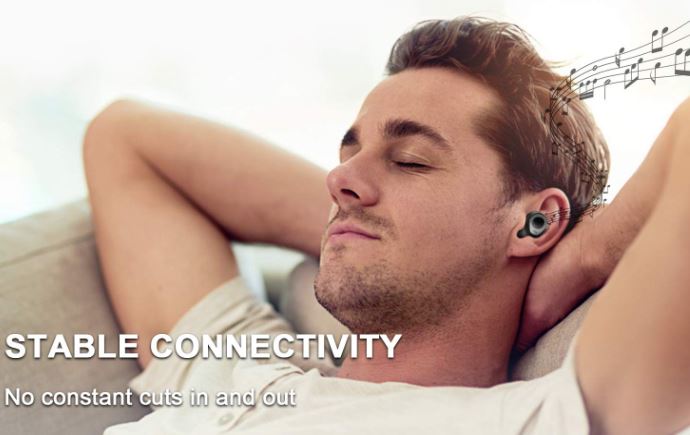 With respect to its comfort options, the D42 includes three sizes of silicone ear tips. It's pretty much the same range of options you'll find from the 359, so there's not much reason to go into greater detail.
Battery Lifespan
The D42's battery is supposed to provide around 3.5 hours of total playtime. Whether or not you get that amount of time really depends on how you use your earbuds. If you're taking calls more often than not, then you might find the playtime stretches out towards 4 hours.
Fully charged, the case can deliver around 18 hours of additional playtime. And like with the Anbes 359, you'll find an LED indicator on the front side of the case to help let you know how far along the battery has gone.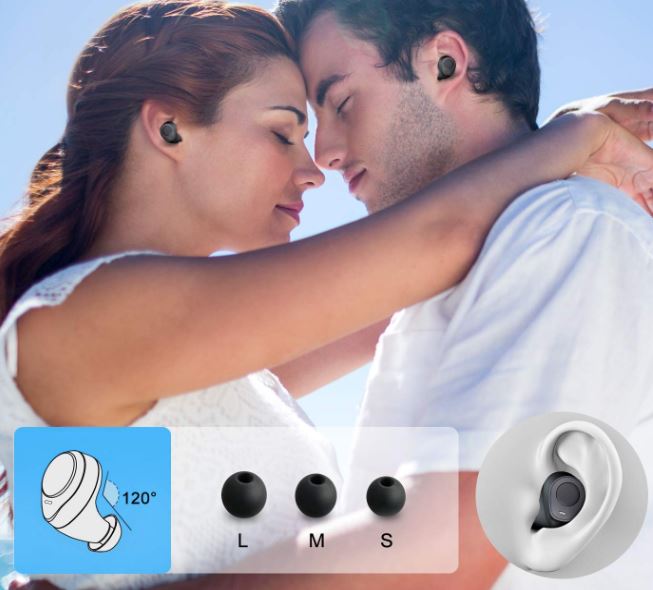 Other Considerations
In addition to the charging case, the Anbes D42 include ear tips in three sizes. They include a micro USB charging cable, and a small carrying pouch with a drawstring. Additionally, Anbes provides a one-year warranty with the 359 series.
Anbes 359 vs. D42 Wireless Earbuds – Which Should I Get?
The Anbes 359 and D42 both utilize Bluetooth 5, and both offer around 33ft of wireless connectivity. They both have a charging time that works out to be about two hours. They both have essentially the same touch interface, which allows users to control volume, skip between tracks, answer calls, and so forth.
When it comes to lasting power, you'll find the D42 has about 25% less of a maximum battery capacity than the Anbes 359. That's unfortunate, but they don't wander far away from the 20-hour mark still, which really makes this category a bit of a tossup.
But you'll find D42 more focus on vocal tones, which generally makes it a better choice for someone who spends a lot of time enjoying podcasts or listening to books. Meanwhile, the 359 are marginally more focused on music, and has marginally less focus on calling. Which makes the Anbes D42 a good choice for someone who plans on taking the occasional call with their headphones between listening to podcasts, and the Anbes 359 a good choice for a mobile person who's mostly listening to music.