Finding a good gaming monitor is getting easy. As the performance capabilities of monitors have rapidly improved over the past ten years, gaming features have been getting cheap. And as a result, monitors that used to cost upwards of $2,000 are now available for a small fraction of that price.
On one hand, that means you can greatly raise your expectations of what to expect from a good gaming monitor. On the other hand, there are still plenty of ways to go wrong when selecting a new screen.
What do you want from a gaming monitor? The answer to that question is different than it was five years ago. And the list of things people want from a gaming monitor will probably change again within the next five years.
Response time used to be fairly important, it was one of very few features that could explicitly help gamers. But it has become somewhat trivial in recent years, as nearly any panel on the market can provide great response times. Gamers have also had to endure the use of monitors with duller color palates in order to achieve those greater response times.
AOC AGON AG322QC4 32" Curved Gaming Monitor
But sacrifices like those are no longer necessary. Panels like the AOC AGON AG322QC4 have changed the game, pushing past every traditional limit of gaming monitors. It's not a dull-colored TN panel, and it's not restricted to 1080p. It even introduces gamers to a feature which has been almost totally absent on gaming monitors until recently – an expanded color gamut.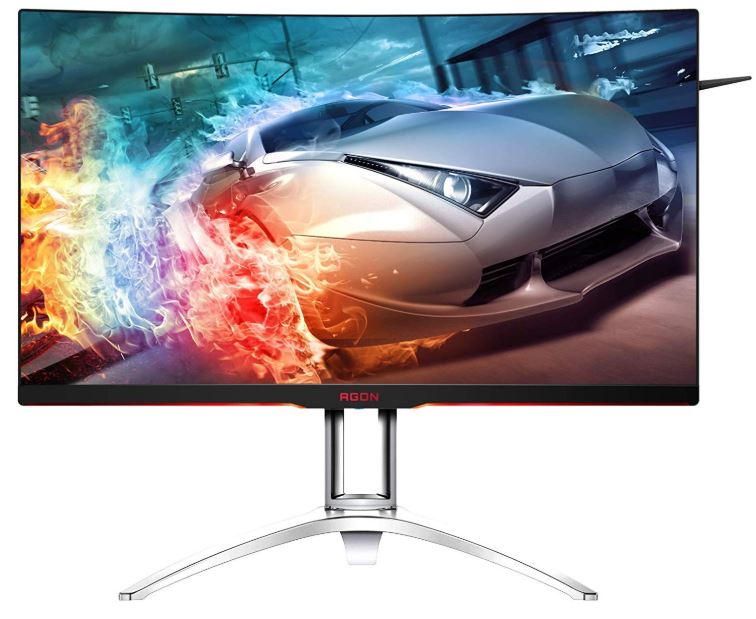 Build & Design
Apart from the stand, the AGON AG322QC4 looks fairly ordinary for monitor. The panel is housed within a silver and black cabinet. If you ignore the red highlights along its bottom edges, the cabinet looks almost exactly like the one used by Acer's Predator monitors. This is probably because both the Predator series and the AOC AGON series make use of parts originally manufactured by Samsung.
The stand is another thing altogether. It uses a glossy aluminum base, with an arching design that stretches off the surface it's placed upon. It's a design that takes up very little desk space, and allows for height adjustment. In short, the stand looks quite respectable, and performs just as well as it looks.
Returning to the monitor, the AOC AGON AG322QC4 measures 17.05 x 28.03 x 3.57-inches, and weighs just under 15lbs with its power brick. Measured diagonally, the screen stretches 32", but the viewable space is technically 31.5".
When you're using a larger screen, you want to use a larger screen resolution to match. There are some guidelines you can follow to make this simple. You generally want to use 1080p resolution for monitors 27" or smaller. When you're using a screen larger than 27", like with the AOC Agon AG322QC4 32" Curved Gaming Monitor, want to make use of 1440p.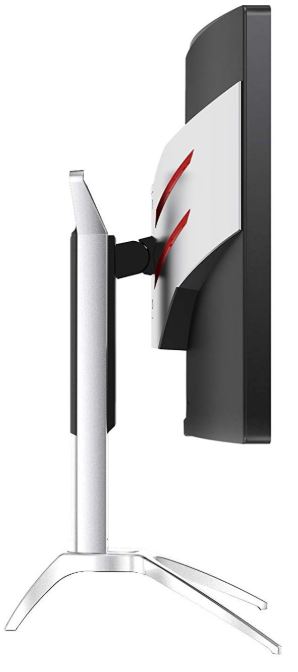 Greater than Full HD
The AOC AGON AG322QC4 32" Curved Gaming Monitor operates with a native resolution of 2560 x 1440, also known as 1440p. It also uses standard 16:9 aspect ratio. And for most gamers, these are the right places to be.
Part of the reason why the 4K format isn't exploding in popularity among gamers is because 4K content is hard to run. GPUs which can comfortably run 4K content are still somewhat expensive. Within five years, cheap GPUs which can handle 4K content seem very likely, at which point 4K content might see wider adoption among gamers.
Consequently, many people view 1440p as a stopgap measure being used until 4K arrives. But that's actually a deep misconception. Higher resolutions aren't inherently better, they're better or worse relative to your viewing distance, and relative to screen size. You would get essentially zero perceptual improvements by taking a 15" monitor from 1080p to 4K.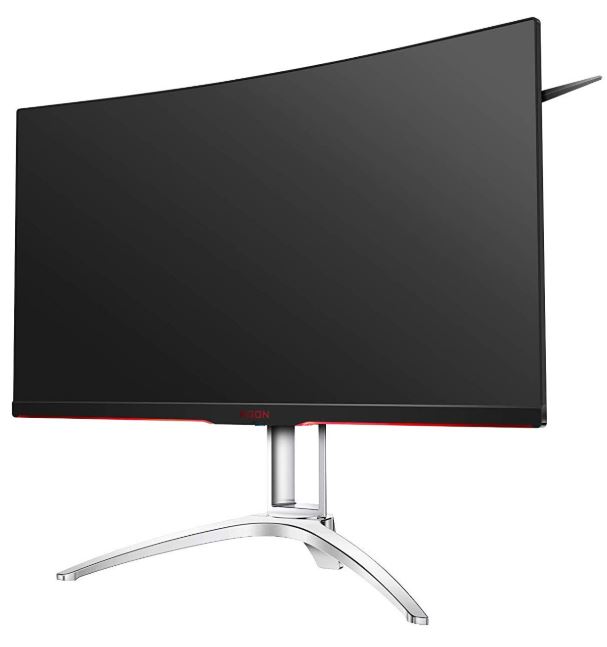 When you're sitting directly in front of your monitor, 1440p is actually quite close to an optimal viewing experience. Moving to 4K can be an improvement if you're sitting within a few inches of your screen, or your monitor is sized at 40" and up. But outside of those extreme circumstances, 1440p is the place to be.
Beyond its ultra HD presentation, the AOC Agon AG322QC4 Curved Gaming Monitor is also curved. The curvature is a deep 1800R. That's intended for the viewer to be sitting between two and five feet from the panel.
Like 4K, curvature is another feature that hasn't seen wide adoption among gamers for any number of reasons. But the most important reason is because you really need monitors to be 30" or larger until you see any significant advantages to screen curvature. And most gamers use panels which are 27" or smaller.
Gaming Features
Setting aside the build of the monitor, and the resolution it offers, there are basically three features you want from a gaming monitor.
Refresh Rates
Perhaps the most essential feature for any gaming monitor is a higher refresh rate. With how the price of high refresh rate panels have plummeted over the past three years, it's safe to say 144Hz is now a standard feature of any decent gaming monitor.
60Hz panels are literally incapable of refreshing fast enough to display more than 60 frames per second. The AOC AGON AG322QC4 and its 144Hz refresh rate can more than double the frame rates which gamers used through the old standard. You actually get diminishing returns quickly from going beyond 144Hz, and you need significantly more powerful hardware to maintain rates that high.
Dynamic Sync
Most gamers want dynamic sync technology, like G-Sync or FreeSync. These technologies really only shine when your PC struggles to keep its frame rate above 60fps. Given this is a high end panel, it seems fair to assume anyone using it will also run a system powerful enough to ensure dynamic sync technologies are not essential.
But they're a nice cherry on top. Especially if you like to skip one-or-two generations between upgrading your GPU. And the AOC AGON AG322QC4 makes use of FreeSync 2, which helps you cover your bases while adding virtually zero cost to the monitor. The latest version of FreeSync, FreeSync 2, primarily differs support for HDR content. But we'll look at that more later.
Response Time
The AOC AGON AG322QC4 provides a fairly rapid response time of 4ms. The vast majority of gamers find the move from 4ms to 1ms to be small or nigh imperceptible. It used to be the case that you wanted to focus on getting a higher response time. But these days, VA panels like this one can offer compelling response times, which mirror the capabilities of TN gaming panels from about a decade ago.
What we're talking about is really a reduction in motion blur during fast-action, but motion blur is something LED technology is fairly lousy at in the first place. OLED builds and other alternatives are much better with recreating motion blur, but unfortunately it's still a very young technology that's mostly unsuitable for gamers and grossly expensive.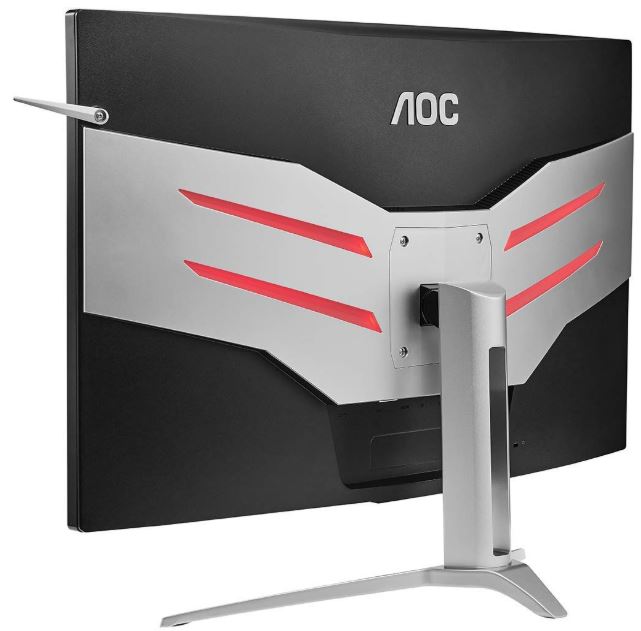 Expanded Color for Gaming
Behind the black and silver cabinet, what you have is a fairly standard LED widescreen. It's a vertical alignment (VA) panel, which explains the response time sitting at 4ms instead of 1ms. It also explains the incredibly wide viewing angles of 178°, both horizontally and vertically.
The panel is VESA certified with DisplayHDR 400. And HDR technology is only recently seeing implementation on gaming monitors. Many gamers don't know what it's all about, so it might be worth covering a few key details.
When you're measuring the performance of a screen, you might look at the thermal capabilities, power-delivery systems, and the peak luminance of small areas. Counting up these various factors, the HDR400 certification indicates roughly 25% better color performance than standard display content.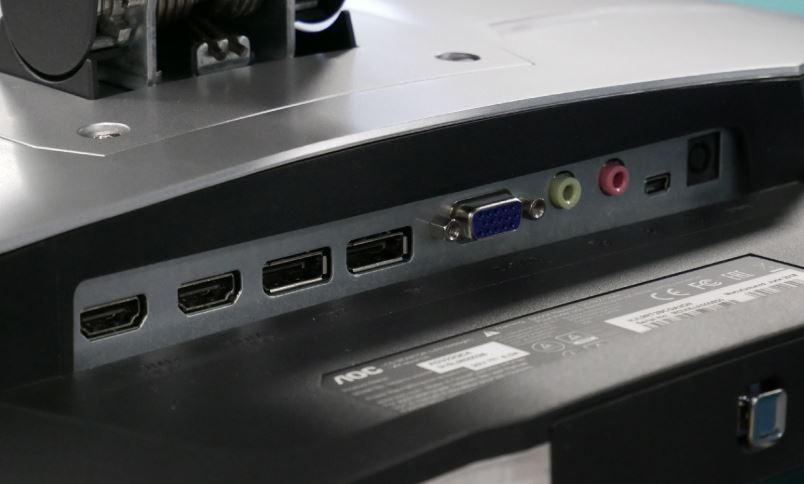 Having the DisplayHDR certification also means you don't have to look too closely at many of the other performance details. For example, the AOC AGON AG322QC4 and its dazzling brightness of 400 cd/m2, and amazing 80,000,000:1 contrast ratio, are both is implied by the certification.
And it makes sense to offer a greater color gamut to gamers. Gaming is often supposed to be an immersive, almost cinematic experience. Consequently, gaming monitors can greatly benefit from many of the same features that are used televisions.
Ports and Audio Quality
With respect to its connection capabilities, the AGON AG322QC4 offers a pair of HDMI, DisplayPort, and D-Sub connectors. There are also a pair of USB 3.0 ports.
The built-in sound comes from a pair of 5-watt speakers. Because this panel is slightly larger, it's capable of using slightly larger speakers than you generally see on a monitor. They're still monitor speakers, but they're a step better than the 3-watt speakers you find on smaller panels.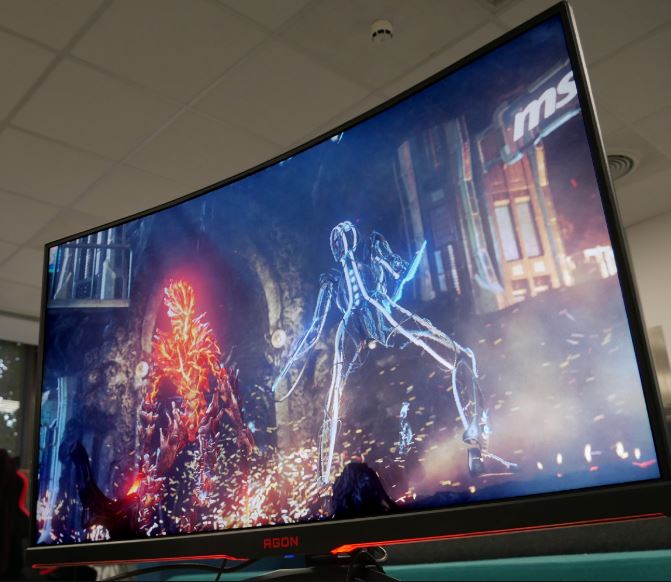 Other Considerations
There are actually higher HDR certifications, reaching all the way out to Display HDR1000. But HDR400 is a great step ahead compared to having standard color. One more thing to keep in mind is this monitor is VESA mount compatible. Though the curvature of the panel suggests it should be sitting directly in front of a viewer, not used as a flat panel on a wall.
There's a Kensington Security Slot on the monitor that can help you lock it in place. Though no security cable is included, the AG322QC4 does include a power adapter, power cord, HDMI cable, DP cable, audio cable, USB cable, a user guide, and a three-year warranty.
Each of the cables are on the shorter side, close to 3-feet. If you're stretching to connect the monitor much further than that, you might want to seek out an aftermarket cable.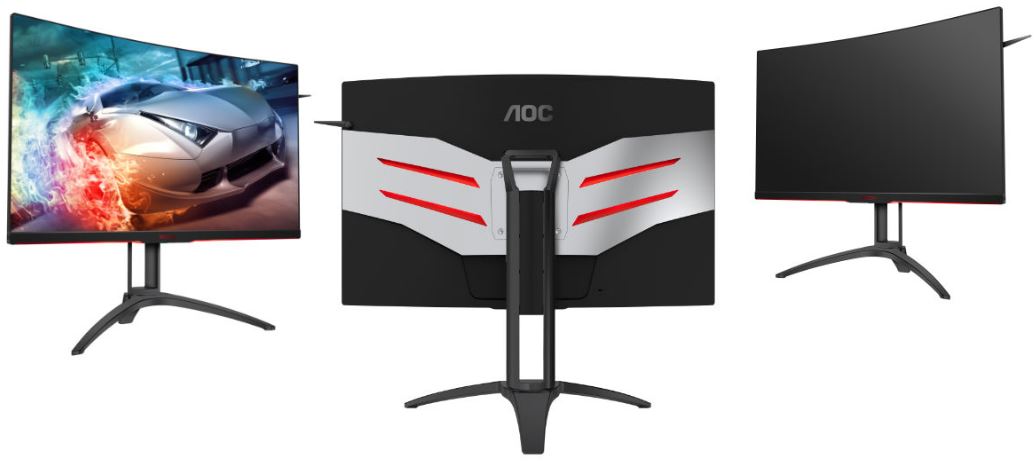 Who Should Choose AOC AGON AG322QC4 32" Curved Gaming Monitor?
The AOC AGON AG322QC4 32" Curved Gaming Monitor has about a dozen things working in its favor. It offers essentially everything gamers want from a monitor, and even offers things gamers don't even know they're missing out on, like HDR400.
That makes the AOC AGON AG322QC4 a good choice for almost any gamer looking for a top-shelf gaming panel. But it's a particularly strong choice for someone who plays cinematic games, or uses their monitor for streaming videos as much as for gaming.