Finding the right portable Bluetooth speaker is about balancing sound quality, volume, battery life, and similar features. If you're willing to pay $300, you can make far fewer tradeoffs. But when it comes to less expensive Bluetooth sound equipment, the tradeoffs you end up making become far more important. And getting the right equipment means paying even closer attention to detail.
As these types of factors play out, they determine if portable Bluetooth speakers are intended to be used for a 10-hour event at the office, or a 2-hour run while working out. Some Bluetooth devices are made for marathons; others are made for sprints. And factors like this can end up determining if sound quality is exceptional, average, passable, or totally worth passing up.
AXESS SPBT1031 Portable Bluetooth Speaker
The Axess SPBT1031 is a highly specialized Bluetooth Speaker. Although the SPBT1031 is definitely not for everyone, it also won't struggle to find warm reception from a wide audience. That's because it's a fairly unique type of bass-oriented Bluetooth speaker, almost entirely constructed to provide booming bass. It may not be the best bass you've ever heard, it's probably the best bass you've ever heard from a portable Bluetooth speaker.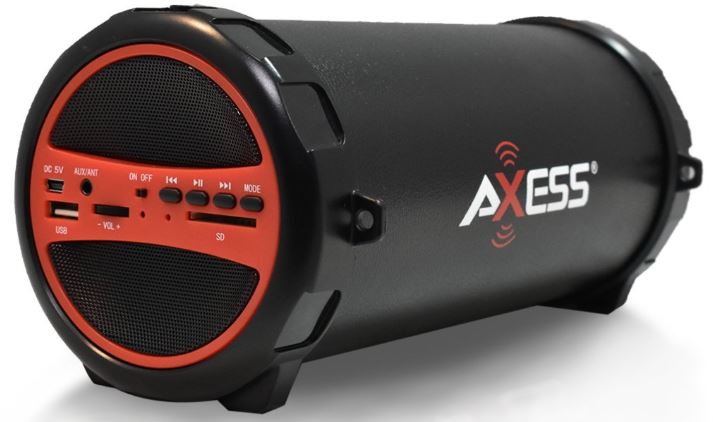 Build and Design
As far as portable Bluetooth speakers go, Axess SPBT1031 are on the larger side of average. From a sound design perspective, that's a good thing because it's easier to get quality sound out of larger equipment. The SPBT1031 measures 11.5 x 6.3 x 6.7-inches. That's about as tall as a can of coke, and about as long as a ruler. It weighs just shy of three pounds, with an aesthetic that's reminiscent of older generations of boom-boxes.
Sturdy design is mixed. To its credit, each end has been given rubberized protection, which can help prevent the SPBT1031 from rolling or sliding. It may even protect this speaker from a short fall, provided it lands correctly. But like most audio equipment, the Axess SPBT1031 isn't going to survive much roughhousing.
Ease of Use
It's on the left end of the Axess SPBT1031 that you find all the controls and inputs. The play/pause, rewind/skip, and mode buttons are clearly labeled. The on-off switch is small so you have to intentionally flip it, keeping you from accidentally turning it off. Beneath that there's an SD card port, AUX port, Micro USB charging port, and USB port.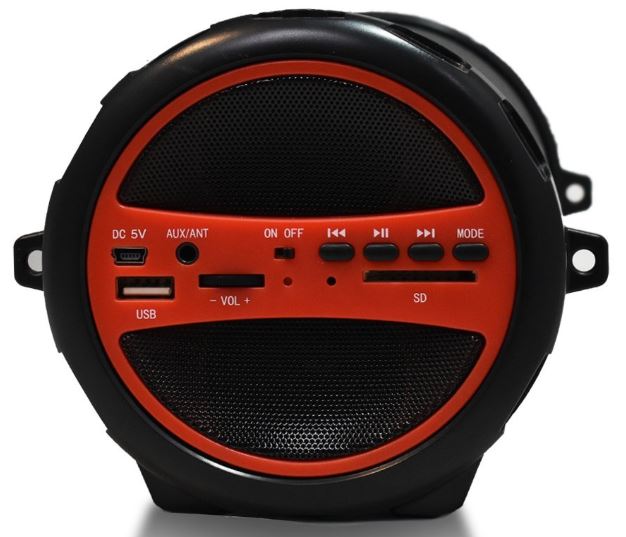 There are also two LED indicators, red and green, to help provide information about the status of the battery. The green light will let you know you're charged and ready to go, while the red light will come on when you're about to run out of juice.
With respect to portability, on either end of the Axess SPBT1031 you'll find spaces which can be used to hang this speaker. And from a glance, you can figure out about half-a-dozen ways to hang the Axess SPBT1031. It has numerous points from which you might attach clips, straps, ropes, and so forth.
Luckily, you don't need to work something out for yourself. The Axess SPBT1031 includes a simple cloth shoulder strap. It's height adjustable to better accommodate different people or different circumstances, and it clips on to either end of the SPBT1031 with ease.
Wireless Connectivity
The Axess SPBT1031 provides a modest 32-feet of connectivity for Bluetooth. Although the 30-foot Bluetooth standard is in the process of being replaced, it's still sufficient for most people, and certainly for those who will be broadcasting from their phone. Yet inside and within close quarters, you may find walls and similar obstacles cut your effective connectivity down towards 15 feet.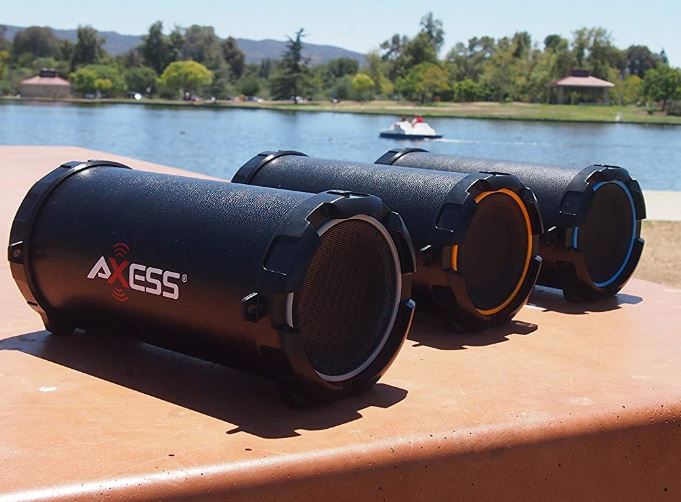 Moreover, the included shoulder strap provides all the portability you need to ensure the 32-foot connection isn't an issue. Since the SPBT1031 is roughly the length of a ruler, it's certainly no hassle to carry around. It fits at your side rather comfortably, though it may be preferable to find a stationary place.
Being able to input from USB also means you can load music into the Axess SPBT1031 through the USB port. The Axess SPBT1031 doesn't have any of its own onboard storage, which would once again drastically shoot-up its price. And it's important to keep in mind the SPBT1031 does not include a memory card or USB thumb drive, so you'll need to have one ready to go if you plan on connecting that way.
Sound Quality
Internally, the Axess SPBT1031 is a combination of a single 3" subwoofer, and a pair of 2" dynamic driver speakers. Having its own subwoofer is what allows the SPBT1031 to have such deep, thudding bass. Relative to nearly all portable audio equipment, this bass puts the rest to shame. However, there's a reason that audio engineers don't usually stick subwoofers inside of Bluetooth speakers. They're power-hogs.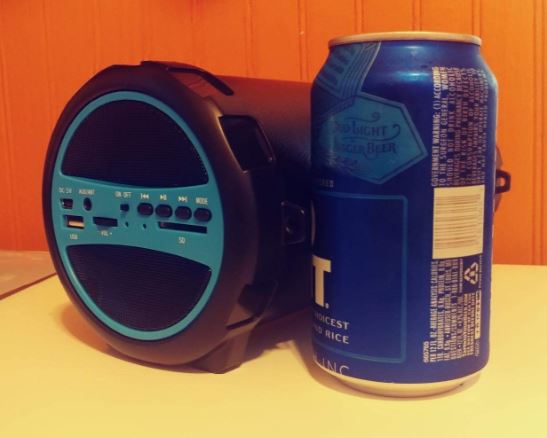 The inclusion of an independent subwoofer is phenomenal for bass performance, but it's also no small part of the reason why the SPBT1031 has such a short-term battery. That single subwoofer consumes more power than the two dynamic drivers combined, further accelerated by the strong presence of bass in a song.
Thanks to its subwoofer, the bass is strong enough to not bleed into mid-tones, creating much more tonal clarity than you'd expect from Bluetooth speakers in this price range. The treble range is merely average with respect to clarity, and certainly nothing to write home about. But on balance, the SPBT1031 sounds fairly great for Portable Bluetooth Speakers, especially with bass-heavy music.
Battery Life vs. Bass Power
The problem with high quality portable audio equipment is simple to wrap your head around. Great audio is easier to do with ample power and size, which aren't things that portable equipment can offer. One way to solve this problem is to make exceptionally small audio equipment, scarcely larger than a few iPhones stacked together. But that puts hard limits on sound quality, especially with higher levels of volume.
Most audio developers accept their bass will suffer, or it will need to be boosted artificially. But the SPBT1031 encountered this problem and drew the opposite conclusion of many other speakers, making the Axess SPBT1031 represents a somewhat novel approach to Bluetooth sound design. Instead of dropping power, they tacked on a subwoofer. And not a passive radiator subwoofer, but an actual power-driven subwoofer.
However, to prevent this speaker from weighing like a ton of bricks, and to keep its price point from exploding into triple digits, Axess powers the SPBT1031 operates with a fairly modest 1500mAh lithium ion battery. That's somewhat smaller than a typical laptop battery. Without the subwoofer, that battery would be sufficient for six hours of booming audio. But with subwoofer in tow, what you end up with is closer to five hours.
If you're playing songs that really take advantage of the subwoofer, with hammering bass note after note, then you may find that time estimate drops towards four hours. Of course, from the outside Axess SPBT1031 aimed to be a sprint-device, something used to provide strong audio for an exercise session, a picnic outing, a motivational speech at the office, or something else along those lines.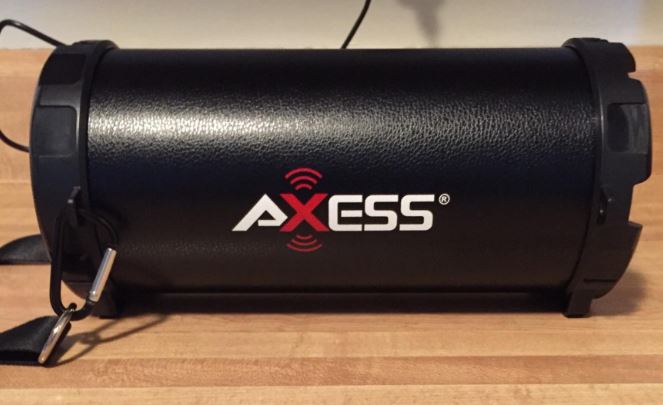 Other Considerations
The Axess SPBT1031 is constructed of ABS plastic. While the equipment will most likely continue to work even if it suffered a fairly disastrous fall, and the plastic casing is fairly sturdy, it's easy to see that the SPBT1031 is far from invulnerable. Even without using the strap or one of the built-in loops, it's still fairly easy to handle the SPBT1031, but being careless with it will may lead to its destruction.
To its credit, the exterior is moderately texturized, which makes it easier to hold in your hands. You may not like the aesthetic of that texture on the casing, but you'll like it if you ever need to pick up and move the Axess SPBT1031. With respect to color, it's available in fire-truck red, bubblegum pink, golden yellow, baby blue, pale green, black, and gray.
With respect to its control buttons, the only contentious part of the entire setup is the volume wheel. The wheel provides firm feedback as it smoothly rolls, but the wheel feels somewhat under-sensitive. You've got to roll it to more than you'd think to increase volume levels, and it can be somewhat tedious to turn the volume dial five times consecutively.
Axess also provides a one-year warranty, though such warranties are rarely needed for speaker equipment. There's little in the way of moving parts or opportunities to fail in manufacturing, so it's rare to have to deal with customer support at all.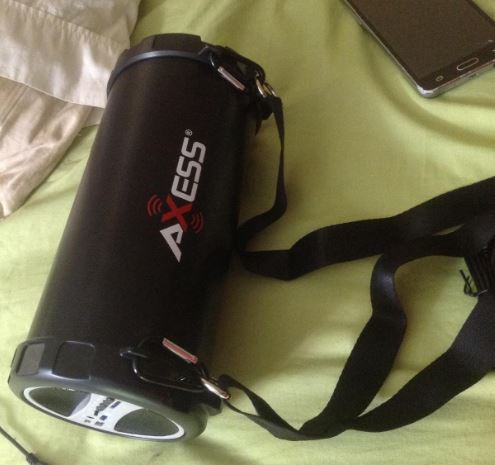 Who Should Choose the AXESS SPBT1031 Portable Bluetooth Speaker?
The Axess SPBT1031 was made with a fairly specific kind of listener in mind. If you love bass, then you probably know that you can't get great bass without a subwoofer. You can't get a subwoofer without powering it. And you can't provide a huge amount of wireless power without a far heavier, far-more expensive battery, virtually pushing yourself out of the category of portable.
That makes the Axess SPBT1031 a good choice for people who want real bass, and know what that will cost them in terms of battery performance. Relative to its price tag, it's an excellent value. And aesthetically, there's plenty of options to choose from. It's ideal for helping take your audio outside for exercise, for a short presentation, or even for watching a movie.
If you have the right expectations about battery life and you're not surprised by what you end up with, there are many people who will love what the SPBT1031 can do for them, especially relative to its price. It's not often that you find distinctive, somewhat innovative audio equipment offered at entry-level audio pricing. That makes the SPBT1031 also worth a look for someone who already has one Bluetooth speaker and is thinking about adding a second.