Although soundbar speakers are a relatively new entrant to the audio marketplace, all of the top audio manufacturers have but their own little twist on the design. With so many shapes and styles on the market, there seems to be a soundbar suited for virtually any application. But then we come to the matter of compromises. Soundbars are full of them.
The fact is, manufacturers face a lot of challenges trying to pack a full-featured speaker into a long, slender form factor. The slim profile prevents high output drivers from being used, and restricts what components can be used in the amplifier. Drivers can be angled to give the illusion of a surround sound environment, but this generally cannot perform as well as a dedicated surround sound system. There is no doubt in our mind that it takes some creative engineering to produce a high-quality soundbar.
While some manufacturers may struggle with these challenges, Bang & Olufsen has a track record of creating top tier sound systems in unique form factors. The BeoSound 35 is many of the physical advantages of a soundbar, but B&O has taken care to not market it as such. As far as they're concerned, the features and quality shouldn't even be compared to that of the common soundbar.
At this price point, it's reasonable to demand the best. But the question remains; Is the BeoSound 35 just an overpriced soundbar with a pretty face, or has it redefined what a soundbar can be? We decided to find out for ourselves.

Design
We're no strangers to the BeoSound product line. The company has set a standard for striking appearances, blurring the line between material design and art. After 92 years in business, their fan base knows to expect the unexpected. But that's where the BeoSound 35 surprised us. Instead of the visually shocking design, they've created something that looks a lot more conservative. Sure, they've thrown a few twists in. The pentagonal body shape and the minimalist stand certainly have overtones of modern B&O design. But unlike the almost alien-like appearance of the BeoSound 1, the 35 has its roots. From the very first glance, you know exactly what it is.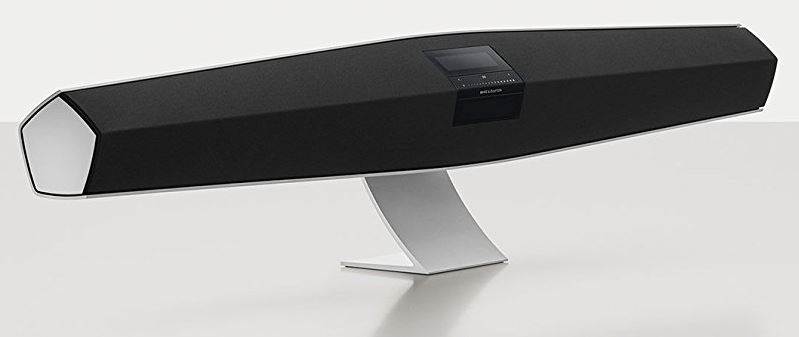 If you take a closer look, you'll find a few subtle design elements that set this speaker apart from the competition. The entire frame is made from a brushed aluminum, with razor sharp lines and incredibly precise tolerances. The gap between the endcaps and the frame is nearly perfect all the way around, giving it a very premium appearance.
Many of these design elements aren't just for looks, but also for functionality. The minimalist stand can fold backwards, doubling as a hidden wall mount. The center-mounted OLED screen is garnished with a metal touch bar, making adjustments feel natural and easy. It wasn't hard for us to appreciate the BeoSound 35 visually, but it was even easier to appreciate acoustically.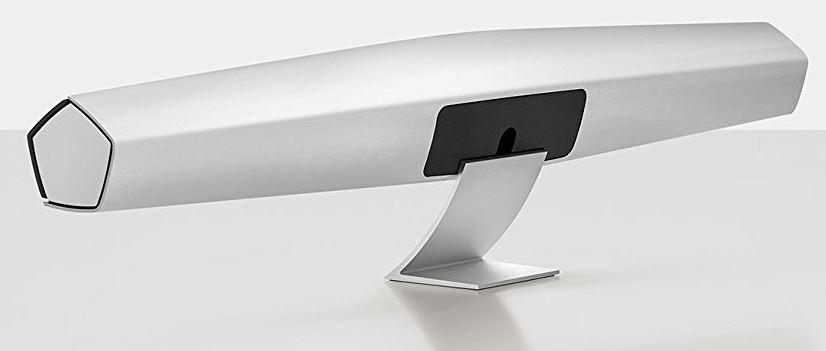 Sound Quality
The pentagonal shape of the speaker isn't just interesting to look at. It has some favorable acoustic properties as well. B&O claims that it allowed them to cancel out resonant frequencies. This allows the drivers to operate with precision, articulating a changing acoustic landscape in a natural yet powerful manner.
If you were to pop off the fabric speaker cover, you'd be surprised at what was beneath. Just two 10 centimeter woofers and 19mm tweeters covers the entire audible spectrum, with each pair handling a separate channel of audio. But once we powered it up, we found that the sound seems much larger than its limited dimensions. We were reminded of the many full size stereo systems we've listened to. The volume, impact, and tonality was generous, more than enough to fill up even a large room.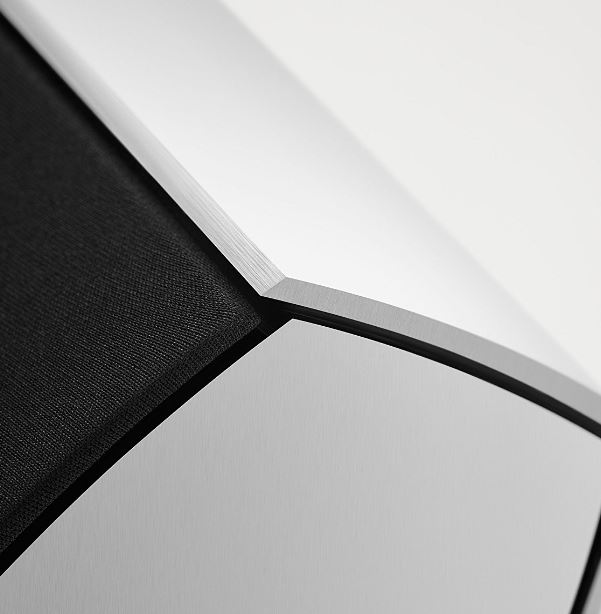 Whether we were listening to smooth jazz ensembles or aggressive guitar shredding, the BeoSound 35 delivered a performance that was well balanced, engaging, and energetic. While B&O speakers often have their own unique sound to them, this speaker seemed almost acoustically transparent. It was soft and harmonic when it needed to be, or aggressive and obtrusive when the song demanded it. We definitely felt as if we were getting more out of our music than we were used to, something that is to be expected at this price point.
Another pleasing tidbit about these speakers is their sound stage. Although it's not easy to perceive visually, each of the speakers are gently tilted to project the audio all around the room. It's much more immersive than your standard wireless speaker, with the sound feeling as if it comes from all around you.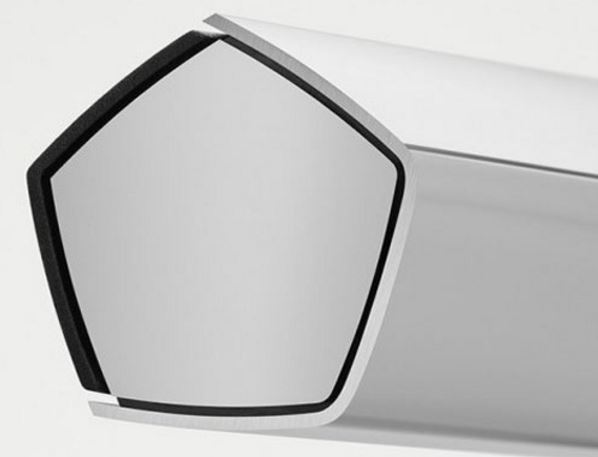 Interface
When interacting with the speaker itself, the interface is minimal at best. The small touch bar is intuitive enough for volume. Simply slide your finger to the left or right to increase or decrease the sound, or touch anywhere on the scale to raise the volume to that exact point. We'd definitely recommend familiarizing yourself with the volume range of the speaker before you go cranking it to 11. Even at just 75%, we'd be concerned about our neighbors calling the cops.
The menus are a little more challenging. The "GO" button in the center, as well as left and right navigation buttons are located on the same bar, above the volume portion. It's intuitive enough, but possible to accidentally change the volume while you're just trying to tweak a few settings. We much preferred to control the speaker using B&O's BeoMusic App. This allows you to change the settings for one or many BeoSound speakers, pairing or separating them as needed. Over a touchscreen interface, getting into the nuts and bolts of the speaker was intuitive, and can be done wirelessly from the comfort of your couch.

Connectivity
Considering that this is a premium grade speaker, we were happy to learn that there is a wide range of wireless connectivity included. The speaker can be used over Bluetooth if you like, but we much preferred WiFi streaming. This is a very high end speaker, and only WiFi has the immense bandwidth necessary to offer top tier sound. You can stream over any compatible Apple AirPlay, DLNA, or ChromeCast compatible device.
If you've got media files stored on a local network, you're also able to access these as well. The library is accessed through the BeoMusic app, and almost every file format is supported. Audiophiles will likely enjoy the support for 24-bit/192Khz FLAC, ALAC, WAV, and AIFF file formats. While more modest music collections can be composed of MP3, WMA, or AAC. Most copy protection schemes are supported, so your iTunes library can be enjoyed over these speakers with ease.

For the streamers out there, support for Spotify Connect, Deezer, TuneIn, and Q Music are all supported, and baked right into the BeoMusic app.
The speaker isn't exclusively wireless, as both optical audio and RCA ports are provided. This means that it can be used in conjunction with satellite speakers for 5.1 use, or you can plug in an older device that might not support high quality streaming.
If you're fortunate enough to own multiple BeoSound speakers, you can pair them all together to be used as a whole-home audio system. This is great for parties, or even just for keeping you entertained during your spring cleaning session.

Setup Procedure
Getting the BeoSound 35 up and running is a simple process. The speaker uses WiFi direct when first powered up. All you do is download the BeoSound app onto your phone, connect the phone to it's WiFi network, and enter your existing network details.
If you're looking to make things simple, this is enough to get it up an running. But if you realy want to make the most of it, it's worthwhile to play with the acoustics. The first thing to look at is placement. The speaker can be installed on a table, wall mounted, or left free standing anywhere in the room. B&O recommends that it be at least a few inches away from the wall, and gives you a few settings to choose from.
If you're pairing it with additional speakers, you will want to play with the sensitivity. This changes the volume to match other speakers in the room. By default, the BeoSound 35 is much more sensitive than most speakers. This means that it will be blaring, while other speakers are performing at lower volumes. The app starts by playing sound through all of the speakers, allowing you to tweak the volume until you're happy with the sound.
Disadvantages
In almost every regard, this is one of the most impressive soundbars that we've ever tested. Unfortunately, getting the best comes at a price. While we'd love to have one of these speakers in our home, it's unlikely that we'd be able to afford to put one in every room. We'd like to see the app support pairing additional Bluetooth speakers, but for now whole-home audio is restricted to B&O products.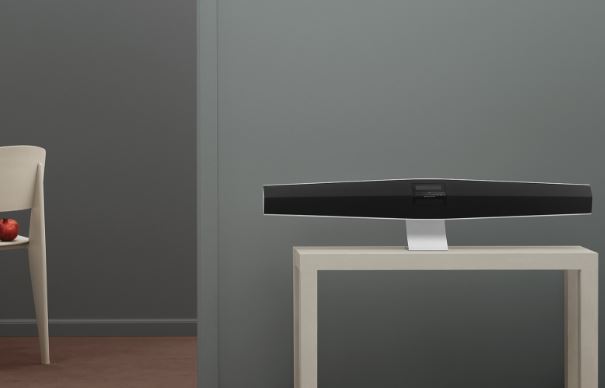 Final Verdict
This is one of those speakers that you have to hear to believe. Despite its compact size, the sound is comparable to full size audio systems. Unlike most speakers which are designed with a specific style of music in mind, the BeoSound 35 is a bit of a chameleon. Everything we threw at it sounded great, and it definitely gave us a stronger appreciation for premium audio gear.
We'd highly recommend this speaker to anyone who already has some B&O gear, or to any consumer who is tired of the same old midrange speaker components. The BeoSound 35 is absolutely a cut above, and it's likely something that you'll own for many years to come.