It can be overwhelming and quite frustrating to deal with an old, outdated router. If you've been thinking about upgrading simply because you want more speed, range, and reliability, an AC1900 Wireless Router is an excellent choice.
Capable of providing up to 1900 Mbps (megabits per second) of 802.11ac fully wireless speed, we've spent the last few days testing, determining, and reviewing the top four best AC1900 WiFi routers for 2019. All of the options that we're going to cover are easy to install, fully compatible with all Internet Service Providers, and both Windows and Mac Operating Systems.
Linksys MAX-STREAM EA7500 Next Gen MU-MIMO Smart WiFi AC1900 Router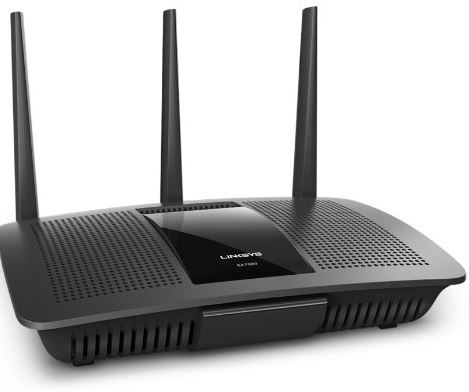 As a brand new release for 2016, the Linksys MAX-STREAM EA7500 provides Next-Generation WiFi with the latest in MU-MIMO (multi-user, multi-input, multi-output) technology to deliver consistently fast speeds for every single connected device on your network. It ensures that multiple devices will have the same speeds at the same time – a real advancement for WiFi.
Designed specifically for providing up to 1900 Mbps (1.9 Gbps) of dual-band speed, it's effective for just about anything you throw at it – 4k high-def video streaming, console gaming, PC gaming, laptops, or for several simultaneous users downloading large files.
Comes included with the new Linksys Smart WiFi Software that gives you easy access and full control over your home network from anywhere in the world. It combines the latest key features to keep you constantly informed, connected, and up to date regarding the status and users who are using your network. It even lets you setup and configure guest access.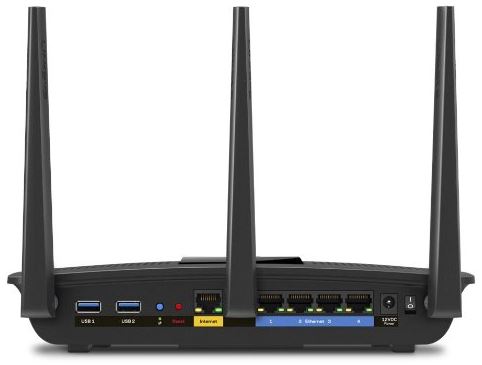 Uniquely designed with plenty of ventilation and internal cooling to keep it operating as efficiently as possible for all duration of the day. Through peak traffic times and when you're not around, it works around the clock to make sure accessible WiFi is always ready.
Security and encryption settings are preset and automatically integrated when you complete the installation process. No CD required. This process doesn't take anymore than 5 to 10 minutes and can be completed by anyone of any experience level – no tech experience required.
Equipped with three external, detachable antennas and built around a sleek, simple, yet stylistic design that looks just as great as it functions.
Using Linksys's latest advancements in Beamforming technology, each individual device is given a concentrated signal, rather than the typical wireless signal that's emitted in all directions. This makes for increased range, better speeds, and a more reliable connection.
Comes included with a USB 3.0 and a USB 2.0 port for connecting printers, hard drives, or other peripherals that you may want to share between multiple devices. Additionally, the four Gigabit Ethernet ports provide a solid wired connection for any devices or computers that don't connect via WiFi.
NETGEAR Nighthawk R7000 Dual Band AC1900 WiFi Router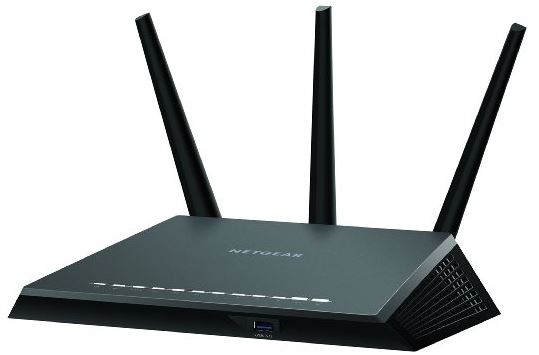 Capable of providing true AC1900 speeds using dual bands, the NETGEAR Nighthawk R7000 WiFi Router is the ideal choice for those who want to excellent wireless coverage that's ideal for video streaming, online gaming, multi-file downloading, and uninterrupted web browsing.
An easy upgrade, even if you're not tech-savvy and you don't have a networking background. Right out of the box it's ready to go as it has an automatic installation process that's entirely straightforward.
Comes included with NETGEAR Genie, a web, tablet+-+ or smartphone based application that allows you to access, control, and configure your wireless network from literally anywhere in the world. You're even given a live Network Map that gives you a clear picture on which devices and clients are currently connected to the network.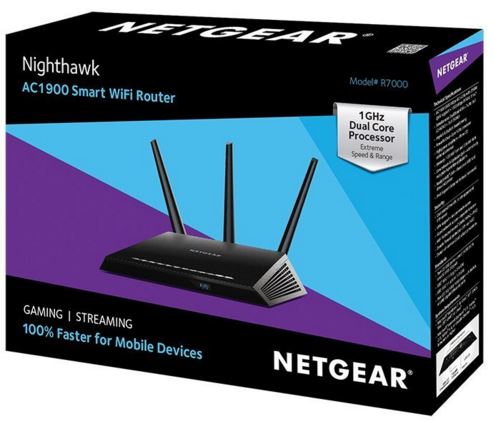 Utilizes NETGEAR's latest Beamforming Technology that's designed specifically to provide more reliable connections in more locations in your home. By focusing the WiFi signal to specific devices, rather than having spotty coverage in a poor area. Using automatic signal management, the signal is always kept in it's most ideal form to make a strong, secure, and reliable connection between your device and the router.
Equipped with a powerful 1 Ghz dual-core processor that makes for quick data processing and more consistent speeds with multiple users online at the same time.
Since it has Advanced QoS, your gaming is prioritized so that you experience the best frame rates without any lag or bandwidth issues. It does this automatically by recognizing that you're in-game at the moment.
USB 3.0 port located on the front in order to provide quick transfers or connections to network attached printers, storage, or other peripherals.
TP-LINK Archer C9 Dual Band Wireless AC1900 Gigabit Router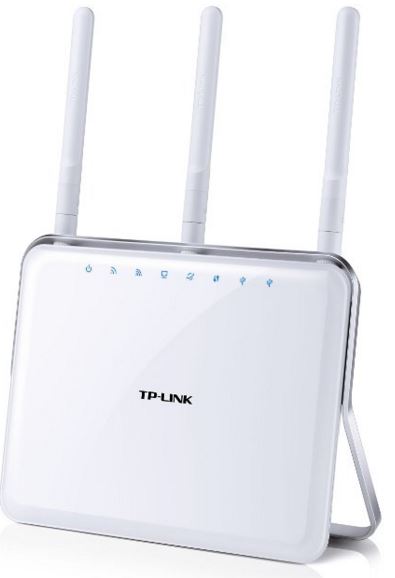 The TP-LINK Archer C9 AC1900 Wireless Router uses dual bands – 2.4 Ghz (600 Mbps) and 5 GHz (1300 Mbps) for providing excellent reliability with a massive amount of coverage, for a fraction of the price of any Netgear or Linksys brand router.
Using a unique, stand-up design, it's propped upright in order to provide extra reach for the three detachable antennas. Giving it a sleek and modern look, it's designed to appear clean and simple while providing a reliable, fast connection to all areas of your home.
The internal 1 Ghz dual core processor makes it efficient and incredibly quick at processing data on the fly. Ideal for high-bandwidth uses like 4k high definition streaming, massive online multiplayer gaming, multiple users, and families who are constantly connected to the web.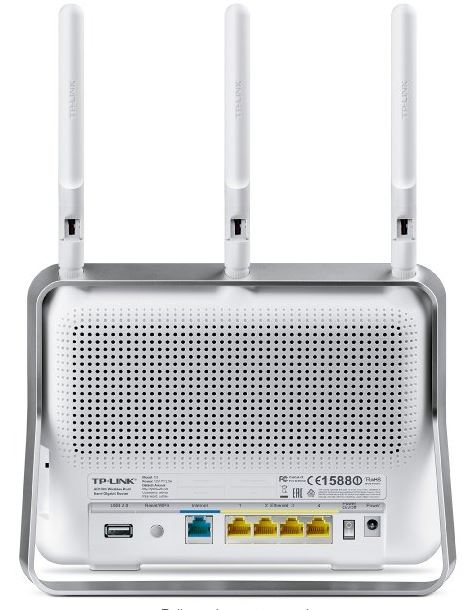 On the exterior of the router are four Gigabit Ethernet ports with one USB 3.0 and one USB 2.0 port. The USB ports are essential if you plan on adding a centralized storage drive to backup, access, and remotely save your files to. The Ethernet ports are great for providing non-wireless computers with a solid, Gigabit connection.
Using the free TP-LINK Tether App, you can login to your router from anywhere with your phone or tablet, and access the control panel to adjust your settings, make changes, or configure users.
Backed by an industry-leading 24 month warranty period. This 2 year time-frame offers a wealth of assurance that it'll perform just as well as the first day you bought it, for a long time down the line. Great from an investment standpoint since it's already priced well.
Amped Wireless Titan RTA1900 High Power AC1900 WiFi Router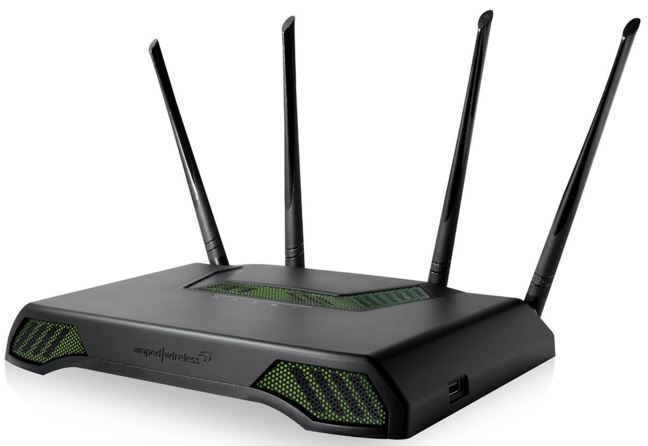 Ideal for both larger homes and office workplaces, the Amped Wireless Titan RTA1900 is a high-powered AC1900 wireless router that's designed a bit differently than the other three we've mentioned above.
With a combination of 3 transmitters with 4 receivers and 4 antennas per frequency, it covers an area more freely than any other standard router. It's unique design provides unparalleled reliability with the performance and range you need for a frustration-free connection.
Built with a 1 GHz dual core processor, 128 MB or DDR3 Memory, and four high-gain 5dBi external antennas, it promises ultimate coverage and performance for 4k high definition television, file sharing, downloading, online gaming, and more.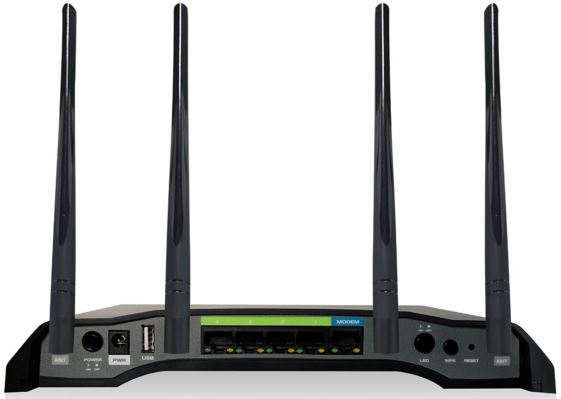 4 Antenna-Rx Technology is ideal for online gaming with the most recent video games. The unique transmitter and receiver arrangment is what they've done to combat lag-spikes and poor frame rates.
Optimizing your network can be done remotely with the Analytics App from Amped Wireless. It'll give you a true insight into your network and let you adjust the settings as you please.
Amped Wireless is well-known for their excellent customer support that's based in the United States – it's completely free and accessible for help at anytime.
Equipped with one USB 3.0 and one USB 2.0 port for attaching printers, hard drives, or anything else you'd like to share among clients on your network.
Final Thoughts
We've given you three of the best options for AC1900 wireless routers that make the best choice for the year. Linksys, NETGEAR, Amped Wireless, and TP-LINK have all gone above and beyond by creating exceptionally well-built wireless routers that utilize the latest in a wide range of technologies. Remote monitoring, USB 3.0, 1.9 Gbps speed, multi-platform compatibility, and more. All of these have it, it'll ultimately be up to you to select the right one for your specific home or office – which one will you be choosing?