A floor fan can be quite useful around the home, garage or workspace. Often used for ventilation or cooling purposes, it's the kind of device that you're glad to have when you need it, but you may not really think of it otherwise. Simply put, a floor fan isn't typically something that someone gets too excited about; but there's a new variation of them that's incredibly unique!
Today we'll be looking into battery-powered, wire-free, outdoor-oriented floor fans. That's right; the time has come where manufacturers are branching out from wired, plug-in floor fans and creating battery-operated, rechargeable units. While they may not be the right choice for those with easy access to an electrical outlet, battery-operated floor fans are ideal for those scenarios where you don't necessarily have ready-access to a plug. Reliant on an internal rechargeable battery, they're perfect for off-grid use, camping, tailgating, or for hard to reach areas.
We've scoured the web and tested the following options for reliability, ease of use, overall quality and unique features. First up on our list is the Smartele Floor Fan. This is an industrial-grade fan that's powered by a built-in rechargeable 15000 mAh battery and available in both 12 or 16 inch sizes. After that, we'll examine the Geek Aire Battery Operated Fan. This is another great choice that's similar to the Smartele, but has a misting feature that incorporates a bit of moisture into the equation. Last but not least, we'll take a closer look at the Lasko RB200. It has more of a modern-design and enticing features, but a smaller blade that's not quite as powerful as the other two. That being said, let's get right into it!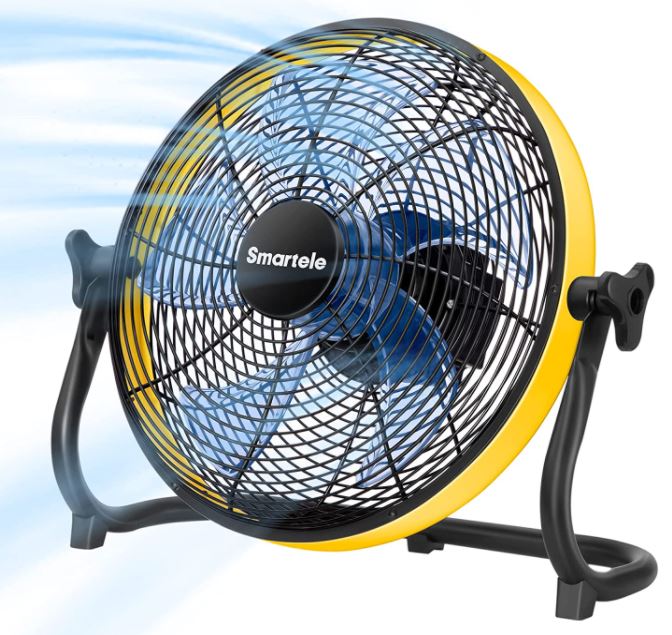 Smartele Battery Operated Floor Fan
The Smartele Floor Fan is a fully rechargeable floor fan that's built with outdoor use in mind. Comprised of a heavy-duty, metal design, from first glance it's obvious that Smartele designed it with intentions of industrial use. Featuring a IPX4 waterproof design, you can rest assured knowing that it can handle any outdoor or indoor environment with ease. Even rain, snow or other inclement weather won't have any effect on it since all of the electric components are sealed from the elements. Available in either 12 inch or 16 inch versions, there's a 5-tip fan blade comprised of a lightweight yet durable clear plastic, and a pure copper, brushless DC motor, operation is quite yet incredibly efficient.
The Smartele floor fan carries a typical design with a main support structure/bar and three anti-slip rubber feet. The bar connects to each side of the metal grille with an adjustable knob on each side that allows you to pivot the airflow and tilt the fan in a wide 160 degree range. On the top, is a small built-in handle that makes carrying easy and tilting a breeze; no pun-intended.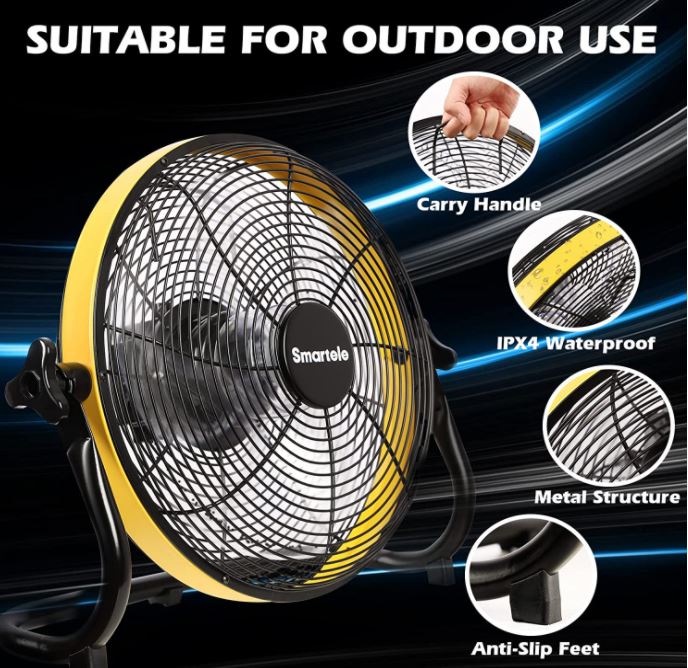 Control and Power
Located on the back is a small black box that houses the internal battery and control mechanism. From here, users are able to turn the dial to power it on and adjust the speed to the desired amount. There's also a visual battery-life indicator that's comprised of 5 LEDs; it clearly discerns the remaining power.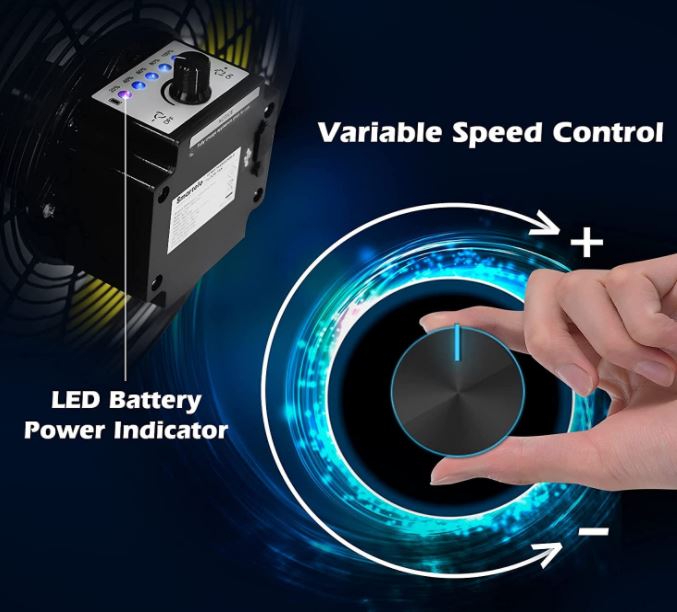 On the right side of this control-box is the input for plugging-in the AC adapter. Additionally, there's also a single 5V/1A USB port that can be used as a power bank for charging any USB-powered device. This is a great extra-feature that's useful during storm season or wherever power-outages are a common occurrence.
Use code "NerdTechy" for 10% off the Smartele Battery-Powered Floor Fan from their official website
Best of all, Smartele includes a 24v charger rather than a standard 12v charger. Because of this, recharge times are substantially faster than you'd probably imagine. In fact, the included charger takes only 2 hours to recharge the depleted internal battery rather than 4-5 hours. This is downright impressive and a feature that lets you use the fan more often than waiting around for it to charge.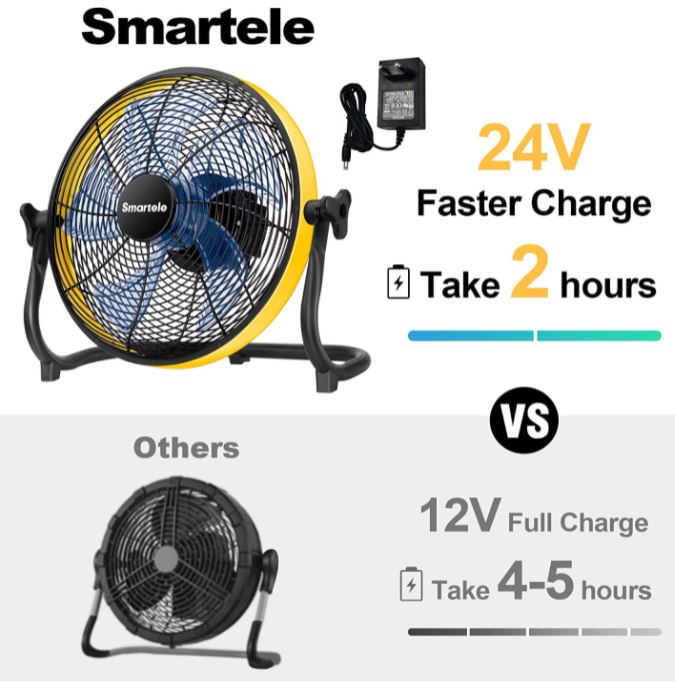 Speaking of, the internal battery boasts a 15,000 mAh capacity that's said to power the fan for up to 30 hours on the lowest setting and 3 hours on its highest setting. In reality, we found these estimates to be fairly accurate but slightly overzealous. In the four instances that we tested it, we achieved around 2.5 hours duration on the highest setting or 25 hours on the lowest setting. Either way, we feel that this is plenty of battery life to carry you through in most situations.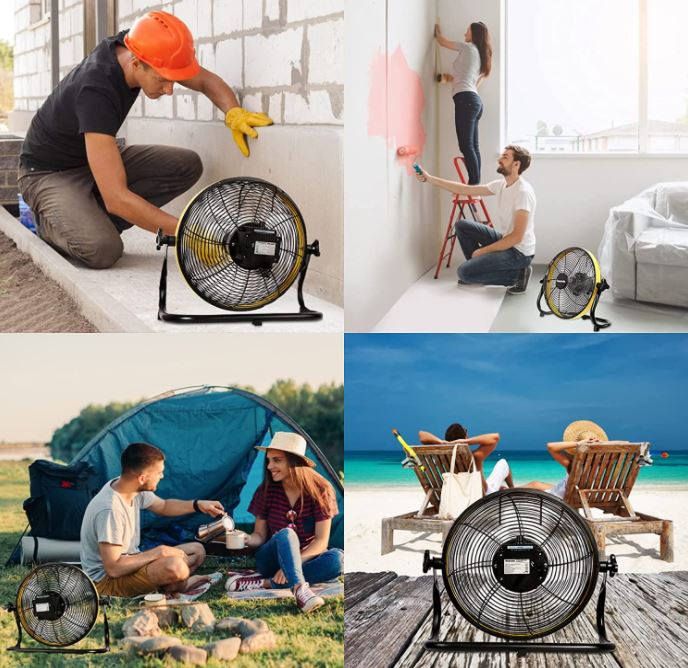 Using the Fan
Operating the fan is easy. Simply turn the dial and you're good to go; there's nothing confusing about it. What we liked most about the Smartele Floor Fan the most is its quiet operation and ease of use. The motor is incredibly quiet and the blade cuts through the air with a desirable "whirly" sound. Simply put, you cannot hear the motor unless you crank it all the way up. The most noise you'll get from it is the air moving; no buzzing, vibration or unpleasant effects. Although it doesn't oscilate from side to side, you can easily tilt the fan to virtually any useful angle and utilize the side-knobs to fix its position as you please.
On any speed setting that's lower than half-way, you may even forget that the fan is on; it's that quiet! We love the fact that the Smartele Floor Fan is heavy-duty but still fairly lightweight and very stable. The 12 inch version weighs just over 7 lbs. whereas the 16 inch version comes in at around 9.3 lbs. It's apparent that Smartele took extra time in designing their battery-powered floor fan. From the sealed, waterproof control box to the all-metal design, it's easy to call it one of the best options currently available on the market.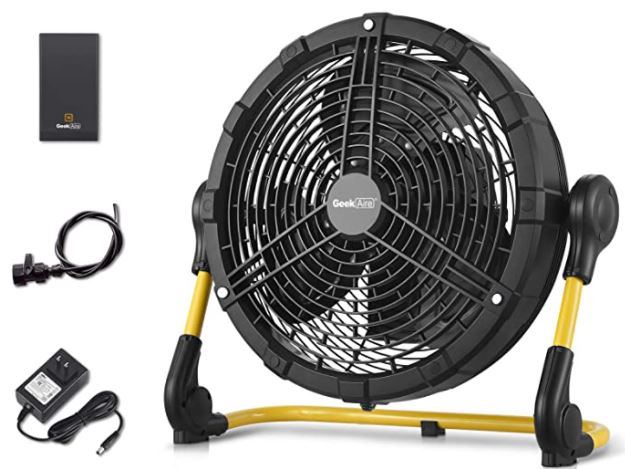 Geek Aire Battery Operated Fan
Although a bit more expensive than the Smartele, the Geek Aire Battery Operated Fan is another great choice. Also available in 12 or 16 inch versions, it's designed with zero-hassle and ease of use in-mind. What sets this fan apart from others is its ability to add a mist of water into the airflow for even more of a cooling effect than air alone. Comprised mostly of an aluminum body with a hefty amount of ABS plastic, it boasts an industrial, rugged look. Around the edge of the fan are three individual, replaceable misting nozzles that emit a refreshingly cool mist at up to a distance of 11.5 feet.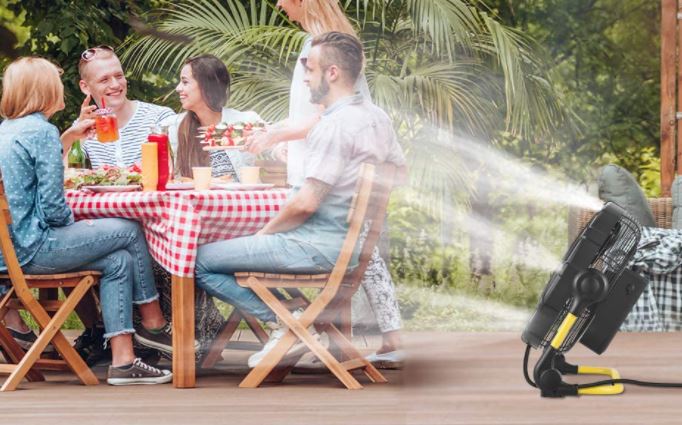 Just like the Smartele, the Geek Aire fan is IPX4 water resistant, meaning that it's perfectly appropriate for virtually any outdoor occasion. You'll notice a similar structure with an aluminum bar acting as the support and legs where it joins each side of the fan with a swivel-hinge. With this, it can rotate a full 360 degrees while remaining stable in any direction.
The Geek Aire may appear a bit cheaper than other options, but thanks to its user of UV-resistant ABS plastic, there are no parts that will rust or degrade over time when exposed to an outdoor environment.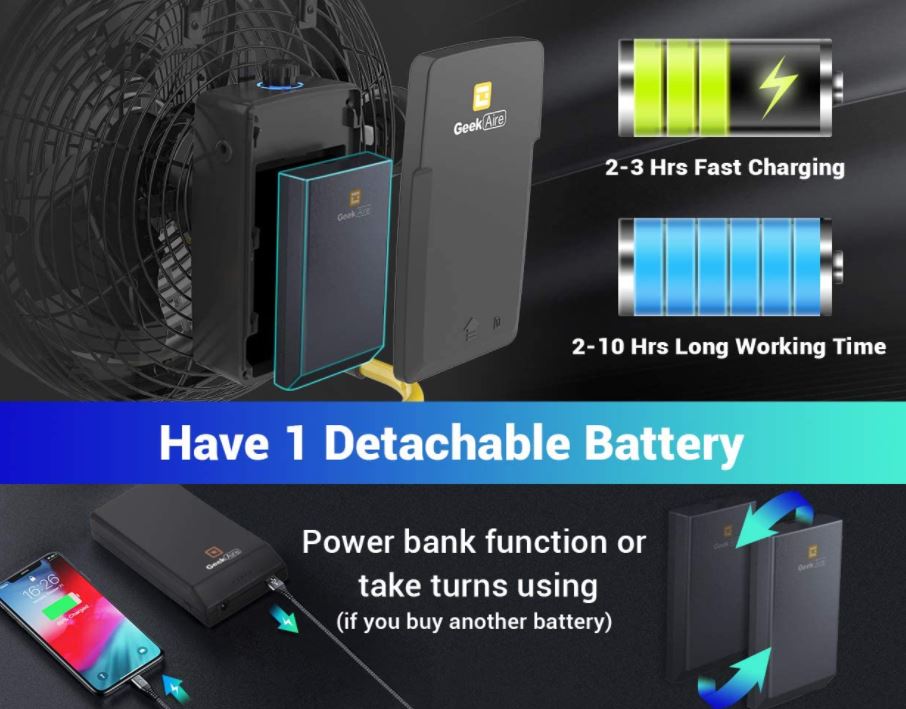 Control and Power
On the back of the fan is a small control box that houses the battery, power input and control mechanism. Here, there's a knob that adjusts the fan speed in a clear, obvious manner. What sets the Geek Aire apart from other cordless floor fans is its detachable battery. With it, you can manually remove the battery and replace it with another when depleted. Extra batteries are available on Amazon although they're often out of stock and over $50 each. Regardless, it's a nice feature to have the ability to replace the battery for extra duration or future replacement.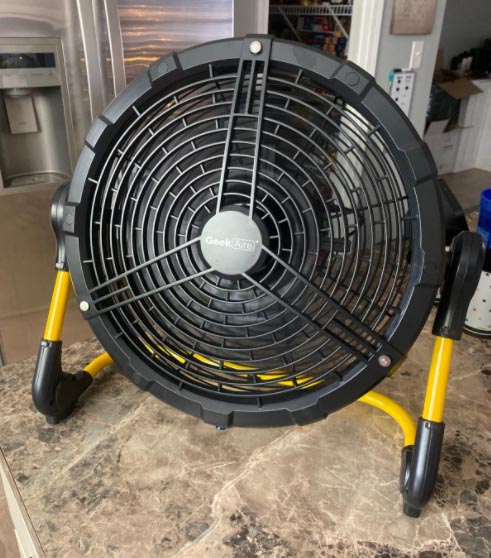 Each battery has a 15,000 mAh capacity, which seems generous to say the least. Unfortunately, each battery only lasts around 2-10 hours with the 16-inch version and 3-24 hours with the 12-inch version. It all depends on the fan speed you use; a faster setting will obviously deplete the battery faster than a slow speed, and the 16-inch fan will need more energy because of the larger fan blade.
Charge time for the Geek Aire is a bit slower than the Smartele but not by much. It uses a 24V input charger that takes around 3 hours to fully recharge a depleted battery. In addition, each battery has a USB-input that doubles as an emergency power bank. Quite useful!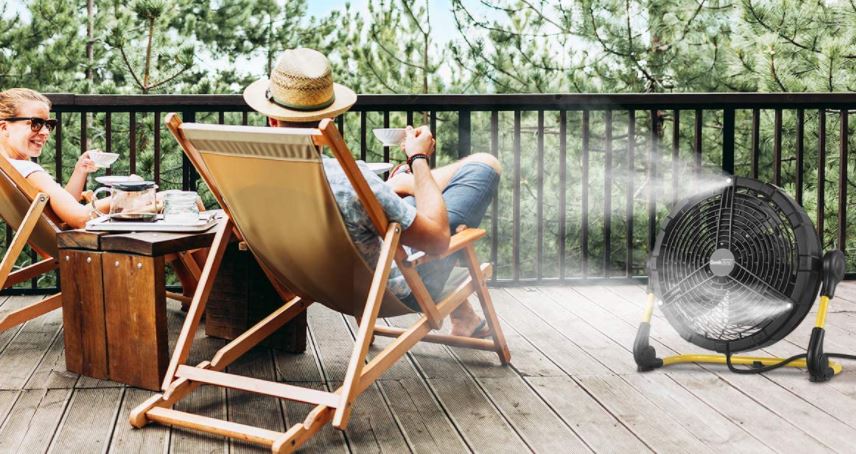 Using the Fan
By turning the knob on the back of the fan, it'll power right up to whichever speed setting you turn it to. The lowest setting is fairly quiet, but once you crank it up above a medium setting, it's definitely not silent. Being that the 3-tip blade is made from metal rather than lightweight plastic, we think it emits a bit more noise than others. To be fair, there's no rattle, vibration or annoying noises, but you'll likely notice much more wind noise. It may be due to the fact that the fan grille is comprised of a much thicker plastic mesh. However, it's not really a nuisance; we just though it was worth pointing out.
The smaller, 12-inch Geek Aire fan is rated for a maximum of 1500 CFMs while the larger 16-inch fan is rater for a maximum 2300 CFMs. Both seem to move a decent amount of air, but not quite as much as the Smartele. Either way, for most instances, users will probably find the amount of air it moves to be adequate.
As stated earlier, the misting function is really what sets it apart from others. At the base of the fan is a small input hose that's completely detachable; meaning that the misting function is optional. When you want the fan to spray a mist, simply connect a garden hose and you're good to go. Best of all, the misting nozzles are completely replaceable so those who live with hard water can replace them as needed or over-time as they can gunk-up with calcium or limescale deposits. Either way, the mist is a nice function for extremely hot occassions where air conditioning simply isn't an option but you still need an added boost of coolness.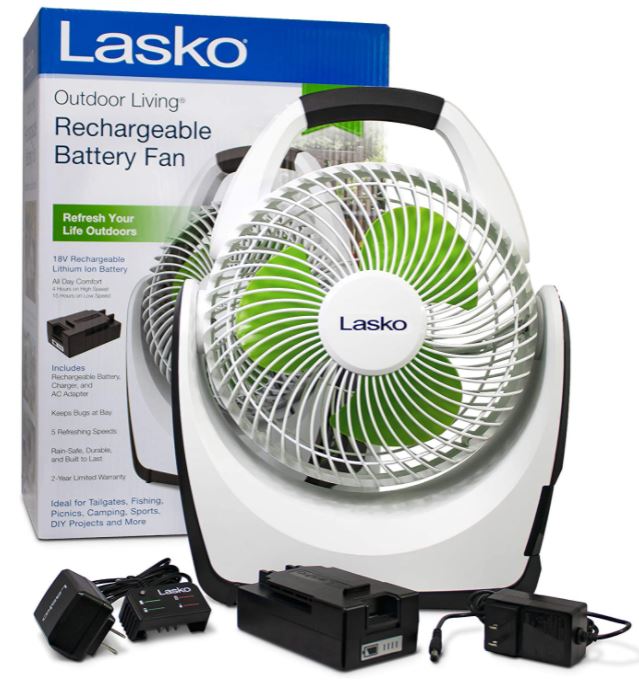 Lasko RB200
The Lasko RB200 is a rechargeable, battery-operated fan that carries a much more modern look than the other Geek Aire or Smartele. Measuring just over 17 inches tall and weighing in at around 5 lbs, it's ideal for those who want a cordless fan without the bulk and size of a full-fledged industrial fan. With its black and white plastic body and large grippy handle, it has a simplistic design. However, being that the fan blade is only 8 inches, you're not going to be able to achieve the same amount of airflow as one of the larger fans we've already discussed. That being said, it's much more compact with a completely different design.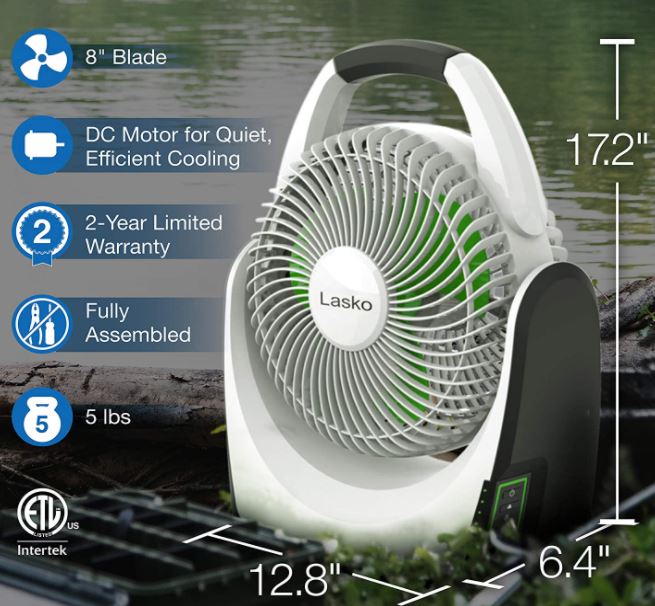 Control and Power
On the right side of the fan is a small control panel with a few different buttons and LEDs. There's a power button and up/down settings that allow you to select between 5 different speeds, each one indicated by its own LED. Although the precise specifications for the capacity of each battery isn't available, the fan can operate between 4 to 15 hours per-charge, depending on the speed setting that you've selected. The batteries are removable and replaceable, although it's difficult to find where to purchase extras.
When the battery needs to be charged, simply remove it from the left side of the fan and plug-in the battery to the included charging cable. It takes around 4 hours to replenish each battery, which isn't remarkable but isn't necessarily that bad, either.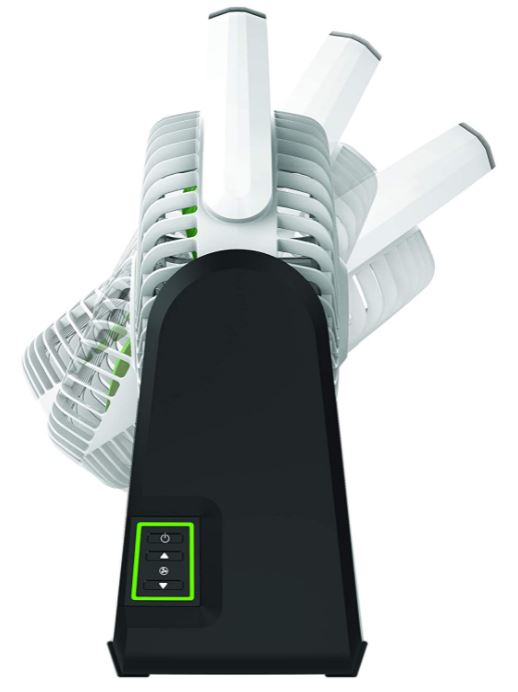 Using the Fan
The Lasko RB200 isn't quite as durable as the other two, but it's rated as "rainproof" as per the manufacturers specifications. The body is sealed for moisture ingress which means that it can be used outdoors or indoors with the same amount of precautions. Operation is done by the push of a button, with each following push incrementally making the fan increase in speed, and therefore, move more air. At the highest speed setting, the fan will move around 475 CFM of air and last around 4 hours. Conversely, the lowest speed setting will move around 100 CFM of air and last around 15 hours. In our testing, we found the battery-duration estimates to be right on point and completely accurate with our findings.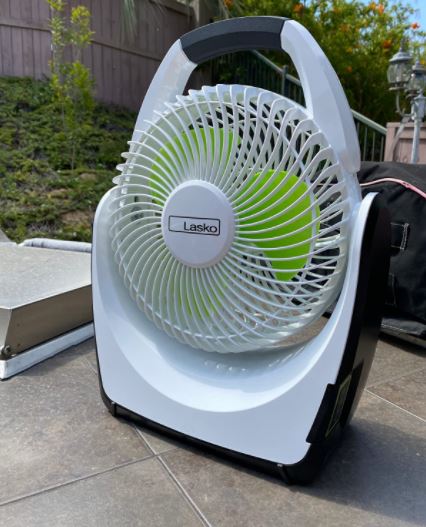 While the Lasko RB200 is much smaller than others in the same price range, you're getting a reliable, well-made product. Lasko is a reputable brand that's been around for over 100 years. In that time, they've developed some of the most widely used fans, heaters and other air-moving devices available. Best of all, it's ETL listed, meaning that it's clearly suitable for even the most humid and hot environments.
Final Thoughts
As you can see, the aforementioned battery-operated, rechargeable floor fans are all great choices. The one that you pick will ultimately be determined on the kind of fan you're looking for your own situation.
We started by examining the Smartele Floor Fan. Available in 12 or 16 inch sizes, it's our favorite of the bunch with the quietest operation and most favorable features. Although we couldn't get it to operate for the advertised 30 hours the manufacturer claims, we were still able to achieve anywhere from 2.5 to 25 hours depending on the selected fan speed. For its size, the Smartele is very lightweight and seems to be made with the highest build quality among the competition. Although the battery isn't replaceable, the charge-times were the quickest we've ever seen. If you're looking for the best, all-around battery-powered floor fan, go with the Smartele; it's clearly our favorite. Be sure to use code "NerdTechy" for 10% off the Smartele fan from their official website.
Next, we took a closer look at the Geek Aire Floor Fan. It too, is available in 12 or 16 inch versions, but it's a bit louder and heavier than the Smartele and doesn't move quite as much air. However, it has a built-in misting feature that can be optionally used for spraying mist at up to 11.5 feet. What's more, is that the battery is fully removable and replaceable. Unfortunately, the extra batteries are hard to come by and cost over $50 each!
Last, we discovered that the Lasko RB200 is a good choice for those needing a battery-operated fan that's not necessarily as industrial as the other two. It doesn't move nearly as much air as the Smartele or the Geek Aire, but it's much more portable and lightweight than you may expect. Although it's 17 inches tall, it weighs in at around 5 lbs, meaning that it's very lightweight.