Caring for a child is a huge responsibility. Their safety is your number one priority, and this requires constant attention. No matter how hard you try, it's impossible to be at your baby's side 24 hours a day. Mom and Dad need to rest, and the opportunity for some much-deserved shuteye is too much to pass up.
Newborn babies often sleep in the same room as their parents. This makes it easy to reassure a fussy baby, as you'll hear every whimper. Once your child starts to sleep for longer intervals, many parents move them into their own room. This allows them to take turns getting up with the baby, allowing the other to get a more restful sleep. For this to work, you have to know when your baby wakes up. This is where a monitor comes in. Modern baby monitors have significant advantages to the audio-only models. Digital communication means that there is no more static or noise. Advanced video sensors produce ultra-detailed HD video, even in complete darkness.
From nap time to playtime, a Bluetooth Baby Monitor is like a second set of eyes. You'll be able to get some rest, prepare dinner, or tidy the living room without having to worry about your child's safety. But not all monitors are alike. In this roundup, we'll be looking at the three best options on the market. After we explore the features, we'll help you decide which one is right for you.
YI Dome Camera
It's easy to overlook this model when you're shopping around. At first glance, this appears to be a security camera. But it's designed to be much more than that. Many of its features are perfect for keeping an eye on your little ones. If it's good enough to protect your children, then it's definitely good enough to protect your home!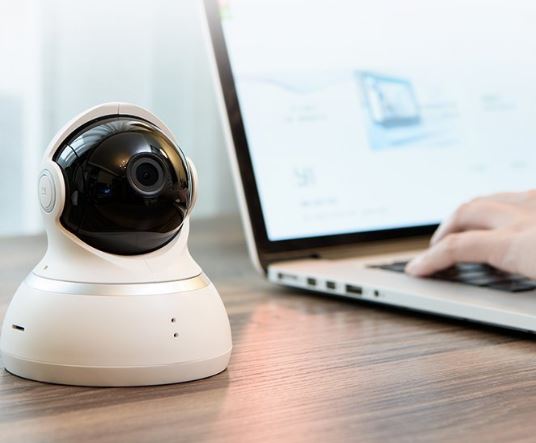 How it Works
The YI Dome Camera operates in conjunction with your smartphone. Place it on any flat surface, and you'll be one tap away from a real-time video and audio stream. Although it has a very broad field of view, the camera can pan and tilt. This provides a full 360-degree view of everything around it.
But this is more than just a simple camera. It understands what's going on around it. With motion tracking, it will automatically follow any moving subject. Your baby will always be in the frame even if they move around. It can also interpret audio and can differentiate between a baby crying and any other sound.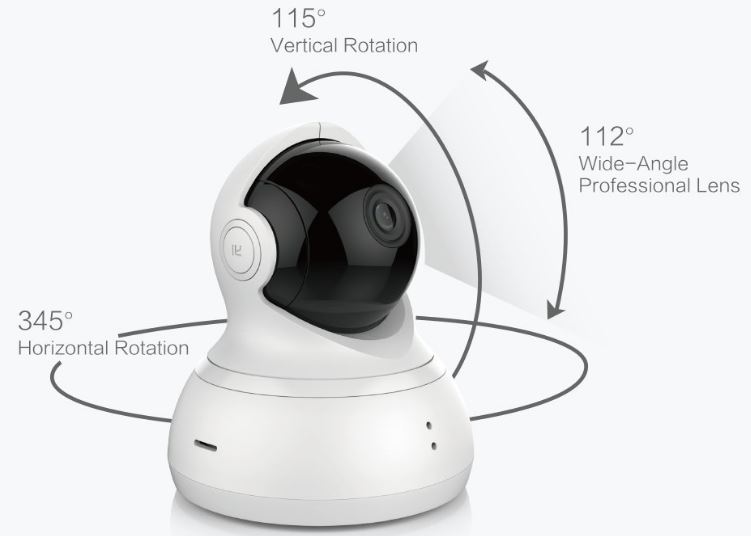 You don't have to leave the video on all night long. Just charge your phone like normal, and as soon as your child starts crying, you'll get a notification. Simply open your phone and tap the icon to launch the video feed.
As your children get older, you'll want to help them sleep through the night. The YI Dome can help with that. It supports two-way audio. Just as you can hear your child, they can hear you. Just tap the microphone button while viewing a video feed, and you can speak into your phone. The speaker is very clear, so you can try to lull your child back to sleep with just the soothing sound of your voice.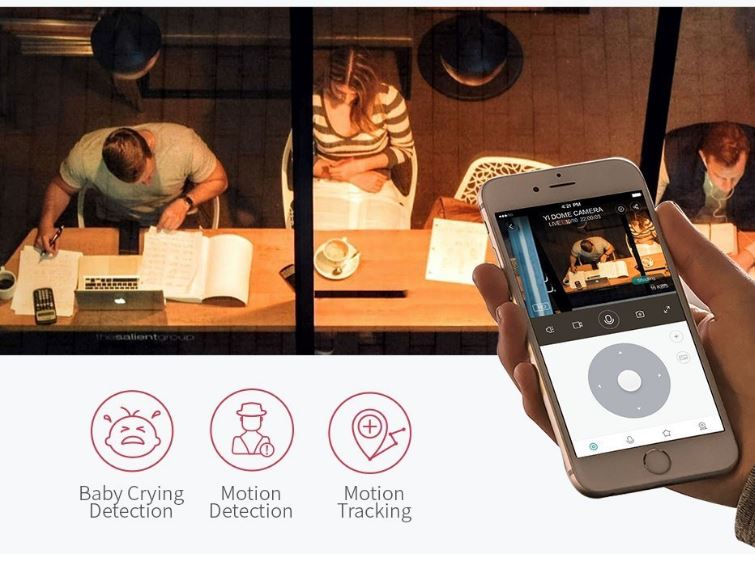 Setup Procedure
To make all of these features possible, a lot of advanced hardware is required. Fortunately, you don't have to be a tech guru to get the Dome Camera up and running.
The first thing you'll want to do is download the YI Home App. You'll want to have Bluetooth enabled on your phone. You can plug the camera in, and start the app. On first run, it will take about 30 seconds to find the camera. Once connected, you'll be asked to make a YI home account. From this point onwards, the camera is up and running. But there are a few steps we recommend if you want to make the most of your camera.
In the settings panel, select your network and enter your password. This increases the range. You can get HD video anywhere in your home, or lower resolution video over the cellphone network.
Next, you can open the Alerts panel and select a new alert. Choose an audio alert, and select the "crying" option. We recommend setting a custom alert tone. Ideally, something that will wake you up if your sleeping. This way, you'll never miss a notification.
Finally, you can download the YI Home app onto any other device. If your partner logs in with the same account, you'll both have access to the video feed.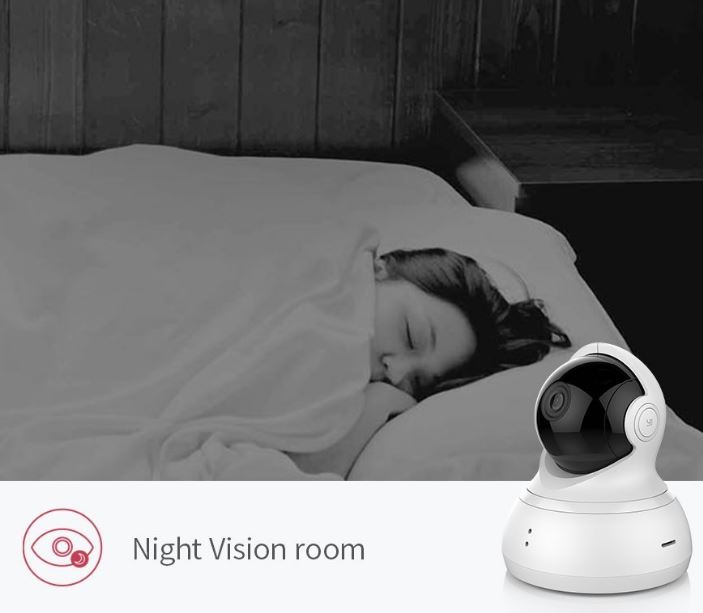 Video Quality
This is one of the sharpest cameras on the market. It's 1080p, but the video still looks much better than competing models. Fine details are clearly presented, so it's easy to see what's going on in the frame. This is just as true at night as it is during the day.
There are 8 infrared LEDs built right in. Infrared light is invisible to the human eye, but cameras can detect it. At night, the video is monochrome. But it's still very sharp, and it won't disturb your sleeping child. These LEDs are much higher quality than the ones you find in most cameras. Others have a purple glow to them, but these produce only 940nm wavelength light. To they eye, they're completely invisible.
KeeKoon 1080p Baby Monitor
If you're working with limited space, you need a camera that provides more flexibility. KeeKoon's baby monitor was designed to be flexible. It's easier to mount, and provides a modified optical system performs well in long range situations. The setup procedure is more involved, but gives you greater control over how the camera operates. If you want to be more attentive with your child and find technical limitations frustrating, this monitor can help you work around them.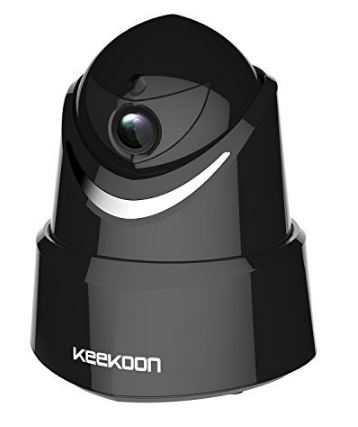 How it Works
With any baby monitor, there are certain core features we wouldn't want to do without. With their free app, video can be viewed from any iOS or Android mobile device. The online interface lets you view the video from any internet enabled computer, and doesn't require any software to be installed. Notifications can be configured, and the camera will track motion to keep your child in frame. This is where the differences end.
The main advantage to the KeeKoon 1080p Baby Monitor is that it can be mounted anywhere. Brackets are included to mount it on a wall, so you're not limited by a lack of table space. The lens is only 70mm, so the video is zoomed in a little more. From a distance, your child would only be a small part of a frame that captures the entire room. With the tighter frame, you'll only see what matters. It can also use wired Ethernet instead of WiFi. This allows the camera to perform reliably even when the signal from your router is poor.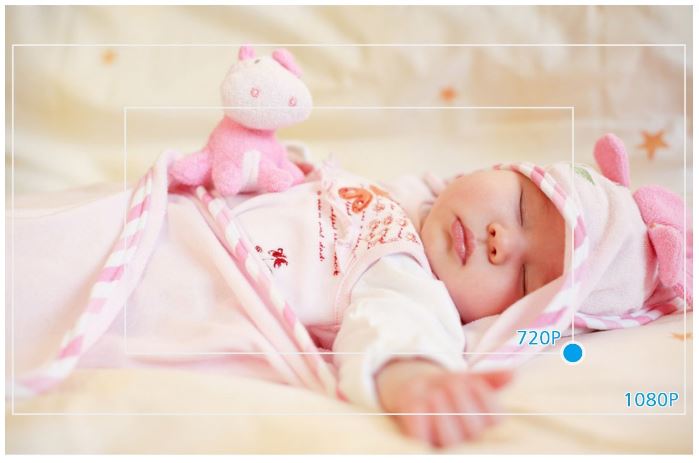 With the camera mounted away from your crib, getting a clear audio signal is challenging. The two-way audio system features an advanced microphone that is much more sensitive than competing models. The signal is fed through a noise filter. If the camera is facing the crib, you'll only hear audio from the crib. This way, you won't be forced to wake up in the middle of the night just because a car drove by. If this still isn't suitable, you can connect an external microphone. This will only be required in extreme cases, but ensures that you'll be able to use this monitor anywhere.
Instead of audio alerts, this monitor works only on motion alerts. This allows you to get notifications the second your child starts to stir, enabling you to lull them back to sleep when they just start to wake up.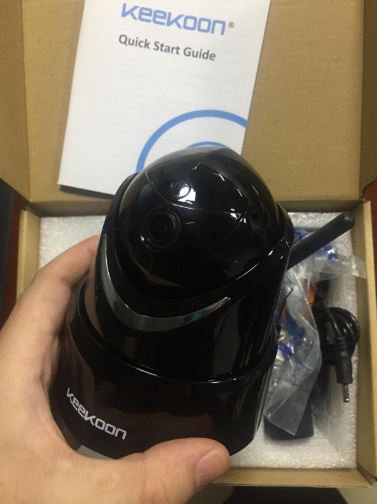 Setup Procedure
There are two ways to configure this camera. The easy way is through the free app. Just download the app and point your camera at the QR code on the bottom of the camera. Enter your network details, set your notification settings, and you're up and running.
A laptop can be used to configure some of the more advanced features. The procedure is a lot like setting up a router. Connect the camera to your network via Ethernet, and access the web control panel by typing it's IP into your web browser. The address, username, and password are all printed on the box. This panel allows you to configure an external microphone, set specific zones to watch, and adjust video settings.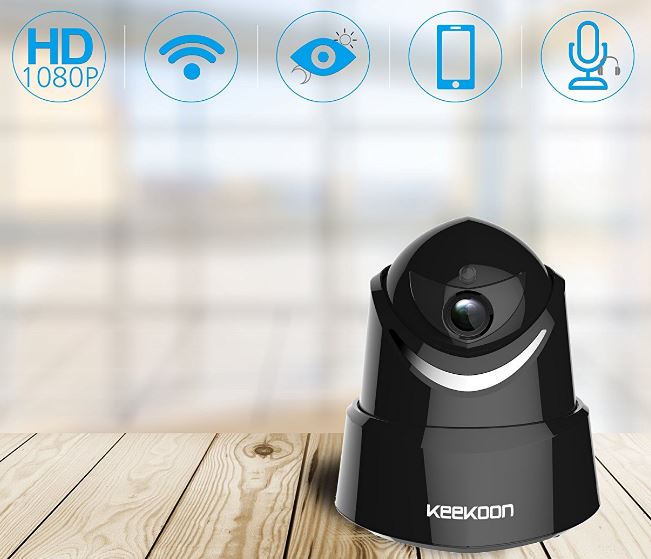 Video Quality
One of the main reasons we selected this camera was the video sensor. Like the KeeKoon, it has a high end 1080p sensor that produces professional grade video. But the night vision system has a few key upgrades.
The most notable difference is night vision. The two-piece array in this camera has a much longer range. It has a 25-foot range, producing well-lit video from afar. Most cameras have two modes. They're either in night vision mode, or daylight. This can create an awkward time of day where it's too dark to get a clear image but too bright for night vision. With the cut sensor, this camera can slowly transition from one mode to the other. Your video will look great at any time of day, regardless of the lighting.
NexGadget Bluetooth Baby Monitor
Studies have shown that music plays a major role in a child's development. The University of California found that music accelerated brain development and improved language comprehension. NexGadget's Baby Monitor makes it easy to add a little music to your child's life, and has one of the simplest setup procedures on the market.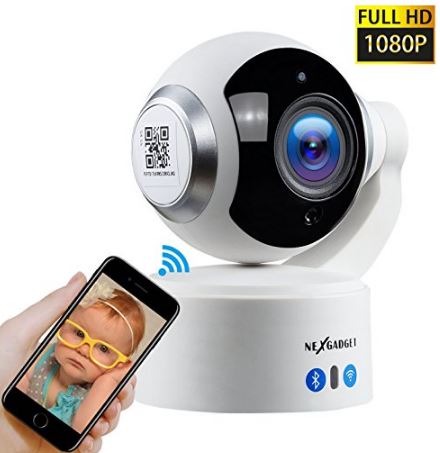 How it Works
When selecting baby monitors to review, there are certain features that we weren't willing to compromise on. The NexGadget Bluetooth Baby Monitor checked all of our boxes. It tracks a moving subject and can send movement notifications to your phone. Audio is streamed in real time, and push to talk is available through the app. With so many features in common, what makes this one stand out?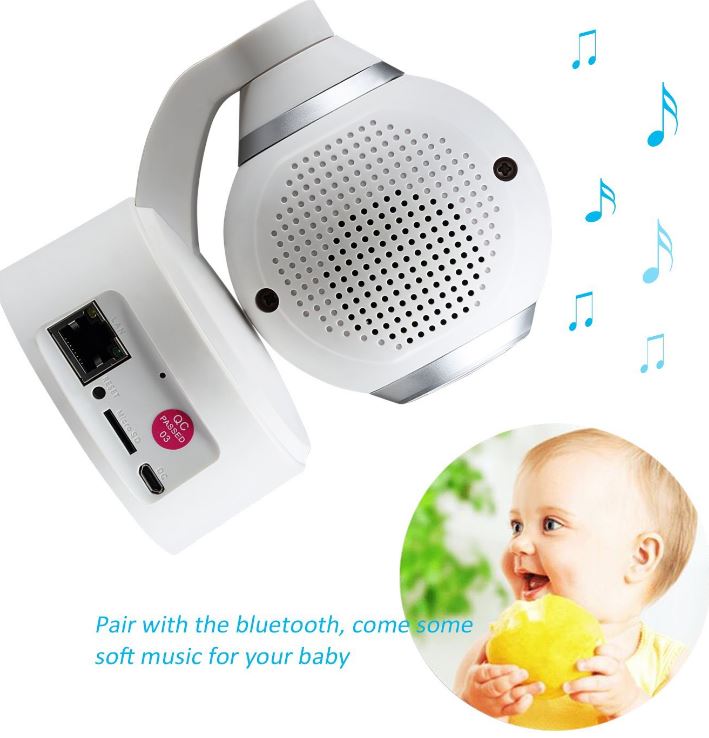 NexGadget came up with one feature that's simple, but brilliant. It's got a Bluetooth speaker built right in. With just the touch of a button, you can lull your baby to sleep with their favorite lullaby. By keeping an eye on the monitor, you'll know when the calming music has done its job.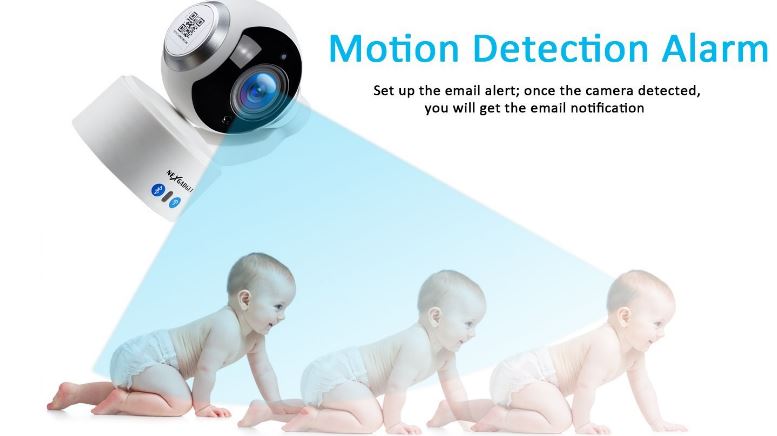 Setup Procedure
Most monitors have a two-stage setup process. First, you get your camera connected to your network. After, you configure your notifications. But NexGadget knows how their monitor is going to be used, cutting the setup time in half.
Downloading their app is easy. Just open the app store, and scan the QR code on the monitor. Tap to add a new device, enter your network details, and wait for everything to come online. The settings are automatically in place, so the only thing you have to do is change your notification sound.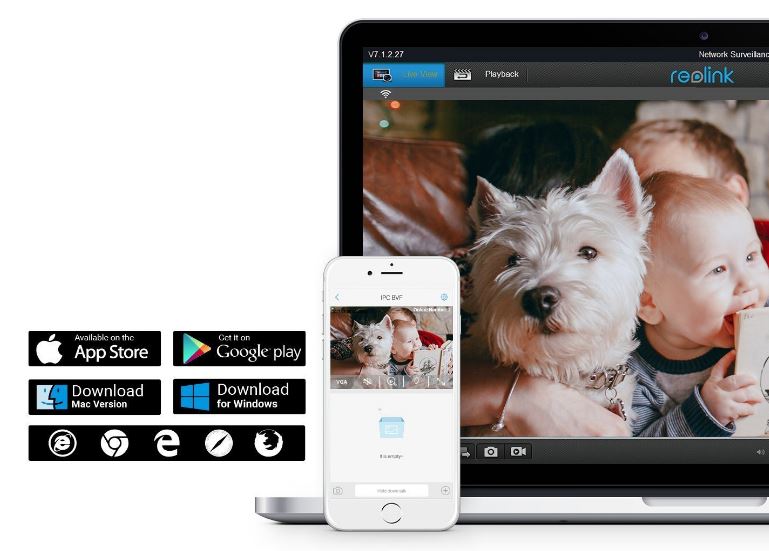 Video Quality
With a viewing range only a few degrees less than the first camera we looked at, this model provides a wide-angle image that's perfect for short distances. Both day and night vision produce incredibly crisp images, but there are a few key advantages to this model. The night vision LEDs have a much larger spread. This creates a soft, even illumination across the entire frame. Cameras designed for long ranges look more like a spotlight and can produce dark corners. At close range, this system produces a natural looking night vision image.
Which Bluetooth Baby Monitor is Right for Me?
If you search for a wireless baby monitor, these aren't going to be the first choices that come up. Wondering why we chose these models instead some of the more popular options? It all boils down to value.
Parents aren't willing to compromise when it comes to the safety of their children. Consumers can pay significantly more for a baby monitor that can't produce the same quality of video as the options on our list. Tech-savvy parents started using security cameras as baby monitors, and the industry caught on. Today, many security cameras come equipped with the features that parents are looking for.
The YI Dome Camera, for instance, has a cry sensor. If you're a light sleeper, this feature has immense value. Instead of waking up every time your child stirs, you'll only be notified when they really need your attention. Fewer false alarms result in more time to catch up on sleep.
Can't find a good spot to place your baby monitor? The KeeKoon Baby Monitor is the perfect solution. It's got a smaller focal length and a long range microphone. You can mount it on the wall, and still get a crystal clear image of your child.
Do you find it challenging to get your baby to sleep? With the NexGadget Bluetooth Baby Monitor, you'll be able to remotely control a soothing song to help ease your child into a peaceful sleep. Combining a speaker with a monitor lets you know when to start the music, and when to turn it off. For parents that just don't have enough time in the day, anything that