Keyboards are a necessary accessory to computers since you always have the need to type. In this day and age where mobile devices including smartphones and tablets have dominated the market, the need for a good keyboard is still a requirement.
If you're one who isn't a fan of wires, cables, and cords, Bluetooth keyboards are an excellent option that many are choosing to own. By using the Bluetooth protocol, you can connect your keyboard with your chosen Bluetooth enabled device without wires.
Bluetooth keywords are not only useful for smartphones and tablets, but they are often a top choice for laptop, desktops, and ultrabooks. As long as a device has Bluetooth functionality, you can pair it up with a Bluetooth keyboard. Let's take a look at some that are worth considering in 2016.
Anker Ultra Compact Slim-Profile Wireless Bluetooth Keyboard
The Anker Ultra Compact Slim-Profile Wireless Bluetooth Keyboard can be used with Bluetooth enabled iOS and Android mobile devices. It's designed specifically with a slim-design and lightweight profile, making it a good choice for portability.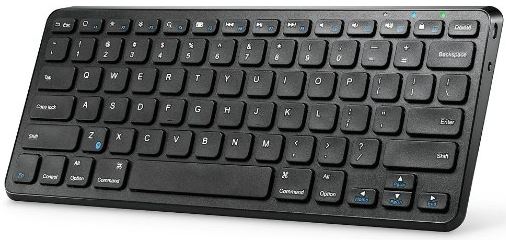 It's ergonomically made for optimum comfort and has a tilted design that's comfortable to use; this reduces wrist strain and fatigue while using the keyboard. It's also pencil-thin, measuring 0.23 inch in diameter to be exact. This allows for easy transportation and usability as it can easily fit anywhere you need.
Having a QWERTY layout, it has hot keys that are especially designed for an iPad. However, it can also be used for other any kind of device that uses Bluetooth technology.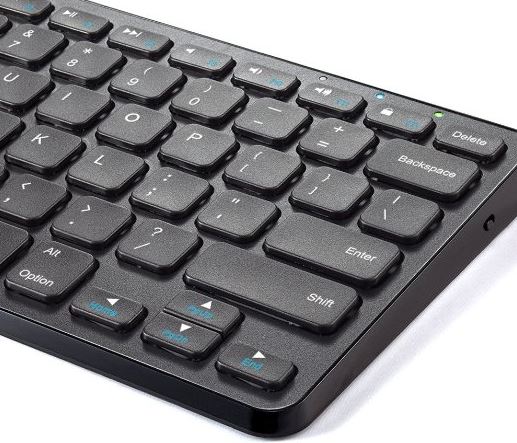 Since it runs on a rechargeable lithium battery with an industry-high capacity of 800mAh, it can last up to 6 months on a single charge. Also, since it has an automatic sleep mode, the battery won't easily drain if unattended. This battery life is clearly phenomenal and boost the overall portability by a lot.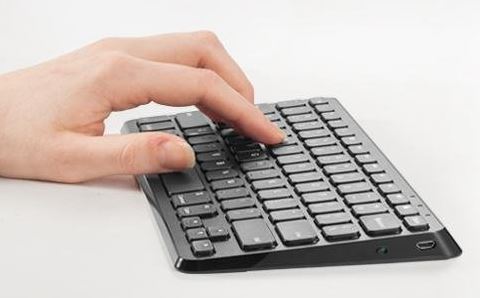 This keyboard will automatically switch into a power saving mode when it senses inactivity for 10 minutes. You can easily wake the keyboard up by pressing on any key – it will turn right on.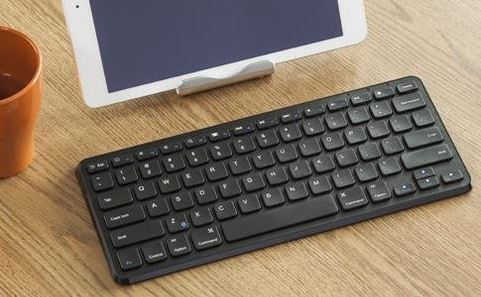 You will certainly appreciate the features of the Anker Bluetooth Ultra-Slim Bluetooth Keyboard, especially when pairing it up with mobile devices that use touchscreen technology. While touchscreen is cool and definitely useful in some cases, tapping on the screen can prove to be tiring and inefficient for many tasks.
Logitech Wireless Touch Keyboard K400 Plus
You have 2 color choices when you go for the Logitech Wireless Touch Keyboard K400 – black or white. You can therefore match it up with the style and color of your mobile device. The ergonomic design makes it easy and very comfortable to use. Most are happy that the keys are virtually silent so you won't hear yourself typing while using it. Additionally, the keys are bold and bright – very easy to read and clearly visible with dim lighting.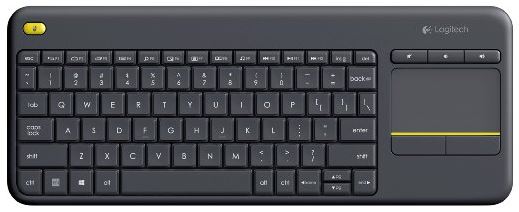 One unique design of this keyboard is that it comes equipped with a 3.5 inch touch pad. It will give you the atmosphere of working on a laptop, since the mouse pad gives easy maneuverability when browsing the web or using certain applications.
Equipped with a long wireless range of up to 33 feet, you can also use the Logitech Wireless Touch Keyboard K400 Plus on your TV-connected computer. Using your TV as the computer screen, you can type on your Bluetooth keyboard while seated comfortably on your sofa or bed.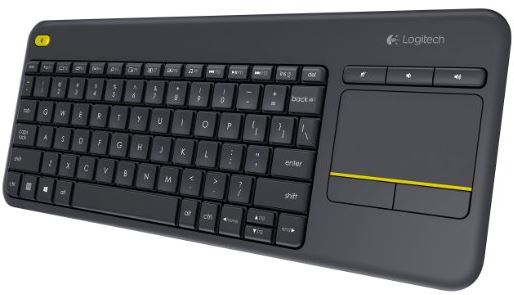 It's literally a plug and play device that can be used on Windows 7, Vista, and XP. Additionally, it's sold as a package that includes 2 AA batteries so that you can use it right out of the box. Since it has very low energy consumption, a new set of batteries can last up to 1 year with normal use.

Measuring 5.4 x 13.9 x 0.9 inches and weighing merely 12.6 ounces, the Logitech Wireless Touch Keyboard K400 Plus is easy to manage and operate even if you don't have a table. And since it is priced at around $30, it's really quite affordable to fit within most budgets.
Jelly Comb Backlit Wireless Bluetooth Keyboard
Running on Bluetooth version 3.0, this ultra-slim keyboard works on both iOS and Android devices. Equipped with an illuminated feature, you can choose from 7 different back-light colors when using it. These include soft blue, bright green, red, deep blue, soft purple, light green, and turquoise.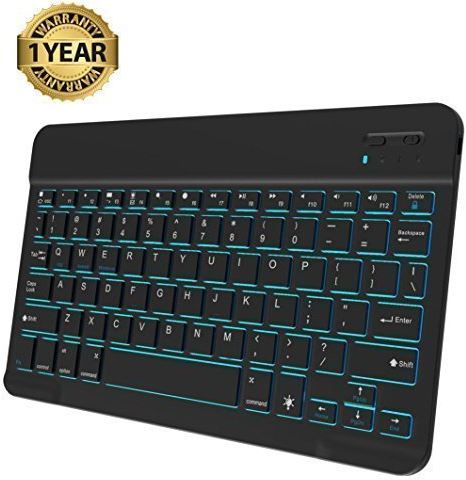 You can also choose from 3 brightness settings, off, low, and high. There's even a light bulb icon on the button located in the lower right hand corner of the keyboard; press on this and you can cycle through the different options.
Changing the backlight colors is just as easy. By pressing and holding down the light bulb button, you can choose your desired color by using the up and down arrows on the keyboard.
The Jelly Comb Backlit Wireless Bluetooth Keyboard has a built-in rechargeable battery that can last up to 180 days when fully charged. You can use the auto sleep feature to make the battery last longer if you forget about it or fall asleep.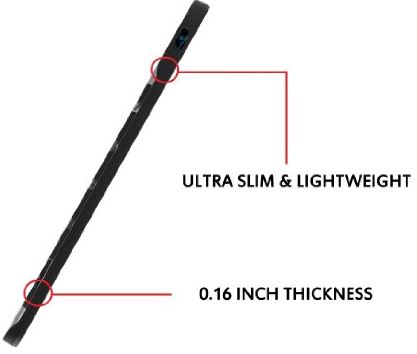 Measuring 9.72″ x 5.9″ x 0.16 and weighing approximately 11 ounces, you will find this Bluetooth keyboard extremely portable. Its aluminum style and lightweight design truly blends convenience with usability.