If you're looking to take your music with you on the go, a pair of Bluetooth headphones is a great option. While these headphones used to offer less-than-stellar sound quality, today's technology allows for lossless compression and incredible audio performance.
The one issue with most Bluetooth earbuds is the restrictions manufacturers face when trying to cram a powerful product into a tiny space. If you're not willing to compromise on battery life, sound quality, or features, a neckband style pair of headphones might be just what you're looking for.
Note: At no extra cost to you, we may earn a commission for purchases using our links. Learn more.
Neckband headphones feel virtually weightless. It's more akin to wearing a necklace than a piece of technology, and the extra space allows for some powerful hardware to be included. We'll be taking a look at the three best Bluetooth neckband headphones on the market. We'll help you understand what advantages they hold over a standard pair of headphones, so you can decide if this format is right for you.
LG HBS-910 Tone Infinim
LG is a well-known manufacturer of cellphones, televisions, and audio equipment. They're known for producing sleek, powerful hardware that is competitive with other high end brands. The LG HBS-900's were fairly well reviewed, although consumers had a few mild complaints with them. We decided to test out the 910, the latest revision, to see if they have finally realized the full potential of this design.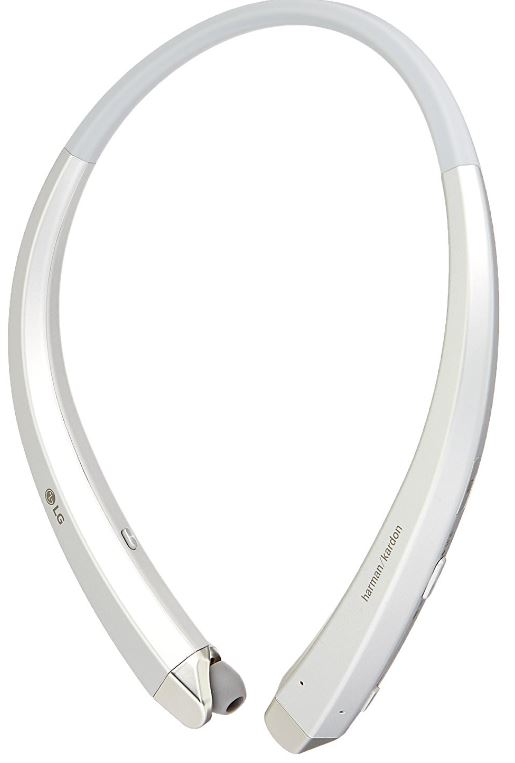 Design
The LG HBS-910 Tone Infinim have a very premium feel to them. The plastic enclosure is tipped with metal on each end, designed to protect the delicate earbuds. The main portion of the neckband is split into two parts. On each side there is a durable plastic that has been painted with a metal styled paint. It's very smooth in the hand, and you can feel how high quality it is. The back of the band has a rigid center, but rubber exterior. This makes it extremely flexible and comfortable around the neck.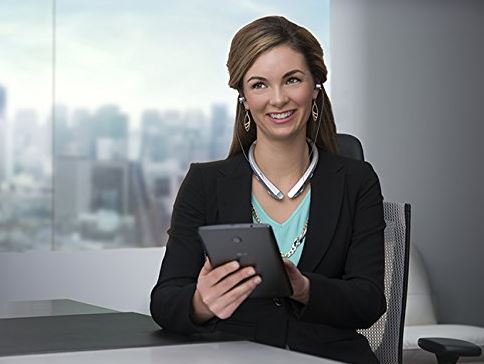 There are several buttons around the case that can be used to control various features of the headphones. On the left side of the band is the play and pause button, and the hangup / answer button is located on the right. Just above that is a rocker switch that can increase or decrease the volume. Instead of a button that you push in, you slide it up or down. We really liked this design. It's much more tactile than your standard buttons, and makes changing the volume while on the go a breeze.
Just above that is a small door that protects the Micro-USB charging port, and there is a small power button with a bright blue LED on the inside.
But one of the most impressive features of these headphones is the retractable earbuds. They're held on with very thin, lightweight cables. You simply pull them out of the enclosure to put them in your ears, and press a button on the inside to retract them back into the case. This means that you'll never have a tangled mess of chords, and you don't have to worry about your expensive new headphones getting damaged.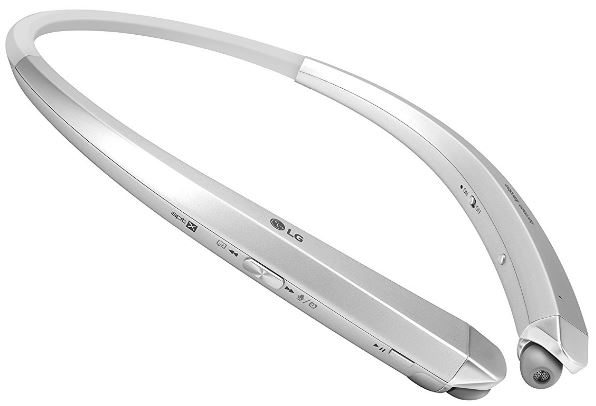 Sound Quality
For some types of music, the LG HBS-910's sound amazing. For others, you might find them a little lacking. These are very detailed, precise headphones. When listening to acoustic music with a stand-up bass, we found that the tones were very charismatic sounding, allowing us to enjoy the organic sound of them. Both the highs and the mids were crisp, but harmonic. We didn't find the sound fatiguing at all. Instead, we were able to enjoy the subtle nuances of how different instruments interacted with each other.
We'd recommend these headphones to anyone who wants a more relaxed listening experience. We've always found acoustic music to be challenging. Much of the bass heavy headphones (such as beats by dry) seem to turn every bass hit into a big thump, losing the detail and harmonics the artist intended. That being said, if you're planning to listen to electronic music or hip-hop where these acoustic traits are desired, you might find these headphones a little lacking.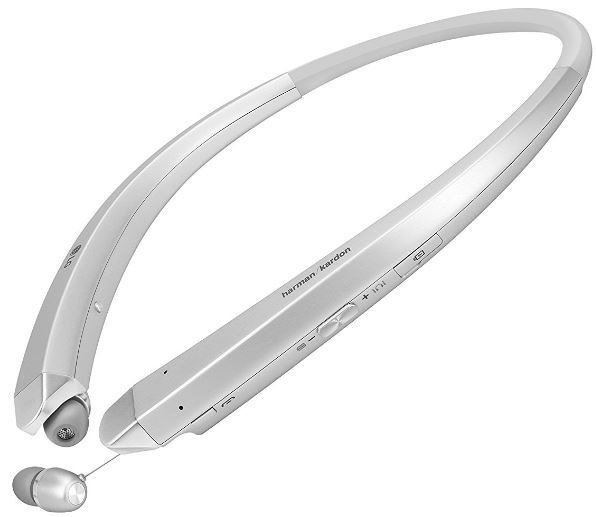 Features
Our favorite part of these headphones is the fact that they work for calls as well. This isn't a feature that was added in as an afterthought. LG clearly took time to craft a good user experience. The build in microphone is extremely clear and easy to hear. We've often had callers ask us if they were on speaker phone when we're testing out these sorts of devices, but nobody could even tell with this pair of headphones. This is likely due to LG's experience in building phones, but the microphone quality is just as good as it would be when talking on your phone directly.
If you have an LG android phone, you can have the headphones read your texts to you. This feature can be added to any android if you download LG's free app, although it's not yet compatible with Apple phones.
SoundPEATS Neckband Headphones
SoundPEATS is a company that makes affordable but high quality headphones for a variety of purposes. Their neckband headphones are designed for people who aren't happy with the sound quality or bass response of more portable models, and want something with a little extra kick.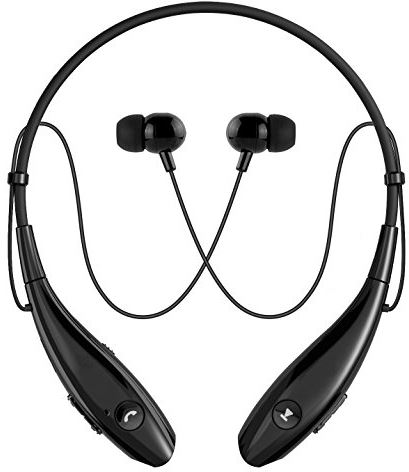 Design
The SoundPEATS Neckband Headphones have a slightly more aggressive look than LG's neckband headphones, but much of the design is the same. They have a flexible portion on the back that makes them easy to adjust, and all of the controls are neatly laid out on the side where they're easy to access.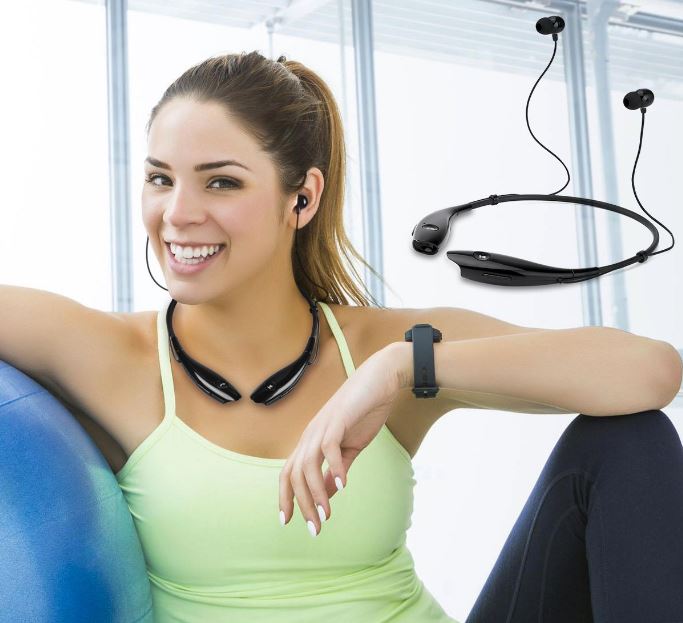 On the left side, you've got the answer / hangup button, as well as the volume controls. On the right, you've got the stop / start button, and track selection. These are standard buttons, and are easy to press. There is a firm "click" sound when you press them, and they have a very durable feel.
Although the headphones are not retractable like the LGs, we were quite fond of the way the cables were arranged. When you've got them in your ears, they go straight up. They don't run backward like the retractable ones, so there is less of a chance of them getting caught or tangled up in something. When not in use, the earbuds clip firmly into the ends of the neckband, keeping them safe and secure for future use.
Sound Quality
These are the headphones to get if you're a bass head. They've got a lot of kick to them, making them ideal for pop, hip-hop, and electronic music. But despite their pounding bass, they're a surprisingly controlled headphone. At no point did they sound shrill or harsh. Highs are clear and well defined, and the midrange has a smooth, harmonic, and tonal. They've got a certain liviness to them that we found very engaging. These are the kinds of headphones we'd want to take with us during a run, playing back the music that gets us pumped up.
The 10mm drivers play a big role in their performance. This is 20% bigger than most in ear headphones on the market, making for one of the most engaging sound experience we've had in this form factor.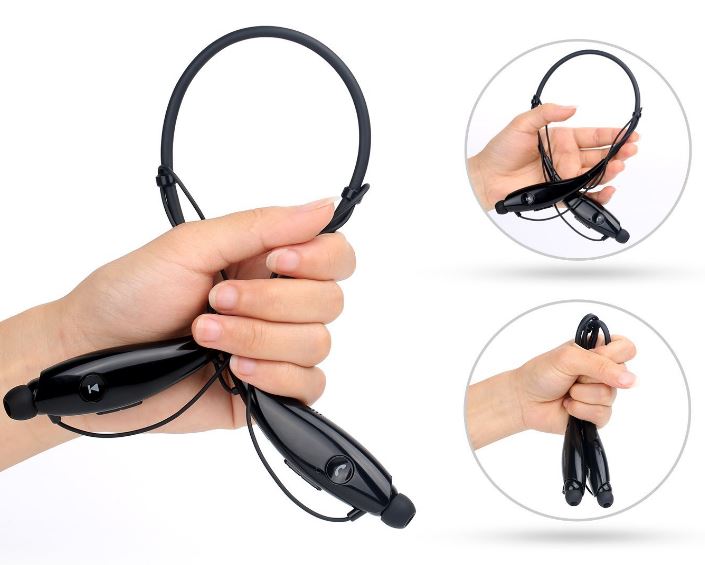 Features
One thing that caught us off guard was the vibrating call alert. Just like your cellphone, the entire neckband vibrates when you've got a call incoming. We found this surprisingly useful. You're not always going to have the earbuds in, so having the ability to not miss your phone calls is a huge advantage.
The earbuds themselves are actually made from a memory foam material. What we found is that this allows it to form a much tighter seal in your ear canal, without putting too much pressure on your ear.
Mpow (Jaws) Neckband Headphones
Although not a particularly popular brand, we were surprised at the performance of some of their affordable headphones. Mpow might have been a little late to market with their neckband headphones, but it's clear that they took their time creating something that was both refined and powerful.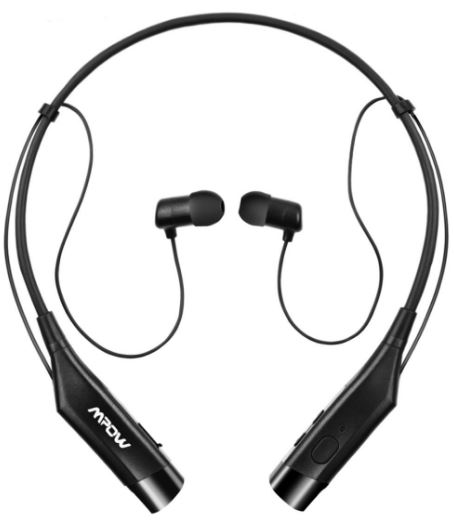 Design
The Mpow (Jaws) Neckband Headphones are very similar in design to the previous two models, with a few key differences. The name "Jaws" comes from their unique locking mechanism to secure the earbuds to the neckband. Because speaker drivers are actually just large magnets, they installed a powerful pair of magnets in the end clips. This allows the earbuds to clip into place without the use of a clip or physical mechanism that could break.
We found that the neckband in this model was a little more flexible, and the entire unit was surprisingly lightweight. Although it doesn't have a controls for hands free calling, it still has a full set of controls to adjust the volume and change tracks.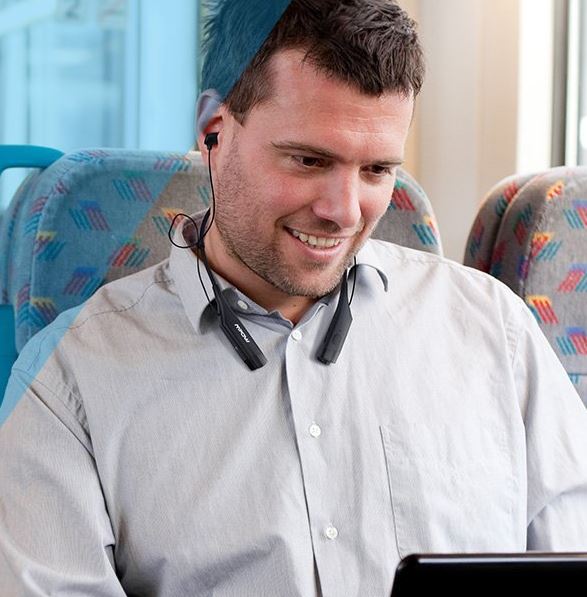 Sound Quality
This is one of the biggest assets to the Jaws. Despite their affordable price, they still have very good audio quality. We'd consider them a bit of a mix between the LG headphones and the Phaiser headphones. They're a little bass heavy, giving them a warm, inviting sound. But we still found them proficient at the more relaxed styles of music. They sounded very sharp and clear, but didn't hesitate to be smooth when necessary.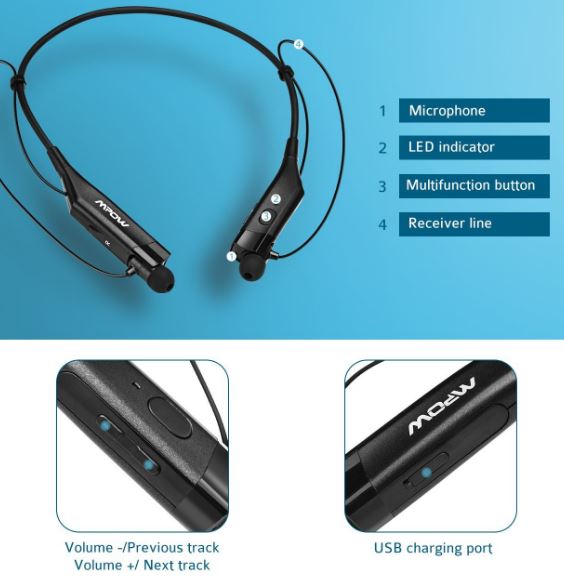 Features
One of the biggest features of the Jaws is their excellent battery life. Just a single charge gives you 12 hours of listening time, and up to 350 hours on standby. For this, you can thank their dual lithium ion batteries, located on either side of the neck band. If you were to use these headphones three times per week for a one hour run, you could go an entire month in between charges. Even if you use them every day for extended periods of time, almost every user will be able to go several days in between charges.
Which Bluetooth Neckband Headphones are Right for Me?
Picking out the right pair of headphones can be tricky. Sound is a very subjective matter, and it all boils down to what type of music you find yourself listening to the most.
If you're looking for a bargain, you can't find a better deal than the Mpow Jaws. These headphones are extremely lightweight, and still have great sound quality. They're very well balanced, allowing them to work well with almost all types of music.
If you're looking for something with a more premium sound, you've got two options. We recommend the LG HBS-910 Tone Infinim to anyone who prefers a more analytical sound. These headphones are great for classical music, rock, acoustic, indie, and folk music. Instruments almost seem to come alive when listening to these headphones, and you'll be able to pick out details that you haven't heard before.
If you're a bass head, nothing can surpass the slamming 10mm drivers in the SoundPEATS Neckband Headphones. These have as much kick as you could ask for, but don't distort or lose any detail. These would be our first choice for anyone listening to metal, electronic music, hip-hop, or anything else with a pronounced bassline.
Please consider sharing:
Note: At no extra cost to you, we may earn a commission for purchases using our links. Learn more.