A decade ago, drones were only used by professionals and hardcore enthusiasts. They were expensive, and the new technology wasn't always reliable. But as technology tends to do, drones have advanced a lot. Today's drones are far more capable, and prices have come down considerably. Nowadays, just about anyone can own a camera drone.
That said, there are still very expensive drones out there. The drones they use for Hollywood movies or large-scale land surveys can get pretty pricey. But it all depends on what you're looking for. If all you need is a 1080p quadcopter for selfies and action shots, there are plenty of affordable options.
Note: At no extra cost to you, we may earn a commission for purchases using our links. Learn more.
With that in mind, we're about to review 2022's best cheap drones under $100. We've found the four best entry level drones, which come with the following features:
Obviously, there's a lot more to all of these drones. To make a fair judgement, we'll need to take a deep dive into each option, and see how they stack up. Let's get started, and see what we learn!
ATTOP X18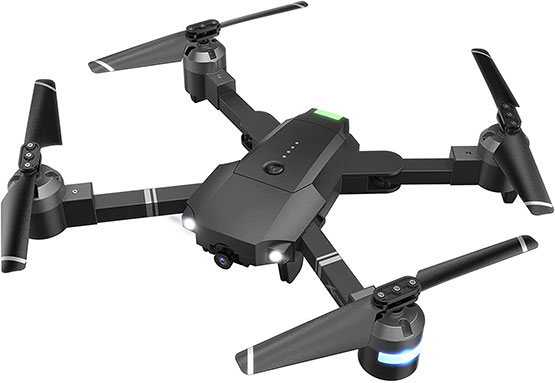 Key features:
292-foot range.
10-minute flight time.
Built-in 1080p camera.
Collapsible design.
Built-in G sensor for VR sets.
The ATTOP X18 is a black quadcopter drone with a broad, flat body. The housing is a matte black plastic, and the arms are thin and slender. They're collapsible and fold down to the sides. When collapsed, the drone is even smaller than its controller, and fits easily into the carrying case. The case is soft, with a zipper closure and padding that's molded to fit the drone and controller.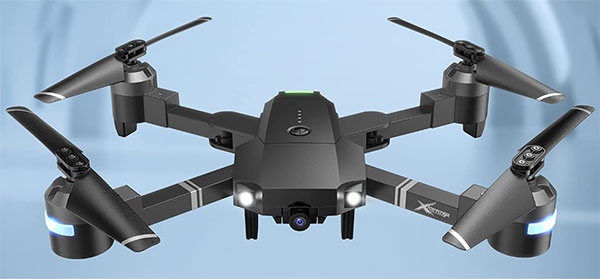 The camera hangs beneath the housing, and has a slim design. It sits tight to the bottom of the drone, and is surrounded by four short, black, stubby legs. The legs are just long enough that the camera won't strike the ground upon landing. There's a set of dual LEDs on the front corners of the housing, and more LEDs on the pylons for visibility.

The camera resolution is 1080p, and videos are generally very crisp. With a 120-degree field of view, you get a wide image, but it doesn't get distorted like a fisheye lens.
The kit includes a pair of 1,100mAh batteries. The batteries are broad and flat, and snap into the top of the housing. On top is a row of four LEDs that light up to indicate the charge level. There's also a power button which turns the drone on and off. Each battery will provide around 10 minutes of flight time, for a total of 20 minutes per charge.
Controls and Operation
The X18 comes with a handheld controller that looks a lot like an Xbox controller. There's a pair of thumbsticks for manual flight, along with buttons to control the various functions. On the front end of the controller, you'll find a bracket that's designed to support your smartphone. Your phone will provide a live view from the camera, so you can see what's going on.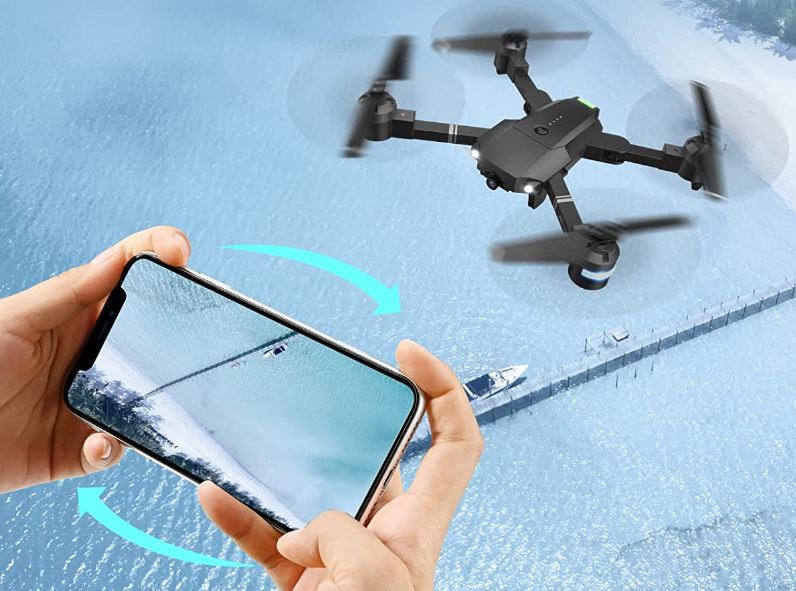 In addition to physical controls, you can also use voice commands and gesture controls. This can come in handy when you want to film yourself and don't want a controller in the video. The commands are fairly basic, but you can get the camera to focus on you or turn the drone around.
The drone acts as its own WiFi hotspot, which you connect to with your phone. The controller, on the other hand, is automatically paired via a separate 2.4GHz wireless channel. And at 292 feet, you get more than enough range. That's about as you can fly out and back in 10 minutes.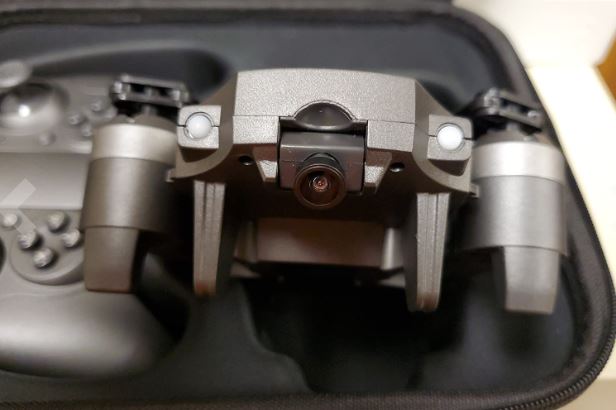 You can choose from three operating speeds, and there's an automatic altitude hold function. You can also go into headless mode, which means the camera will focus on you and fly in a circle. There's even a one-key return function. Press the button, and the quadcopter will automatically fly straight to the controller.
In addition to all that, the X18 sports a built-in G sensor. You can connect it to your VR headset for an incredibly immersive flying experience.
What we liked:
Well-designed camera.
Long operating range.
Easy to operate.
Collapsible and portable.
What we didn't like:
So-so battery life.
A little pricey.
ATTOP W10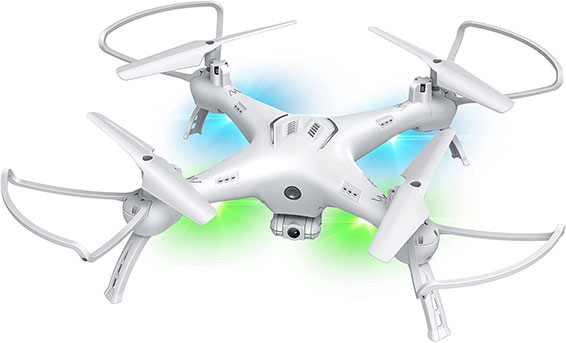 Key features:
100-foot range
9-minute flight time
Built-in 1080p camera
Guard frames around propellers
The ATTOP W10 has a matte white housing and a rigid frame. It's almost perfectly X-shaped, with a narrow, roughly square-shaped body that tapers towards the center. There's a plastic guard around each of the propellers that helps to keep them safe during minor collisions. This is a useful feature for beginners, who are going to bump into a tree or building at some point. Along the same lines, it's also very easy to land. Instead of the center, the legs are located on the propeller pylons, and arch out to form a wide base.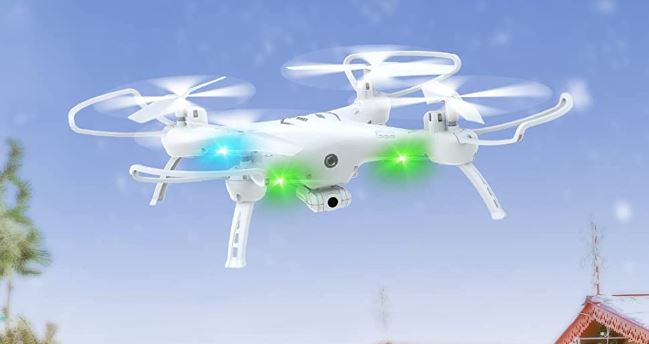 The camera is basically identical to the one on the W18, other than being white. It has the same slim form factor that keeps it clear of the ground. And it provides the same beautiful 1080p video with a 120-degree field of view.
The two batteries are white to match the rest of the quadcopter, and fit into a slot in the housing. Each one provides around nine minutes of flying time, which is a bit on the short side. But the batteries are easy to swap out and extend your flying time to 18 minutes.
Controls and Operation
The W10's controller is a bit more basic than the one on the X18. Instead of multiple buttons and features, there's a simple pair of joysticks for manual flight. The button in the center will return the quadcopter to home. That's all there is to it, although you can activate headless mode via the app. You also get access to the same voice and gesture controls as ATTOP's other models.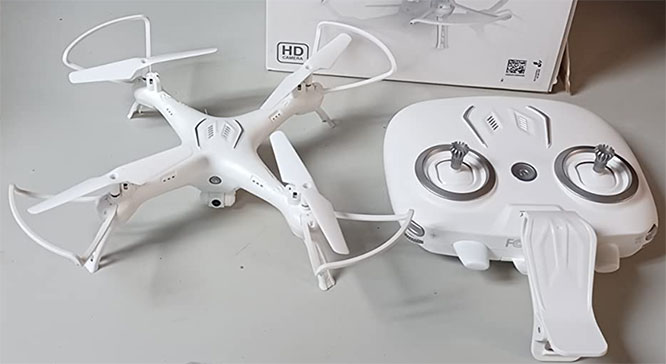 Setup is straightforward. You connect to the W10 drone with your phone via WiFi, and the controller stays connected via 2.4GHz wireless. You don't even have to take off by yourself. Just turn the drone on, toss it in the air, and it will hover in place. This makes it easy for beginners to use. However, the range is limited to only around 100 feet. And the motors aren't powerful enough to fight against moderate winds.
What we liked:
Easy-to-use controls.
Supports toss to launch.
Built-in camera.
Fairly durable.
What we didn't like:
Limited battery life.
Loses its signal easily.
SANROCK U52 Drone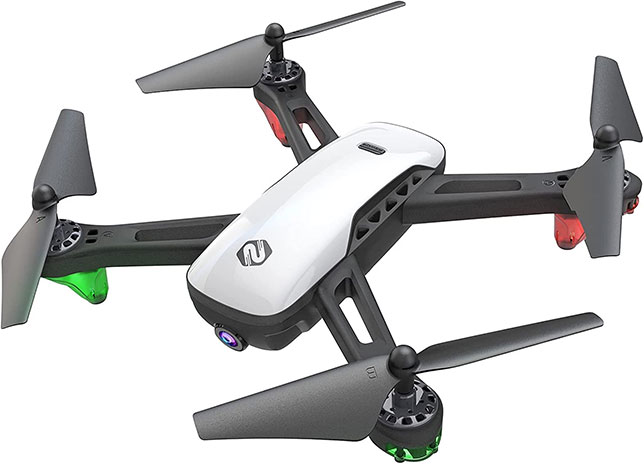 Key features:
320-foot range.
13-minute flight time.
Built-in 1080p camera.
Optional guard frames for propellers.
The Sanrock U52 is another rigid drone. The bulk of the frame is matte black plastic, including the four slender arms that support the pylons. On top of the rectangular main body is a glossy white panel. There's a set of four short, stubby legs on the ends of the pylons. They're semi-transparent with LEDs inside – green on the front pylons and red on the back.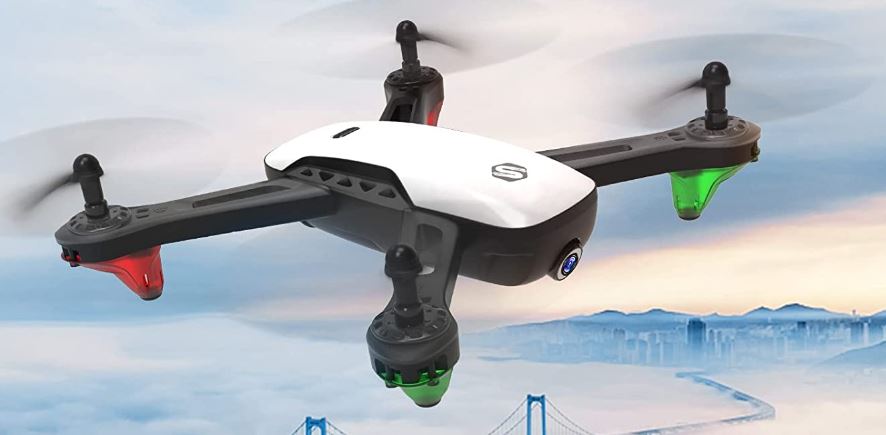 Despite the very short legs, the camera is in no danger of damage. It's actually embedded in the housing, so there's nothing hanging down to be exposed. The video records in 1080p, with a sharp focus and bright, clear colors.
The battery has a capacity of 1,500mAh – long enough to last for up to 13 minutes, depending on you settings. This gives you plenty of flight time to explore your environment. However, there's only one battery. Once it's dead, you'll have to recharge the drone before you can fly it again.
Controls and Operation
The U52 has a broad, flat handheld controller that's made from the same matte plastic as much of the drone. Like the W10 controller, it's relatively simple, with only joysticks and a power button. But you can use gesture controls if you don't want to mess with a controller.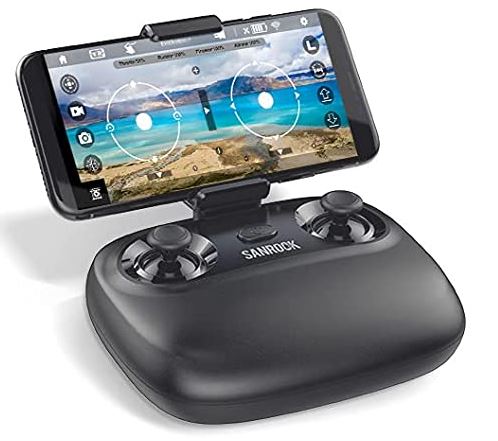 You'll find most of the controls within the app. From the smartphone app, you can switch between two motor speeds or activate an emergency landing function. Tap that control, and the drone will instantly land regardless of its location. This comes in handy of the U52 has gone out of control. You can also activate headless mode and the altitude hold function. And your phone will sound an alarm when the battery gets low.
The controller and phone connect to the drone via 2.4GHz wireless and WiFi respectively. Flight performance is generally good, with a 320-foot range. However, the camera range is only 96 feet. If you want to record video from further than that, you'll have to install an SD card. You'll also want to avoid flying in windy conditions.
What we liked:
Durable design.
Long flight range.
Easy operation.
Reliable emergency functions.
What we didn't like:
Only one battery.
Not suitable for windy conditions.
Holy Stone HS140 RC Drone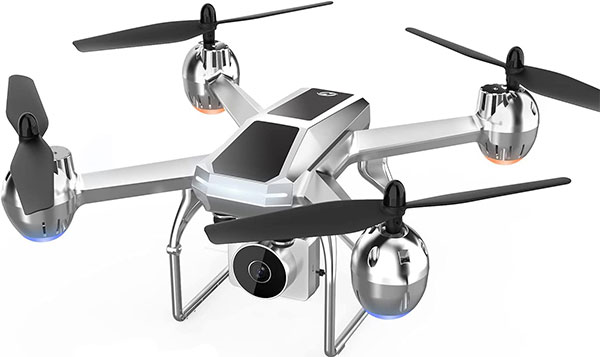 Key features:
328-foot range.
17-minute flight time.
720p camera with shock mount.
Optional propeller guards.
The Holy Stone HS140 RC Drone is a large silver quadcopter. Instead of small legs, it has a large square frame underneath to land on. This provides plenty of clearance for the large camera that hangs underneath. The design isn't purely whimsical. The camera hangs so low because it's attached to a shock mount. When a light breeze jostles the drone, the camera will remain steady.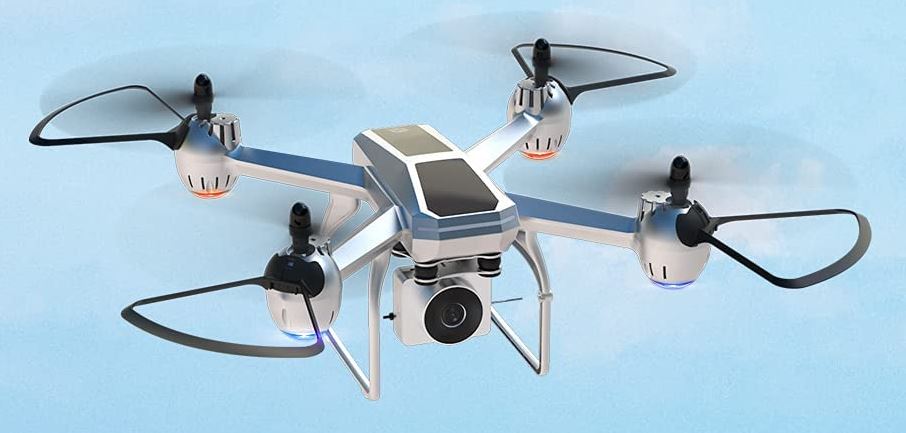 While Holy Stone advertises 1080p camera quality, that's only true for still pictures. When you record a video, it will only record in 720p. That said, the battery performance is admirable. Both 1,300mAh batteries have enough power for 17 minutes of flying time, or 34 minutes total.
Controls and Operation
The HS140 remote is virtually identical to the one on the Sanrock drone. It connects in the same way, and accepts gesture and voice commands.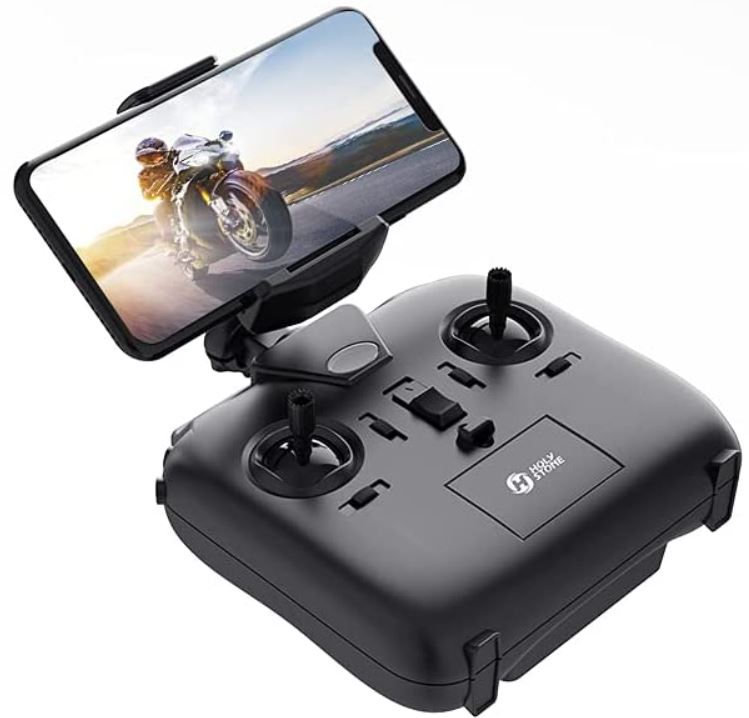 You can choose between two flying speeds, and activate different flight modes. You can hold at the same altitude, or activate headless mode. There's also a one-key takeoff button, and an emergency landing function to get you out of a jam. If that's not enough both the camera and the controller have a 328-foot range. That's the longest range allowable by law for amateur drones.
What we liked:
Shock-mounted camera.
Long-lasting batteries.
One-key takeoff and emergency landing.
Sturdy build.
What we didn't like:
Poor video resolution.
No power switch.
Final Verdict
As you can see, these are all great beginner drones. But which one is the best choice for you? Here's what we've learned today:
The ATTOP X18 is the most portable drone of the bunch. With its collapsible design and padded carrying case, it's the perfect choice if you want to go on the road. It provides fairly good video quality, and the controls are easy to operate. And while the battery life is on the short side, you can still roam nearly 300 feet before losing your signal.
The ATTOP W10 is ATTOP's starter model. It's the most basic drone on our list, but that's a good thing if you've never flown before. The toss to fly function is particularly convenient for beginners. And while the range and flying time are somewhat limited, the camera quality is excellent for the price.
The SANROCK U52 Drone is easy to operate, with a long flight range. It also comes with advanced app controls you won't find on other drones. And with a reliable emergency landing function, it's safe to operate for beginners.
The Holy Stone HS140 RC Drone has the longest range of the four, at 328 feet. It also has the longest-lasting batteries, at 17 minutes apiece. The controls rely heavily on the app, but the on-board controls are still simple enough for manual flight.
Please consider sharing:
Note: At no extra cost to you, we may earn a commission for purchases using our links. Learn more.