In search of the perfect connection for your high-definition devices? Flat HDMI cables are the answer.
Unlike traditional round cables, these slim, space-saving alternatives offer a sleek design with the same high-quality signal transmission.
They're ideal for tight spaces and wall-mounted setups, ensuring your audio and video remain crisp and clear.
Today, we've uncovered the best flat HDMI cables on the market, focusing on durability, performance, and convenience.
Here's a quick-view of our top picks:
1. JSAUX Flat HDMI Cable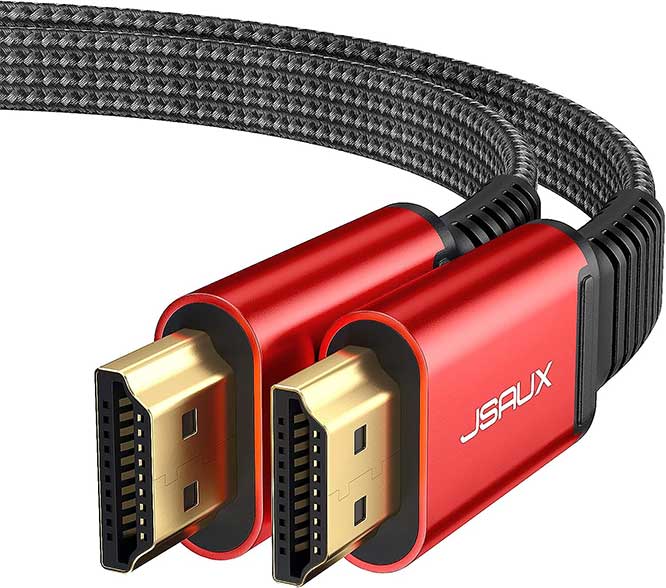 Key Features:
Sleek, flat design for aesthetic setups.
Supports 4K@60Hz, ensuring vibrant picture quality.
Durable, nylon-braided with 15,000 bend lifespan.
High-speed 18Gbps bandwidth for smooth transmission.
Available in 6.6, 10, and 15-foot lengths.
0.125 inches thick.
We put the JSAUX Flat HDMI Cable to the test, and it's a game-changer.
Imagine setting up a home theater with every detail considered, from the 4K TV to the surround sound. The last thing you want is a bulky, unsightly cable ruining the aesthetics.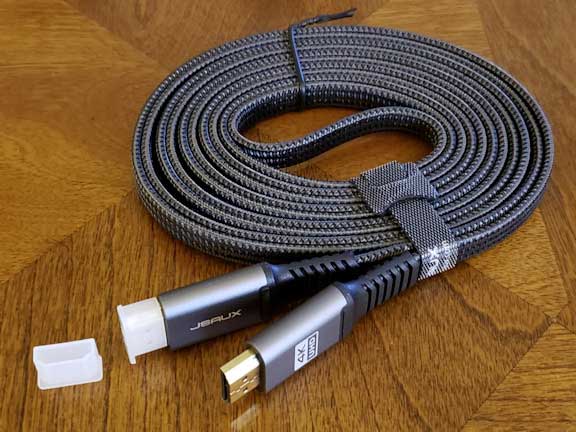 That's where this cable shines with its flat, slim design. At only 0.125 inches thick, it's the thinnest flat HDMI cable in this article. Not only does it seamlessly blend into your setup, but it also easily tucks away, making it perfect for wall-mounted TVs or tight spaces.
During our testing, the JSAUX cable's performance impressed us. Whether we were streaming action-packed movies or gaming at 4K@60Hz, the picture quality remained sharp and vibrant, thanks to its high-speed 18Gbps bandwidth.
The audio quality was equally remarkable, supporting up to 32 audio channels. This ensures a rich, immersive sound experience, whether you're watching the latest blockbuster or binging your favorite series.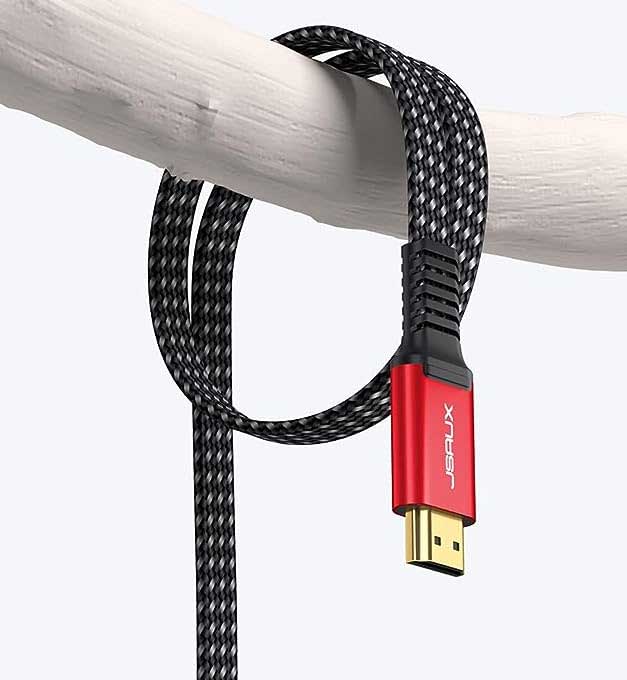 One feature we particularly appreciated was the cable's durability. The military-grade nylon braided cable, with its reinforced aluminum casing connectors, feels both high-quality and strong. It's designed to withstand up to 15,000 bending tests, ensuring long-term use without any signs of wear and tear.
However, some users have noted the cable's stiffness, which might not be ideal for setups requiring sharp bends or tight corners. But for most applications, its robust build, combined with universal compatibility, makes it a reliable choice. The added bonus of a handy velcro strap for coiling any unused length is a thoughtful touch, keeping things neat and organized.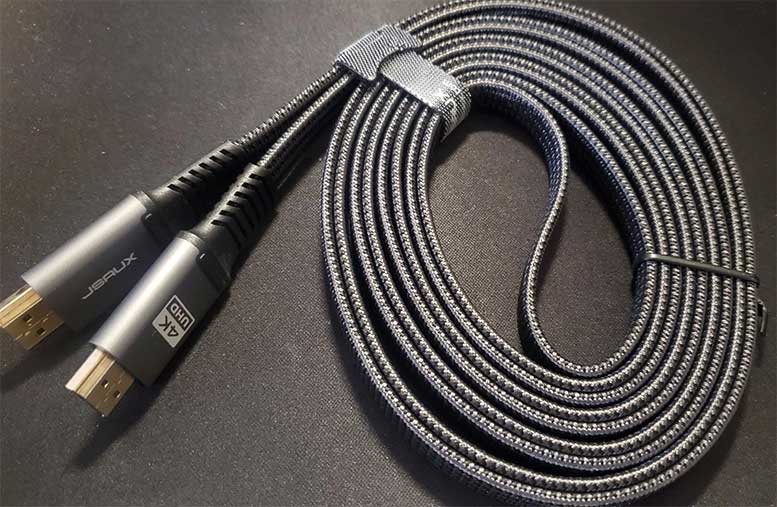 The JSAUX cable also comes in visually appealing red or grey colors, adding a touch of style to your setup. With its triple-shielded design and 24K gold-plated connectors, it ensures minimal interference and corrosion resistance, contributing to its ultra-durable feel and build quality.
Simply put, our hands-on experience with the JSAUX Flat HDMI Cable was positive. It stands out not only for its sleek design but also for its exceptional performance and durability.
2. Ultra Clarity Flat HDMI Cable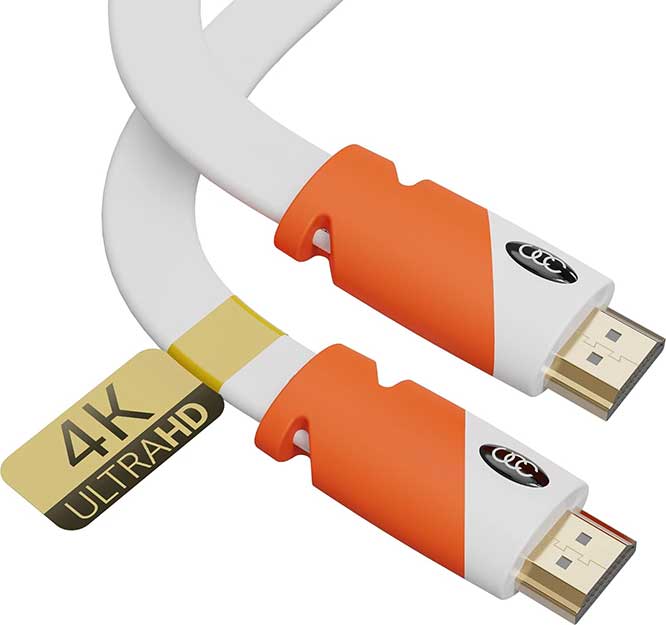 Key Takeaways:
Super slim design, all-white colorways that blends in.
Supports 4K, HDR video, and 60Hz refresh.
Gold-plated connectors enhance durability and shielding.
Compatible with all standard HDMI devices.
Available in lengths from 1.5 to 50 feet.
0.13 inches thick.
The Ultra Clarity Flat HDMI Cable is another fine option that brings a whole new level of convenience and quality. This cable, being only 0.13 inches thick, is a bit more flexible than the JSAUX.
In fact, it fits perfectly under rugs or along walls, almost disappearing from sight. Its white color scheme blends seamlessly with most walls, a feature we found particularly useful compared to other cables that stick out.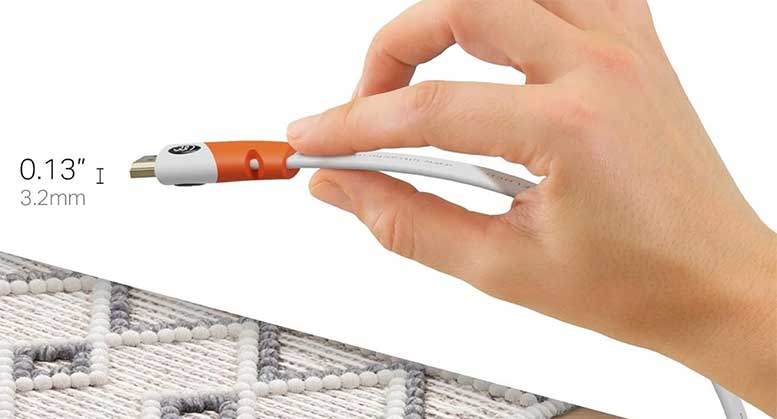 In one of our tests, we used the cable for a 4K HDR movie night. The result was stunning. With its support for HDCP 2.2, HDR video, and a 48 bit/px color depth, the visuals were vibrant and lifelike.
The clarity and depth of color it provided were a noticeable step up from previous products we've reviewed. The 60Hz refresh rate at 4K resolution ensured a smooth, lag-free experience, which is crucial for both high-definition movies and fast-paced video games.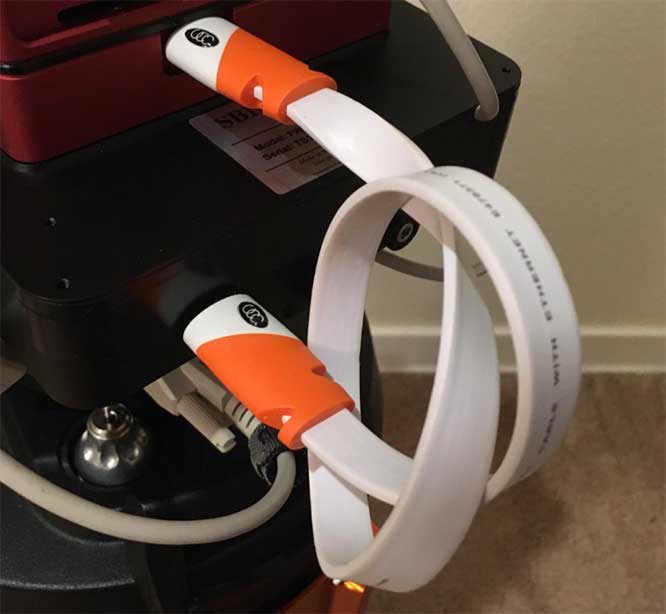 Durability is another strong point. Its gold-plated connectors not only offer superior shielding but also enhance its longevity, simultaneously boosting its durability.
We found this particularly reassuring, given the frequent plugging and unplugging in our testing process. The CL3 rating of the cable also speaks to its safety for in-wall installations, a feature not always found in HDMI cables.
We tested the cable in various lengths, from 1.5 to 50 feet, and in each case, the performance was consistent.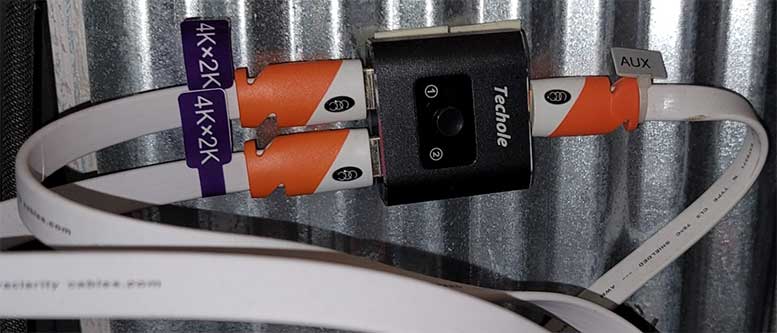 The flexibility in length choices means this cable can suit a wide range of setups, from compact desktops to extensive home theaters. Its compatibility with virtually any device with standard HDMI ports makes it a great choice for different scenarios.
Overall, the Ultra Clarity Flat HDMI Cable impressed us with its blend of performance, design, and durability. While its ultra-slim profile might raise questions about its strength, our tests confirmed its resilience and high-quality performance. It's a solid choice for those seeking both aesthetics and functionality in an HDMI cable.
3. Cable Matters 90-Degree Flat HDMI Cable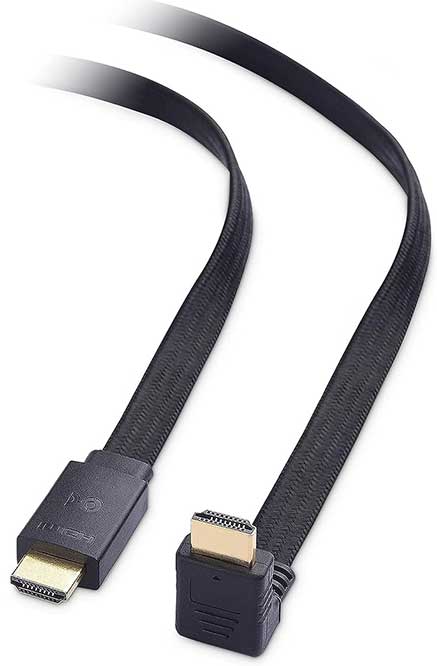 Key Takeaways:
Unique 90-degree connector for tight spaces.
Supports 8K @60Hz and 4K @120Hz.
Gold-plated connectors for reliable, corrosion-resistant connection.
Nylon braided for sufficient durability and strength.
Compatible with all HDMI enabled devices and features.
0.15 inches thick.
The Cable Matters 90-Degree Flat HDMI Cable is a game-changer for those tight on space. Think of mounting a TV close to the wall or setting up an AV system in a cramped cabinet.
The 90-degree bend at one end of this cable makes these scenarios a breeze. It allows for flush mounting against the wall, which is a significant improvement over standard cables that may stick out awkwardly.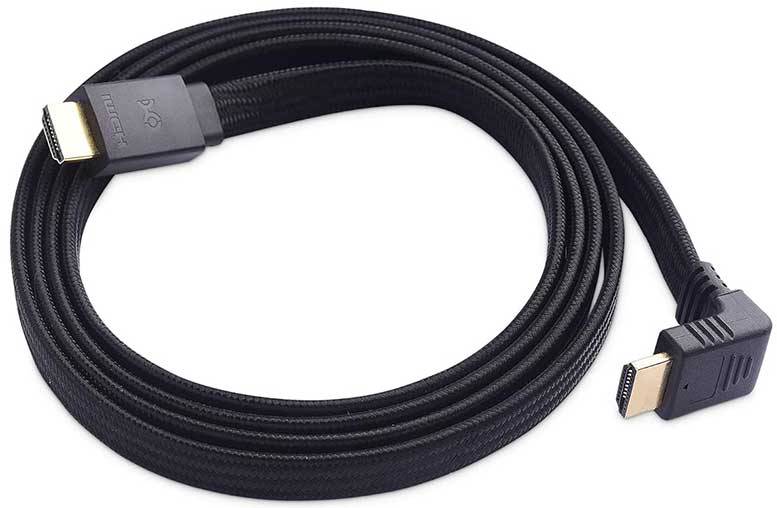 We tested this cable in both the 6 and 10-foot lengths. Despite being only 0.15 inches thick, it didn't compromise on strength.
While it might not be as rugged as the JSAUX cable we previously reviewed, it's sufficiently strong for regular use. The nylon braiding adds to its durability, ensuring it can handle regular plugging and unplugging without damage.
In terms of performance, the Cable Matters HDMI cable stands tall. Supporting 8K @60Hz and 4K @120Hz, it's ready for the latest in high-definition content.
When we connected it to an 8K TV, the difference was visible. The images were crisper, and the colors more vibrant compared to our experiences with some 4K cables.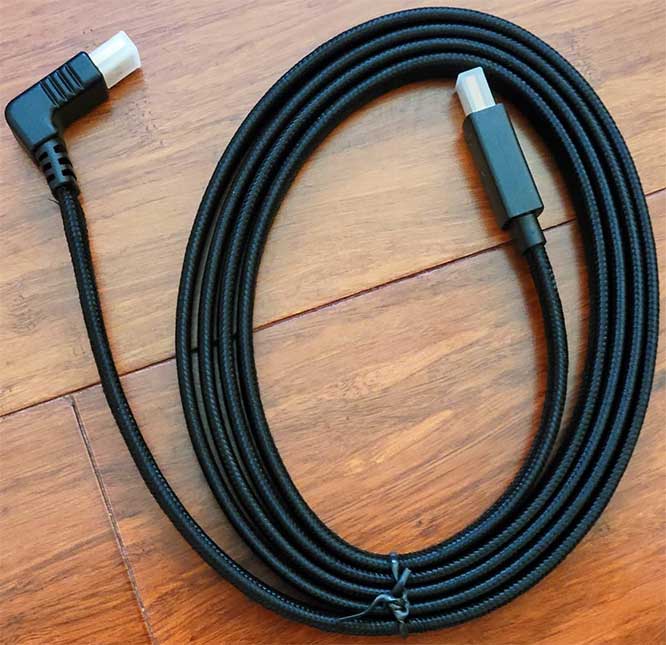 This cable's 48 Gbps bandwidth range is more than double what we've seen in HDMI 2 and HDMI 2.0b cables, providing a noticeable boost in picture quality.
The gold-plated connectors, a common feature in high-quality HDMI cables, resist corrosion and ensure a reliable connection.
In addition, the cable supports a wide range of audio and video features like HDCP 2.2, a 21:9 cinema aspect ratio, and 32 audio channels with a 1536 KHz sampling rate. This makes it suitable for a variety of multimedia applications.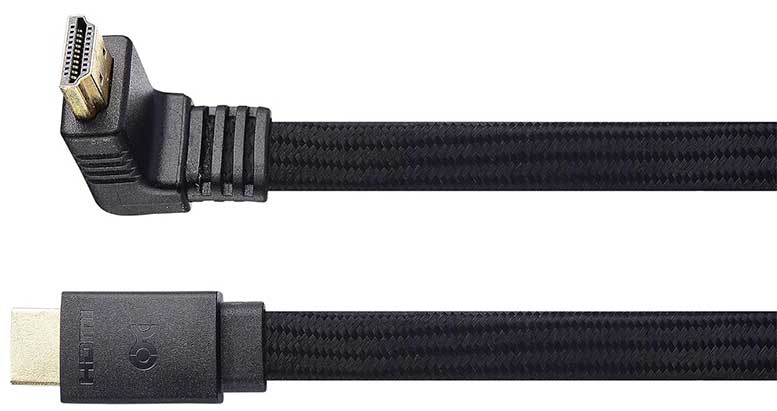 In summary, the Cable Matters 90-Degree Flat HDMI Cable is a solid choice for anyone needing a high-performance cable that can fit into the tightest of spaces. Its unique 90-degree connector, combined with its impressive audio and video support, makes it a great option.
While it may not have the extreme durability of some thicker cables, its balance of flexibility, performance, and sleek design make it a valuable addition to any home entertainment system.
4. StarTech.com Flat HDMI Cable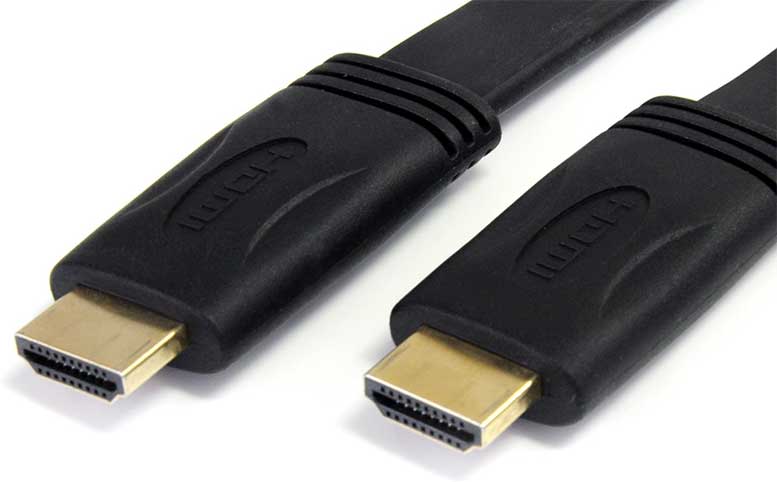 Key Takeaways:
Supports 1080p+ resolutions and 120Hz refresh rate.
Also supports 4k x 2k for ample future-proofing.
Gold-plated connectors.
Available in 6, 10, 15, 25-foot lengths.
Ultra-flexible PVC jacket ensures durability and shielding.
Lifetime warranty from reputable company StarTech.com.
0.19 inches thick.
The StarTech.com Flat HDMI Cable is a reliable and robust choice for various setups. With a thickness of 0.19 inches, this cable is perfect for those looking for a slim profile. However, it's slightly thicker than the other options in this article, but still slim enough to fit under carpets or along baseboards without being noticeable.
In our tests, we explored the cable's flexibility in lengths of 6, 10, 15, and 25 feet. This range allowed us to experiment with different setups, from connecting a laptop close to a TV to stretching across larger rooms for projectors. The flat-shaft design proved particularly useful in keeping the spaces neat and tidy, especially for in-wall installations.
It supports 1080p+ resolutions at up to 120Hz refresh rate, providing life-like color and smooth motion. Furthermore, its ability to support resolutions up to 4k x 2k means it's ready for the next generation of high-definition devices, offering a level of future-proofing.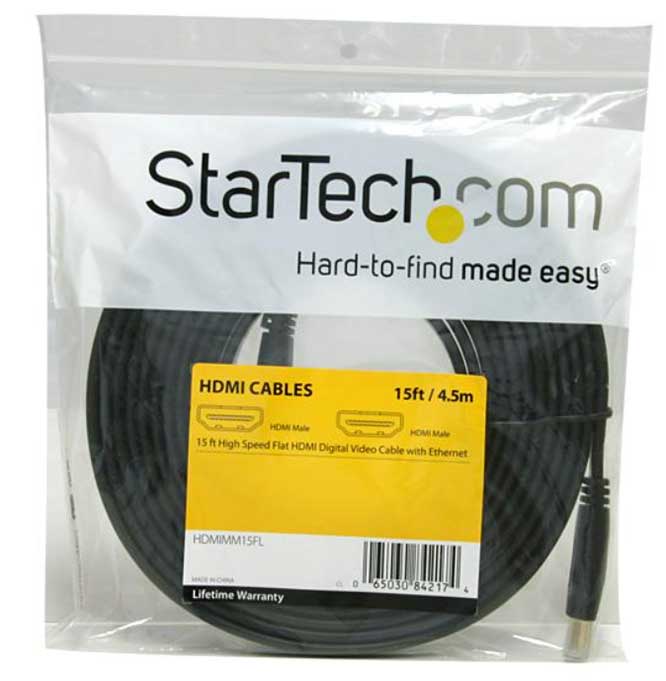 The durability of the StarTech.com Flat HDMI cable was evident in our testing. Its ultra-flexible PVC jacket offers double shielding against external interference, ensuring both robustness and consistent performance.
This was confirmed by customer feedback, with one user sharing how the cable withstood being rolled and unrolled frequently, and even the accidental closing of balcony doors on it, without any damage.
The fact that this cable is backed by a lifetime warranty from StarTech.com, a well-known and reputable company, adds an extra layer of trust and reliability. It meets or exceeds RoHS standards, ensuring that it's safe and environmentally friendly.
The StarTech.com Flat HDMI Cable clearly stands up to rigorous use, making it a dependable choice for a variety of settings. Its combination of durability, performance, and versatile design, coupled with the security of a lifetime warranty, makes it a great option.
FAQs About Flat HDMI Cables
What is a flat HDMI cable?
A flat HDMI cable is a type of HDMI cable with a flat, thin profile, as opposed to the traditional round design. It's designed to be less obtrusive and easier to manage, especially in tight spaces or when running along walls, under carpets, or behind furniture.
Are flat HDMI cables better than round ones?
They are not necessarily better in performance than round ones, but they offer practical advantages in certain setups. Their slim profile makes them easier to install in tight spaces and less visible, which is great for wall-mounted TVs or concealed wiring. Performance-wise, they offer the same capabilities as round cables.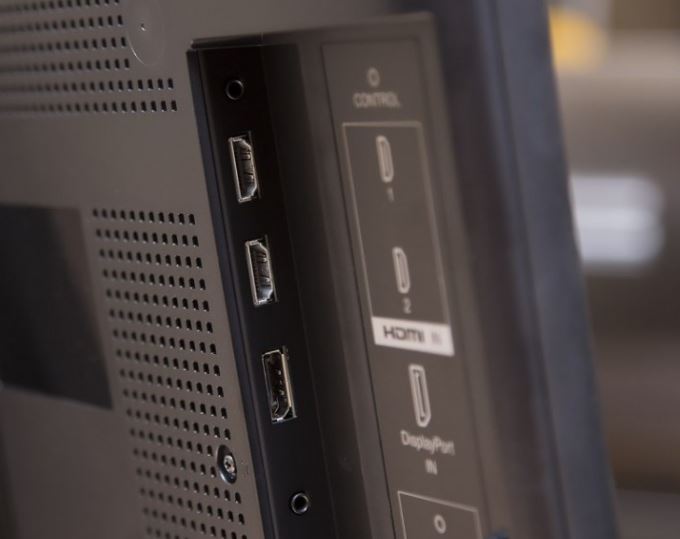 Do they support 4K and HDR?
Yes, all of the options in this article support 4K resolution and HDR (High Dynamic Range). The compatibility with these features depends on the cable's specifications, such as bandwidth capacity. It's important to check the cable's supported standards to ensure it meets your device's requirements.
Can flat HDMI cables bend easily?
Flat HDMI cables are generally more flexible than round cables, making them easier to bend around corners and in tight spaces. However, excessive bending or sharp angles can damage the cable, so it's still important to handle them with care.
Can I paint my flat HDMI cable?
It is not recommended to paint HDMI cables, including flat ones. Paint can damage the cable's surface and potentially affect its performance. If color matching is necessary, it's best to look for a cable in the desired color or use cable covers that match your décor.
Meet Derek, "TechGuru," a 34-year-old technology enthusiast with a deep passion for tech innovations. With extensive experience, he specializes in gaming hardware and software, and has expertise in gadgets, custom PCs, and audio.
Besides writing about tech and reviewing new products, Derek enjoys traveling, hiking, and photography. Committed to keeping up with the latest industry trends, he aims to guide readers in making informed tech decisions.