If you're a gamer, you know how important your setup is. Getting a high-end console or computer makes playing the newest games a great experience. Pair that with some awesome peripherals, and you almost have perfection. You may be wondering, what elevates it to the next level? In our opinion, it's a quality set of gaming room lights. When looking for some that work best for your gaming room, there are multiple factors to consider.
Lighting Capabilities
A good gaming room light set has one main function to perform, and that's lighting up. Beyond that, there are many different styles available. Some have millions of color options with RGB lighting, while some only do one color. Other choices, like dynamic scenes that change colors based on presets and the environment they're in, are also available.
Design
Gaming room lights also come in a wide variety of shapes and sizes. Some are large panels that hang on the wall. Others are small lightbars that sit on stands and project light toward your walls or the room around them. Some even resemble neon signs and have one static shape they stay in. Knowing what style you want your setup to take on will be important in deciding.
App Control
For the more complex options, a great partner app is important. These allow you to easily customize colors, scenes, and more. The less complex lights don't necessarily need these apps, so don't automatically hold it against a gaming room light if they don't have one.
Best Overall: Govee Glide LED Wall Lights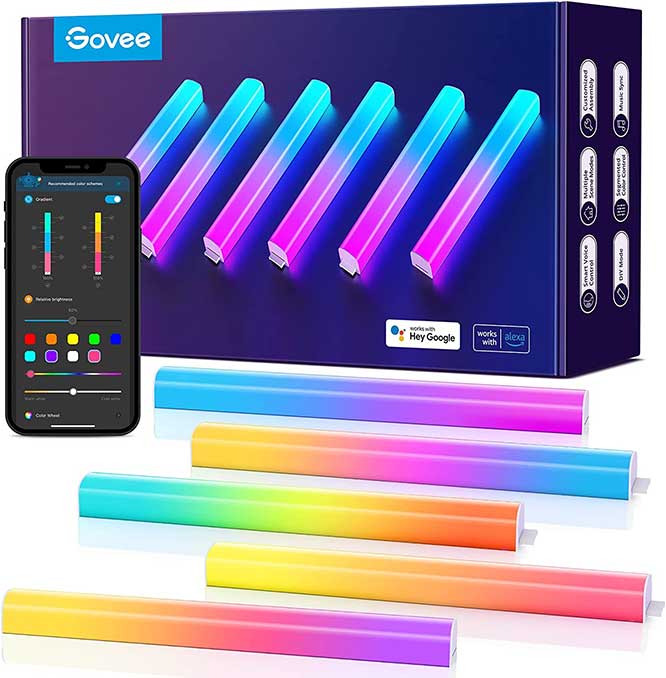 Key Features:
16 million color options
Connectable light bars
Govee app for customization
Govee makes some of the best lighting options on the market, and the Glide LED Wall Lights are no exception. These lights are capable of displaying 24 different colors at one time. They can also pick from 16 million different colors to use. Additionally, there are over 64 pre-set scenes to choose from that change colors, brightness, animations, and more.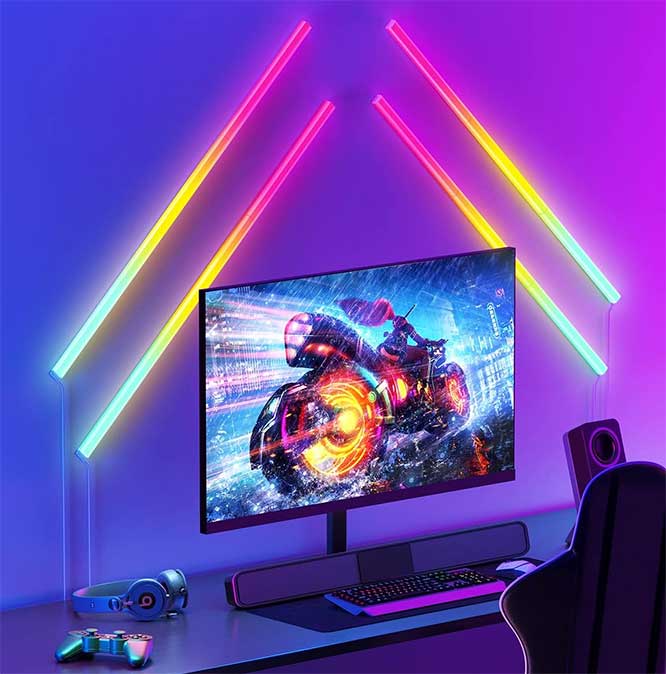 The Glide LED wall lights are all individual rectangles. They can either be individually powered or chained together. This allows you to make different shapes with the lights. They operate best when hung on the wall, with the lighting pointed into the room.
One cool feature is the 11 music modes. In addition to great lighting, these lights also listen to music around them. Once they pick up the sound, they will pulse and change colors based on which of the 11 presets you set them to. This can be great for further immersion while gaming, especially with surround sound speakers.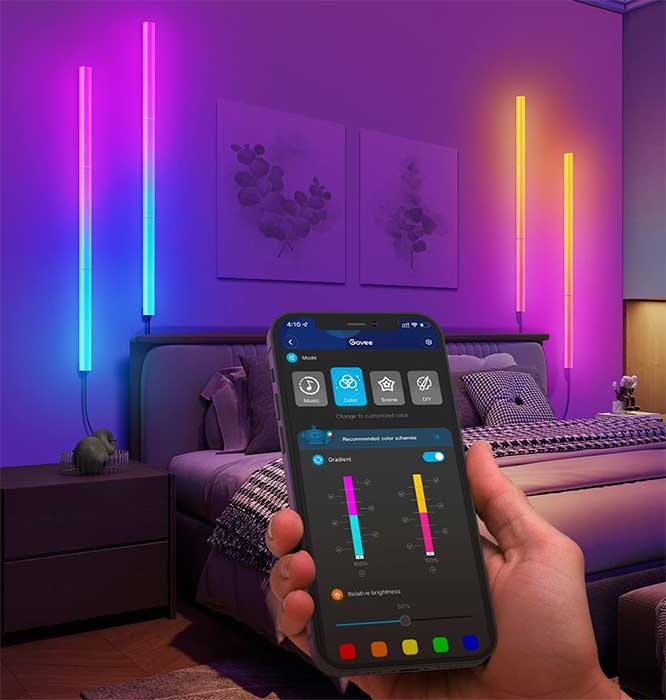 Another great feature is the Govee app. This app makes it simple to turn on your lights and customize them to your liking. You can even pair this lighting system with Google or Alexa to control everything via voice commands.
Pros:
Great color capabilities
Easy to connect multiple lightbars together
The Govee app is really powerful for customization
Cons:
Some users struggle to pair with Google
Best On-Desk Gaming Lights: Govee RGBIC Gaming Light Bars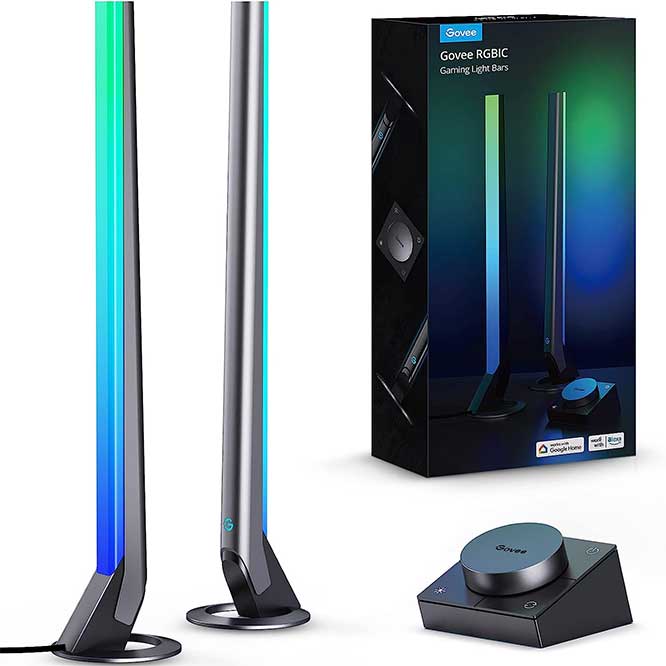 Key Features:
16 million colors
Two standup lights
Multiple ways to control
The Govee RGBIC Gaming Light Bars are great for having right on your gaming desk. Similar to other products from Govee, these light bars are each capable of producing 16 million different colors. There are over 60 pre-set scenes to choose from, and they are also capable of various music modes.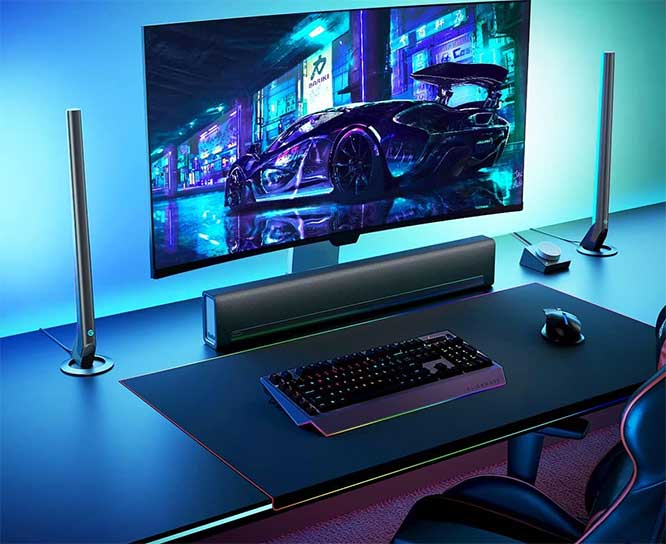 The RGBIC differs from the Govee Glide when it comes to setup. Rather than being mounted on a wall, these lights are designed to sit on your desk. Once on your desk, it's best to turn them around and face the light toward the wall. This gives the area surrounding your setup a fully lit look, helping you to further immerse yourself in your gaming sessions. One thing to note is that these light bars do not include screen color matching.
One cool addition to the RGBIC is the included desktop dial controller. This controller lets you control various features. These included brightness, power, modes, and colors. If you prefer to control everything via the Govee app, you can do that as well, but the desktop dial is a really useful option.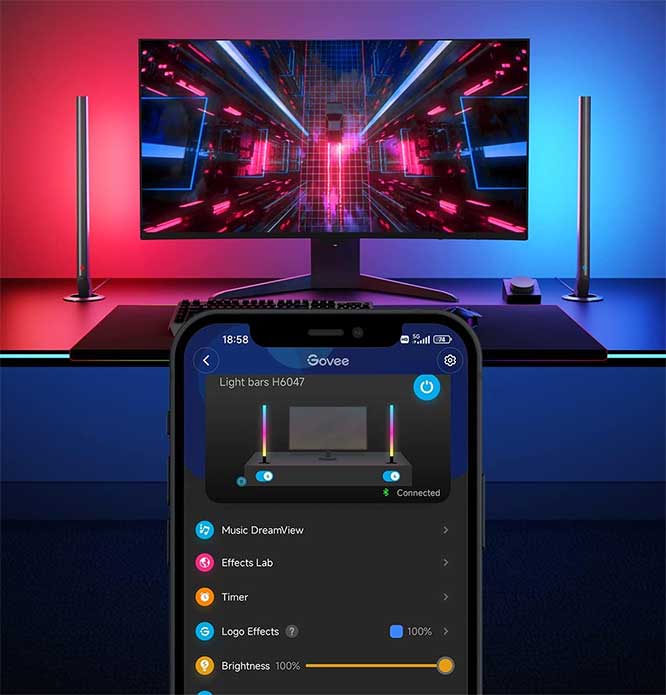 Another cool feature of these light bars is their compatibility with Razer Chroma. Razer is one of the most popular brands on the market for gaming peripherals. Pairing these lightbars with your Razer products helps to create an even better gaming environment at your setup.
Pros:
Desktop dial controller
Great for sitting on your desk
60 pre-set scenes
Cons:
Won't color-match your gaming screen
Best Floor Gaming Lights: GonHui RGB+IC Corner Floor Lamp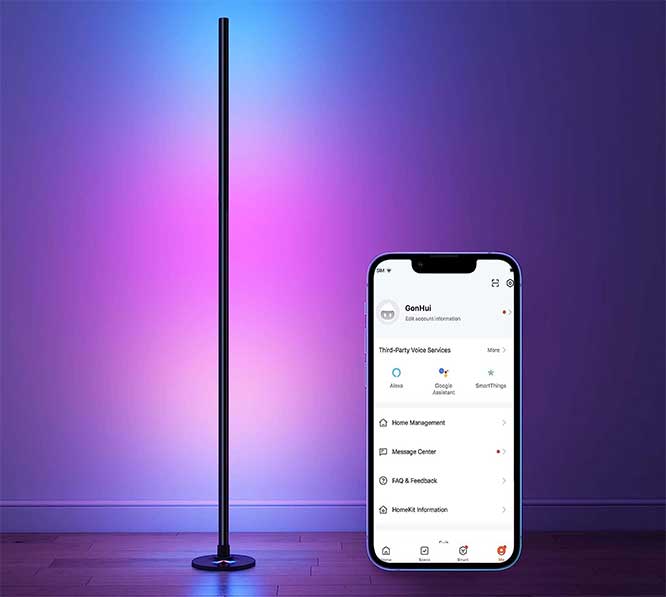 Key Features:
16 million colors
One long floor lamp
Two device color options
The GonHui RGB+IC Corner Floor Lamp is designed to be used on the floor of your gaming room. Similar to the options from Govee, it can produce up to 16 million different colors. There are some premade options, and everything can be fully customized via the Tuya Series app.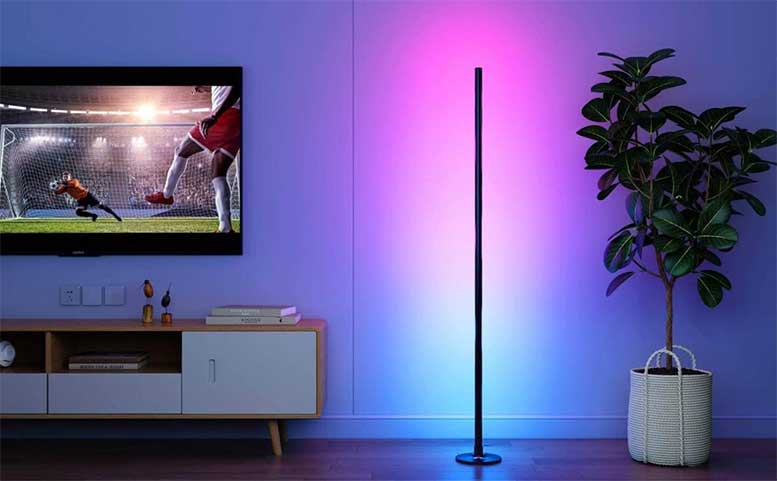 Different than a gaming room light that mounts to the wall or sits on a desk, the GonHui is designed to sit on the floor in the corner of your room. It has a total length of 61.5 inches of LEDs. These lights project various colors onto the wall and light up an entire section of your room. Putting this floor lamp together is easy; all you need to do is screw a few pieces together.
GonHui gives you multiple ways to control the various lighting options of this floor lamp. For the most customization, the Tuya Series app is the way to go. There is also a remote included in the box that can change colors, scenes, and brightness levels. However, it won't give you as many options as the app. For simple changes, you can also pair the lamp with Alexa and Google for voice commands.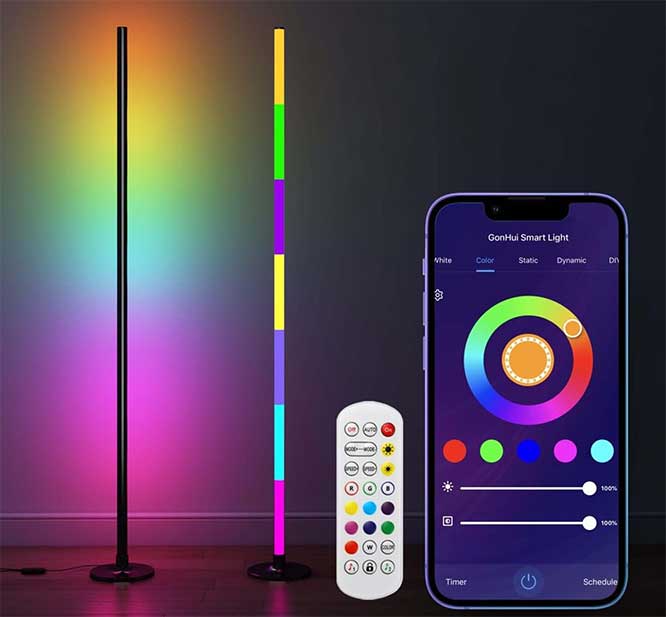 When the lamp is off, it's not as easy to hide as other options on the list. That's why GonHui gives you two options for the actual color of the lamp itself. You can choose either black or silver. This helps ensure you can make it blend into the room design as a whole.
Pros:
Available in black or silver
Three ways to control it
Great for lighting up a section of the room
Cons:
App only connects to the light over 2.4 GHz Wi-Fi
Best Hexagon Gaming Light: Govee Glide Hexa Light Panels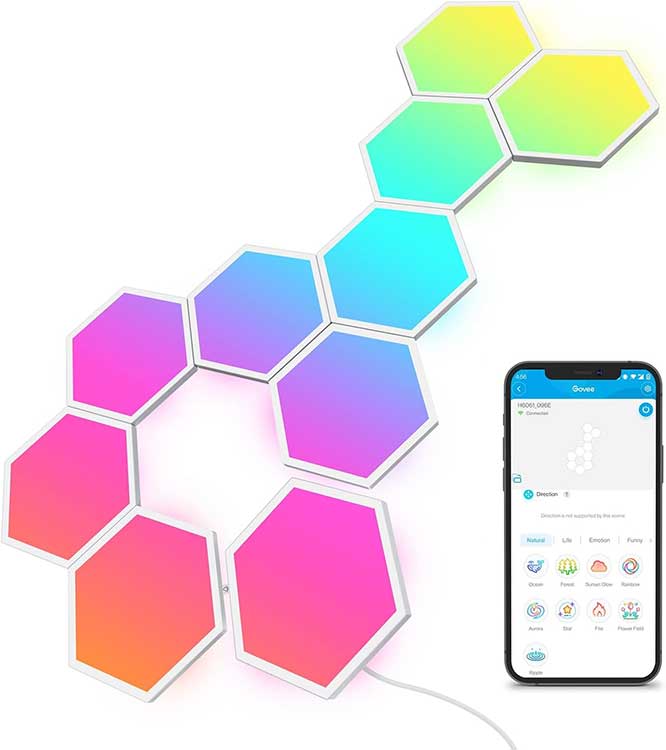 Key Features:
RGBIC colors
Hexagon design
6 music modes
The Govee Glide Hexa Light Panels are powered by RGBIC technology. This allows them to display different lighting colors across each panel. Different scenes with lights flowing or gradients appear ultra-smooth due to this technology. Additionally, there are 6 kinds of music sync modes to choose from. These modes will make the panels work together to give a great audio-visual experience.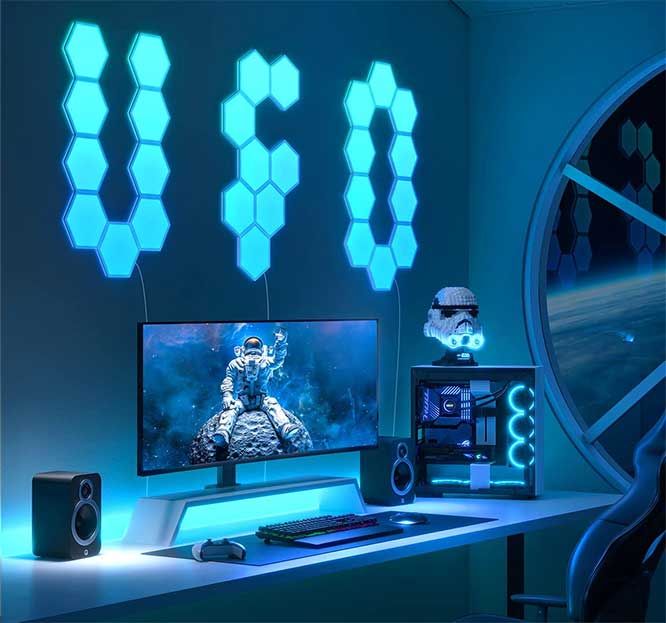 Each panel is a hexagon shape. They easily connect together to be put into any shape you want them in on your wall. There are sets of these panels available in either 7 or 10 in a box. Once connected, simply hang them on your wall wherever you want them and connect them to power to have a great-looking lighting feature.
The Glide HEXA panels are capable of a lot of the same lighting features as the other options from Govee due to the Govee App. Changing the lighting scenes, turning on music mode, and even creating custom lighting scenes are all possible with the app. Simply power them on and connect to Wi-Fi, and you can easily customize them to your preferences.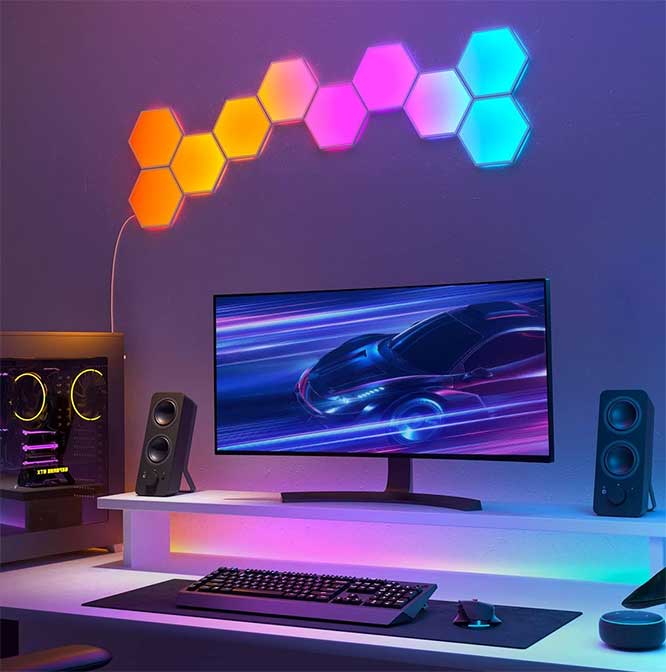 These lights are on the more expensive end when it comes to gaming room lighting. However, they provide a lot more lighting than a lightbar would. The surface area of each individual panel is 7.1 x 6.2 inches. When you multiply that by 7 or 10 panels in a pack, you're going to get a crazy amount of lighting perfect for any gamer out there.
Pros:
The Hexagon shape enables tons of customization
RGBIC technology
Powerful color options with Govee app
Cons:
Best Simple Gaming Light: Kavaas Gaming Neon Sign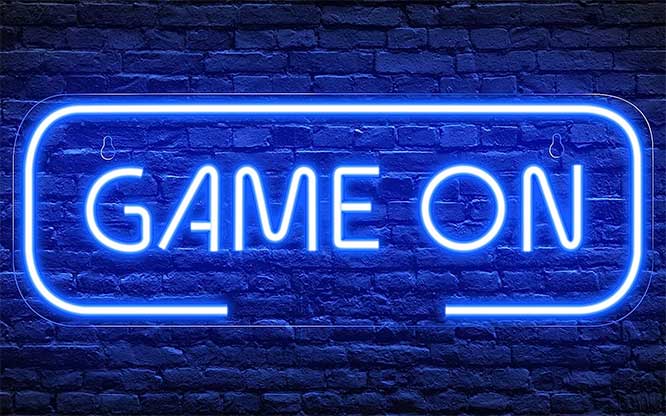 Key Features:
One color
Displays a phrase
Designed to look like a neon sign
Want something that doesn't just project RGB on the walls? In that case, the Kavaas is one of the more unique options. Where other options on the list are available with over 16 million color choices, this sign is available only in blue. It's also built with lighting in the shape of a phrase saying "GAME ON". This makes it perfect for any custom gaming room setup.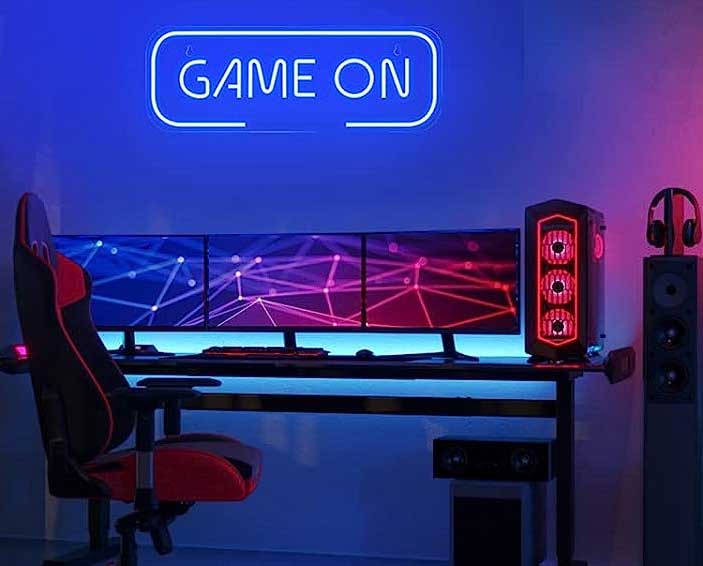 This gaming room light is designed to be hung on the wall. The lighting itself is attached to a clear background material. This background has pre-drilled holes in it to make hanging it on the wall easy. You can choose to hang it on nails, screws, or even sticky hooks. However, none are included, so you'll need to get those separately.
One great feature of this sign is the power options. The included power cord is nearly 6 feet long. It also has a built-in power switch, so you don't have to unplug the sign every time you want to turn it off. The other end of the cord is a simple USB-A plug. This can go into a power block, your computer, or even your gaming console to provide power.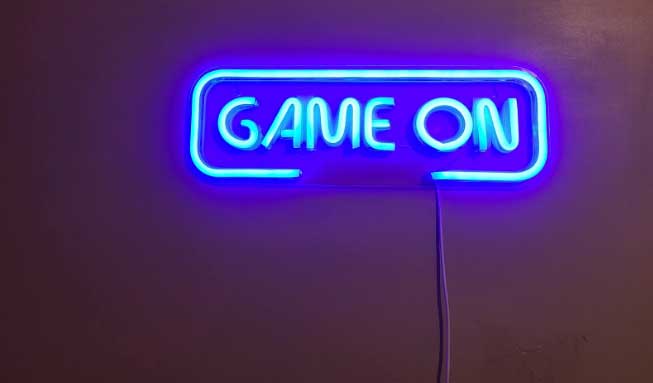 The Kavaas is definitely one of the more simple options on the market. If you're looking for something that elevates your setup without being a full RGB display, you may like this. The extra unique feature of having words displayed is a bonus and works great for game rooms, man caves, and even bedrooms.
Pros:
Simple design
Power switch included on the power cord
Cons:
Only one color is available
Best Customizable Gaming Light: Divoom LED Light Display Panel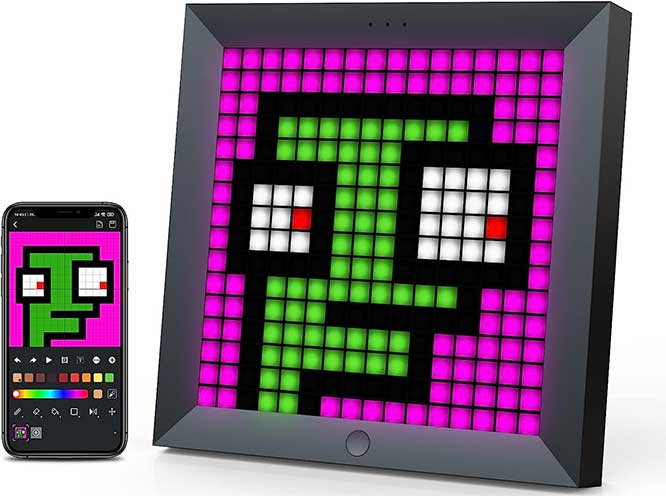 Key Features:
16 million customizable colors
Square body
Customizable pixels
The Divoom is by far the most customizable gaming room light on this list. Similar to other options, it can produce 16 million colors. Where it differs is the customization available on the screen. It's made up of a pixel array in a 16 x 16 size. Each pixel can be customized to create different images on the screen.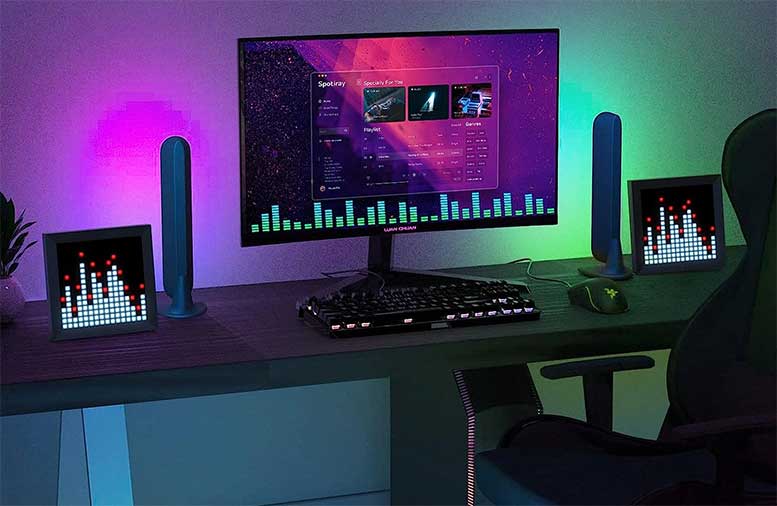 This light can be used in a couple of different ways. The first is to just sit on your desk facing you. The second is to hang on the wall like a picture. Both options allow you to display your creativity and artwork easily. There is even a music sync option to create some really great-looking effects.
One of the best features of the Divoom is the partner app for it. This app is where all the magic happens. You can create various designs, select music modes, and more. Best of all, there is a built-in community where people can share your designs. This allows you to find awesome art from talented people across the world and display it in your gaming room.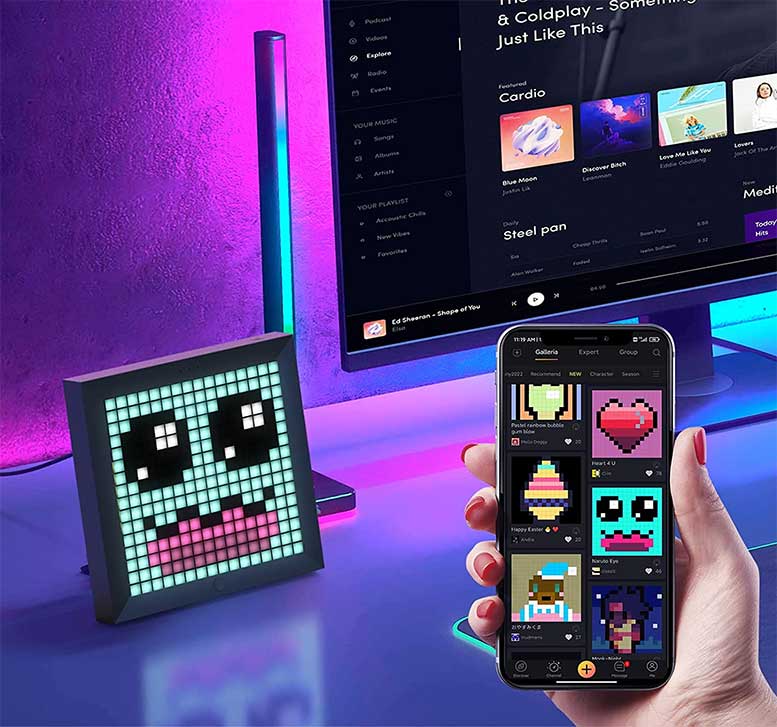 Overall this is a great option for ultimate customizability. If you want a simple light, you can do that. If you want to create a masterpiece from your favorite game and hang it on your wall, you can do that too. The possibilities of what lighting can look like are only limited by your imagination with the Divoom LED gaming light.
Pros:
16 x 16 panel of customization
Community design sharing
Great for the desk or the wall
Cons:
Some users report battery life issues