Ever since "Night Driver" was released in 1978 by Atari, racing games have been getting more realistic every year. While games slowly improved the graphics and physics used in game engines, the market was truly disrupted when Gran Turismo came out in 1997. The game was critically acclaimed for its lifelike graphics and incredibly realistic physics simulation. Now, two of the biggest names in racing controllers are working to make physical aspect of the game almost as impressive as the games themselves.
Steering wheels now have plenty of great features that improve the realism of your gaming experience. Force feedback provides tactile feedback related to the road conditions. While the paddle shifters are a little more fun to use than a keyboard, they don't come very close to the experience of an actual shifter. Many users report that upgrading to an actual gear shifter is the single most impressive upgrade they made to their racing set up. But what are the two best shifters on the market? Let's take a look.
Thrustmaster VG TH8A Add-On Gearbox Shifter
Already the creator of the most popular steering wheel controllers available today, the Thrustmaster VG TH8A Add-On Gearbox Shifter is guaranteed to take your game to the next level. With a build quality comparable to what you'd find in an actual car, you'll definitely have to give this one a look.
First Impressions
If you're looking for authenticity, this is the one! With virtually the entire shifter made from aluminum, this shifter is built better than the ones used in certain vehicles. Seriously, the moment you take it out of the box you'll feel like you just had a part shipped directly from Porsche. It has a very solid weight to it, weighing in at a little over 5 pounds.
Compatibility
The VG TH8A Add-On Gearbox Shifter will work with any game or system that will communicate with a Thrustmaster steering wheel. There are a couple included adapters that will plug right into your existing controller. Don't own a Thrustmaster wheel? If you're using the shifter on a PC, that's no problem. The included PC cable will let it plug directly into your computer. The included drivers let it communicate directly with your game, allowing you to use any racing wheel you see fit.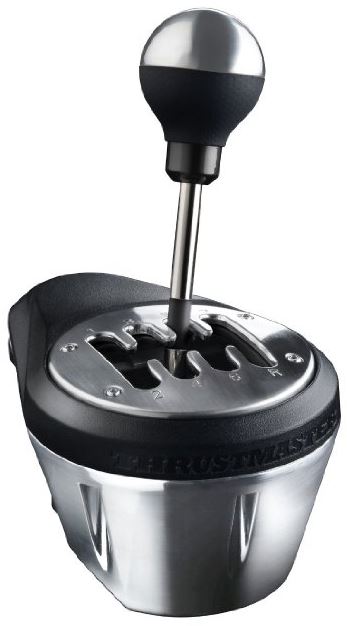 Unfortunately, it doesn't work with every wheel available for console. If you're using a PS3 of PS4, you can use the shifter with the T500RS, Ferrari F1 Wheel Integral T500, T300RS, and T300 Ferrari GTE racing wheels. On Xbox one, your only choice is the TX Racing wheel. If you're a racing buff, you'll probably notice that every wheel on this list is a high end model. Essentially, the only wheels that are not known to be compatible do not include shifters and are designed to be used in automatic mode.
Build Quality
Are you the type that stomps on the clutch, slams the car into gear and peels ahead of the competition? The Thrustmaster VG TH8A is designed for you. First, every mechanical part of this shifter is made of metal. It's designed to take abuse. But the number one problem with these types of controllers is the switches. Continually mashing any button repeatedly is sure to eventually wear it out. So the TH8A doesn't use switches, instead it uses magnetic reed switches. When your shifter is in place, it's sensed magnetically so there are no actual mechanical parts that are being damaged. This means you can shift as aggressively and as regularly as you like, and it will never get damaged.
What about the mounting mechanism? Surely it'ss bound to fall over or get knocked off the table? The TH8A has a mount similar to a vice grip. Place the metal face over your table, and turn the screw until it's tight. The controller is mounted solidly to your desk, and ready for game time.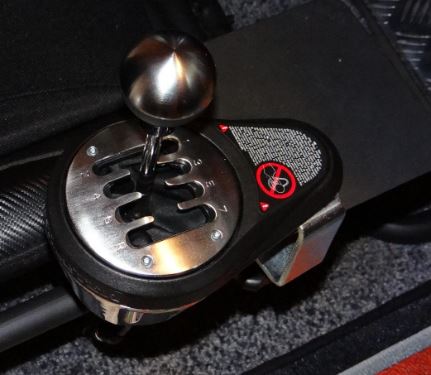 Control
There are two included shift plates depending on your play style. Pictured, you see the H style shift plate. This gives you seven independent speeds you can choose between. For a more relaxed gaming experience, you can use the sequential shift plate. This is a little more akin to what you'd find at the arcade. There are only two shifting modes with this plate, up and down.
If you've never used a racing pedal with a clutch before, start off with the sequential shift plate. This will help you get familiar with the system, and prepare you for a more complicated control scheme. The H plate, on the other hand, provides the most realistic driving experience. However, it does take a little bit of getting used to. If you're used to driving a five speed car, the seven speed gears are a little closer together. When you first start driving, some users report that it takes them a bit of time before they can reliably hit the correct gear each time.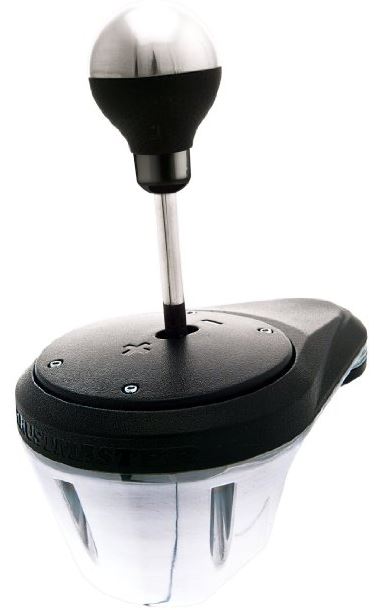 Realism
The VG TH8A Add-On Gearbox Shifter is absolutely a game changer in terms of creating a realistic driving experience. Shifting gears is buttery smooth, as it moves with very little force. If you were to compare this directly to driving a real automobile, the only thing you will notice is a reduced force required to move from gear to gear. For experienced drivers, this can take a little adjustment as you tend to rely on this pressure to know when to drop the clutch. Fortunately, most games are a little more forgiving with clutch timing.
Despite these minor differences, the TH8A is what brings your experience out of "simulation" and into "replication." Every time you drop the clutch you'll get a little rush and just a hint of "woah, that's awesome." The biggest thing to support this sense of realism is the quality of the shifter. It looks and feels just like a real one. If this is somehow not enough for you, the stem is actually fully compatible with any shifter knob available at your local auto parts store, so you can customize it just the way you like.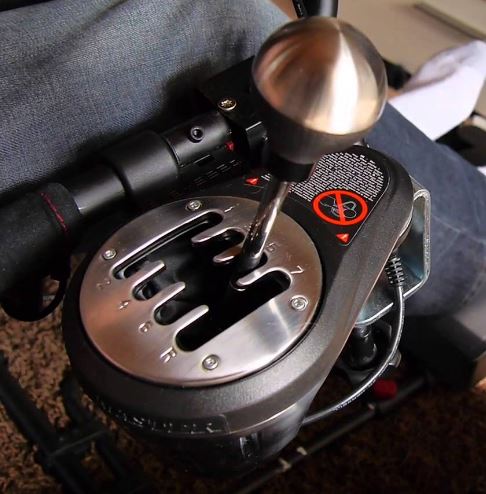 Adjustability
There are two main things you can do to this shifter if you want to customize your play style. The shifter plate can be rotated up to 360 degrees. Depending on how you like to sit and use the controller, you can rotate the plate in order to get a comfortable shifting position.
The next modification requires a little technical know-how, but everything is described perfectly in the manual. Removing the plate, there is a small mechanism that lets you adjust the throw distance. This refers to the space from one gear to another. If you want lightening quick response times, reducing the throw distance can speed up your game by just that little bit you need to get an edge on your opponents.
Logitech G Driving Force Shifter
So, you want to improve the realism of your racing experience without spending a fortune on literal car parts that are going to be littered around your desk? Maybe you already dropped some cash on one of Logitech's respectable G series racing wheels and you don't feel like replacing your entire setup? Check out the Logitech G Driving Force Shifter.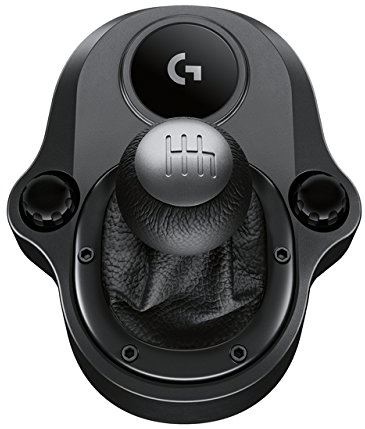 First Impressions
The G series driving shifter is pretty lightweight and comes with a solid base. If you already own the G series racing wheel, the build quality is identical. Solid and sturdy. It's got super short throw distances making it quick and easy to use, and the gear layout is intelligent and easy to get comfortable with.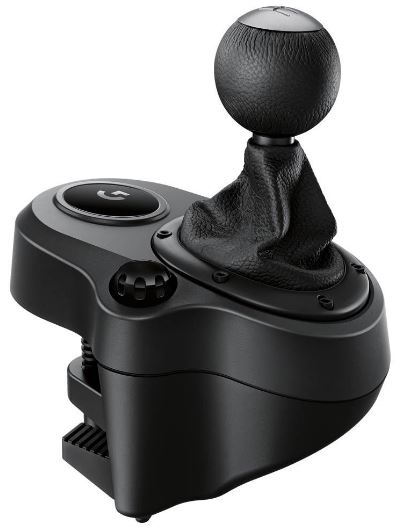 Compatibility
The G series shifter works on PS4, Xbox One and PC in conjunction with your G29 or G290 driving force racing wheel. Although these racing wheels are compatible with the PS3, sadly the shifter is not supported. Fortunately, the G series racing wheels are known for having excellent game compatibility. Any game that supports your wheel will also support the shifter. Now, many users have reported that they are able to get the shifter working outside of the wheels it's officially designed for. The G25 and G27 wheels both have the exact same COM port, and many users have been able to get their shifter up and running without any additional set up procedure required.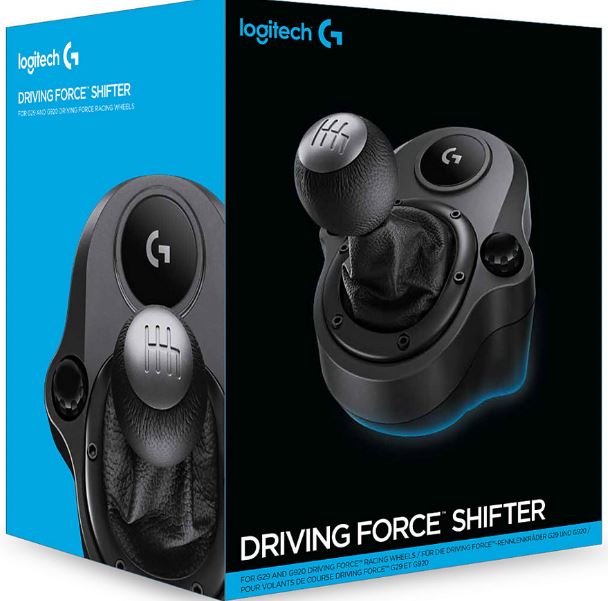 Build Quality
If you've played any racing games in the arcade, then you've got a good idea of what the G series shifter feels like to use. It's solid, shifts consistently, although it is a little toy-like. It weighs in at a little under two pounds. While it's not the metal monstrosity that is the TH8A, it is still solidly built. The base of the shifter is quite large, so it remains stable even while in use. It does, however, have standardized mounting holes that should allow it to clip into any gaming chair should you wish to guarantee that it's not going to move around.
Although most of the G Driving Force Shifter is plastic, the key components are reinforced. The gear stalk as well as the actuating mechanism are both made of metal, and the entire thing is covered with leather similar to what you'd find in a high end car.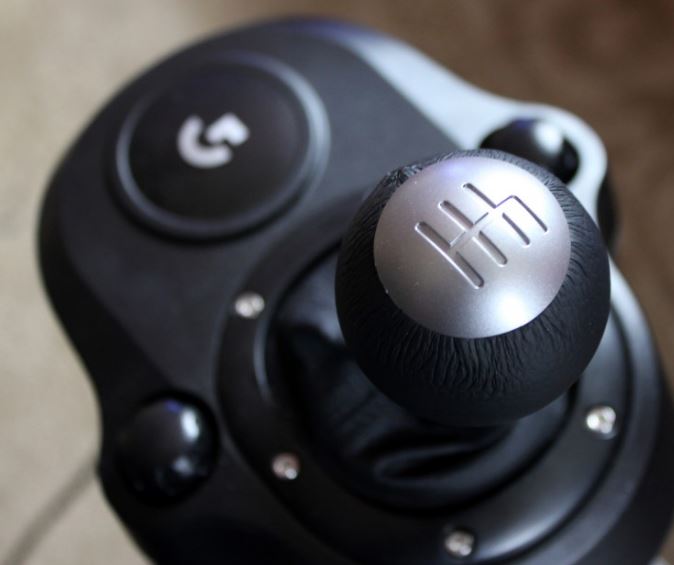 Control
This shifter was designed with a very short throw, which makes it quite a bit easier to be gentle with it. It's easy to guide it into each gear, with a noticeable clunk at the end. The shorter throw makes it very easy to pick up the nuances of it in just a couple of minutes, allowing you to direct your focus on your game.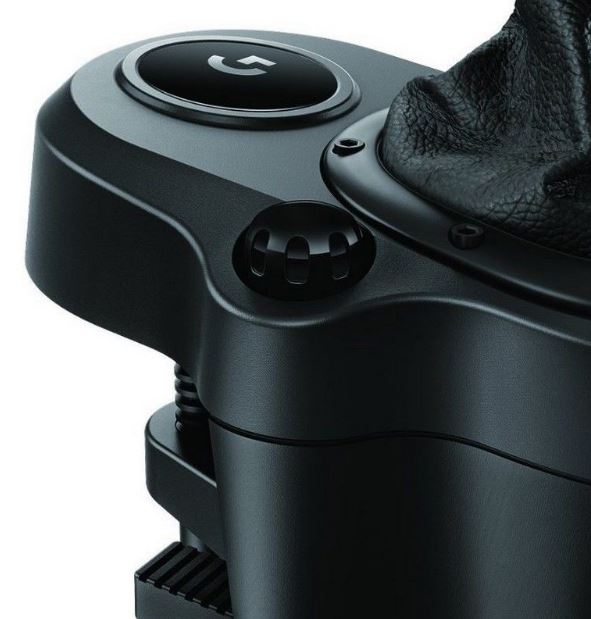 Realism
Most people purchase H pattern shifters because they want a more authentic gaming experience. And the G series shifter is the easiest way to get in on that. The shifts feel solid, with a noticeable tactile response once you get the gear into the right place. It feels tight, responsive and is easy to use, giving you the same kind of feel as the G series wheels.
It's important to note that this shifter does feel like a controller. It definitely adds an aspect of realism to the entire platform, but it's not designed to simulate the actual experience of shifting a real car.
Which Shifter Should I Choose?
No matter which route you decide to go, adding a shifter to your racing set up is guaranteed to take your experience up a few notches. Which one you choose will depend primarily on how realistic you want your experience to be and how serious of a gamer you are.
If you want to replicate the driving experience as much as possible, the Thrustmaster VG TH8A is the clear choice. The build quality is incredible, but most importantly using it feels like a real shifter. Many gamers spend a lot of time getting the perfect wheel, the perfect chair and the perfect pedals. If this sounds like you, then the Thrustmaster shifter is the one piece that will bring your entire setup together.
If you're more of a casual gamer, then the Logitech G Driving Force Shifter offers value that can't be beat. Sure, it's not a 100% accurate representation of shifting a real F1 car. But it's simply fun to use. The controls are well laid out, well made, and easy to learn.