Whether you're a gamer with multiple rigs or a professional working on several systems, a high-quality KVM (Keyboard, Video, and Mouse) switch can be a game-changer. These devices allow you to control multiple computers using a single keyboard, mouse, and monitor, effectively streamlining your setup and boosting your productivity. With a vast selection of KVM switches on the market, it can be challenging to select the right one that meets your gaming needs.
Thankfully, we've sifted through the options and compiled a list of the best KVM switches for gaming. Here are our top picks, along with a quick rundown of some of their highlights:
These KVM switches not only provide impressive performance but also come equipped with a host of features, making gaming a seamless and enjoyable experience. Now, let's take a closer look and explore what each of these KVM switches brings to the table.
Best Overall: AV Access 8K KVM Switch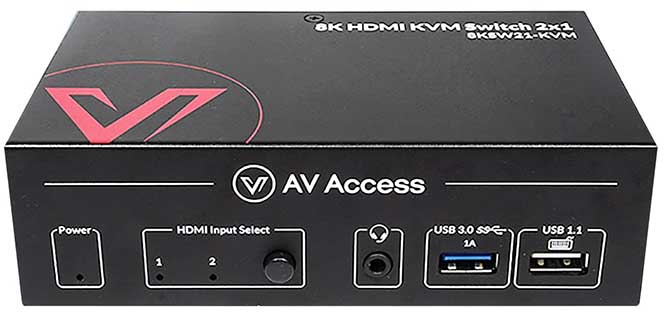 Key features:
Video resolution support up to 10K@120hz 4:2:0
Ultra-high refresh rate
Built-in USB 3.0 hub
Easy and flexible switching
The AV Access 8K KVM Switch is one power-packed device that significantly simplifies your multi-computer setup. This plug-and-play unit offers a high-end experience with its state-of-the-art features and compatibility. We appreciate that the design and materials are robust. They ensure lasting durability that's meant to hold up even in intense environments. But what really sets this one apart is its support for video resolution up to 10K@120hz 4:2:0.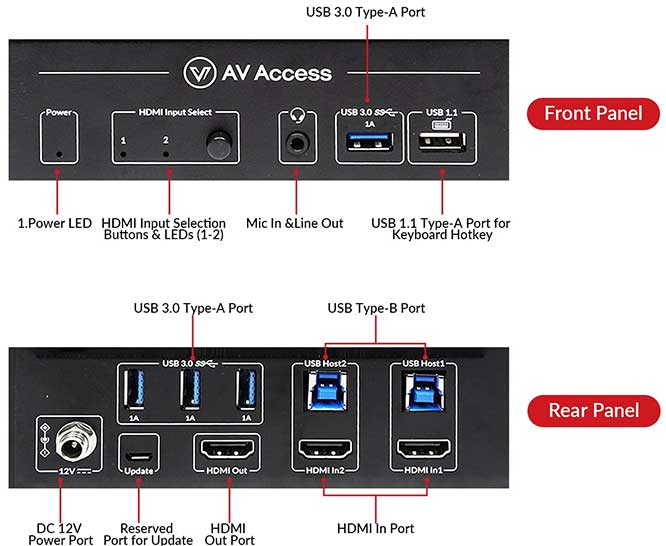 That means you're getting an immersive viewing experience that's second to none. What's more, its impressive ultra-high refresh rates – 10K@120hz to 1080P@240hz – make gaming truly captivating, lending an edge to your overall gaming experience. One key feature that we found useful during testing was the built-in USB 3.0 hub. Two computers can share up to four USB 3.0 peripherals, including 4K webcams, keyboards, mice, game controllers, and the like.
This feature significantly ups the convenience quotient, removing the hassle of constant unplugging and plugging of devices. Switching between devices is also a breeze. It supports switching via a front button or keyboard hotkey. And the automatic PC wake-up function ensures faster switching, enhancing user convenience.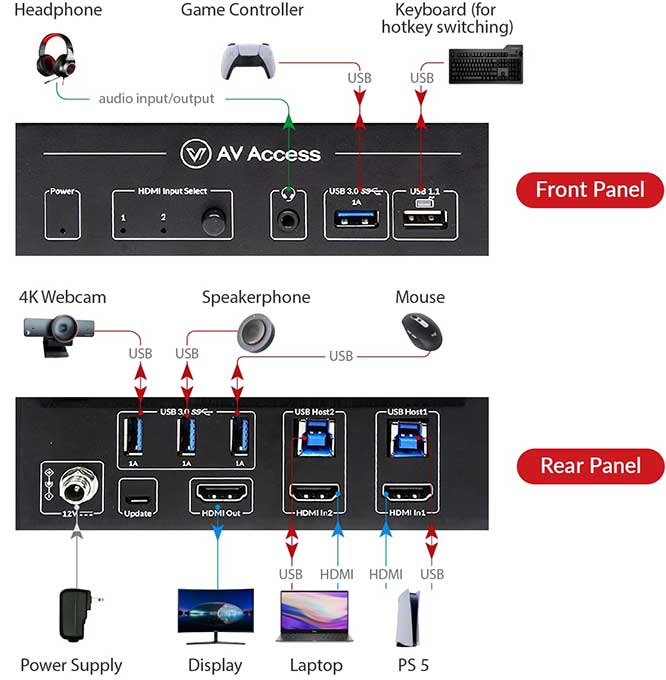 It has universal compatibility – working smoothly with Windows, Mac OS, Linux, and game consoles such as PS4 and PS5, Xbox Series X and Series S, and Nintendo Switch. During our testing, the setup process was effortless, thanks to its plug-and-play feature. Lastly, the dimensions are 13.74 x 8.23 x 3.11 inches, and it weighs 3.7 pounds. Consider these as you search for the most suitable solution for your setup.
What we liked:
Supports full range of HDMI 2.1 features
Effortless switching between PCs
Solid build quality
Broad device compatibility
What we didn't like:
Possible dip in refresh rate with multiple devices
Initial setup might need some tech knowledge
Best Runner-Up: TESmart KVM Switch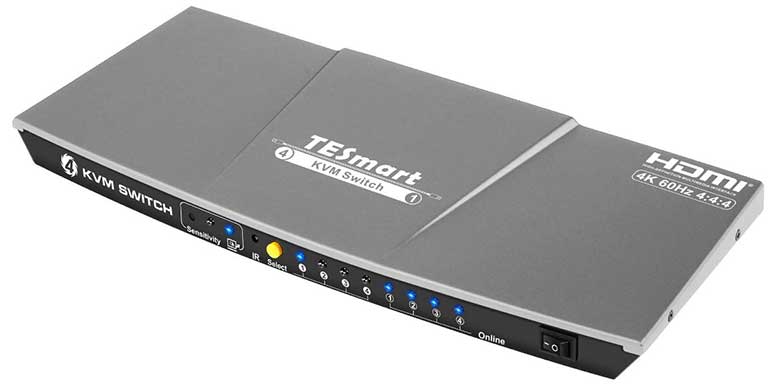 Key features:
Four port KVM switch HDMI
Remote control operation
High resolution: 3840 x 2160 @ 60 HZ 4:4:4
Intelligent EDID emulators
The TESmart KVM Switch is a handy addition to any gaming setup, boasting ease in controlling up to four different computers or servers with just one set of controls. No need to worry about operating systems compatibility, either. It effortlessly connects with devices running Windows, MacOS, Linux, Unix, and more – all while using a single USB keyboard or mouse. Impressively compact at 11.81 x 4.33 x 1.18 inches and with a feather-light weight of just 1.2 pounds, it fits comfortably on any desk. Even better, it's crafted from sturdy metal and sports a full aluminum alloy housing. As a result, it has excellent heat absorption and dissipation. These are both vital features for long gaming sessions.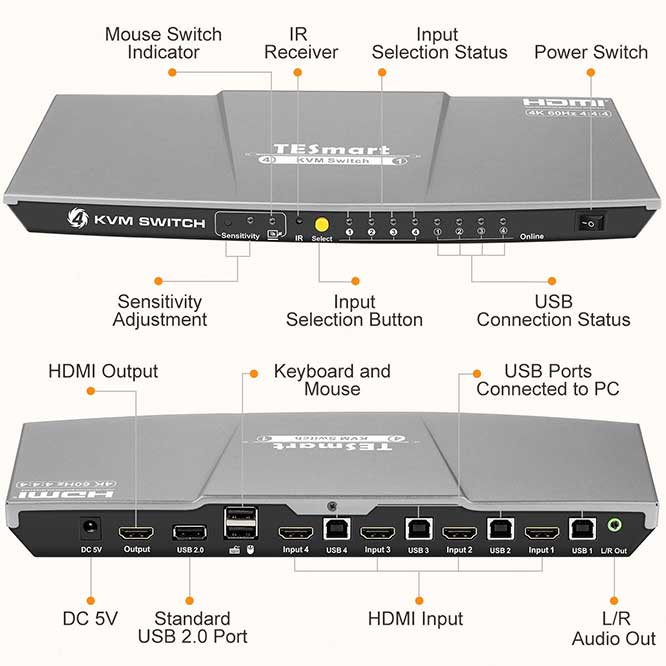 Construction is excellent, but what about performance? "Picture perfect" is an understatement with its 3840 x 2160 @ 60 HZ 4:4:4 resolution. This KVM switch is capable of ensuring uninterrupted surveillance across multiple devices, thanks to the intelligent EDID emulators located in each HDMI input port. This feature keeps display information accurate and allows hot swapping without any interruption. Incidentally, its remote control operation is a testament to its user-friendly design.
You can easily control the switch display selection, affording you a seamless gaming experience. Additionally, this switch offers flexibility through a manual push button on the device's front or via an IR remote control. TESmart's switch doesn't compromise on audio quality. With separate 3.5mm stereo audio output, it ensures an uninterrupted, immersive audio experience, even when switching between computers. This is coupled with USB 2.0 & KVM Ports support, making it compatible with printers, USB drives, and other peripherals.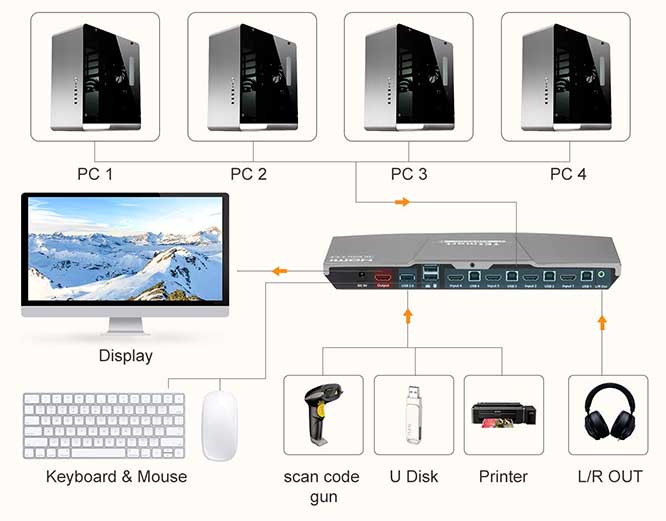 Bottom line; this is a well-rounded switch that is sure to serve gamers well. We did experience an occasional hiccup here and there in regard to its wake function. After prolonged downtime, the switch sometimes doesn't want to wake up. A quick reboot remedies this anomaly, but it's an issue you don't expect to see in a KVM switch of this caliber. Nonetheless, it deserves to be noted. Another potential issue some users may find bothersome is the brightness of the onboard LED lights. At times, they can be a disturbance. So keep these in mind when choosing the right switch for your needs.
What we liked:
Easy installation and usage
Compatibility across multiple operating systems
Superior resolution display
Compact and lightweight
What we didn't like:
Occasional wake-up issue
Overly bright LED indicators
Best Budget: KAGO DisplayPort KVM Switch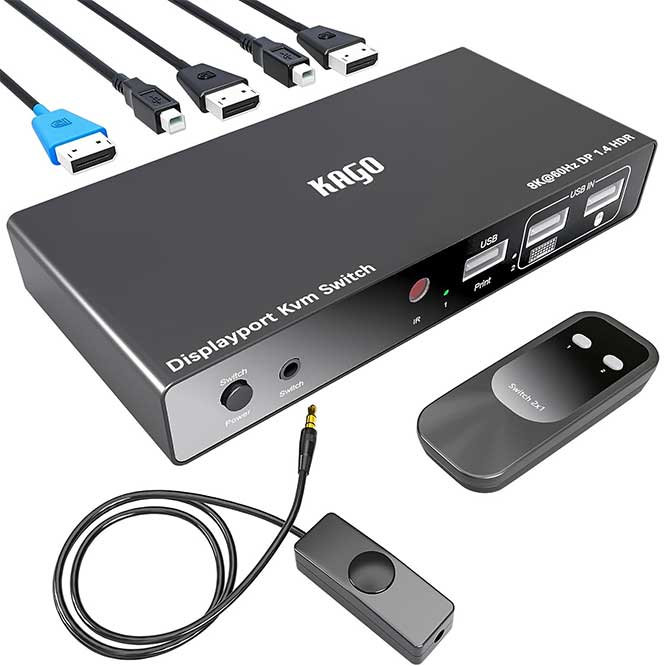 Key features:
Compact size and lightweight
Supports 8K@60Hz resolution
4 switching modes
Plug-and-play setup
The KAGO DisplayPort KVM Switch is an impressive gadget that packs a big punch despite its compact size. With dimensions of 5.31 x 2.56 x 0.87 inches and weighing a mere 15.06 ounces, this metallic device proves that performance is not always proportional to size. Its main attraction lies in the 8K DisplayPort KVM Switch feature, a cutting-edge DP 1.4 standard technology. This unit aids in the sharing of a monitor and three USB 2.0 devices between two PCs, reducing hardware clutter while increasing efficiency.
The device provides an immersive visual experience by supporting a resolution up to 8k@60Hz, that's 7680 x 4320@ 60Hz, while also offering backward compatibility with lower resolutions. And yes, the vivid colors, crisp video, and clear audio don't take a hit during the process. The plug-and-play feature ensures easy installation with the included cables, making the entire setup process a breeze. Operating the unit becomes a cinch with its 4 switching modes – panel button, IR remote, desktop controller, and keyboard hotkey.

The onboard LED indicators are designed to provide indication of the active computer, thus improving multi-tasking efficiency. Incidentally, it has robust compatibility across a range of operating systems like DOS, Windows, Unix, Linux, Vista, Mac OS, and others. Yet, it's not without its downsides. For instance, Raspberry Pi machines don't always facilitate error-free compatibility. As such, you may want to consider another brand and model if you're a Raspberry Pi user.
Furthermore, the indicator lights on the device can be hard to see, which might pose a slight inconvenience to some users. This didn't bother us, but we can see it becoming an issue for others. These complaints aside, the KAGO DisplayPort KVM Switch is a promising device. Its powerful features, compact design, and superb compatibility make it a worthy consideration for gamers and professionals alike, despite a few minor hiccups.
What we liked:
Streamlines hardware usage
High quality audio/video
Backward compatible with lower resolutions
Compatible with multiple operating systems
What we didn't like:
Difficulty seeing indicator lights
Compatibility issues with Raspberry Pi machines
Best High-End: CKLau KVM Switch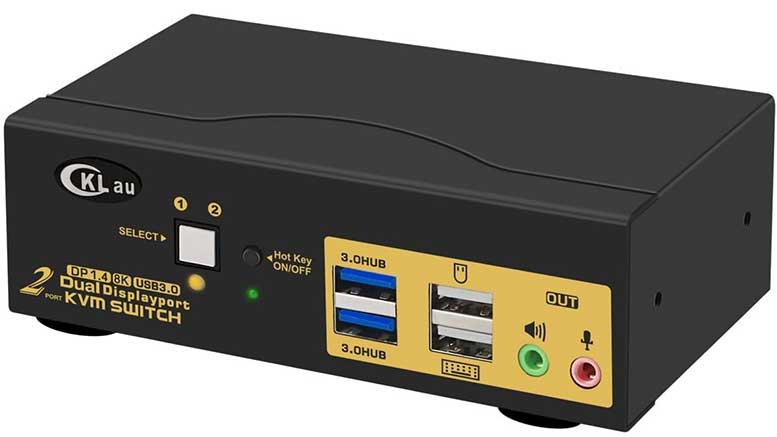 Key features:
Supports multiple display modes
2 PCs sharing peripherals
Wide range resolution compatibility
Four flexible switching methods
The CKLau KVM Switch is a sleek, compact device (5.12 x 2.95 x 1.65 inches and weighing 2.65 pounds) that sets the bar high for gaming switches. It blends simplicity, innovation, and utility, making it an invaluable asset for those managing multiple PCs or looking to share various peripherals. The black unit, housing a variety of connector types, is both modern and minimalist, speaking to the practical needs of its users without fuss.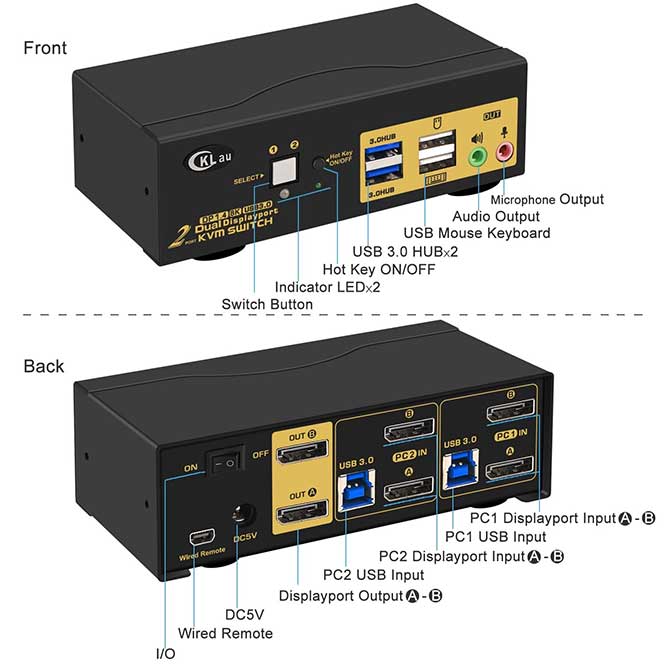 The real marvel of the CKLau KVM Switch lies in its ability to allow two PCs to share a set of keyboard, mouse, dual monitors, and even a USB 3.0 peripheral device. The DisplayPort 1.4 KVM Switch is flexible, accommodating computers with multiple video outputs. However, keep in mind that this unit does not support EDID emulation, and the provided DisplayPort 1.4 cables are essential to avoid flickering monitors.
Delivering stellar performance across a wide range of resolutions (up to 7680×4320@30Hz), it provides support for various display modes: extended, mirrored, or spliced display. Its compatibility extends to both wired and wireless keyboards and mice and even OLED and ultra-wide monitors, making it highly versatile. For gamers and those working from home, these features are vital for a seamless transition between work and play.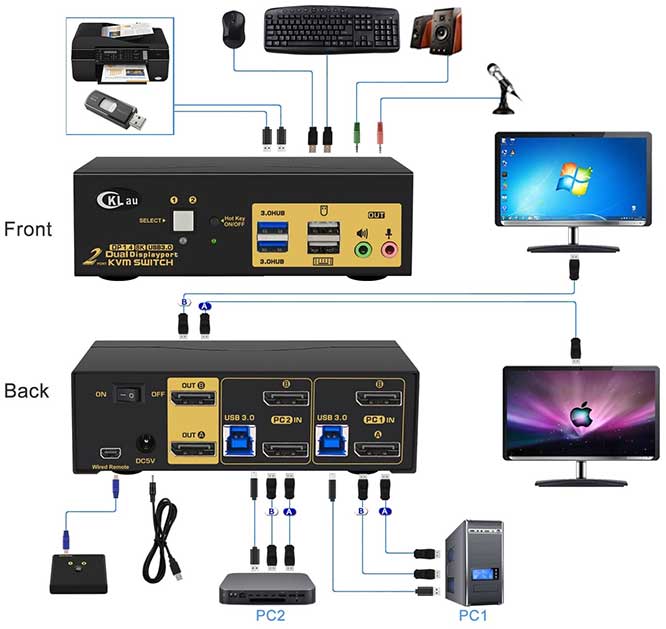 Switching between connected devices is simple and flexible, thanks to four optional methods. You can choose from hotkey switching, mouse switching, manual button switching, and wired remote push-button switching. Lastly, the CKLau KVM Switch is driver-free, making it compatible with various operating systems, including Windows, Mac, Linux, Raspbian, Ubuntu, Debian, Fedora, and others. However, despite its many strong points, it's worth noting that it might have difficulties handling certain displays if they are running at higher refresh rates.
What we liked:
Versatile keyboard and mouse support
Compatible with various operating systems
Flexible display options
Compact and lightweight
What we didn't like:
Potential issues at high refresh rates
EDID emulation not supported
KVM Switches for Gaming FAQs
What is a KVM switch?
A KVM (Keyboard, Video, Mouse) switch is a hardware device that allows a user to control multiple computers from one or more sets of keyboards, video monitors, and mice.
Why do gamers need a KVM switch?
Gamers often use KVM switches to toggle between multiple gaming setups or platforms without having to unplug and plug in different monitors, keyboards, and mice. This enhances the gaming experience, offering ease and convenience.
Does a KVM switch affect gaming performance?
A good quality KVM switch should not noticeably affect gaming performance. It should offer smooth transitions between systems and support high video resolution and audio quality. However, it's crucial to select a KVM switch that suits your specific gaming needs and hardware setup.
Final Verdict
A quality KVM switch can make the difference between a smooth gaming experience and a chaotic mess. Our top picks aim to ensure your gaming setup is as neat and accessible as possible. Our first pick comes courtesy of AV Access's 8K KVM Switch. It's capable of impressive video resolution and refresh rate – perfect for gamers who desire an immersive viewing experience. Its broad device compatibility and durable build make it a great all-around choice.
The TESmart KVM Switch shines in terms of its user-friendly design and superior resolution display. It's lightweight and compact, making it an ideal pick for those with limited desk space. If you are after a KVM switch that's both compact and capable of high-quality visual output, the KAGO DisplayPort KVM Switch is the one. Its 8K resolution support and plug-and-play feature simplify the gaming experience, especially for multi-PC gamers.
And lastly, there's the CKLau KVM Switch. This one stands out for its versatility, offering flexible display options and wide-ranging compatibility with both wired and wireless keyboards and mice. Its multiple switching methods cater to various user preferences, making it a great choice for a diverse range of gamers. Which switch is right for you? Thanks to our in-depth reviews, you should be one step closer to making the right call.