The beauty of a laptop is that you can set up virtually anywhere. From a local coffee shop to the comfort of your dining room table, laptops offer powerful computing in a portable package.
It goes without saying, laptops are extremely expensive. In fact, they're often one of the largest investments you'll make during your working career. Chip shortages and supply chain issues are rapidly increasing the cost of components and translating into high price tags all-around.
In addition, files on your hard drive can be irreplaceable. Confidential and high value documents like tax returns and bank statements often find a home here. For some, their laptop is the only home for photos from family vacations and first birthdays. Simply put, it's important to keep your investment and files safe. That's where laptop locking cables come into the picture.
Rising crime rates should not hamper your ability to work wherever you choose to. Thanks to laptop locking cables, you can set up anywhere with a sturdy anchor point without fear of your property getting snatched when you walk away for a moment.
What is a Laptop Locking Cable?
These security devices follow the same logic as a bike lock. They're usually made of heavy duty, braided metal material and capped with a strong lock. Often times, these locks are either a combination or key-based mechanism. Laptop locking cables loop around something sturdy like a heavy desk and then attach directly to your device.
Many laptops, especially enterprise-grade workstations, come with a special locking port that you can insert the open end of your cable into. For laptops like the Apple MacBook Pro that don't have a locking port, there are locking cables that can be secured on various areas to a similar effect.
There are countless options when it comes to laptop locking cables. But don't let the similar form factors fool you. Not all are created equal. In fact, there are many inferior versions out there that cut corners on things like materials and construction. This can have costly ramifications for laptop owners who choose them.
While the design is straightforward, there are multiple factors that go into assembling a good quality locking cable. The last thing you probably want to do is to test a bunch of cables and sift through hours of reviews. The good news is that we've taken the stress out of it by compiling a list of the best laptop locking cables to help you out.
How We Chose the Best Laptop Locking Cables
Our group of experts have done the work of examining dozens of laptop locking cables. We've judged them based on certain criteria, which includes:
Construction Continuity: Tightly integrated components and high-quality assembly help to reduce the number of vulnerabilities that thieves can exploit to run away with your laptop.
Quality and Strength of Materials: We've included locking cables that strike the ideal balance between security and portability. While you'll want your cable to be incredibly strong, you don't want it to be a pain to lug around everywhere. That's why high-quality materials are important – they tend to be stronger and lighter at the same time.
Locking Mechanism: We feature cables with various kinds of locking mechanisms in this article. Whether it's a combination or key lock, we verified that they're free from glaring vulnerabilities and optimized to make it easy on you and hard on thieves.
Versatility: If you have multiple laptops, you don't want to have a different locking cable for each one. This article favors locking cables that allow for a variety of ways to connect to a laptop. That way, you can use the same locking cable even if your laptops have different ports.
Value: Laptop locking cables are much more than simply a metal cable with a lock at the end of it. At the same time, the price should match the amount of value they deliver. Our team has done a thorough analysis on the products on this list to see if the value is there.
While selecting the right locking cable may be relatively simple, we'll go ahead and include a few extra things to keep in mind when making your decision towards the end. That said, let's get into the first option.
Best Overall: Kensington Universal 3-in-1 Keyed Laptop Lock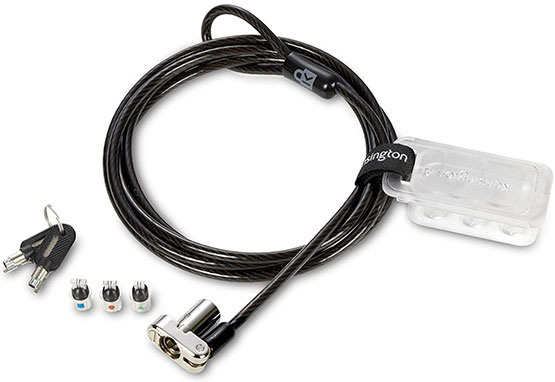 Key Features:
One Lock For Any Slot Design.
5mm Keying System.
Small Key Opening to Prevent Lock Picking.
Hidden Pin Technology for Added Security.
Pivot and Rotate Hinge for Flexible Movement.
Our pick for best overall laptop locking cable is the Kensington Universal 3-in-1 Keyed Laptop Lock. The reason it's called "universal" is due to its ability to be used on either standard, nano, or wedge-shaped laptop security slots. This "one lock for any slot" is suitable for a wide range of laptop brands, makes/models.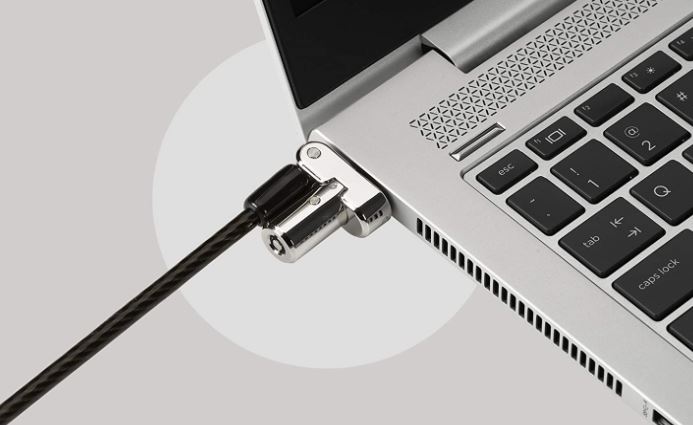 For security, Kensington takes its decades of security experience and distills it into their anti-theft lock technology. Armed with hidden pin mechanisms that prevent tampering, the Universal 3-in-1 also sports a smaller key opening, making it virtually impossible for a thief to pick.

Another feature we like is the register and retrieve service Kensington provides its owner. This online key registration program allows you a fast and secure key replacement in the event that yours gets lost or stolen. They do this free of charge. Because each of their locks are verified and tested, it's unlikely anyone is going to be able to hack it.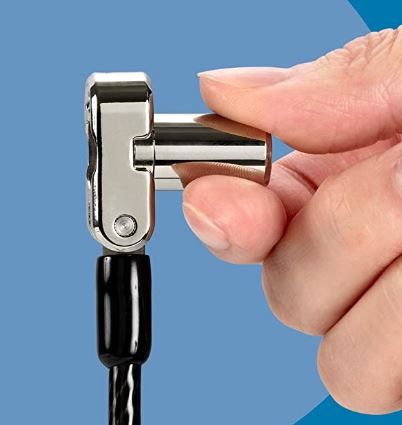 After running it through some maneuverability tests, our team appreciated the special pivot and rotate hinge that allowed for effortless movement. After long periods sitting at a desk, it's nice to be able to switch up positions without being hindered by an uncooperative locking cable.
What We Liked:
Small key slot and hidden pin for added security.
Very strong cable.
Hinge for simple movement.
Register and retrieve program for easy and free key replacements.
Fits with any security slot.
What We Didn't Like:
Best Runner-Up: Targus DEFCON T-Lock Resettable Combo Laptop Cable Lock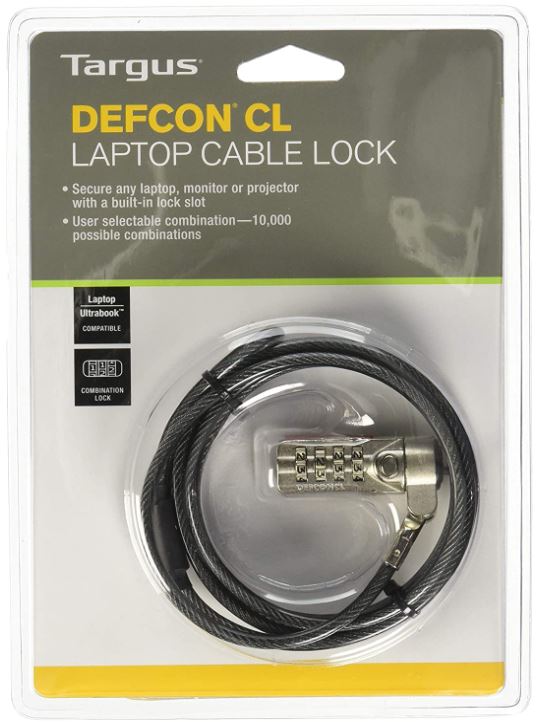 Key Features:
For Devices with a T-Lock Installed.
Multiple Keying Options Available.
Resettable 4-Digit Code.
6.5' Galvanized Steel Cable.
Security Base Plate Included.
Our second pick is the Targus DEFCON T-Lock Laptop Cable Lock. It has a generous 6.5' galvanized cable for maximum tethering flexibility. Many other cables tend to be too short to accommodate looping it around large objects like wide table legs. The Targus DEFCON's enormous length doesn't have this problem.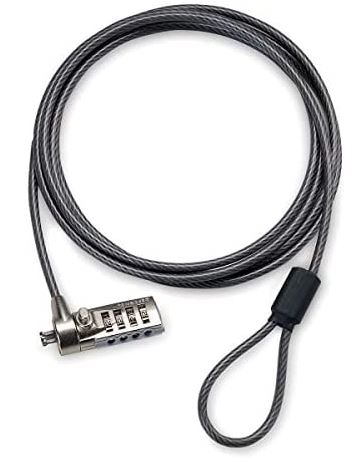 It's designed to work with any laptop that has a T-bar lock slot, also known as a T-Lock. After testing this model, we were impressed with how easily the locking mechanism slid into place. The 4-digit tumblers were smooth and allowed us to spin them without very little issue. If you're in the habit of having to move your laptop from place to place, smooth tumblers save time and frustration.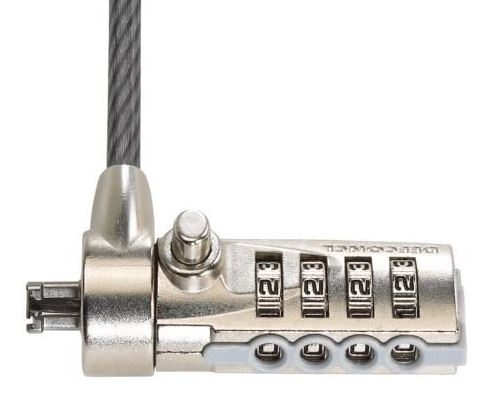 An added bonus is the inclusion of a security base plate. It can be secured using adhesive and screws. Once installed, this can serve as a dedicated anchor point to secure your laptop. The Targus DEFCON checks all the boxes for and comes in at about half the price as the Kensington.
What We Liked:
Long cable.
Smooth tumble lock.
Comes with a base plate.
Works with any T-Lock equipped device.
Great price.
What We Didn't Like:
Requires a T-Lock. No other slot options.
Best Alternative: AboveTEK Laptop Lock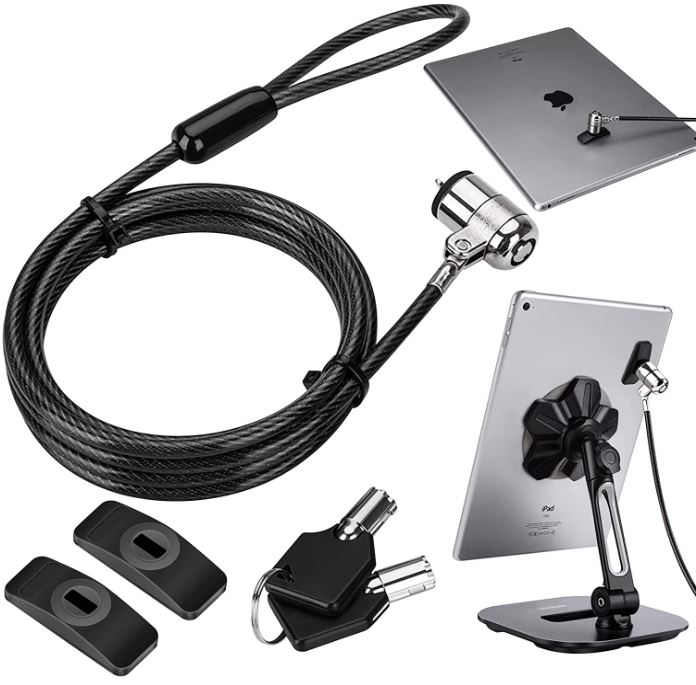 Key Features:
Anchored To Your Device Using 3M Adhesive.
Unlocks With a Key.
6' Steel Cable.
Works on Various Devices.
We chose the AboveTEK Laptop Lock as the best alternative since it gives you the ability to secure your laptop using an alternative method. Most conventional laptop locking cables require an integrated, proprietary slot. This may not be an option for those that don't have this on their laptop.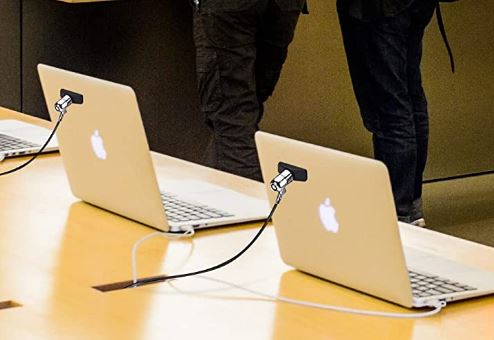 The AboveTEK laptop lock sticks to the outside of your laptop with an anchor plate. It attaches to your laptop using an industrial-grade 3M adhesive. The lock then attaches to the base plate and the cable attaches from there. Ultimately, this means you could even use it for tablets or other gadgets.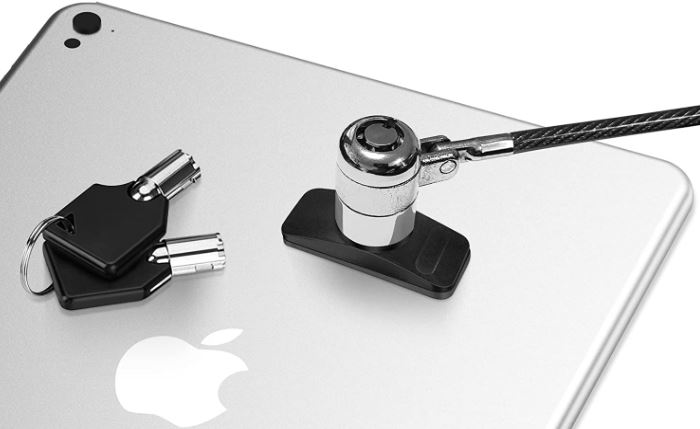 We were unsure how the 3M would hold up initially. However, after surveying other users and testing it out ourselves, we feel confident that this approach provides solid anti-theft protection. We weren't able to spring our laptop loose even with using excessive force.
However, keep in mind that this lock uses a key instead of a combination. Be sure to keep track of your keys as they will be the only way for you to get the lock off.
What We Liked:
Adhesive mounting plate makes it possible to secure anything.
Does not require a T-Lock port.
Extra mounting plate can be used to secure an additional device.
6' cable is cut resistant and lightweight.
What We Didn't Like:
Unlocking via the key can be clunky.
Best Budget: RUBAN Notebook Lock and Security Cable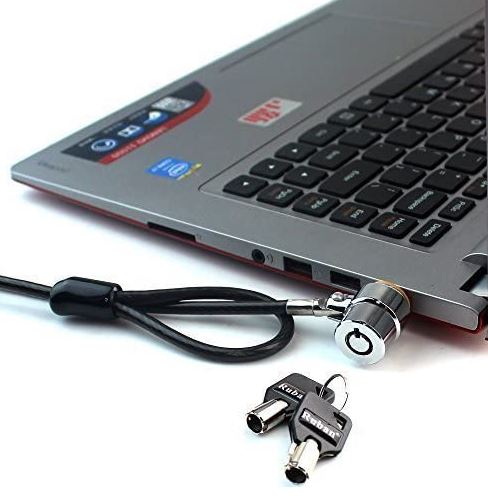 Key Features:
Requires a Locking Slot Hole.
6.2' Security Cable.
Includes 2 Lock Keys.
18 Month Warranty Against Defects.
We've selected the RUBAN Notebook Lock and Security Cable as the best budget locking cable currently available. Extremely budget-friendly, the RUBAN is meant for devices that have a standard security locking hole installed. Refer to the Amazon product page (linked above) to see specific laptop models that it's compatible with.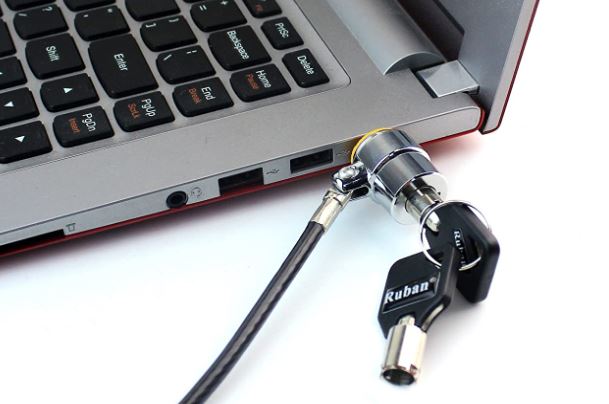 In terms of strength, we found the braided cable was able to take a surprising amount of abuse without faltering. While it may not have all the premium components like others on this list, it performs extremely well and comes in at a low price-point.
What We Liked:
Long cable for flexible anchoring options.
Comes with two keys.
Low price.
What We Didn't Like:
Not compatible with all security locking slots.