When you're decorating at home or preparing for a holiday event, it can be tough to make the choice between traditional tea light candles and LED alternatives. But there are several simple factors you can use to select the candles most appropriate for your intentions. Without wading into the deep-end of high-tech candles that sing songs and detect light, you can still get some pretty impressive features on basic LED tea light candles these days.
Sometimes it's worth going through all the added effort needed to use real candles. After all, scientists are yet to invent a LEDs that burn with vanilla scents. But scents aren't the reason people turn to tea light candles. People use tea lights for the gentle ambiance, the natural lighting, and the romantic aura they provide. And LED tea light candles can provide all of that in ways that ordinary tea lights can't.
Moreover, anytime it might be advisable to avoid using an open flame, for safety reasons, LEDs are the clear choice. Flameless LED tea light candles don't start fires, they don't produce messes with wax or cinder, and they don't pump fumes into the air around you. They're the no-mess, simple solution that does everything you want from a tea light candle without having to worry about dealing with fire.
Choosing a Flameless LED TeaLight Candle
If you're setting up an open-air venue, then you're going to have to think about the wind. Unless you can be certain of conditions, LED candles will be once again the clear choice. Having your candles blow out repeatedly is frustrating, especially the weather is otherwise pleasant. LED candles provide a hassle free glow that you can set-and-forget. In short, you can have the same romantic lighting as a candle-lit dinner or bath with candles, without any of the terrible risks of real candles. LED tea lights are also drastically more cost effective and highly reusable.
Ease of Use
Ease of use is on the top of the list of what LED candles provide. They take no time to set up, they have basic on/off switch for simple operation, and there's no rush to extinguish them. You may even be able to program or set them to turn on automatically, so you don't even have to micromanage starting or stopping your candles.
Furthermore, reinstalling batteries should be easy. LED bulbs use very little energy, but all batteries need to be replaced eventually. Making the switch shouldn't require special tools, shouldn't be particularly difficult to add or remove batteries, and shouldn't risk damaging the base of the candles themselves.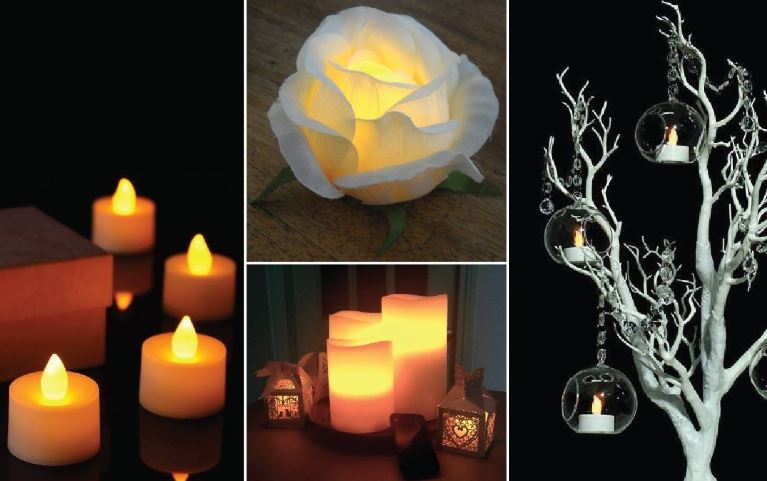 Style and Presentation
If you're trying to simulate an actual flame, it's generally best to use frosted candle holders. But when it comes to LED tea light candles, most the imitation of real flame comes down to adding a flicker effect to further enhance the realism. Some LEDs include that effect, others do not.
As far as size goes, tea lights tend to have a 1.5" universal diameter. You'll find minor variations, and those can be important to pay attention to if you've got a specific implementation in mind, like a narrow ledge or specific candle holders. Furthermore, the appearance of the wax shell containing the LED is important. You don't want something that looks like a cheap plastic cone. You may want something passable for an actual candle, or you may want to match the décor of a location
Lumen output is another consideration. Some LED candles are quite bright, but most only provide the tinge of illumination you'd experience from an ordinary tea light candle. How much illumination you need largely depends on your intended purpose and placement.
Power and Durability
With respect to placement, you'll want to think about if the candle should be able to handle outdoor use, and whether or not they can be left outside. Batteries are the most common source of power for LED tea lights. You'll want to pay attention to the specific type of battery used to know if they're easy to replace, and if they're cheap or expensive.
Anytime you're choosing an LED, the durability of the bulb is another big question. Especially if you're using the light for a decorative purpose where the bulb might see abuse, like a Halloween lamp left out for trick-or-treaters. But regardless, electric candles will ultimately be far less expensive than their wax counterparts. Cost tends to correlate with the quality of LED candles, but there are exceptions, so you have to pay attention.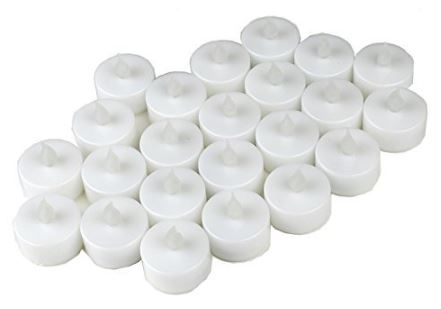 Instapark Flameless LED Tea Light Candles
Instapark's LED tea lights come in a sizeable pack of 24, about the same number as you'd get from an ordinary bag of wax tea light candles. And each tea light is roughly the size of an ordinary tea light candle, with a 1.5" diameter, weighing about half an ounce. Within each candle, you'll find battery-powered amber LEDs. Above them is plastic in the shape of a flame, aided by a realistic flickering to help accent the room.
These tea lights are ideal for ceremonies, celebrations, birthdays, and most other places where you'd use a typical tea light candle. You can take them outside and help give your yard a more Christmas-like feeling, or stick them in a jack-o-lantern for a high level of ambiance that isn't going to blow-out with the first gust of wind.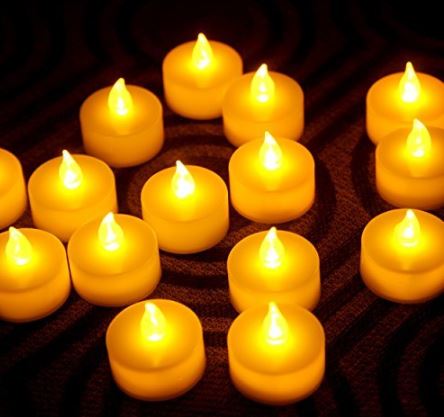 Battery and Operation
Unless you're trying to buy cheap garbage intentionally, the only batteries you want in your tea lights are CR2023 cell batteries. They're inexpensive, and generally easy to find. They're also the ultra-powerful batteries that computer motherboards use. For their size and cost, you just can't do better.
With one CR2032 battery, each flameless LED tea light lasts up to 100 hours. Of course, that total might differ slightly if you're using the tea lights in exceptionally warm or cold conditions. Instapark Flameless LED tea light candles have reasonably strong shielding for the internal battery, so exposure to the elements shouldn't be a grave concern. And regardless, 100 hours is clearly a magnitude better than anything you'd find from wax-based tea lights.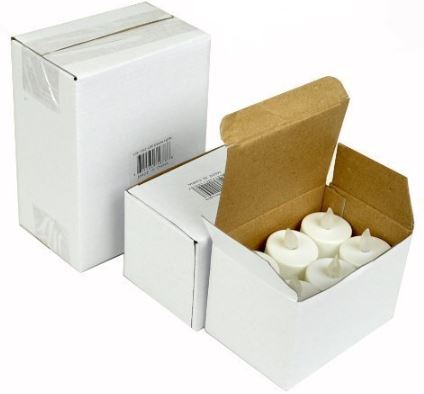 Other Considerations
The necessary CR2032 batteries are included and come pre-installed for your convenience. Instapark tests their candles individually so they're guaranteed to work. When you're dealing with relatively inexpensive merchandise like LED tea light candles, that extra bit of testing can help go a long way from having to endure a bad experience. And Instapark exchanges defective units with a dozen candles, or a full refund. Combined with a one-year risk-free warranty, there's plenty of reasons to believe in the lasting quality of these candles.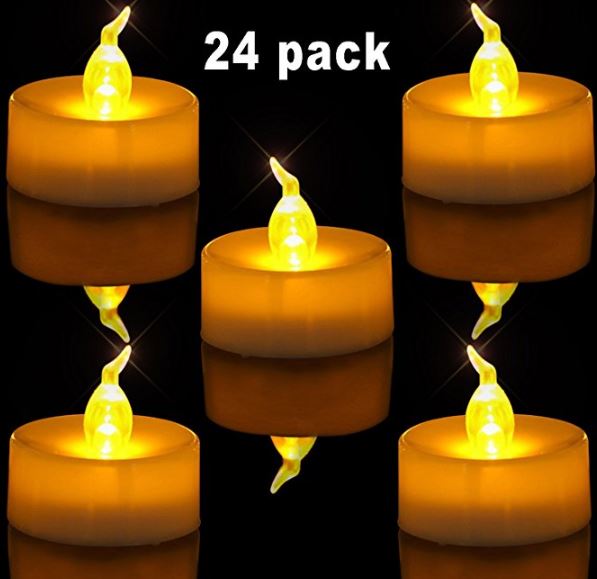 Homemory Flameless LED Tea Light
The Homemory Flameless is another set of 24 candles, well suited to the same types of applications as Instapark's candles. But Homemory candles are built with a 1.4" diameter, making them about 8% smaller than Instapark Flameless LED candles, and marginally smaller than a standard tea light candle.
The slightly smaller size enables them to be better equipped for fitting into small spaces. They're exceptionally good for floral centerpieces. Using a fairly realistic flicking effect, Homemory Flameless tea light LED candles are equally great for illuminating a mantle and lighting up a loft. Just scatter them around an area for a warm ambiance, or decorating for special events.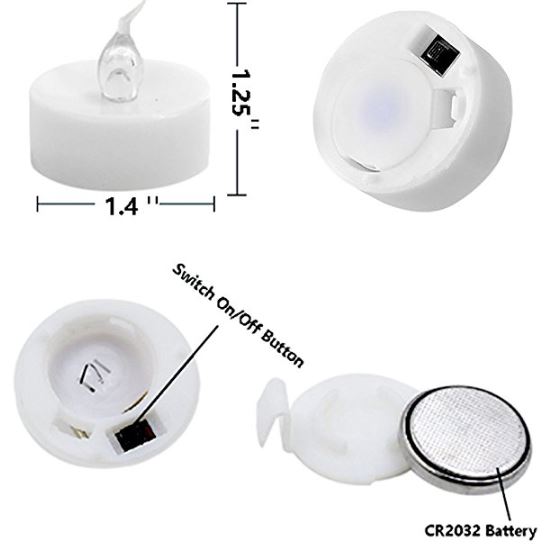 Battery and Operation
Like you want from any tea light LED candle, the Homemore candles use CR2032 button cell batteries. And you can expect the same roughly 100 hours of battery life out of each and every cell. The slightly smaller build of this device doesn't mean it uses LEDs which are any less powerful or bright than Instapark. In fact, both candles share the same gentle illumination you want from a tea light.
Swapping the batteries is easy by simply sliding a tab off the bottom of the candle. And that's where you'll find the on/off button you can toggle to initiate lighting. After about 50 hours of use you'll see some dimming, which is to be expected.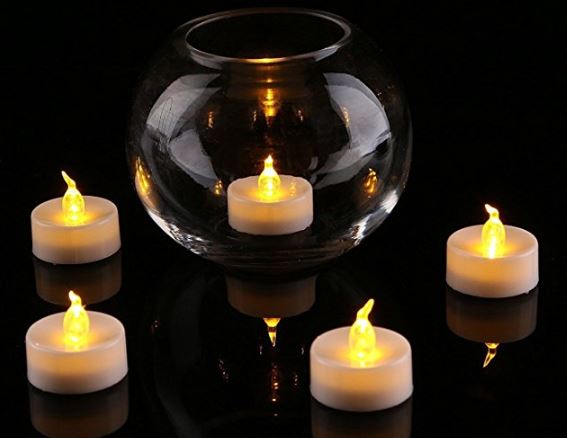 Other Considerations
Homemory candles use a very similar tea light aesthetic to Instapark, including a purely aesthetic plastic bulb that resembles a flame. You can remove the plastic "flame" if you wish. This light has a slightly cooler color temperature than the warmer Instapark bulbs. And this kit includes the necessary batteries for the full set of candles, a money back guarantee, and a 1-year warranty.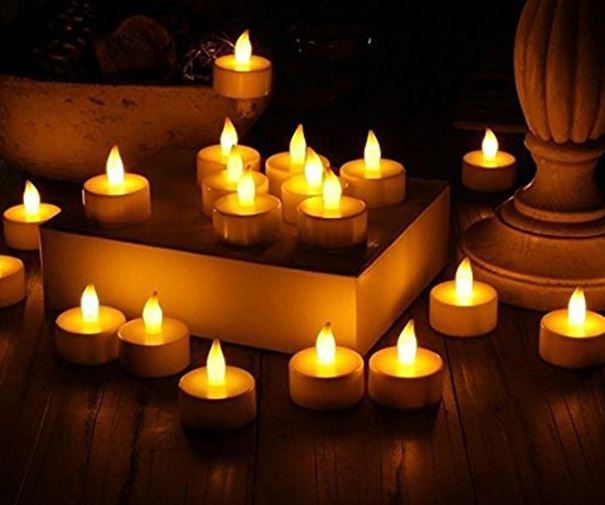 Vont Realistic Bright Flameless LED Tea Light Candles
With Vont you'll find another standard 24-pack of LED candles. What's less standard is their bulky 2" diameter. The larger diameter pushes these flameless tea light candles out to the dimensions used by many standard candle holders. Vont's realistic tea light uses the same plastic flame as other tea lights, but the larger build allows a smarter and more detailed design. The base accents the light beautifully for a warm ambiance.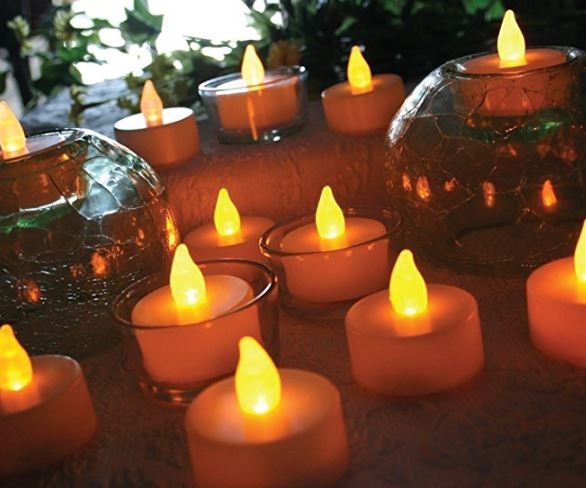 Brightness and Battery
Vont uses CR2032 button cell batteries, but you can only expect about 70 hours of life from each cell. That's because Vont Realistic Bright Flameless LED tea light candles aren't just bigger, they're brighter than the other candles on this list. The resulting drop in battery life is just a reflection of that. And Vont claims their design is idiot-proof, including pre-installed batteries and a one-switch operation.
Make no mistake, Vont Bright Flameless LED candles aren't flashlights. While they're somewhat brighter than the dull levels of light you'll find from comparable LED candles, they're still aiming to provide ambient light for a room. And to that end they're closer in brightness to a real candle than to most ordinary LED candles.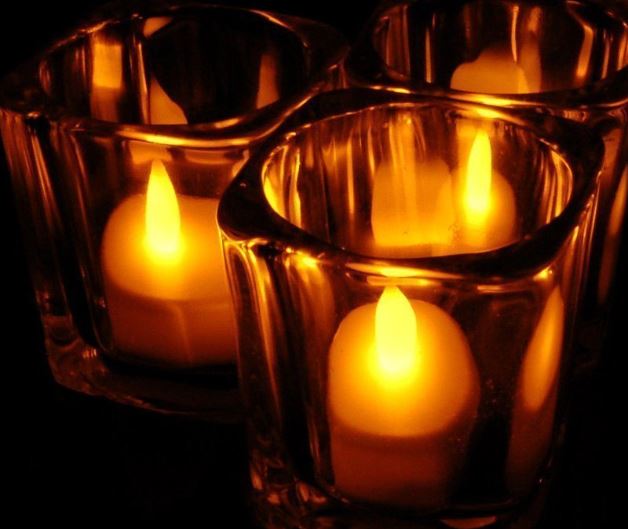 Other Considerations
These candles are especially good for dropping in attractive candle votive holders. But whether or not you're immediately enamored with Vont's products, they offer a money back guarantee., They also offer an impressive 10-year warranty for accidental damage and defects. As long as you're willing to give them a shot, Vont is willing to bet you like what they have to offer.
Choosing Between 3 Unique Flameless LED TeaLight Candles
Instapark are a good choice for inexpensive candles that are guaranteed to work. Part of what makes tea light candles so great is their simplicity, and the Instapark keeps simplicity at its finest. Operation is simple, and you won't have to worry about the battery life for a long time to come. If you have candle-holders built to the size of common wax-based tea light candles, then you'll probably want to choose Instapark. Their 1.5" diameter design is a near-perfect replica of ordinary tea lights.
Homemory Flameless LED Tea Lights have a slightly smaller build than Instapark, but ultimately the same luminosity and battery life. One thing that helps Homemory stand out is being able to easily remove the plastic flame on each candle. People who feel like getting crafty can then squeeze these candles into new spaces and configurations to their hearts content. These candles are almost equally useful for decoration and practical lighting.
Vont Realistic Bright Flameless LEDs are bigger and brighter than the other two sets on this list. Their 2″ diameter build is nearly a quarter larger than a standard tea light candle. As a result, these candles burn through the battery about a quarter faster than its smaller counterparts. If you've found the illumination of other LED candles to be a little lackluster, these are somewhat brighter. Consequently, these candles can make a great choice for people decorating in foggy conditions. But they're also a good choice for essentially anyone who needs a little extra brightness.