It's that time of year again. Thanksgiving is over, the calendar has flipped to December, and crisp fall leaves have given way to winter's first snow.
That means it's time to decorate your house with the colors of the season. So put up that Christmas tree, throw a wreath on the front door, and put up your favorite decorative lights.
Of course, no Christmas display would be complete without some window candles. The tradition of putting a candle in the window dates back to the English occupation of Ireland in the 1700s. During this time, Catholics would place a candle in the window to let traveling priests know their home was safe.
When questioned, they could tell the authorities that the window was merely a Christmas decoration. Over time, Irish immigrants brought this tradition to the US, where it became popular amongst everyone. In earlier times when homes were further apart, a candle in the window was a great way for friends and neighbors to find your house in the dark.
Nowadays, we continue this tradition during the holiday season, when family and friends are on our minds. But most of us use LED candles, since they're considerably safer. We're about to review three LED Christmas window candles, and see how they compare.
We'll start with the Kithouse Christmas Window LED Candles. This is a 10-pack of classic candles, with artificial LED flames and bright gold bases. Next, we'll look at the DRomance Remote Flameless Wax Taper Candles. These taper candles are available in white or ivory, with or without a base. The Wondise Flameless Window Candles are last on our list. Available in a 6 or a 12 pack, they come with a remote control, as well as an ultra-realistic flame. Let's take a closer look, and see which set is best!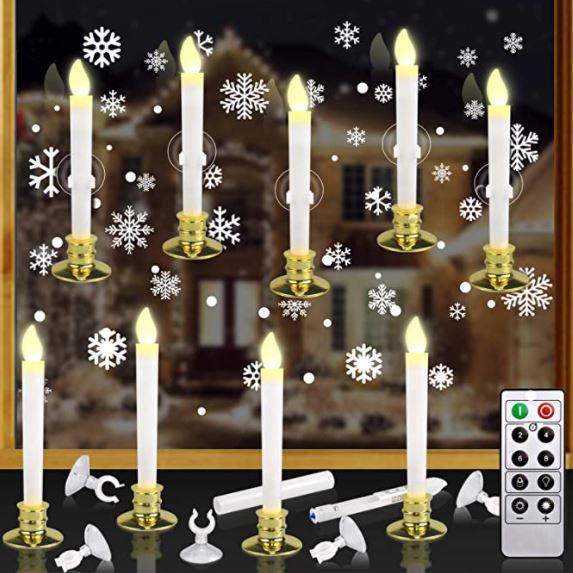 Kithouse Christmas Window LED Candles
The Kithouse Christmas Window LED Candles are simple LED candles with an amber glow at the tip. The profile is slightly tapered, wider at the top than it is at the bottom. The flame itself has a similar amber color to the tip, and doesn't look terribly realistic.
That said, it nonetheless has a charming appeal that's not to be discounted. In total, there are 10 candles in the kit, enough to decorate a mid-sized house. Each candle has an attractive gold base, which can be easily attached and removed depending on placement. The candles also include a set of suction cups, so they can be mounted on windows with ease.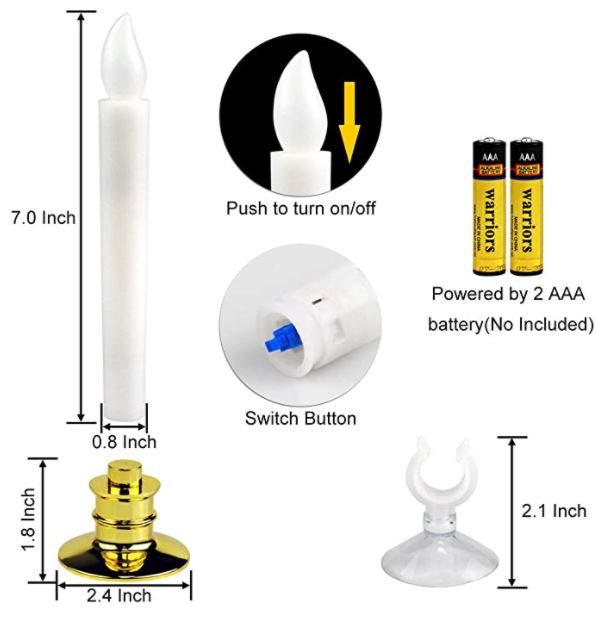 The Kithouse candles run on AAA batteries, which are not included in the kit. That said, the batteries are easy to install in the bottoms of the candles. They also last for roughly six weeks of overnight use, more than enough to get through the season. In addition to the candles, the kit includes a pair of snowflake decals to further decorate your windows.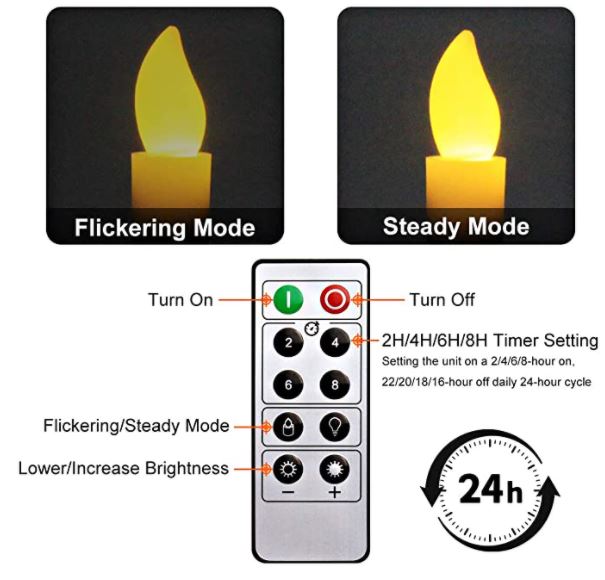 The remote control can be used to manually turn the lights on and off. In addition, you can set a 24-hour timer with two, four, six, and eight-hour times. Choose when you want the lights to turn on, choose how long they stay on for, and let the program run. Be aware that both manual and automatic modes include a safety feature. If the candles are moved or disturbed, they reset and automatically turn off.
The Kithouse Christmas Window LED Candles are covered by a 12-month manufacturer's warranty. If there are any defects, you can return the candles for a free replacement. Kithouse also offers a 30-day money-back guarantee. If you decide you don't like the candles for any reason, just send it back within 30 days for a full refund.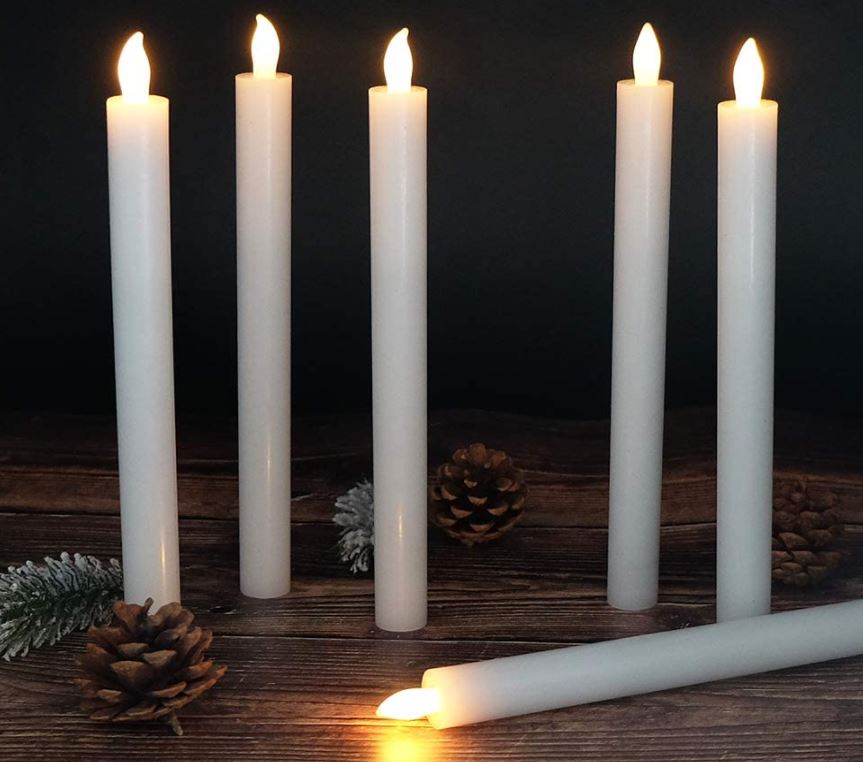 DRomance Remote Flameless Wax Taper Candles
As their name implies, the DRomance Remote Flameless Wax Taper Candles are made of real wax. As a result, they don't just look authentic; in most respects, they are. Remove the electronics and run a wick through the middle, and you could easily burn them. That would be a waste, though. The LED flame will last for years, not hours, and flickers like a real flame. The coloration is also realistic, with a slight amber tinge.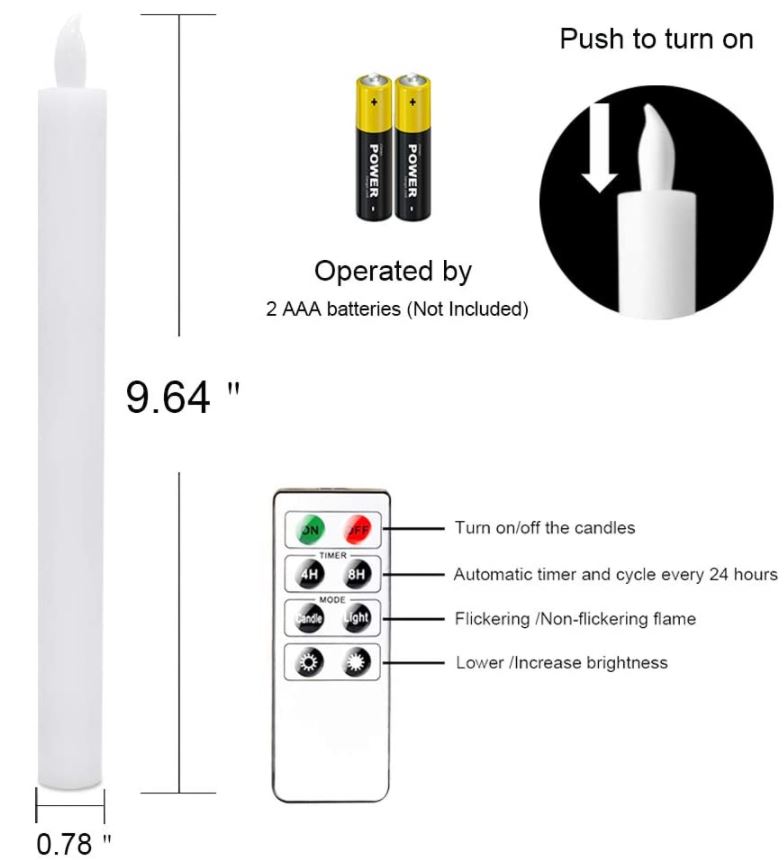 The candles come in a six pack, and the wax is available in either white or ivory, with or without stands. If you do want stands, the white candles come with silver stands, and the ivory candles come with gold ones. Alternatively, you can use your existing candle stands. At 0.78 inches in diameter, the DRomance candles will fit easily in most candle holders.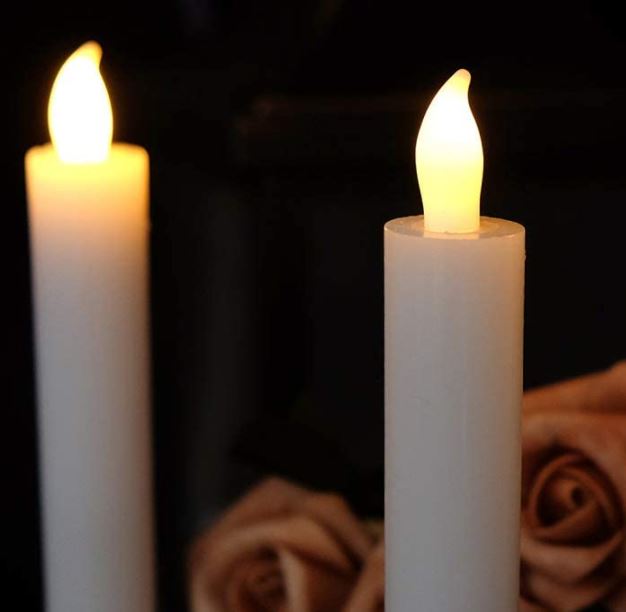 The DRomance candles run on a pair of AAA batteries each, which are good enough to last for 300 hours. That said, the batteries aren't included in the kit, so you'll need 12 AAA batteries to get started. What is included is a remote control, with a handful of functions. You can turn the candles on or off manually, or set a 24-hour timer. Depending on your settings, the candles can run for either four or eight hours a day. In addition to adjusting the timing, you can also change the quality of the light. You can adjust the brightness up or down, or turn the flickering function on or off.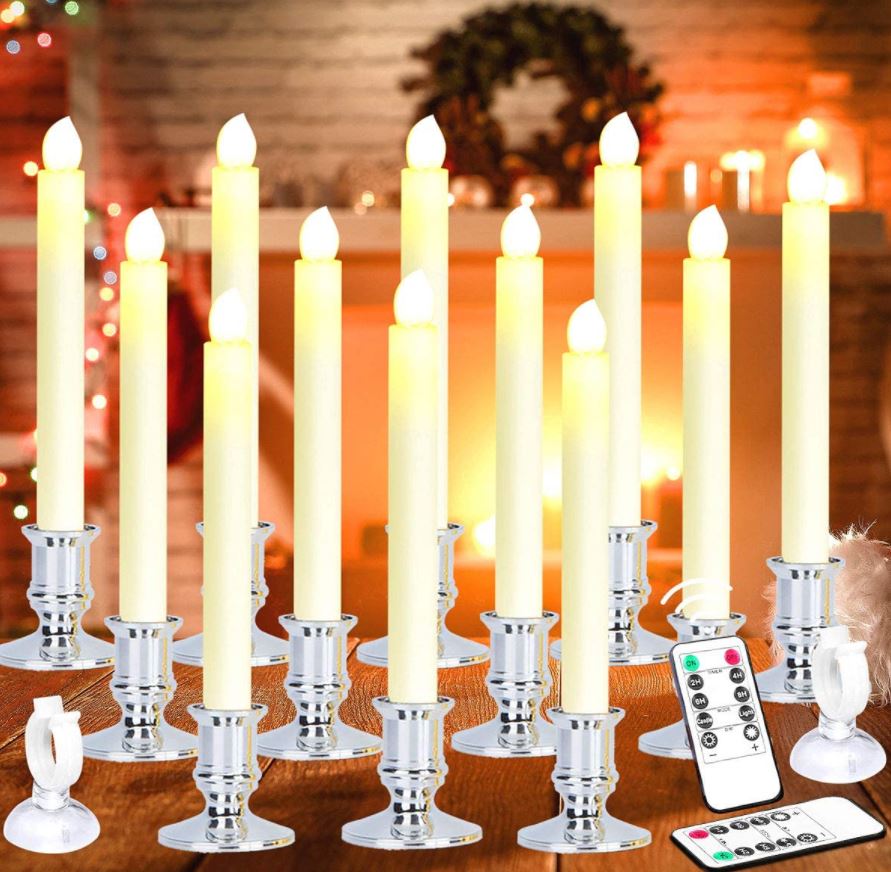 Wondise Flameless Window Candles
The Wondise Flameless Window Candles are lovingly crafted for those who want a truly premium candle. Constructed from real wax, they have a domed tip that looks as if it's partially melted. From the top, a black wick extends upwards, attaching to a distinct LED flame. The flame is shaded, transitioning from dark brown at the bottom through amber to white at the tip. It can be set to flicker for maximum realism, or to constant mode if a flickering LED bothers you. Wondise backs this with a satisfaction guarantee. If you don't like the candles for any reason, you can send them back for a full refund.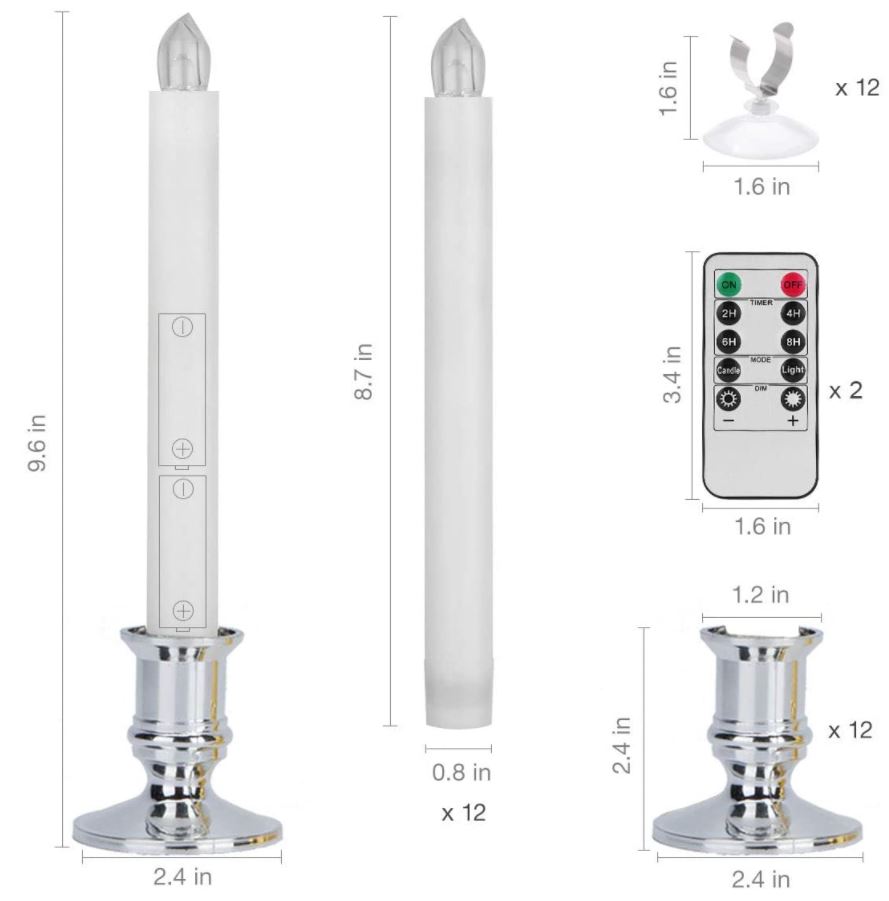 The Wondise candles come in either a two-pack or a 12-pack, along with a remote. The 12-pack actually has a pair of remotes, so you can keep them on opposite ends of the house. You can use the remote for manual operation, as well as to adjust the brightness or set a timer. The timer can be adjusted from two to eight hours per day, and will cycle every 24 hours. Batteries are not included, but the Wondise's take AAs instead of AAs, so they're quite robust. Our only real complaint about the Wondise candles are the bases, which are made of cheap plastic. This was disappointing, considering the overall high quality of the rest of the kit.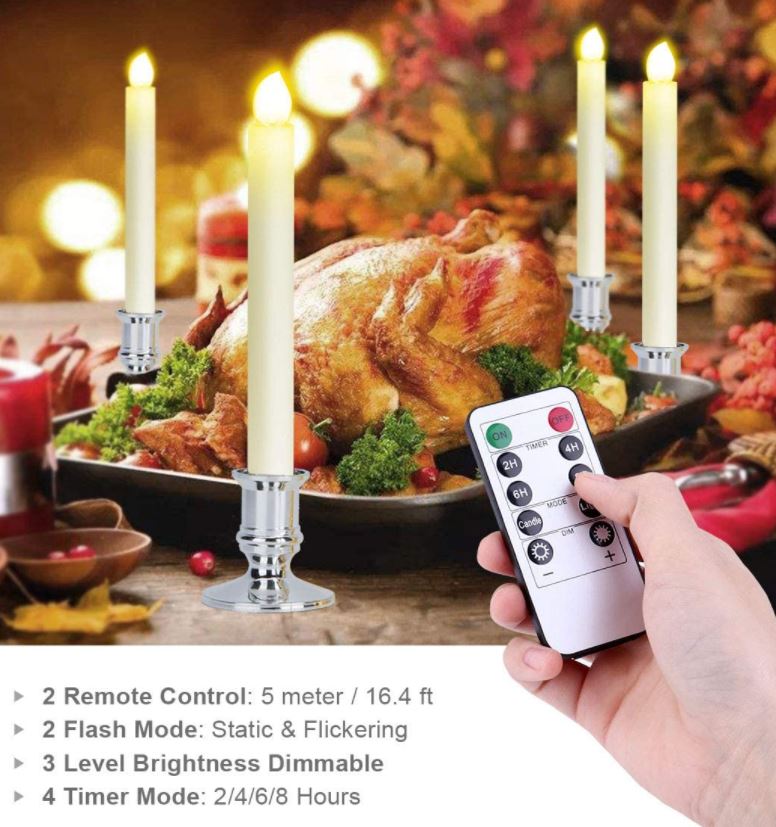 LED Christmas Window Candle Guide
Before we begin, let's acknowledge the obvious: not all LED Christmas candles are equally worth your while. Some draw too much power, while others will barely last through one holiday season. The main advantage of any LED light is safety. You can set one up, and not have to worry about it catching your curtains on fire. Similarly, wax candles burn out in a few hours and need to be replaced. An LED candle can burn for tens of thousands of hours before the element dies.
But most people expect a bit more than safety and reusability. For example, you expect a modern LED candle to have the same warmth and pleasant glow as a real candle. For instance, tea light candles are cheap, but the best LED tea light candles look and feel real. Here are a few of the factors you should consider when choosing an LED Christmas window candle.
Convenience
In one respect, all LED candles all provide an element of convenience when compared to traditional candles. You don't have to light them, you don't have to extinguish them, and you don't have to replace them often. Just set them up at the beginning of the season, and use an on/off switch to turn them on or off. If you've got smart power outlets, you can bypass that step altogether and run them on a schedule. Take them down at the end of the year, and you're all done.
There are two things you'll want to look at when you're buying. First, is the candle easy to mount? Or are you going to be wasting a lot of time with tape? Second, are the batteries easy to replace? LED bulbs don't die often, but when they do, the batteries should be replaceable. Avoid fully-enclosed candles, since you'll have to throw them out when the batteries run dry.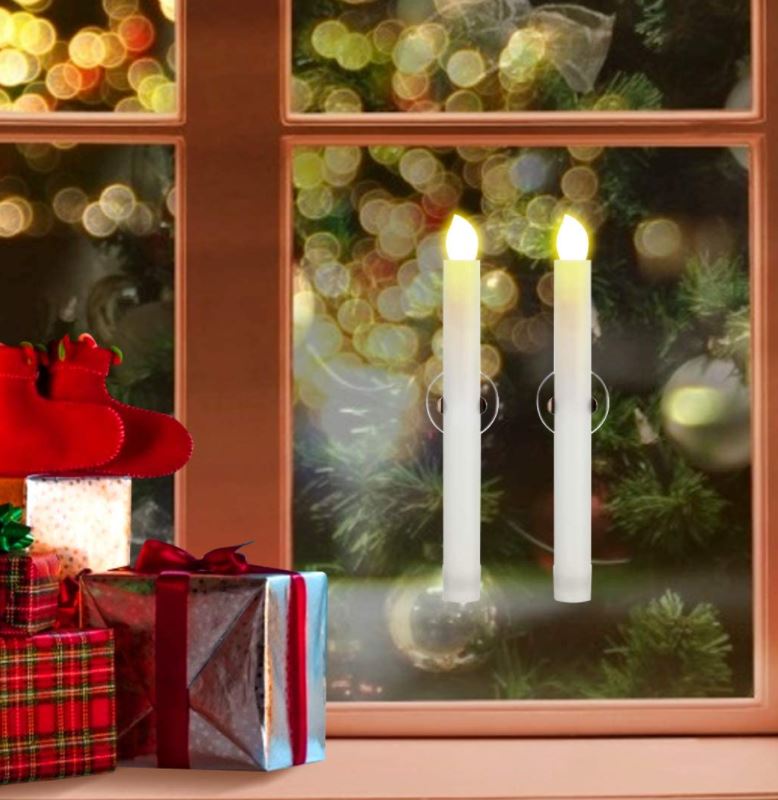 Aesthetics
At the end of the day, an LED candle is a decoration. The most important thing is that it's attractive to look at. This is true of any kind of decorative lighting, such as Guide to the Best Battery-Powered Fairy String Lights. But beyond merely looking "attractive," what should you be looking for?
A lot comes down to personal preference. For example, some people prefer the realism of a flickering flame. On the other hand, some people get physically sick when exposed to flickering light. So, are you a dedicated realism enthusiast, or do flashing lights make you queasy? Which type of light is best for you will depend on your answer to that question.
Brightness is another, related consideration. Some LED candles are very bright, bright enough to read by. Others are more understated, just bright enough to provide a warm glow in the window. Again, there's no right or wrong answer here. It all depends what you want, although a brighter light will obviously be visible from further outside the house.
Aside from the flame itself, look at the artificial candle. Does it look like wax, or does it look like cheap plastic? Are there simulated drips, or is the design smooth and clean? There are also variations in bases. Some candles have ornate bases, while others are more utilitarian, and still others have no base at all. Again, this is largely a matter of preference, as well as where you're going to position the candles.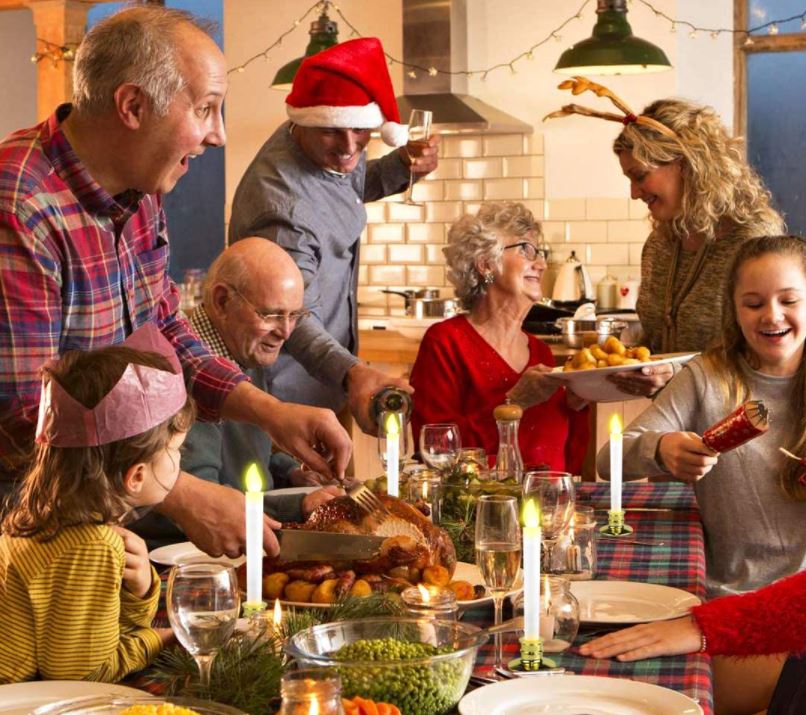 Durability and Battery Life
The vast majority of LED Christmas lights run on battery power, so battery life is a major consideration. Look for lights with larger batteries, like AAAs or AAs, rather than watch batteries. Not only will they last longer, it will be easier to find replacements when the time inevitably comes. If you have corded lights, you can ignore this, but instead, you'll have to worry about outlet placement.
On a similar note, you'll want to look at the durability of the LEDs. These days, a decent bulb should last for at least 50,000 hours, but that assumes it doesn't get damaged. Look at the LED housing and the quality of the design. Does it look like it will easily get damaged? Theoretically, Christmas window candles shouldn't need to take much abuse, but accidents happen. Even so, the most fragile LED candle is far longer-lasting and more durable than its old-school wax counterpart.
Final Verdict
Which LED Christmas window candles are the best? A lot depends on what you're looking for in the first place. The Kithouse Christmas Window LED Candles offer a solid value. They're easy to use, easy to mount, and come with a variety of control options. We also appreciated the safety off feature, which turns the candles off if they're disturbed. The plastic appearance isn't the most realistic, but that's more a matter of preference.
The second option on our list was the set of DRomance Remote Flameless Wax Taper Candles. These candles have a wax body, which gives them a more authentic appearance. Moreover, the flickering effect is realistic, and can be turned on or off for comfort. Best of all, they're sized for ordinary candle holders. As a result, you can use them for a lot more than just decorating your windows over the holidays.
The Wondise Flameless Window Candles are a bit pricey, but they're highly realistic. Forget about looking real at first glance. When they're in flickering mode, they stand up at second and even third glance. With AA battery power, they'll last for a long time, and the wax design is absolutely gorgeous. If you don't mind the dinky stands, these are the best LED candles on the market by far.