If you're a fan of air frying, you're not alone. Air fryers are the preferred method for those looking for crunchy, evenly cooked food without the mess and added calories of oil. Whether you're health conscious or simply watching your weight, an air fryer should be an essential part of your home kitchen.
While most mid to large sized air fryers use up to 2000 watts while cooking, there are certain situations where you'll need an air fryer that's more efficient.
Whether you live in an RV, off grid or simply aware of your energy use, you may be looking into a low wattage air fryer. An air fryer that uses less watts will typically be smaller, but the trade-off is better energy use with the same crispy, oil-free results that you've come to expect.
Do Air Fryers Use a Lot of Electricity?
In general, yes, air fryers do use quite a bit of electricity. To find out how much your specific air fryer uses, look near the label on the back. It may tell you a wattage. If not, use an electricity usage monitor to plug your air fryer into. Once you do, it'll tell you a live-reading of the exact amount of energy it "pulls" from the wall outlet.
Once you know the wattage, you can easily calculate the actual power cost. Simply multiple the air fryer's wattage by its operational hours. That said, an air fryer that uses 2000 watts, 1 hour per day will use 2 kWh. You can find out how much 1 kilowatt hour (kWh) costs by looking at your electricity bill or calling your utility provider.
The average kWh price in the USA is around 11 cents. But this can vary drastically if you live in certain states. For example, the average price per kWh in Hawaii is around 27 cents while Idaho is around 8 cents. Ultimately, this means running your 2000 watt air fryer for an hour per day will cost you around $15 per month in Hawaii or $5 per month in Idaho. Needless to say, it can get expensive if you add it up over the course of time.
When you're using any kitchen appliance for an extended period, energy use is something that should be taken into consideration. Not only are energy costs at an all time high, nobody wants to spend more on their monthly bill than they have to. And if you're living off-grid or in an RV, you may even need to keep your air fryer under a certain wattage due to inverter or battery constraints.
Choosing the Best Low Wattage Air Fryers
When you're looking for the best low wattage air fryers, there are certain things you'll want to examine:
Wattage – The amount of wattage an air fryer uses is a direct indication on how much energy it uses. In general, air fryers that use less than 1000 watts are somewhat uncommon. Any option that pulls around 1000 watts could be classified as "low wattage."
Capacity – How much food can your air fryer hold? The overall capacity will be listed in either quarts or liters. This will give you a clear indication on how much food you can cook at the same time. Smaller capacities are the typically trade-off when it comes to air fryers that use less wattage.
Max Temperature – Most foods need to be cooked at a relatively high temperature for the crispiest results. Knowing the highest temperature setting can give you an indication on what it's capable of cooking.
Dimensions – The amount of footprint an air fryer takes up in your kitchen is crucial for those living in small spaces. Knowing the precise length, width and height can save you from purchasing a unit that's too large for your space.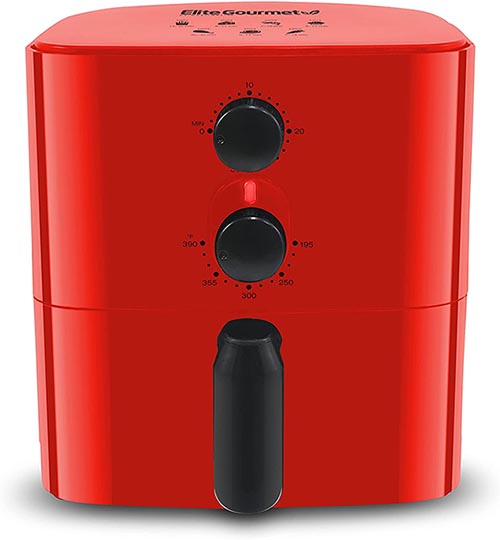 Best Overall: Maxi-Matic Elite Compact Air Fryer
As our pick for best overall, the Maxi-Matic Elite Compact Air Fryer offers a lot to love in a small, compact form-factor. The design is very simple with two knobs on the front. The top dial sets a timer while the bottom dial gives you a temperature range between 195 and 390°. Beneath the knobs is a pull-out tray with a PFOA non-stick surface and cool-touch handle. The tray measures 6.25″ diameter with a 2.25″ depth. Ultimately, it has the capacity for roughly 1 quart of food or about 3/4 lbs. Perfect for personal-sized meals.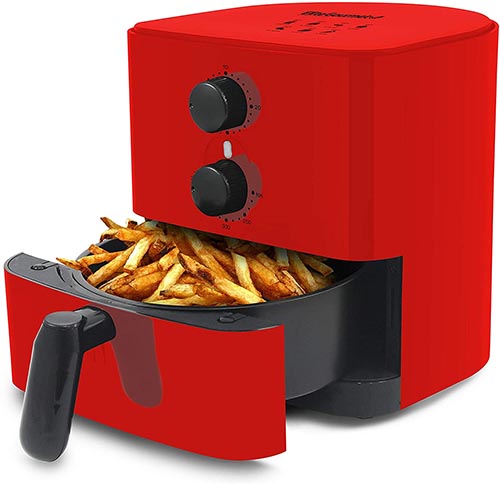 The Maxi-Matic is incredibly energy efficient. It only uses 700 watts of energy regardless of the temperature setting. Additionally, it cooks very well. Able to rapidly circulate air in all directions, it uses a highly efficient technology to make sure hot air is evenly distributed without any oil or added ingredients. Simply place your food within, adjust the time and temperature and you're good to go. Best of all, it's covered by a 1 year warranty on all parts so you can rest assured knowing it's made with quality in mind.
Wattage: 700 watts
Capacity: 0.95 liters
Max Temperature: 390°
Dimensions: 7.68″ x 7.68″ x 9.06″
What We Liked
Incredibly low energy use.
Handle is comfortable.
Space-saving design with simplicity in mind.
What We Didn't Like
Low food capacity.
Some may not like the red appearance.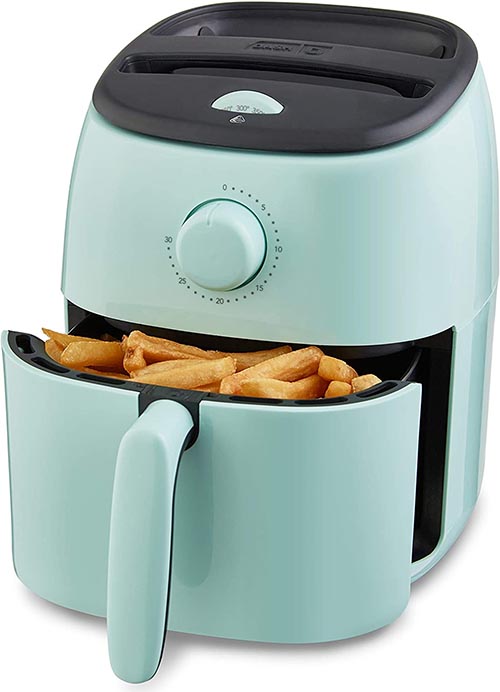 Best Runner-Up: DASH Tasti-Crisp
The DASH Tasti-Crisp is one of the most popular, smaller-sized air fryers available in today's market. Since it only uses 1000 watts and carries a large 2.6 quart capacity, we can easily classify it as our pick for the best runner-up. What we like about it the most is the hot air circulation. The basket is roughly 7″ x 7″ and 5″ deep, but rather than a closed-design, there's plenty of ventilation to promote proper airflow. What this means is crispier food that cooks more evenly. Most low-wattage air fryers struggle to provide enough capacity. This isn't the case here. Simply put, it's suitable for 2-3 people without the need to cook multiple batches.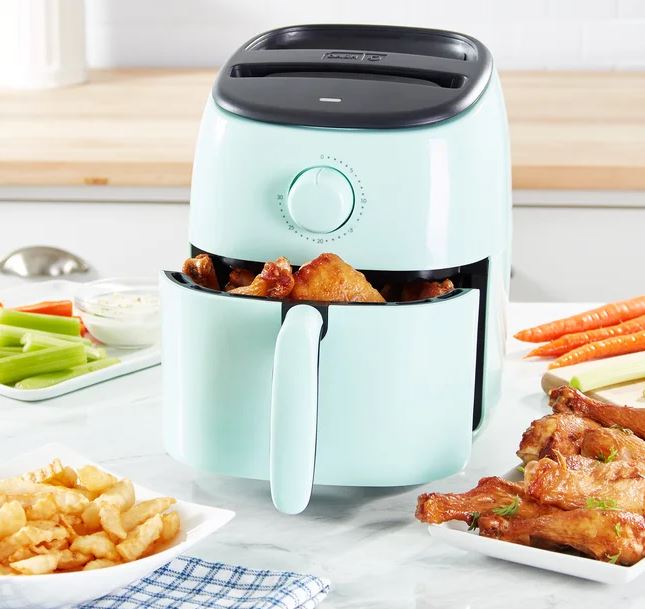 Although it's also available as a digital version, we prefer the standard one; the analog version. For simplicity-sake, there's only one knob on the front; a built-in cook timer that ranges between 0-30 minutes. Located on the top is the temperature dial, ranging from 180 to 400 degrees. Next to this, is a built-in handle that makes the air fryer easy to move around the kitchen.
Wattage: 1000 watts
Capacity: 2.4 liters
Max Temperature: 400°
Dimensions: 11.3″ x 8.7″ x 10.7″
What We Liked
Fantastic air circulation.
Large capacity for its wattage.
Also available in a digital version.
What We Didn't Like
Handle is a bit narrow.
Slightly more expensive than others.
Timer numbers wear off easily.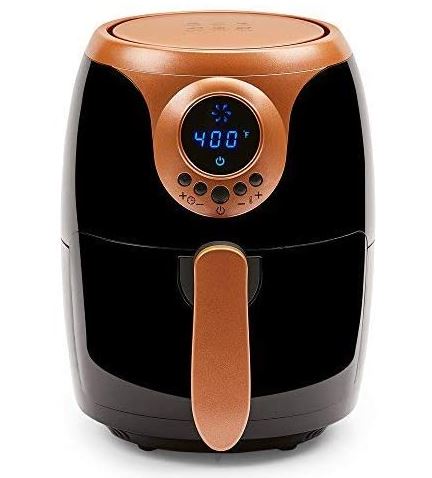 Best Alternative: Copper Chef Turbo Cyclonic Air Fryer
The Copper Chef Turbo Cyclonic Air Fryer is another fantastic pick and our choice for the best alternative. Available in 3 attractive color schemes, it features a relatively small footprint with a digital screen and several food settings.
The design is fairly straightforward with all of the functionality on the front panel. Beneath the screen is a large, comfortable handle that pulls the inner non-stick cooking tray outwards. The internal dimensions of the cooking tray is 7″ in diameter and 3.5″ deep. That said, it has a maximum capacity of 2 quarts or the amount of space for about 1.5 lbs. of food.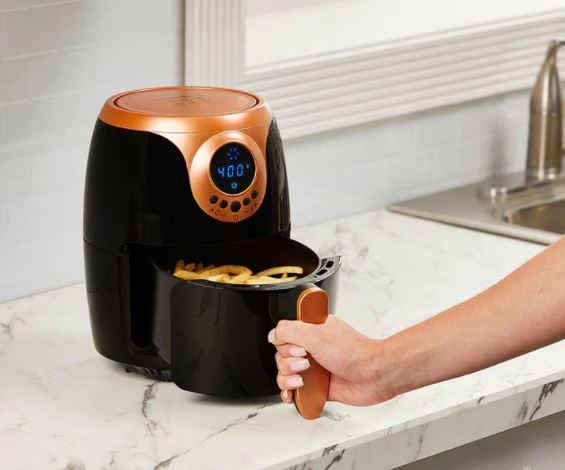 The Copper Chef uses 1000 watts while it's cooking with a temperature range between 180 and 400°. While this is indeed more than the Maxi-Matic, you're also getting a larger cooking capacity but with a slightly larger footprint. That said, the cooking results are fantastic. Using a specialized 'rapid air' technology, it creates a vortex-like effect inside while it's cooking so hot air is promoted evenly around the food. As a result, food is cooked much more evenly and given a much crispier finish in the end.
Wattage: 1000 watts
Capacity: 1.89 liters
Max Temperature: 400°
Dimensions: 12.4″ x 9.6″ x 9.6″
What We Liked
Wide temperature range.
Available in 3 color schemes.
Comes included with a recipe book.
What We Didn't Like
A bit louder than average.
No warranty available.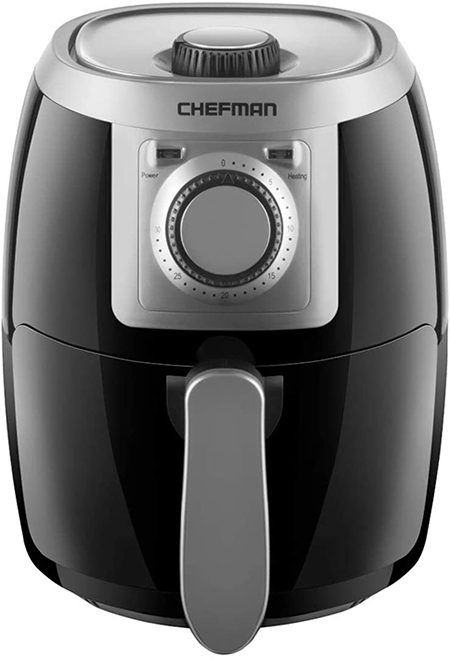 Best 2nd Alternative: CHEFMAN TurboFry Small/Compact Air Fryer
If you need another alternative, we highly recommend checking out the CHEFMAN TurboFry Small/Compact Air Fryer. It's an affordable, space-saving air fryer that only uses 1,000 watts. With a 2 quart capacity, it has enough space for roughly 1.25 lbs. of food. On top of the unit is a small dial that adjusts the temperature range; anywhere from 200 to 400 degrees. On the front upper panel is another dial that adjust the timer; anywhere from 0-30 minutes. Next to this are two small LEDs; a yellow light for power and a green light that's lit-up while cooking.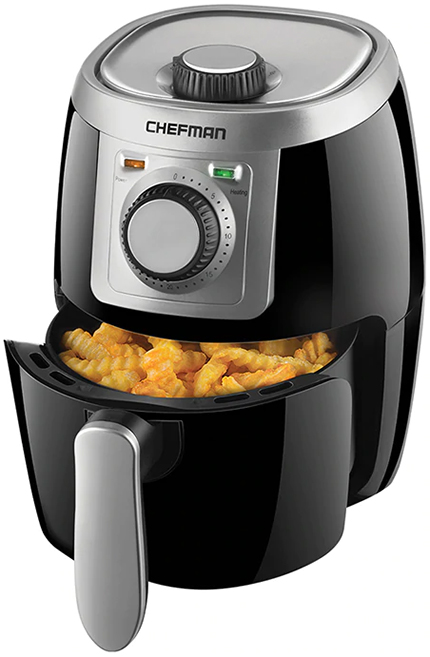 In many ways, the CHEFMAN is quite similar to the Copper Chef. The basket size and shape is nearly identical. In fact, it utilizes the same 'rapid air' technology as the Copper Chef. That said, the cooking results are nearly identical. However, the CHEFMAN is covered by a generous 1-year warranty. They're clearly a company that stands behind their product.
Wattage: 1000 watts
Capacity: 1.89 liters
Max Temperature: 400°
Dimensions: 12.5″ x 9.75″ x 9.75″
Nearly identical design to the Copper Chef but with analog dials.
Broad-shaped handle provides a nice grip for the cooking tray.
Comes with a 1-year warranty.
Moderately quiet operation.

What We Didn't Like

Only available in one color scheme.
Timer cannot be undone unless unplugged.

Which Best Low Wattage Air Fryer Should You Choose?
If you're looking for a compact, low-wattage air fryer, there are several great options to choose from. Let's quickly re-cap to help determine which you should choose.
For those who want the most energy-saving, look for the lowest wattage. That said, the Maxi-Matic Elite Compact Air Fryer is a great choice that only pulls 700 watts. Although it only has a 0.95 liter capacity, it's the most compact, energy-efficient option on the market. You get a lot of great features with it, too. Not only does it save space and energy, it provides excellent cooking results each and every time.
The DASH Tasti-Crisp is our second top recommendation. Using only 1,000 watts, it provides over double the capacity of the Maxi-Matic. However, it's about $20 more and alternatively available in a digital version.
The Copper Chef and CHEFMAN TurboFry are incredibly similar. With the same wattage, capacity and nearly identical dimensions, the only real benefit of the TurboFry when compared to the Copper Chef is the included one year warranty.
Each of these low-wattage air fryers provide nearly the identical cooking results. The main appeal is that they use up to half the amount of energy as your typical air fryer. It goes without saying; finding a small air fryer that costs less to operate can be a bit overwhelming. However, the suggestions we've outlined are all great choices. While some may captivate you more than others, any of the options we've outlined would make great picks. Which one will you choose?