Protecting your TV is only common sense. But depending on where the screen is being setup, managing that protection can be tough. You might be worried mostly about water damage from environmental conditions, or you might be mostly worried about theft or people intentionally damaging your screens. In either case, you're going to want a TV enclosure. But you'll need a different kind of enclosure depending on what you're trying to do.
Picking the Best Outdoor TV Enclosure
The good news is that finding a solid TV enclosure isn't that tough. It does help if you focus your attention on two criteria above all else. Those criteria are the kind of protection you need for your TV, and whether or not you need to be able to access the screen while it's protected.
Level of Protection
The most important thing you need to consider about protection is likely whether or not the enclosure has been waterproofed. Some are water resistant; others are totally protected. And some don't provide any water resistance at all. So depending on the location where you end up placing your enclosure, that kind of thing can have a big impact. And of course, higher levels of protection will almost invariably lead the enclosure you select to be heavier.
Storage or Active Visibility
Some people are trying to find enclosures in order to protect their televisions while they are not being used. For instance, they might be protected from theft. Those kind of enclosures usually do not allow you to see inside of them while the screen is covered. Other kinds of enclosures make use of a thick layer of glass, or allow you to add and remove a viewing piece as needed. That can help provide some level of protection to the screen without rendering it no longer viewable.
Both kinds of designs can be used for indoor and outdoor applications. Selecting between them just depends on the kind of locations you have in mind, and depend on the situations in which you plan on using the enclosed TV.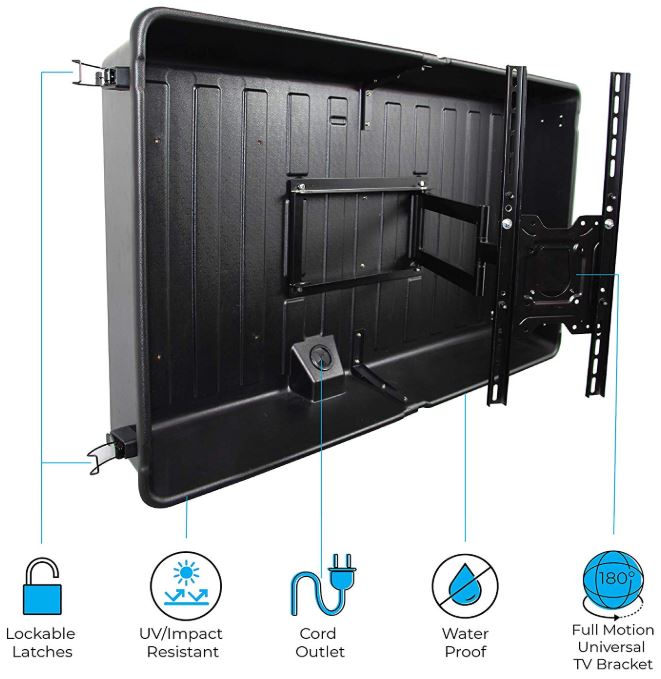 Storm Shell Outdoor TV Enclosure
Despite its name suggesting this enclosure is supposed to resist storms, this is actually more of an indoor TV enclosure. Nevertheless, for people who are looking for a "good enough" level of protection, the Storm Shell is likely going to be your best bet. Because these enclosures don't go over-the-top with their design, but neither do they skimp when it comes to protections.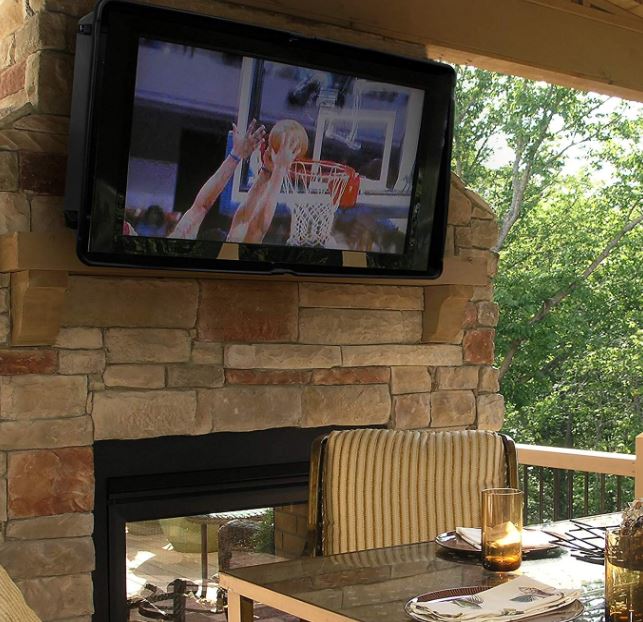 Design & Layout
The Storm Shell SS-44 is available in three sizes. The most common size is the 32" to 44" enclosure. But the larger 45-55 and 56-65 inch versions are comparably priced about the same, relative to their material cost. Remember, these screen sizes are measured diagonally. It's also worth noting that some TVs that are close to the 44" range, if they have an unusually large bezel, you might encounter some issues with size. That being the case, you could be better off using the +45" version.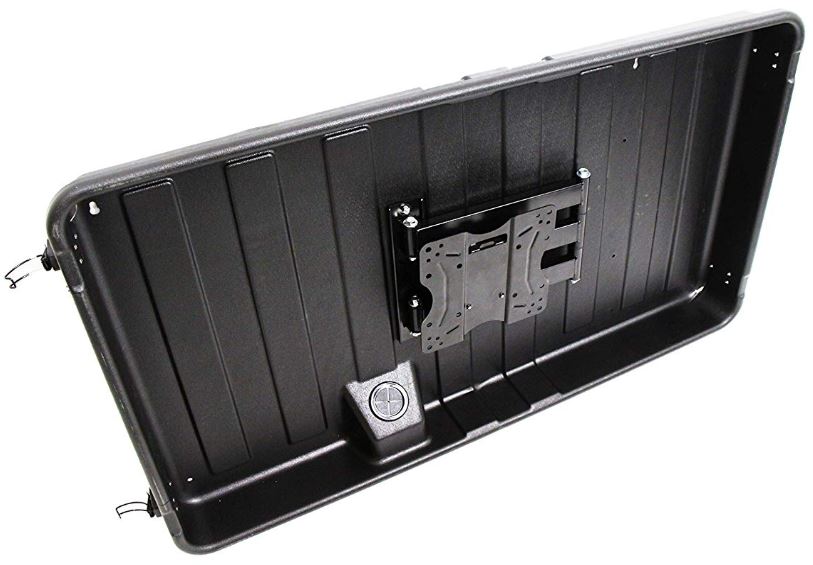 With respect to the kind if protection you can get from these enclosures, things look pretty good. They're are somewhat resistant to moisture impact resistant, and have protections against UV rays. The front cover was made to be total removable. That allows you to remove any chance of impeding the sound of viewing of your screen. Notably, this enclosure weighs about 25lbs. Though the largest version weighs almost 60lbs. That heaviness is the result of those metallic parts being scaled up for larger displays.
Outside, the unit is a two-piece hard shell made largely from ABS plastic. Internally, the wall mount bracket allows your TV to be held firmly and securely inside the protective case. And those brackets are made out of heavy gauge steel, protected with a coated finish.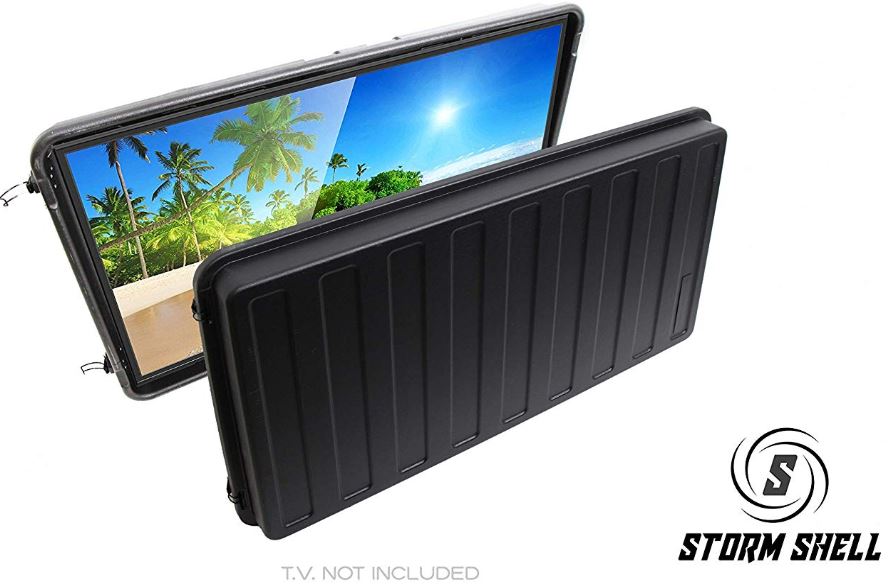 Plus, the motion bracket inside this enclosure allows for 180-degrees of swiveling. So when you pop off the front cover, that allows you to swivel and move the TV as needed for the best possible viewing angles. That's why being trapped inside the enclosure doesn't actually have a dire impact on your ability to keep watching and enjoying the screen.
Other Considerations
One thing this enclosure does not provide is waterproof protection. If your TV is hit by a flood, water is going through the case. Though obviously if the enclosure is closed and someone spills their drink, you're going to be okay. While there is a locking mechanism on the base of the enclosure, no lock is included. You could use basically any standard padlock alongside the Storm Shell, or perhaps a fingerprint padlock to keep things interesting.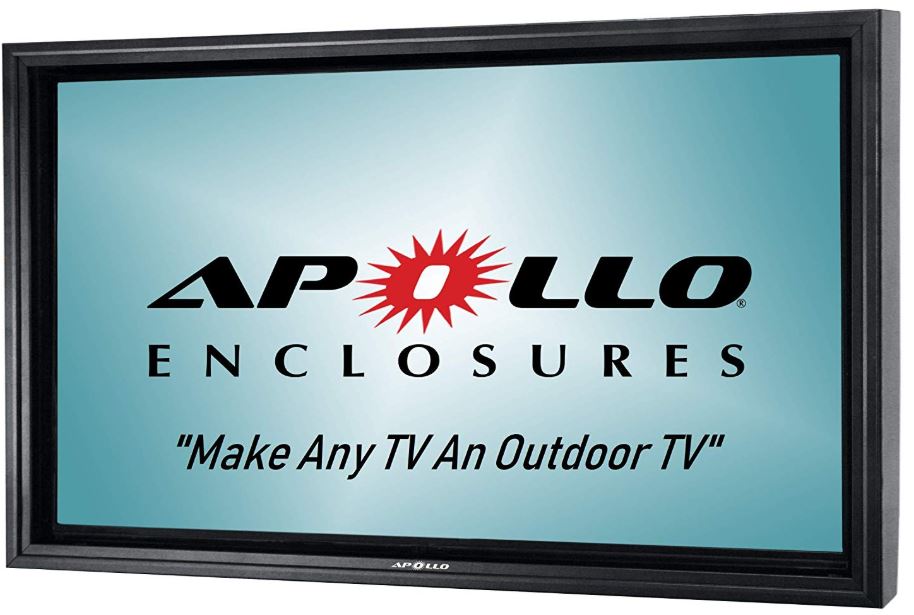 Apollo Outdoor TV Enclosure
The Apollo Outdoor TV Enclosure explains almost everything you need to know, right in its name. This enclosure was clearly made for outdoor installations. The reason why? This enclosure is basically a sealed boxed with a sheet of heavy duty glass across the front. The glass is also designed to help protect against the sun while also allowing the color vivacity of the screen to be maintained.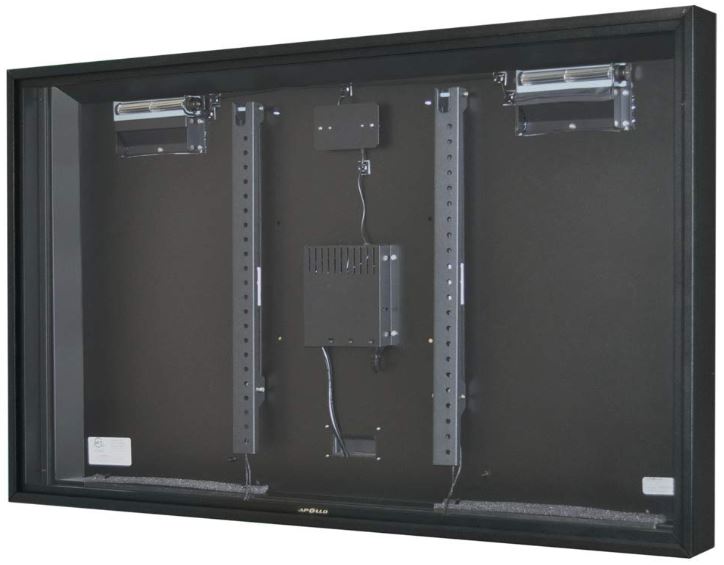 Apart from shielding with glass, the Tight-Seal tech provides protection from dust, insects, and rain. So there's much less to worry about for people who are placing screens outdoors. But that doesn't mean there's nothing to worry about at all. For instance, how do they handle heat? How do you run power?
Design & Layout
The Apollo Outdoor TV Enclosure lets you protect screens of four sizes. There's a 43" version, a 50" version a 55" version, and a 75" version. For people who have to cover enormously large screens, that makes this kit one of the few options that can do so in a formidable way. As with most enclosures, there's a pretty big difference in weight depending on their size. In this case, you're stretching between 30lbs and 75lbs.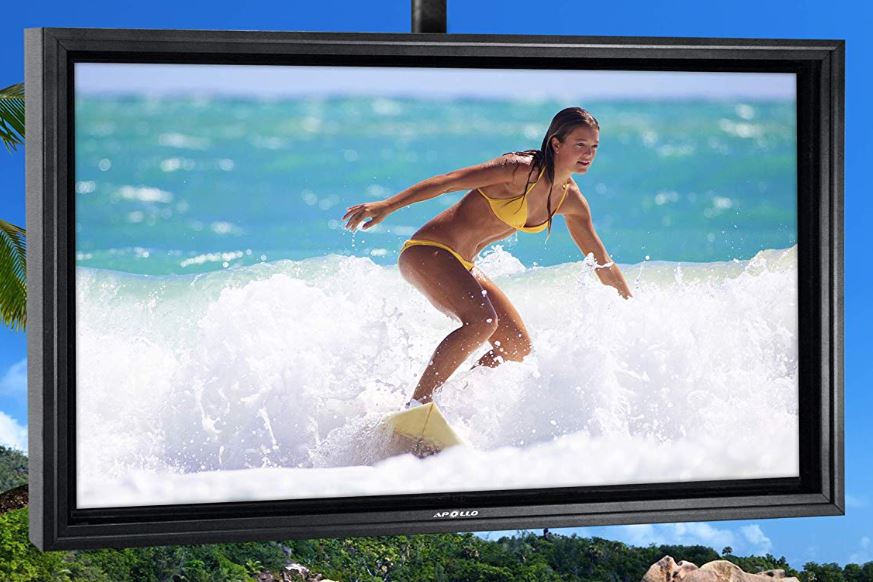 The exterior of the casing is a powder coated aluminum alloy. It has been given an anti-reflective glass front side, in order to help reduce problems with glare while also staying out of the way of the TV's natural contrast ratio. Even though you're cramming a TV into a tight box, the box isn't without airflow. In fact, a thermostatically controlled air filter allows the TV to be protected in environments as warm as 122F. So outside of extreme heat conditions, you're pretty well covered.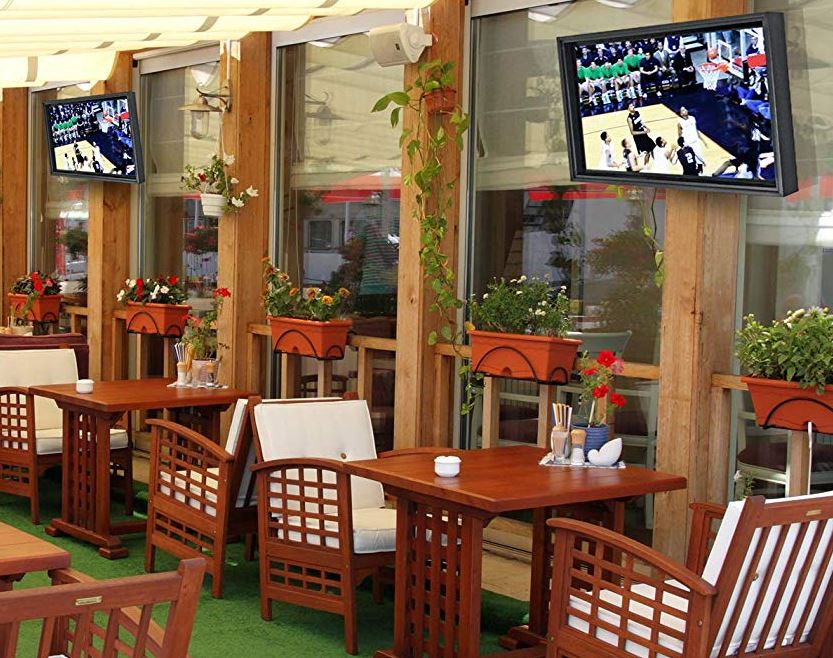 Interestingly, the use of some strategically placed speaker grills allow you to move speaker audio out of the TV, and letting you maintain audio performance with external speakers. Though this isn't something to celebrate, it is an effective way of maintaining sound while the screen is sealed away.
Other Considerations
This kit doesn't include a ceiling mount or a wall mount. You'll need to work that out for yourself. One thing it does include is 9" outdoor-rated power cable. You might need to get an extension cable into the mix to finish your setup, but outside of that, you should be immediately good to go.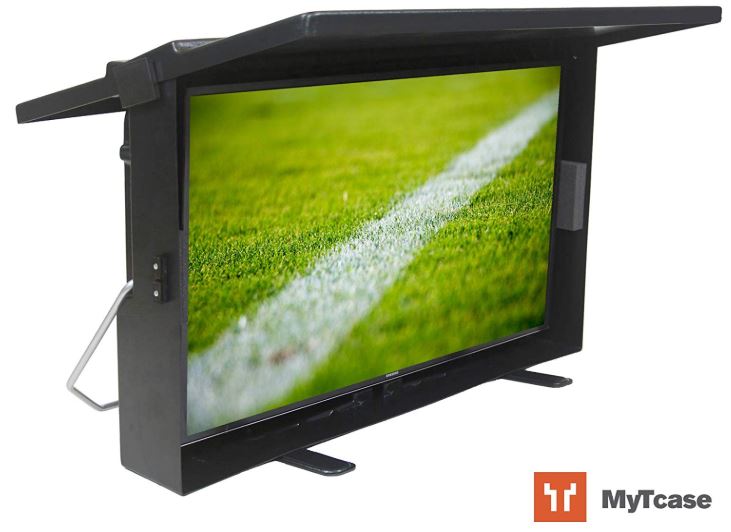 MyTcase
The MyTcase is aimed at people who want to have a screen around for camping activities, or similar kinds of outdoor viewing. The idea of being able to transport a TV with you isn't a novel one. But protecting your TV while you're mobile? That's always been an issue. Because the moment you start shielding a TV, it becomes much less portable.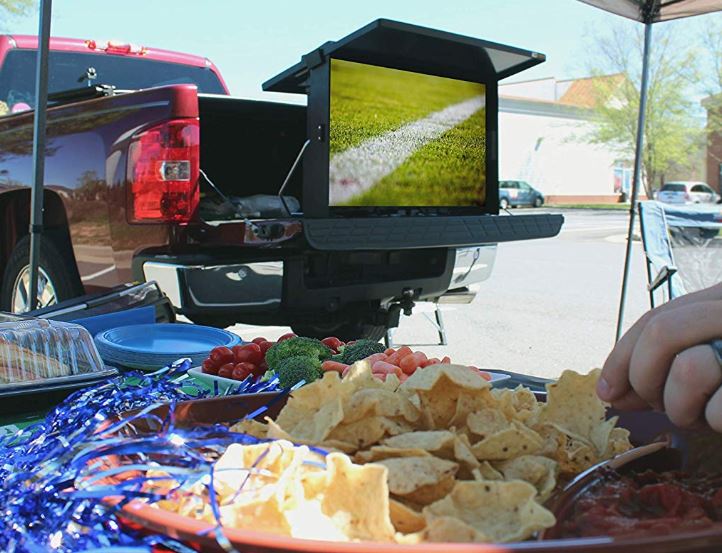 In this case, you'll find everything is protected by a sealed chassis. But once you're done transporting the enclosure and you're ready to use it, the topside flips open to let you watch the TV inside of the box. So the quick setup takes about five seconds to initiate or finish. Plus, the standard VESA connection means you can mount this screen onto a mounting rail as needed.
But as is always the case, smaller enclosures like this do run into a few issues that can put limitations on where they can be used. What does that include in this case?
Design & Layout
For starters, it's worth pointing out that this enclosure is only available in a single size. That size measures 26 x 40 x 6.4 inches, making it a tad bulky for something that's supposed to be portable. But where it really excels is weight. The lightweight design of the case keeps everything around 18lbs, at least before you shove a screen inside.
Because it's lightweight, you might anticipate the mounting equipment inside the case to be a little flimsy. But that expectation would be incorrect. You'll notice the mounting rails inside the box are capable of accommodating screens as large as 43". The smallest screen that fits inside is 32". Because the inner dimensions of the case are 38.6" x 23" x 3.9". That's thanks to some pretty heavy duty aluminum struts that allow everything to remain firmly in position.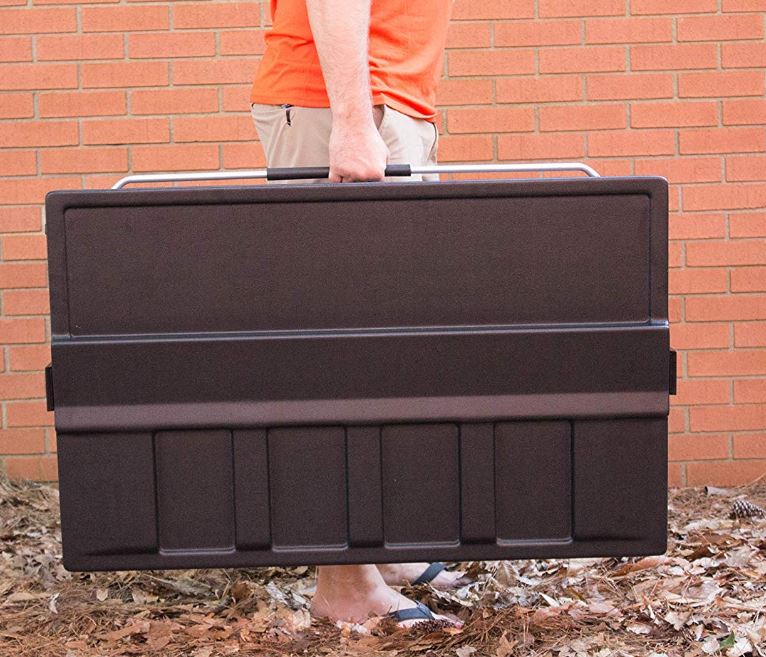 Another nice detail can be found on the handles. There are some pleasantly padded foam grips over the otherwise wiry handles, allowing you a more comfortable grip without costing reliability. The steel construction of the handles is actually important. Because once you've got a television packed inside this box, it could easily end up weighing the better part of 40lbs. Even though steel adds some weight to the design, you're better off with handles that run zero risk of failing on you.
Other Considerations
This enclosure both is and is not designed for the outdoors. Sure, the front cover can protect from glare because it's a protective sunshield. While the screen is open, the cover overlooks the edge of the screen, similar to having your TV wearing a hat. That provides some modest levels of protection against the elements, and against the sun.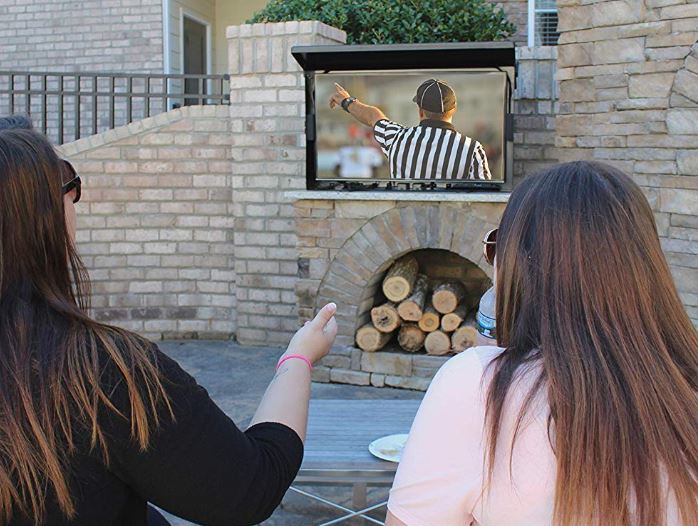 However, this design is weather resistant, but not totally waterproof. If it starts to drizzle, you don't have to panic and shut down your TV. But you still do have to take basic steps to keep it away from moisture because this design isn't totally sealed against the ingress of water. Even when it's in the sealed configuration, it's only lightly shielded from wetness, and it wouldn't be able to handle submersion.
Picking Between 3 of the Best Outdoor TV Enclosures
For someone who's trying to protect a TV that's not being used, the Storm Shell Outdoor TV Enclosure is going to be a cost effective choice. It's also an okay choice for people who need to protect their screen from theft and vandalism. Provided that the shielding is in place, this mixture of hardened plastics and metal can get the job done. The front side is easy to pop off and on, but the fact there's no window does give this enclosure a rather distinct purpose.
Do you need your TV to be seen while it's protected within the enclosure? Do you want to have your display protect outside, rain or shine? You're probably going to be best off with the Apollo Outdoor TV Enclosure. This glass manages to keep the image quality of your TV in-tact while also protecting it from the elements. That allows you to keep watching and using the television while it's protected in the enclosure, which makes it ideal for a variety of outdoor use situations.
Finally, are you planning on using your TV in a portable fashion? The MyTcase is probably your best bet. Because it was designed with a high degree of portability along with its reasonably good levels of protection. The highly mobile nature of this enclosure makes it pretty ideal for taking to trade shows, going camping, tailgating, watching movies outdoors, and so forth. Though you should hesitate to use it in rainy or wet environments, if you exercise common sense, this enclosure can work quite well.