Having a TV outside can add an extra level of fun to any communal space. Friends and family can watch the game by the grill or while swimming, it can provide a lot of options to enhance any gathering.
A major consideration is how to keep something as expensive as a television safe from the outdoor elements. It isn't practical to lug it indoors every time you're done. Another consideration is how to keep your investment safe from theft or vandalism. Even the best neighborhoods need to have a high level of security. This is where outdoor TV enclosures enter the picture.
What are Outdoor TV Enclosures?
As the name suggests, these are enclosures that surround the front, back and sides of a television that's mounted to the wall or ceiling. It provides protection from the outside elements like UV rays, rain and insects while also securing it against theft.
A quick internet search will yield a ton of results. The problem is figuring out which are actually worth considering. To help wade through the ocean of possibilities, we've compiled a list of the top TV enclosures currently on the market.
Best Overall: DeerTV Outdoor TV Enclosure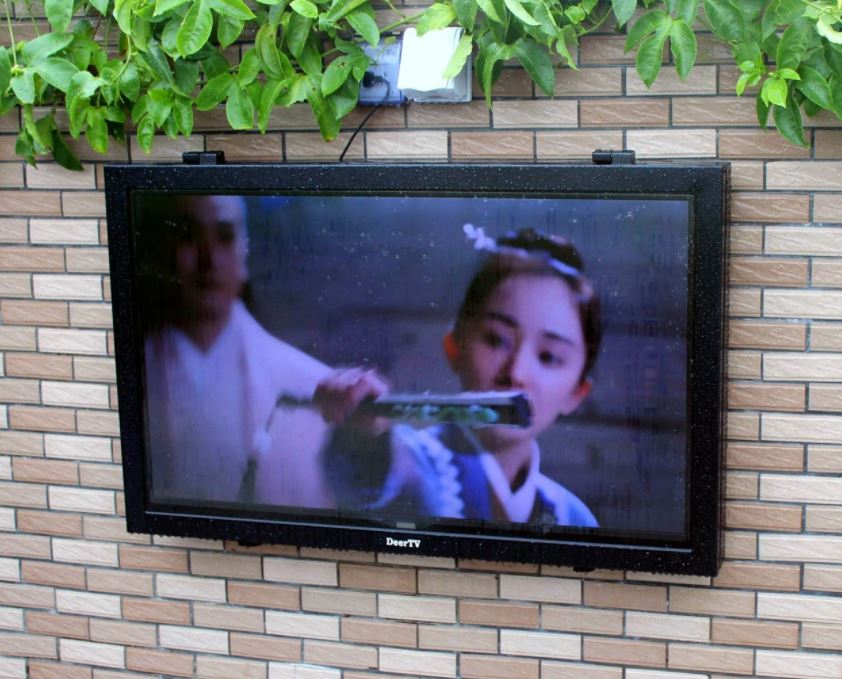 Key Features:
Multiple sizes available.
Triple powder-coated lightweight aluminum and steel.
Great build quality.
Lifespan of 6 to 10 years.
Fully weatherproof.
Relatively affordable.
Free shipping.
When it comes to the best overall, the clear-cut winner is the DeerTV Outdoor TV Enclosure. It seems to tick nearly every box when it comes to all-around durability and protection. Let's look at some of the reasons why it took the top spot.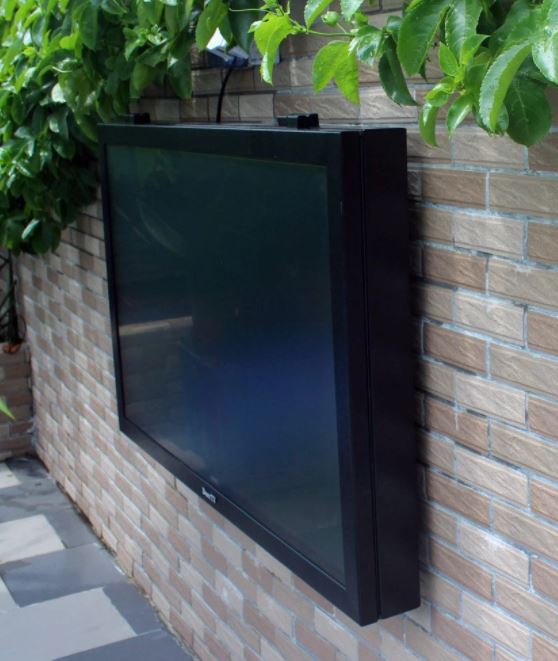 First, the build quality is exceptional. Where many others opt for plastic, the DeerTV enclosure is comprised of heavy-duty aluminum and steel. This is great for a number of reasons. In addition to being durable, it keeps your television safe and secure. It feels solid, well made and built to last. The triple powder-coated exterior keeps your TV in pristine condition, regardless of the elements.
Another advantage the DeerTV has over its competitors is in regards to its lifespan. While other brands may need to be replaced within just a few years, owners report being able to use their DeerTV enclosure for 10+ years.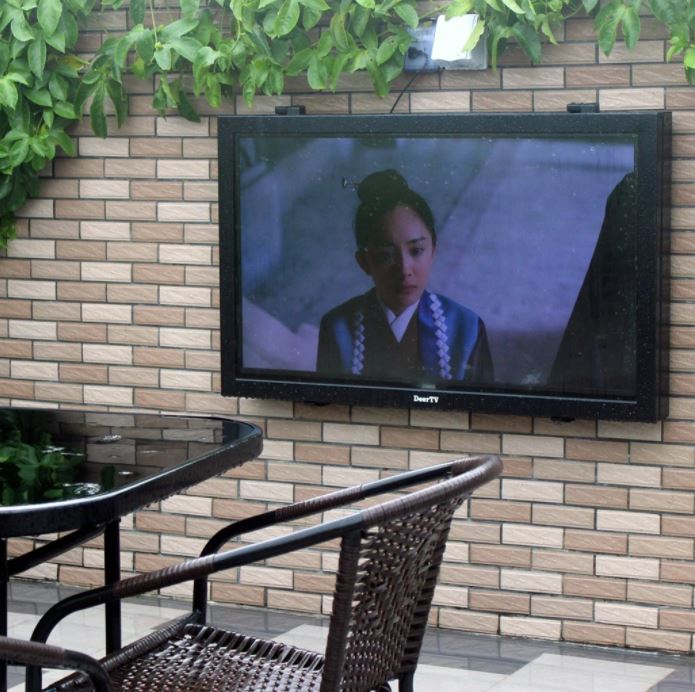 Best of all, it comes in a wide range of sizes and configurations to match a host of situations. As for pricing, it's extremely reasonable, especially when you factor in the free shipping for an item of this size.
What We Liked:
Solid aluminum and steel material.
Triple powder-coated.
Lasts upwards of ten years.
Seems to be made very well.
What We Didn't Like:
Shipping can take a long time.
Best Runner-Up: The TV Shield Outdoor TV Enclosure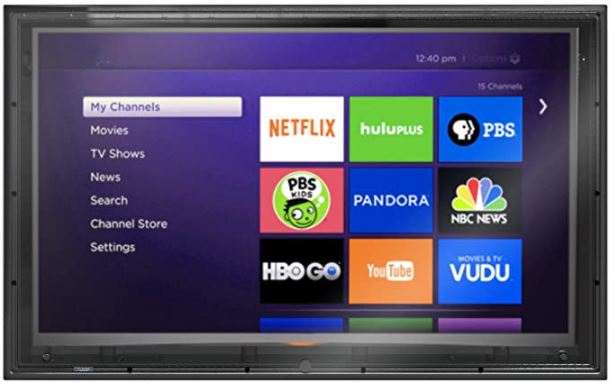 Key Features:
Built for a wide range of TV sizes.
Water, dust, theft and tamper protection.
Use for both commercial and residential spaces.
Shatterproof front panel.
VESA mount compatible.
This enclosure from TV Shield is our choice for the best runner up due to its commercial grade quality. Its approach is slightly different from the DeerTV enclosure, offering a few extra features that add another layer of protection.
Available for 19 to 65-inch TV's, it's compatible with a conventional VESA mount that allows you to use any arm or mounting bracket you choose. (See their Amazon store to select your TV size.) The front panel is made of shatterproof Lexan, the same material in bulletproof glass.
This provides a clear picture of the TV even when it's closed. This reduces any need to remove the front panel to get a better viewing angle. In case you do need to keep the front panel open, the TV Shield comes with a proprietary locking system that locks it securely in place without fear of having it come crashing down.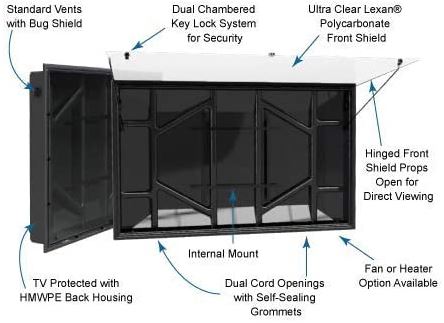 While it does not use metal for its back and side like the DeerTV enclosure, it does feature an extremely thick High Molecular-Weight Polyethylene (HMWPE). It's also outfitted with two metal chambered locks for commercial-level protection and security. In regards to resistance against the elements, extra moisture barriers and self-sealing grommets help to keep everything out that can affect the visibility or integrity of the display.
In our testing and based on surveys from dozens of long-time users, the TV Shield outperforms nearly every enclosure on the market. It's because of an obvious attention to detail. You can tell that the designers thought through every scenario and did their best to make sure this enclosure could withstand it.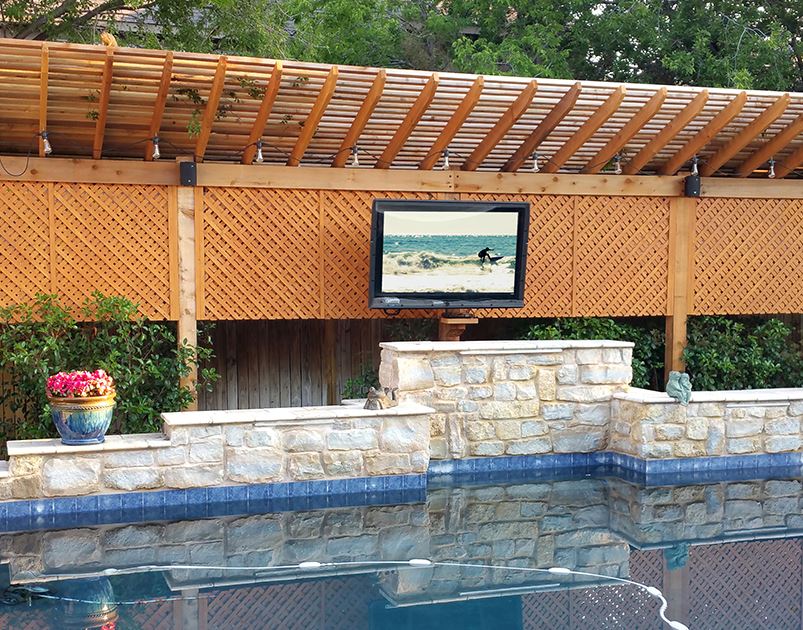 One of the only reasons the TV Shield didn't take the best overall spot in this article is because of the price. At nearly double the cost of the DeerTV, it occupies a premium price point that may not be feasible for most. But if you tend to entertain often or spend lots of time in your outdoor space, the superior viewing experience and proprietary pro-arm system may be worth the investment.
What We Liked:
Front panel is shatterproof, made of the same material found in bulletproof glass.
Designed for high humidity climates.
Great viewing quality even when the front panel is down.
Weather-proof, self sealing grommets.
Enclosure material are tested to last 20 years of more.
What We Didn't Like:
Best Budget: Storm Shell Outdoor TV Weatherproof Hard Cover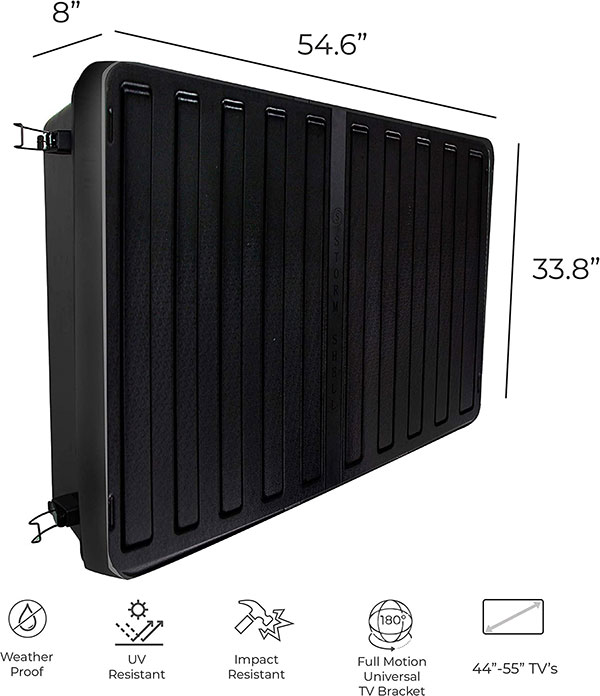 Key Features:
Removable front cover.
Includes TV wall mount bracket with articulating arm.
Fits TVs from 32" to 65".
Made from hard shell ABS plastic.
Assembly required.
For those that have already spent a lot on their TV, may be looking for a TV enclosure that offers great protection but at a budget price. For that, the Storm Shell Outdoor TV enclosure is the best option we've found. However, to keep costs low while maintaining protection, there are some tradeoffs.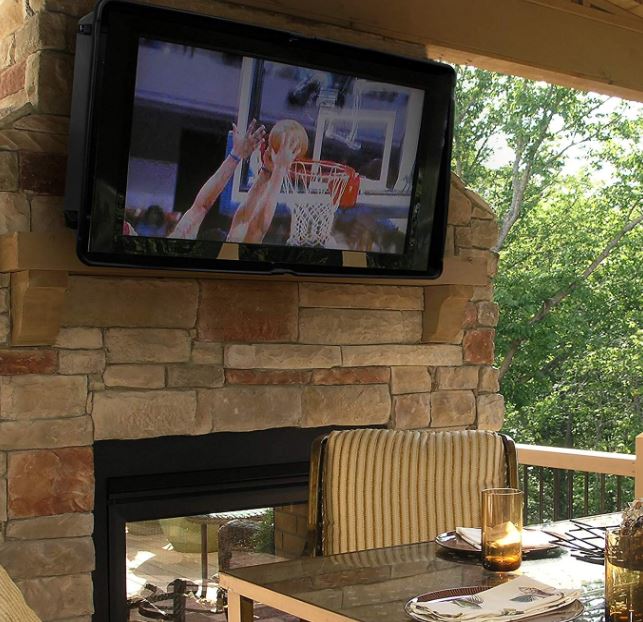 The Storm Shell comes with a fantastic articulating arm bracket that's made of heavy gauge steel. The TV isn't going anywhere once you install it. For the enclosure, Storm Shell uses a heavy duty ABS plastic for the front panel and main body. When the cover is applied to the front of the television, the Storm Shell offers incredible protection against weather, impact and harmful UV rays.
The one thing to note is that the front panel is made of the same black material as the body, meaning that when it is closed, you won't be able to view the television screen. This is a compromise for a couple of reasons. First, it will only offer protection when it's physically covered. Ultimately, this may limit the possible locations you could mount it.
For example, it wouldn't be best to use this type of enclosure near a pool or where water can splash onto it. The second reason this can be a challenge is the hassle of having to remove and replace the front cover whenever you want to watch something. Since it's not a swivel lock design like the TV Shield, you'll need to find a place to stash it when it's not in use.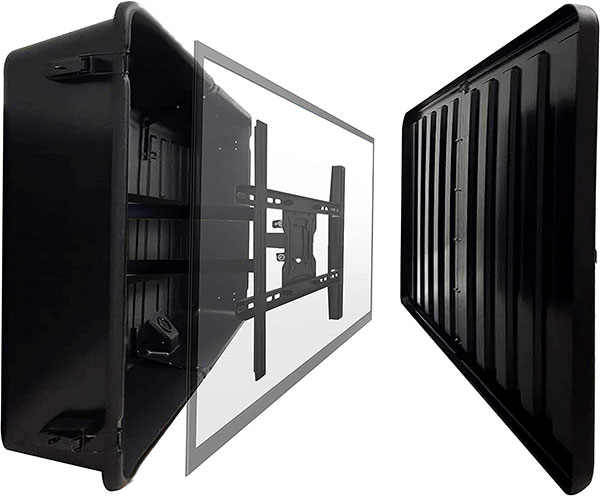 Besides a few convenience advantages that you lose out on, the Storm Shell is still on par with the other enclosures on this list in terms of protection. As we mentioned earlier, this enclosure is the most budget friendly, but it's worth noting that the superior DeerTV enclosure sometimes goes on sale which ends up costing only slightly more.
What We Liked:
Provides solid, weatherproof protection.
Heavy-gauge steel bracket with an articulating arm.
Sleek black finish.
What We Didn't Like:
Unable to view the TV when the front cover is on.
ABS plastic enclosure may not be able to dissipate internal heat as easily.
Best High-End: Apollo Outdoor TV Enclosure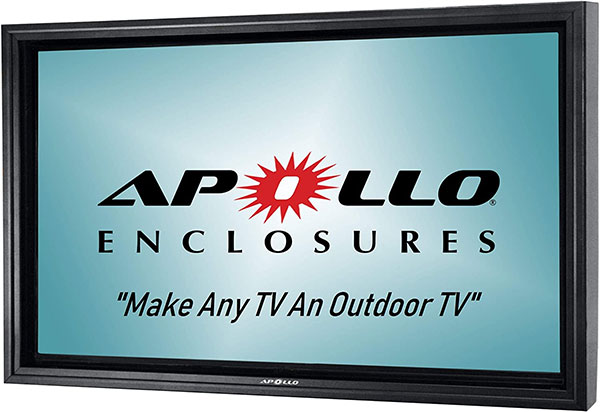 Key Features:
Available for 43, 55 and 75-inch TVs.
Fixed bracket.
Can be mounted to the ceiling.
Aluminum construction.
Anti-reflective front panel.
Includes speaker grilles for better sound.
Thermostatically controlled to enhance airflow and cooling.
Tight Seal Technology for strong weather resistance.
When it comes to a high-end enclosure that provides commercial-grade protection, performance upgrades and a "barely there" form factor, the Apollo Outdoor TV enclosure is the ideal option. Of the few high-end enclosures out there, the Apollo offers the ideal combination of premium features and value. Originally designed for commercial spaces, the Apollo comes standard with protection and security features that exceed most of its competitors.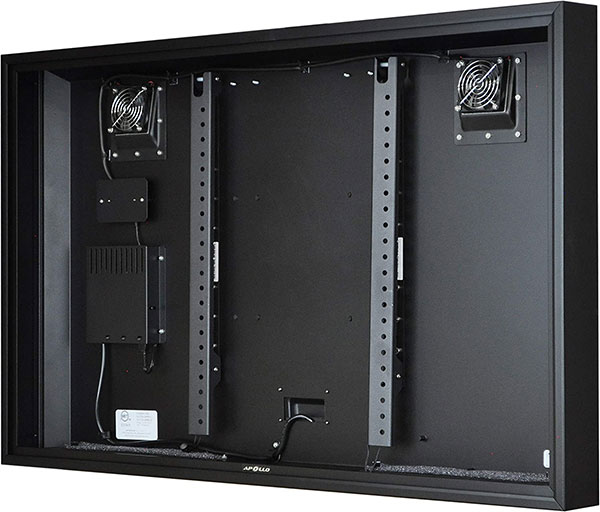 While other enclosures on this list can accommodate various sizes, the Apollo comes in a 43", 55" and 75" frame option only. It's made of powder coated aluminum material that's both lightweight and durable. The front panel is made of a high quality, impact resistant glass that delivers a great viewing experience from all angles.
Where it sets itself apart is in its extra features to improve performance and the overall viewing experience. It's the only enclosure in this article that comes with cooling fans built into the frame. These fans provide much needed airflow to keep the internal temperature regulated in environments of up to 122 degrees Fahrenheit.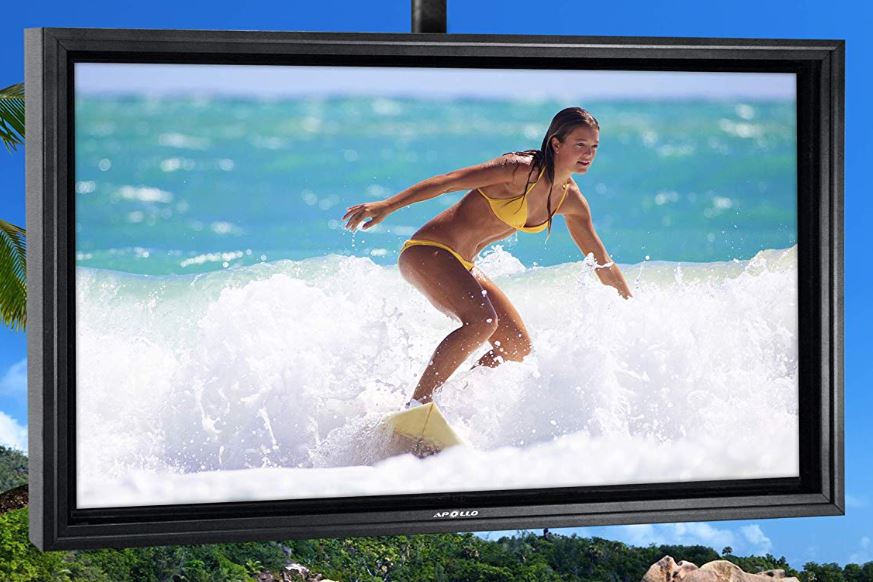 Typically, when encasing a TV within a shell, the sound can become muffled or distorted. The Apollo Outdoor TV Enclosure fixes this problem by adding speaker grilles. These are weather-proof openings in the frame that allow sound to travel out while keeping moisture from getting in. In addition, it's compatible with any wall or ceiling mounting brackets that use the universal VESA pattern.
Overall, this is an incredible piece of equipment that provides some of the best protection on the market without distracting from the beauty and sharpness of your TV screen. But yes, it does cost quite a bit.
What We Liked:
Circulating fans keep airflow steady and temperatures down.
Can be used with any VESA patterned mounting bracket.
Made of high quality metal and a clear glass front panel.
Can be ceiling mounted.
Built-in waterproof speaker grilles that enhance sound quality.
What We Didn't Like:
Best Alternative: A1Cover Outdoor TV Cover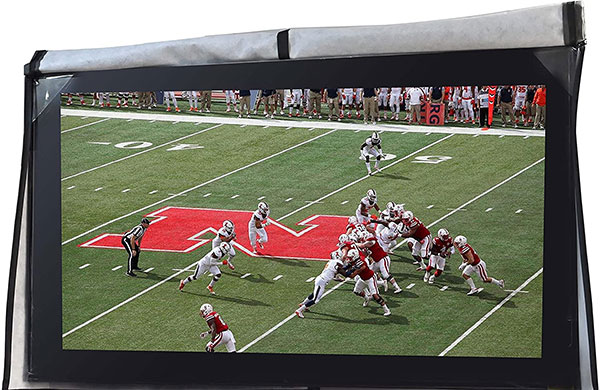 Key Features:
Fits TVs between 22" and 90".
Made of a polyester and cotton blend.
Waterproof.
Scratch-resistant.
Roll-away front cover.
We wanted to include an alternative to some of the more traditional TV enclosures we have included in this article. For that, we've chosen the A1Cover Soft Outdoor TV Cover as the best alternative to an enclosure.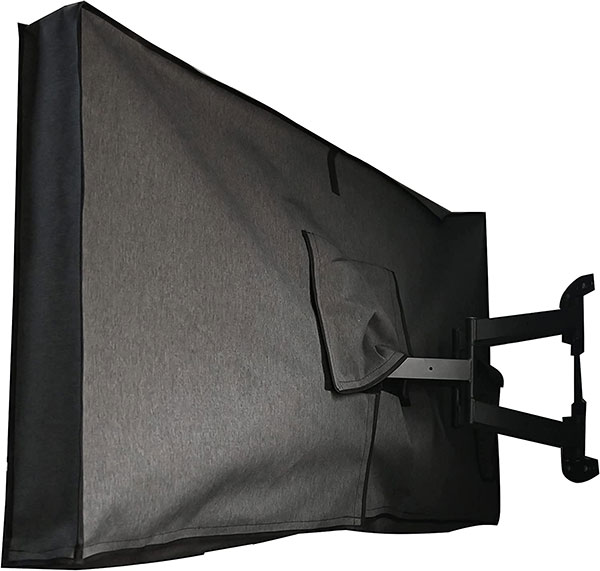 The A1Cover opts for a heavy duty fabric material instead of a hard-shell plastic or metal material. Its main purpose is to provide weather/element protection when your television is not in use. Think of it like the cover you put over your grill when you're done with it.
For keeping things like rain, leaves and wind away from your TV, the heavy duty, waterproof fabric on the front, side and back give fantastic protection. It's also scratch resistant, meaning you don't have to worry about your screen getting nicked from constant contact with the front flap.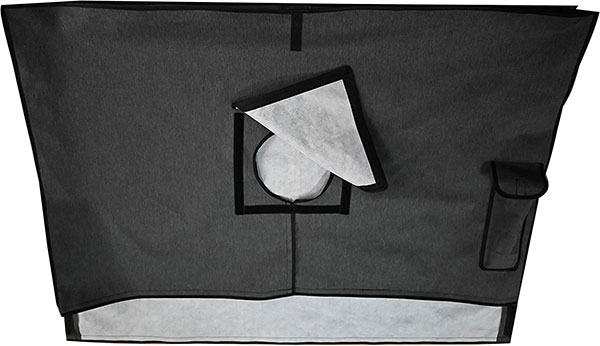 Instead of having to remove the entire cover when you want to watch TV, the front flap comes with strings that allow you to roll it up and out of the way with little effort. On the back, there's a small hole that allows a mounting arm to protrude through.
Even though it may not provide the security and protection capabilities of enclosures with a solid frame, many rave about its affordability and weather protection. It's not a true hard-shell enclosure, but it's the perfect, inexpensive option for covering up your TV while not in use.
What We Liked:
Heavy duty waterproof fabric.
Roll away front cover for easy viewing.
Scratch resistant material handles you television with care.
Cost effective.
What We Didn't Like:
Entire cover may need to removed before viewing in hot climates.
Doesn't offer impact or security protection.