Outdoor living spaces are about enjoying life outside the home. But sometimes, you still want to enjoy the same amenities that the indoors have to offer, namely, TV. If you're considering adding a television to your outdoor space, you'll need an enclosure to keep it safe from the elements. In our pursuit of the best outdoor TV enclosures, we've meticulously tested a variety of models to determine which ones excel in performance, design, and value. Here's a sneak peek at what we found:
With these selections in mind, let's move on to our in-depth reviews of these enclosures, allowing you to pick the perfect protection for your outdoor entertainment.
Best Overall: DeerTV Outdoor TV Enclosure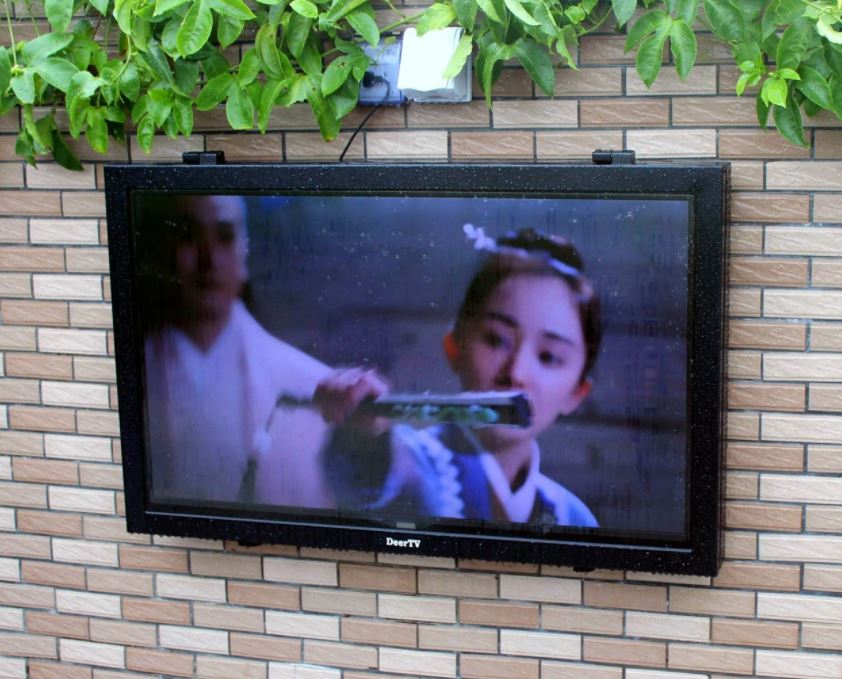 Key features:
Steel and aluminum construction
Thermostat-based controlling system
IP55 and IP65 certified
Anti-glare acrylic screen
We live in an era where outdoor entertainment is more viable than ever. Thus, the protection of your outdoor TV becomes paramount. Enter the DeerTV Outdoor TV Enclosure, a trusted solution to keep your television shielded from environmental threats like rain and snow. What sets this enclosure apart from its plastic competitors is the solid construction using steel and aluminum. Boasting a super long lifespan of up to 10 years, it's ready to serve both residential and commercial purposes.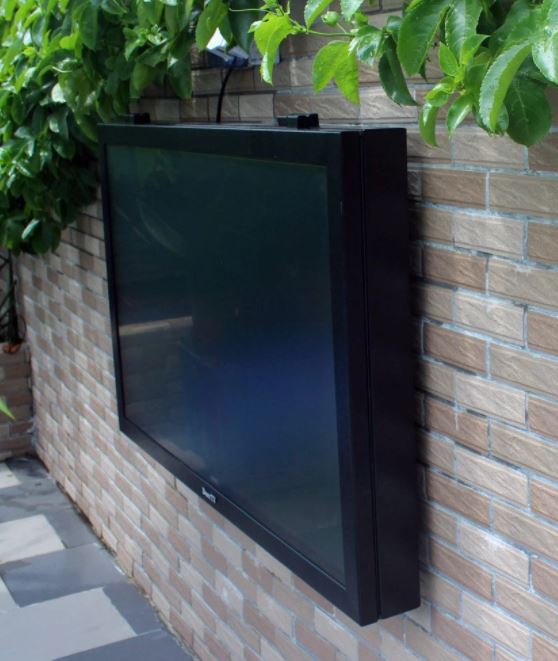 As for the specifics, they vary based on the size of your TV. The 65-inch TV Enclosure model, for example, measures at 58.26 x 33.86 x 3.34 inches and weighs 58 pounds. The enclosure isn't just about durability; it's an intelligent system that takes care of your TV in several ways. For one, it has a shatter-resistant, anti-glare acrylic screen. It also sports lockable bi-folding doors and even has a thermostat-based controlling system to ensure perfect temperature control.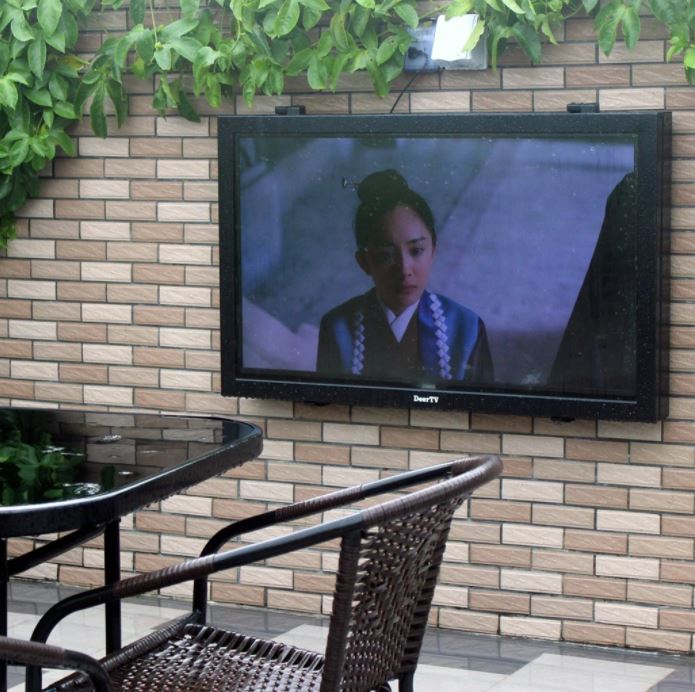 What's more, the IP55 and IP65 certifications vouch for its protective nature against moisture, corrosion, and mildew. And if you're worried about the setup, fear not. It's designed for breezy installation. And if the available sizes don't match your TV, the DeerTV team will respond within 8 hours to your requirement. If they can provide a solution that meets your needs, they'll let you know. With the right balance of durability, functionality, and aesthetics, the DeerTV Outdoor TV Enclosure is a commendable investment to keep your TV secure.
What we liked:
Long lifespan
Easy installation
Solid theft protection
Weather-resistant
What we didn't like:
Best Runner-Up: The TV Shield Outdoor TV Enclosure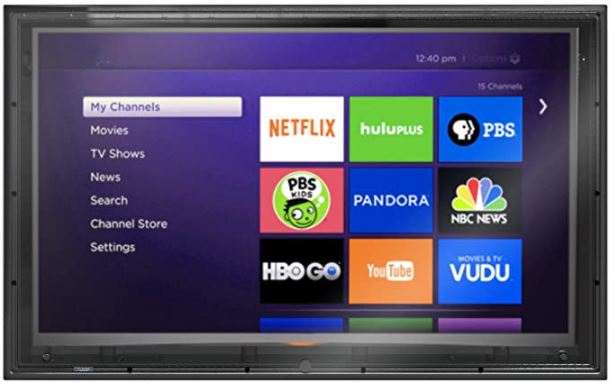 Key features:
Shatterproof Lexan polycarbonate front shield
HMWPE plastic back housing for durability
Dual-chambered key locks for security
Proprietary "prop arm" system for direct view
The TV Shield Outdoor TV Enclosure offers you the chance to enjoy your favorite shows outdoors, regardless of the weather conditions. This comprehensive kit gives you everything you need to let your TV lounge outside safely and securely. Made in the USA, it features a .220-inch thick shatterproof Lexan polycarbonate front shield and a .350-inch thick HMWPE plastic back housing. So whether it's a stormy night or a sunny day, this unit doesn't blink.
We tested it under intense rain and scorching heat, and it held its own every time. With its water-resistant sealed housing and ability to withstand extreme temperatures, it's perfect for that patio by the pool or the porch. It's also no slouch when it comes to security.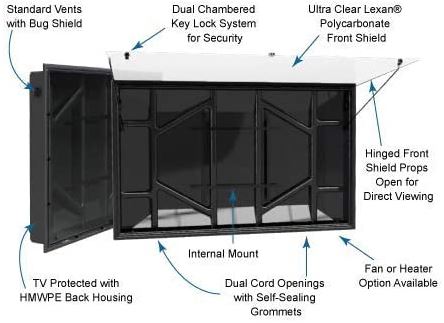 Dual chambered and keyed locks, riveted hinged shield, and damage-resistant materials make tampering and theft nearly impossible. Yet, when it's game time, the proprietary "prop arm" system opens up for a direct view of the TV.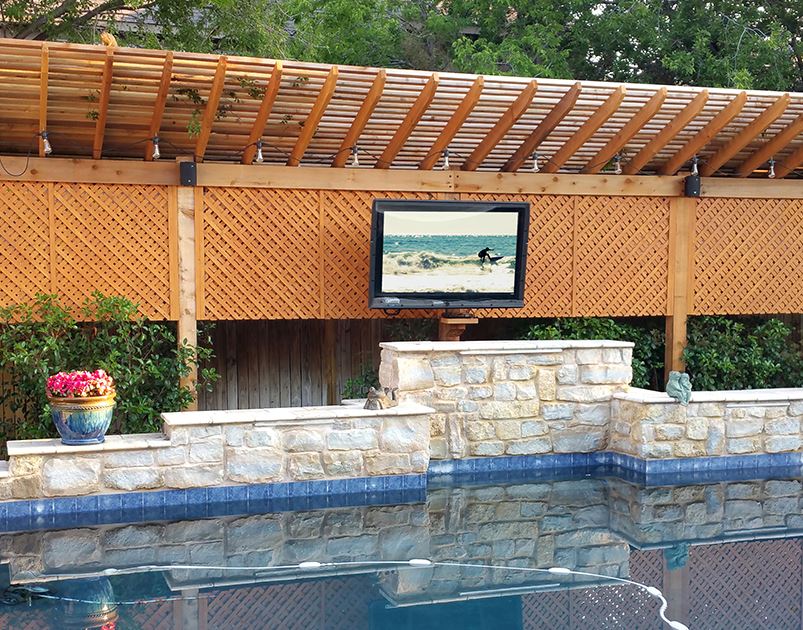 Though the TV Shield is designed to be robust, mounting it requires a buddy. The sheer size and weight make it a two-person job. This is especially true if you're mounting on a unique surface, like stone or cider block core wall. The inside dimensions allow for a width of 50.8 inches, a height of 31.35 inches, and a depth of 4.10 inches. Outside, its dimensions measure 55.40 x 35 x 6.90 inches, and it weighs 50 pounds.
What we liked:
Weather-resistant
Highly durable material
Easy access to TV
Theft-resistant design
What we didn't like:
Pricey investment
External speakers needed
Best Budget: Storm Shell Outdoor TV Weatherproof Hard Cover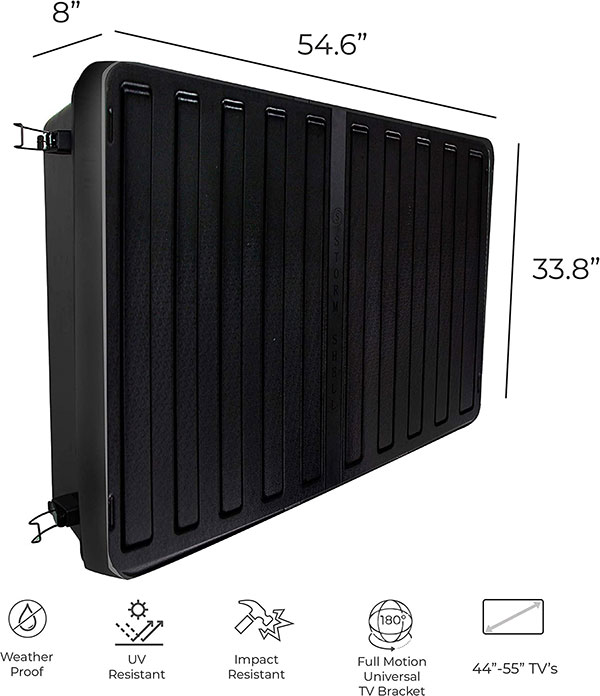 Key features:
Weatherproof and impact-resistant
Fits 45-55 inch flat screen TV
Swivel arm mounting bracket
Lockable hard cover
Ever wished you could enjoy your favorite shows while grilling in your backyard or relaxing by the pool? The Storm Shell Outdoor TV Weatherproof Hard Cover could be the answer to your outdoor entertainment needs. Made from Acrylonitrile Butadiene Styrene (ABS), this unit's weatherproof, impact-resistance, and UV-resistant characteristics make it a sturdy choice for protecting your television. During our testing, we found it to be quite resilient against elements, locking out dust and pesky insects.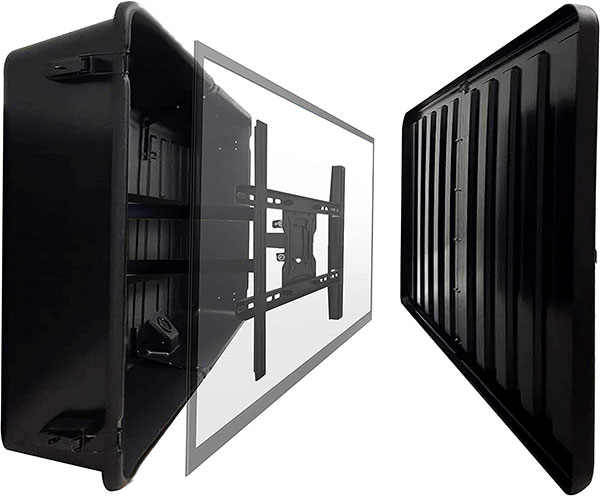 Suitable for televisions ranging from 45 to 55 inches, the Storm Shell comes with a swivel arm mounting bracket that lets you enjoy your television from multiple angles. It's designed to mount right on the wall, and we found it fairly easy to install, even on vinyl siding. However, the instructions proved to be a tad ambiguous. So you might find yourself faced with some trial and error to get everything just right.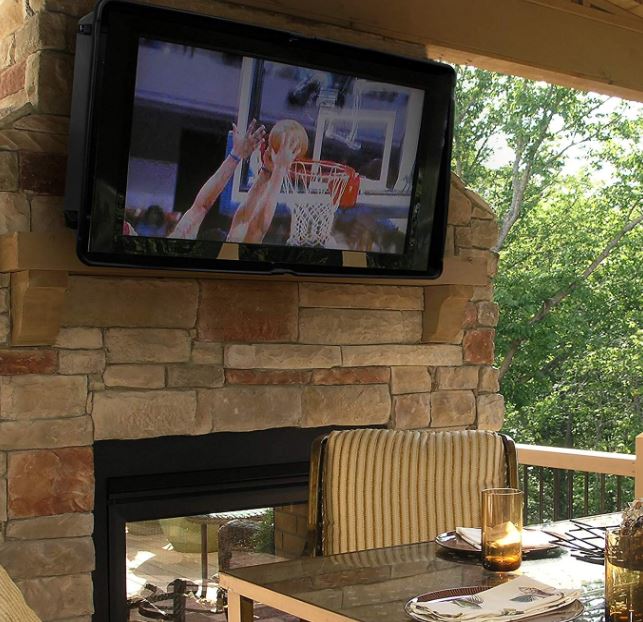 The lockable hard cover ensures extra security, making it a cut above many other contenders on the market. But be prepared for a bit of a puzzle during assembly; it's not exactly a breeze. It took us a few times to figure it out because, again, the included instructions aren't much help. With dimensions of 54.6 x 33.8 x 8 inches and weighing 43 pounds, this enclosure ensures your TV enjoys outdoor living as much as you do.
What we liked:
Easy to mount
Versatile viewing angles
Sturdy construction
Fully sealed
What we didn't like:
Tricky assembly
Ambiguous instructions
Best High-End: Apollo Outdoor TV Enclosure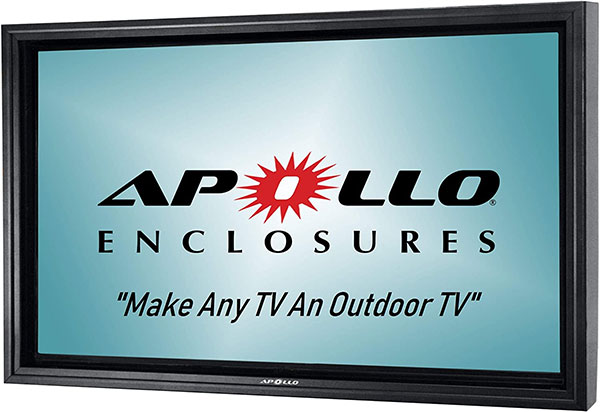 Key features:
Ceiling mounting
Aluminum material
Accommodates 50 to 55-inch TVs
Attractive glass finish
The Apollo Outdoor TV Enclosure is a top-notch solution for those who wish to enhance their outdoor entertainment experience. Tailored for 50-inch to 55-inch TVs and weighing in at 46.2 pounds, this unit possesses a sleek look with a glass finish, elevating it above its plastic counterparts. Made from robust aluminum, the enclosure is designed to be mounted from the ceiling – a fairly unique attribute among outdoor TV enclosures.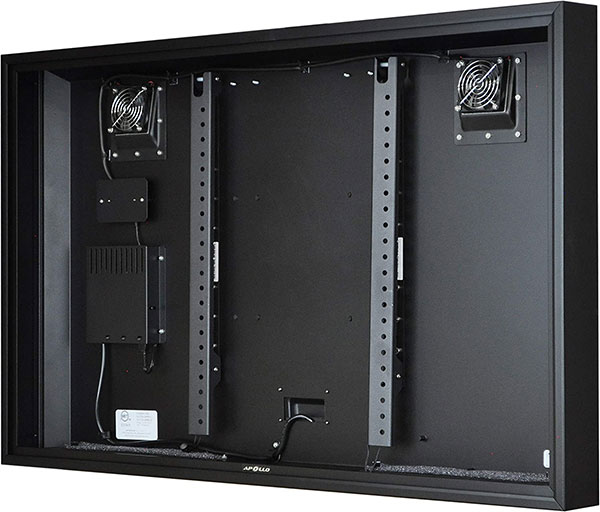 With fixed movement, it has proven to be sturdy and well-engineered. Its black color adds a touch of elegance, and we commend it for handling outdoor grill and cooking areas so well. Although we can't speak to its performance under extreme weather conditions, it demonstrated remarkable resilience under a covered patio.
Installation was fairly easy for us to complete, especially with an extra pair of hands. The enclosure accommodates various devices and leaves room for extra equipment like HDMI extenders and wires. It showed excellence in protecting our TV, even in the face of summer thunderstorms. The design allows for additional customization, like connecting a mini amp for external outdoor speakers. Bottom line, we were continually impressed by this unit's performance.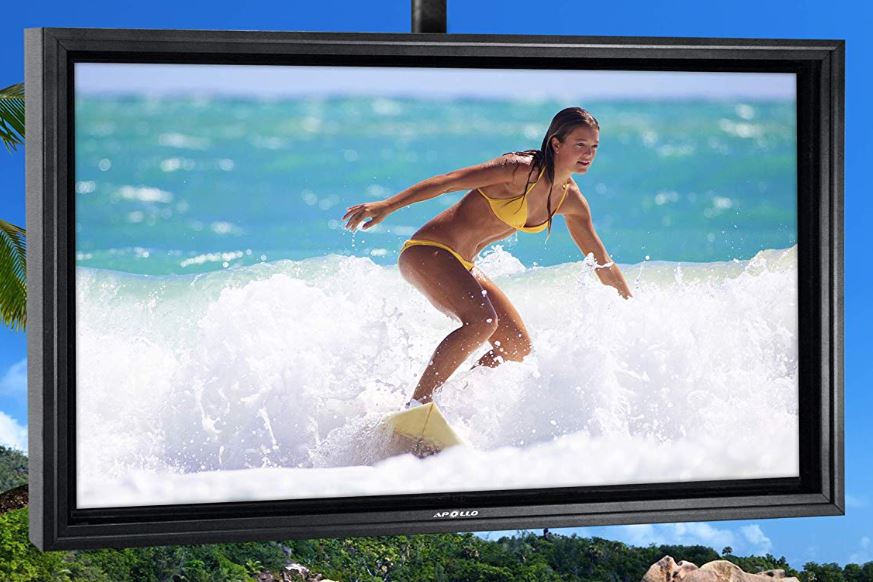 We also feel the need to mention that customer service appears to be another high point of Apollo Enclosures. While we didn't run into any issues that prompted us to call them, the general consensus from consumers who did is overwhelmingly positive. So if you're looking for an outdoor TV enclosure from a brand that backs its products, this high-end unit may be the one for you.
What we liked:
Sturdy and well-engineered
Excellent customer service
Sleek design
Easy installation
What we didn't like:
Performance in extreme weather untested
Mounting brackets may need adjustment
Best with Soundbar: KUVASONG Waterproof Outdoor TV Enclosure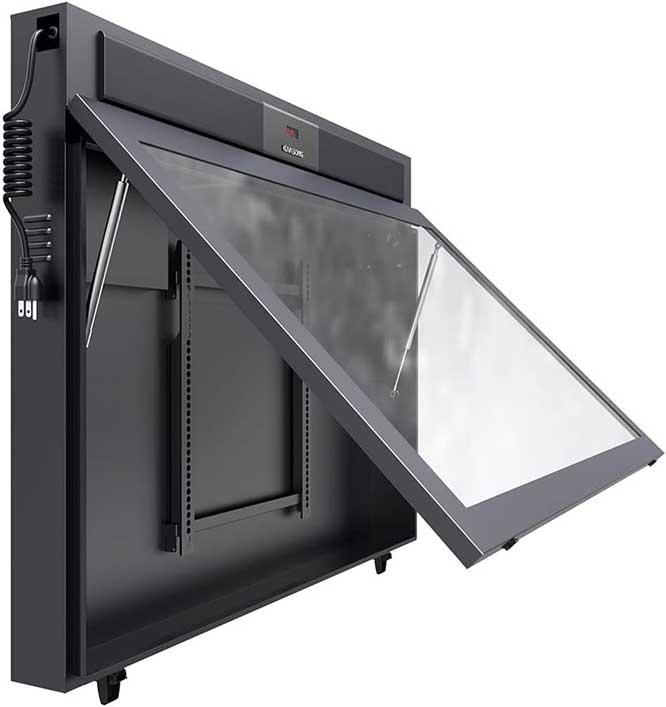 Key features:
Waterproof and dustproof design
80W waterproof soundbar
Built-in fans for ventilation
79-inch cable plug for easy installation
KUVASONG offers two robust options for outdoor TV enthusiasts with its Waterproof Outdoor TV Enclosure. Available in both 43-inch and 55-inch sizes, these enclosures are more than just weather shields. We got up close and personal with both models to find out just what sets them apart. Sporting a sleek black color and a dustproof, waterproof design, both units add sophistication to any living space outdoors.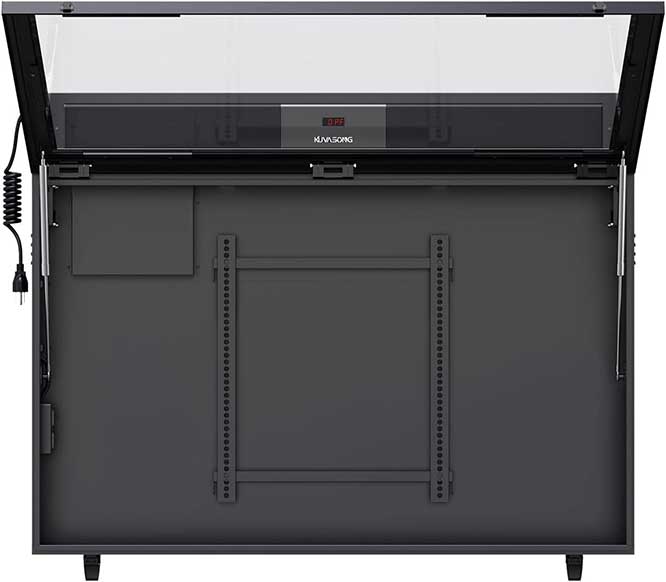 The 43-inch model measures 44.17 x 34.72 x 4.72 inches and weighs 73 pounds, while the 55-inch variant stands at 53.86 x 39.8 x 4.72 inches, weighing 100 pounds. Thanks to these enclosures, your outdoor movie nights just got a lot better. But what's an outdoor movie night without quality sound? Both models come with a built-in 80W waterproof soundbar. During our tests, the sound quality, especially on the movie setting, stood out with exceptional delivery. This fact was true for either model (they both use the same soundbar).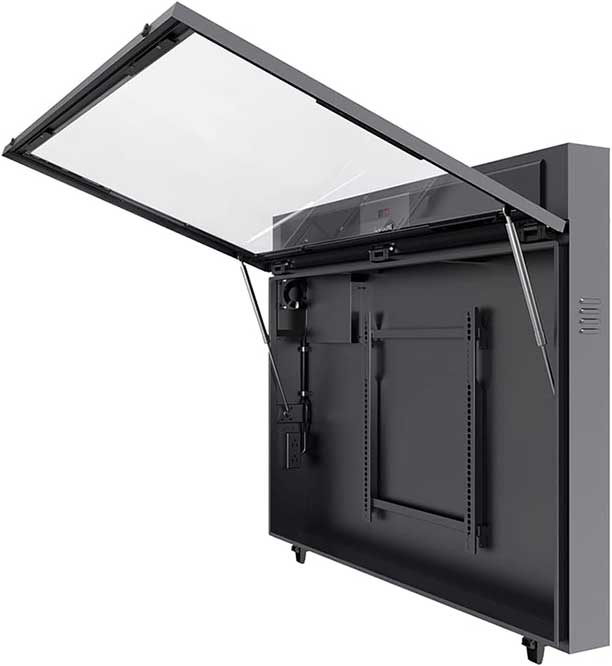 KUVASONG's enclosures are made with high-quality aluminum construction, so you can rest easy knowing that you're investing in a product that's built to last. With features like built-in fans for inside ventilation and tempered clear glass front panels, watching TV outdoors has never been easier. And as for installation, it's a breeze thanks to the 79-inch cable plug that accompanies each enclosure. Our only real complaint is the lack of a manual. This drawback led to some initial setup woes. Also, you'll need a setting tool for the anchors. It's a vital tool that unfortunately isn't included.
What we liked:
Super-tough design
High-quality aluminum construction
Gas struts lift enclosure front
Easy to maintain
What we didn't like:
No manual included
Anchor setting tool needed
Best Alternative: A1Cover Outdoor TV Cover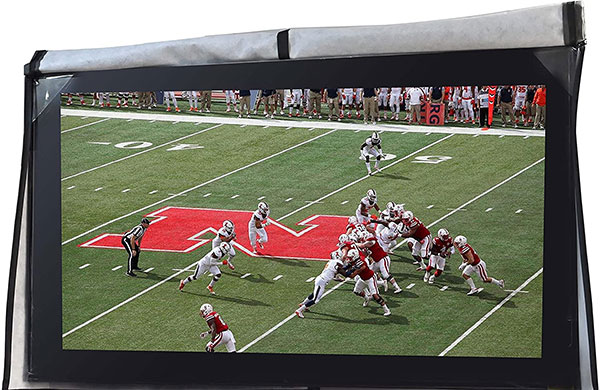 Key features:
Waterproof 400D heavy-duty polyester
Front transparent PVC for viewing
Bottom Velcro for 360-degree protection
Remote control pocket
A1Cover's Outdoor TV Cover, designed specifically for 40-inch to 43-inch TV sets with dimensions of 39 x 24 x 5.5 inches, offers a remarkable fusion of durability and convenience. The 400D heavy-duty polyester material coupled with an artificial cotton liner ensures the screen remains completely protected. Thanks to this design, you're afforded reliable water resistance in the harshest conditions.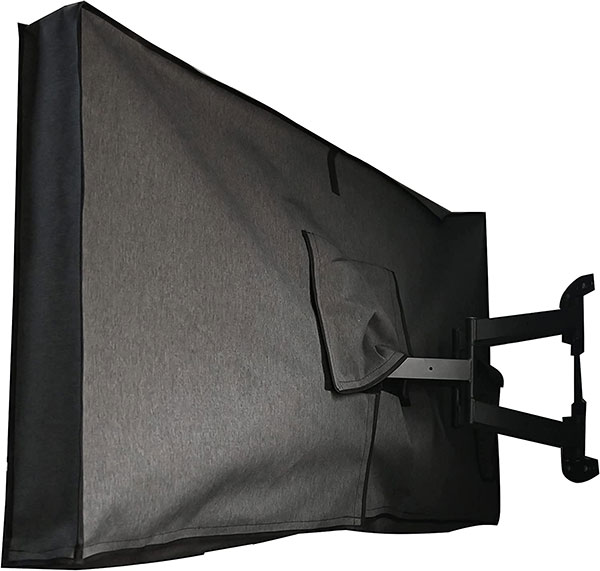 Simplistic as it is in execution, the protective sheet boasts several clever features. The front transparent PVC, designed to roll up for viewing, adds a unique touch. The layout ensures easy opening and closing, while the waterproof zipper on the side adds an extra layer of protection. The design also includes a waterproof remote control pocket. This is a handy addition that we were pleased to see included.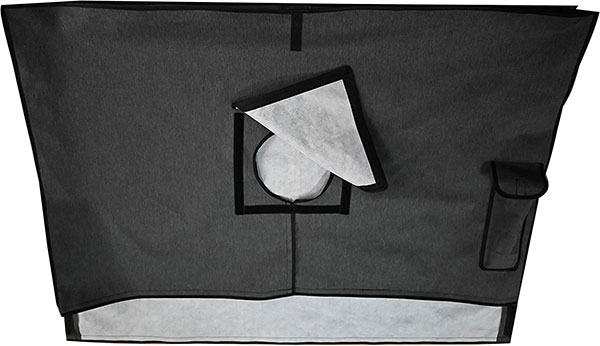 Our hands-on testing included exposure to wind and rain. The outcome? This affordable alternative proved to be a steadfast guardian for outdoor TVs. Its bottom Velcro provides 360 degrees of protection, ensuring no sneaky water droplets find their way in to harm your TV. In fact, it fits like a glove, extending the life of your outdoor TV. If you want outdoor protection on the cheap, this is the product for you.
What we liked:
High-quality material for full protection
Ingenious design for easy access
Fits most 40 to 43-inch TV Sets
Extends outdoor TV life
What we didn't like:
Fading in intense sunlight
Roll-up function may need support
Outdoor TV Enclosure FAQs
What is an outdoor TV enclosure, and why do I need one?
An outdoor TV enclosure protects your TV from weather, dust, and insects, letting you enjoy entertainment outdoors without risk of damage.
How do I choose the right outdoor TV enclosure for my television?
First, you want to select an enclosure that fits your TV's size. Then, make sure it's made from durable weather-resistant materials and includes features like anti-glare screens or remote control compatibility.
Can I still use my remote control with an outdoor TV enclosure?
Yes, most enclosures allow remote control signals to pass through, enabling easy control of your TV while it's protected.
Final Verdict
The array of outdoor TV enclosures we reviewed offers a wide range of choices to suit various preferences and budgets. For those who seek an all-around performer with durability and intelligence, the DeerTV Outdoor TV Enclosure stands out as our Best Overall pick. On the other hand, the TV Shield Outdoor TV Enclosure offers robust protection and ease of access, making it a close runner-up. If budget constraints are at the forefront, the Storm Shell Outdoor TV Weatherproof Hard Cover is a sturdy yet affordable choice.
For the discerning consumer looking to make a luxurious statement, the Apollo Outdoor TV Enclosure promises an elegant and high-end experience. If immersive sound is vital for your outdoor viewing, KUVASONG's Waterproof Outdoor TV Enclosures come with soundbars and excellent construction. Lastly, the A1Cover Outdoor TV Cover provides a simple and effective alternative particularly suited to smaller TV sets. Whether you're designing a patio entertainment area or just want to enjoy your favorite shows in the fresh air, these options offer a combination of protection, aesthetics, and functionality.
Meet Derek, "TechGuru," a 34-year-old technology enthusiast with a deep passion for tech innovations. With extensive experience, he specializes in gaming hardware and software, and has expertise in gadgets, custom PCs, and audio.
Besides writing about tech and reviewing new products, Derek enjoys traveling, hiking, and photography. Committed to keeping up with the latest industry trends, he aims to guide readers in making informed tech decisions.