With an increase in pool-related accidents, enhancing pool safety has become crucial. Thankfully, we have pool alarm immersion sensors to help reduce such accidents. The innovative devices are designed to alert homeowners to any unauthorized or accidental entries into the pool, adding an extra layer of safety.
If you're looking for a way to enhance pool security, join us as we share our top picks for the best pool alarm immersion sensors. Here's a brief overview of which ones we chose and why:
Each of these options has unique features that make them stand out. Let's take a closer look to understand their functionalities and what they bring to the table for pool safety.
SwamCam Pool Alarm Camera Drowning Prevention System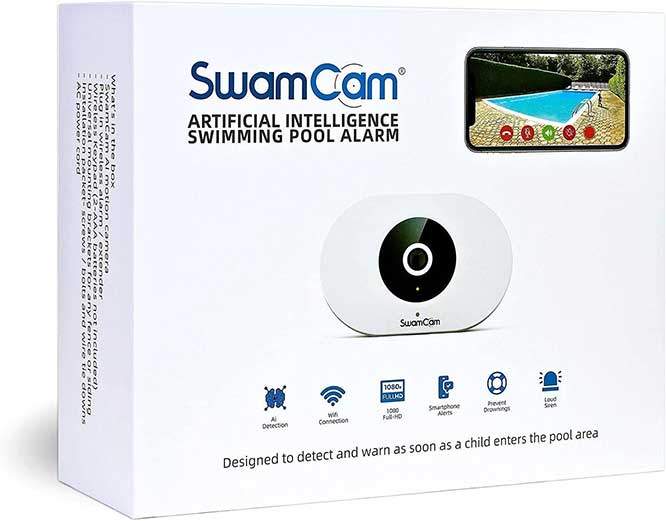 Key features:
AI detects motion with Auto-Arm
Alarm triggers at multiple locations
Live 1080P Full-HD video surveillance
Integrated WiFi repeater for robust alerts
SwamCam's Pool Alarm Camera Drowning Prevention System is an essential addition to any pool home, specifically engineered for both in-ground and above-ground setups. It's designed to ASTM F2208 standards, making it a reliable security device with the bonus of app integration for your convenience. Versatility is high with this system, as it employs advanced AI to detect motion. It's capable of distinguishing human entry and preventing potential accidents before they occur.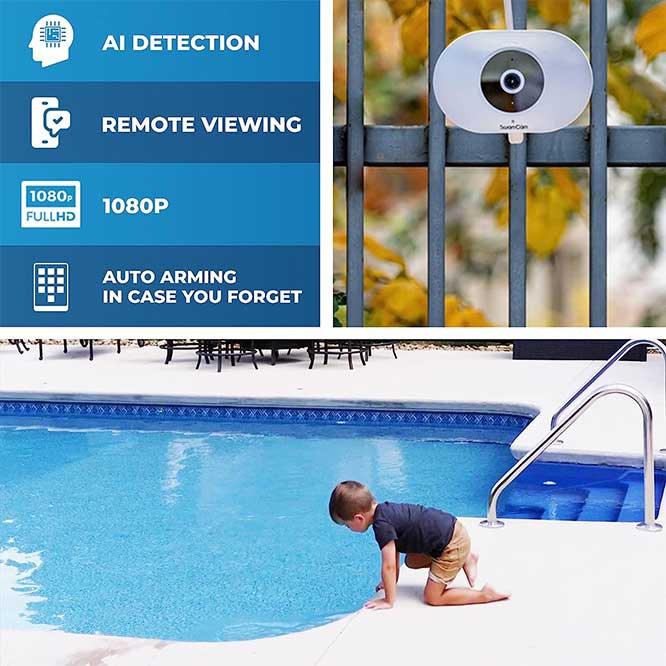 The Auto-Arm feature, controlled via the keypad or app, is a thoughtful touch. It ensures the system re-arms itself even if you forget. We appreciate seeing this measure taken, as it's another feature that highlights its safety capabilities. When it comes to notifying users, SwamCam leaves no stone unturned. It triggers an alarm at the poolside, indoors, and on your smartphone. A one-touch emergency dial offers quick assistance, and we like that it gives you the ability to record a custom message.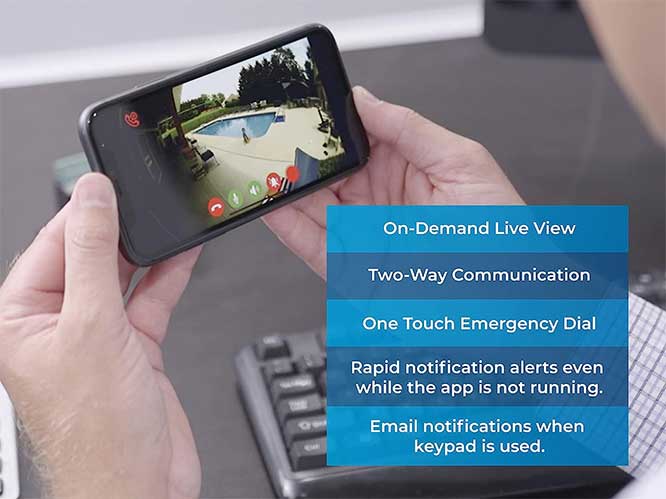 Moreover, it isn't just an alarm. Its live 1080P video surveillance allows you to monitor the pool area from any location with internet access. And regardless of your app's status, you'll receive alerts, thanks to its integrated WiFi repeater. There's even a local alarm in the event that WiFi is down. Despite its numerous features, the device isn't cumbersome. It measures 4.13 x 12.6 x 10.04 inches and weighs 3.73 pounds, making it relatively portable. However, keep in mind the alarm and camera require a standard power outlet, and the keypad needs 2 AAA batteries.
What we liked:
Customizable alarm settings
Swift emergency dial function
Video feed accessible remotely
Consistent alerting with or without WiFi
What we didn't like:
Keypad requires regular battery replacement
Power outlet required for operation
PoolEye Immersion Mountable Pool Alarm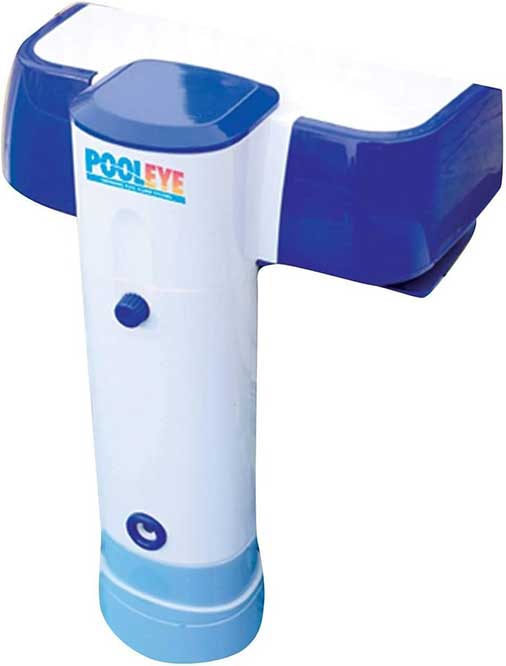 Key features:
Advanced motion sensor technology
Dual alarms, home and pool
Sub-surface wave detection reduces false alarms
Deactivation/reset via magnetic key
The PoolEye Immersion Mountable Pool Alarm is an indispensable addition to any pool safety arsenal, offering double-layer protection with its pool and home alarms. Compact yet effective, it measures 7 x 9.75 x 15 inches and provides peace of mind through its advanced motion sensor technology. If you're looking for a way to reduce the risk of pool-related incidents, this one is definitely worth a look.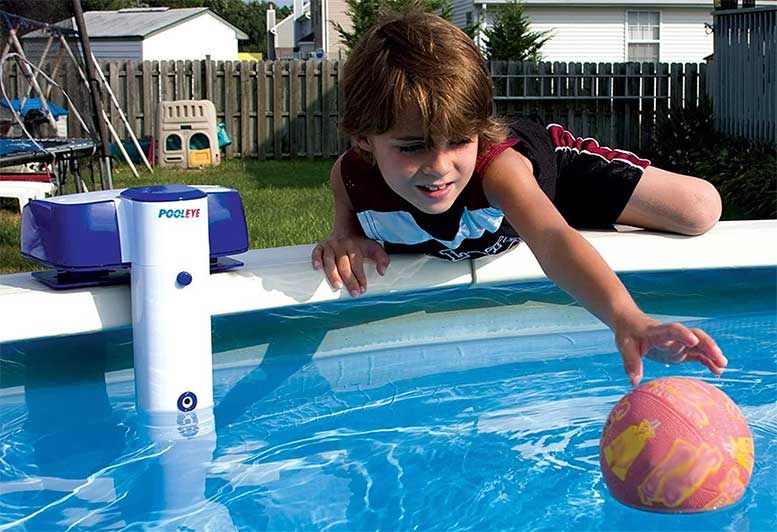 While some pool alarms merely float and trigger false alarms, PoolEye's system stays firmly mounted to your pool deck or the top rail of an above-ground pool. We like this design, as it helps ensure accurate operation. Its underwater motion sensor performs well, too, providing reliable sub-surface wave detection that does not react to wind or rain. Based on our tests, this is a feature that reduces false alarms significantly.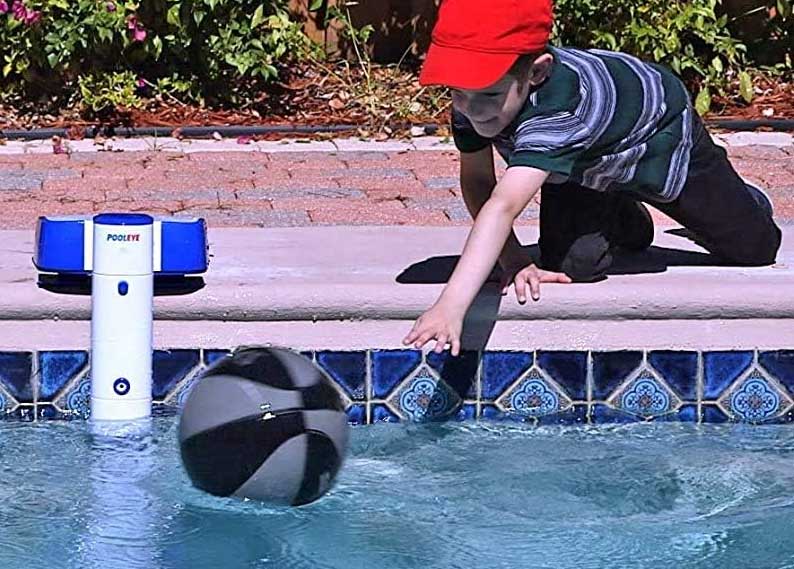 Another critical element is its ability to detect objects as light as 15 pounds. Consequently, the 85 dB alarm can be heard up to 100 feet away. It's loud and unmistakable, making sure you hear it when it's triggered. It also includes dual modes for swim time and pool inactivity, both of which are easily managed with the included magnetic key. Please note, though, that while the device is battery-powered, installation requires a rotary hammer drill.
What we liked:
Mountable to most pool decks or rails
Accurate detection with 15 lbs sensitivity
Long-range alarm up to 100 ft
Alarm resets automatically within 3 minutes
What we didn't like:
Installation requires rotary hammer drill
Highly sensitive to pool jets and cleaners
IC ICLOVER Pool Alarm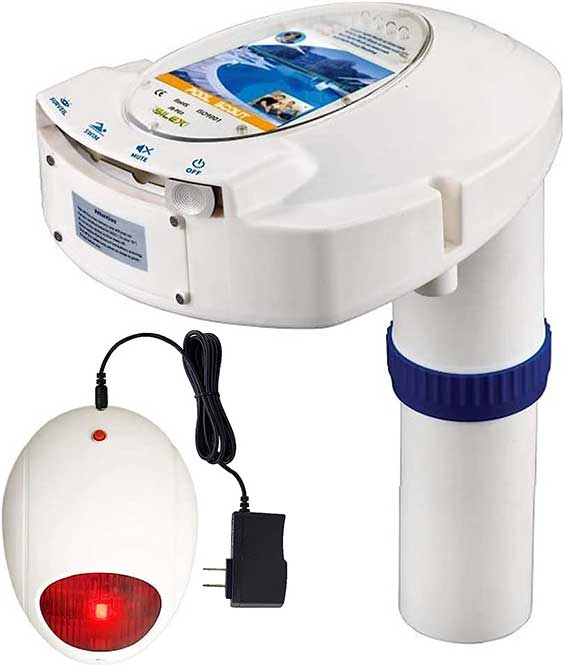 Key features:
Poolside motion sensor
Flashing receiver alarm
Suitable for 16 x 32 sq ft pools
Accidental touching prevention
IC ICLOVER Pool Alarm sets a high bar for poolside safety. Compact in design, the unit measures 11.75 x 11.25 x 8.88 inches and weighs just 4.64 pounds. Engineered for simplicity and precision, it's a useful tool for those seeking peace of mind around the pool.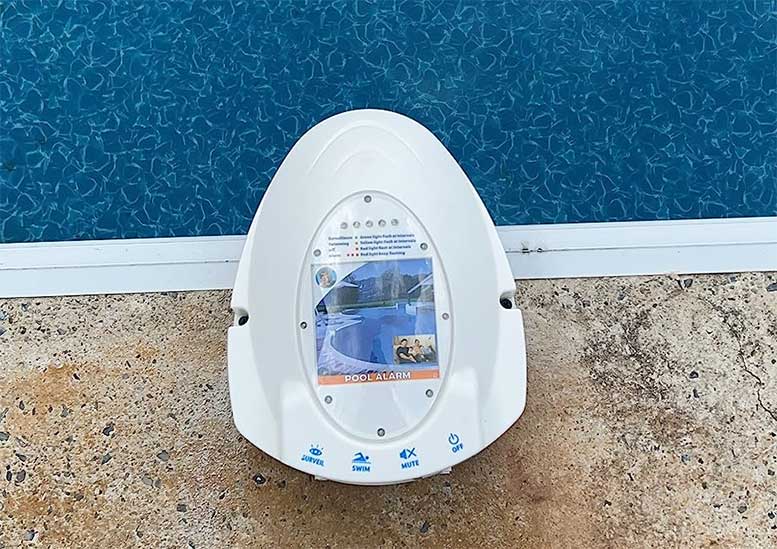 This device functions by detecting water surface fluctuation. When a disruption occurs, the poolside unit sends immediate alerts, ensuring a swift response time. Its 85 dB receiver comes complete with LED flashing. It is triggered when an object of 13 pounds or more impacts the water, and it's loud enough to grab your attention from a distance.
Designed for pools up to 16 x 32 square feet, the sensor's tube submerges approximately 3.9 inches below the water surface, assuring accurate readings. Our testing involved various scenarios, and we're pleased to report that it performed exceptionally well. Warning alarms are immediate to ensure you can act fast. But like other similar systems, automatic pool vacuums can trigger the alarm. So keep this in mind when considering placement.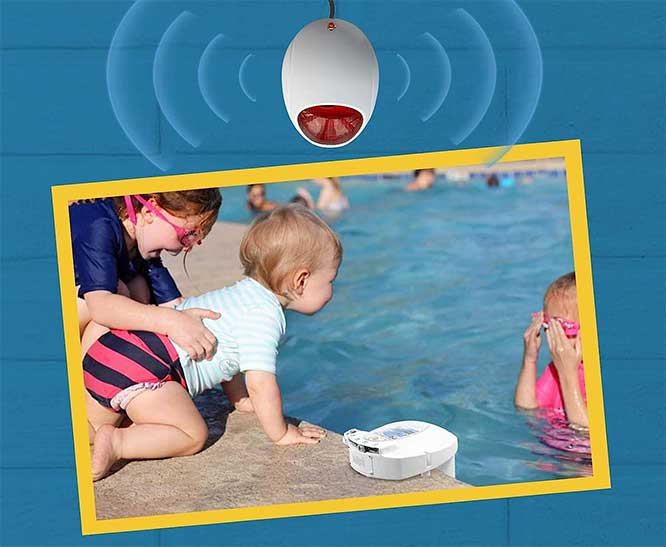 This unit is battery-powered to promote reliable performance. And to help prevent accidental triggering, its design includes a secure control button. This serves to prevent pets or children from engaging the system. Coupled with its timely alerts and user-friendliness, the IC ICLOVER Pool Alarm gets our nod as a smart investment toward pool safety.
What we liked:
Instant water fluctuation alerts
Loud 85 dB alarm
Reliable battery operation
Prevents false operation
What we didn't like:
May trigger with pool vacuum
Sensitive to water level changes
BCone Smart Floating Pool Safety Alarm System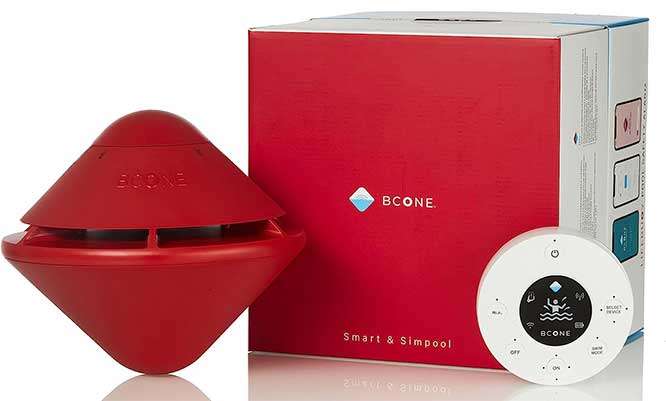 Key features:
Compatible with Google Assistant and Amazon Alexa
WiFi connectivity for app control
Advanced algorithm prevents false alerts
IP68 waterproof certified
Next up is the BCone Smart Floating Pool Safety Alarm System. This entry redefines safety and security with innovative features and advanced technology. It stands out with its compatibility with Google Assistant and Amazon Alexa, enabling seamless integration into your smart home environment. The key attraction, however, is its WiFi connectivity and app control. This feature allows full command over the system, regardless of your location.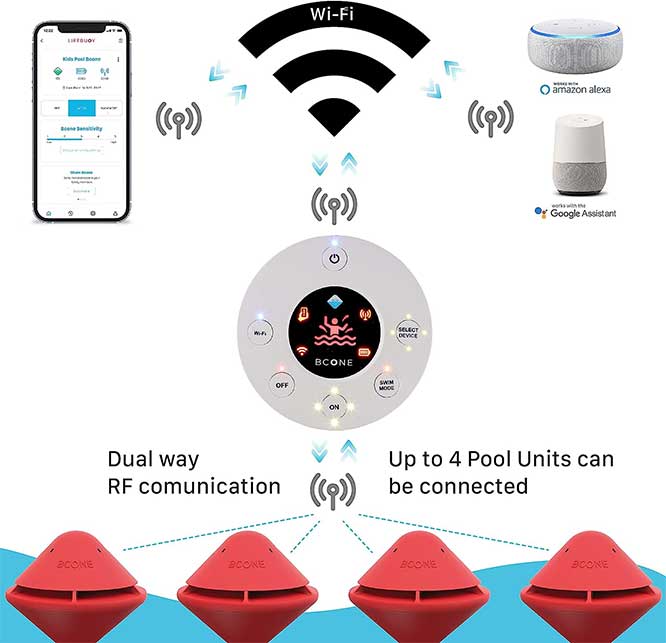 It's controlled via an algorithm that serves to effectively minimize false alerts. Its alarm resonates powerfully across both the pool unit and the home unit, ensuring immediate attention to any potential dangers. The unit's compatibility is impressive, as well, accommodating various pool types, spas, and even garden ponds.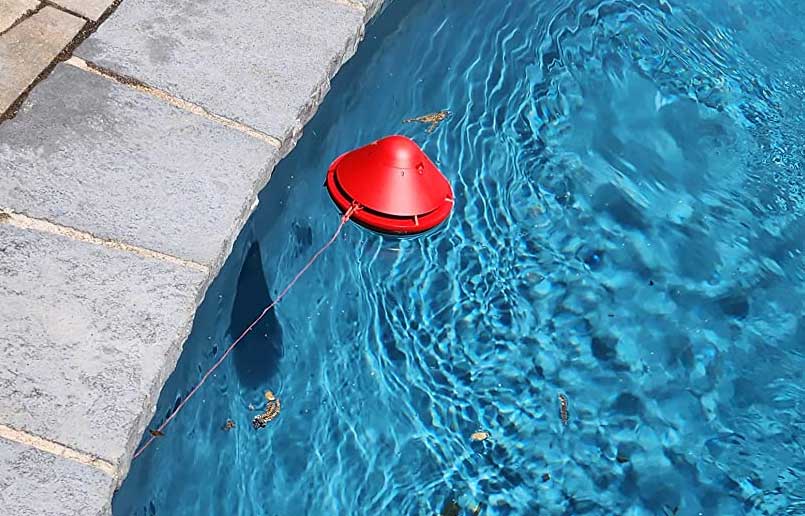 Despite weighing a mere 1.57 ounces and measuring 9.4 x 9.4 x 8.7 inches, performance is commendable. On the unit itself, stationary icons light up to alert you of potential concerns. And LEDs light up to let you know which functions are activated. What's more, it can connect up to four pool units and a single home unit, making it ideal for large pools or more than one pool. It also sports an IP68 waterproof certification and boasts a manufacturer's warranty of 3 years, attesting to its reliability.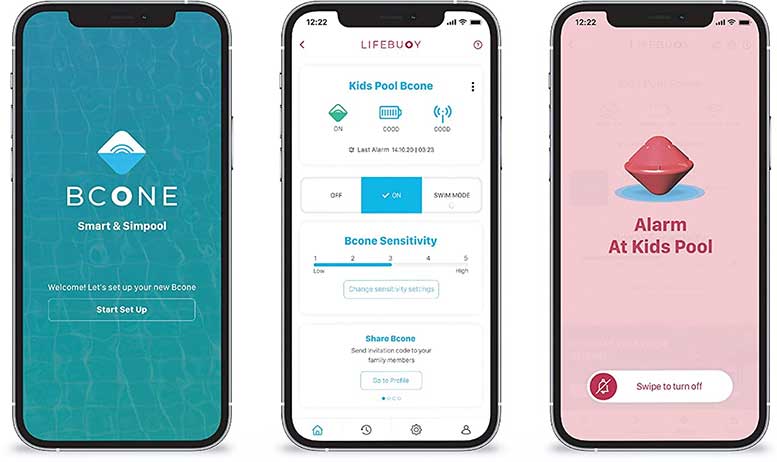 Moreover, the BCone package includes a pool unit, a home unit, and a smartphone app. The pool unit is portable and easy to install, providing coverage for a 20 x 40-foot area. The intuitive BCone App offers convenience by enabling remote management of the pool unit. Mobile alerts can be sent directly to your smartphone, so you're always kept apprised of issues even when you're away from the pool.
What we liked:
Highly sensitive to weight detection
Portable and easy to install
App enables remote management
Reliable with a 3-year warranty
What we didn't like:
Multiple units needed for large pools
Alarm could be startling for some
Pool Patrol PA-30 Pool Alarm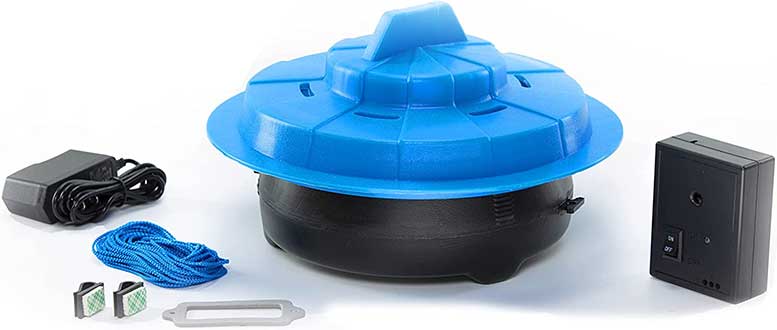 Key features:
Easy, no-damage installation
Adjustable sensitivity control
Suitable for all pool types
Includes an in-house remote receiver
The Pool Patrol PA-30 Pool Alarm is designed to provide an additional layer of protection around your swimming area. This device comes with a sturdy 10 x 6.5 x 10-inch structure that floats in your pool or spa, alerting you to any intrusion with its highly sensitive alarm mechanism. Setting up the unit is straightforward, requiring no damage to your pool infrastructure. Notably, it works well in various pool types, shapes, and sizes.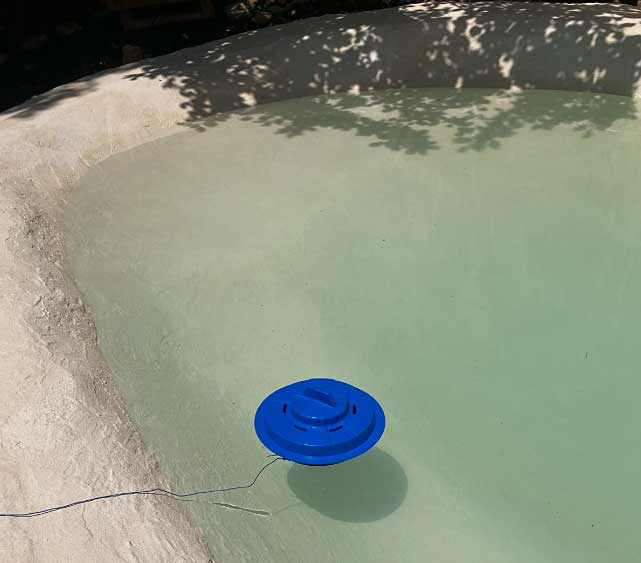 It includes a remote receiver that you're meant to install inside your home. And if you have a larger pool, you can use multiple alarms to increase coverage. The alarm is built with an adjustable sensitivity feature, which enables you to minimize false alarms effectively. It uses a simple black flotation base, allowing you to set it to a sensitivity level that suits your needs.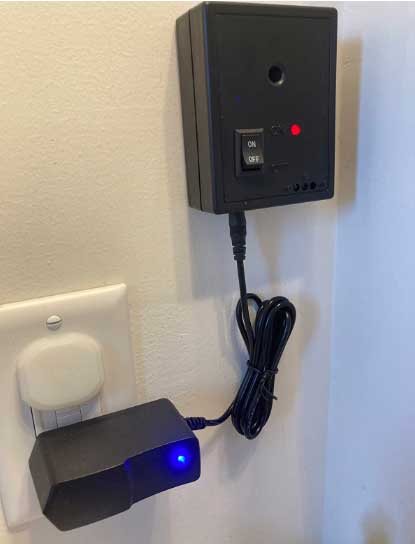 The PA-30 utilizes a dual mechanism involving a transmitter (the floating alarm) and a receiver located nearby. In an emergency, the device sends a signal to the receiver, alerting homeowners. One point to bear in mind, the PA-30 alarm isn't meant to detect gradual entries but rather sudden disturbances. Importantly, turning off the alarm in your pool doesn't deactivate the in-house receiver alarm, and vice versa. Despite its lightweight build of just 1 pound, it does a commendable job enhancing pool safety.
What we liked:
Lightweight yet sturdy
Broad application (pools/spas)
Minimizes false alarms
Signal reaches in-house receiver effectively
What we didn't like:
Doesn't detect gradual entries
Deactivation requires manual control for both units
Blue Wave NA4212 Poolwatch Pool Alarm System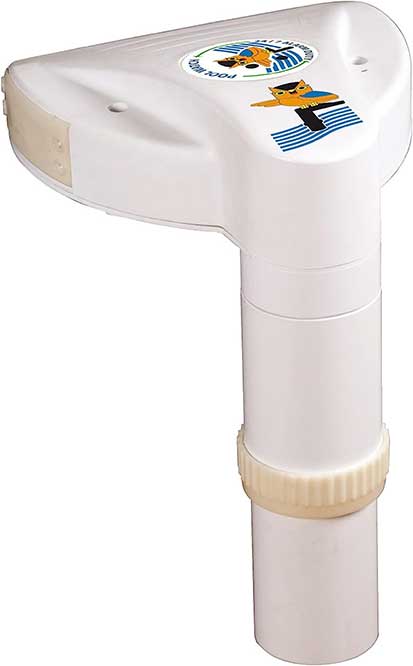 Key features:
Detects objects weighing 18 lbs or more
Electronic sensor for pool entry detection
Remote receiver with 100-ft wireless range
Easy to install
Blue Wave's NA4212 Poolwatch Pool Alarm System is an ingenious solution for pool safety. Coming in at 11 x 10 x 11 inches and weighing just 3 pounds, it doesn't compromise functionality despite its compact size. The battery-powered device uses an electronic sensor to detect entry into the pool by children, pets, or intruders. If activated, a remote receiver alerts you from up to 100 feet away. In our tests, we verified that the alarm system identifies objects weighing 18 pounds or more. This ability makes it quite efficient for detecting most pets and young children – for the most part.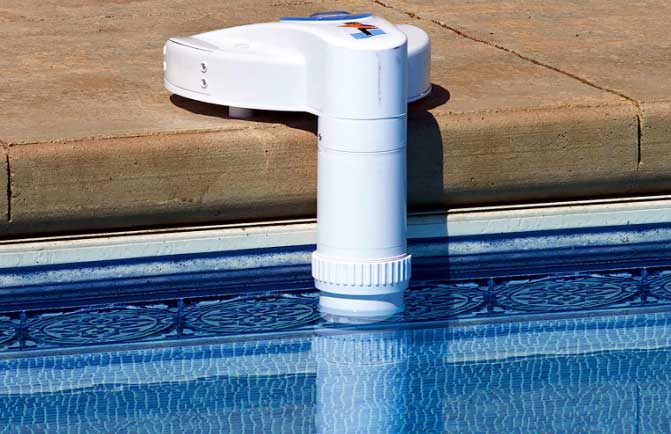 There were a few occasions when detection was delayed. Yet other times, it worked perfectly. Our advice is to use the Poolwatch system in conjunction with other security measures. Other than those noted issues, it showed good functionality. Despite being designed for water immersion, we also recommend storing the unit indoors when not in use due to potential humidity issues.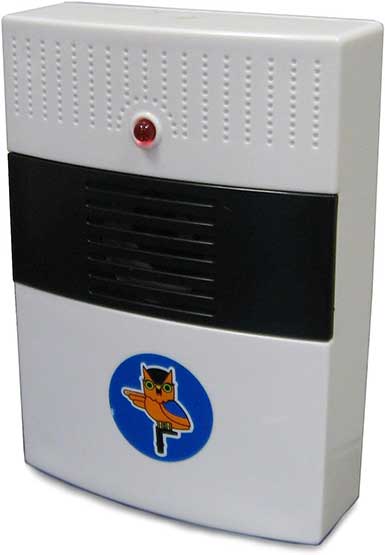 We like that the alarm system can be set up in mere minutes. However, its controls could be more accessible, as it requires bending over to switch modes. So keep these caveats in mind when choosing an immersion alarm sensor for your pool. At the end of the way, we prefer Blue Wave's NA4212 Poolwatch Pool Alarm System as an added layer of pool safety.
What we liked:
Reliable detection capabilities
Audible alarms are sufficiently loud
Works for both above and in-ground pools
Quick and easy installation
What we didn't like:
Susceptible to humidity
Controls could be more accessible
Pool Alarm Immersion Sensor FAQs
What are pool alarm immersion sensors?
These are safety device designed to alert homeowners when an unexpected or unauthorized entry into the pool occurs. It uses technology to detect changes in the pool's water surface or waves.
Why are pool alarm immersion sensors necessary?
Having one increases the safety of your pool, particularly for households with young children or pets. It provides an extra layer of protection by alerting you to any potential drowning risks.
How do pool alarm immersion sensors work?
Pool alarm immersion sensors work by detecting changes in the water. When an object, such as a person or pet, enters the pool, it causes a disturbance in the water. This change is detected by the sensor, which then triggers an alarm.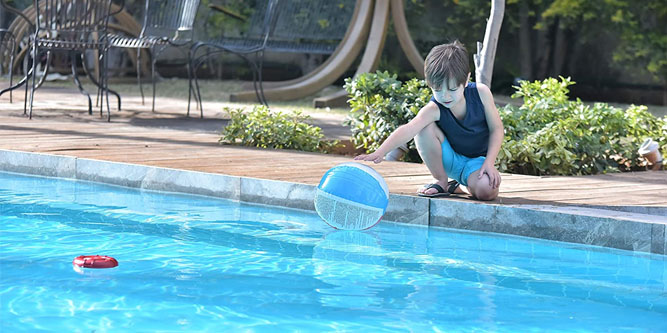 Final Verdict
SwamCam Pool Alarm Camera Drowning Prevention System earned a place among our top picks due to its innovative use of AI and video surveillance, while the PoolEye Immersion Mountable Pool Alarm stood out for its effective motion sensor technology.
The IC ICLOVER Pool Alarm impressed us with its instant alerts, and the BCone Smart Floating Pool Safety Alarm System earned points for its smart home integration and remote management.
Pool Patrol's PA-30 Pool Alarm shined with its adjustable sensitivity control, whereas Blue Wave's NA4212 boasted a reliable electronic sensor and easy installation.
No matter which system you ultimately decide on, you're sure to find one that meets your needs among our top picks.