A backyard pool can provide a massive improvement in your life. It gives you a place to go cool off and relax after work. And in a hot climate, that's not just a luxury, it's practically a necessity. A pool also adds a lot of value to your home. It's like owning a four-car garage, or having a large pole barn style workshop in your backyard. Not only that, but a pool provides a place for your kids to play. They can have their friends over for play dates, and enjoy a cool afternoon in the pool.
On the downside, a backyard pool also comes with its share of risks. Tragically, an average of 400 people drown in swimming pools every year, most of them children. This isn't just an issue if you have children. Perhaps your kids are older, and they're good swimmers. But there's still the liability risk that comes with having a pool. Do you really want to be responsible for somebody else's kid falling into your pool? In the past, we've written about floating pool thermometers to keep your water temperature comfortable. Now, we're going to review three pool alarm systems that will keep your pool as safe as possible.
Note: At no extra cost to you, we may earn a commission for purchases using our links. Learn more.
First, we'll look at the Lifebuoy Pool Alarm System. This is a smartphone-connected alarm that allows you to make a wide variety of adjustments. Next, we'll review the Pool Patrol PA-30 Pool Alarm. This is a no-frills alarm that's designed for permanent installation in your home. Finally, we'll review the Safety Turtle 2.0 Child Immersion Pool/Water Alarm Kit. This is a wearable unit that you put on your child or pet to alert you when they get wet. After the reviews, we'll wrap up and render a final verdict. Let's begin!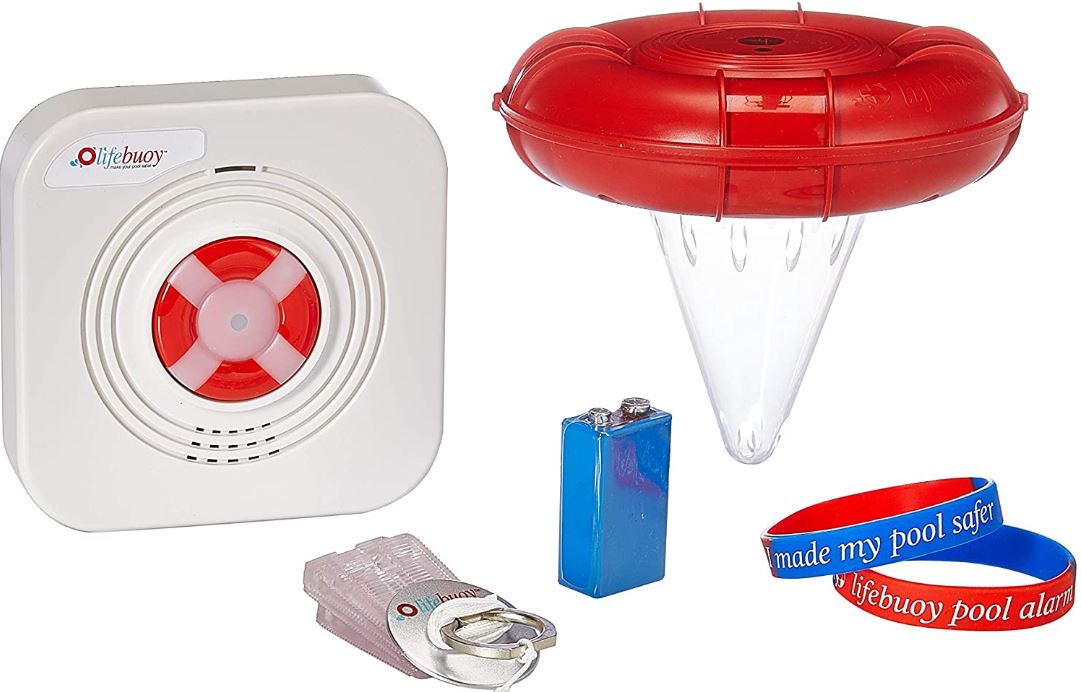 Lifebuoy Pool Alarm System
The Lifebuoy Pool Alarm System is a two-piece unit that will sense disruption in the water's surface. The main part of the unit is the buoy itself. It measures about seven inches in diameter, and is shaped like an upside-down sombrero. The lower, conical portion is constructed from clear plastic, and has a series of holes drilled in the side. This portion is designed to fill with water when submerged, which keeps the unit properly oriented. The upper portion consists of a large red plastic buoyancy ring. This ring doesn't just provide buoyancy; it also houses the Lifebuoy's sensors. When it's not resting level in the water, the alarm will sound.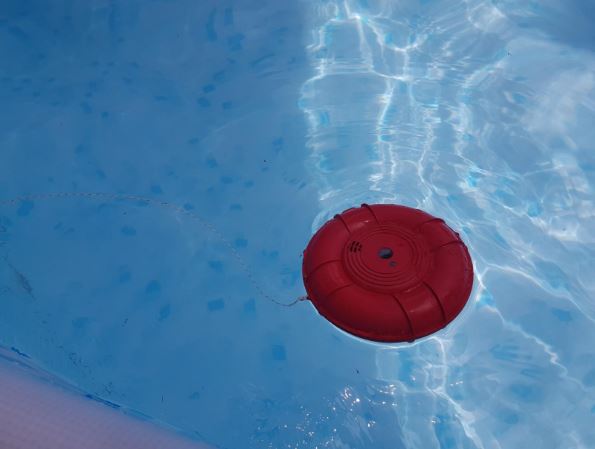 The Lifebuoy alarm itself is portable, so you can use it inside or outside your house. It's constructed from an off-white ABS plastic, and is square in shape with rounded corners for safety. The speaker is located in the center, and it's designed to look like a nautical life saver. The alarm is very loud, so you can hear it over the sounds of a dinner party or a movie. It's also smart. It will deactivate at the push of a button, but will reactivate automatically after ten minutes.
Of course, if you want to actually use your pool, you don't want to reset an alarm every ten minutes. Thankfully, the Lifebuoy makes it easy to remove the buoy from the water. Along with the two main components, you also get a nylon line. The line is attached to a tether that can be attached to your pool ladder or stair rail. When you want to go swimming, just pull the buoy out of the water and you're ready to go. Best of all, the batteries are included in the kit. You won't have to make a trip to the store just to power your new pool alarm.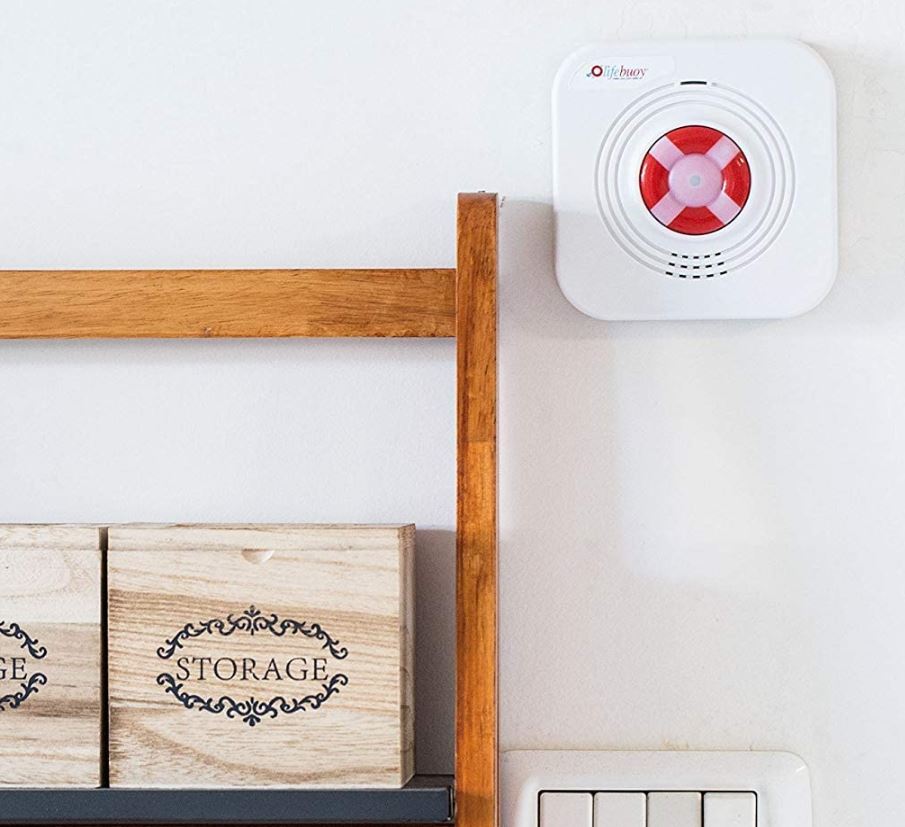 Connectivity & Extras
The Lifebuoy buoy and alarm are connected with a long-range RF signal. The exact range will depend on obstructions and interference in the area. However, it's rated for 300 feet, and should reach at least 200 feet even under the worst circumstances. If you don't want to take the buoy in and out of the pool, you can also switch the alarm unit to standby mode. In this mode, it won't activate even if there's a lot of disruption in the water. And if you forget to switch to standby, you can manually shut the alarm off by holding the buoy vertically. After a few seconds, the alarm will deactivate, and you can set the buoy on the side of the pool.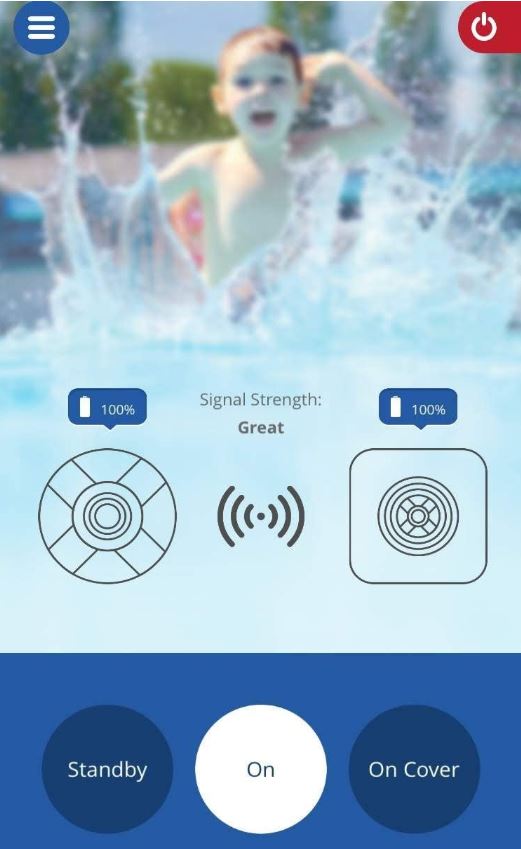 There are more options on the Lifebuoy than on most comparable pool alarms. You can download the Lifebuoy App for free on both Android and iOS. Next, when you're in Bluetooth range of the alarm unit, you can pair your phone with it. Once that's done, you can change a variety of settings. You can turn the alarm on and off, change the volume, and change how long the alarm sounds for. You can also connect to the buoy via Bluetooth. This will allow you to adjust the sensitivity. When the sensitivity is very high, the buoy will even alert when the pool cover is removed. That said, at very high sensitivity, the buoy can be set off by high winds. Play with the settings as needed to see what works for you.
Keep in mind that the app will only work when you're inside Bluetooth range. It's not a WiFi-enabled app, so it won't work remotely.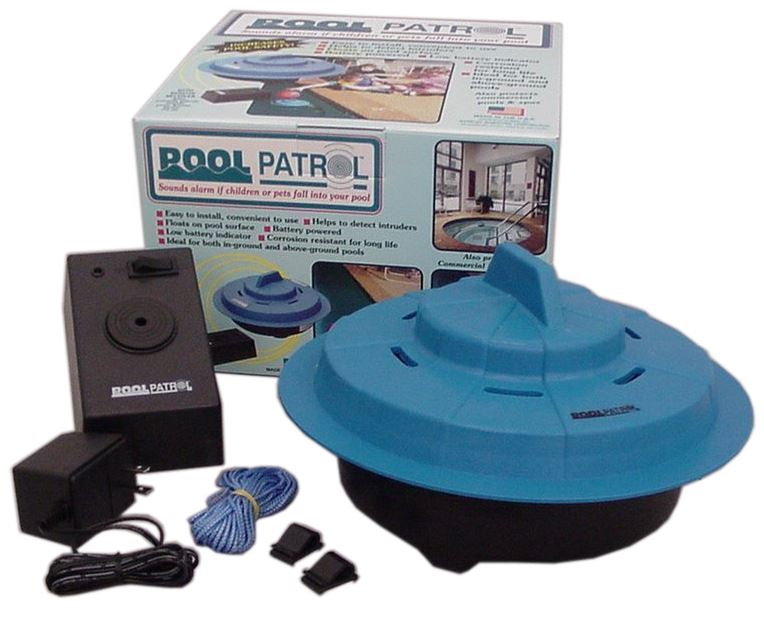 Pool Patrol PA-30 Pool Alarm
The Pool Patrol PA-30 Pool Alarm is a bit more minimalist than the Lifebuoy. The buoy itself is round, 10 inches in diameter, and constructed from an attractive blue rubber. The upper housing has a tiered shape, and is designed primarily for buoyancy. Underneath, you'll find the sensor itself, which is housed in a water-resistant black case. There, you'll find the sensitivity adjuster, as well as the battery housing. It takes a single 9-volt battery, which is not included with the kit. When you're replacing the battery, make sure the rubber gasket is properly aligned. If it's not, you can damage the gasket and allow water into the housing.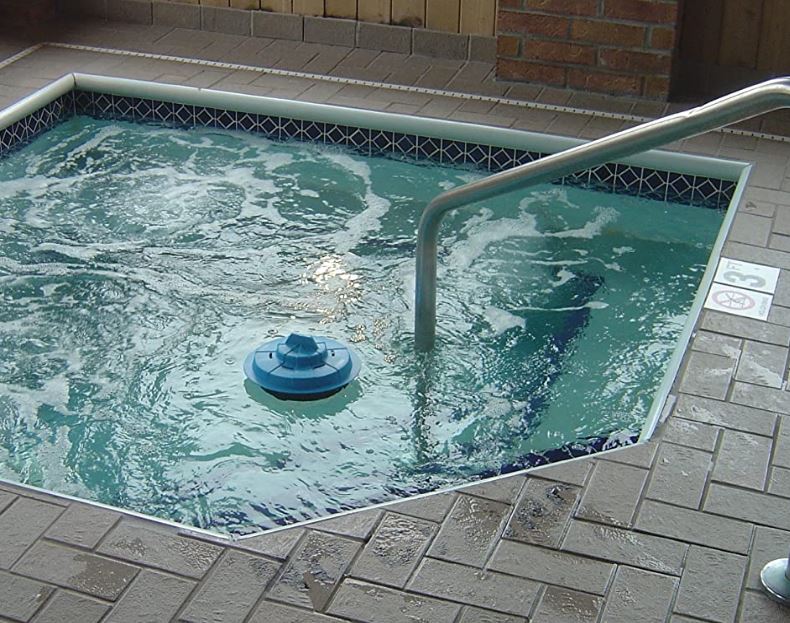 The alarm receiver is a plain black box, and doesn't have a lot of visual appeal. That said, it's fully functional, and does not require batteries. It plugs into your wall outlet via an AC/DC adapter, which is included with the kit. The plug draws a standard 120-volts AC, so users outside of North America will need a 240-volt adapter. The speaker is round, located in the center, and has a matte black finish. At the top right, you'll find a power switch. At the top left, there's a small LED that illuminates when the unit is powered on.
Along with the alarm, you get a complete set of mounting hardware for permanent installation. Alternatively, you can move the alarm around as needed, but you'll need to be near an outlet. In most homes, this shouldn't be necessary; this alarm is LOUD. The PA-30 buoy itself also has a built-in alarm, with similar volume. There's also a tether for the buoy, so you can conveniently take it in and out of your pool.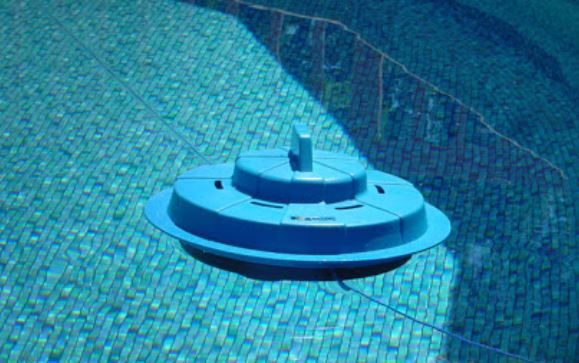 Connectivity & Extras
Like the Lifebuoy, the Pool Patrol PA-30 buoy and alarm communicate via an RF signal. This signal has a range of approximately 200 feet, depending on obstructions and interference. Make sure to test the alarm before you permanently mount it on your wall. It's no fun having to reposition the alarm because you're out of radio range. As long as you're getting a reliable signal, you're good to go.
As we briefly mentioned, the alarm sensitivity is adjustable. You'll want to play with the settings to make sure it's right. It should be sensitive enough that it goes off when someone falls in the water. But you also don't want the alarm to go off every time the buoy floats near your filter intake. To reduce the risk of this happening, it's wise to tether the buoy away from your intake. Again, this is something you'll have to tailor to your own individual swimming pool.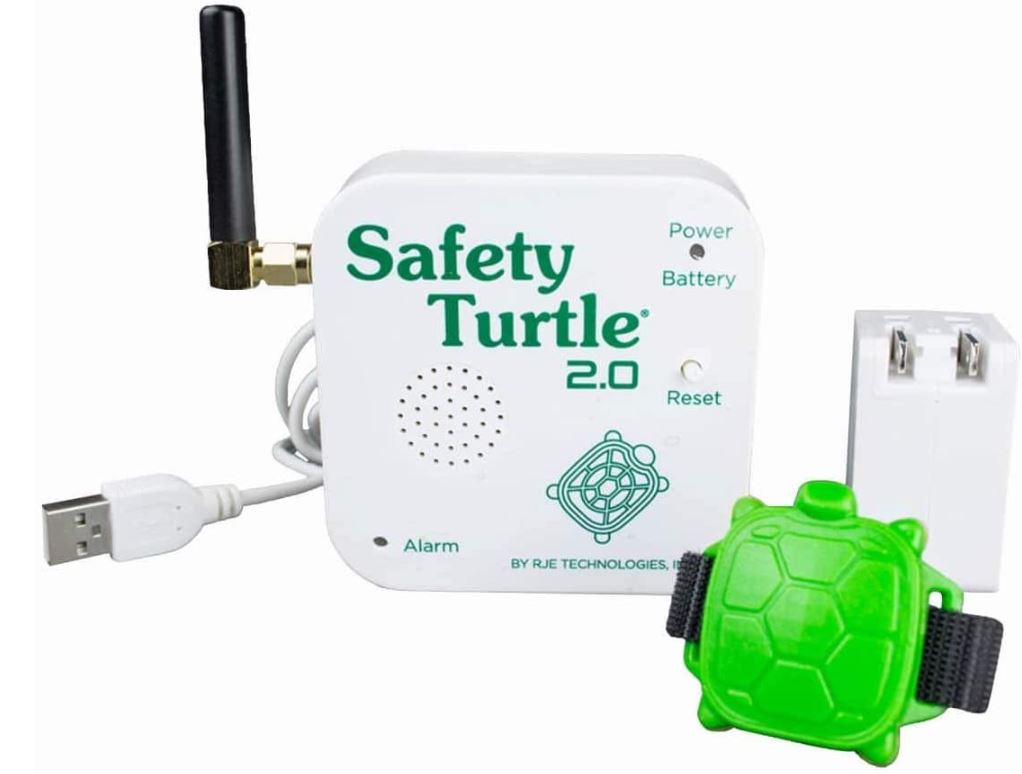 Safety Turtle 2.0 Child Immersion Pool/Water Alarm Kit
The Safety Turtle 2.0 is very different from the last two devices. Instead of a buoy sensor that goes in your pool, the sensor actually straps onto your child's wrist. When the wristband gets wet, the alarm will sound. This is a useful feature, since you don't have to shut the alarm off when you want to go swimming. It's also a scalable system. You can buy extra straps for pets or houseguests.
The wristband is compact, and the sensor has a fun, turtle-shaped design that kids will love. It's also very secure. It locks on with a proprietary latch and pull mechanism that utilizes a custom key. That said, the design does pose a couple of challenges. For one thing, it can get set off when your child is washing their hands. This can be frustrating if you're trying to encourage good hygiene habits. On the other hand, it can also be useful. If the alarm goes off while they're in the bathroom, you know they washed their hands! You also have to remove the wristband for baths or showers.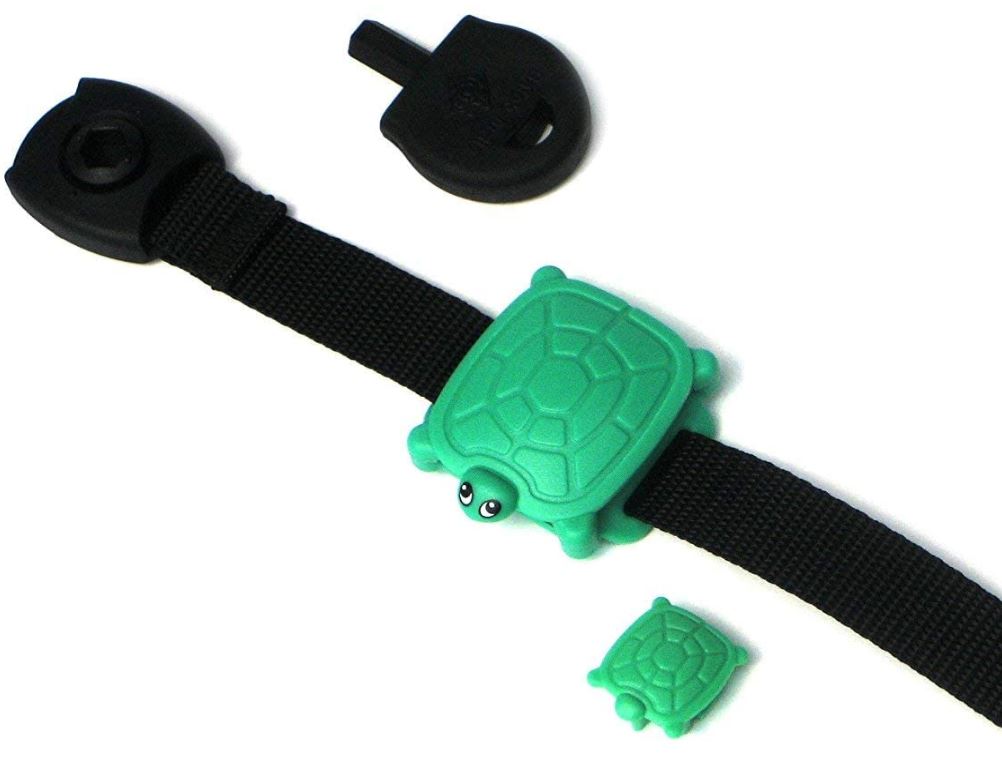 The alarm itself has a battery-powered, "always on" design. It's constructed from a white ABS plastic, and has rounded corners that won't jab or poke you. On the left hand side, there's an adjustable black antenna that picks up the wristband's radio signal. The speaker itself is located in the center, along with a fun drawing of a turtle. There's an LED indicator at the top right, which lets you know the unit is working. There's also a reset button, which allows you to deactivate after a false alarm.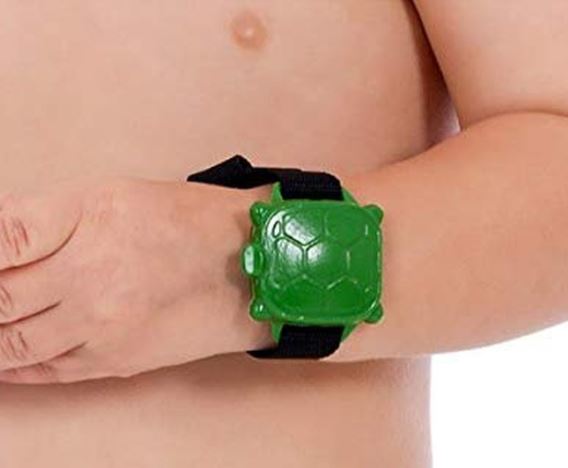 The alarm unit charges via USB. It comes with a 6-foot cable, along with an AC adapter, so you've got everything you need to get started. If the battery dies, you can also operate the alarm in wired mode while it's charging. So if you forget to charge it, you're not going to get stuck.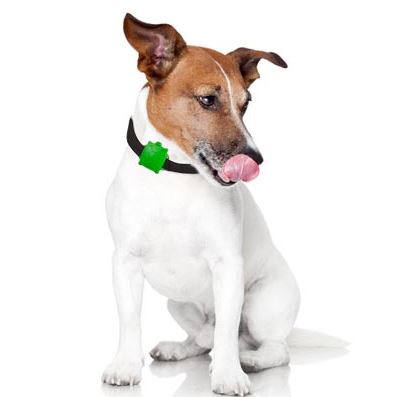 Connectivity & Extras
Like the other two units we looked at, the Safety Turtle 2.0 connects via an RF signal. The range is approximately 200 feet. But, as always, you're going to want to test the connection under your own unique circumstances. One great feature of the Safety Turtle's design is that it's totally portable. Let's say you're taking your child to a friend's house, and they have a pool. Simply bring the alarm with you, and you're good to go! By comparison, this is not convenient to do with a buoy system. And a buoy system won't work at all if you're vacationing at a lake house. By contrast, the Safety Turtle will most definitely work under those circumstances.
Final Verdict
So, which one of these pool alarm immersion sensors is the best? It depends on what you're looking for. The Lifebuoy Pool Alarm System is an effective, powerful sensor with a long radio range. It's great for larger pools, especially for people who move around the house a lot. Since the alarm is battery powered and portable, it's not going to lock you into place. That said, it's not portable. But the smartphone app makes controls a snap.
The Pool Patrol PA-30 Pool Alarm is a more minimalist system that's similarly well-suited for large pools. It's also highly adjustable, so you can use it in a more turbid environment, such as a hot tub or Jacuzzi. Its hardwired design means you don't have to worry about the alarm battery dying. On the other hand, it's a bit ugly, so you'll want to install it out of sight.
Finally, we looked at the Safety Turtle 2.0. This is a great way to keep your child or pet safe, even if you're on vacation. On the other hand, it won't alert you if a neighbor's child or pet wanders into your pool. Exercise common sense, and keep your gates locked.
Please consider sharing:
Note: At no extra cost to you, we may earn a commission for purchases using our links. Learn more.