Peace of mind is available. And knowing where your vehicles are located is a good step in that direction. GPS trackers can help you keep close tabs on the location of your assets. More than that, they offer hard evidence about the speed, direction, and physical position of your vehicles. The collected data is more reliable than an eye witness, and can accelerate the process of reporting an accident.
A good GPS vehicle tracker will have any number of features especially useful to vehicles, like driver safety tracking, and similar forms of alerts which only occur under highly specific instances. And the versatility of a GPS vehicle tracker allows it to function exceptionally well outside of the realm of vehicle tracking. For example, GPS vehicle trackers are essentially just as good for tracking loved ones and mobile forms of valuables.
Note: At no extra cost to you, we may earn a commission for purchases using our links. Learn more.
Choosing a Real Time GPS Vehicle Tracker
For selecting a GPS vehicle tracker, portable trackers are your best bet. They're specifically made to be hidden away on smaller assets. Due to the plant-and-forget nature of these devices, battery life is typically the biggest concern for any vehicular GPS tracker. And portable GPS vehicle trackers tend to be constructed with a battery lifespan intended to last around two weeks of moderate use.
Needing to take frequent recharges can destroy a GPS tracker's ease of use, or even impair how practical it is as a solution. If you're not enthusiastic about the 2-week battery limit, you're going to want to look for trackers which can be powered by the electrical system of a vehicle, or which can be run through vehicle adapters.
Ease of Installation
For most people, having to make even a minor modification to your vehicle can feel like an impossible task. So it's understandable that ease of installation is a high priority for many people selecting a GPS tracker. And luckily, a good GPS vehicle tracker should be small and portable enough to be planted on a vehicle and forgotten about. Unless you're looking to do some like of special advanced installation, using a GPS vehicle tracker should be as simple as hiding a rubber-band full of pencils in your car.
Price Point
The actual GPS vehicle tracker you purchase may be only half of the expense of tracking a vehicle. Once you've got a tracker, you need GPS service. And a subscription to a GPS satellite network costs similarly to a subscription to a cell provider. And like with a cell provider, you're going to want to compare companies, find out if you have to sign any contracts, and look for additional service fees you might get tagged with along the way.
You probably won't have to worry about the extent of your GPS coverage. Some GPS satellite networks cover every inch of the planet; others networks cover virtually every developed country. But if you're looking at using the GPS vehicle tracker in an exotic location, you'll want to look at the coverage of the network.
An important difference between a vehicle tracker and a generic tracker is response time. With a vehicle, you might want to be able to get an update about its position every 10 seconds. In a car, a lot can happen in ten seconds. Some trackers will allow you to get updates in a handful of seconds, others have you wait closer to a minute. What you need has to be measured against what you're willing to pay for because making a real time GPS tracker more real-time can quickly become costly.
Ease of Use
Finally, there are the simple questions of how the tracker is actually used. Do you have to use their smartphone app? A website? Can you monitor multiple trackers simultaneously? How does the device give you alerts about the status of the vehicle?
Essentially any vehicle GPS tracker should provide information about location and speed of the asset, but great trackers allow you a higher degree of control over customizing those reports. For example, you may be able to specify alerts on the basis of the vehicle leaving a geo-fenced area at a particular time of day. Whether you're trying to track negligent employees, protect your insurance claims, or monitor loved ones, you ought to be able to establish the specific tracking parameters suitable to your task.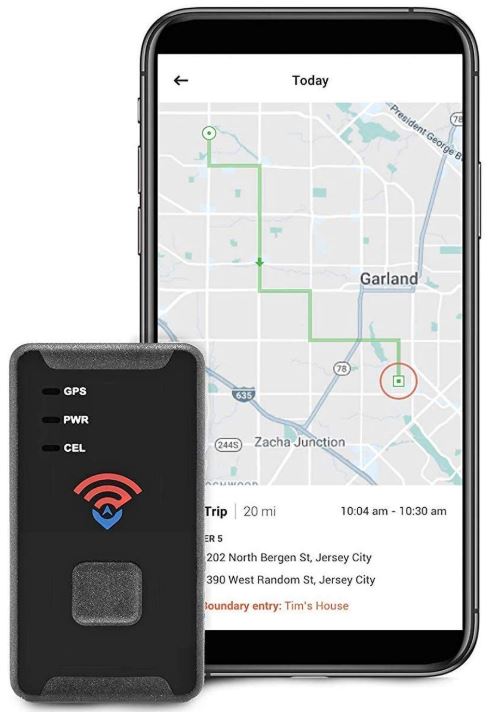 Spy Tec GL300MA
The GL300MA is an apt contender for one of the best vehicle GPS trackers you can buy. You can start to see what makes it special by examining the split design of the GL300. It's partially built to work as a vehicle tracker, and partially built to work as a personal tracker. That makes the GL300MA equipped for sticking in luggage, keeping an eye on family members, and tracking any of your vehicles.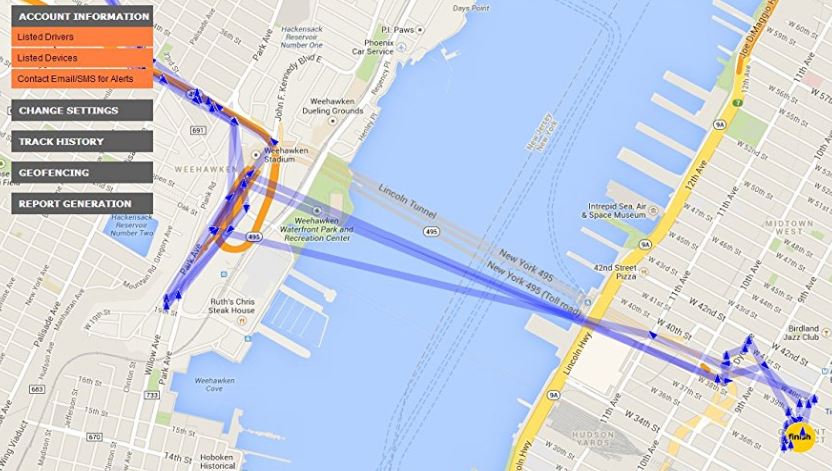 Tracking Features
The Spy Tec mobile app is where you'll find the control center for the GL300MA. And its colorful presentation of collected data is further underpinned by Google Maps. So rather than simply getting a readout of numbers on your screen, this tracker provides detailed results anyone can understand, including the exact street addresses of where your tracker ends up.
Unfortunately, using the app requires you create an account with Spy Tec. But after you've got that out of the way, everything else is clear sailing. Configuring your tracker takes seconds thanks to the heavily intuitive control UI, which is supported both on Android and iOS.
Like you want from a vehicle GPS tracker, geo-fencing is present and easy to create. From the app, you can use Google Maps to establish a highly-specific parameter for where vehicles are allowed to be, and when they're allowed to be there. When the tracker steps over those lines, you'll get a text or email immediately. And data recorded by the tracker includes a 3-axis accelerometer, giving you detailed motion detection recordings along with your GPS data.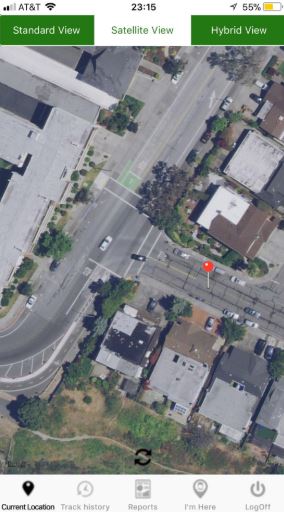 Build & Design
The GL300MA clearly has a lot of power, and it's all packed into an incredibly small 2-ounce unit. Its greatest dimension is 2.7-inches, it's essentially the size of an old pager or flip-phone. It also has a built-in SOS button, which can be programmable to provide an instant alert to a pre-defined contact. You might use that for alerting the police, poison control center, ER, or even just calling for a loved one. The battery is built to last two weeks when you're using the motion activation technology, but you can drain it quicker with rapid use.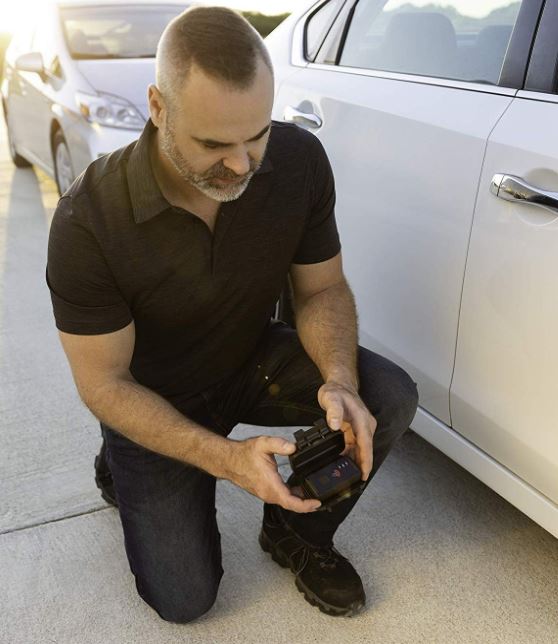 Subscription Costs
The GL300 requires a monthly $25 subscription. The good news is you don't have to worry about cancellation fees, contracts, or other disincentives for using the tracker on your own terms. And Spy Tec's array of subscription options includes GPS location updates as often as five seconds.
One more thing to note is that the GL300MA wasn't made with waterproofing. If you plan on taking the GL300 into the outdoors, you'll have to protect it with the help of some kind of waterproof casing. A variety of different companies sell casings suitable for that kind of task, but the Spy Tec's own magnetic casing is an obvious match. Unfortunately, the magnetic casing is sold separately. Fortunately, the GL300MA has a risk-free 30-day policy, so you can try before you buy.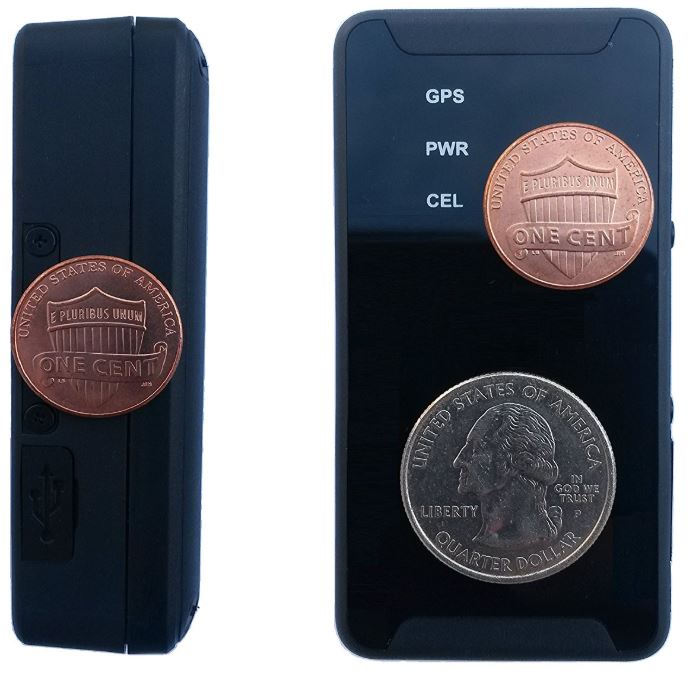 Americaloc GL300W
AmericaLoc has a pretty extensive range of GPS trackers, and they're all built with a sort of universal versatility that makes them suitable for vehicular tracking. Among them, the GL300W stands out, thanks in large part to Americaloc's pledge to provide two months of service with your first purchase. As a result, anyone who's only going to need a tracker for a short period of time will find the GL300W a ridiculously good deal.
>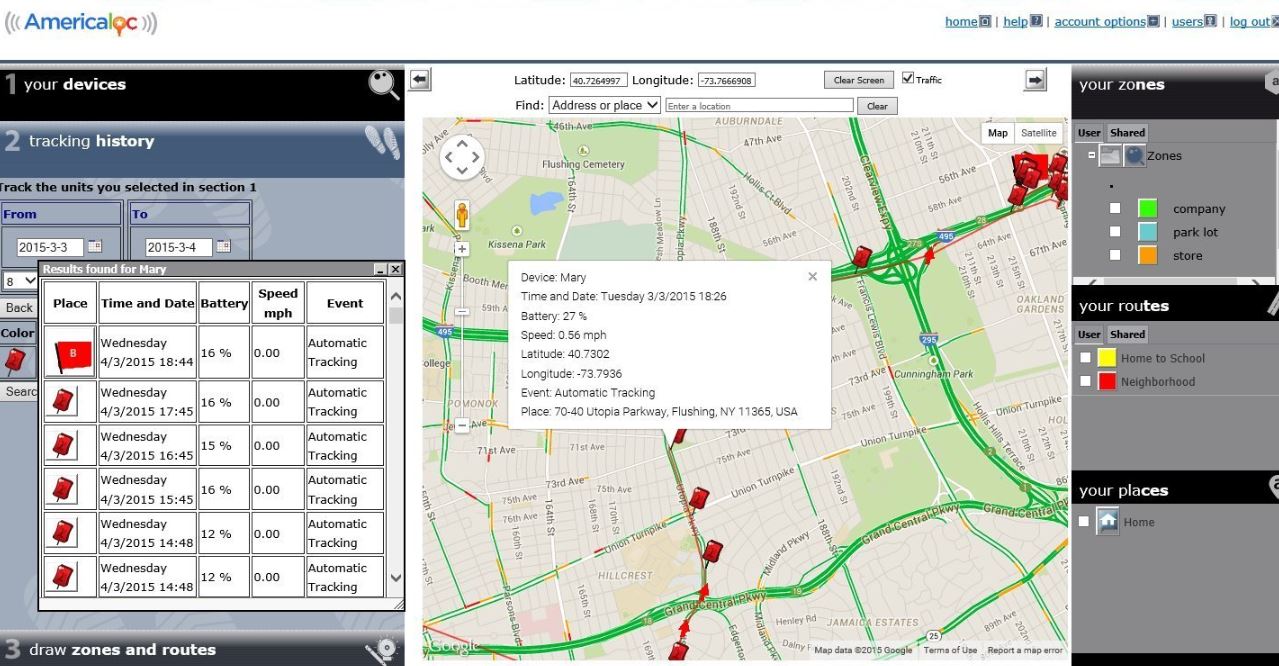 Tracking Features
As with the Spy Tec tracker, the AmericaLoc GL300W is controlled through Americaloc's own free control app. One thing to note about their app is the way in which it gracefully saves all your tracking data for a year after its been taken, preventing you from having to log that information yourself. And updates are available with one-minute updates intervals, which is precise enough for most vehicular GPS tracking purposes.
>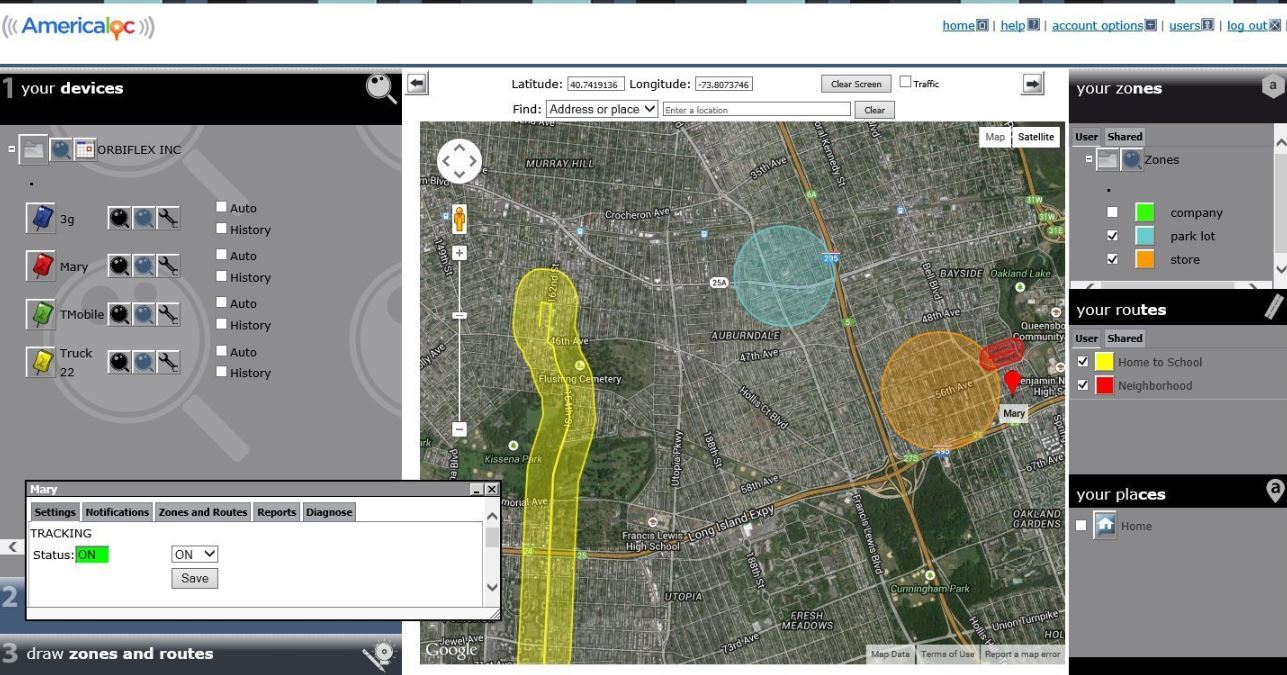 The GL300 has a handful of battery modes that can help preserve life further. Alert modes can be customized to get your attention only under highly specific circumstances, like speeding, low battery on the tracking unit, and breaking across a geo-fenced area. Even turning the tracker on or off can give you an alert, should you desire. How much battery you end up with can vary widely because of the numerous operation modes. But for most people in most circumstances, about two weeks of battery life is a good estimate.
>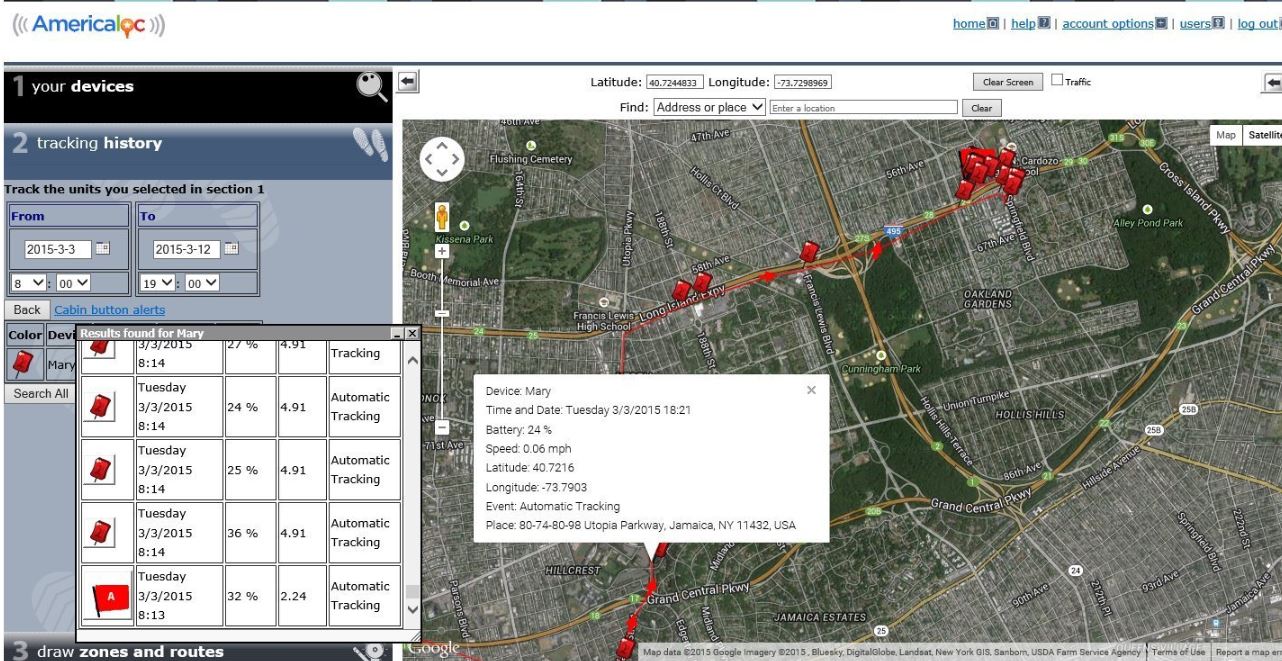 Build & Features
Like similar vehicle trackers, the GL300 weighs about 2 ounces. And like similar trackers, it has the same 0.9 x 2.7 x 1.5-inch build that makes it easy to subtly slide into small spaces. Selecting trackers this small can sometimes put you at risk of getting awful battery life, but the GL300W luckily isn't burdened with those kind of problems.
Subscription Costs
The AmericaLoc GPS service runs $25 per month, but can be reduced if you buy in volume. You don't have to worry about contracts or cancellation fees, which makes the GL300W a good choice for virtually anyone. AmericaLoc is one of a handful of brands which doesn't hide a bunch of hidden fees with their GPS service, and the GL300 also comes with a 1-year warranty.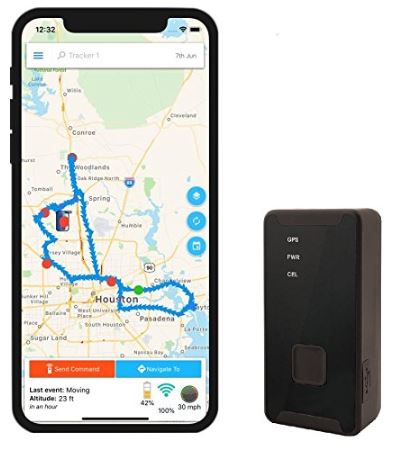 Optimus 2.0
Like the other two trackers on this list, the Optimus 2.0 has a versatile, highly portable design. But what makes it special is a slightly more advanced set of features. While the Americaloc GL300 is going to be suitable for nearly any kind of vehicle tracking, the Optimus 2.0 is about one step short of being suitable for tracking a head of state or similar VIP.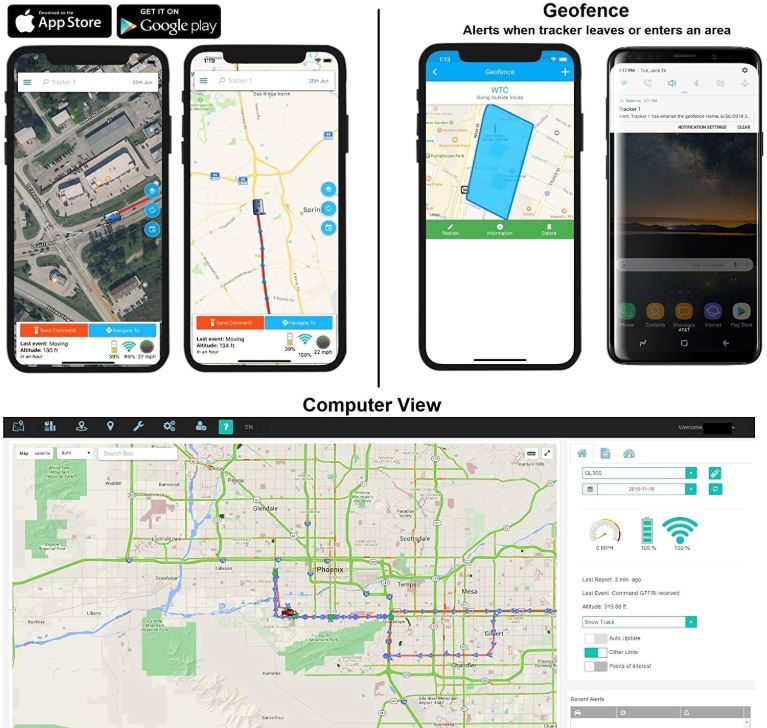 Tracking Features
The Optimus 2.0 is controlled through the free included app, which has support for both iOS and Android. It's pretty clearly been designed to be accessible to everyone, even people who aren't fluent with using PCs or smartphones. Within the app the intuitive interface makes it easy to quickly establish parameters for the various alert modes.
Among those modes, all the common are present, including geo-fencing, detailed driving reports, monitoring for speeding, a convenient low-battery report, and so forth. Moreover, the Optimus 2.0 makes use of the SOS button feature present on the Spy Tec GL300.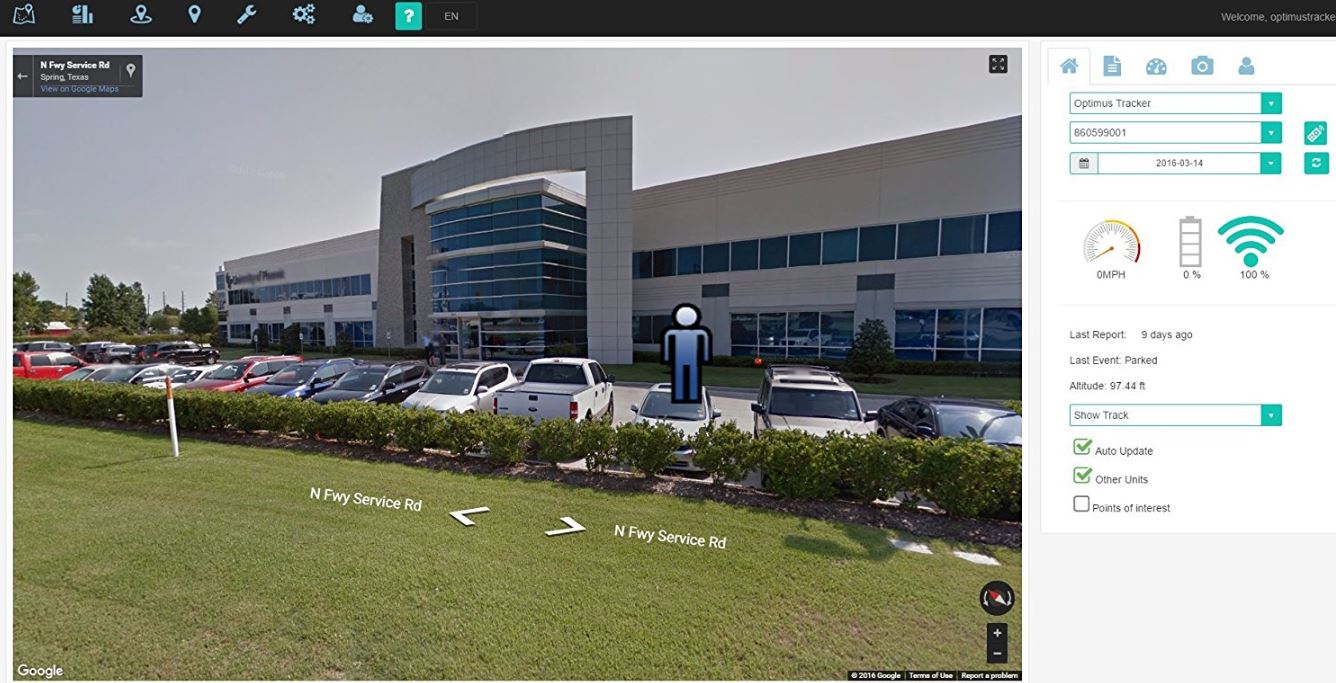 Build & Features
The Optimus 2.0 has a similar build to the other trackers on this list, sitting at 1 x 1.5 x 2-inches. It weighs slightly more than the other trackers, breaking past 3-ounces. That difference shouldn't be observed by almost anyone except hunters who are heading into the deep wilderness, triathlon athletes, or others who are counting every ounce of weight they carry. Unlike the other trackers on this list, the Optimus 2.0 has a highly waterproof body independent of the need for additional casing.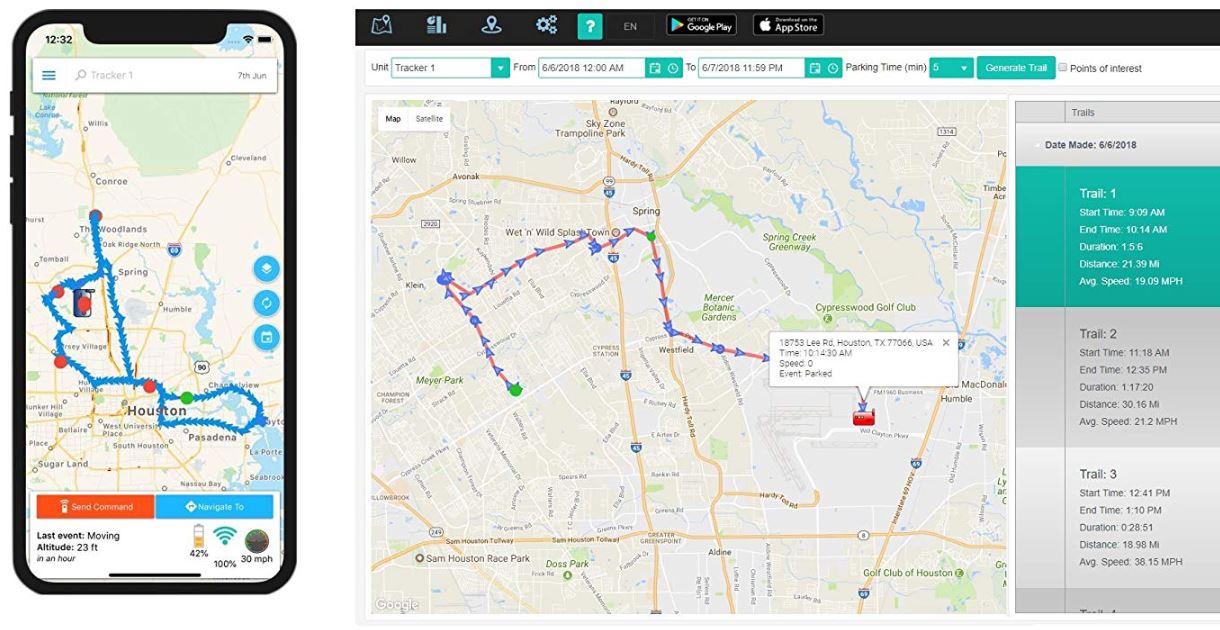 Subscription Cost
Service for Optimus 2.0 is the cheapest on this list, costing only $20 monthly. No contracts or service cancellation fees apply, and there aren't any hidden fees along the way. With that standard service, you get 30-second report intervals for vehicle tracking. You can increase that to 10 seconds with the addition of a small monthly fee, which pushes the Optimus 2.0 more in-line with the price of other trackers.
Choosing the Best GPS Vehicle Tracker for You
If you're satisfied with 30-second tracking intervals, then the Optimus 2.0 is an excellent choice. You'll save money using their subscription service, especially if you plan on using the tracker for longer periods of time. It's got more detailed and sophisticated alert options than those available through SpyTec, but not quite as many as what you'll find with the AmericaLoc GL300.
The Americaloc GL300 is a great choice for people who only intend to use a tracker for a short period of time. If you plan on going past their two-free months, you'll find a tracker that's loaded with a huge assortment of alert settings and rapid real-time updates. Either way it's a bargain, but it's an especially good deal for someone who's only doing a few months of tracking.
Finally, the Spy Tec GL300MA is great for anyone who plans on using their GPS for years to come. It's got a versatile build which can move from being a VIP tracker, to a luggage tracker, to a vehicle tracker. And depending on how involved you are with tracking, you'll find the GL300 can be paired with a number of added accessories which keep it fully capable for any kind of task you can throw at it. Virtually anyone looking for a personal GPS vehicle tracker should give it a look.
Please consider sharing:
Note: At no extra cost to you, we may earn a commission for purchases using our links. Learn more.