Let's face it; trying to find a reliable SD card for your ASUS ROG Ally can be a time-consuming, laborious task. The vast number of options available is dizzying, to say the least. But that's why NerdTechy exists – to present you with killer tech and save you the hassle of researching countless options.
That's right; we've done the heavy lifting for you and tested a range of SD cards. What we settled on is a collection of some of the finest ASUS ROG Ally SD cards. We carefully evaluated their performance, speed, storage capacity, durability, and compatibility. The end result? The following four exceptional options:
Each of these SD cards brings unique strengths to the gaming table, making the decision largely dependent on your specific requirements and preferences. So check out the following detailed reviews to discover the perfect match for your ASUS ROG Ally.
Lexar Professional 1000x microSDXC UHS-II Card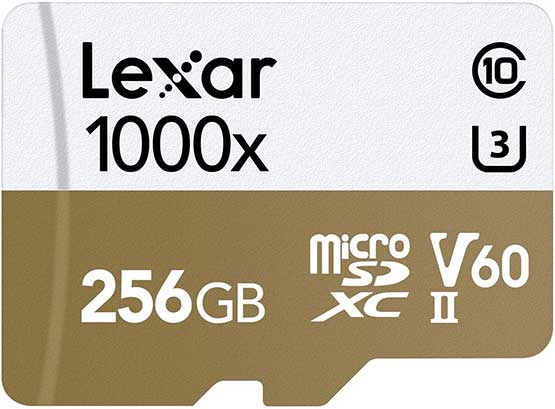 Key features:
High-speed UHS-II technology
Compatible with various devices
Backward compatible with UHS-I devices
Compact and portable design
The Lexar Professional 1000x microSDXC UHS-II Card is an impressive storage unit for tech enthusiasts, offering high-speed performance and substantial capacity at 256GB. With UHS-II technology, its read transfer speed maxes out at 150MB/s. This proved beneficial in our testing process, as we easily transferred large files across devices. Versatility is high, too, as it's designed to accommodate a variety of devices (camcorders, tablets, smartphones, etc.).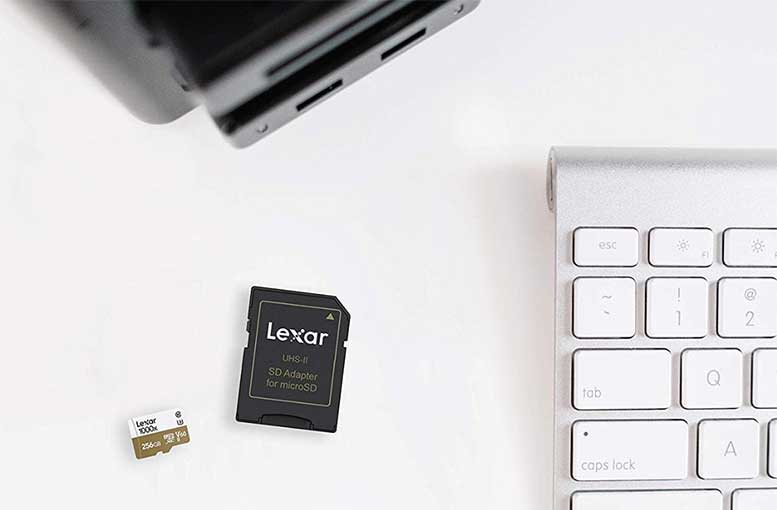 It's particularly suited for capturing high-quality images and recording lengthy segments of 1080p full-HD, 3D, and 4K video. In our testing, we were treated to smooth and uninterrupted recording, so we're confident in saying this is an excellent choice for avid photographers or videographers. Furthermore, it stands out for its backward compatibility with UHS-I devices. It can function up to the maximum thresholds of UHS-I speed capabilities, which means it also serves as an efficient solution for older, non-UHS-I devices operating at Class 10 speeds.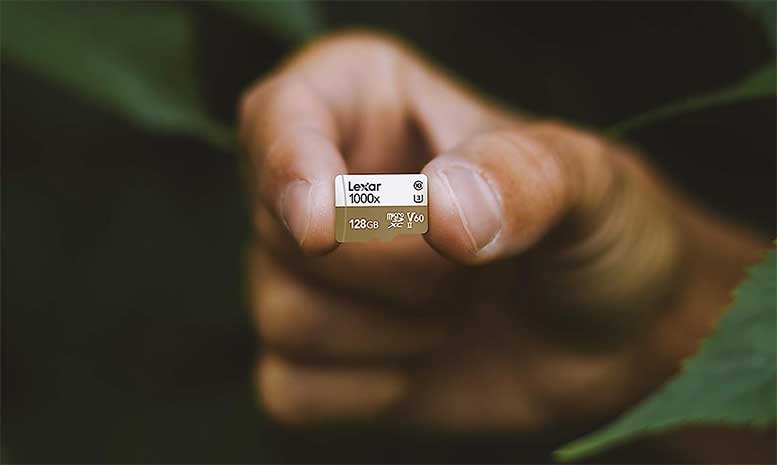 This card adheres to the uniform size that is micro SD. But despite its small size, it packs a punch when it comes to performance. It's worth noting, though, that while it provides robust performance, the card may not be as securely mounted as some users might prefer, and the lack of an activity light on the card reader can be a drawback for some. Still, you're getting a premium micro SDXC card with 256GB of storage for your ROG Ally. Just expect to pay a premium price.
What we liked:
Excellent read transfer speed
Suitable for high-quality imaging and video
Versatile device compatibility
Compact and lightweight
What we didn't like:
Card mounting could be more secure
Pricey storage
ADATA Premier ONE SDXC UHS-II SD Card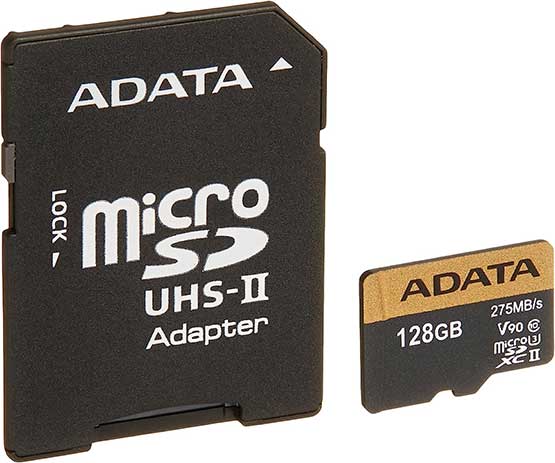 Key features:
275MB/s Max Read Speed
V90 Video Speed Class
Ultra HD 8K, 4K, 3D/VR Support
Lifetime Warranty
The ADATA Premier ONE SDXC UHS-II SD Card is an impressive piece of technology, boasting commendable speed and reliability. Its read speed maxes out at 275MB/s, making it three times faster than typical UHS-I cards. This feature was most noticeable when paired with UHS-II compatible devices – its full potential shines in rapid data transfer scenarios. It also supports the SD 4.0 UHS-II standard and the latest V90 Video Speed Class, allowing it to comfortably handle Ultra HD 8K, 4K, and 3D/VR footage. This is excellent for content creators using advanced video formats.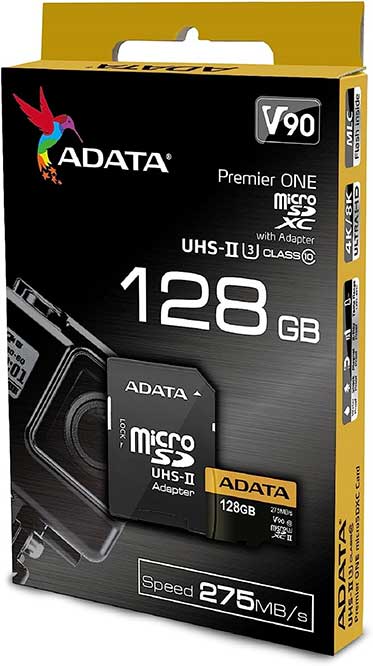 Moreover, its use of 3D MLC NAND Flash ensures durability and reliability over extended periods of use, a key feature for users handling vital data. In terms of physical aspects, the card is compact, lightweight, and passes rigorous durability tests, from waterproof and shockproof to anti-static and even X-ray proof. If you use your ROG Ally often and are on the go a lot, this could very well be the card you need. It can stand up to a lot and is worth checking out. But keep reading to make sure, as we have more insights to share.
For starters, we do need to note that the card might not perform as well in specific applications requiring high random-read performance as experienced during our testing. Additionally, with storage capacity maxing out at 128 GB, it might not be sufficient for extensive high-resolution video shoots in one go. Regardless of these minor drawbacks, the ADATA Premier ONE SDXC UHS-II SD Card remains a formidable option for many users, offering high-speed data transfer, remarkable video capabilities, and rugged durability.
What we liked:
Robust physical durability
High-speed data transfer
Reliable MLC NAND Flash
Broad device compatibility
What we didn't like:
Not optimal for random-read tasks
Limited storage for extensive video shoots
PNY XLR8 Gaming microSDXC Flash Memory Card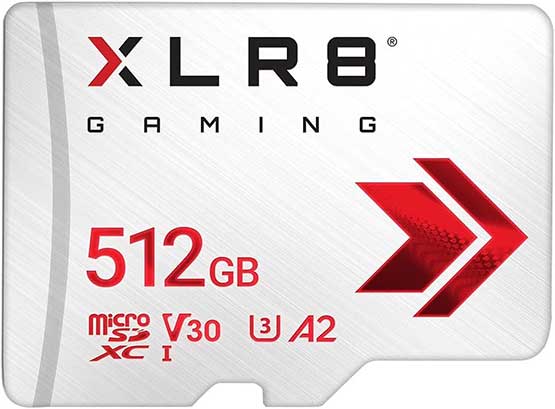 Key features:
512 GB storage capacity
Class 10, U3, V30 video speed
A2 Application Performance
4K Ultra HD compatibility
If you're looking for an incredible buy or you're on a tight budget, PNY may just be the perfect card for your ROG Ally. Exuding a vibrant red and white color scheme, PNY's XLR8 Gaming microSDXC card is an attractive proposition for gamers. Its impressive 512GB storage capacity eliminates the vexing – and often downright aggravating – need to continually delete games to make space for new ones. The convenience extends to a broad range of devices, too, working with everything from Android smartphones to Nintendo Switch and, of course, ASUS's ROG Ally.
Our hands-on testing with this microSDXC card revealed remarkable results for such an affordable storage option. Its Class 10 U3 rating with V30 video speed is not just impressive on paper – you really do benefit from lightning-fast gaming and download speeds. You can expect speeds of up to 100MB/s for read and 90MB/s for write. These are results that should significantly enhance your gaming experience.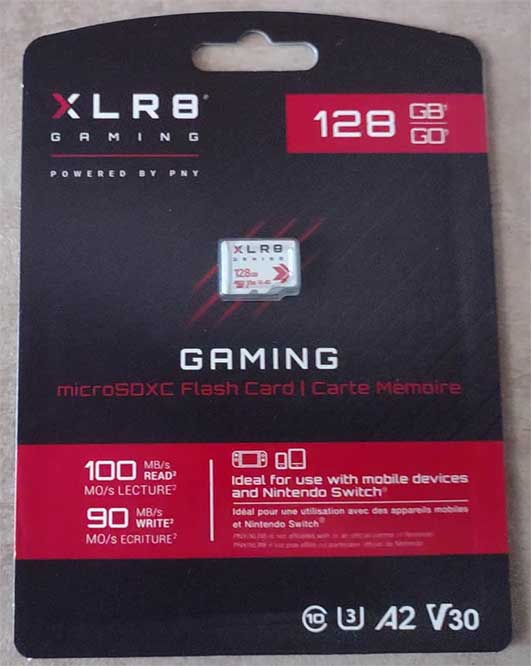 A noteworthy attribute is its A2 Application Performance, a feature that runs gaming apps directly from the microSD. This results in faster app launch and improved gaming performance. What's more, this capability makes this card ideal for those seeking swift transitions between games and a fluid gaming experience.
And on top of that, the PNY XLR8 is geared toward multimedia use. It's compatible with 4K Ultra HD, providing an avenue for action camera enthusiasts, drone pilots, and Android device users to capture and share high-quality content. So if you like to dabble in other hobbies when you're not playing your ROG Ally, this card's versatility gives yet another reason to invest in it. All in all, this one's a winner. Great price, unique colors, a ton of storage, and solid performance.
What we liked:
Incredible price
Broad device compatibility
High-speed gaming performance
Facilitates 4K content sharing
What we didn't like:
Color might not suit all
Heats up under heavy usage
Samsung EVO Select MicroSDXC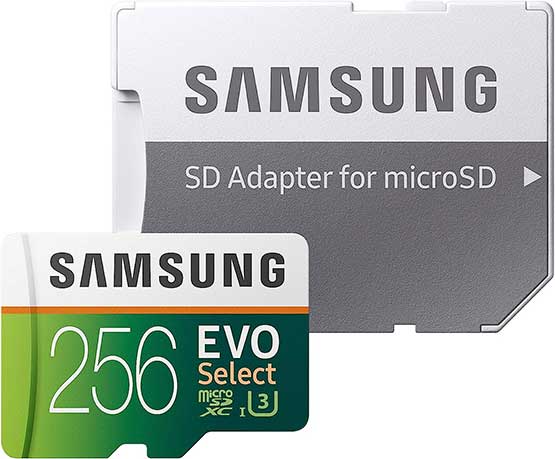 Key features:
Lightning-fast read/write speeds
High-capacity 256GB storage
4-proof protection for durability
Extensive compatibility with adapter
In the expansive universe of SD cards, Samsung's EVO Select MicroSDXC is a standout. A solid performer with 256GB of storage capacity, it provides the user with ample room to store large files, including 4K UHD videos, photos, and music. During our time with the card, we particularly appreciated its lightning-fast read and write speeds. Samsung says 100MB/s and 90MB/s, respectively. But we clocked it closer to 95MB/s read; the 90MB/s write speed is accurate.
Still, these speeds ensured seamless data transfers and allowed us to upload a 3GB video to our laptop in ~40 seconds. That's quite impressive. This card's robust build ensures long-term reliability. It is resistant to water, extreme temperatures, and X-rays, guaranteeing that your data remains intact even in harsh conditions. Moreover, its extended compatibility, thanks to the included full-size adapter, makes it ideal for use across various devices, including laptops, cameras, and Android devices.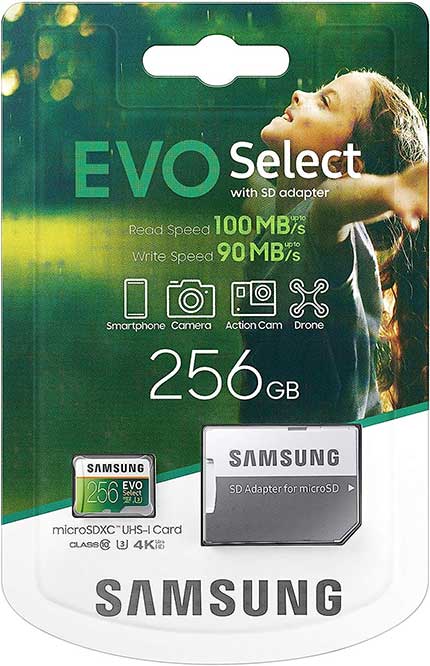 There's definitely formidable performance present here. Our main gripe, however, is that this SD card may not be the best fit for write-intensive uses like Dashcam or CCTV. The reason? It specifically has limited warranty coverage in such scenarios. But aside from that, Samsung's EVO Select MicroSDXC offers robust features and exceptional performance, making it a reliable companion for your tech needs, including the ROG Ally.
What we liked:
Impressive data transfer speed
Robust and durable build
Versatile compatibility
Massive storage capacity
What we didn't like:
Not optimal for write-intensive uses
Limited warranty for certain uses
ASUS ROG Ally SD Card FAQs
What is the maximum SD card capacity that the ASUS ROG Ally can support?
This is an important question to keep in mind, as the maximum supported capacity can vary between different models of the ASUS ROG series. You should always check your device's specific model documentation or manufacturer's website for accurate information. However, most recent Android devices generally support SD cards up to 2TB.
Do I need a specific type of SD card for gaming on the ASUS ROG Ally?
While any microSD card can technically be used for gaming, cards with higher speed classes (like Class 10, U3, or V30) and application performance classes (like A1 or A2) provide better performance. That's because these cards ensure faster load times and smoother gameplay – must-have attributes for handheld gaming.
Does the brand of the SD card matter for the ASUS ROG Ally?
Not necessarily, as there are many quality players in the market. That said, it's advisable to go with well-known and reliable brands like Samsung, Lexar, ADATA, or PNY. Doing so will ensure quality, reliability, and warranty coverage.
Can I move apps to the SD card on my ASUS ROG Ally?
Yes, and this is a great way to save internal storage. However, not all apps support this feature, and some apps that do allow it might perform slower when run from the SD card.
How can I maintain the performance and longevity of my SD card on the ASUS ROG Ally?
It's a good idea to regularly back up your data and avoid filling the SD card to its maximum capacity. Additionally, try not to remove the card while data transfer is in progress, and only use high-quality, reliable SD cards from known brands. Regularly scanning for and fixing any errors can also help prolong the card's life.
Final Verdict
No matter what you're looking for in an ASUS ROG Ally SD card, we have an option for you. Take Lexar's Professional 1000x microSDXC UHS-II Card, for instance. It was chosen for its exceptional read transfer speed and ability to handle high-quality imaging and video. It's a versatile and reliable choice for anyone who values speed and large file handling. ADATA's Premier ONE SDXC UHS-II SD Card is another clear winner with lots to offer.
Its combination of physical robustness and high-speed data transfer makes it ideal for users who require reliable performance and durable construction. Its ability to capture high-resolution video is a nice bonus for those looking for versatility. And then there's PNY's XLR8 Gaming microSDXC Flash Memory Card. This one offers a fantastic blend of affordability, high storage capacity, and excellent gaming performance. It's perfect for users on a budget who still demand high capacity and gaming speed.
Lastly, Samsung's EVO Select MicroSDXC delivers impressive data transfer speed, solid build quality, and large storage capacity, proving itself to be a reliable all-rounder for those looking for a balance of speed, durability, and storage space. Remember, the best SD card for your ASUS ROG Ally is one that aligns with your usage patterns and storage requirements, balancing cost and performance according to your specific needs. Each of these cards represents a solid choice, providing reliable performance and unique benefits.