Line laser levels are great for any number of projects where you need to align vertical and horizontal planes. For leveling floors, plumbing walls, drop-ceiling installations, they can make your job much easier. And when affixed to a stable surface, like a tripod, you can use these instruments to take highly accurate and reasonably portable measurements.
In fact, many of these instruments are portable enough to shove in your pocket. And with a self-leveling design, cross-line lasers can deliver precision with minimal adjustment and micromanagement of the instrument. That makes them great for quickly checking the height of a door or window, and just as effective for quickly aligning shelves, cabinets, and trim.
Note: At no extra cost to you, we may earn a commission for purchases using our links. Learn more.
Perhaps most importantly, the price of laser leveling technology has drastically dropped over the past decade. Well-designed instruments that take advantage of these modern technologies are becoming more accessible than ever, both in terms of their price, and in terms of their ease of use.
Choosing a Self-Leveling Cross-Line Laser
Cross line lasers use laser beams capable of shooting in a wide radius of 180-degrees, which is great for helping you determine the distance across a vertical or horizontal plane. It sounds very technical, but choosing an excellent self-leveling cross-line laser is actually quite simple.
There are basically four things you'll want to consider. The basic measuring abilities of the instrument, the accuracy it can provide, the general quality of its build, and its indoor and outdoor qualities.
Measuring Abilities
What's the maximum distance that the laser can measure? Entry level instruments typically provide measurement capabilities of about 100ft. Industrial quality instruments push further, towards 300 feet and beyond. Self-leveling features can almost be taken for granted, but precisely how much self-leveling can the instrument provide? How difficult is it to switch over to manual measurements?
Instrument Accuracy
Inexpensive instruments can still provide accuracy within about ¼". High quality instruments can deliver at least 1/8" accuracy. But it's worth contextualizing all claims of accuracy. An instrument might provide an impressive 1/32" accuracy when you're measuring within 50ft, but you might see that accuracy plummet as you push out towards 150ft.
Build Quality
Does the self-leveling cross-line laser make use of any waterproofing protection? What about shock-proofing to protect it from accidentally being dropped? Are there mounting threads, allowing you to stably mount the gear to a tripod? These can be particularly important factors when you're choosing between indoor and outdoor instruments.
Indoor vs Outdoor Use
Ultimately, you've got to ask what you want to do with the equipment. For example, when you're working indoors, without the help of an electronic laser receiver, you'll need a visible beam to take measurements. Green and red beams are fairly common, often designed to use highly specific wavelengths of light. Often times, these wavelengths are chosen because the eye is more sensitive to them than other shades of light.
Few people appreciate the difference between standing in a well-lit room, and the brightness of being outside during a sunny day. It's an enormous difference, outside there's nearly 100,000-times as much light. For outdoor use, especially during the daytime, you'll need a laser receiver to help take measurements. Even an extremely bright laser beam will be totally invisible in daylight.
DEWALT DW088K
DEWALT makes a number of professional grade tools, ranging from cordless power tools to a huge variety of hardware accessories. The DW088K fits in among this slew of equipment, intended to serve as a self-leveling cross-line laser platform for a diverse range of applications. Its formidable horizontal and vertical laser projection abilities do not fall short of expectations, especially if you've ever used a tool from DEWALT.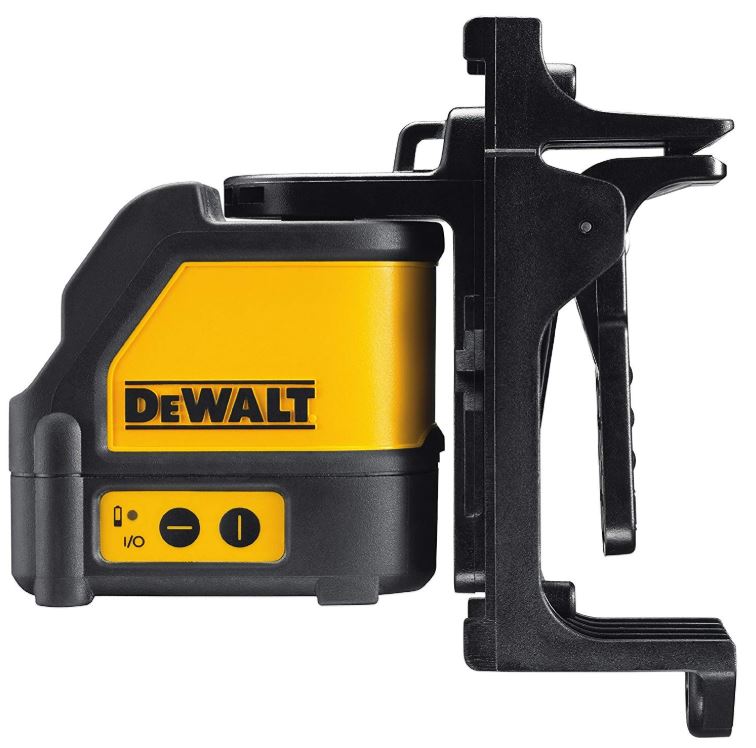 Build & Design
The DW088K weighs slightly short of one pound, with a chassis that measures approximately 6 x 6 x 3-inches. The external casing is an over-molded housing, delivering IP54 protection. The front panel features only two readily identifiable buttons you can use to adjust data input. Next to that, there's also a single LED to give you information about the charge of your battery.
The DEWALT DW088K is powered with alkaline batteries. A total of three AA batteries are necessary for operation. In addition to the laser instrument, the DW088K includes three AA batteries, an acoustic ceiling mount, one rugged kit box, and operating instructions. The kit box is built from a hard-shell casing that can be used to further enhance protection and portability for this instrument.
Accuracy and Measurement
The DW088K takes measurements with the help of a powerful Class 2 laser, using a bright red beam that selectively creates light between 630-680nm. The 1.3mW power output of the laser is slightly above average, helping to allow for 1/8" accuracy from distances of up to 100ft.
Under ideal conditions, the DEWALT DW088K allows for a maximum measurement range of 165ft. But accuracy does suffer as you extend into the upper limits of that range, and the visibility of the laser cuts out around 50ft.
Other Considerations
One of the advantages of choosing a DEWALT tool is that it's quite easy to find accessories made specifically for your instrument. For example, you could pair up the DW088K with the DEWALT DW0737, which would be a fairly formidable tripod for almost any self-leveling cross-line laser.
The DW099K uses an integrated magnetic pivoting base, along with a common ¼" thread, allowing for the topside of this device to be mounted in several different ways. In addition to 1-year of free service, and a 90-day money back guarantee, the DW088K includes a 3-year limited warranty. And that warranty covers essentially everything except accidental damage.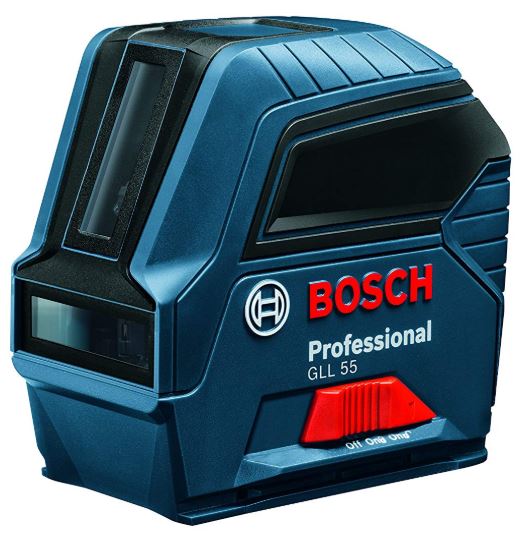 Bosch GLL 55
The Bosch GLL 55 is another self-leveling instrument capable of providing formidable horizontal, vertical, and cross-line operation. It allows you to project a pair of lasers independently, which makes this instrument capable of a huge range of applications. And bolstered with VisiMax technology, this self-leveling cross-line laser manages to maintain laser visibility in far more working conditions.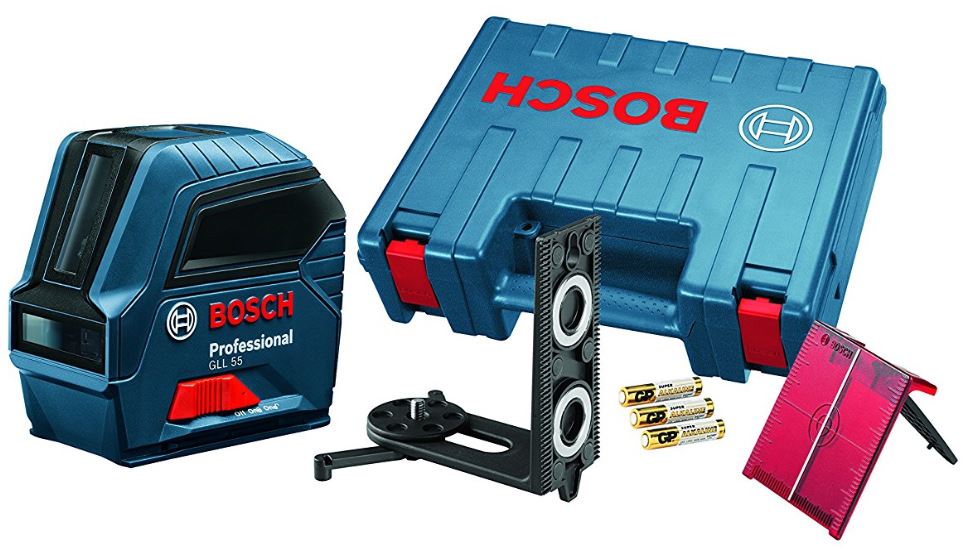 Build & Design
The Bosch GLL 55 measures only 4.2 x 4.4 x 2.2-inches, making it the smallest self-leveling cross-line laser among this list. It's also the lightest, weighing about one pound before you shove batteries inside. Surprisingly, the exterior chassis is stylish and professional. Instead of trying to make the tool look sterile and boring, they've used cool blue hues.
The chassis isn't only attractive; it also provides IP54 protection. That's enough protection to stave off dirt, oil, dust, splashing water, and similar non-corrosive materials. The left side of the instrument has an analogue switch that can help you lock-lines in manual mode. And adjacent to that, a small LED-lit display provides you all the information you need to make efficient use of the GLL 55.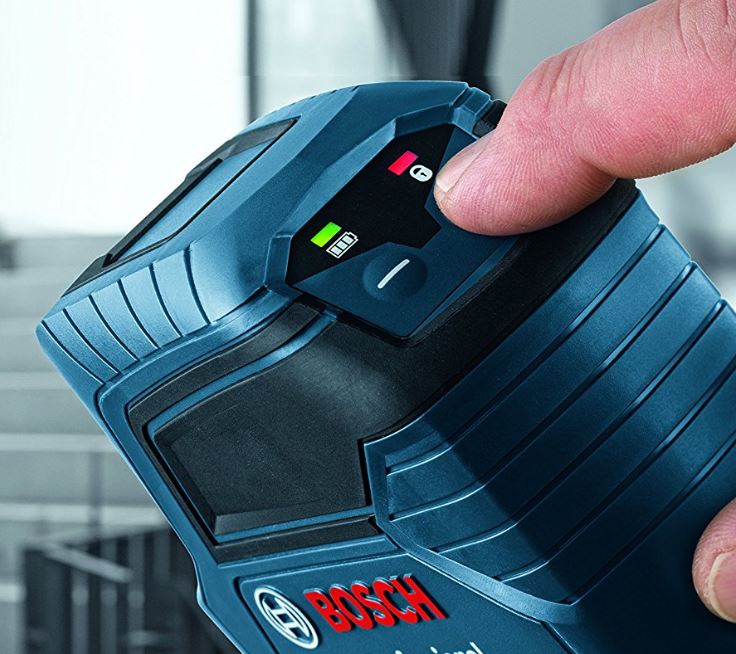 Accuracy and Measurement
Bosch uses a Class II laser for measurement, aimed precisely between 630-650nm. The laser is visible for 50ft, and provides an accuracy of ±1/8" when measured from 33ft. But what really makes this instrument shine is its internal pendulum system. That's what facilitates its impressive self-leveling capabilities, capable of adjusting as much as 4°, and what allows this instrument to automatically detect and indicate out-of-level conditions.
Other Considerations
The GLL 55 includes a magnetic L-mount. It can be used to attach this instrument with steel studs. The GLL 55 can also be used in free standing mode, thanks to its retractable feet. It includes three AA batteries, a hard shelled carrying case, a laser target plate, and an additional magnetic mounting bracket.
Internally, the temperature of the laser is constantly monitored, allowing its diodes to achieve maximum brightness without overheating. Beyond that, you'll find the Bosch GLL 55 supports a standard operating temperature between 14° F and 122° F. Along with a self-locking mechanism within the pendulum, it's safe to say this is an instrument designed for longevity.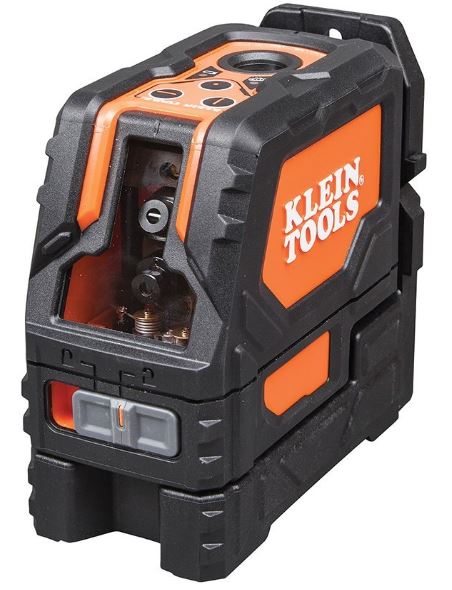 Klein Tools 93LCLS
The 93LCLS is a behemoth. Superficially speaking, it has many of the same features as the other self-leveling cross-line laser levels on this list. But underneath those superficial similarities, the Klein Tools 93LCLS is nothing short of impressive.
Its sturdy construction makes use of powerful rare earth magnets, serving to grant efficient alignment capabilities and easy-to-read data output. While particular great for pinpointing overhead connections, the 93LCLS is at least partially defined by the wealth of extras included in this kit.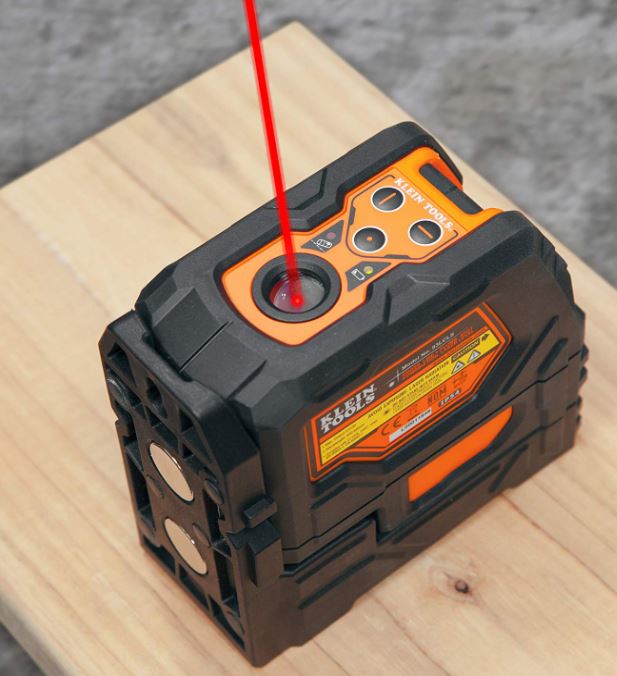 Build & Design
The 93LCLS measures 5 x 5.2 x 2.6-inches, and weighs about 1.6lbs before you shove in the batteries. Its chassis composed of a neodymium alloy, which is part of what makes it such an exceptionally heavy duty instrument. Though certainly not the most compact self-leveling cross-line laser on the market, the Klein Tools 93LCLS is still portable enough to take just about anywhere.
As with the other instruments on this list, the 93LCLS provides IP54 protection, which is essential in the interests of longevity. But this self-leveling cross-line laser also makes use of a shockproof design, intended to survive falls of up to 3.3ft. It's basically hand-level drop protection.
Internally, the laser is powered by three AA batteries, which are included. There are numerous variables that contribute to battery consumption speeds. That makes it hard to accurately estimate the lifespan of these batteries. But you can expect roughly 10,000 measurements before you'll need to swap them.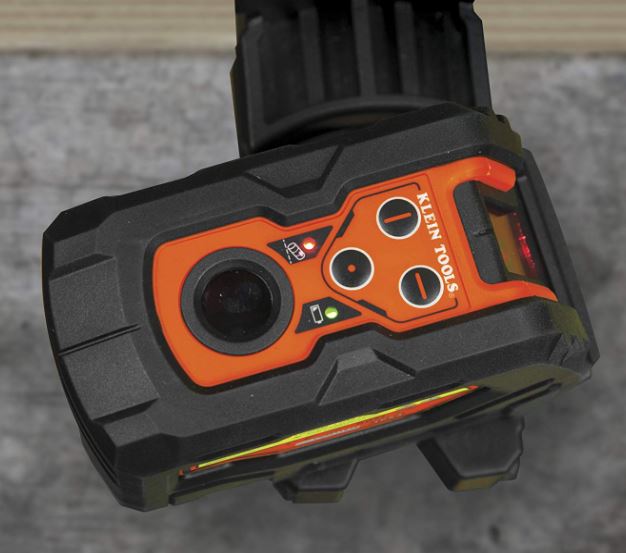 Accuracy and Measurement
For such a powerful instrument, surprisingly, the 93LCLS makes use of a fairly average Class II laser. It shines a red beam between 630-680nm, and with a maximum visible distance of 65ft. Its power is more clearly felt with respect to accuracy, with this instrument maintaining precision within 3/32".
That's assuming you're measuring from a distance of 33-feet. As you move beyond that range, the 93LCLS keeps things tight, losing only 2mm of accuracy over the next 30-feet of distance.
Other Considerations
Great instruments usually come in great carrying cases, and the Klein Tools 93LCLS is no exception. The included hard-shelled carrying case has ample space for the 93LCLS and its accessories. It provides an extra layer of protection for the instrument for traveling, and makes an already portable tool have even more options for portability.
Also included is a magnetic 360-degree mounting bracket, and an additional mounting clamp intended to be used for ceiling grid applications. The bracket is capable of using either 1/4" or 5/8" mounting threads, which is fairly adaptable.
But there is one problem with this instrument. The clip which holds the batteries is made of plastic. It's also sealed quite tightly, which means you need to exercise real force to open it. While you do not have to replace the batteries often, this clip is bound to be the first thing that breaks.
Choosing Between 3 of the Best Self-Leveling Cross-Line Lasers
The DEWALT DW088K is capable of taking on most do-it-yourself jobs. It's also capable of managing lighter industrial use. Its magnetic pivoting base helps make this a highly adaptable instrument, limited primarily by its maximum measurement distance. Provided you're not trying to measure well-beyond 100ft, the DW088K is a worthy addition to almost any toolkit.
The Bosch GLL 55 is another professional grade instrument capable of a broad range of leveling and alignment tasks. What it brings to the table is mostly a greater degree of accuracy. Whether or not you need accuracy beyond what the DW088K can provide really depends on the jobs you have in mind. That makes the GLL 55 a good choice for someone who knows they need precision.
Finally, Klein Tools created an instrument that's truly been engineered near perfection. Whether you're plumbing walls, hanging artwork, or just measuring distances, the Klein Tools 93LCLS is adaptable enough to get almost any job done. Perhaps most important of all, it maintains its capabilities across a greater distance of measurement. Provided you can forgive it for having a plastic battery clip, you'll find the 93LCLS is a top of the line tool suitable to almost any task.
Please consider sharing:
Note: At no extra cost to you, we may earn a commission for purchases using our links. Learn more.