As the quest for eco-friendly alternatives heightens, solar-powered LED driveway and dock lights have become a popular option for those looking to illuminate their outdoor spaces in a sustainable, cost-effective manner.
Their power-saving capabilities, coupled with innovative designs and durability, make them an excellent choice for many homeowners and businesses. So today, we're sharing a selection of the best solar-powered LED driveway and dock lights for your consideration:
Let's explore each of these models in more detail to help you find the perfect solar-powered LED driveway and dock lights that meet your needs.
1. VOLISUN Solar Dock Lights Driveway Deck Lights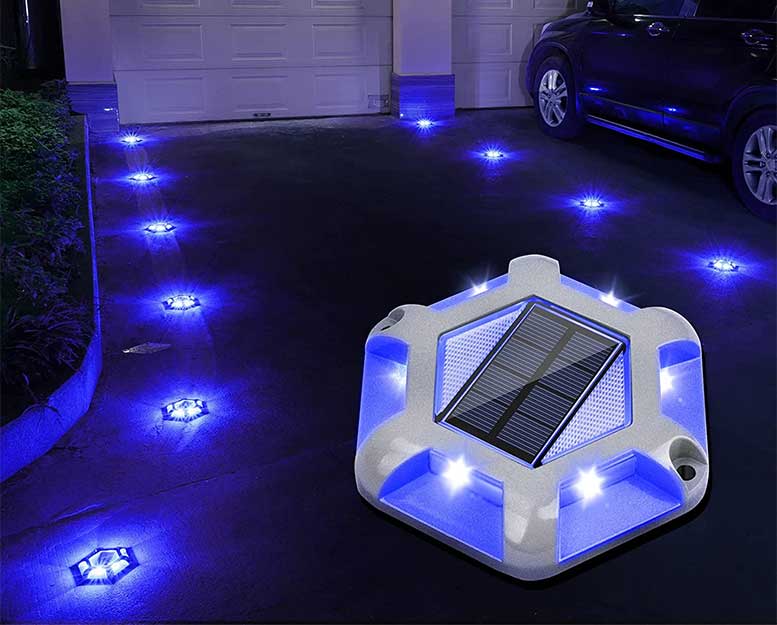 Key features:
Solar-powered 1200mAh battery
Withstands up to 10 tons
72 hours lighting time
6 LED light beads
VOLISUN's Solar Dock Lights Driveway Deck Lights offer an innovative solution for lighting driveways, decks, and outdoor pathways. This 12-pack unit impresses with its unique and stylish design that lends a contemporary touch to any outdoor setting. Its blue color emits a subtle yet beautiful illumination, enhancing visibility and safety while adding aesthetic appeal.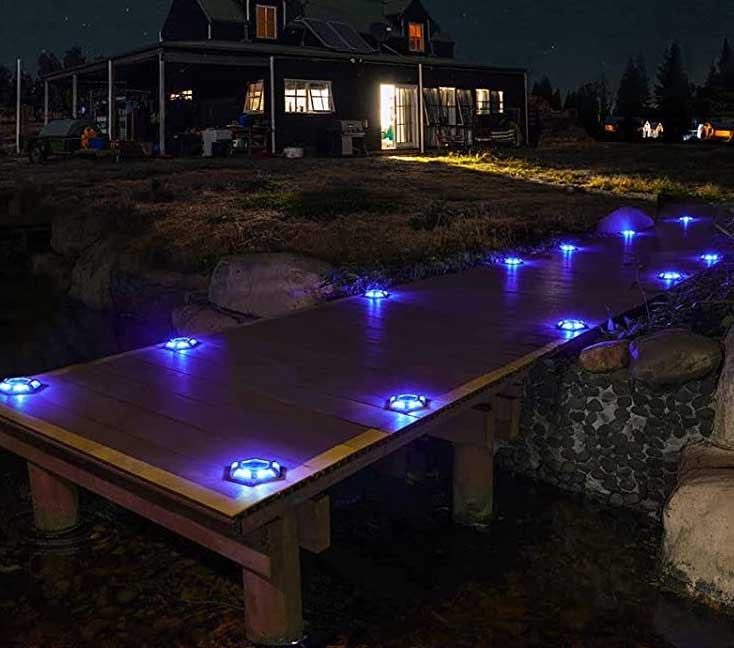 We will say that the robust aluminum casing presents admirable resilience, but the claim that they can withstand 10 tons of pressure is questionable. Still, the high durability does well to protect against most outdoor elements and even the weight of large vehicles, so they're ideal for driveways and docks.
At 4.92 x 4.44 x 0.86 inches and 4.8 pounds as a set, these compact units are simple to install without the need for wiring. Each light has six high-quality LED light beads that emit super bright white light, so they're more than just decorative lights but also a reliable outdoor lighting solution. The solar-powered 1200mAh battery offers substantial lighting time, lasting up to 72 hours on a full charge. What's more, our tests revealed that the lights need only about 3 to 4 hours a day to stay charged and running.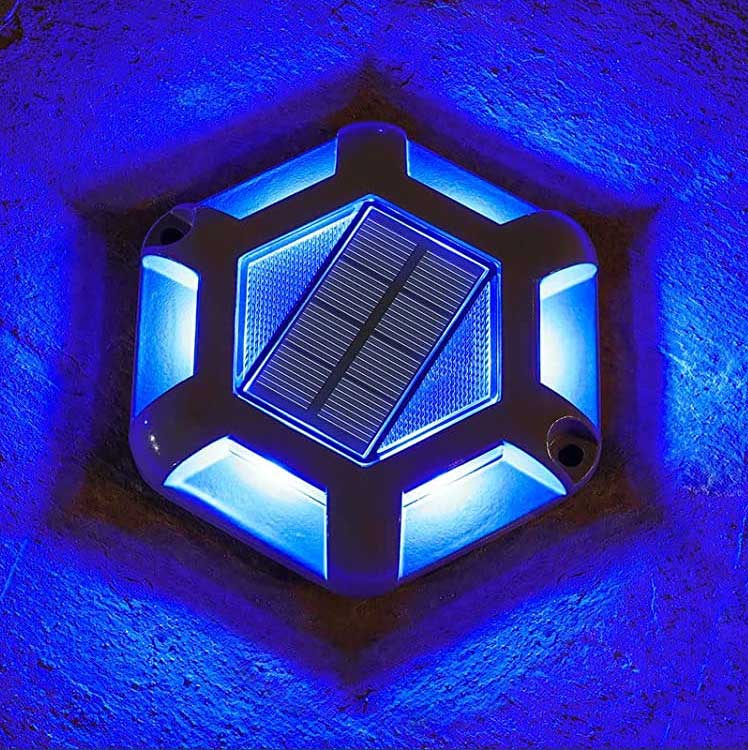 Overall, VOLISUN's Solar Lights offer a mix of style, durability, and performance that can transform any outdoor space into a well-lit, safe, and aesthetically pleasing environment. Compared to other offerings, their exceptional 72-hour battery life outperforms most other models, such as JACKYLED and AGPTEK units, which can only provide 30 and 20 hours of light, respectively. However, some drawbacks include cheap switches and occasional missing pieces that aren't present in other models we reviewed.
What we liked:
Stylish design
Easy to install
Durable casing
Excellent battery life
What we didn't like:
Switches feel cheap
Some production issues, missing pieces
2. JACKYLED Solar Deck Lights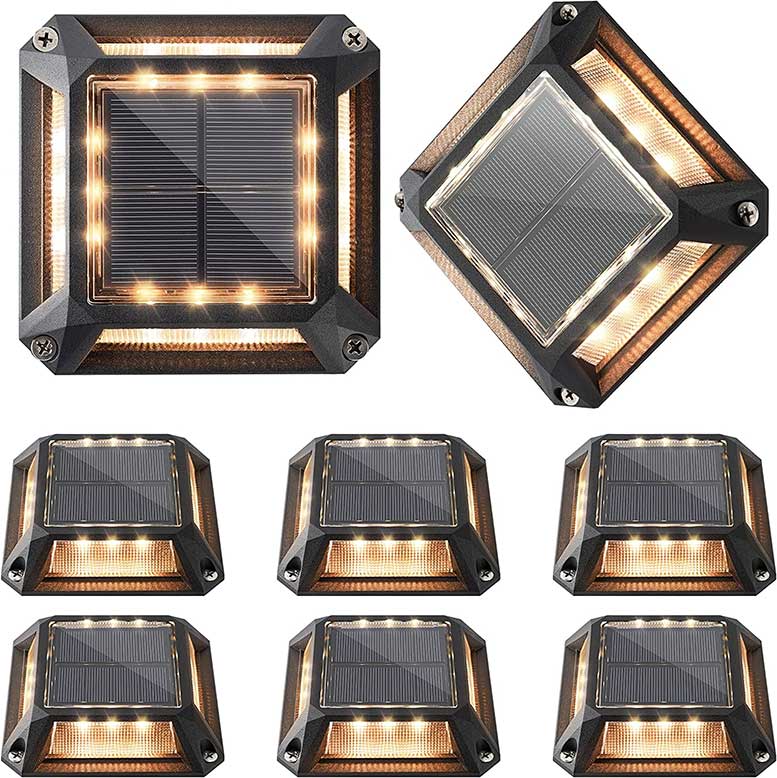 Key features:
Advanced monocrystalline solar panel
IP68 water and weather resistance
360 lumens, 3,000K warm light
Robust aluminum alloy construction
Constructed to be the guiding light in your outdoor space, the JACKYLED Solar Deck Lights are an impressive and sustainable lighting solution. These 5 x 5 x 1-inch units weigh 4.29 pounds and boast an advanced monocrystalline solar panel.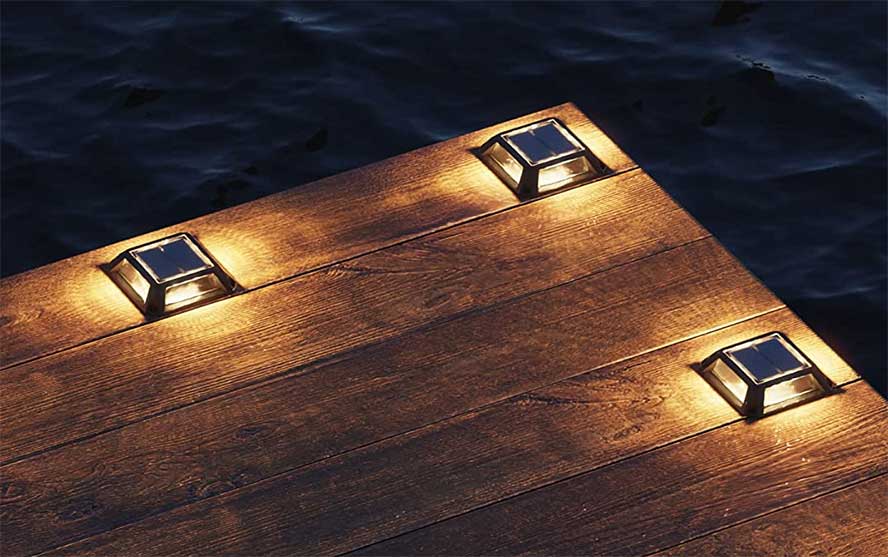 Each light requires only 4 hours in direct sunlight to fuel up to 30 hours of warm, inviting illumination. This endurance ensures that your path stays lit till dawn. Housed in a frosted black frame, these lights emit a pleasant 3,000K light at 360 lumens, ensuring visibility from over 875 yards away.
Lighting is good enough that they work well on steps, something other solar LED lights struggle to do. Featuring an IP68 wet rating, they remain reliable through rain, snow, frost, and occasional submersions. Their aluminum alloy construction prevents rusting and fading, promising years of consistent service even under the weight of a car or truck. Easy to set up with included mounting screws and anchors, they are ready to shine right after unboxing.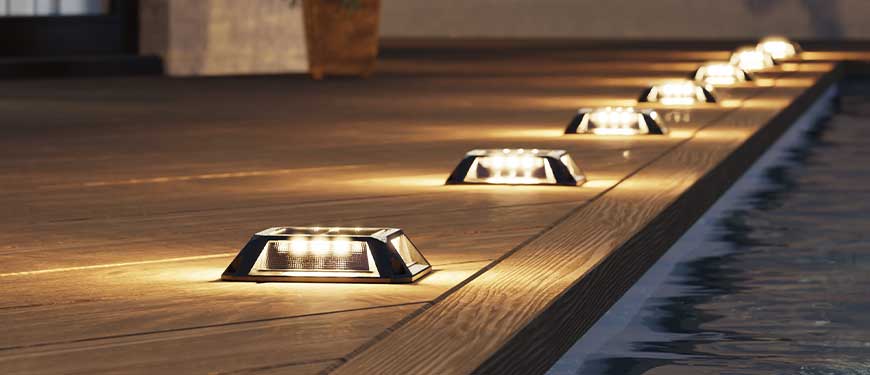 Comparatively, JACKYLED's 30 hours of illumination outpace AGPTEK's Solar Driveway Lights, which provide only 20 hours of light. While their IP68 wet rating is shared with SIEDiNLAR Solar Deck Lights, the high-grade aluminum alloy construction gives them an edge in durability. One drawback, however, is their performance decrease in winter and inefficiency in shaded areas. This is an issue for many solar LED lights, but it seems a bit more problematic here.
What we liked:
Long-lasting solar-powered illumination
Exceptional visibility range
Easy setup with mounting tools included
Highly durable and weight-resistant
What we didn't like:
Performance might decrease in winter
Does not work optimally in shaded areas
3. AGPTEK Solar Driveway, Deck and Dock Lights

Key features:
Car-shaped double-sided design
20 hours of light from 4.5 hours charge
High-quality aluminum alloy body
IP67 waterproof rating
Crafted with a distinctive car-shaped double-sided design, the AGPTEK Solar Driveway, Deck and Dock Lights ensure even, spot-free illumination. With its unique pattern, the lighting effect extends in a straight line, making this set an ideal marker for driveways, sidewalks, pathways, and more. Its superior quality solar panel and 600mAh battery deliver 20 hours of illumination after only 4.5 hours of full sunlight charging, providing a steady light source throughout the night.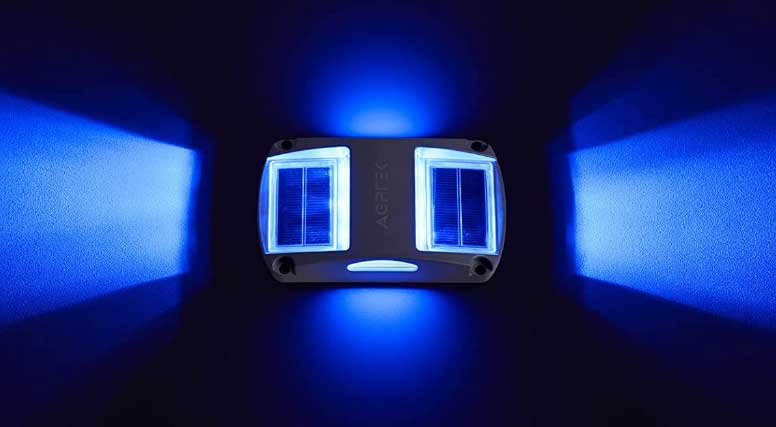 Built from high-quality aluminum alloy, there's certainly high durability present here. They resist rusting well and are advertised to withstand pressure up to 3 tons. We can verify that this claim is true, so no worries about cars or kids stepping on them. Further bolstering its robust construction is an IP67 waterproof rating, ensuring each light can weather rainstorms, snow, or heat. The blue LED lights are powered solely by solar energy, making them a wire-free, eco-friendly lighting solution. The dimensions are 5.1 x 3.1 x 0.9 inches, with a total weight of 4.29 pounds for the set.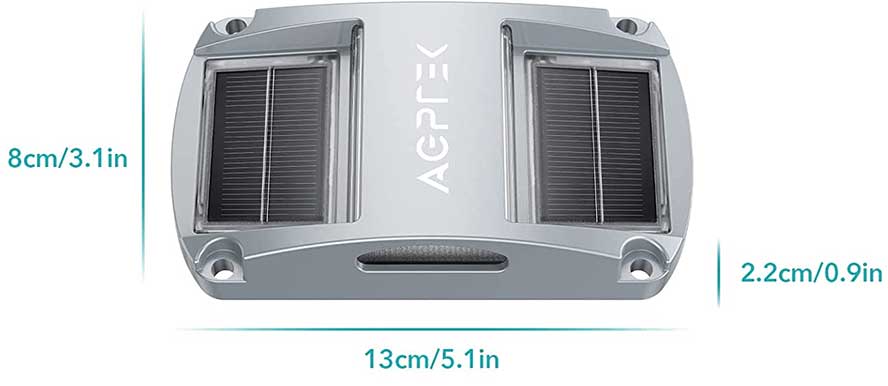 AGPTEK's Solar Driveway, Deck and Dock Lights have a charging-to-lighting ratio that outperforms the SIEDiNLAR Solar Deck Lights. Despite their IP67 rating falling short of the JACKYLED and SIEDiNLAR units' IP68 rating, the aluminum alloy body still offers commendable weather resistance. However, the blue light might not suit all settings, and they don't work well on stairs – something JACKYLED's Solar Deck Lights excel at.
What we liked:
Unique, even illumination
Durable, pressure-resistant body
Long-lasting battery life
Easy, tool-free installation
What we didn't like:
Not bright enough for stairs
Blue light may not suit all settings
4. SIEDiNLAR Solar Deck Lights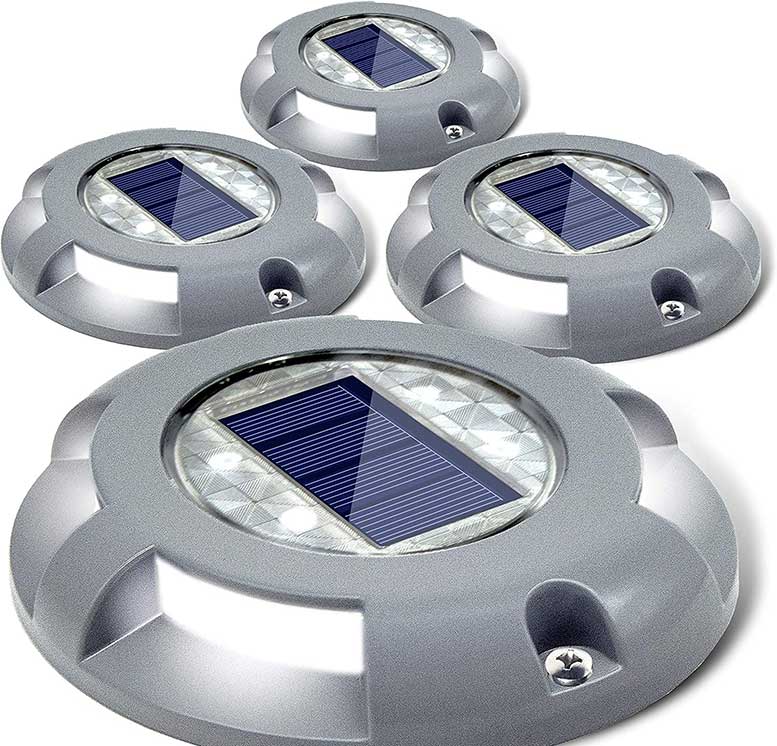 Key features:
Robust pressure resistance
Easy setup with screws or adhesive
Efficient solar charging
IP68 weatherproof rating
The SIEDiNLAR Solar Deck Lights pack a punch in a compact form factor, measuring 5.12 x 4.53 x 0.79 inches and weighing in at 1.7 pounds. With their unique oval design, these LED lights provide a sleek, modern look to any outdoor area. Their durability factor tested well, but their claim that they can withstand pressure resistance of up to 20 tons is unlikely. Still, most cars or trucks won't damage them.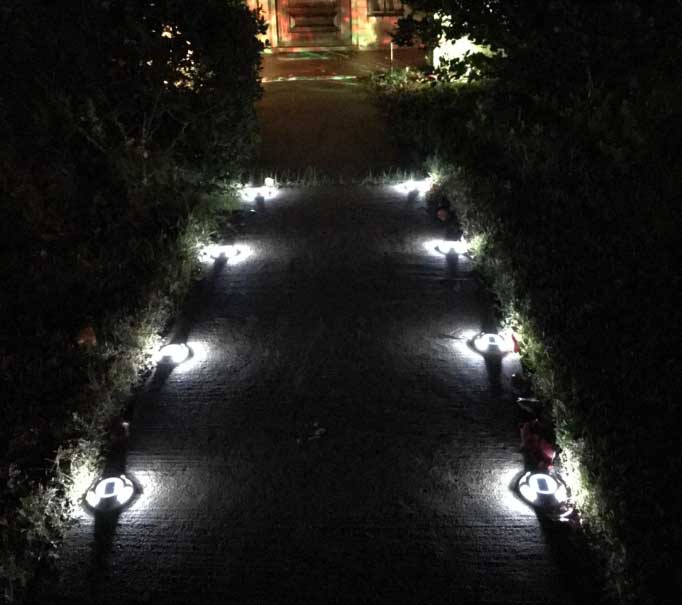 In our testing, most lights continued to shine brightly after continued use, although some did not. Setup is straightforward with the included screws, but you can also use a combination of 3M glue and stone adhesive for those preferring not to drill.
Once installed, the lights charge efficiently for 6 to 8 hours in daylight and provide consistent, cool white (6,000K) illumination for 8 to 12 hours at night. Weather resistance is OK, thanks to the IP68 rating. In theory, they should be able to withstand heavy rain, snow, and intense heat. During our testing, they remained functional throughout a range of harsh weather conditions, but anything above a light rain presented problems.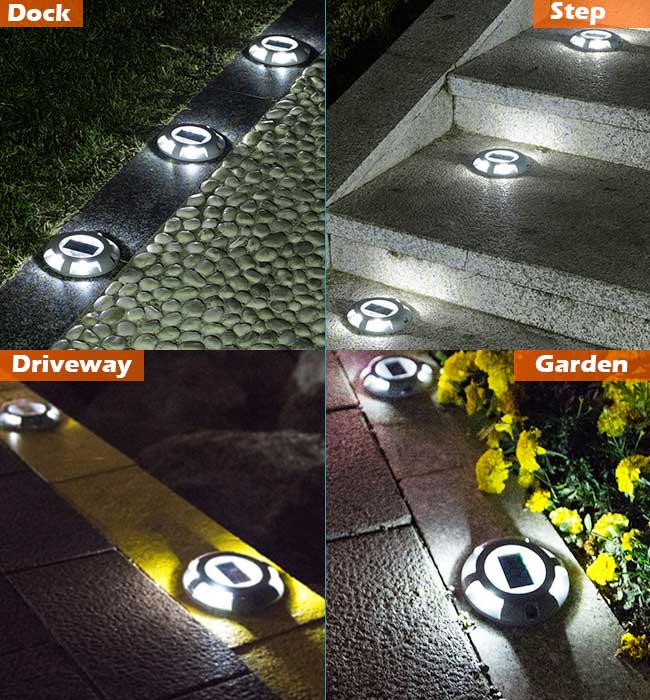 Compared to other entries, SIEDiNLAR's Solar Deck Lights have a bit longer charging duration, and their total runtime is considerably shorter. Also, despite having an impressive waterproof rating of IP68, it proved to be inconsistent in our tests, as some lights showed signs of moisture infiltration after moderate rainfall. Such concerns are present in Happybuy's Driveway Lights, but not in other models we reviewed.
What we liked:
Compact, modern design
Bright, cool white light
Excellent durability
Simple installation process
What we didn't like:
Some lights didn't stay on
Moisture infiltration despite waterproof rating
5. Happybuy Solar Driveway Lights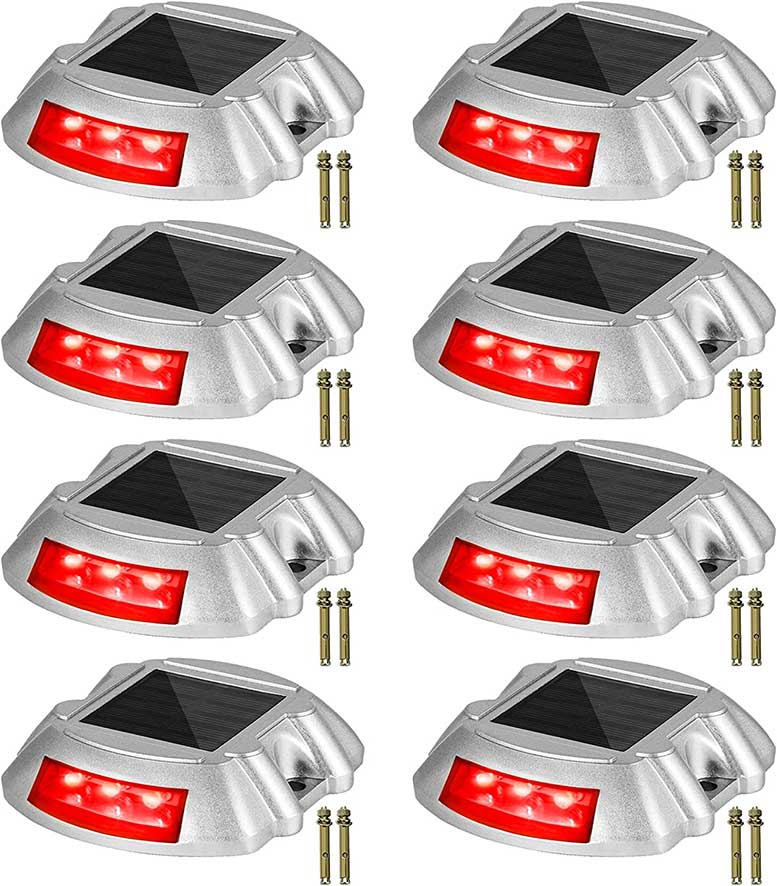 Key features:
Solar-powered charging
Sturdy high-quality aluminum shell
6 high-brightness red LEDs per unit
Simple installation process
Happybuy's Driveway Lights provide outdoor illumination that harnesses the power of the sun via a modern, robust design. Each of the eight lights presents a compact footprint, measuring 3.5 x 4 x 1 inches and weighing 5.92 pounds in total. The sturdy casing is fashioned from high-quality aluminum, which Happybuy alleges can withstand 45 tons of pressure.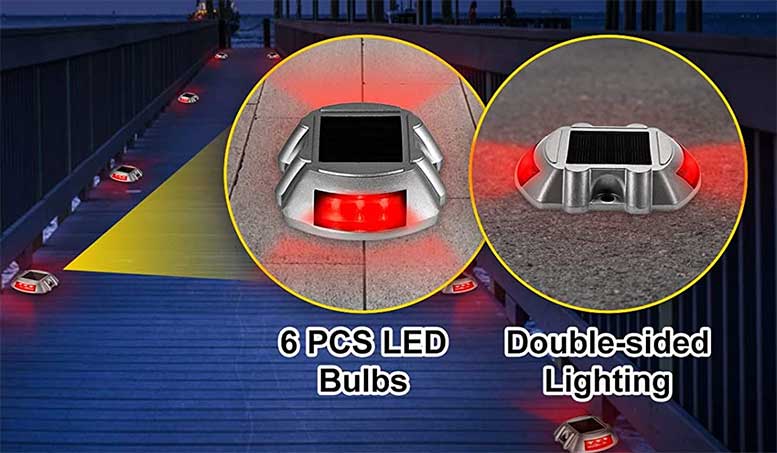 While they're certainly durable, that's nearly 100,000 pounds, which would most certainly destroy the top-facing solar panel. What's more, the IP68 waterproof rating should make these lights impervious to harsh weather conditions, but our tests revealed water infiltration. Temperature-wise, they do seem to work well in all kinds of weather, whether hot or cold. They are rated to work between -4°F and 158°F.
Featuring solar-powered charging, they automatically recharge during the day, resulting in an impressive 80 hours of operation when fully charged. Each device boasts six 0.2-inch high-brightness red LED lights, providing ample illumination in a radius of up to 875 yards. Installation is user-friendly, with a choice of securing the device with screws (included) or adhesive, negating the need for power cords. The compact design and robust build quality make these units ideal for a variety of outdoor locations, including driveways, gardens, walkways, and steps.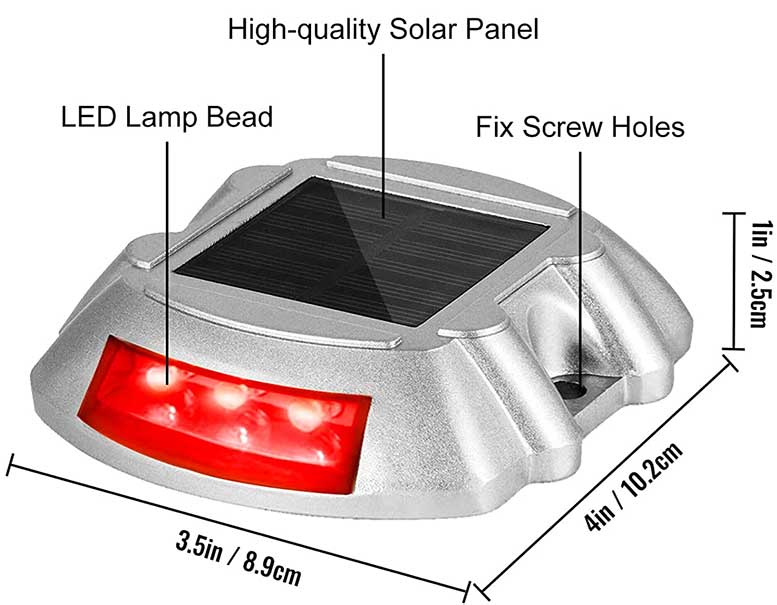 Compared to other entries, the 80 hours of operation outlast all other entries. Moreover, the Happybuy's Driveway Lights showcase an extreme load-bearing capacity that surpasses the other models in their ratings. Despite having a high IP68 waterproof rating, there were some concerns about their actual waterproofing. Some production issues appear to be present, too, as some lights failed to function.
What we liked:
80 hours of operation when fully charged
Withstands extreme weather conditions
Impressive load-bearing capacity
Wide area of illumination
What we didn't like:
Lights don't appear to be waterproof
Some lights worked, others didn't
Solar-Powered LED Driveway & Dock Light FAQs
How do solar-powered LED driveway and dock lights work?
These lights harness the energy of the sun during the day using a built-in solar panel. This energy is stored in a rechargeable battery and is used to power the LED lights when it gets dark.
Do solar-powered LED driveway and dock lights work in all weather conditions?
Most are designed to be weather-resistant, meaning they should function well in various weather conditions, including rain, snow, and heat.
How long do solar-powered LED driveway and dock lights last on a full charge?
The duration of illumination can vary depending on the specific model of the light and the amount of sunlight received during the day. On average, most solar lights can provide between 8 to 12 hours of light on a full charge, with some models lasting even longer.
Final Verdict
Choosing the best solar-powered LED driveway and dock lights depends on the specific needs and preferences of the individual.
If aesthetics and battery life are your priority, then the VOLISUN Solar Dock Lights Driveway Deck Lights might be for you. They offer an innovative, stylish design and outstanding battery life that outperforms many other models.
However, for those seeking a mix of inviting illumination and high durability, JACKYLED's Solar Deck Lights might be a better option. They offer good visibility, easy setup, and impressive weather resistance, which makes them a robust and reliable outdoor lighting solution.
AGPTEK Solar Driveway, Deck and Dock Lights stand out with their distinctive car-shaped design that provides even illumination, making them ideal for driveways and pathways.
SIEDiNLAR's Solar Deck Lights offer a compact, modern design and efficient solar charging.
Lastly, for those who prioritize operation time, Happybuy's Driveway Lights are unrivaled. They offer up to 80 hours of operation when fully charged, effectively outpacing all other entries.
Each of these solar-powered LED driveway and dock lights has its strengths and caters to different needs. Your ultimate decision will depend on what features are most important to you.