Technology has improved our lives in many ways, but these impacts are most noticeable in the office. Projectors have made it more efficient to share data, making your meetings much more effective. Computers have made it easy to store, modify, and collaborate on data, helping you make more effective decisions. Teleconferencing made it possible for stakeholders to interact with each other in spite of geographical separation. With modern high speed internet connections, video has been added to the audio signal – aptly names video conferencing.
When released, these technologies were all groundbreaking. Today, they aren't as exciting. Over the past few years, vendors have helped us take the next logical step. Video conferencing lets you be seen, but telepresence gives your communication a whole new layer of realism.
Eventually, telepresence will be a holographic technology. Instead of just seeing your disembodied face on a display, a holograph will put you right in the middle of the action. It will be as if you're in the conference yourself. Cisco has been experimenting with this technology, but it hasn't quite hit the market yet. Fortunately, the same effect can be had with a telepresence robot.
A telepresence robot is simple in design. Think of it like a mobile workstation. A display is on top, affixed with both cameras and microphones. This workstation is motorized, and can be driven like a remote control car. This gives you the ability to navigate around a space, giving you "presence".
What can telepresence robots do? Is this a purchase that your business could benefit from? To help you answer these questions, we did research to identify the best telepresence robots on the market. First, we'll look at each model individually and show you want it can do. After, we'll help you decide which one best suits your needs.
Suitable Technologies Beam+ Smart Presence System
The first beam was considered by many to be the best telepresence system on the market. It wasn't the most advanced, but it was certainly the most accessible. With competing solutions often priced higher than your average economy car, there were few companies that could justify the expense. But the Beam was much more affordable, providing the core functionality that consumers needed. The Beam+ is the second generation, featuring a significant price cut and a ton of great new features. It stands tall and features multi-directional microphones and a large 10 inch display. It self-charges on the included docking station, and can provide up to 2 hours of usage on a single charge.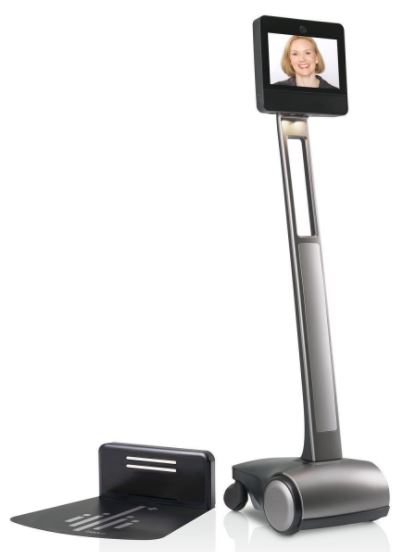 Unboxing & Setup
The Suitable Technologies Beam+ Smart Presence System comes in a monstrous box. This is quite likely the largest package ever to arrive at the NerdTechy offices. Fortunately, this is for a very good reason. The Beam+ is an all-in-one unit, and there is absolutely no assembly required. Once you open it, you can be up and running in a matter of minutes. Telepresence robots are typically the size of a small person, so shipping one fully assembled is extremely rare. But Suitable Technologies knows their market, and the types of people who buy these don't have a lot of free time on their hands.
The longest part of the process was simply removing the packaging. There is plenty of Styrofoam inserts and air bags to help keep it secure and protected, so it takes a few minutes to get it unwrapped. In addition to the Beam itself, you'll find a small docking station. This sits on the floor and plugs into an electrical outlet. When not in use, the beam will return here to charge. After placing the dock in a convenient location, you roll the beam into the dock.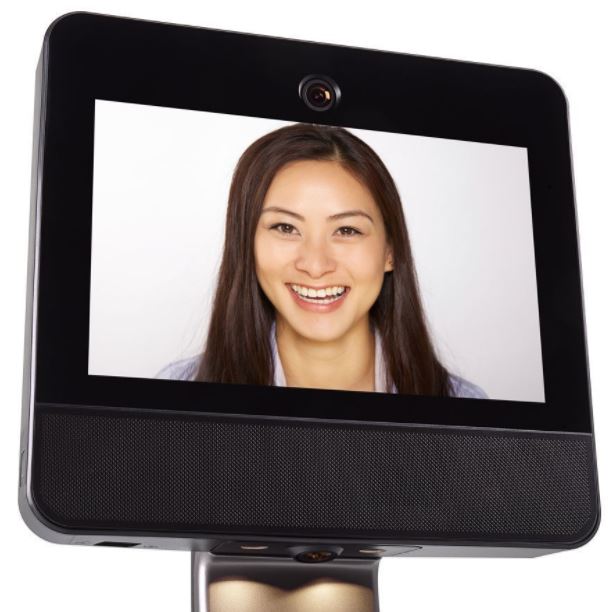 Once it's powered up, the next step is to configure the beam itself. There are two ways to do this. If you'll be the sole user of the beam, you can simply go ahead and log into the beam manager website from either your smartphone or the beam itself. You'll then be given a menu with several options including "download the beam software", "set up a new beam", or "create a new account".
Setting up the beam itself is as simply as downloading the program, waiting for an update, and entering your network credentials. You then download the application onto your Windows or Mac OS computer, or your Android / iOS mobile device. You can then immediately start using the beam as it's administrator, or you can add new accounts to give them access. You have full control over the beams settings, while you can set up other users on limited access plans. This includes the time and date of use, as well as what features they can use.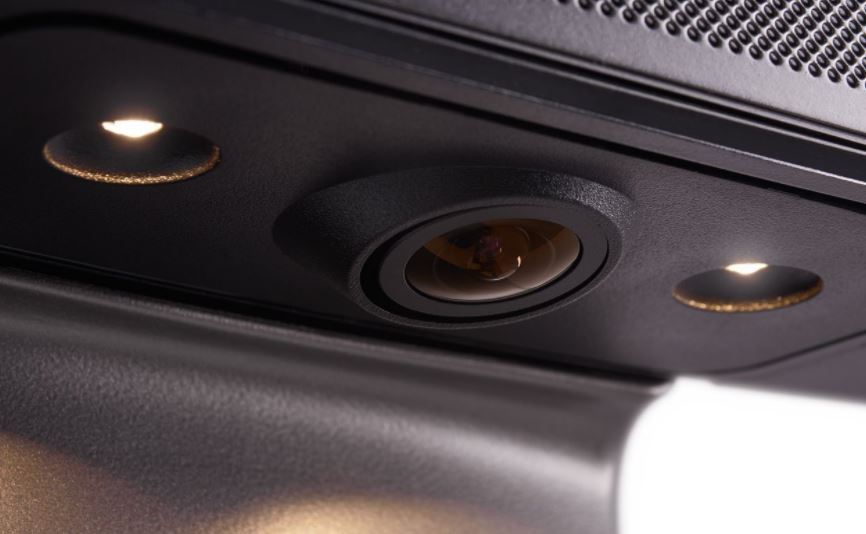 Functionality
When you first log into your Beam account, you simply hit the "start" button at the top to initiate a new connection. The app will let you select a camera, and show you a live video feed to make sure you look good. It then plays back your audio, so you can make sure you're heard loud and clear. You'll then be given a list of every beam on your account. The app shows you the name, the location, and its current status. You'll quickly see whether a beam is connected to the internet, and whether it's available or not. If the internet connection is flakey, you'll get a yellow icon to show that you'll be operating under reduced bandwidth.
After tapping on the beam you want to connect to, you'll then see what's called a "head view." This view shows you everything directly in front of the beam, just like a set of eyes. This is the mode you want to be in when you're chatting with co-workers or employees. When you hit the button to navigate, you'll see a second video feed pop up called "navigation view." This video feed is a top-down view of the wheels, so you can navigate around obstacles.
On a touchscreen, navigating is a simple matter of tapping in the direction you want to move. The top of the screen moves you forward, while the sides turn you left or right. The beam can also be controlled using a gamepad, a keyboard, or a mouse. Although the wheels are quite small, they do a pretty good job of navigating around a room. They can easily transition from carpet to linoleum, and a number of speed settings let you move at the rate that best suits your environment. There is definitely a bit of a learning curve. Instead of just speaking, you're also focused on moving around. But thanks to the simple interface, the system is extremely easy to use once you start to get the hang of it.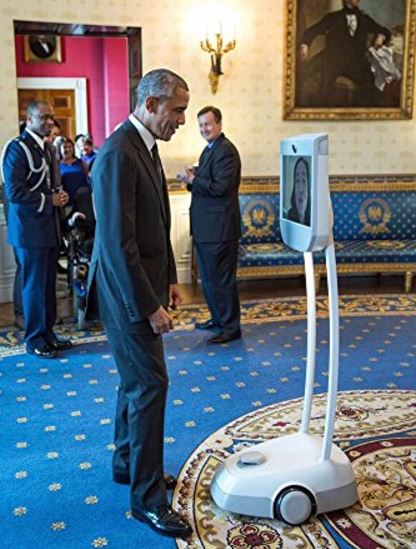 Call Quality
Both the front facing camera and the navigational camera shoot at 1080p, with video being broadcast at a buttery smooth 30 frames per second. The image sensors used feature something called HDR. This stands for High Dynamic Range. This ensures that even the brightest whites can be viewed on a darker background. Even if you've got bright fluorescent lighting shining on the camera, the video will still be crystal clear.
The Audio performance is just as impressive as the video. Instead of opting for a single omnidirectional microphone, the manufacturer decided to use four directional microphones positioned strategically around the device. This allows sound to be picked up from all angles, with incredibly clarity.
On the receiving end, the signal is just as impressive. The built in speakers are specially designed for voice, producing a very soft sound that's easy on the ears. It's certainly not lacking in volume or detail; it just avoids any form of harshness. The 10-inch display might seem a little small at first, but it is roughly head size. The screen is detailed enough to play back the full resolution video, so we have no qualms with it.
TikTeck Smart Telepresence Robot
Although telepresence robots are becoming more affordable every day, they are still a little too expensive for some consumers. The biggest challenge in making them more affordable is all of the advanced technology inside. These things are basically computers, with all of the software and hardware necessary to support intelligent control. TikTeck got around this by offloading all of the 'heavy lifting' to a device many of us already have in our homes – an iPad. The iPad facilitates communication and controls the motor, allowing this model to be sold for a lower price than anything else on the market.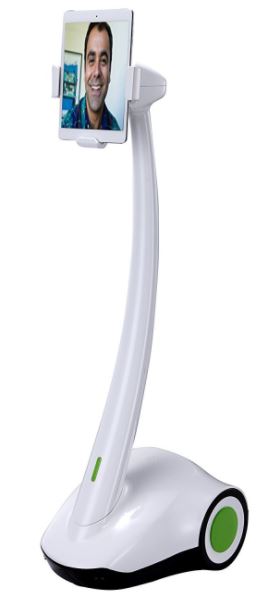 Unboxing & Setup
The TikTeck Smart Telepresence Robot comes in a much smaller package, and does require a little configuration. The base of the unit needs to be attached to the armature that holds the iPad, which is a simple two-minute procedure. Once you've got that in place, it's time to get the software up and running. TikTek has a free Telepresence app that works with both Android and iOS devices. You simply download the app onto your tablet, create an account, and mount your tablet in the robot.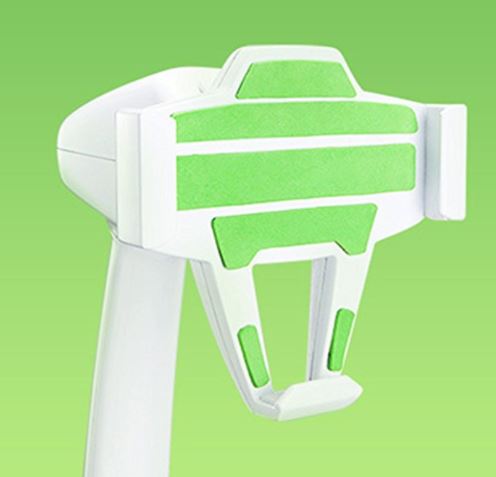 The tablet mount is a rigid, but easy to use system. Two clamps can be spread, enabling you to rest your tablet on the bottom of the stand. You then squeeze them together around the tablet and clip them together, keeping it in place. From another smartphone, you simply open the app and log in. You can then dial into the robot as long as the tablet is online. The software side of this procedure is a little easier than the Beam, although the functionality is much more limited. Fortunately, the additional features are only useful in an enterprise environment.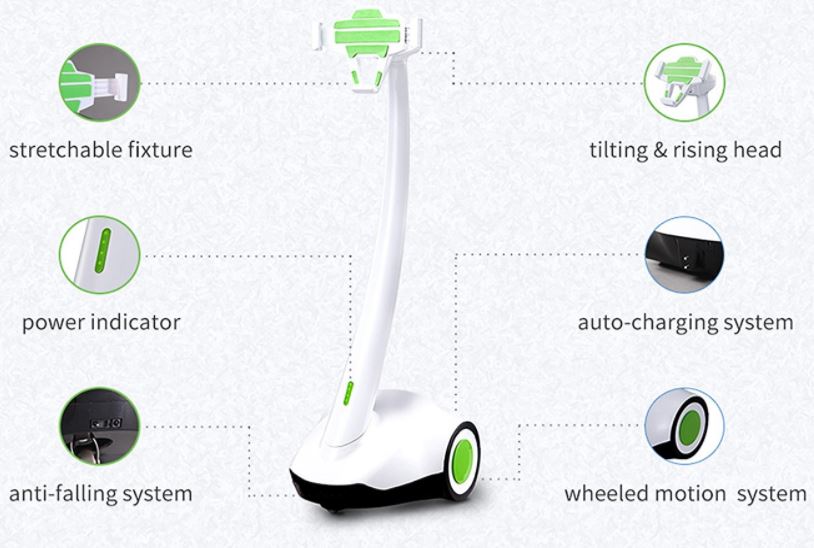 Functionality
Using TikTeck's telepresence robot is very similar to using the beam. Because an iPad only has one front-facing camera, you only have one video feed on screen at all times. There is a small directional pad on screen that you can use to move the robot around. By default, the robot is pretty zippy. We quickly went into the settings and turned the speed down a little to make the speed more manageable. If you were using it outdoors or in a large open space, you'll certainly be glad for the additional speed. But indoors, we preferred to keep things slow.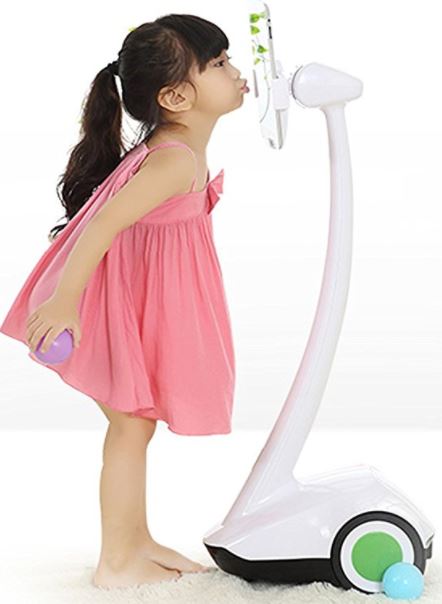 One of our main concerns was with the stability. This model is much more compact than the Beam, so we were worried about it tipping over and damaging the iPad. Fortunately, the base is very well weighted. This keeps the wheels firmly planted on the ground, so you don't have to worry about it falling over.
Call Quality
The quality of the video feed depends largely on the tablet you're using it with. Since it uses the front-facing camera, you're not really getting everything the iPad has to offer. We found the video and audio feed to be consistent with what you'd get from FaceTime or Skype. This can vary a bit depending on the speed of your internet connection. When you've got limited bandwidth, the video quality is reduced to keep everything smooth. If you're on WiFi, you'll get an HD quality feed.
Which Telepresence Robot is Right for Me?
There are a lot of reasons you might want a telepresence robot. Maybe you want to stay in touch with the office while you're off on a business trip, or maybe you're just looking to keep an eye on the kids while you dash out to the grocery store. Depending on how critical your needs are, one option could be better than the other.
The TikTeck Smart Telepresence Robot is the cheap and cheerful alternative to high end models. You can think of it like skype, with a built in remote-control robot. We found it to be very stable, suitable for a variety of environments. If you're happy with the video quality of Skype, then you should have no qualms with this model. We'd recommend this option primarily to anyone who already has a tablet they can use, as purchasing both would add a lot of unnecessary cost.
If you're looking for something enterprise grade, the Suitable Technologies Beam+ Smart Presence System is the one for you. This all-in-one unit has everything you need to get started, and no corners were cut. The video quality is second to one, and many multi-directional microphones ensure that everyone in the room can be heard with crystal clarity. You do need a high speed internet connection to get the most of it, but this model is the best that Telepresence has to offer.