In a world dominated by smartphones, game consoles, and other time-consuming gadgets, the need to regain control of our normal lives is more pressing than ever. Timed lock boxes for electronic devices offer a compelling solution to this modern challenge.
Today, we'll explore the top timed lock boxes designed to help reduce overuse of smartphones, game consoles, and other addictive gadgets. Whether you're a parent aiming to manage your child's screen time or an individual seeking a healthier tech-life balance, these devices provide the means to curb excessive usage.
Our Top 4 Picks:
Best Overall: Genie Hand – The highest quality, heaviest duty timed lock box that's hard to beat. Although it's expensive, it's the most well-made and robust option on the list.
Best Runner-Up: Vaydeer – A solid runner-up choice with mostly metal construction and up to 365 days of consecutive locking. Much less expensive than the Genie Hand.
Best Alternative: Mindsight – With three different lock modes and enough capacity for up to 5 smartphones, it's a solid option but not large enough for tablets.
Best Budget: SANIDIKA – The most affordable option with see-through sides and a stackable design that's easy to use. However, it's a bit flimsy and cheap feeling.
Key Reasons to Use a Timed Lock Box:
Reduce Screen Time: Timed lock boxes help individuals, especially children and teenagers, establish healthier screen time habits by limiting the duration of device usage.
Prevent Smartphone Addiction: These boxes act as a deterrent against excessive smartphone use, reducing addiction and promoting more mindful device interaction.
Enhance Productivity: Timed lock boxes can be used to create focused work or study sessions by temporarily locking away distractions like smartphones and tablets.
Improve Sleep Habits: By locking away devices during bedtime hours, timed lock boxes can help improve sleep quality by reducing exposure to screens and late-night distractions.
Manage Gaming Time: For gamers, these boxes can limit the hours spent on video games, helping to strike a balance between gaming and other life activities.
Enhance Self-Control: Timed lock boxes teach users self-discipline and self-control, helping them resist the temptation to constantly check their devices.
Best Overall: Genie Hand Time Lock Countdown Safe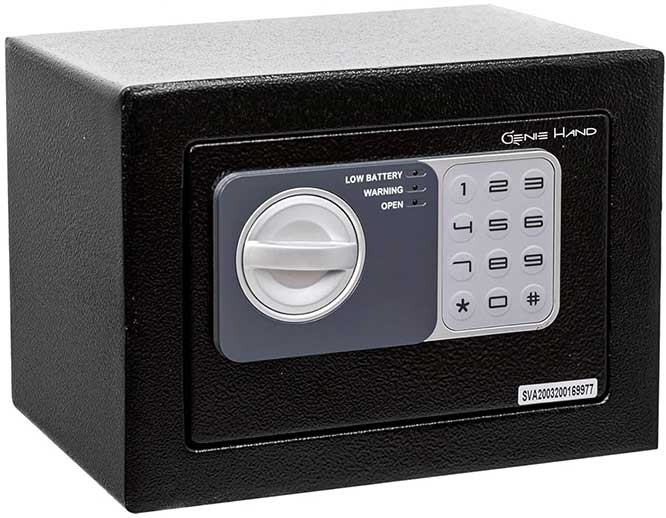 The Genie Hand Time Lock Countdown Safe stands as the pinnacle of high-quality timed lock boxes. Constructed from 100% stainless steel with heavy-duty craftsmanship, this safe is engineered to be virtually impervious to unauthorized access, short of employing power tools. Compared to any other timed lock box, it's the epitome of resilience and is the best overall choice that we can recommend.
It offers a range of sizes to suit your needs, with options for small, standard, or large dimensions, ranging from 5.91 x 9.06 x 5.91″ to 13.7 x 15.7 x 15.7″. For added convenience, it's also available with a depository slot for quick and secure deposits, if needed.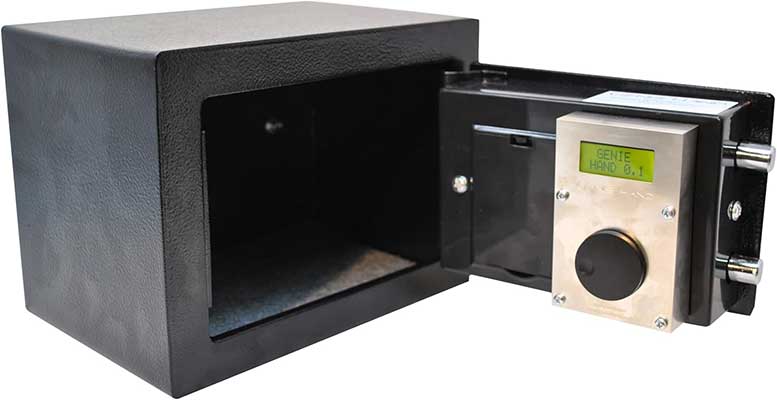 What truly sets the Genie Hand apart from a standard safe is its built-in countdown timer, discretely located on the inside. Once you set the timer and lock it, there's no turning back until the countdown concludes. This feature ensures an extra layer of protection against impulsive access for whatever addictive item you decide to stow inside.
For added peace of mind, included are two emergency keys that can be used to override the timer in case of necessity. However, it's advisable to keep these keys hidden from anyone with access to the safe.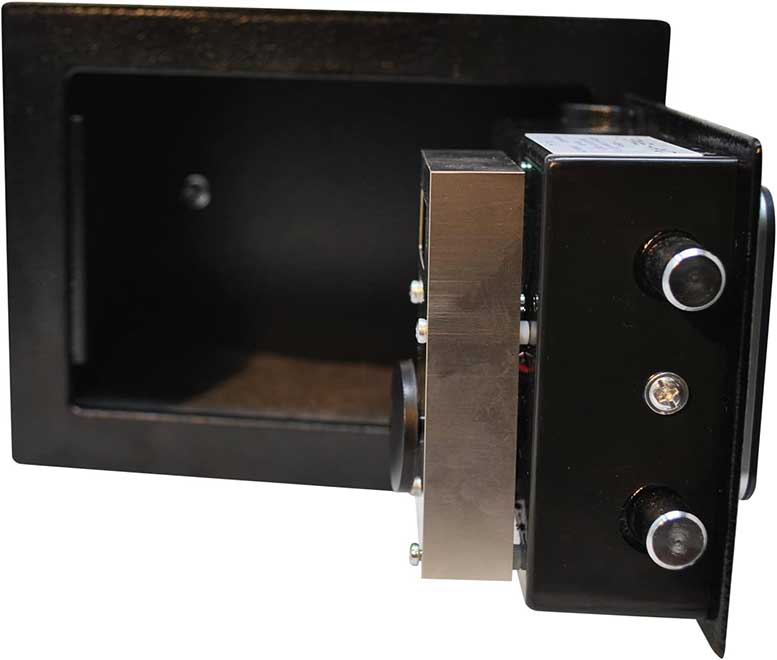 The countdown timer can be configured for durations ranging from a mere 1 minute up to an impressive 100 days. Powered by 4 AA batteries with a low battery indicator LED, you'll have consistent access with excellent battery life that can last upwards to over a year.
While the Genie Hand offers unparalleled security and features, it's worth noting that its quality comes at a price. This timed safe is notably more expensive compared to other options out there. But for those seeking the highest level of self-discipline, it represents a worthwhile investment.

Pros:
100% stainless steel, heavy-duty construction.
Countdown timer located on the inside.
Available in various sizes, including options with a depository slot.
Comes with emergency override keys.
Timer adjustable from 1 minute to 100 days.
Cons:
Relatively expensive compared to other options.
Best Runner-Up: Vaydeer Metal Timed Lock Box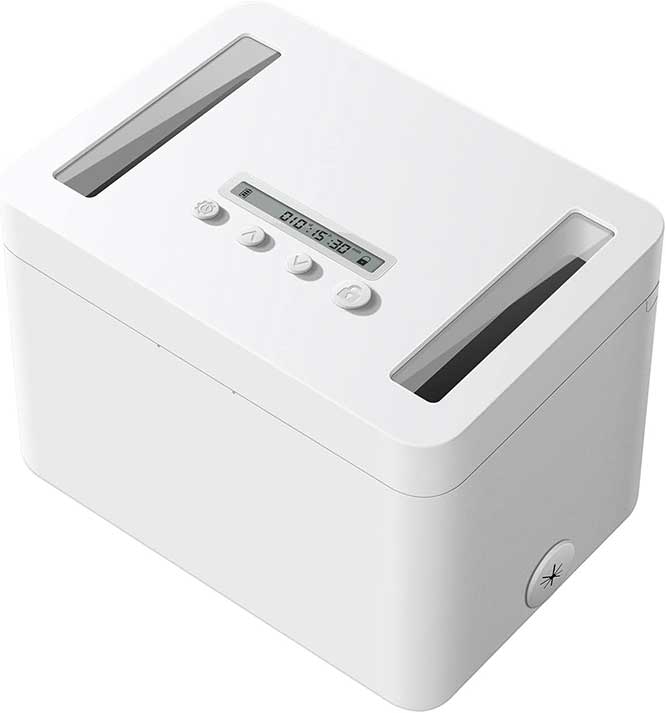 The Vaydeer Metal Timed Lock Box is a robust and dependable solution for those looking for a well-made option. Its solid metal construction, combined with an ABS plastic lid, gives it a substantial weight of nearly 3 pounds, conveying a sense of sturdiness and durability that sets it apart from other options on the market.
This lock box is available in two sizes to accommodate various needs. The small size offers a 2.6-liter interior capacity with dimensions of 8.35 x 3.15 x 6.07 inches. The medium size boasts a 4.9-liter interior capacity with dimensions of 8.35 x 5.91 x 6.07 inches. Such versatility in size ensures that users have options to store different types of items securely. However, there is no large size; only two to choose from.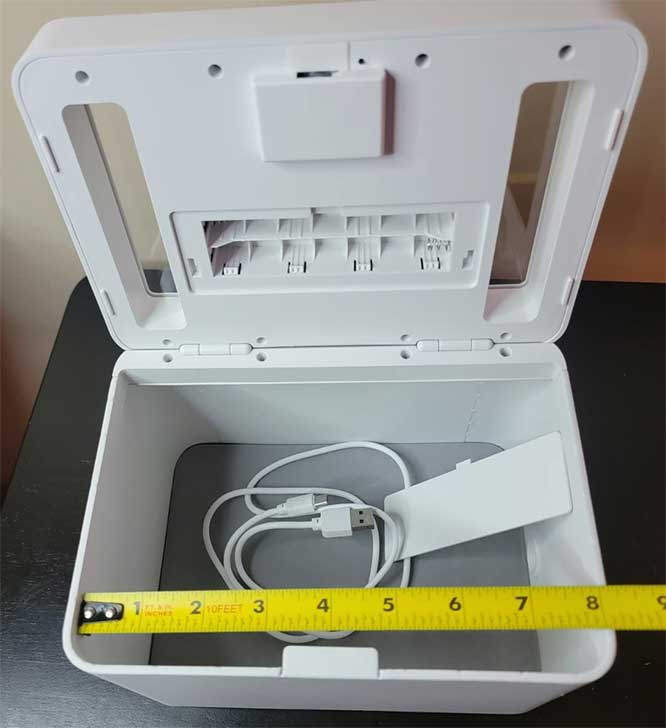 One of the standout features of the Vaydeer is its dual power options. It can be powered by either four AA batteries for portability or through a USB-C charging cable. The rubbery buttons are highly responsive and easy to operate, making setting the lock timer from 1 minute to a remarkable 365 days a breeze. Thankfully, it includes a child locking button, requiring buttons to be held for 5 consecutive seconds to operate.
For added security and discretion, this lock box features non-clear sides, ensuring that the contents remain concealed from view. As a bonus, the interior base is equipped with soft foam material to protect the stored items, thus preventing scratches or damage during storage.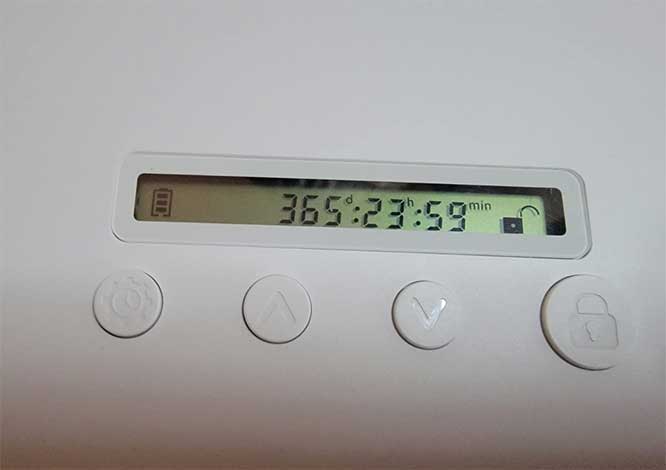 However, there are a few drawbacks to consider. While the Vaydeer Metal Timed Lock Box is sturdy, it is not entirely secure, as it can be pried open with a screwdriver. In addition, some users have reported that the battery compartment is quite tight, making it somewhat challenging to install batteries. Lastly, it's worth noting that the lid is made of plastic rather than metal, which could be a preference consideration for some users.
Pros:
Solid metal construction with a substantial, heavy-duty feel.
Available in two sizes.
Dual power options: battery-operated or USB-C charging
Highly responsive rubbery buttons for easy operation.
Child locking feature for added security.
Soft foam interior base to protect stored items.
Lock timer adjustable from 1 minute to 365 days.
Audible alert when the timer expires.
Cons:
Not entirely secure, as it can be pried open with a screwdriver.
Tight battery compartment may pose challenges during battery installation.
Features a plastic lid rather than a metal one.
Best Alternative: Mindsight Timed Lock Box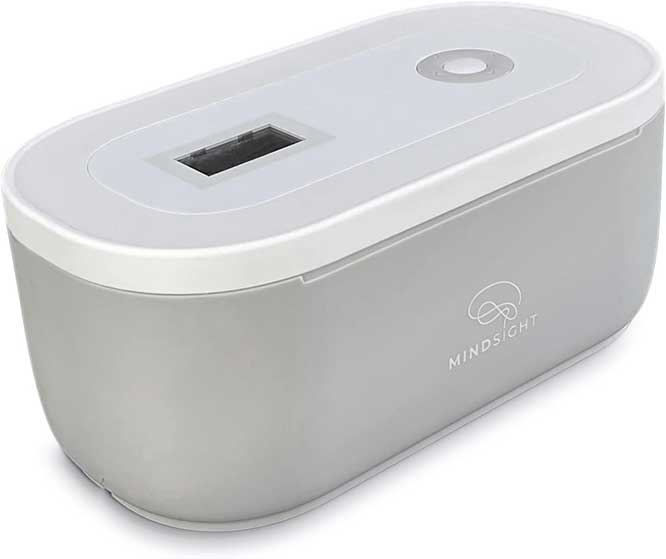 The Mindsight Timed Lock Box offers a reliable and straightforward solution for those seeking to manage their screen time or curb gadget overuse. Crafted from sturdy plastic, this lock box is designed with simplicity and functionality in mind. It caters to various preferences with three distinct modes of operation.
Users can select the "lockbox only" mode for immediate closure without a timed countdown, "standard mode" to set a specific lock timer with the option for an override code, or "fortress mode" for a timed countdown with no override code available. This range of choices ensures that users can tailor their device management strategy to suit their specific needs.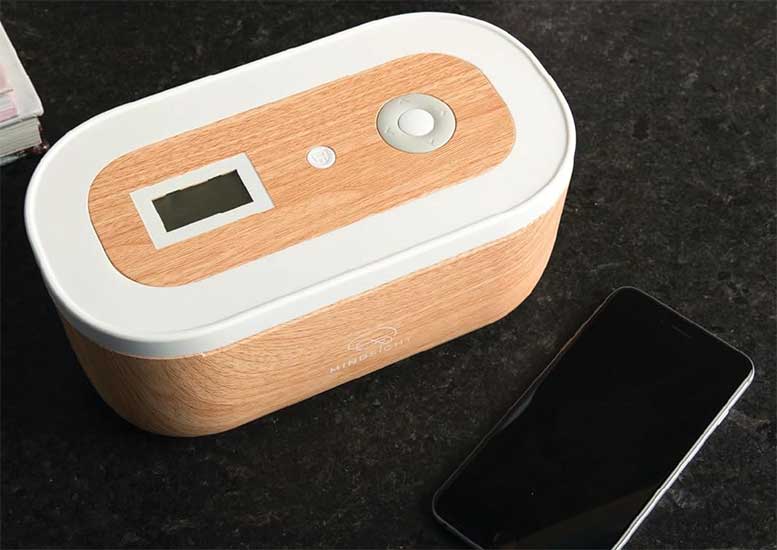 The lock timer can be set for durations as short as 1 minute or for extended periods of up to 30 days. This provides ample flexibility for different scenarios. With exterior dimensions measuring 9.5″ x 3.5″ x 5″ and interior dimensions of 8″ x 2.75″ x 4.75″, the Mindsight Lock Box can accommodate up to 4 or 5 smartphones simultaneously, making it an excellent choice for family use.
For added convenience, it features a small charging slot, allowing users to route cables and charge their devices while securely locked inside. It's powered by two AA batteries (which are included), ensuring hassle-free operation.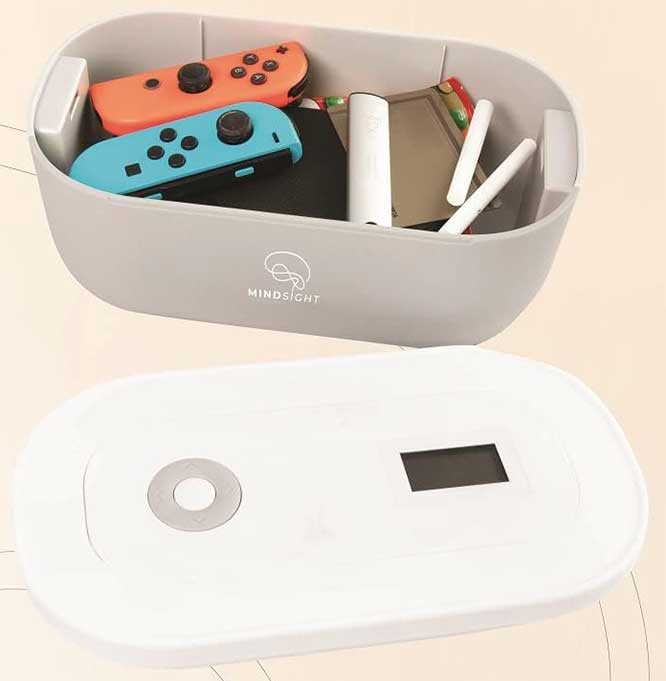 However, there are some limitations to consider. The Mindsight Timed Lock Box cannot accommodate tablets or larger items, restricting its use to smartphones and smaller gadgets. In addition, some users have reported that the lock can be broken open relatively easily with any real tool, which could be a concern for those seeking a higher level of security. Lastly, it's worth noting that the lock box comes with manufacturer stickers that can be challenging to remove, which is somewhat frustrating.
Pros:
Offers three different lock modes.
Adjustable lock timer from 1 minute to 30 days.
Accommodates up to 4-5 smartphones.
Features a charging slot for locked devices.
Battery-powered for convenience (batteries included).
Available in two appealing color options.
Cons:
Cannot accommodate tablets or larger items.
Limited security as it can be easily broken open if forced.
Manufacturer stickers on the box can be difficult to remove.
Best Budget: SANIDIKA Timed Lock Box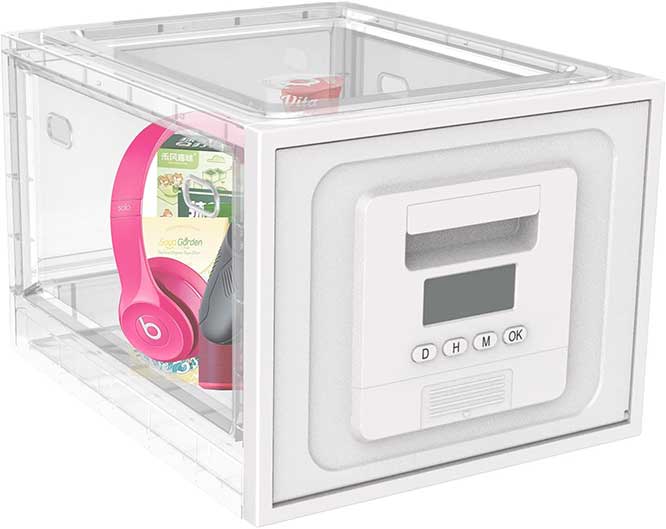 The SANIDIKA Timed Lock Box is another great addition to the realm of screen time management tools. Crafted from BPA-free plastic, its clear-sided design provides an unobstructed view of its contents, making it an ideal choice for those seeking to curb the temptation of their gadgets without the need for real security. While it may not be the fortress of impenetrability, it excels at encouraging a healthier relationship with technology. Especially true for parents aiming to restrict their children's device access.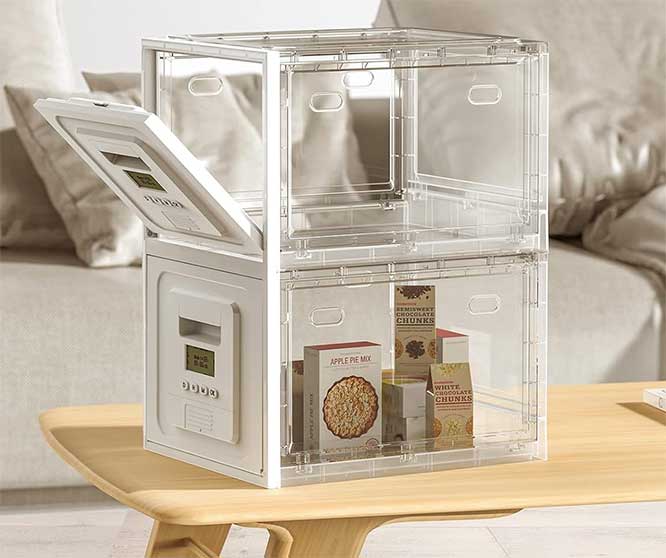 One of its standout features is the small digital screen on the front, which offers two modes of operation. Users can set an interval time ranging from a mere 1 minute to a generous 12 days, after which the box will automatically unlock. As an alternative, for added convenience or if you prefer immediate access, a three-digit password can be employed to open the box via the front-opening door.
Inside, the SANIDIKA Timed Lock Box boasts dimensions measuring 10.8 x 8.5 x 7.0 inches, providing ample space (3.65 gallon volume) to accommodate smartphones, small tablets, game controllers, and even petite game consoles like the Nintendo Switch. Four strategically placed holes on the exterior of the box allow for the discreet routing of charging cables, ensuring your devices remain charged while securely locked away.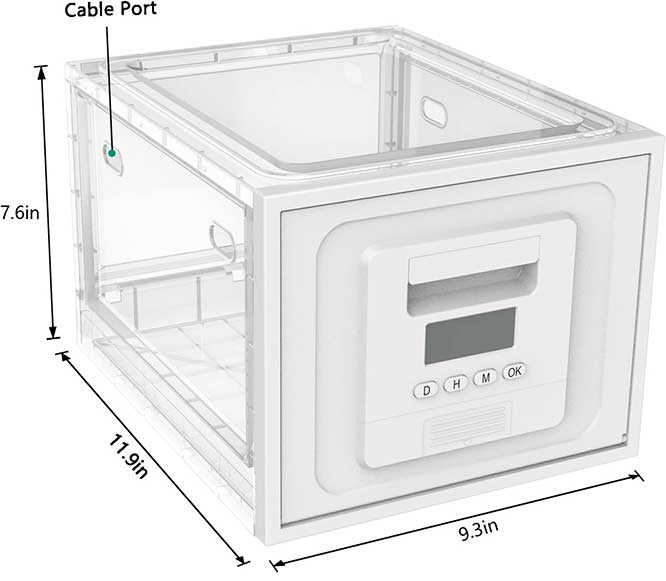 However, it's worth noting that this lock box does have some drawbacks. Users have reported that it can be a bit flimsy, emphasizing its role as a deterrent rather than a robust security solution. Also, assembly is required, and some users have found the instructions to be somewhat confusing. Nonetheless, the SANIDIKA Timed Lock Box remains a valuable tool for those seeking to regain control of their digital lives and minimize distractions. Overall, it's a worthwhile addition to any screen time management toolkit.
Pros:
User-friendly digital screen for customization.
Versatile size to accommodate various devices.
Convenient cable routing for charging while locked.
Battery-powered for portability.
Stackable design for organization and storage.
Cons:
Not suitable for high-security needs, designed more as a deterrent.
Assembly required, and instructions can be confusing.
Batteries not included.
FAQs on Timed Lock Boxes for Your Gadgets
How do timed lock boxes work?
Timed lock boxes are electronic or mechanical containers that allow users to set a specific time duration during which access to electronic devices or other items is restricted. Once locked, the box cannot be opened until the timer reaches zero.
What devices can I use a timed lock box for?
Timed lock boxes are versatile and can be used to limit access to smartphones, tablets, game consoles, TV remotes, and other electronic gadgets or even physical items like snacks or medication.
Can I override the timer in case of emergencies?
Many include emergency override options, such as backup keys or codes, to allow immediate access if necessary. It's important to keep these override methods secure.
Can I charge my devices while they are locked in the box?
Some timed lock boxes feature cable routing holes or charging slots, allowing you to charge devices while they are securely locked inside.
Are there options for multiple devices or larger items?
Yes, some brands come in various sizes to accommodate multiple devices or larger items like game controllers or even small game consoles.
Meet Derek, "TechGuru," a 34-year-old technology enthusiast with a deep passion for tech innovations. With extensive experience, he specializes in gaming hardware and software, and has expertise in gadgets, custom PCs, and audio.
Besides writing about tech and reviewing new products, Derek enjoys traveling, hiking, and photography. Committed to keeping up with the latest industry trends, he aims to guide readers in making informed tech decisions.