If you've been a reader here at NerdTechy, you're probably already familiar with BLUETTI. We've introduced and reviewed several of their portable power stations. Simply put, they always seem to be at the forefront of innovation.
This month, they're kicking off the new year with a surprising new celebration. Set to end on January 25th, it's called "The Sun Shines Wherever You Go" offering chances to save up to $1500. With this and their latest announcement over their new PV68 and PV420 solar panels, they're also holding an "open call" for the new "BLUETTI Heroes" program. Let's discuss what this is all about.
BLUETTI Hero Recruitment
Since they have been in business, BLUETTI has made it their goal to provide the best products and experiences to their users. The newly announced "BLUETTI Heroes" is a new program that's designed to encourage users to share their experience and what changes their BLUETTI products have brought them.
Anybody can apply to become a BLUETTI Hero. You just need to fill out a quick registration and be a user of any of their products. At the end, fifteen lucky applicants will be chosen to take part in an upcoming documentary. Once the documentary is released, as a gift, every one of the chosen heroes can select any BLUETTI product priced up to $1000.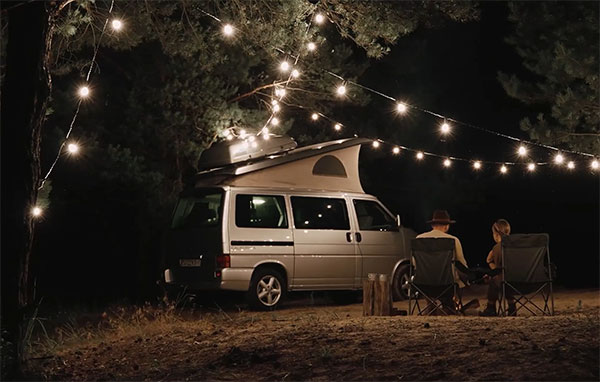 As of now, there are four heroes that have showcased their lifestyle on the BLUETTI YouTube account. Whether it's van-camping, RV living or weekend camping, there's a way that a BLUETTI product can make life more enjoyable. And BLUETTI wants to show off exactly how their portable power stations or solar panels make off-grid living easier.
Their idea is that people who are enduring emergency situations or dealing with an unreliable power grid will be inspired by a "hero" to try their products. It's a great marketing strategy and one that everyday users can truly benefit from. Truth is, there are a wealth of reasons to try BLUETTI. It's good to see them offering incentives to motivate both veteran and new consumers.
Best of all, anyone with a BLUETTI product can join the program. If you're interested, go to the following URL to learn more and sign up: https://www.bluettipower.com/pages/bluetti-heroes.
New BLUETTI Solar Panels Released
Recently, BLUETTI is now offering their latest solar panels to their already extensive product line-up. Introducing, the PV68 and PV420. The PV68 is the most portable of the two while the PV420 is the most powerful. By releasing products on both ends of the spectrum, they're catering towards two demographics; those that want the most travel-ready solar panel and those that want the most capable.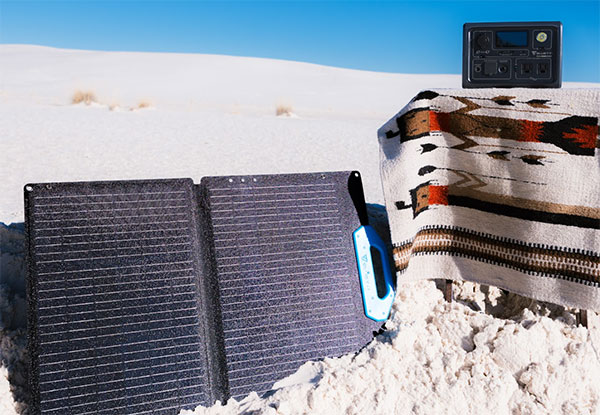 Measuring in at 21.6″ x 19.7″ folded or 21.6″ x 35.6″ unfolded, the PV68 tips the scale at just 7.5 lbs. The PV420, on the other hand, measures 21″ x 18.5″ folded and 21″ x 65″ unfolded, while weighing in at 12.57 lbs. As you can see, they're both relatively portable with a compact design, but the PV68 is much more lightweight. Best of all, both are comprised of monocrystalline silicon and coated with a ETFE material for better durability and a conversion efficiency rating of 23.4%.
Depending on how much solar charging capability you desire, you can pair each one with any BLUETTI power station, such as the EB3A. In fact, as of now, they've discounted the price of the PV68 and EB3A bundle by $199, making the price a reasonable $299.
If you opt for the PV420, you may want a larger-capacity power station. Something like the AC200P. Luckily, the PV420 and AC200P can be bundled with a steep $500 discount on the pair. Ultimately, this makes the price $2298, which is an excellent amount of savings.
AC300+B300 Modular Power Backup System
AC300+2*B300 Starts at $5099 (was $6297), Save $1198.
AC300+B300+2*PV420 Starts at $5099 (was $6296), Save $1197.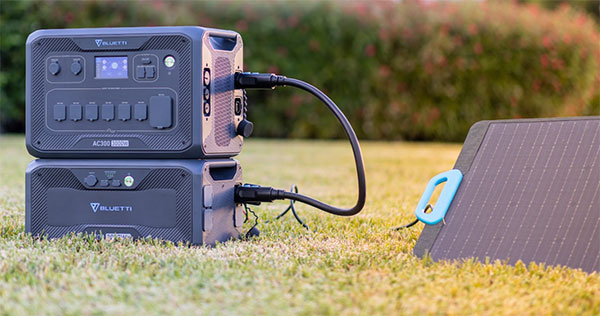 As one of BLUETTI's most high-end options, the AC300+B300 is a combination that offers some of the highest capacity and best capabilities in a portable power station. Able to max-out at 12,288Wh when four B300 units are paired together, it's even powerful enough for whole-house backup. The AC inverter built into the AC300 offers 3,000W of continuous output with a 6,000W surge rating. That said, mostly all and any large appliances are able to be powered from it.
The AC300 also has two seperate MPPT controllers built-in to offer up a 2,400W maximum for solar charging. There's even added flexibility to use it with an existing solar array if you already have one. What's more is that you can opt to pair two panels with the addition of AC re-charging from a wall-outlet for a total input up to 5,400W. Best of all, the AC300+B300 combo also supports 240V spit phase bonding. This is need to operate some high-powered equipment and/or UPS for all-day prevention of power outages.
AC200MAX All-in-one Power Beast
AC200MAX+B300 Starts at $3499(was $4098), Save $599.
AC200MAX+3*PV200 Starts at $2799(was $3396), Save $597.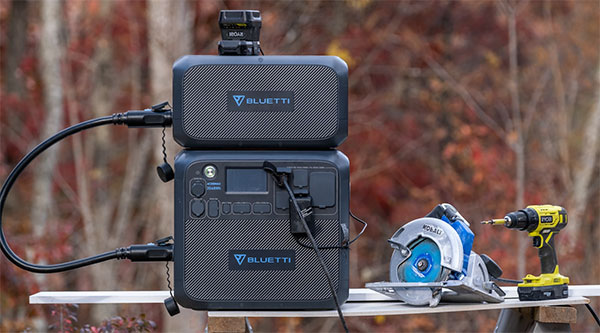 For those that want an ideal all-in-one power solution, look no further than the AC200MAX. As a follow up to their sucessful AC200P, the AC200MAX offers even more capacity when paired with either the B230 or B300 battery modules. The B230 offers an additional 6,144WH while two B300 units can add an additional 8,192Wh.
However, with 2,048Wh built-in, there's plenty of capacity if opting for just one AC200MAX unit. In addition to this is the integrated 2,200W AC inverter. With it, users can charge or operate up to 14 individual devices thanks to the wide assortment of outputs available. There's even two wireless charging pads located on the top exterior portion of the unit. To re-charge, simply select one of the seven methods for replenishing the internal capacity. Paired with the included 500W AC adapter simultaneously used with up to 900W of solar, re-charging is extremely quick.
EP500 Home Emergency Power Backup
EP500 Starts at $3999(was $4999), Save $1000.
EP500+4*PV200 Starts at $5595(was $6995), Save $1400.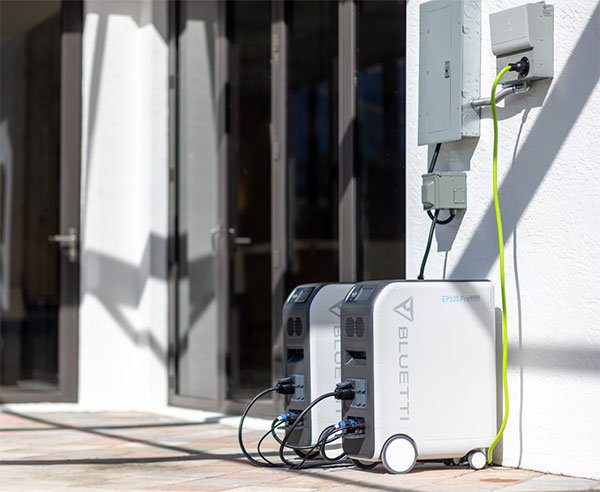 As BLUETTI's ideal choice for whole-house emergency backup power, the EP500 boasts a massive 5,100Wh capacity. With this in addition to a 2,000W AC inverter, there's no shortage of devices it can power. As an ideal choice for off-grid living, cabin life or RVs and boats, power-demanding devices are easily compatible.
While the EP500 is much larger than any of its counterparts, there's good reason for this. The huge internal capacity is something that you don't come across everyday. Because of this, BLUETTI equipped it with four smooth-rolling wheels on the base for easy maneuvering around your living quarters, when needed.
With a combined AC and solar input of up to 1,800W, the EP500 can be fully replenished in just over 3 hours. Best of all, it supports use as a 24/7 UPS to keep critical appliances operating during power outages. There's even a split-phase bonding feature that provides 240V power for high-demand devices that require this voltage.
More About BLUETTI
As you can see, BLUETTI is the tried and true manufacturer for some of the highest capable power stations and batteries on the market. With over 10 years experience in the green energy market, they've served over 70 countries with their offerings, year after year.
Here in 2023, they're continuing that tradition by adding perks and incentives to their loyal fan-base. Remember to act fast and get-involved in their heroes program before it's too late. For more info or general inquireis about their products, be sure to check out their official website at https://bluettipower.com.