Bluetooth speakers offer a wide array of benefits from portability to superb sound that delivers a dramatic musical experience. But the truth of the matter is, the market is absolutely flooded with various options that simply don't live up to their initial expectations. When searching around, you may have come across the new Big MagicBox by DKnight.
As an upgrade from the famously popular DKnight MagicBox II, the new Big MagicBox is a completely wireless, Bluetooth speaker that we had the opportunity to try for ourselves, test out and determine whether or not it's a worthwhile investment. Labeled as a number one new release and best seller, we had high expectations but were surprisingly impressed with everything it had to offer. Today we're going to look further into detail regarding the features and improvements that have been done to make this speaker outperform its predecessor in every way.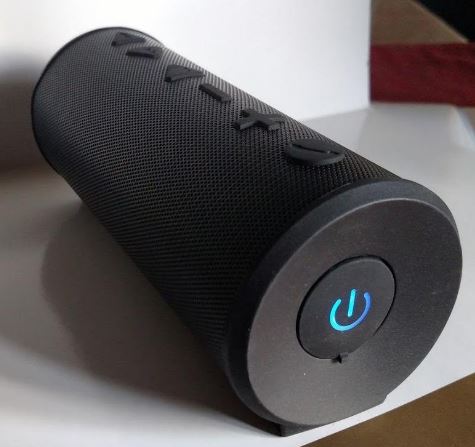 Dual 10 Watt Acoustic Drivers
A typical discount wireless speaker could get away with a single small driver depending on its design, however the DKnight Big MagicBox must deliver much more. As you may already know, it requires a total of 20 watts of maximum power for its output – this is because there are two large 52 millimeter drivers within it to deliver high quality audio.
If you aren't familiar with the potential audio output that it's capable of, when comparing it to many of the smart phones today that can fill a room with music it has very superior performance. The quality of audio is increased due to the fact that it can handle a wider range of frequencies at a higher volume, as there's a greater balancing of high and low frequencies when two drivers are used.
With two large drivers you can also achieve higher quality at higher volume than smaller ones, making it a high performance in terms of audio output for its class. Combine that with the bass port which is integrated into the speaker enclosure for greater handling of lower frequencies, the Big MagicBox delivers much louder and intense bass with virtually no distortion at high volume.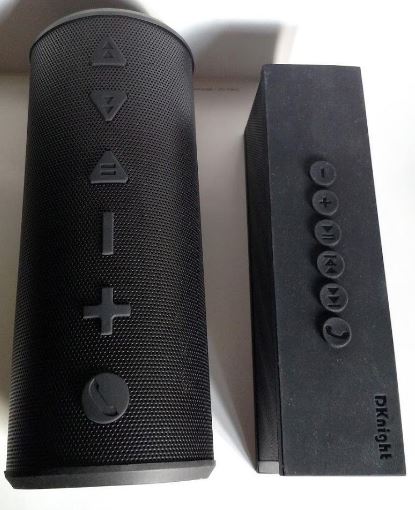 Compact Yet Durable – Intuitive Design and Construction
One of the major purposes of a portable wireless speaker is the option of taking it with you wherever you go, however the qualities of durability and ease of use will determine how effective it is. What the Big MagicBox has to offer in terms of portability starts with its low weight of 15 ounces, making it easy to pick up and carry with you in a backpack, purse or even in your pocket.
In terms of size, it measures 7.5 x 2.75 x 2.75 inches which is incredibly compact, and while this is valuable, there are further ease of use considerations as well. Operating it has been made more efficient with a large power button on one side and six buttons on top, allowing you to adjust the volume up or down, play or pause, play the next or previous track.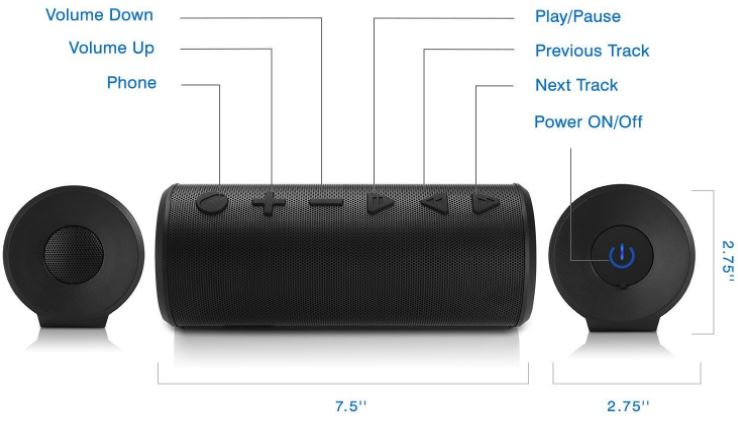 There's also a phone button that gives you access to the advanced smart phone features once it's been connected, which are discussed below.
Looking at the Big MagicBox's durability and appearance, it has a pleasing dark gray finish with soft edges on the sides, use of rubber for the buttons and a metal speaker vent exterior around it with tiny holes for dust resistance and strength.
In terms of added performance capabilities, there's soft touch rubber that surrounds the speaker to protect the acoustic drivers, and also prevent damaging your wooden furniture if you accidentally drop it. This also makes it more solid and less prone to sound distortion from the driver via vibration, as it makes a tighter and stronger fit structurally.
Bluetooth 4.0 Enabled with Additional Connection Options
The use of advanced Bluetooth technology is anything but a gimmick as it allows for near lossless audio data transfer, among other benefits. This wireless speaker uses Bluetooth 4.0 technology that's capable of passing data back and forth between two devices, rather than a single direction, allowing them to communicate freely and effortlessly.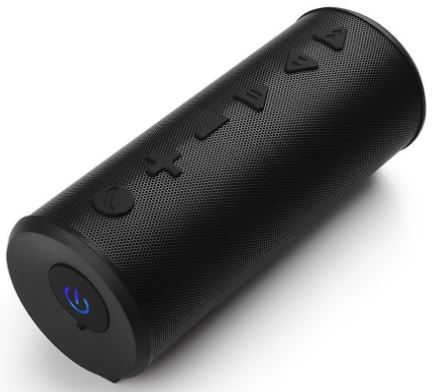 It also means faster and more reliable bandwidth and connection. Because digital data loses quality, it becomes distorted once it's moved someplace else – this is a major performance benefit that other wireless speakers just can't compete with.
With a stronger connection it also means a greater wireless range with less interruptions in service, resulting in a maximum wireless range of 33 feet. This is plenty of room to listen in different rooms of your home or outdoors.
Another useful benefit is the fact that it's backwards compatible with any Bluetooth devices using version 2.1 or above, so it's likely compatible with virtually any Bluetooth-enabled audio devices you'd like to use with it.
One of the most noted and desirable aspects in terms of ease of use with the Bluetooth 4.0 technology used in the DKnight Big MagicBox, is that pairing your wireless devices to is quite quick thanks to the fact that it doesn't require PINs, special codes or any complicated pairing process. These requirements are usually used for storing devices into memory for fast access to advanced features, however with a music player the functionality is very straightforward making this a well-designed feature overall.
That being said there will be times when either using Bluetooth is prohibited, you'd like to save battery life or are simply using a device that doesn't provide Bluetooth access. For this reason, DKnight has installed an auxiliary audio input port that you can use to plug devices directly into it. They also supply a compatible 3.55 millimeter cord right out of the box for your convenience.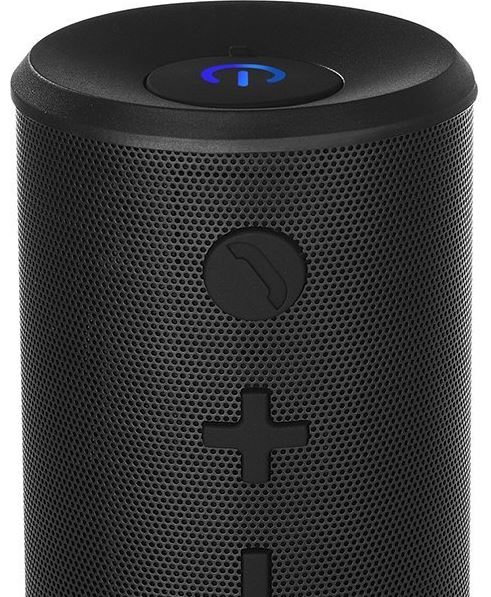 Rechargeable 4000 mAh Battery
With all of this functionality as well as some advanced features discusses in the next section, battery life is going to be at a premium.Because the battery is so important to all three qualities of performance, durability and ease of use, there's a 4000 mAh battery built into the Big MagicBox that's completely rechargeable with the included micro USB charging cable.
What's most impressive about it is that it provides up to 12 hours of continuous use even when placing huge demands on it with high volume and bass. This is made possible in part by the advanced Bluetooth 4.0 technology mentioned previously. Since it can communicate between two devices, both the Big MagicBox and any wireless music source you're using can set desired power requirements.
As a result, there is greater efficiency without reducing audio output volume or quality, as it allocates power in cooperation with one another and also wastes less energy with inefficient polling between devices.
Integrated High Definition Microphone
The world of smart technology has been providing benefits in limitless areas including wireless speakers, however sometimes it's better not to have it at all. This isn't the case with the DKnight Big MagicBox, because as mentioned previously, the connection and pairing process is quick and effortless. There's even a built-in 'Phone' button with some impressive advanced features.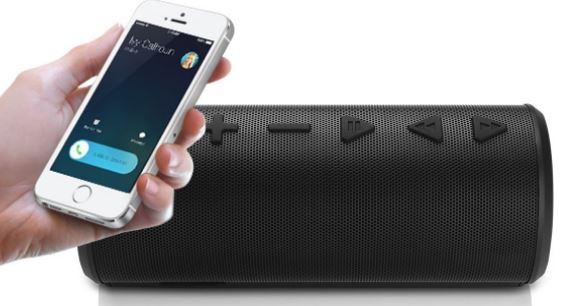 What this allows you to do is access the calling features on your smartphone with hands free operation, with the intgrated high definition microphone that uses an echo cancelling chipset for detecting your voice with clarity and precision. It's effective enough for seamless, hands free use with other convenient applications such as video chat, Google Talk Skype and FaceTime as well. This will provde you with a high quality speakerphone as well as a high performance wireless music system in one.
All that's required in order to use this functionality is connecting your smartphone or tablet, selecting the appropriate application and then pressing the phone button on the Big MagicBox – it's all hands free from there.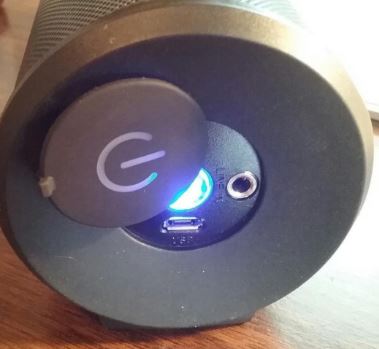 Conclusion
As far as durability and performance is concerned, the DKnight Big MagicBox provides more than its fair share of value with outstanding sound that's truly above the competition, given the price point.
The built-in 4000 mAh battery is strong and reliable enough to provide many years of consistent and continuous use, however what's almost as important is that the Bluetooth technology is up to date and capable of handling serious audio data. This ease of use functionality has for the most part been carried over from the much less expensive, previous versions of the MagicBox by DKnight.
That being said they have nowhere near the power of the new Big MagicBox's thanks to the dual 10 watt drivers and advanced bass enhancement technology. No matter what kind of music you enjoy the most, it seems to provide phenomenal sounds with superb clarity, invigorating bass and all of the durability that you need for it to provide for years of constant use. From an investment standpoint, we think the DKnight Big MagicBox makes a great one!
Was this helpful? Please consider sharing: