As one of the World's leading rugged phone brands, Doogee is at it again with their latest release. The new T10 tablet, launched on November 1st, offers what they claim to be the "Ultimate Entertainment Experience."
As Doogee's very first tablet, we're excited to see them branching out from smartphones and take a leap into the tablet industry.
Sleek Appearance
The Doogee T10 is a sleek looking tablet with an extremely compact 7.5 millimeter thin size. Comprised of aviation-grade aluminum alloy, it boasts an incredibly lightweight design with high-end durability that consumers crave. Available in either space gray, neptune blue or moonlight silver, there's an attractive color available for almost any preference.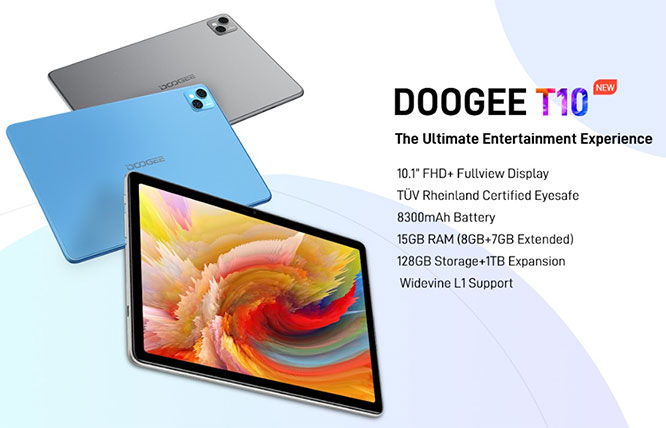 Beautiful Display
At its core is a large 10.1-inch FHD+ fullview display that's capable of beautifully vibrant, clear colors and graphics. In fact, the display is even certified by TÜV Rheinland, one of the World's leading compliance testing and certification companies for consumer products in the worldwide market. The T10 is actually certified as an eyesafe display, assuring continuous hours of enjoyment without any amount of eye-fatigue.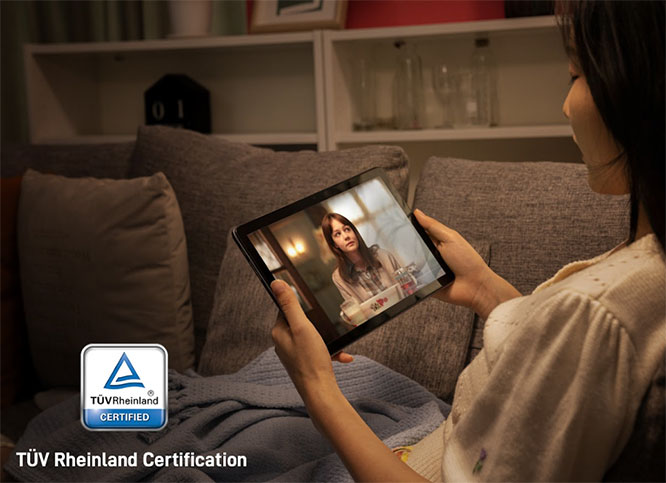 That being said, built into the tablet are several ingenious modes that are tailored for lessening eye strain. Users are able to switch between eye comfort mode, dark mode and even a sleep mode to assist with lengthy usage throughout day and night.
Better yet, the T10 has support for Google's Widevine L1. This is the highest degree of DRM protection and video decryption that's offered. Ultimately, this means wide support for all sorts of HD streaming through Hulu, Netflix, etc.
Internal Components
Inside the Doogee T10 is a favorable assortment of components that make it run efficiently, smooth and without any sort of hiccups. Powered by a Unisoc T606 octa-core processor, users are able to run virtually any application and do it with ease. Paired with this is 7GB of RAM for smooth processing without noticable delay with day to day use.
In addition, the storage capacity is set to a baseline of 128GB with expandability of up to 1TB. With this kind of storage, users can go several years without running out of space for their photos, vieos, music and other important files.
As far as battery life goes, the internal 8300 mAh battery holds enough capacity for an entire day of use without the need to constantly be attached to a charging cable. Speaking of, charging is quite fast as well. Offering up to 18W of fast charging, within just a few hours it'll be ready to go from 0-100%.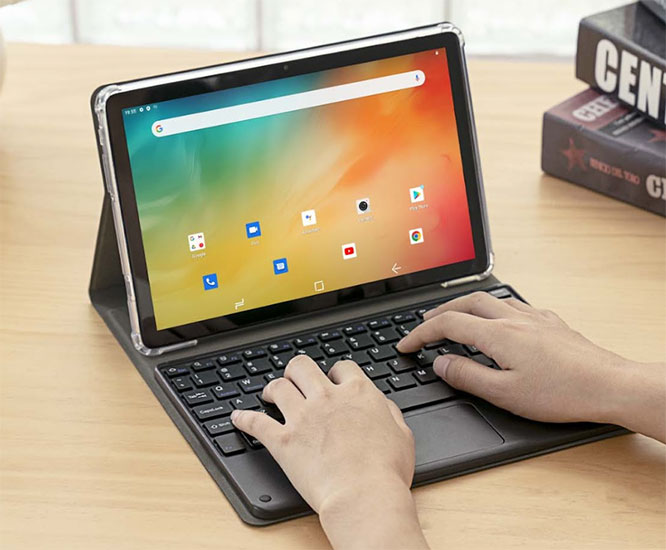 Maximize Efficiency
One of the key features that stands out the most is the 2-in-1 and split screen mode. Designed to offer a user-friendly environment for office workers who prefer to combine work efficiency with leisure. Simply put, users can opt to split the display in half to work on one screen and play videos on the other.
Additionally, the T10 offers use with a keyboard and mouse if you'd like to use it as a backup desktop computer. While it may not be your primary desktop replacement, the flexibility it offers in this regard is very nice to have.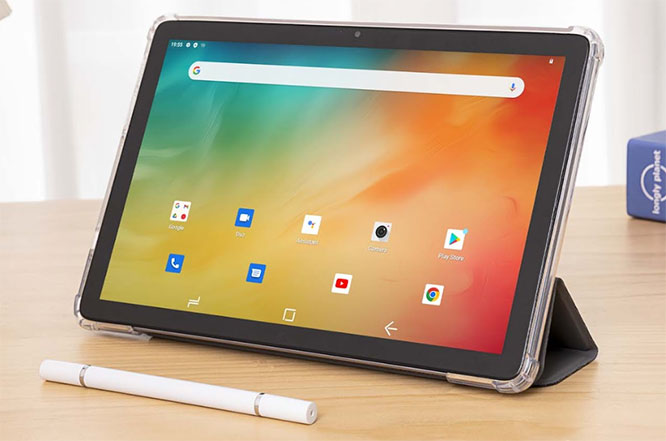 Other Features
On the backside of the Doogee T10 is a built-in camera that is capable of capturing up to 13MP photos with a wide angle. While there is no front-facing camera to speak of, the 13MP resolution is large enough for capturing high detail without any qualms.
Unlike some tablets, the T10 comes with dual stereo speakers. While it may not have thumping bass, it does produce excellent clarity with true to life sounds that aren't distorted or oriented in an unfavorable manner.
Last but not least, USB-C is supported for both data transfers and charging. As far as WiFi goes, there's dual-band support for both 2.4GHz and 5GHz networks. This is standard these days, but it's nice to see it mentioned, nonetheless. In regards to everyday operation, the T10 is powered by the latest Android 12 version.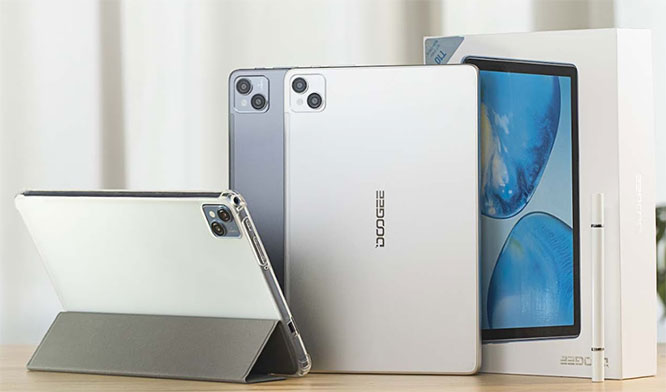 Final Thoughts
With the Doogee T10 officially launched on November 1st, the time to get a hold of this tablet for yourself is now. Available to purchase dirction from the Doogee AliExpress Store or the DoogeeMall official website, the price is only $119. In the coming weeks and months, the price will be increased. That said, the time to make the investment is right now.
The T10 seems to be promising and comes in at an insanely reduced pricepoint, mking it affordable for virtually any household. What are your thoughts on Doogee's first tablet? Is it impressive enough to include it on your Holiday shopping list? Let us know by dropping a comment below.
Meet Derek, "TechGuru," a 34-year-old technology enthusiast with a deep passion for tech innovations. With extensive experience, he specializes in gaming hardware and software, and has expertise in gadgets, custom PCs, and audio.
Besides writing about tech and reviewing new products, Derek enjoys traveling, hiking, and photography. Committed to keeping up with the latest industry trends, he aims to guide readers in making informed tech decisions.