Speakers tend to be one of the least portable devices that people regularly use. They usually come with a bundle of cords, and tend to be equal parts heavy and fragile. But it's not hard to think of a few reasons why you would want a portable speaker system. Smartphones speakers are a step in the right direction, but they're just not big enough to provide loud and clear sound.
Fortunately, the invention of Bluetooth and lithium-ion batteries means that it's now possible to find truly impressive wireless, rechargeable, and fully portable speakers. Whether you want to play music in your yard, you're headed to the beach, or you're preparing a presentation, there's no shortage of options available for your consideration. But not all speakers manage to make the leap to a portable design without suffering on the drawing board.
DOSS SoundBox Pro
The DOSS SoundBox Pro is one of the most successful attempts to combine portability, versatility, and high quality sound. Whether you need a speaker for a couple hours or most of the day, the SoundBox Pro is ready to last with both wired and wireless connections. Inside the Pro, you'll find audio equipment that's quite powerful relative to its price point. You'll also find an incredibly energy efficient design that allows the SoundBox Pro to fill a large room with rich sound, all without packing on a gross excess of battery weight in the process.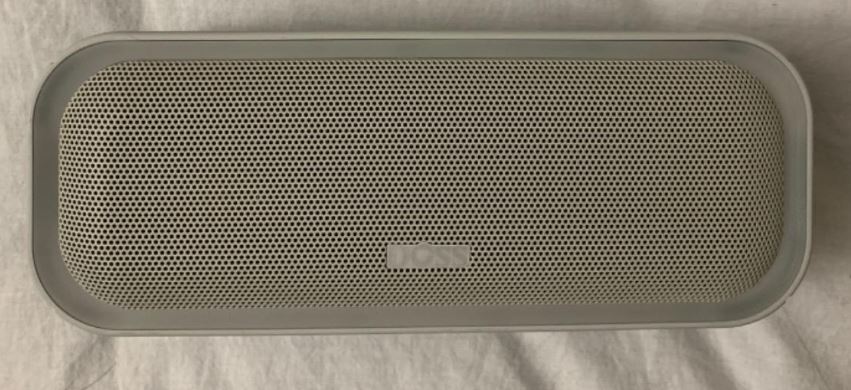 Build & Design
Aesthetically, the Pro uses a fairly minimalistic and unassuming design that will fit in just about anywhere. The matte black coloring looks sleek and modern, and won't cause glare issues with the sun when you take your speakers outdoors. That minimalistic design also adds to the intuitive nature of the device.
Along the front end of the speaker, you'll find a protective aluminum grill designed to protect the internal drivers. The body itself is composed of a scratch-resistant polymer, in other words, plastic. But even though it's plastic, it's reasonably sturdy and durable.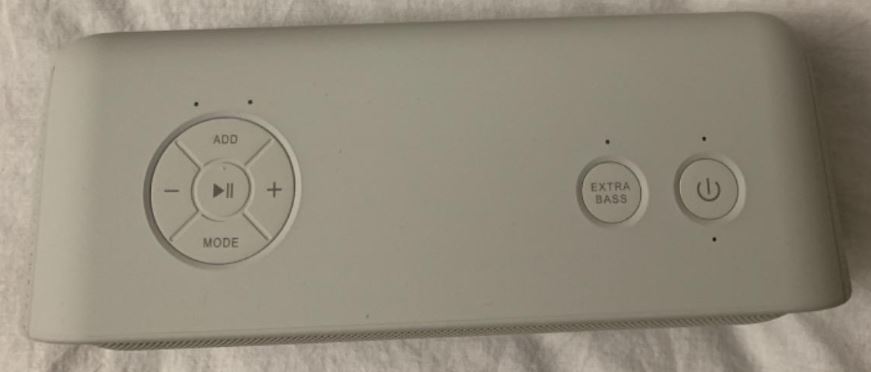 On the top end of the speaker, you can find seven control buttons that have been placed on sunken, brushed metal. Among them you'll find the power button, skip button, play button, pause button, volume button, and audio input mode button. Besides the audio input button, each entry is clearly labeled, allowing you to start intuitively using the speaker after only a few moments with it.
For whatever reason, the audio input button is mysteriously labeled with "M", which may sound for music. Pressing it will allow you to toggle between different audio sources for the speaker, which is useful when connecting it to more than one device.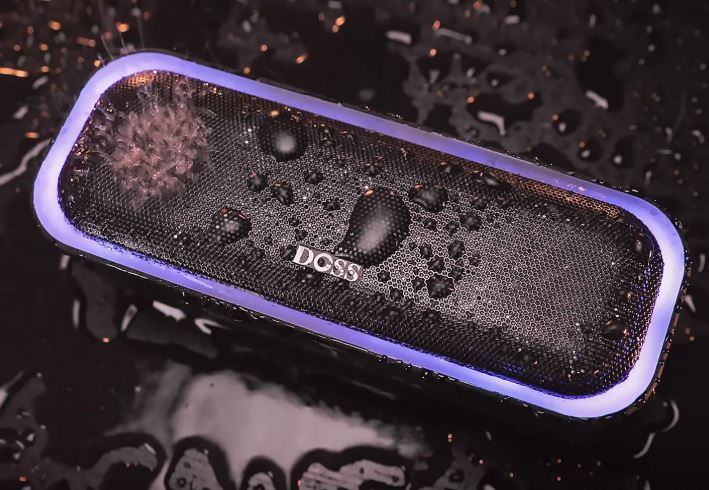 Below the set of control buttons, you'll find a small battery indicator composed of four dots that, which is useful for helping you keep tabs on how much juice you have left in the battery. On the backside of the speaker you'll find a TF card port, the DC 12v 12.5A power port, and an AUX IN port. Much like the set of buttons on the top of the device, each are clearly labeled, so you'll have no problem setting up your tunes.
And the SoundBox Pro lives up to its name. Its 7.7 x 2.9 x 3 inch build rides the line between being large enough to provide a loud and rich sound, and small enough to remain lightweight and portable. The speaker itself weighs roughly 1.39 pounds, which shouldn't have you straining to lift it between uses. The long and thin design is both easy to carry, and easy to find a place to set it up.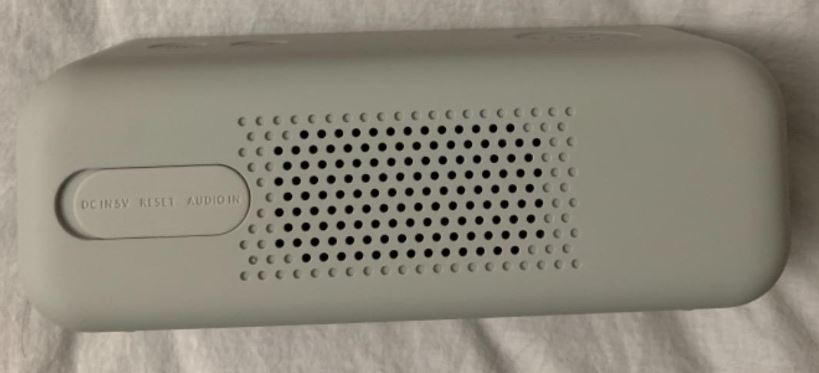 Hardware and Accessories
The SoundBox Pro is packed with larger components, best equipped to filling larger rooms with sound. The primary sound system consists of a small subwoofer a 20 watt primary driver. The driver has particularly strong mid-tones that make it optimal for both listening to music and watching movies. Although the subwoofer is relatively small, the SoundBox Pro's modestly large body helps the subwoofer create strong bass response. Larger builds are a boon to bass, and it's about as large as you want a portable speaker to be.
There are also two radiator speakers, which are what allow it to be much louder than you might expect based on its wattage. Radiators speakers are a sort of secondary amplifying device. They work by responding to the air pressure created with the electricity-based speakers. By mimicking the motion of its drivers and subwoofer, radiator speakers can produce sound frequencies like a speaker. But because it's technically not an ordinary speaker, don't have to power additional drivers, or even add much extra weight to the device. In other words, it's a design that makes optimal use of battery power to create a louder speaker system without having to power that sound.
To ensure you can get started listening to music right away, it does include a handful of accessories. Among they you'll find an 12V 2.5A exchangeable charger, user manual, and an AUX-in cable. The AUX-in cable is a particularly convenient inclusion because it allows you to set the speaker to function as a wired unit. Anywhere you don't need to use the battery, or otherwise don't want to drain your power, being able to switch to the cable makes this speaker remarkably versatile.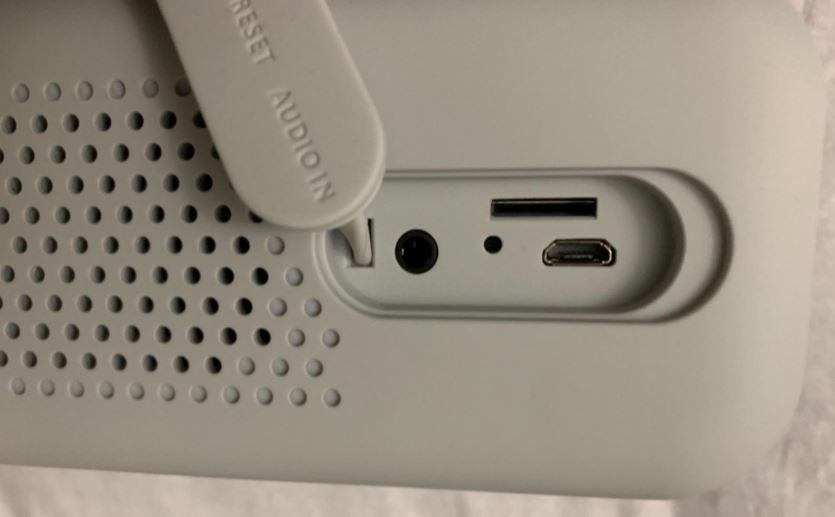 Audio Modes
You can use the SoundBox Pro in three independent audio modes, but the simplest way to make a connection is through Bluetooth. It's Bluetooth 4.2 compatible, allowing you to connect it to essentially any modern tablet or smartphone. And unlike many Bluetooth connections that are limited to 33 feet, it allows you to get as much as 66 feet of connectivity.
If you don't want to use Bluetooth, you can take advantage of the included AUX-in cable to make a wired connection. For playing music directly from an MP3 player or television, that's a great solution because it can prevent you from burning through your battery power for extended listening.
Your third option is to play music directly from a TF card. Although most people don't keep music in memory cards these days, the TF card port is a nice bonus that only continues to add to the versatility of the device. Even if you're not using the Bluetooth connection at all, you can still enjoy the freedom of a wireless and highly portable speaker.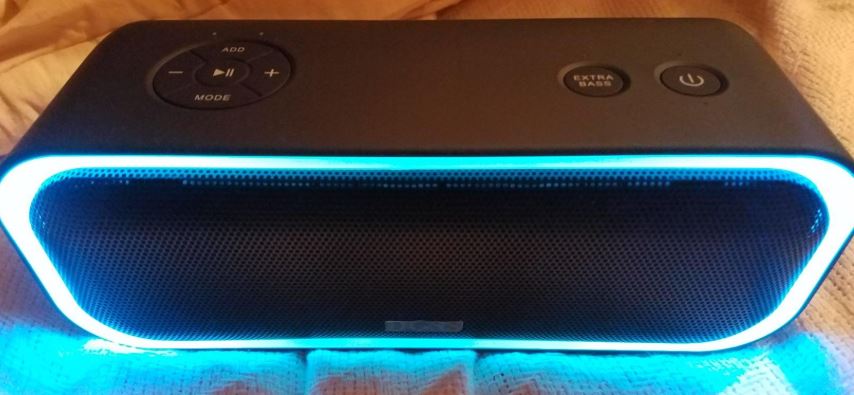 Battery and Power
The SoundBox Pro is built with a reasonably powerful 2200mAh lithium-ion battery. Played at 50% volume, you can expect an average of ten hours of continuous play from the speaker. But as you increase the volume much beyond half, you'll start to see rapid drops in the battery's lifespan.
Played near full volume, you may be able to expect as little as five or six hours of use. For an indoor event, that's no concern because you can keep the speaker when it's plugged in. But for outdoor playing, that can be an issue if you need more than an afternoon's worth of battery power. Although the SoundBox Pro versatile enough to be taken along on a road trip, it's a slightly better option for people who have primarily indoor use in mind.
As previously mentioned, it has a battery indicator light, which can help alert you when you need to recharge. Unfortunately, the battery indicator light doesn't make use of an LCD display, which can provide greater visibility and more detail about the quantity of battery life you have left. On the other hand, the relatively minimalistic battery indicator light may contribute to the lifespan of the battery, so it's hard to fault DOSS for that decision.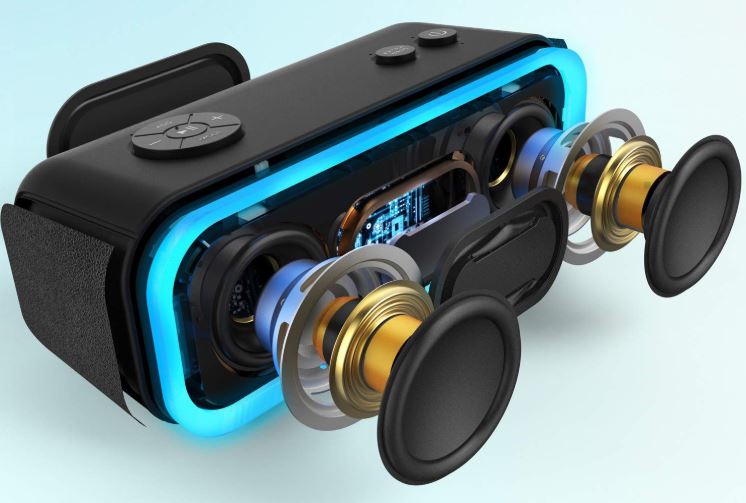 Drawbacks to Consider
Ultimately, the SoundBox Pro is only one speaker, and one speaker can only do so much. For example, you won't get a surround sound feeling from a single speaker, no matter how well it's positioned. And you can't pair it up with other speakers because it has to be used as a standalone device. Being able to buy two of them could've helped overcome the minor battery issue, and helped to enable more of a surround sound experience.
The power of the battery may or may not be a concern for you. If you end up playing your music particularly loudly, then you'll be left with a couple hours of maximum playtime. But if you're not looking for the ability to pair it up with another speaker, and you don't think you'll spend much time blasting the volume past 50%, then these drawbacks are negligible. It's only when you begin to expect too much of the SoundBox Pro that it will start to disappoint you.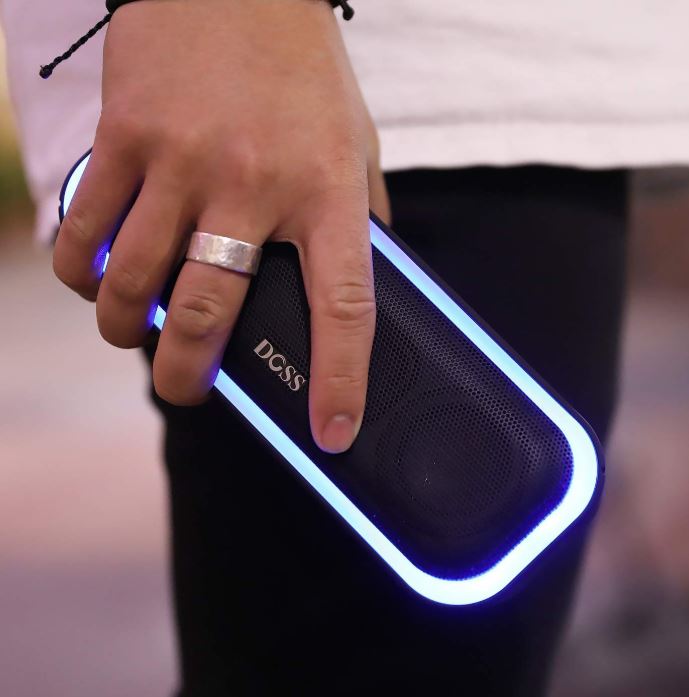 Who Should Buy the SoundBox Pro?
Relative to its size, the Pro has fairly impressive sound. The subwoofer provides a full bass that remains clear at both low and high volumes, and the 20W primary drivers keep trebles sounding sharp. And combined with the additional radiator speakers, you get a surprisingly quantity and quality of sound. You won't have a problem filling bigger rooms with sound, and you won't hear the sound quality drop off considerably if you crank up the volume.
As far as affordable speakers go, the DOSS SoundBox Pro is a great buy for anyone who wants portable sound. It's simple enough to start working for you from the moment you take it out of the box, and small enough to take essentially anywhere you go. For small get-togethers, parties, and filling up large rooms with music, it holds up wonderfully. And if you're looking to crank your music all the way up, you can avoid potential battery problems by making use of a wired connection.
In short, the SoundBox Pro is easy to use, makes use of reasonably high quality audio equipment, and has an array of playing modes that allow it to be incredibly versatile. Relative to its price point, it's hard to find many other portable speakers that can even begin to compete with the Pro. You would have to be willing to double your budget to find a setup that can do much more than the SoundBox Pro.