We've been talking about the paperless office for several years now, but it's taken a while for technology to catch up. When the idea first came to fruition, the concept was simple. You'd take all of your paper documents and scan them into your computer, then use local storage to keep the files, transmitting it via email when necessary.
The problem was the cost and the quality. At the time, sharing files over the network wasn't that simple, and email often had heavy restrictions about how large attached files could be. This meant that many businesses were stuck printing off a digital image, faxing it, then shredding the printed file. With this kind of workflow, the benefits of the paperless office were negated.
The quality of scanners at the time wasn't particularly impressive. Images often came across much like a fax. Greys and colors would come out banded and blurry, and text would lose the sharpness that was produced by laser printers of the time.
Today, high speed internet and high quality scanners have address these issues. But the Doxie Q takes this to the next level. Based on the specs alone, it looks like the scanner takes the same great quality you've come to expect and adds in a number of features that make it easy to use. But the specs only tell half of the story. To find out if the Doxie Q is right for modern businesses, we had to go hands-on and find out for ourselves.

First Look
When we first pulled the Doxie Q out of the box, we were a little surprised. It looks like a printer that's been chopped in half. It's got many of the same design cues you've come to expect from a printer. The large power button on the right and matte black face look like something you'd see on a modern Canon. But overall, the scanner is extremely compact.
Despite its small size, Doxie still managed to make the scanner look quite attractive. It's got a minimalist flat white and black design. The only 'stand out' elements are the stylish logo and compact LCD display.
What makes it impressive isn't the design, but the portability. It's completely wireless and battery powered, so there is really nothing else you need besides the scanner itself. According to Doxie, you just pick it up and go. Let's see how this feature works in the real world.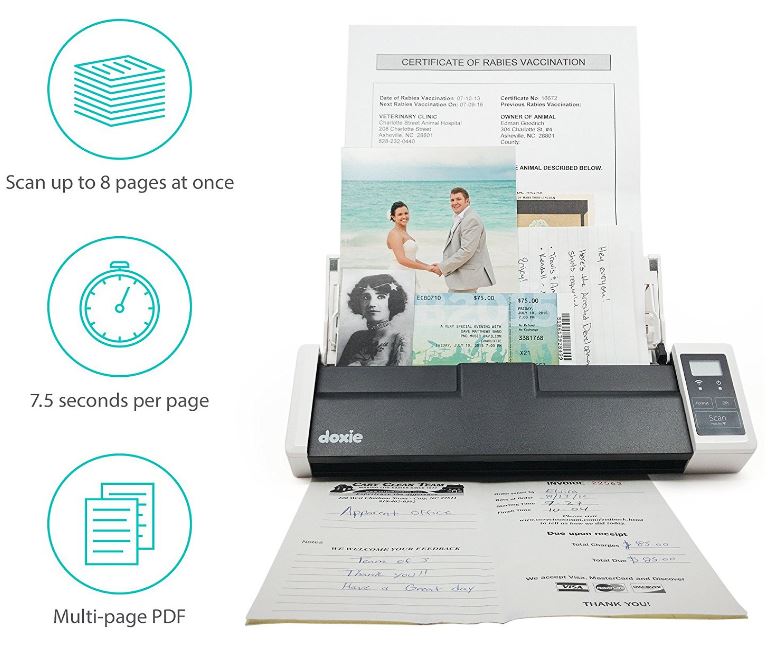 Hardware
Inside the micro-sized Doxie Q is a powerful Lithium Ion battery that is capable of completing over 100 scans on just a single charge. We're used to seeing powerful batteries in modern devices, but you really need to see how small this scanner is to appreciate how impressive it is. Despite it's compact size, it's still capable of scanning an 8.5" by 30" document, or smaller.
The flip up feeding tray is what makes the scanner go from a simple compact device to a portable powerhouse. With just one quick flip of the wrist, you can set up and extend the tray to support documents both large and small.
The entire scanner can be operated using just a single button. It turns the scanner on, or off. If it wasn't for battery life concerns, they probably could have removed this as well. Sensors detect the paper length, when a page is being inserted, and whether an image is grayscale or color. If you need to change any of the imaging settings, the "format" button will let you change from single sided to double sided, and the DPI button will let you choose your scanning resolution.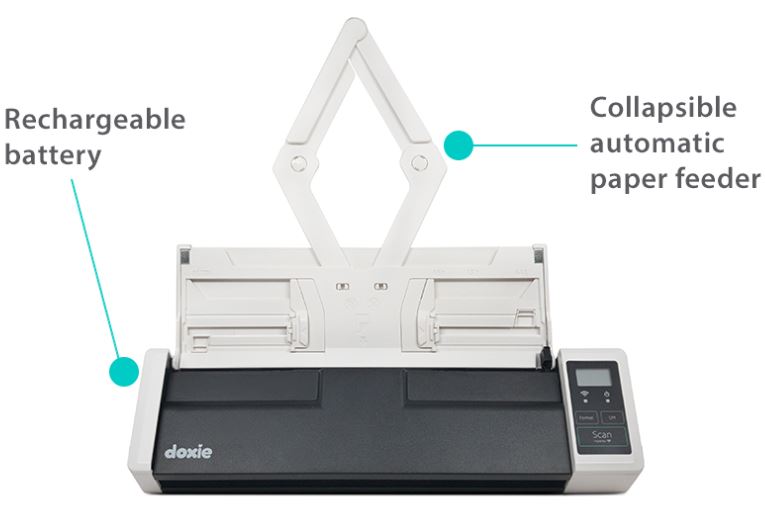 Scan Quality
By default, the Doxie Q scans images at 300 DPI. In our tests, the images come out nice and sharp. It does a great job of separating the background from the document's content itself, leaving your images to appear crisp and sharp.
But the problem with 300 DPI images is that the level of detail is too small for use with graphical content. If you're scanning color photos or detailed documents, you'll definitely want to bump up the quality to 600 DPI. Fortunately, this is quite simple. Notice the two lights next to the power button. One indicates Wi-Fi connectivity, but the other indicates the image quality. This light turns green when the scanner is in 600 DPI mode, and orange when it's in 300 DPI mode. To change from one mode to the other, all you have to do is tap the "DPI" button. Couldn't be easier!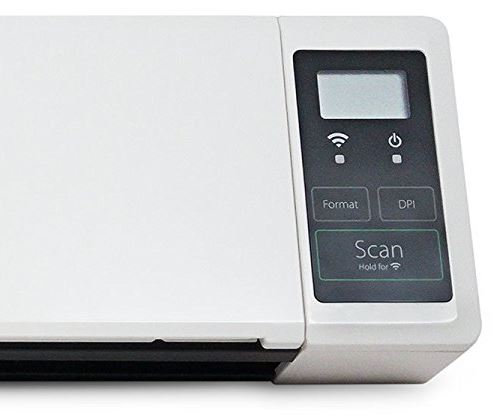 If you're scanning documents, you'll want to take advantage of the OCR (optical character recognition) feature. What this does is recognize the actual text in your document, so you can edit it in a word processing program.
600 DPI is certainly great quality, but it's not something we haven't seen before. What really impressed us about the platform was the speed. It can scan a full color document in as little as 8 seconds. This kind of performance isn't commonly encountered in such a compact scanner, so it's clear that Doxie has taken time into engineering a great system.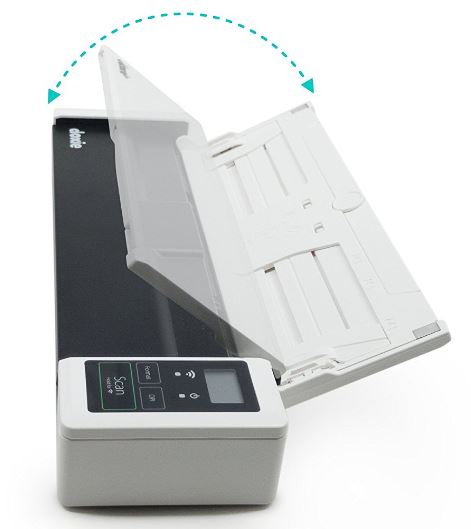 Document Handling
What happens to your documents after they're scanned? The answer to this question determines how effective your paperless office can be. Fortunately, the Doxie has two creative ways you can manage all of your documents. The simplest is to use the onboard storage. It's got 8GB of flash storage onboard, and documents are stored there by default.
At 300 DPI, this is enough space to store thousands of documents on board. If this isn't enough storage for you, the included USB port and SD card slot can handle all of your external storage needs. Want to transmit images wirelessly? No problem! The built-in Wi-Fi will automatically transmit documents to your computer, or upload them to a cloud sharing platform.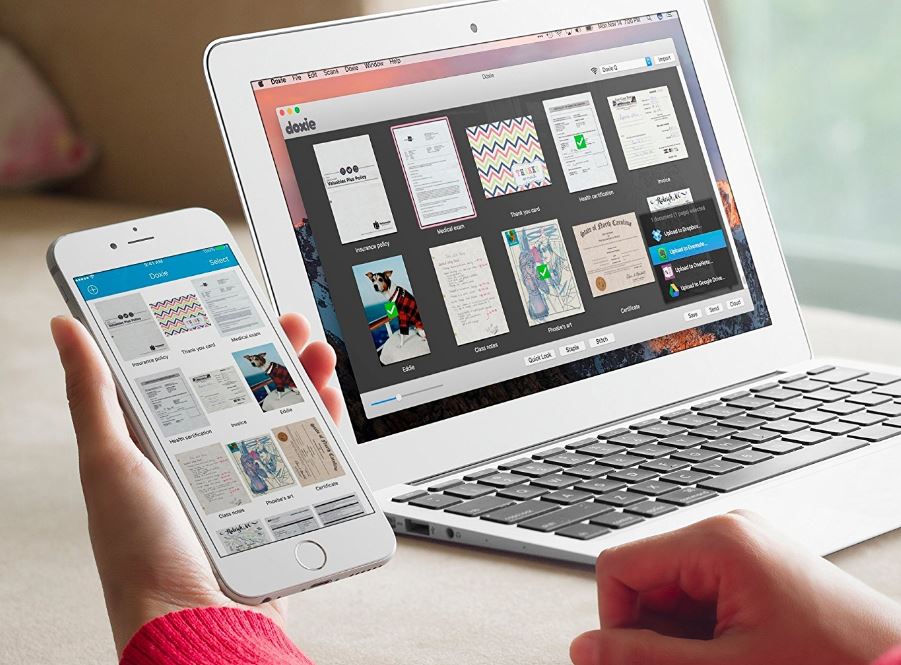 Connectivity
Although you can use a typical USB type B printer cable, with the Doxie Q there's no reason to do so. With support for both the typical print server and Wi-Fi direct, the Doxie Q can interface with every single one of your devices with no additional drivers needed. It will connect with your Apple iOS devices through Airprint, or your Android devices through Google Print Services. As long as it's connected to a network, it can also share these files with all types of cloud sharing platforms. It supports Dropbox, OneNote, Evernote, and iCloud drives, so you can access your files from virtually anywhere in the world.

Disadvantages
Although we were quite a fan of the Doxie Q, there were a few disadvantages to the system. Many of the features of the scanner, including taking double sided images and the OCT, require the use of specialized software. At the moment, Doxie only makes this available to newer computers. You need OSX 10.7 or higher, or Windows 7 or higher. In the modern business environment, there are still a number of users who are on older operating systems. Plus, if the system is unsupported on the future, it's possible that you may have issues getting the software updated. We prefer to have companies that use standardized communication protocols so we don't have to worry about encountering these kinds of issues.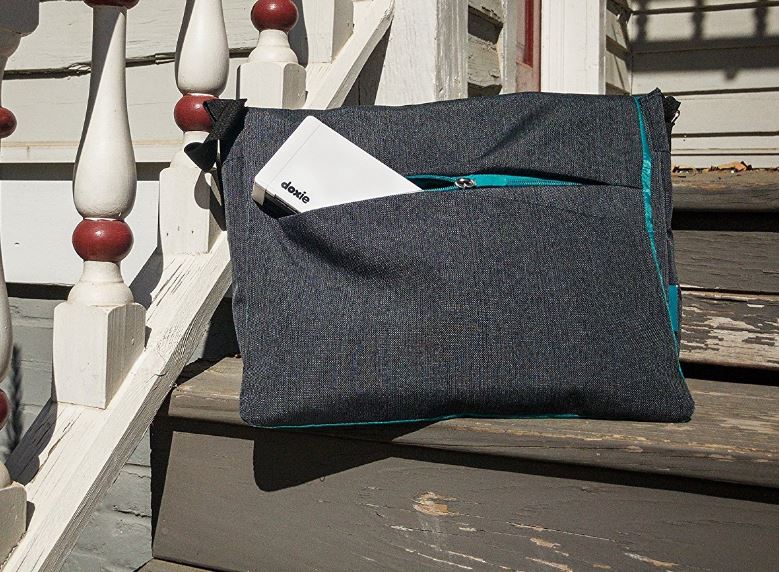 Should I Own the Doxie Q?
If you're looking for a semi portable scanner, the Doxie Q is a great place to start. It's a surprisingly high quality scanner in a nice compact case. While it might not be as compact as the original Doxie, we think that they've found the perfect balance between portability and functionality. The flip up paper tray allows you to load multiple documents into the hopper and scan them all in one quick go, and the built-in Wi-Fi means that you'll never be stuck trying to copy and paste documents between incompatible storage devices.
Is this something that you're looking to use exclusively on the go? If so, you might want to check out the Doxie Go. This compact version of the scanner has a longer battery life and is designed specifically for portable use. It's a little low on capacity, but it makes up for it with portability.
But for most users, we think the Doxie Q is a good compromise. It's still portable enough to lug around with easy, but powerful enough to replace your standard scanner. In fact, we'd go as far as to say that there is very little you'd be missing from a standard scanner. If you're looking to go paperless, you should give this scanner a shot.