Quick Analysis
Design & Construction
8.0/10
Pros
Excellent sound quality.
Great comfort and ergonomics.
Easy-to-use controls.
Compatible with most game systems.
Cons
Feels a bit cheap.
7.1 surround sound only works on PC.
Mic boom is a bit stiff.
For many gamers, a headset is merely an afterthought. For instance, if you prefer single-player gaming, you don't even need a headset. At most, you might want a pair of headphones to keep from annoying your family. But if you're a hardcore multiplayer gamer, a quality gaming headset is almost a requirement. It allows you to keep in touch with your team, whether you're playing Call of Duty: Warzone or PUBG. Low latency and clear communication can make the difference between a win or a loss. And a comfortable headset ensures that you can keep gaming for hours without your ears getting sore.
That said, not all gaming headsets are equally well-designed. Many suffer from high latency, uncomfortable ear cups, and all-around low quality sound. We've reviewed several gaming headset models, so we know how to avoid these pitfalls. Now, we're going to share a bit of that knowledge with you.
We're about to review the EKSA E900 Pro USB Gaming Headset. This is a big, beefy headset that's designed to produce big, beefy sound. It's also compatible with just about every game system, from PC to consoles to mobile gaming. But how well does it perform on any given platform? Where does it excel, and where does it fall short? We're going to look at all the features and benefits, from the physical design to the drivers. We'll also look at compatibility, as well as the extras that are included in the kit. Once we've done that, we'll be able to confidently render a final verdict. Let's take a closer look!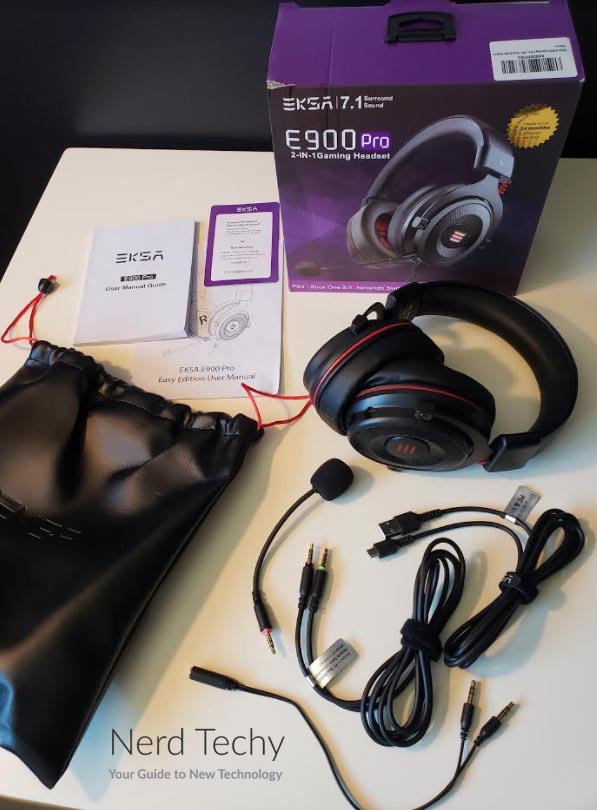 Overall Design
The EKSA E900 Pro USB Gaming Headset is bigger and heavier than most gaming headsets on the market. At 1.05 pounds, it's certainly no lightweight. That said, it's not too heavy for comfort. It's just enough weight to assure you of quality construction, without any cheap plastic parts. Indeed, the entire frame is constructed from black anodized aluminum. This makes it very durable. You can drop it, step on it, and dish out plenty of other abuse without causing any serious damage. As a result, you're looking at a headset that will last you for years if you so desire.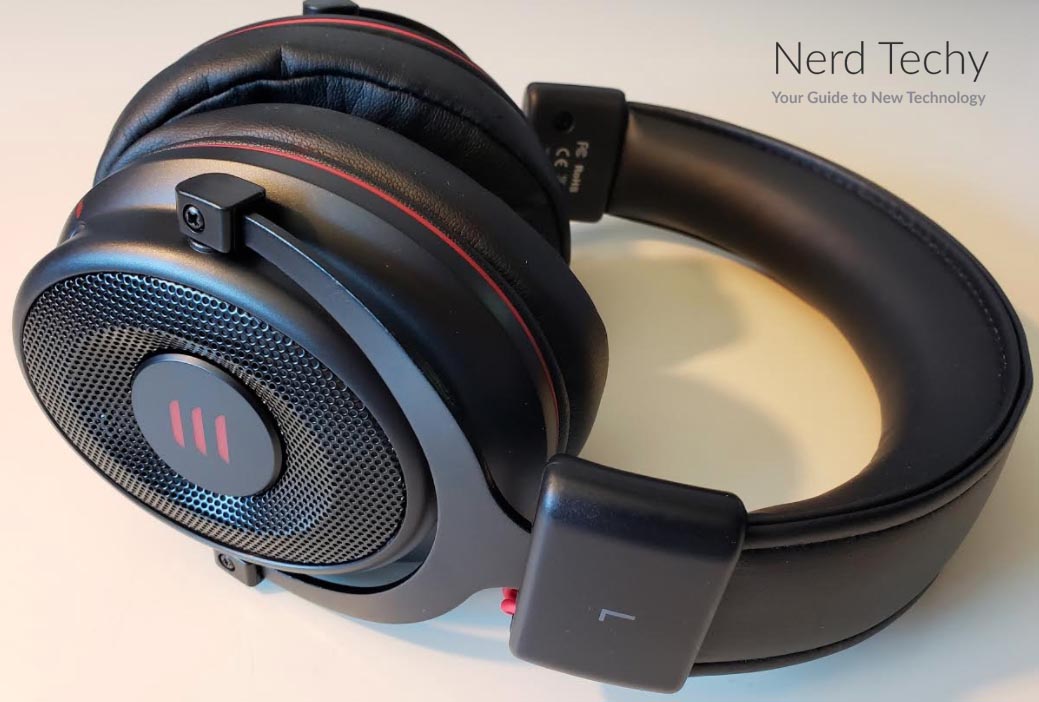 The ear cups are fairly large, with wide, fat pads that are constructed from soft memory protein. This is a leather-like material that is nonetheless breathable and sweat-resistant. Inside, a soft memory foam padding provides plenty of cushion. You can wear these ear cups for hours without discomfort, even if you're sweating or have sensitive ears. The cups attach to the frame via a set of anodized aluminum arms. The arms provide 180 degrees of swivel, so the cups can conform to just about any face shape. No matter how your cheeks or temples are slanted, you'll enjoy full contact without excessive pressure.
The swivel arms can extend or retract from the head band. This provides even more versatility. Whether you have a smaller or larger head, your headset will fit comfortably, without being too large or too small. The head band itself is constructed with an aluminum frame, but is well-padded with memory protein. This is an identical padding to what you'll find on the ear cups, and eliminates any potential pressure points. The sides of the headset, which house the extension arms, are also constructed from anodized aluminum. "L" and "R" markings are engraved on the left and right side respectively to prevent confusion.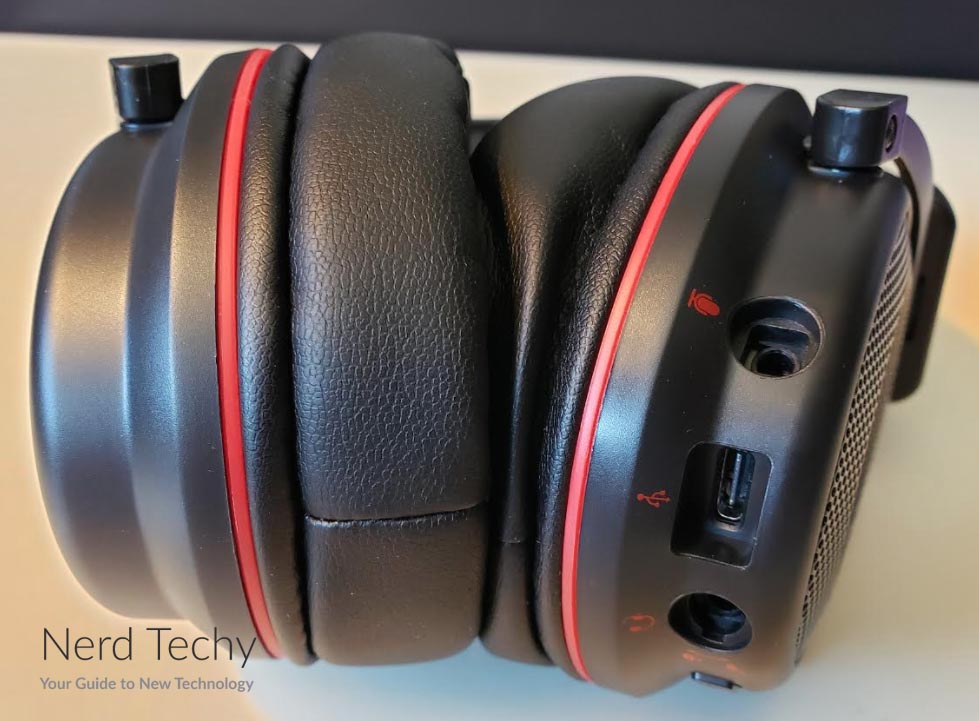 Both ear cups are connected via a red spiral wire. These wires can flex and stretch to a remarkable degree, further enhancing durability. The right ear cup is relatively plain, and simply functions as a speaker. The bulk of the action is located on the left ear bud. There, you'll find a volume dial and mute button for adjusting your audio settings. Beneath those, you'll find a USB port and 3.1mm aux port for connecting to your devices. Finally, there's a small proprietary plug for the detachable boom mic. If you want to use the headset as simple headphones, just detach the mic and you're good to go. The mic is a bit stiff, but it should be well positioned for the majority of users. Still, it would have been nice to get a little more flexibility.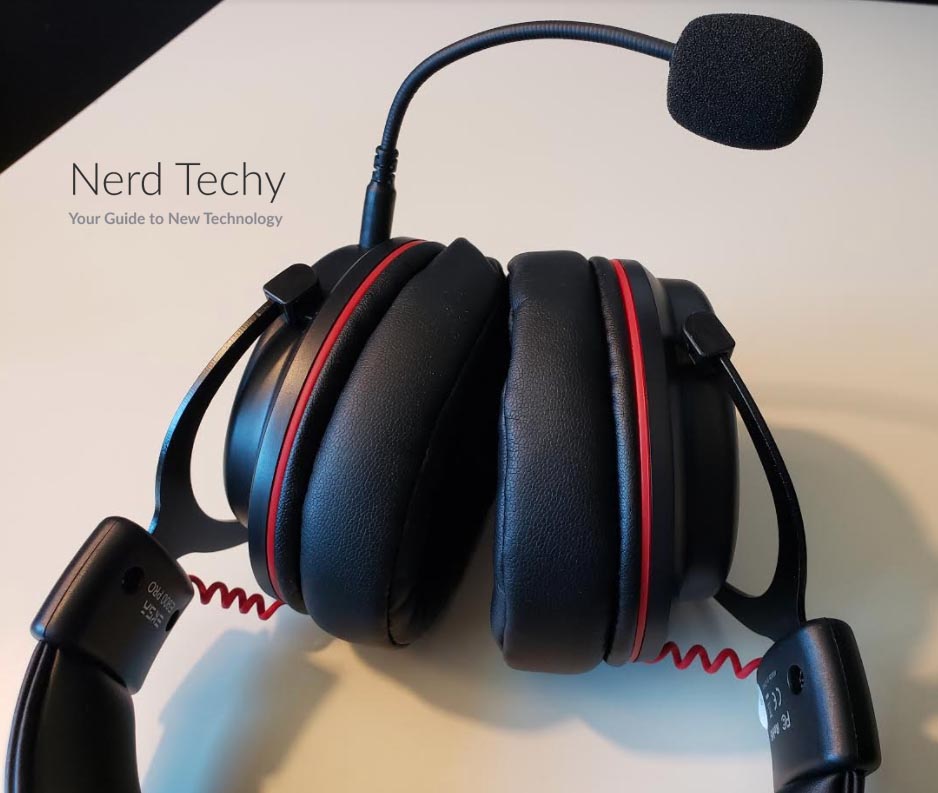 Along with the headset itself, you also get a couple of useful accessories. To begin with, there are a pair of cords. One is USB to Micro USB, and the other is 3.5mm aux. You'll only have to use one cord at a time, and we'll get into the nitty-gritty in a second. Both of the cords are just over five feet long, providing plenty of slack. It's not quite long enough for sitting across the room from your system. But it's more than good enough for gaming on your desktop PC. In addition, there's a soft carrying pouch for transporting your headset. It's not a hard case, just a simple drawstring pouch. But it gets the job done if you just want to keep your headphones from getting scratched or dinged.
The EKSA E900 Pro USB Gaming Headset comes with a basic 30-day warranty. This isn't terribly impressive. But you're at least protected if it arrives damaged, or if there are any manufacturer's defects.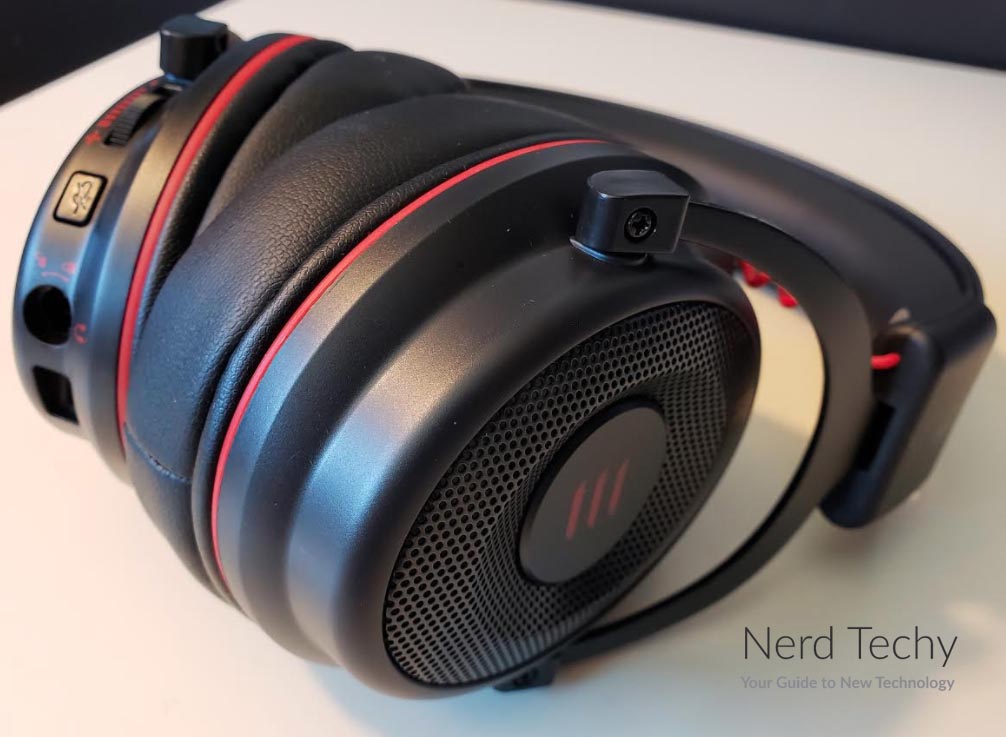 Connectivity & Compatibility
As we briefly mentioned, there are two ways of connecting the EKSA E900 Pro USB Gaming Headset to your system. The first is to use the 3.5mm aux cable. This makes it easy to connect to a wide variety of systems. You can use the 3.5mm cable to connect to your PlayStation 4, Xbox One, or Nintendo Switch. You can also use it for your PC, Mac, or smartphone. As a rule of thumb, if your system has a 3.5mm jack, it will work with this connection type. This makes the 3.5mm connection the most versatile option.
That said, a USB connection offers a bit more functionality. Primarily, it allows for 7.1-channel surround sound. Keep in mind that this function will only work on PC. We'll get into the particulars in a second. Another system-specific limitation is that the microphone isn't supported on the Nintendo Switch. In other words, Switch players will only be able to use the E900 as a glorified pair of headphones.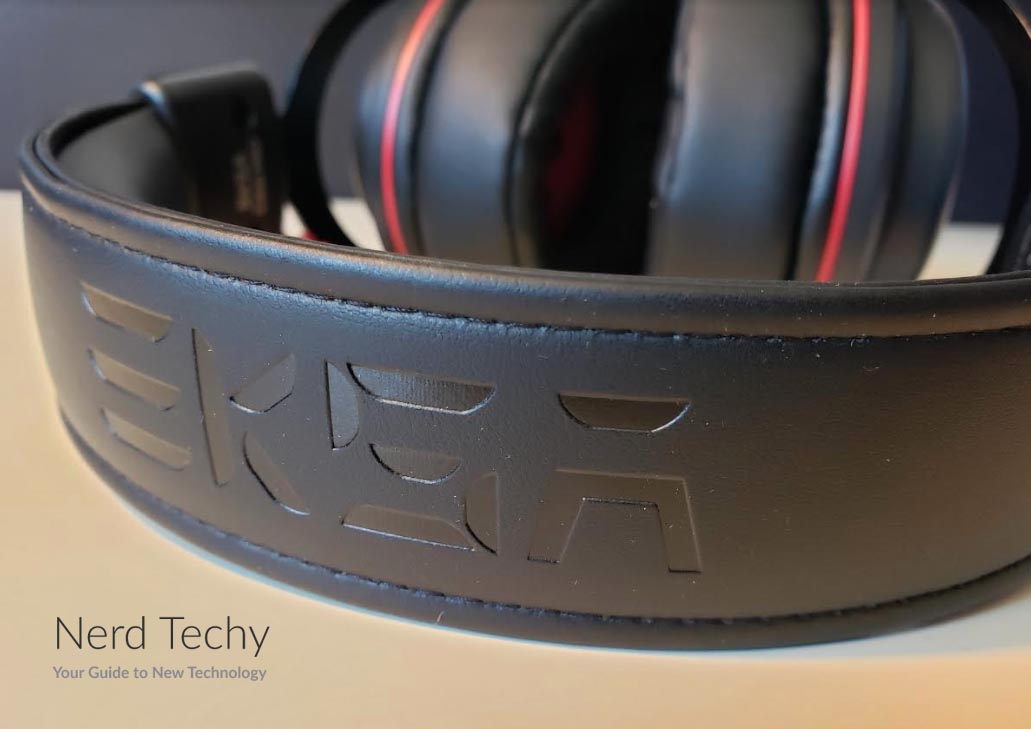 Either way, the detachable wires mean you won't have to deal with an unused cable dangling at your side. Moreover, because the wires are totally independent, you don't have to deal with any dongles or splitters. Simply connect the cable you want, and leave the other one in the carrying pouch. The only downside here is that you don't have the option of a wireless connection. On the other hand, you also don't have to worry about battery life. The E900 is powered directly from the wire, so no batteries are required.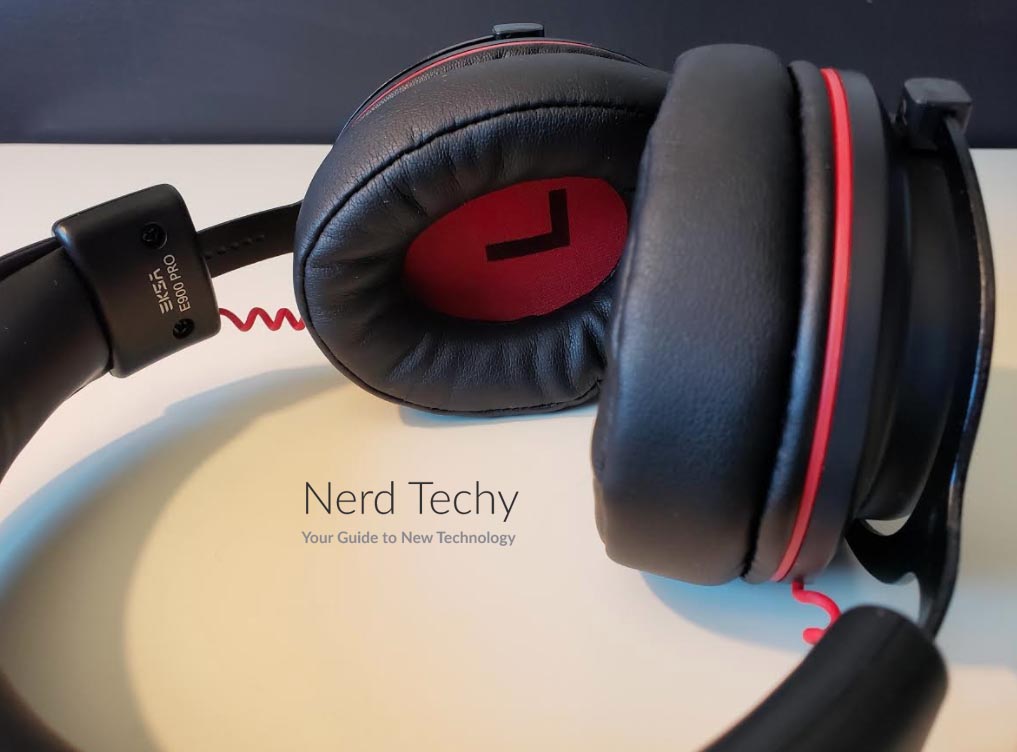 Sound Quality
The EKSA E900 Pro USB Gaming Headset sports large, powerful 50mm drivers. These are larger than the 40mm drivers that you'll find on most gaming headsets. This allows for richer, more powerful sound than your average headset. Not only that, but the drivers are constructed from neodymium. This material is far more responsive than a normal steel magnet, allowing for much more subtlety. The result is a deep, rich sound that covers all frequencies equally well. You can hear high pitched whistles and dings just as well as you hear grenade explosions or a rumbling engine.
Directionality is also very good. You can clearly tell where an explosion or gunshot is coming from. This is an essential feature in any first-person shooter game, where it's essential to know where your opponents are. Simply turn towards the sound, and you'll be facing where you want to go. The directionality isn't just limited to games, either. If you're listening to stereo music, you'll get an ultra-wide soundstage, with excellent separation. You can hear every instrument individually, without any unwanted crossover.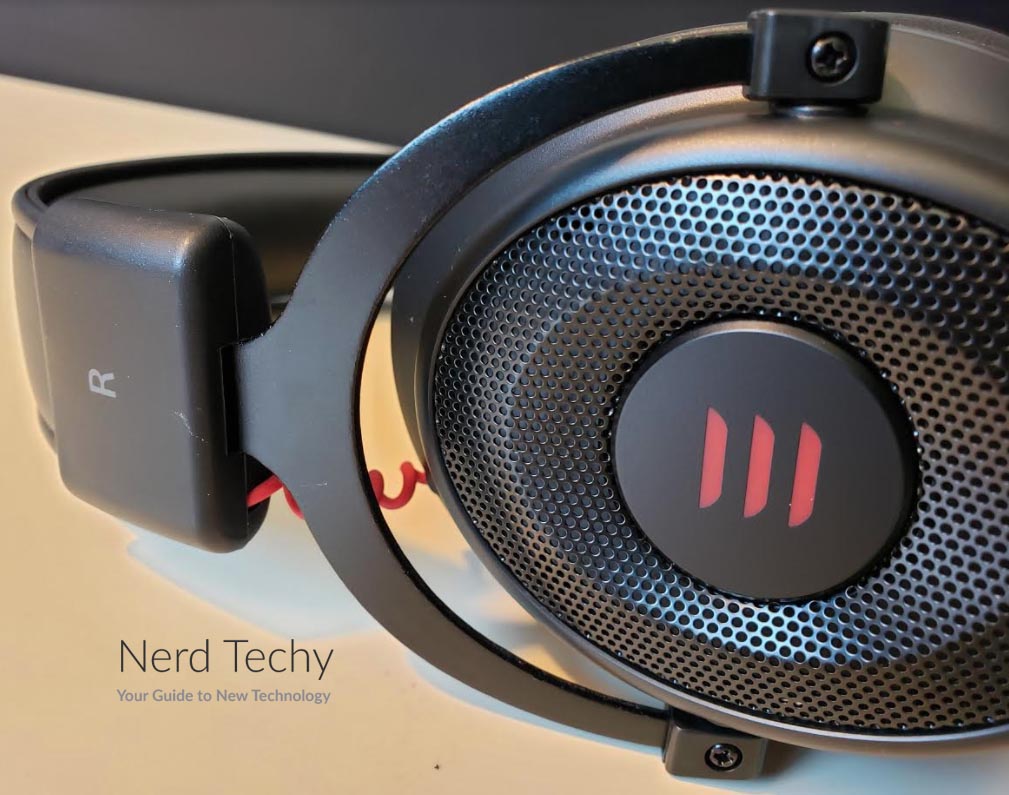 If you want even better directionality, you'll want to take advantage of 7.1-channel surround sound. Now, to be fair, this is only "simulated" surround sound. You're not going to get actual surround sound on anything short of a full stereo system. Even so, the simulated surround sound is excellent. On the downside, it requires you to download and install drivers to your PC. The download takes less than a minute, and the drivers can be found on EKSA's website. To take advantage of this feature, you need to use the USB connection. A 3.5mm connection does not supply enough power to use surround sound.
Even with ordinary stereo, the sound quality is very good. The large drivers supply powerful bass, clear mids, and shimmering highs. Regardless of what type of sound you're keying in on, you'll hear it just fine. It's also highly detailed. If you're a fan of stealth games, you'll love how distinct and clear the footsteps sound.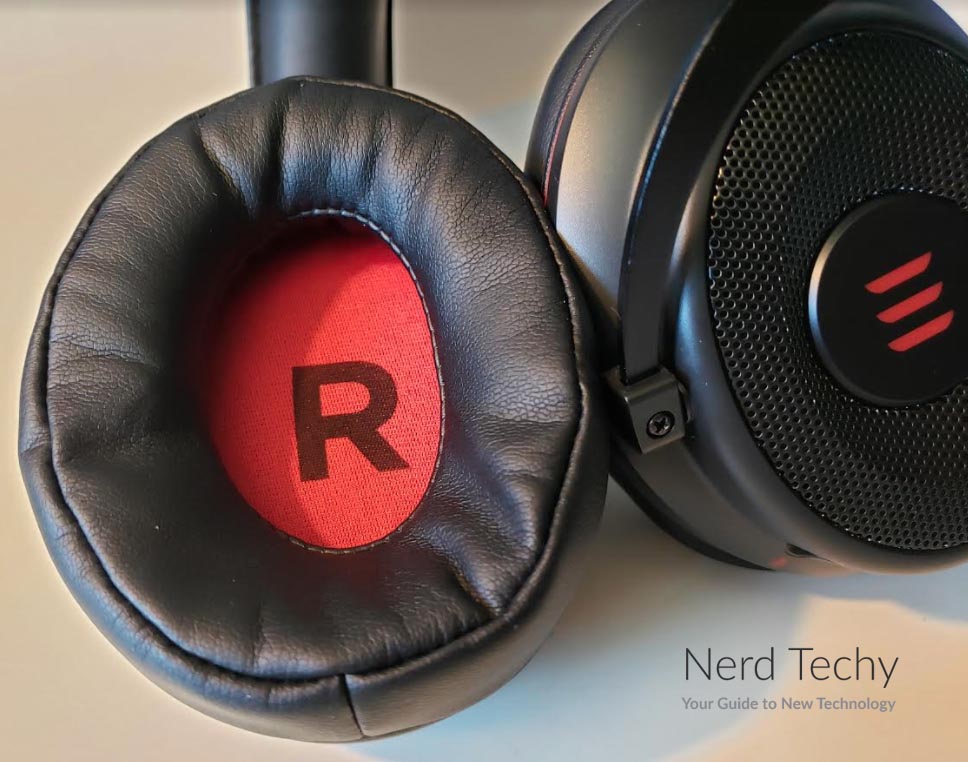 Final Verdict
So, is the EKSA E900 Pro USB Gaming Headset worth your hard-earned cash? Or should you be looking for a more powerful headset? For most gamers, it's going to give you everything you need. The only real downside is that the boom mic is a bit stiff. If you're picky about mic placement, you might not be pleased with the lack of flexibility. You can also only use 7.1-channel surround sound on PC. But this is more or less standard, unless you're using a very expensive console headset with an external power supply.
With that in mind, the E900 is an excellent headset for most purposes. It's one of the most rugged headsets that money can buy, with all-aluminum construction. Moreover, it's very comfortable. The lush ear pads and cushioned head band provide plenty of comfort on just about any head. The connection system is quick and painless, with two simple wires that work with any system. Finally, the control scheme is very straightforward. With everything located on the left ear cup, you don't have to fumble for a dongle to adjust your volume.