When you're traveling, you might be tempted to bring along your console, so you can enjoy gaming at the end of the day. Dragging around a console isn't that tough, but what about a screen to plug it into? You might find yourself at the mercy of your hotel, hoping their TV allows you to connect.
Or instead of a hotel, maybe you're still on the road. Maybe you just want a screen that's larger than a smartphone or tablet can provide. And maybe you actually care about gaming performance. In any case, what you really need to solve these problems is a portable gaming monitor.
Note: At no extra cost to you, we may earn a commission for purchases using our links. Learn more.
GAEMS M155 Full HD 1080P Portable Gaming Monitor
Portable monitor is a bit of an oxymoron. Making an LCD monitor portable is like trying to make a bubble portable. You can only do so much because there's an inherent fragility. But the GAEMS M155 does its best to make their panel portable. To their credit, it's certainly far more portable than an ordinary PC monitor.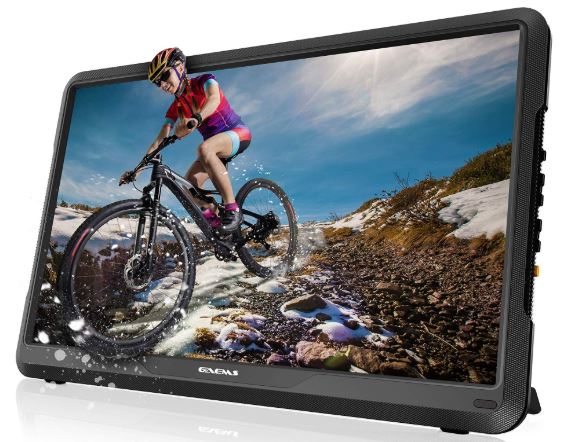 Using tiny legs that pop-out from its backside, the M155 doesn't require you to deal with some burdensome mount. And unlike other monitors, you don't need to run nearly as many cable connections. Although the GAEMS M155 isn't for everyone, it can be formidable for people who can actually take advantage of its portability.
Build & Design
You would not want to see this monitor fall to the floor. Durability is generally considered an important part of portability, but you can only expect so much from a monitor. But the M155 delivers on portability in other areas. It weighs short of 2 lbs., meaning it's significantly lighter than virtually any desk monitor.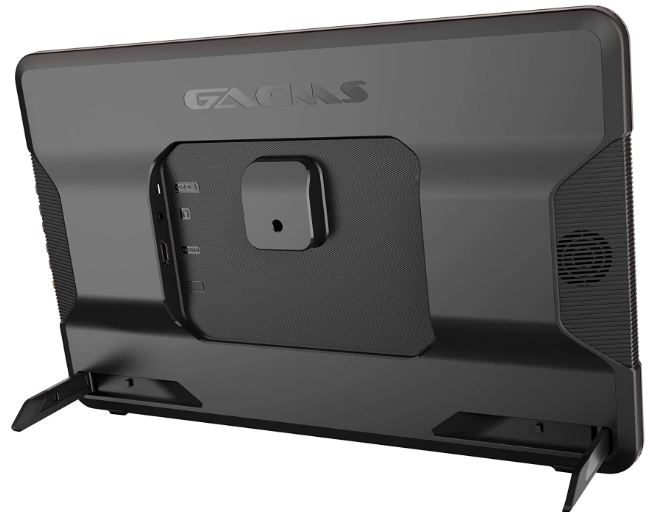 Measuring 15.75 x 0.6 x 9-inches, the panel is small enough to slip inside a laptop bag. Once deployed, the previously mentioned anti-slip rubber-feet do a pretty good job of keeping it secure, while allowing for an almost totally vertical 12-degree viewing angle.
The backside of the chassis is slightly recessed, allowing you to get a firm grip on the screen while moving it from place to place. A low center of gravity helps make the M155 resistant to minor bumps and nudges, but it's still a bit nerve-wracking to only have legs on one-side of the panel. In the interests of protecting the panel, it might be wise to put away the GAEMS M155 between uses.
The GAEMS M155 Portable Gaming Monitor does not include VESA wall mounting support, but it does have its own wall mounting abilities. You can mount the panel fairly simply using the included ¼" camera screw sockets. If you've already got a mount in your build, you may or may not like this alternative.
Ports & Buttons
Along the edge of its chassis, you'll find a power button, menu button, a volume button, and a brightness adjustment button. The backside also hides away a 3.5mm headphone jack, a small integrated speaker, and the HDMI 1.4 port used for video connections. Each port is well labeled, and allows for enough clearance for connecting wires to not endure any stress or strain.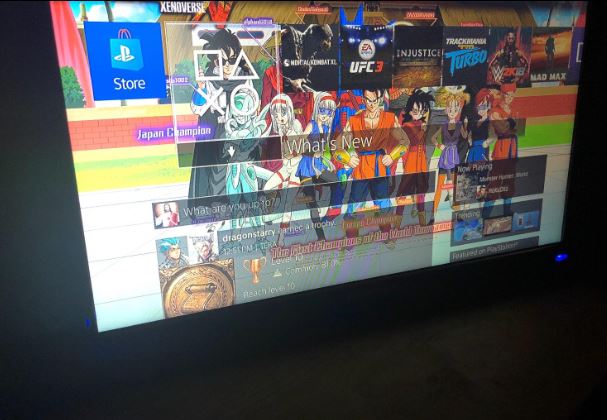 HD Video Quality
Take a look at how a 24" viewing space interacts with 1080p content. It's an almost perfect match. Pixels don't have to stretch or expand to fill the space. As your screen size reaches out towards 50", while keeping the same number of pixels (1080p), image quality drops precipitously. The opposite happens when you compact that resolution into a smaller space.
The GAEMZ M155 packs 1080p content into a tiny 15.6" LED panel, delivering roughly 141 pixels per inch. For the sake of contrast, that's considerably higher quality than 1440p content spread out towards a 27" screen space.
True to its form, content is supported using standard 16:9 aspect ratio. Perhaps more importantly, you don't see any downgrades with respect to refresh rate. The GAEMS M155 Full HD 1080p Portable Gaming Monitor delivers support for 60Hz refresh rates, quite similar to an ordinary PC monitor.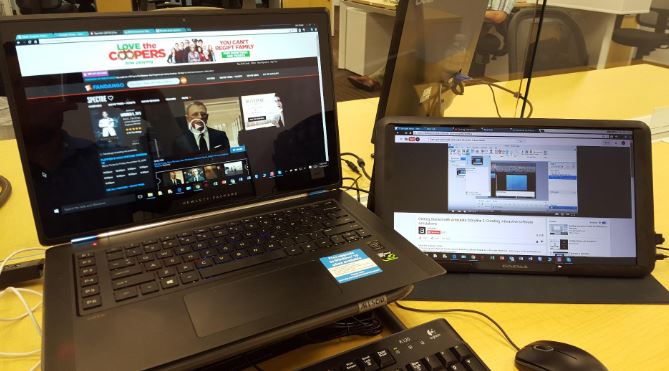 Color Performance Issues
The GAEMS M155 HD 1080p Portable Gaming Monitor is built from a twisted neumatic (TN) panel. That's ideal for constructing an inexpensive gaming monitor, and it's the secret behind the lag-free design of this screen. But powered by USB alone, this panel does have visual limitations.
Most notably, it recreates images with 6-bit color. To put that into more concrete terms, that means the screen is constructing images with about 262,000 colors. The result is an image quality which is slightly inferior to the image capacity of standard VGA connections, or slightly inferior to that of typical broadcast television.
But the M155 has a saving grace, and that's the glossy screen. Glossy panels provide more vivid coloring than matte panels. But they might as well be mirrors when you add uncontrolled lighting to a room. In the wrong circumstances, glossy screens can produce enough glare to render them virtually impossible to use.
But as long as you're not trying to use the GAEMS M155 next to an open window during the middle of the afternoon, the glossy finish does give the 6-bit color a big boost. It does not resemble the color range of a regular monitor, but it does produce a pretty compelling image for such portable gear.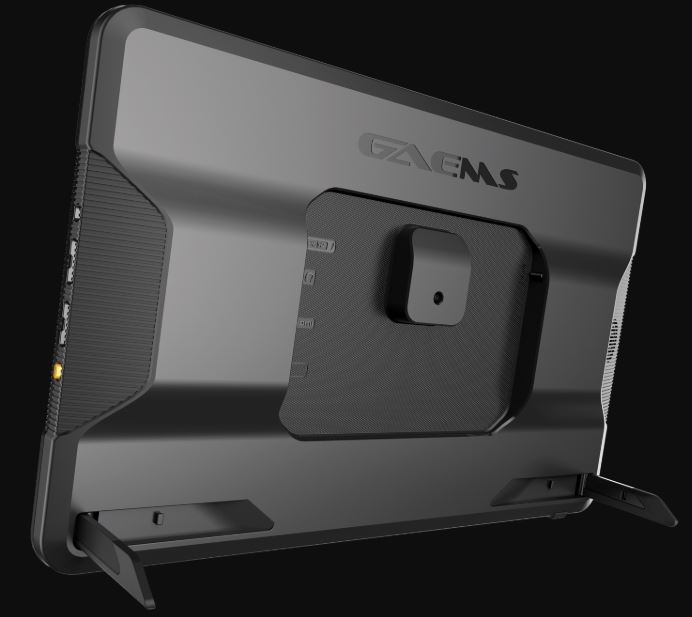 Unexpected Brightness
Finally, some quick remarks about brightness. The M155 delivers reasonably strong 180-nit screen brightness. What does that mean exactly? That figure is actually compares favorably with the capabilities of fully powered desktop monitors.
It compares favorably to essentially any monitor that does not support HDR. You can't get insanely good contrast ratios out of this panel because of the 6-bit color limitation, but its brightness does not disappoint whatsoever.
Audio Quality
For any number of reasons, it's tough to get decent sound from the backside of a monitor. There's added difficulty with the GAEMS M155 because of the relatively low-powered design of this panel. Nevertheless, there are onboard speakers are positioned on the left and right edges of the backside of this panel.
Tiny 1" drivers create more or less exactly the sound quality you would expect from a monitor. It's certainly passable, but nothing to celebrate. If you're looking to get more than passable sound, there is an AUX port on the backside of the panel you can put to good use.
The most obvious use would be attaching a pair of headphones, which can instantly help the GAEMS M155 sound considerably better. Depending on how far you're looking to take things, you could also attach some portable speakers to give the panel a real boost.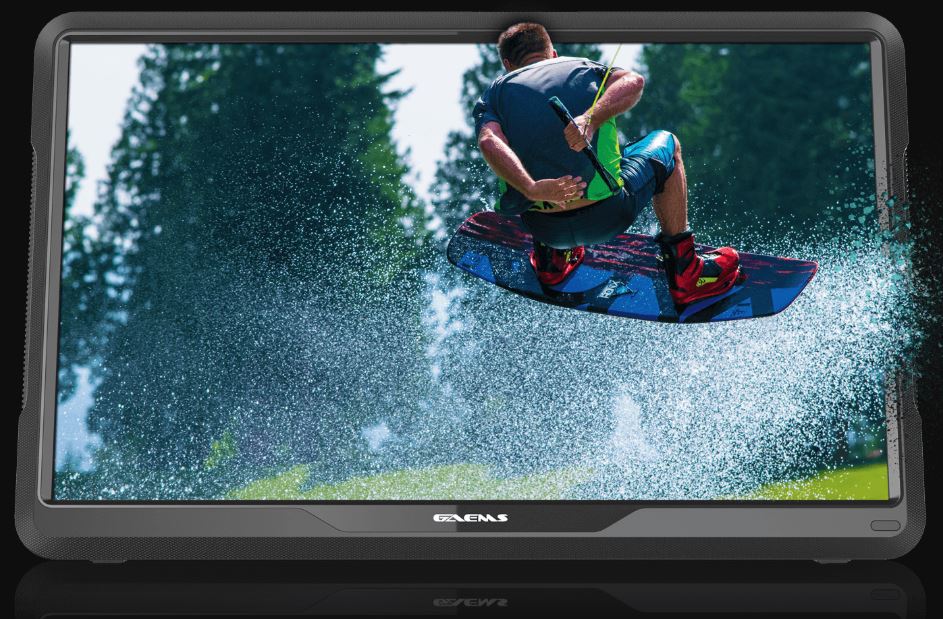 Gaming Features
Suppose you're traveling. You show up in the hotel room, and you find your console has no problem connecting to the television in your room. You might still prefer using the GAEMS M155 because televisions tend to be pretty lousy for gaming. The biggest significant difference plays out in responsiveness.
Televisions are almost always grossly less responsive than monitors. And that's only the tip of the iceberg. Televisions also rarely deliver on the gamer-friendly features you see built into gaming monitors. Features like G-Sync or FreeSync, higher refresh rates, and so forth.
To the credit of the GAEMS M155 Full HD Portable Gaming Monitor, this panel outperforms most televisions. It delivers essentially lag-free HD, and lag-free conditions are worth having. But due to its highly portable nature, this panel cannot compare to a stationary gaming monitor. The low, USB-based power consumption puts some soft limits on what can be done.
For example, this panel doesn't support dynamic sync technologies, and it doesn't support refresh rates beyond 60FPS. That may not affect how compelling this monitor is for console gamers, but it does make it less attractive for someone who's gaming on the PC platform.
Other Considerations
The GAEMS M155 Full HD 1080P Portable Gaming Monitor is compatible with essentially any modern console on the market. That includes Xbox One, Xbox One X, Xbox 360, PlayStation 4, PS4 Pro, PS3, and the Nintendo Switch.
The M155 includes a zippered neoprene sleeve to help keep the panel protected while transporting it from place to place. The sleeve is only lightly padded, but as long as you're gentle, it can do its job.
The M155 also includes a remote control, HDMI cable, and a USB power adapter splitter cable. The only one that deserves to be remarked upon is the remote, a fairly simple device with only the simplest media control buttons.
You may want to note that CDC control isn't supported for the HDMI 1.4 port. That means there's no support for multiple remotes. And because the remote uses an IR sensor to connect to the panel, it needs line of sight with the M155.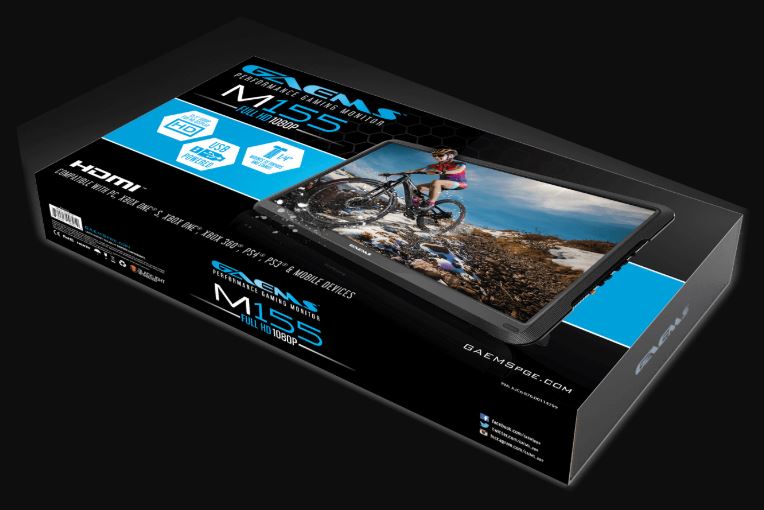 Who Should Choose GAEMS M155 Full HD Portable Gaming Monitor?
What you're paying for here is portability. If you don't need the portability, you could choose a better looking panel and save money in the process. Putting aside the fact this panel is nearly four times lighter than monitors that are considered lightweight, this panel can also be powered by USB. That alone makes it exceptional for portable use.
But this monitor isn't only about portability, it's also about gaming specifically. Responsive input from the panel is excellent, allowing the M155 to deliver an almost lag-free experience. When you're not using it for portability, the M155 adapts fairly well as a second monitor. And its HDMI output is universal enough to work with almost any device.
When turned to the task of watching a movie or streaming videos, the GAEMS M155 Full HD Portable Gaming Monitor delivers as passable presentation, but it's clearly inferior to stationary equipment. If you're willing to haul around a regular monitor, you'll be rewarded for it. If you're not, then the M155 is an excellent choice for gamers who frequently find themselves in need of a portable screen.
Please consider sharing:
Note: At no extra cost to you, we may earn a commission for purchases using our links. Learn more.