Selecting a great printer is about predicting your needs, current and future, and then matching them with a device that has precisely those features. That might sound difficult, but it's actually getting easier every all the time.
People have come to expect more and more of printers every year. And for the most part, printers continue to deliver on those expectations. New generations bring easier connectivity, slightly faster speeds, incremental improvements in print quality, and any number of other improvements.
Note: At no extra cost to you, we may earn a commission for purchases using our links. Learn more.
While taken individually those improvements can seem small, but collectively they add up to a better printing experience. Anyone who's suffered through printer trouble knows the frustration of when your print jobs begin to fail. Fortunately, avoiding that kind of frustration is easy if you go about choosing a wireless printer the right way.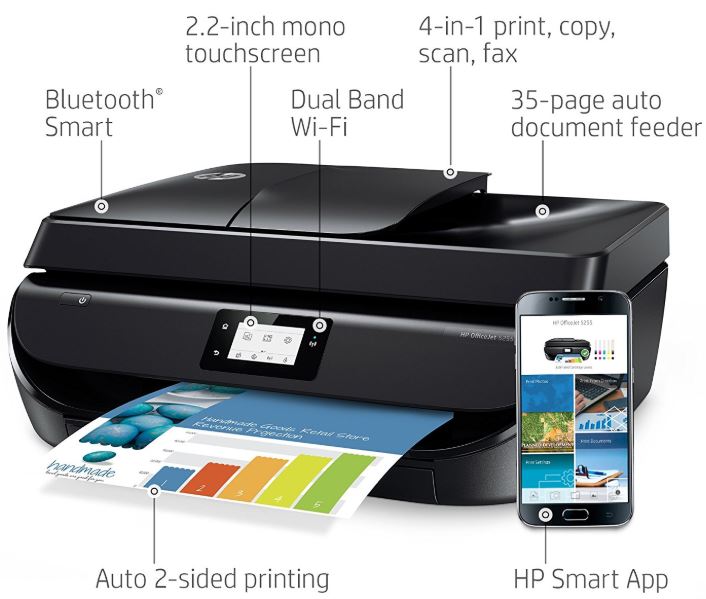 HP OfficeJet 5255
The HP OfficeJet 5255 was built with the intention of replacing its predecessor, the OfficeJet 4650. And much like 4650, the 5255 is built for people who want rich color printing at reasonable prices. Hardware scaling within the 5255 makes it best suited to small businesses and individuals. But make no mistake, the 5255 is as well-rounded as any reasonably modern HP printer. Its all-in-one design includes copying, faxing, scanning, and printing. And you'll find at least a dozen different ways to help you connect and print, which can make life a little easier.
Design & Build
The build of the OfficeJet 5255 stands at 17.51 x 14.52 x 7.48 inches, which is perfectly average for an all-in-one printer. You won't have any trouble fitting OfficeJet 5255 on a cabinet, nightstand, or ordinary printer stand. It's also fairly lightweight for a color printer, making it easy to move around for portable printer cart setups.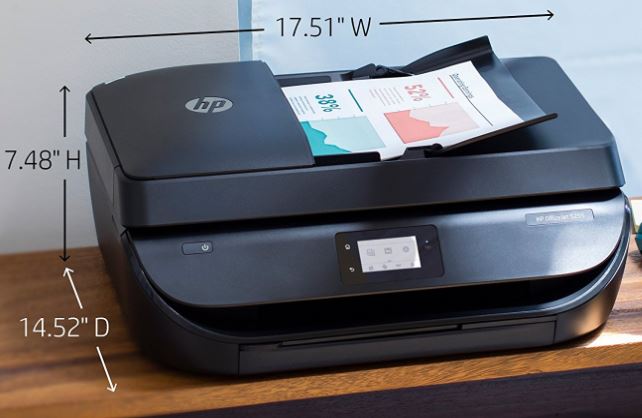 Along the top of the 5255, you'll find most of the controls have been relegated to the 2.2-inch mono touch display. Unfortunately, people who have been spoiled by modern smartphone technology will find the touch screen of the 5255 does feel like it responds somewhat slowly. But thankfully, you rarely have reason to click more than a few times.
The 5252 produces monochrome prints a speedy rate of 10ppm, while color prints are only slightly behind that at 7ppm. Those speeds are best described as high-average for an inkjet printer. And the 256MB RAM you'll find onboard the OfficeJet 5255 is another feature that's high-average, providing all the memory necessary for the print needs of a home office or small business.
But the low-profile build of the 5255 means it has a somewhat limited paper tray, offering a maximum 100 sheet capacity. For people who are mostly doing color printing, that's not going to be a problem. People doing heavier print loads will find themselves loading and reloading the paper somewhat regularly.
Similar limitations exist with the output tray. A 25-page maximum capacity ensures you don't want to start a massive 100-page print job and then leave the room. But these considerations will only affect people who are pushing the OfficeJet 5255 towards the upper limits of its 1,000 maximum monthly cycle of pages. For more moderate printers and people who don't expect to be swapping ink cartridges on a monthly basis, lower tray capacities aren't going to be an issue.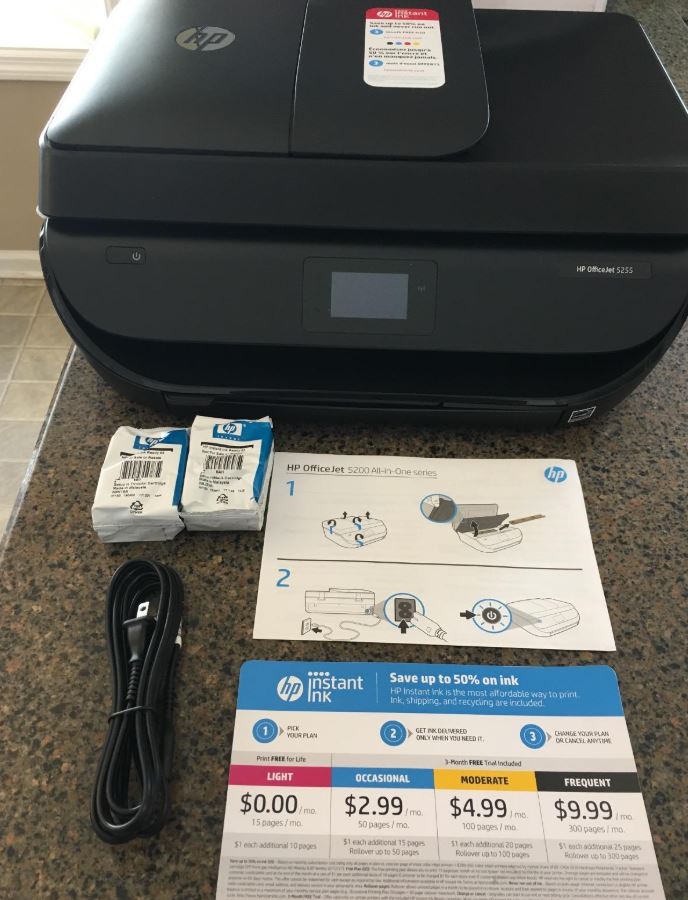 Features
The most essential features of the 5255 are printing, scanning, faxing, and copying. The scanning works exceptionally well with the standard lift-top scanning bed. Place your page on scanning glass, align everything properly, and you'll have an impressive scan in a few seconds. The copier is reasonably efficient, providing a 4 and 8 page per minute speed, for black/white and color prints respectively. The copier also supports an ID card copy feature, which makes it quick and easy to scan an ID.
Among print resolutions, you'll find more standard figures. Black and white print resolution is 1200 x 1200 dpi, and color prints are done at 4800 x 1200 dpi. The onboard scanning resolution matches up with the resolution of documents, which is 1200 x 1200 dpi. All in all, these figures are unremarkable and about average for printers in this price range. But drastically improving resolution is one way you can be certain to shoot-up the cost of your printer.
The fax function of the OfficeJet 5255 is about what you'd expect from a technology that has remained mostly unchanged for decades. For example, internally you find 33.6 Kbps connectivity. But there are some bright spots. The OfficeJet 5255 fax feature supports a reasonably swift 20ppm fax speed, allowing you to send large documents rather quickly. You end up with more essentials, like auto redialing and fax forwarding. These features are made better with the support of the 5255's automatic document feeder.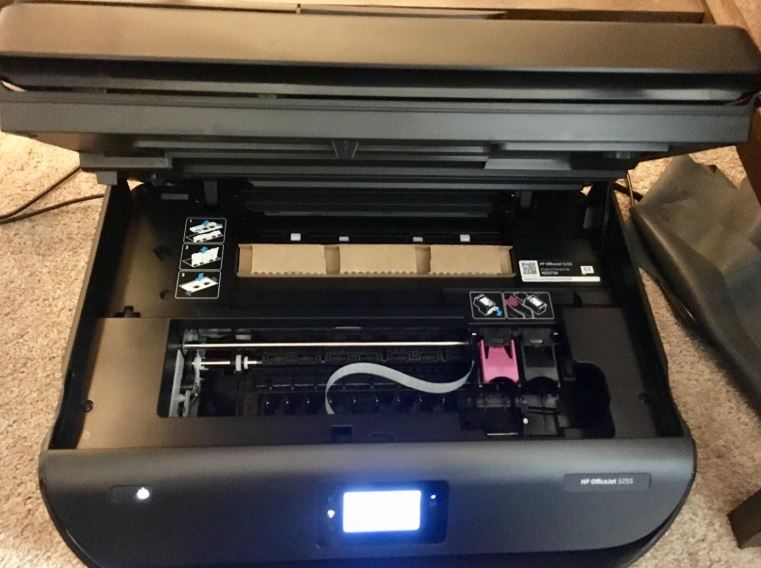 Print Quality
The OfficeJet 5255 provides the kind of image quality people have come to expect from inkjet printers. You get crisp prints without smudges or smears, with a quality that rivals print jobs from professionals. But of course, it's the quality isn't to the same level as a top-shelf photo printer. The supported 4800 x 1200 dpi color prints are a certainly gorgeous, but there's room for growth.
The OfficeJet 5255 is best for daily photo printing. Notably, it features both duplex printing and borderless photo printing. If you're interested in printing family photos, you may also want to note the support for 4×6 photo prints. That's the same as sizing as the prints you might order have developed from film in a store.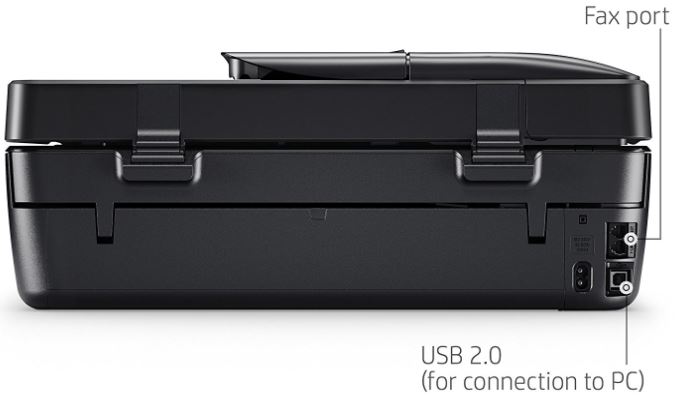 Connectivity
Options for connecting to the 5255 are mostly strong. The inclusion of two wireless antennas makes it easy to find a connection with either Bluetooth or Wi-Fi. Including dual antennas makes the OfficeJet 5255 great for people who want to connect from multiple devices, like their home computer and smartphone. Apart from the wireless connectivity, you can use the OfficeJet 5255 to print from the cloud with HP ePrint, Mopria Print Service, and Apple AirPrint.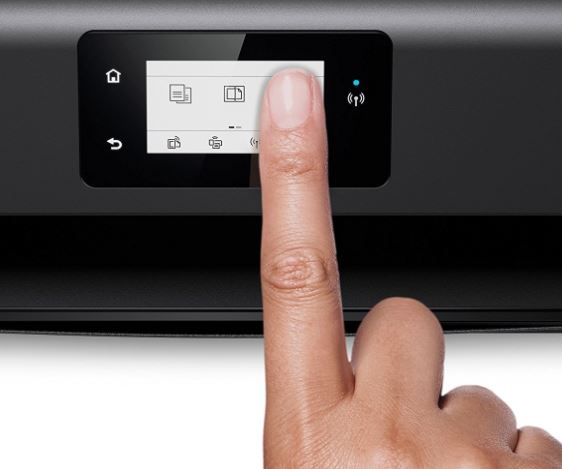 Ease of Use
HP seems to have mastered the skill of making it easy to setup a printer. From any Wi-Fi network, you can begin by downloading HP's app and following its step-by-step instructions. From there, you'll be printing in seconds. Another strong point for ease of use is the inclusion of HP Photo Creations software. It helps you make your own photo creations at home, from birthday cards and collages to photobooks and calendars. With a little creativity, you end up getting a lot of extra versatility out of the OfficeJet 5255.
One thing that makes the OfficeJet 5255 easy to use is the automatic document feeder. You can place-and-forget your pages for the scanning, printing, faxing, making this printer a great time saver. Due to the smaller nature of this device, the automatic document feeder is restricted to 35 pages. And like the other paper tray limitations, that's only going to be a problem for people who are pushing up on the upper limits of what a home printer can do.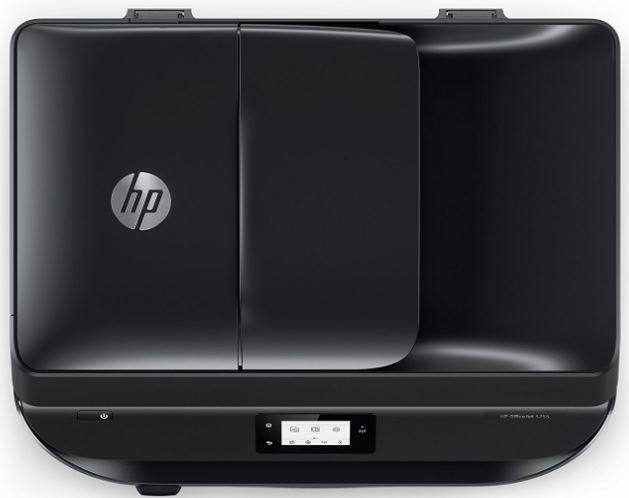 Ink and Paper
The 5255 uses two HP-63 cartridges. The included cartridges are useful for 165-190 pages of printing. That'll get you started, but it won't be long before you need to refill. Luckily, these tricolor/black cartridges are eligible for HP Instant Ink program, providing automatic refills on a regular basis. For people who do consistent printing, it's a program that can provide convenient savings. Moreover, the OfficeJet 5255 has support optional high-yield cartridges, should you decide you need to invest in bulk.
As far as paper media is concerned, the OfficeJet 5255 supports standard A4/Legal paper sizes, with max size of 8.5 x 14 inches, and a minimum size of three by five. That's wide enough for the usual range of documents you'd stuff through a home printer. Naturally, that includes envelopes, photo paper, glossy paper, and matte paper. You won't have any luck feeding through stiff cardboard, and card-stock can be hit or miss depending on the thickness. For thicker media, you're generally better off with a top-loading printer.
Other Considerations
The compact nature of the OfficeJet 5255 allows for no separate photo tray. On the other hand, compact and efficient design helps keep this printer rather quiet, reaching only 51dB while in operation. It's a less loud than a conversation, which is about all you can expect from home printers. The quiet operation is further reflected in its power use, running under 1 watt while sleeping, and 14 watts while operational.
The 5255 is built to support all recent versions of Windows, including essentially anything made in the past decade. It has similarly wide support for OS X and beyond. And like nearly all of HP's printers, the OfficeJet includes a one-year warranty from HP. You also get unlimited tech support straight from HP.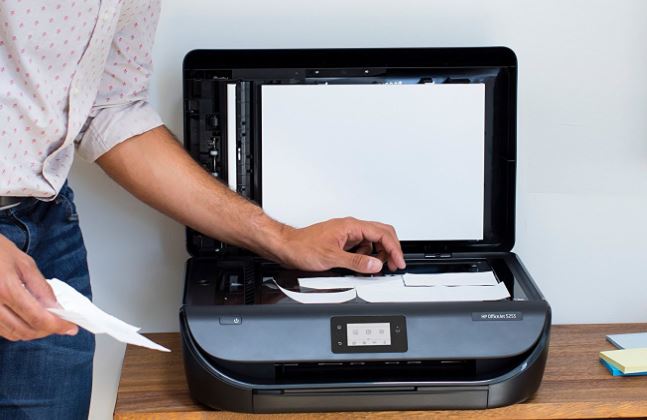 Who Should Choose the HP OfficeJet 5255 Wireless Printer?
The 5255 is a budget-oriented printer. Its all-in-one package is ideal for individuals and small businesses alike. As long as you're not trying to print 30-sheets every day, it's hard to go wrong choosing the 5255. It provides high quality color prints which favorably compare to what you might buy from a professional printing shop. Whether you need printing, faxing, or copying, every essential feature of the OfficeJet 5255 performs pretty well.
It almost goes without saying, but if you don't care about printing in color, then you'd be better off selecting a different printer. You'll end up saving money or landing a bigger feature set. Besides that, it's hard to find reasons to dislike the OfficeJet 5255.
Please consider sharing:
Note: At no extra cost to you, we may earn a commission for purchases using our links. Learn more.