Summary
The JOVS X Hair Remover checks most of the boxes you'd want in a home hair removal device: effectiveness, safety, and convenience. It offers a salon-like experience right in your own bathroom, which is about as close as it gets without requiring an appointment. It does have some limitations, particularly with skin and hair color compatibility, but if you're within its specified range, this could be the end of your search for a long-term hair removal solution.
Pros
Comprehensive operational modes
Excellent skin safety features
Effective on stubborn hair
Packed with extra accessories
Cons
Limited skin/hair color compatibility
Wired operation restricts mobility
In the world of hair removal, you've got several options – plucking, waxing, shaving – none of which sounds appealing. For effectiveness and comfort, you really need to opt for a salon treatment. But what if you could harness the power of advanced technology and bring the salon home with you?
That's where the JOVS X enters the scene. This remarkable device claims to be the ultimate answer to your hair removal needs. Is it? We decided to put it through its paces, considering that it makes some seriously tall claims. So, is it worth your time and investment? Here's what we found out.
Tip: Use code KNT50X for a $50 discount when you order the JOVS X from the official website.
What's in the Box?
Unveiling the contents of a new product can be a hit-or-miss affair. Will you get all you need, or will you be sent on a scavenger hunt for additional parts? We're happy to report that JOVS keeps things neat and complete with the hair remover. Not only do you get the device itself and some operational essentials, but you also get some bonus components.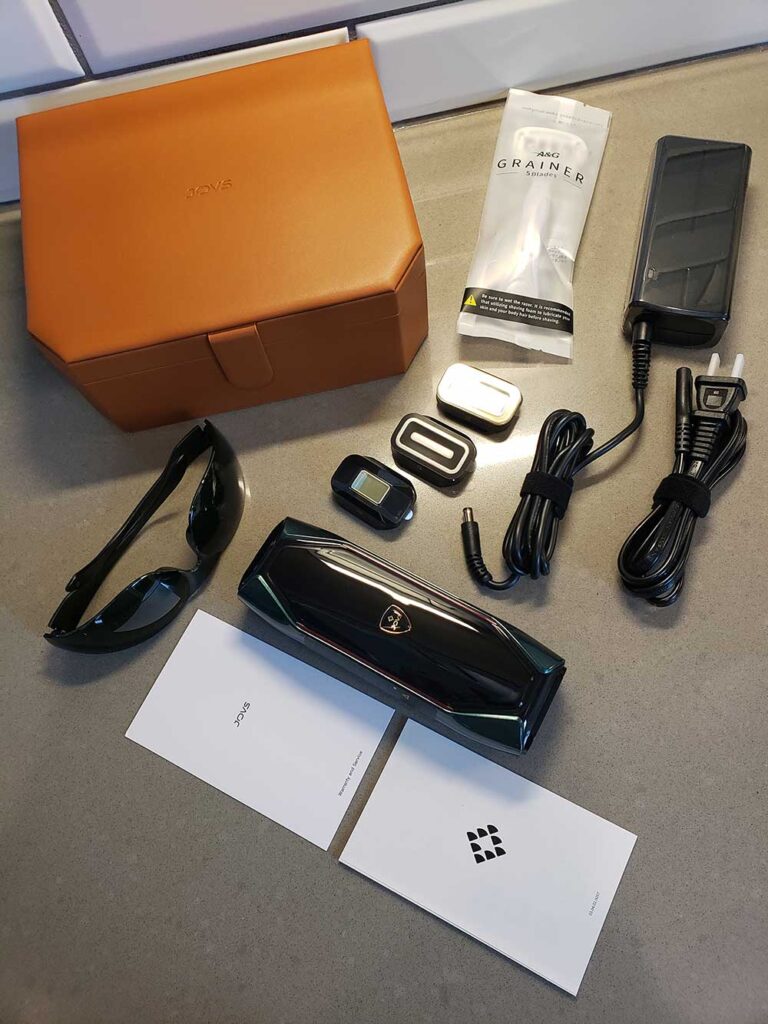 Three Filter Heads
The hair remover doesn't come alone; it brings friends. Three filter heads accompany the unit, each specifically designed to optimize the hair removal process. Whether you're planning on de-fuzzing your arms, legs, or more delicate areas, there's a filter head for that. One would have been acceptable because, let's be real – we're pretty used to a bare-bones experience with modern products. Not the case here. JOVS equips you with the goods right out of the box.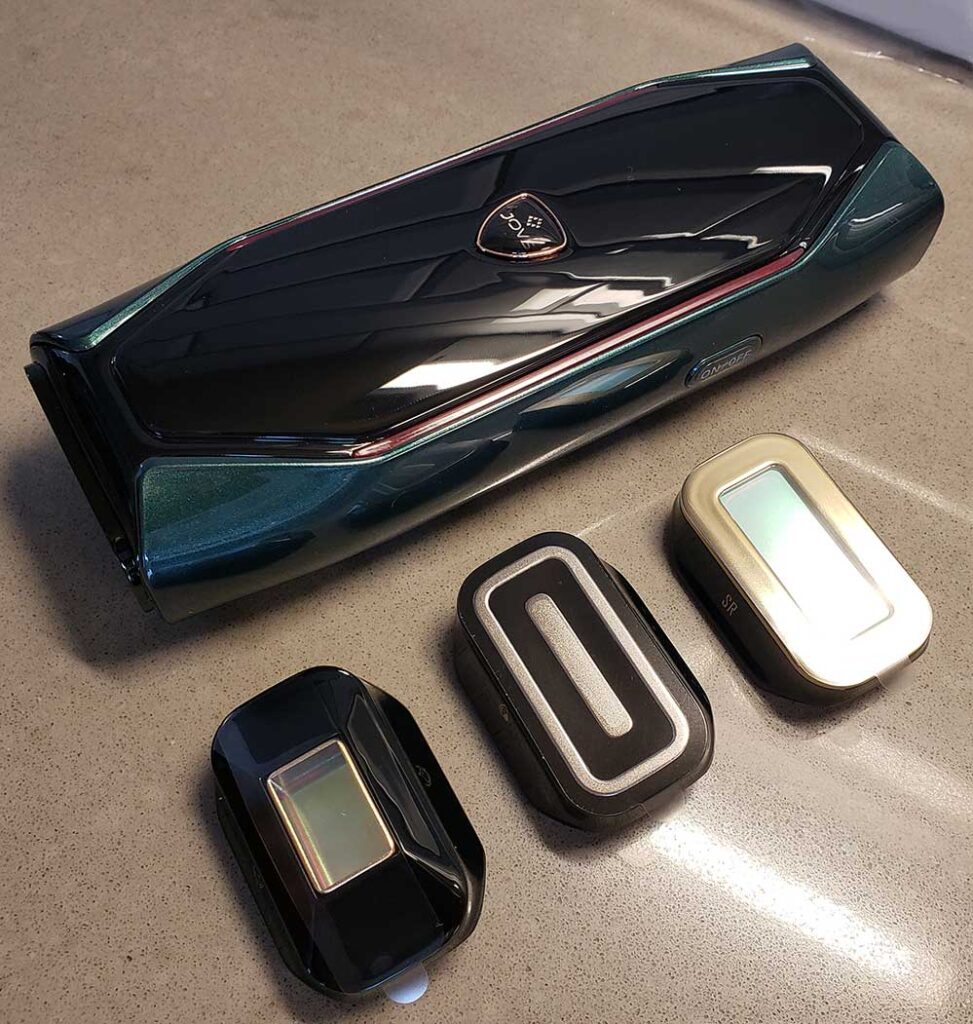 User Guide
Let's face it: none of us want to go rogue with a hair-removal device. The user guide included is a comprehensive manual that leaves no room for ambiguity. From setting up the X to achieving the best results, this guide is your roadmap through the labyrinth of DIY hair removal. Even if you fancy yourself a hair removal expert, give this guide a gander.
Goggles
Just when you think they've thought of everything, you find the goggles. These aren't mere accessories; they're essentials. Ensuring your eyes are shielded from the intense flashes, protective goggles go hand in hand with safe hair removal. We'll circle back to these later, but for now, make sure you don't toss these aside – you're going to need them.
Razor
Next up is a razor. Now, you might be wondering why there's a razor included with a hair removal device. It's actually nice to have around, as it's not just some arbitrary accessory but a vital part of your pre-hair-removal ritual. It helps you achieve a clean, smooth surface, which is needed for the X to make better contact with your skin.
As a result, it optimizes each flash's effectiveness. It's worth noting that there's nothing fancy about this razor. You can pick up similar razors at your local dollar store. Its inclusion is merely an extension of JOVS's commitment to upstanding service.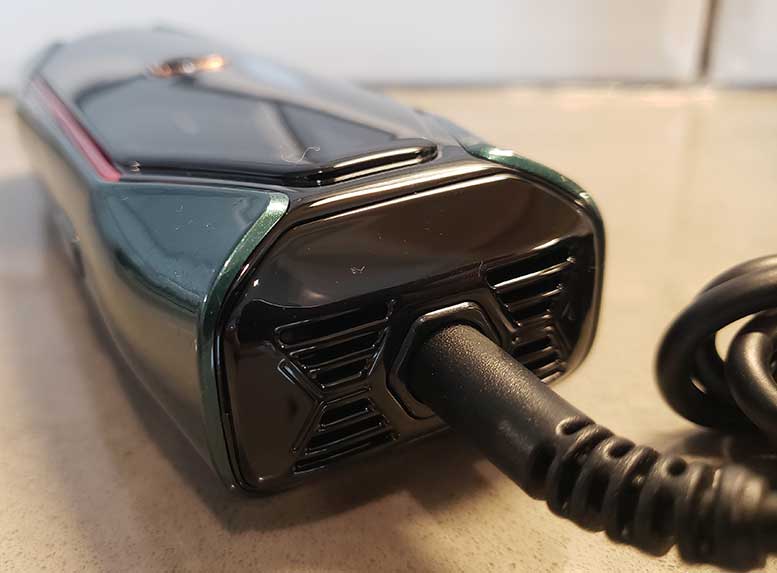 Power Adapter
Last on the list is the power adapter. This one's self-explanatory. You need power to operate the JOVS X Hair Remover, and a power adapter makes it possible. There's no battery in the remover itself, so you can't rely on wireless operation to get the job done. Some might see that as a drawback, but you have to remember what this tool does. Wireless operation just isn't suited for tech like this. Maybe one day, but not right now.
First Impressions
When you first lay eyes on the JOVS X Hair Removal Device, you'll notice it doesn't skimp on build quality. With dimensions of 6.4 x 2.3 x 1.5 inches, it's compact enough to be travel-friendly yet substantial enough to feel robust. Right away, we noticed it looks bigger than most modern electric razors. But considering what it does, it kind of needs to be. Thankfully, it's not as heavy as it looks. Weighing in at a light 10.2 ounces, it strikes a balance between being lightweight and durable.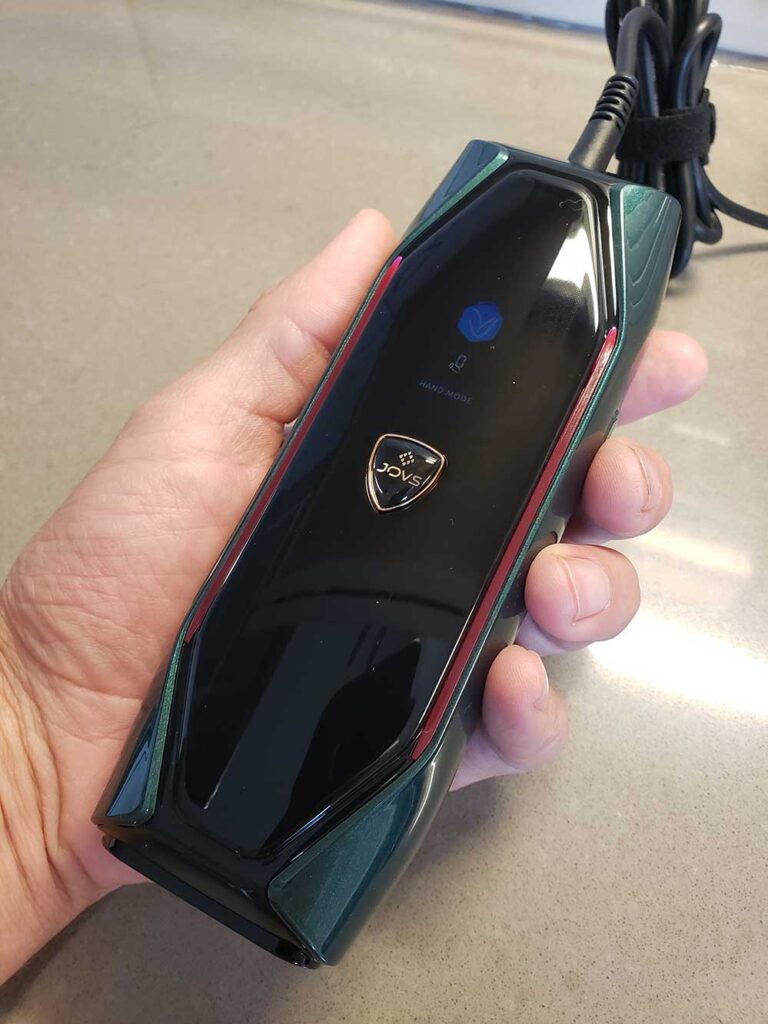 It's easy to grip and maneuver, meaning it's primed for those hard-to-reach areas that conventional razors dread. And with a bezel-less sapphire screen that takes up 99% of its extra-large cooling surface area, this thing screams innovation. So far, so good. With its solid build, advanced features, and ergonomic design, JOVS X has left a good first impression. But we've got a whole lot more ground to cover, so let's move on.
Performance Overview
First impressions are nice and all, but the real question looms large: How well does this thing actually work? Well, we rolled up our sleeves (and pant legs) to put it through its paces. While it's not perfect, it does get a lot right. Here are our thoughts.
Skin Safety Test
One of the foremost concerns with any hair removal device is skin safety. With its Smart Ice Control feature offering six power levels and a 3-speed cooling adjustment, it should theoretically cater to different skin types. We tried it on multiple team members with various skin tones and sensitivities. Not only did it cater to different skin types effectively, but the cooling system also lived up to its claims, making the process virtually pain-free for all involved.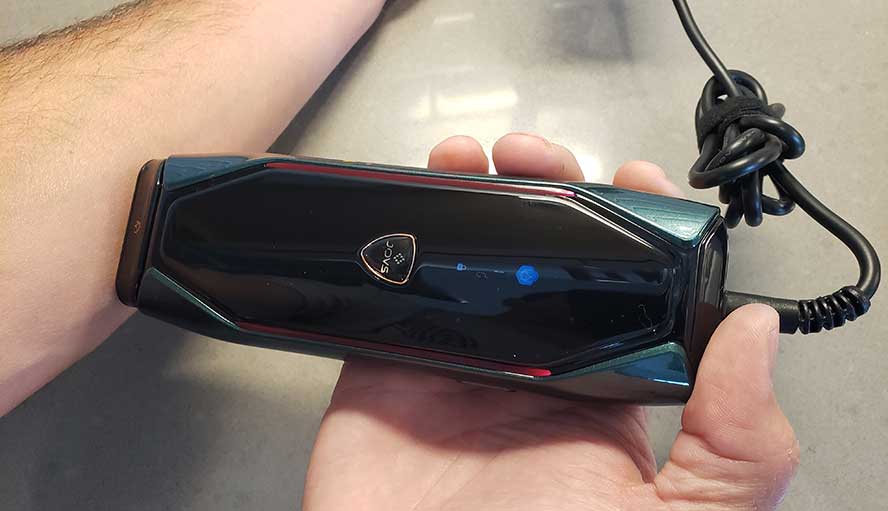 Now, that said, it is extremely important to note that this tool isn't for all skin types. JOVS states that those with black or brown skin should not use it. White to medium brown tones are good to go, while anything darker is out. The same goes for hair color. You shouldn't use the hair remover on red, gray, white, or light blonde hair. Brown to black? This is the device for you. Furthermore, you don't want to zap areas where there's a tattoo. The same goes for skin conditions and sunburns. And if you're pregnant, it's best to avoid this tool.
Efficiency and Speed
Caveats aside, another big sell is the device's upgraded intensity, boasting up to 23.87 joules per flash. We decided to test this on particularly stubborn hair types. Let's just say those hairs put up a fight, but they met their match. The 7-minute unlimited fast flashing meant we could cover a full leg in record time, and the hairs stayed away much longer compared to standard razors or waxing.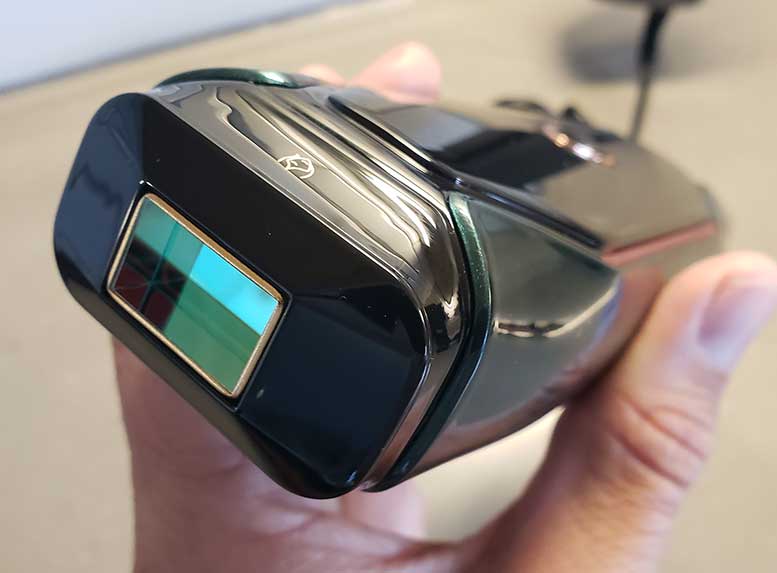 Rejuvenation and Skincare Features
It isn't just a hair removal device; it's also touted as an all-in-one skincare solution. Using SR + Lon technology, it claims to activate collagen, reduce wrinkles, and restore skin elasticity. We decided to go the extra mile and test these claims. After several weeks of use, our resident skincare aficionados reported softer, more youthful skin. No, it didn't perform miracles, but the subtle changes were indeed noteworthy.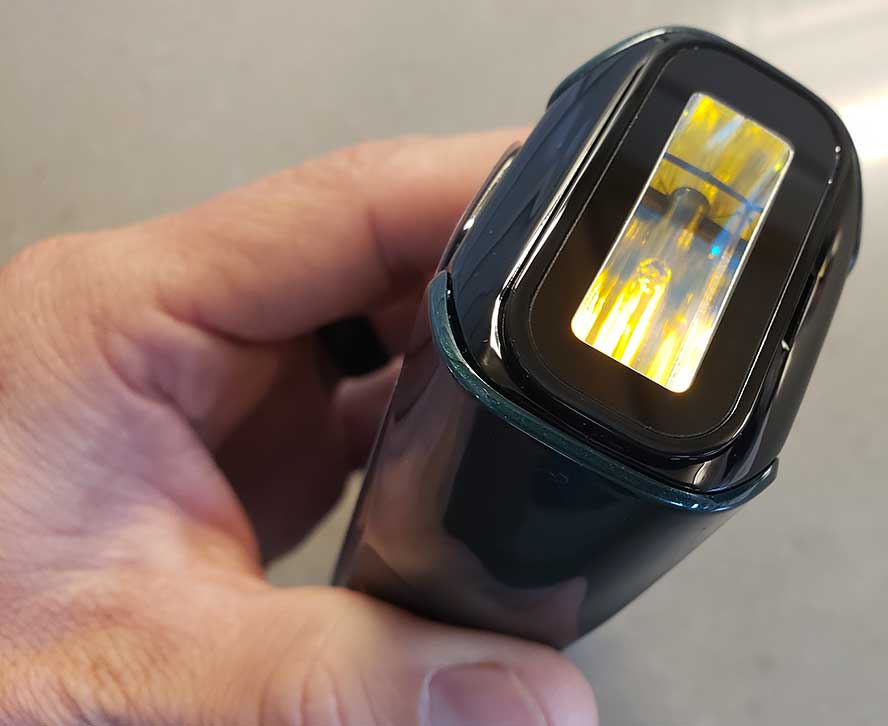 Ergonomics and Usage Modes
It would be a disservice not to thoroughly discuss the array of usage modes that this device offers. These aren't just frills; they're practically a menu of finely tuned settings for various parts of your body. Let's take a look at each one and what it does.
Hand Mode: Ideal for the less dense hair on the hands, providing gentle but effective treatment. No more awkward handshakes!
Leg Mode: Designed to tackle the thicker, more stubborn hair often found on the legs. Walk into your next meeting with a new sense of smooth confidence.
Armpit Mode: Specifically engineered for those delicate, hard-to-reach areas. No gymnastics needed here – just simple, effective hair removal.
Face Mode: Perfect for treating the finer facial hairs without irritation. Say goodbye to your peach fuzz woes.
Private Mode: Ensures a gentle, discreet, yet effective treatment for those areas not usually mentioned in polite conversation.
Essence Import Mode: Takes care of your skin post-treatment by activating osmotic channels for efficient skincare essence absorption.
Intense Mode: When you're dealing with particularly obstinate hairs, Intense Mode brings the big guns.
SR + FIR Mode: This one takes care of not just hair removal but also skin rejuvenation and moisturizing. A real multitasker.
Each of these modes is tailored to adjust the device's intensity, ensuring the best possible results while prioritizing skin safety. The smart-circuit capability earns a nod here for making the sensitive areas a breeze to treat.
JOVS X demonstrated solid performance in hair removal, skin safety, and even added some unexpected skincare perks to the mix. With its well-thought-out features and reliable operation, it offers a compelling argument for those looking to ditch the salon and bring the experience home.
Operation: User Experience
Great performance is one thing, but what about the everyday experience of using the device? Will it have you tearing your hair out in frustration, or does it offer a silky-smooth operation worthy of its name? Well, we took it for a spin to answer precisely these questions.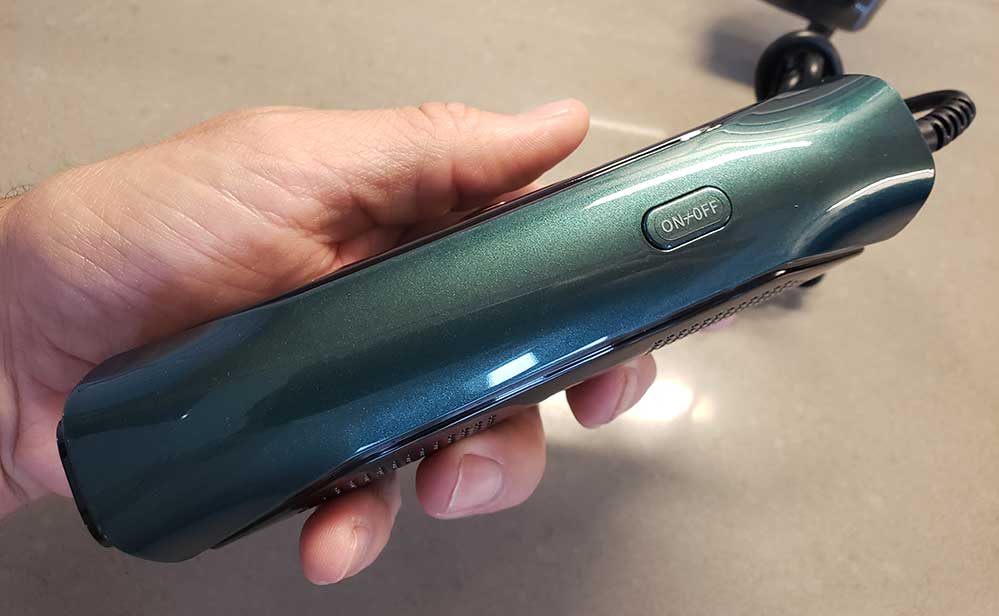 User Interface: Lamborghini Interactive System
We've got to talk about the Lamborghini Interactive System first. It's not just a piece of eye candy; it's your cockpit control for the entire operation. The LED interface provides you with easy-to-navigate mode adjustments and even a flash counter. Various gestures on the JOVS logo serve to adjust settings and modes.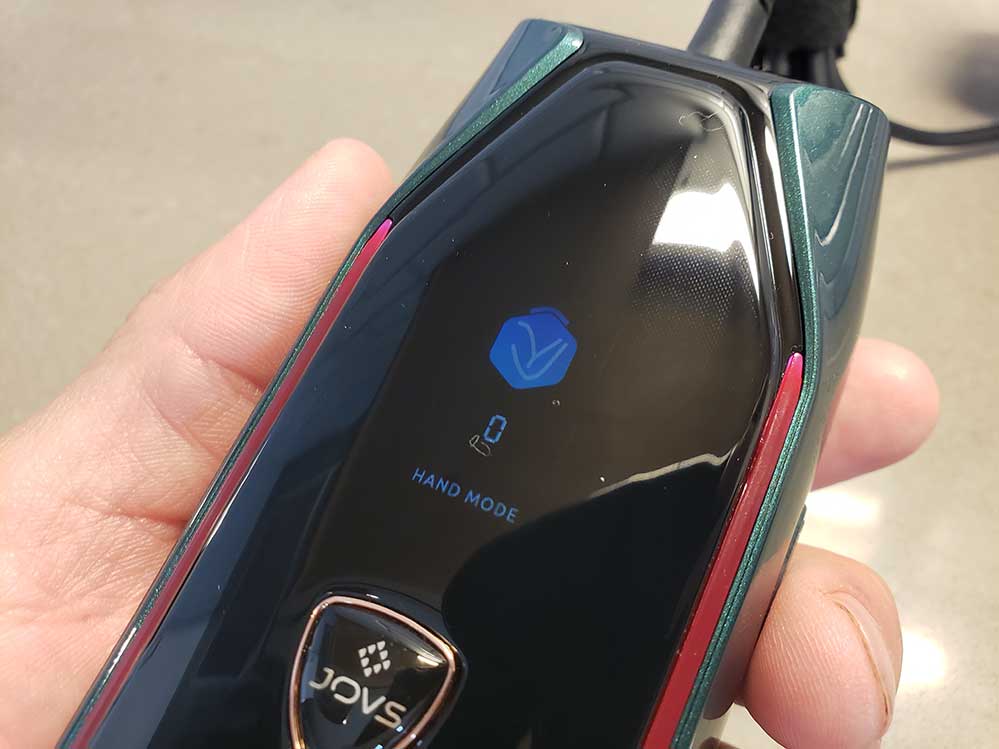 Plus, the comprehensive range of modes does more than just diversify your hair removal repertoire; it fine-tunes the process to your specific needs. Switching between modes is seamless, letting you tailor the treatment to different body parts or hair types without missing a beat. It takes a bit of time to get acclimated to the gestures, but once you remember what does what, it's a cinch to operate.
Ergonomics: A Handle on Things
Because it's fairly compact and very lightweight, maneuvering this thing is no hassle at all. You don't need a degree in ergonomics to appreciate its design. It has a nice balance to it, and it just feels good to operate and hold. Moreover, its form allows for a comfy grip, which goes a long way when you're tackling those not-so-accessible spots.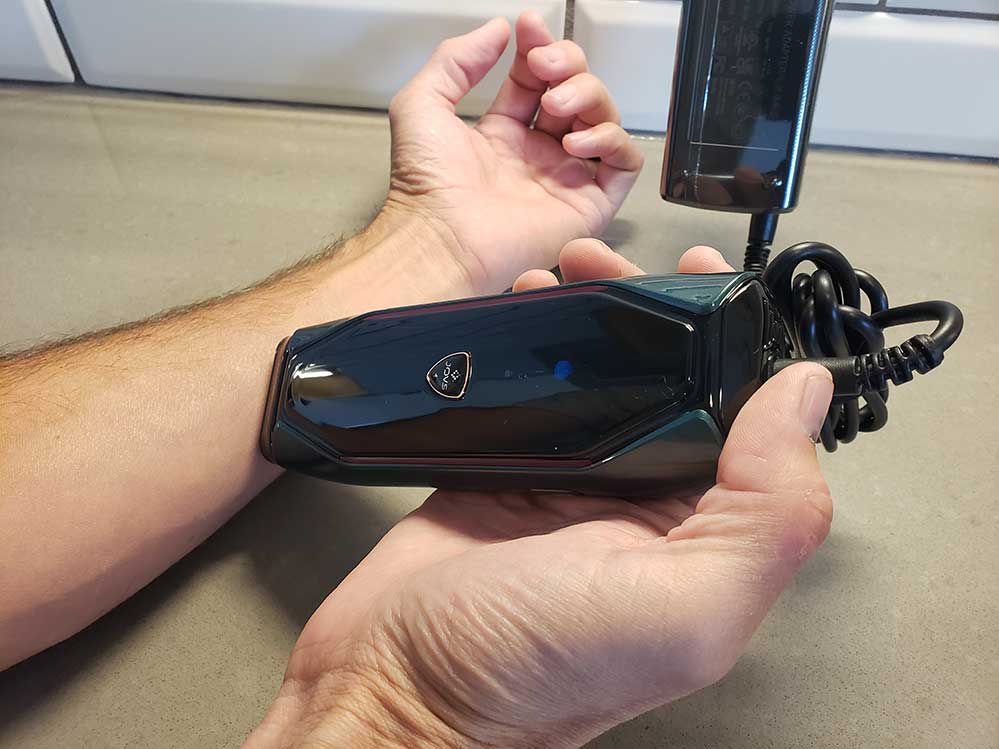 We've got to admit, this is one cool product. It gets a lot right and performs remarkably well. And it should, considering its high price point. But cost aside, is it the ultimate tool for home hair removal? Check out our final verdict to get the scoop.
Tip: Use code KNT50X for a $50 discount when you order the JOVS X from the official website.
Final Verdict
The JOVS X Hair Remover checks most of the boxes you'd want in a home hair removal device: effectiveness, safety, and convenience. It offers a salon-like experience right in your own bathroom, which is about as close as it gets without requiring an appointment. It does have some limitations, particularly with skin and hair color compatibility, but if you're within its specified range, this could be the end of your search for a long-term hair removal solution.
Meet Derek, "TechGuru," a 34-year-old technology enthusiast with a deep passion for tech innovations. With extensive experience, he specializes in gaming hardware and software, and has expertise in gadgets, custom PCs, and audio.
Besides writing about tech and reviewing new products, Derek enjoys traveling, hiking, and photography. Committed to keeping up with the latest industry trends, he aims to guide readers in making informed tech decisions.